Thailand in Pictures: 15 Beautiful Places to Photograph
The palm-fringed beaches and turquoise waters of Thailand might be world famous, but this tropical destination has a lot more staggering beauty to offer away from its shores. From island hopping to gold-tipped Buddhist temples and ruins to rugged coastlines, Thailand is a traveler's dream.
Whether you're looking for jungle-topped islands, a peek of the rural heartland, or the warm feel of sand between your toes, pack your camera and get ready to capture the picture of a lifetime.
Note: Some businesses may be temporarily closed due to recent global health and safety issues.
1. Bangkok Riverfront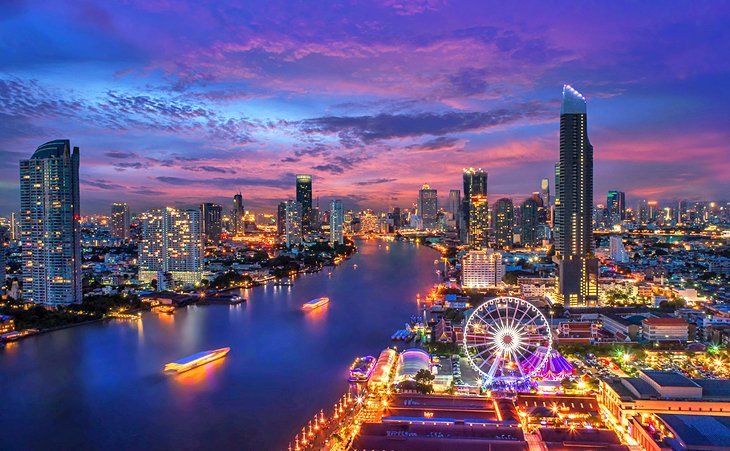 Bangkok's business district extends right over the Chao Phraya river—never-stop lights shining on the mix of skyscrapers, solemn temples, and local ferries. Bangkok's riverfront is packed with high-end hotels, parks full of greenery and water lily ponds, plus splendid views of Wat Arun and mega-suspension bridges across the water.
Accommodation: Where to Stay in Bangkok: Best Areas & Hotels
2. Doi Angkhang Mountain, Chiang Mai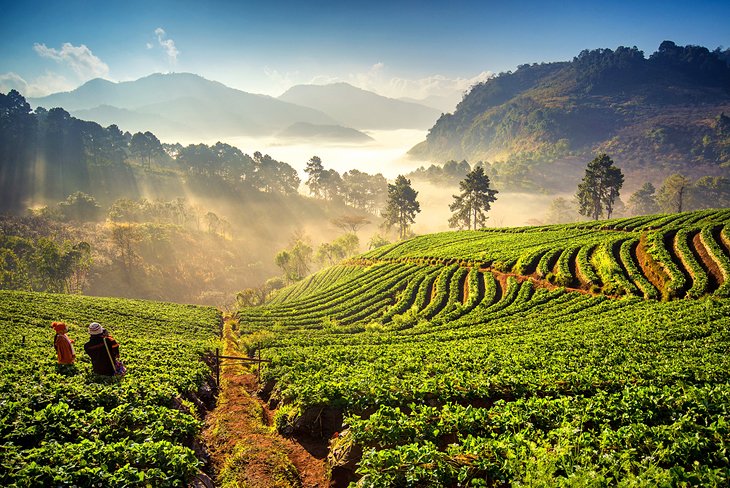 Misty Doi Angkhang Mountain is home to an agricultural research station and bonsai center set by the former King Bhumibol Adulyadej, as well as the Kiu Lom Viewpoint, which offers amazing views of both sunrises and sunsets over the clouds. A very popular bird-watching and mountain biking destination, the mountain is also home to six ethnic group villages.
Accommodation: Top-Rated Places to Stay in Chiang Mai
3. Phraya Nakhon Cave, Prachuap Khiri Khan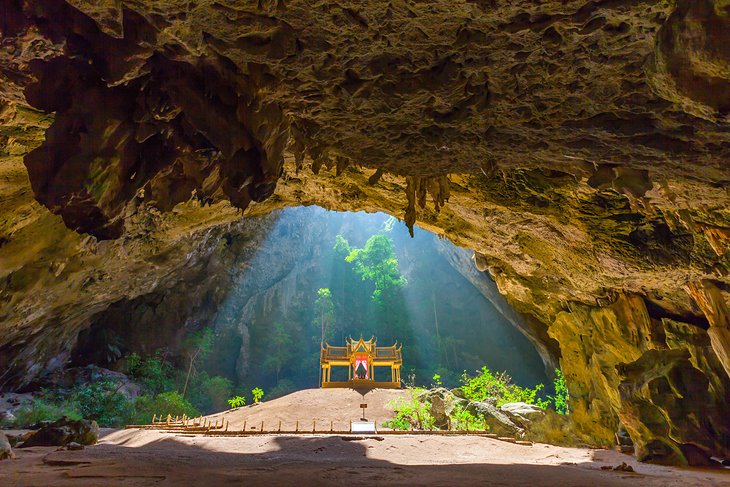 The Phraya Nakhon Cave is best known for its four-gabled royal pavilion, sunlight cascading right over it from an opening in the cave ceiling. Phraya Nakhon, a 30-minute trek up a steep hill, is located inside Khao Sam Roi Yot National Park, where you will also find thick mangrove swamps, beaches endless limestone peaks, and lush greenery full of hiking trails.
4. Doi Inthanon National Park, Chiang Mai Province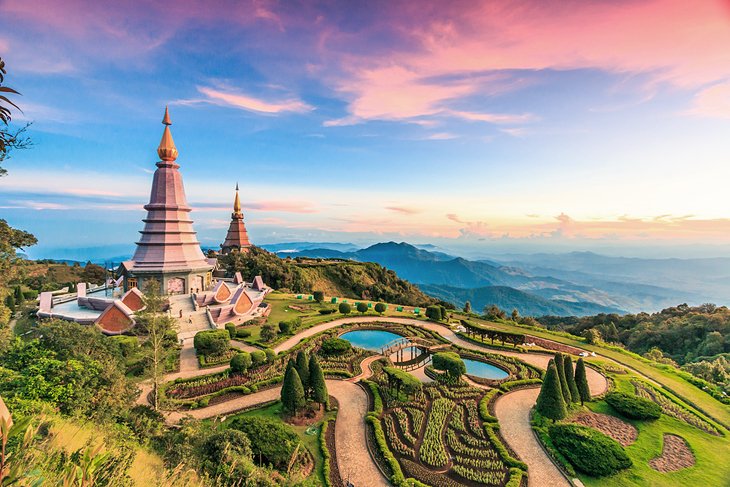 Doi Inthanon, Thailand's highest mountain, lies within the national park of the same name. Nicknamed "the roof of Thailand" for its high altitude, the park has a number of waterfalls within its borders, as well as mossy wooden trails, sacred royal chedis surrounded by ancient rainforest, and a number of hill tribe villages.
5. Similan Islands National Park, Southern Thailand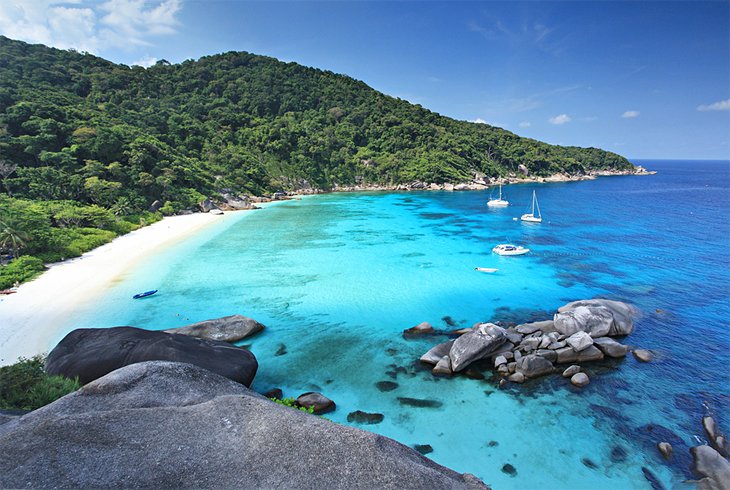 The clear turquoise waters of the Similan islands make this one of the most popular diving and snorkeling destinations in the Andaman Sea. Only accessible by speedboat, the group of islands makes for a perfect natural getaway—not only is this one of the youngest national parks in Thailand, but it's also rich in coral life, home to a turtle sanctuary, and one of the quietest destinations to swim in the tropical sunshine.
6. Wat Phra Keaw, Grand Palace, Bangkok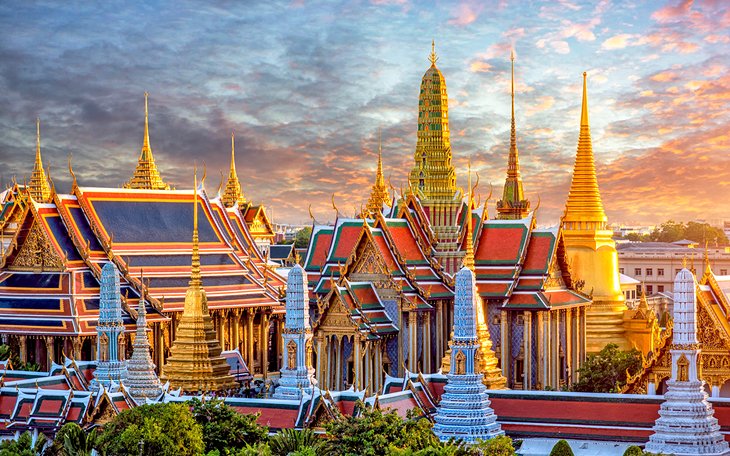 Wat Phra Keaw (Emerald Temple) is Thailand's most important royal chapel and the main attraction at the stunning Grand Palace in Bangkok. Built in 1782, the palace complex used to be the residence of the King, but it now serves as a museum and place of worship. Besides the Emerald Temple, other important buildings include the throne hall, Phra Thinang Racharuedee (an outdoor audience chamber), and the former sleeping quarters of the monarch.
7. Ayutthaya
Wat Chaiwattanaram is Ayutthaya's most important ancient temple—and also one of the few you can climb to the top for breathtaking sunset views. The historic City of Ayutthaya, a UNESCO World Heritage Site, dates back to the 13th century. There are almost 200 ruins in the 289-hectare park today, including chedis, Khmer-style stupas, a 42-meter-long reclining golden Buddha, and a number of impressive Buddhist relics.
8. Red Lotus Lake, Udon Thani Province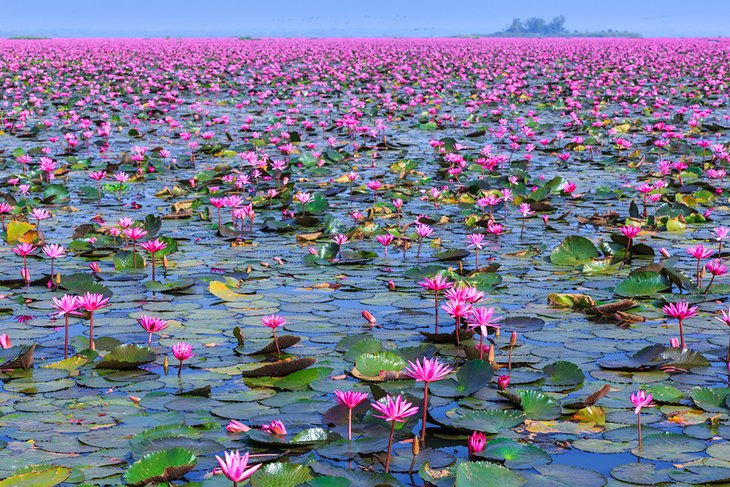 The Red Lotus Sea (officially called Nong Han Kumphawapi Lake) is a seasonal marvel that you can only experience between November and February, when the bright pink flowers are in full bloom. Especially magnificent during sunrise because of the effect of the light bouncing on the flower-blanketed water, the colors are better experienced from a boat as you lazily float around the lake. Phu Phra Bat Historical Park is nearby and offers a rare chance to see prehistoric rock paintings.
9. Erawan Falls, Kanchanaburi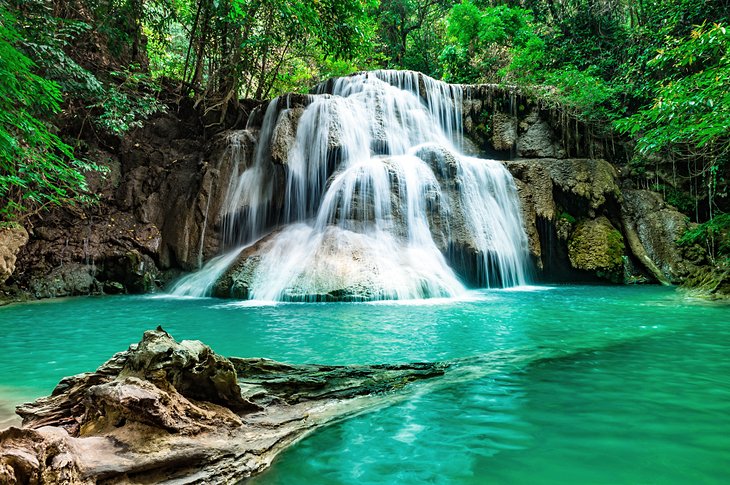 Seven tiers that end in an emerald green water pool make Erawan Falls one of the most beautiful waterfalls in Thailand. Reached after a trek through thick rainforest, the climb to the top tiers requires navigating rickety ladders and slippery limestone trails—a difficult ascent rewarded by the beautiful scenery and the occasional sighting of macaques and water monitor lizards.
10. Mae Hong Son Mountains, Mae Hong Son Province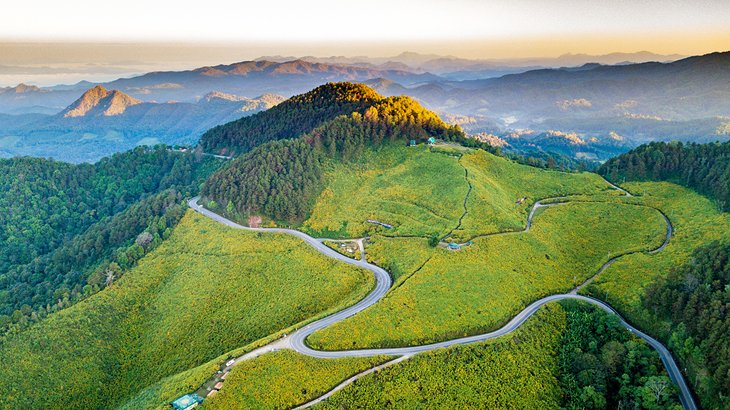 Also known as "the city of three mists," the Mae Hong Son mountain range is a popular place for hikers to catch the sunrise. Because of its remote location, Mae Hong Son doesn't get as many visitors as other destinations in northern Thailand, which means a quiet paradise for adventurous holidaymakers heading here to explore the thickly forested hills and golden deep caves.
11. Koh Phi Phi Islands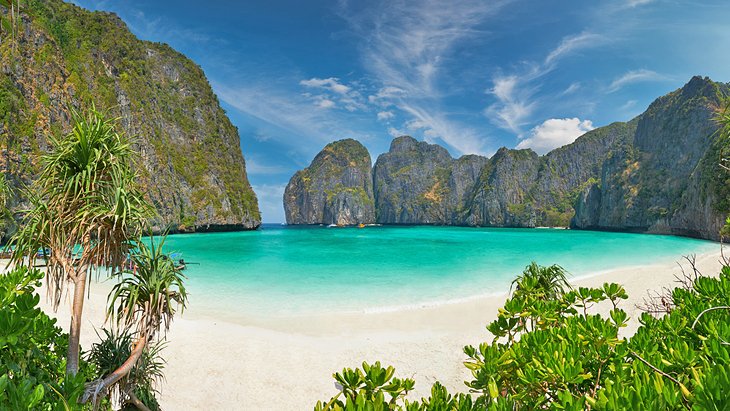 Less than an hour away by ferry from Phuket, the white, laid-back beaches of Koh Phi Phi were the setting for Leonardo DiCaprio's movie The Beach. Steep limestone cliffs, lush rainforests, and hidden caves line up the Andaman Sea coast and offer stunning views from the water and from up above the many beautiful viewpoints across the islands.
12. Khao Sok National Park, Surat Thani province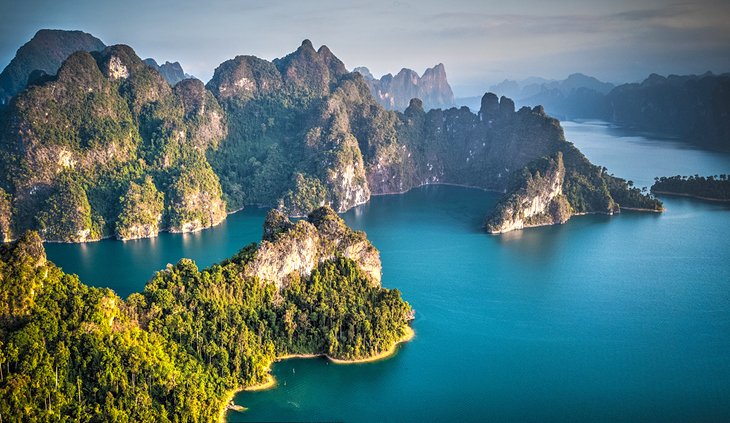 The Ratchaprapha Dam is one of the most photographed spots inside Khao Sok National Park. The lake is surrounded by a breathtaking view of thick jungle, limestone cliffs, and crystal blue waters. A large variety of animals call Khao Sok National Park home—from elephants to wild boars to bears. In addition to water-related activities, the park also offers lots of trekking opportunities and amazing views from the top of its many hills.
13. Ko Yao Noi Beach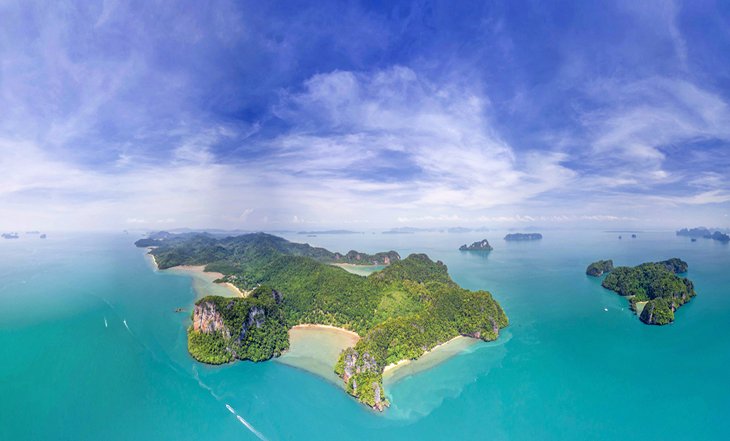 Koh Yao Noi, halfway between Krabi and Phuket, is one of Thailand's least touristy beaches. Few backpackers make it here, and it's too far from the well-traveled roads to be a sunbathing favorite. Instead, Koh Yao Noi is a laid-back haven of thick mangroves, unspoiled emerald waters, and some of the best limestone rock climbing in Thailand.
14. Railay Beach, Southern Thailand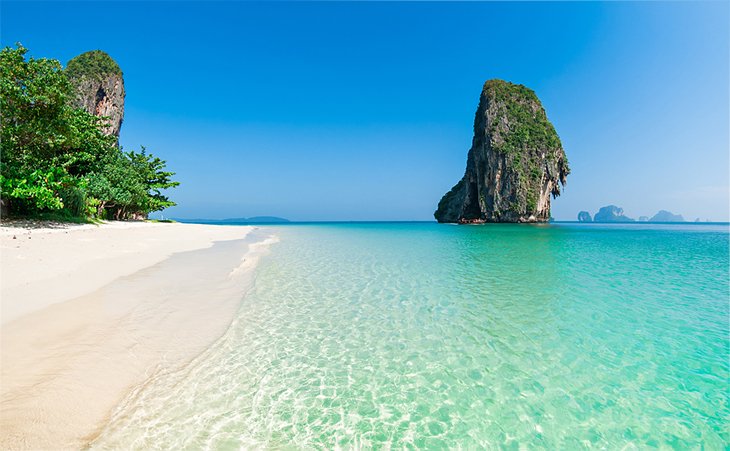 Though technically a peninsula and not an island, Railay Beach is only accessible by boat because the towering limestone cliffs cut it off from the mainland. Private, quiet, and the stuff of dreams, Railay also offers chances to explore in the form of dense wetlands, thick rainforest, and long-tail boat rides to neighboring uninhabited shores.
15. Kaeng Krachan National Park, Prachuap Khiri Khan Province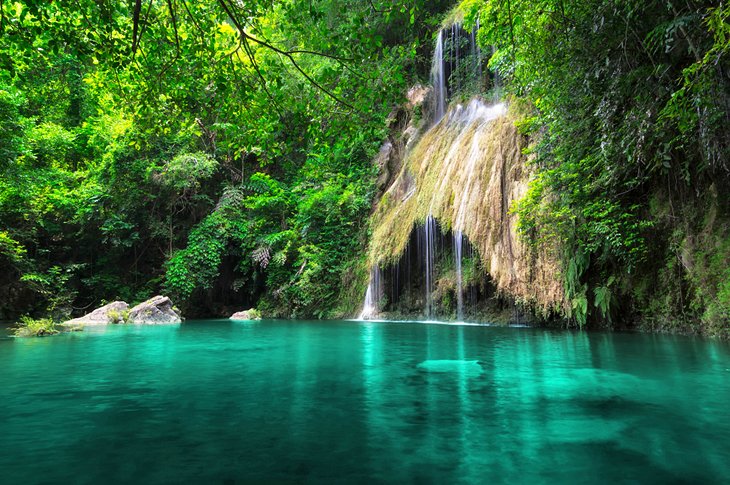 Thailand's largest national park is mostly covered in evergreen rainforest and home to a large number of wild elephants. One of Kaeng Krachan's most famous spots is Pa La-U waterfall, known for its massive population of butterflies, but visitors can also explore ancient coastal caves, hike up the forested mountains, or dip their toes in sun-soaked lakes and ponds throughout the park.