11 Best Resorts & Beach Hotels in the Hamptons, NY
Author Shandley McMurray lived in New York and resides in Connecticut. She's spent many summer weekends digging her toes in the Hamptons' soft sand.
There's no place quite like the Hamptons. A popular playground for A-list celebs and New York City's moneyed elite, this Long Island beauty is a hot spot for summer fun, and one of the top weekend getaways from New York City. Even if you don't arrive via private helicopter and choose to stay in a beach resort instead of an ornate mansion, you'll enjoy a vacation here.
Quaint villages and hamlets house glam restaurants, eclectic art galleries, and glitzy boutiques; however, the sparkling Atlantic Ocean, dramatic sand dunes, and pristine sandy beaches are the main draws. No wonder so many visitors choose to stay in the luxurious resorts and beach hotels that pepper the area.
From opulent estates offering award-winning restaurants, high-end spas, and sumptuous bedding to historic bed and breakfasts that ooze charm and proffer luxurious amenities, there is no shortage of fabulous places to stay in the Hamptons. But be warned, no matter which you choose, you'll be looking at a hefty price tag.
Choose the perfect, most dreamy spot to stay during your visit with our list of the best resorts and beach hotels in the Hamptons.
1. Topping Rose House, Bridgehampton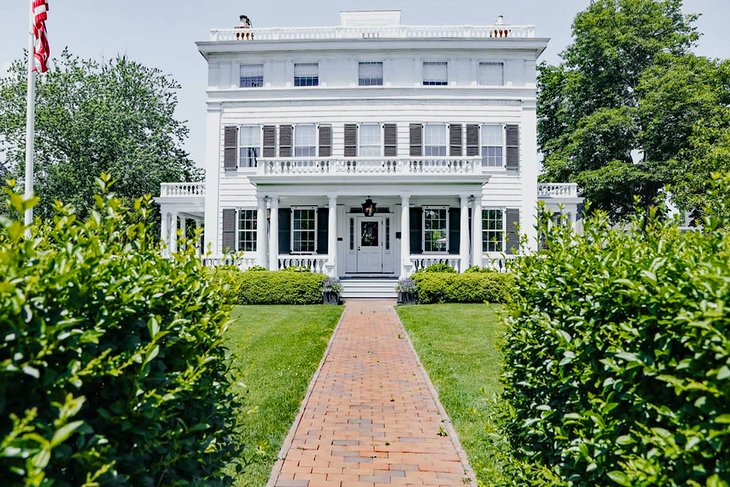 Accommodation: Topping Rose House
If the 19th century and 21st century had a baby, it would look like Topping Rose House. An incredibly charming and historic exterior welcomes guests looking to get cozy while shedding the stresses associated with their busy, modern lives. The inside of this lavish hotel is a lovely mix of contemporary chic and understated elegance.
The 22 impeccably decorated rooms include six spacious suites. All offer plush furnishings and linens. The hardwood floors are comforting, as are the large windows, which let in the stunning Hamptons' sunlight. Some rooms come with a private patio (on the rooftop or ground floor), and the cottages are quaint yet stylish.
An outdoor pool helps guests cool off in the summer, while the fitness center makes it easy to make up for the extra round of desserts ordered at the delectable on-site restaurant. Feeling stressed? Head to the spa for a relaxing treatment designed to make you forget about all those pesky outside worries.
Address: 1 Bridgehampton Sag Harbor Turnpike, Bridgehampton, New York
2. The Roundtree, Amagansett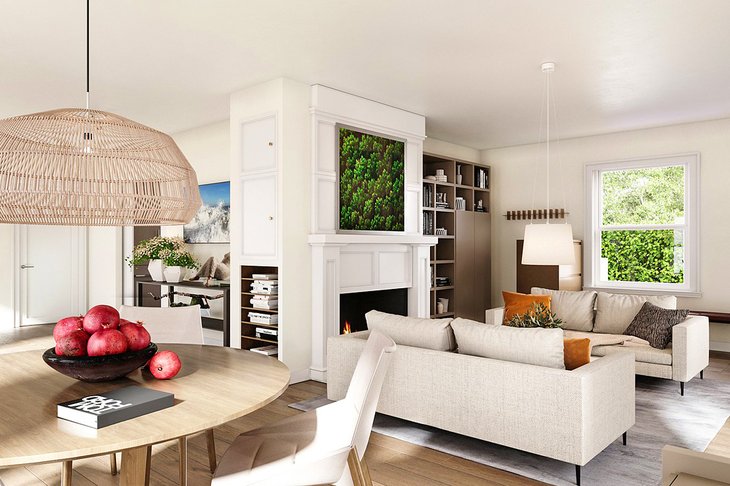 Accommodation: The Roundtree, Amagansett
Welcome to The Roundtree, Amagansett, a property so plush and beautiful, it's deemed one of the best resorts and beach hotels in the Hamptons. At this award-winning accommodation, guests are invited to unwind in the luxurious surroundings, which include rooms so gorgeous and luxe, you'll want to extend your stay.
Choose from a regular guest room, a more spacious suite, or a private cottage that will fit your whole family, including the furry ones; pets are welcome here. No matter which type of accommodation you choose, you're sure to feel pampered. Wide-plank hardwood floors; soft, neutral colors; and high-end Frette linens work together to enhance the upscale atmosphere. There's even a pillow menu on offer.
Lounge on the lawn chairs, play a game of corn hole, or borrow a beach cruiser bike for an offsite expedition. The yoga classes are particularly relaxing. Book an in-room massage if you're hoping to let it all go, and head to the outdoor fire pit at night for S'mores happy hour.
Breakfast is complimentary and served outside on the lawn or in your room, depending on your preference (and the weather). Afternoon tea (or coffee) is offered daily in reception. It includes freshly baked cookies. If you're feeling peckish, feel free to grab the complimentary snacks and drinks available in your mini bar.
As any visitors to the Hamptons know, parking near the beach can be a pain. Guests of The Roundtree are granted a complimentary parking pass, which gives you access to some of the best beaches in the Hamptons, or in this case, East Hampton.
If you're planning to visit the beach, which you definitely should, the hotel provides everything you'll need, from ice coolers to sand toys to beach chairs to umbrellas.
Kids are more than welcome to come along, and you'll find plenty of fun programs to help keep your little ones occupied.
Address: 273 Main Street, Amagansett, New York
3. The Quogue Club at Hallock House, Quogue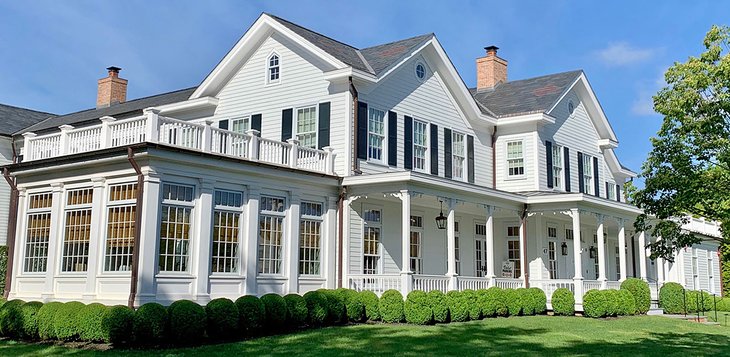 Accommodation: The Quogue Club at Hallock House
It's all class at the luxurious Quogue Club at Hallock House in Quogue. Elegant and plush, the rooms in this serene boutique resort are so lovely, you'll be hard-pressed to leave.
The historic home contains airy rooms decorated in soft, relaxing colors with views of the sweet Quogue village, courtyard, or gardens. The larger cottages are ideal for canoodling couples looking for privacy or families hoping to enjoy a long-weekend or better yet, a week, in resplendent luxury.
Whether you visit the lounge for a refreshment or the dining room for a first-class meal, you'll be more than happy you dove into the delectable offerings. Off-season (from September to June), the eateries are open on Tuesdays and Wednesdays. During high season (July through Labor Day), they're open six days a week.
During the day, guests are encouraged to lounge by the fireplace, bike 10 minutes to the beach (you can rent a bicycle on-site), or head out shopping in the nearby villages.
No one will blame you if you'd rather stay on the grounds; they're gorgeous. Here, you can hit the yoga studio, have a massage, wander around the pristine estate, or work out in the fitness center.
Address: 47 Quogue Street, Quogue, New York
4. The Baker House 1650, East Hampton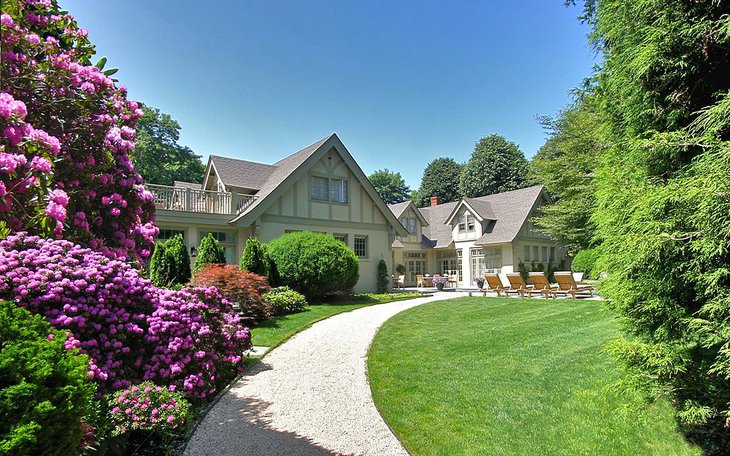 Accommodation: The Baker House 1650
There's something magical about The Baker House 1650. Perhaps it's the 200-year-old wisteria draping romantically around the grounds, maybe it's the ivy-covered walls, or perhaps it's the Cotswold charm that has been factored into the design. More English manor than American hotel, this historic estate belongs on the cover of magazines.
If you want a vacation to remember, book a stay in the Carriage House. Set just behind The Baker House, this secluded beauty has its own pool and gardens. That said, there's nothing wrong with booking a room in The Baker House itself. The guest rooms are sumptuous, spacious, and decorated in a charmingly old English style yet boast modern amenities, like a two-person spa tub. Most also include a wood-burning fireplace.
The infinity pool is a perfect spot to escape summer's intense heat, while the spa is a must-visit for stressed out folks looking to relax. It boasts a counter-current pool, steam shower, sauna, and soaking Jacuzzi tub. Breakfast is included and can be served in your room or by the garden.
Address: 181 Main Street, East Hampton, New York
5. East Hampton Art House Bed and Breakfast, East Hampton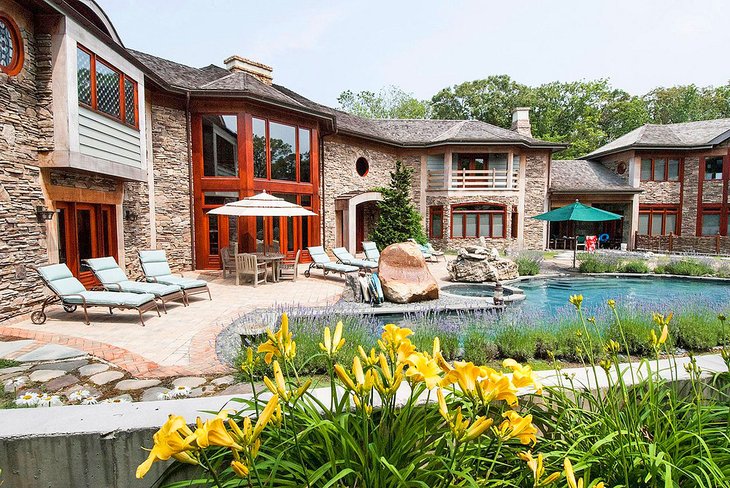 Accommodation: East Hampton Art House Bed and Breakfast
The East Hampton Art House Bed and Breakfast is a unique bed and breakfast resort that will unleash your inner Picasso. Run by two artists, this lovely resort in the Hamptons is more like a grand European villa than a classic hotel.
The spacious rooms are bright and feature large windows and interesting and eclectic pieces of art from around the world.
On the grounds, you'll find everything you need to enjoy a relaxing Hamptons' getaway: a large, 66-foot outdoor pool, hot tub, gym, 24-hour Butler's pantry filled with drinks and snacks, an outdoor shower, and an indoor "endless" pool (it allows you to swim "endless" laps against a current). There's even a children's pool, and pool table on-site.
The resort's private, Clearwater Bay Beach is a quick, one-block walk or bike ride away. For those who choose to explore the area's other beaches, you'll be granted a free parking pass to the East Hampton beaches.
Another, more unique perk offered at East Hampton Art House Bed and Breakfast is a peek into the creative process practiced by the proprietors, Rosalind Brenner and Michael Cardacino. Their art studio lies next to the resort and is open to guests.
While there's no restaurant, the complimentary gourmet breakfast is so good and filling, you may even want to skip lunch. Have an allergy? No worries. They can accommodate pretty much anything you throw at them.
Address: 9 Bon Pinck Way, East Hampton, New York
6. The 1770 House Restaurant & Inn, East Hampton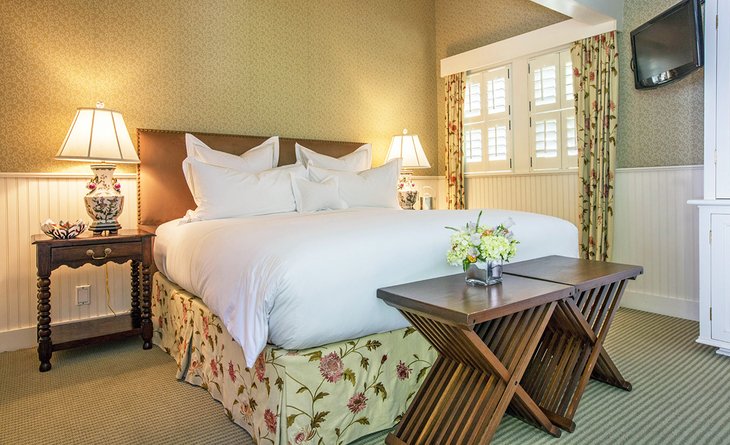 Accommodation: The 1770 House Restaurant & Inn
Step back in time at the resplendent 1770 House, a unique, historic hotel that has been serving guests for over 250 years. If you're nervous that the inside will be as outdated as its years, don't be. This gorgeous boutique inn has been renovated to a luxuriously elegant standard. And once you step foot on the circular patio, you won't want to leave.
With only six guest rooms sprawled graciously through the two-story carriage house, you can rest assured that your visit will be utterly serene. Visiting with family or friends? Book the Carriage House, a two-story private home with a large porch, two bedrooms, and a living and dining area.
The main dining room is a hot spot for gastronomes with a craving for award-winning dishes. Open seven nights a week, this popular spot is often busy, and once you taste the mouthwatering dishes, you'll understand why.
Breakfast is complimentary and just as enjoyable. If you visit during the off-season (after Labor Day), it is only available on weekends. The Tavern is another palate pleaser with a less sophisticated menu and tasty fare.
Borrow a beach chair, towels, and umbrellas, then drive the short distance to nearby beaches, some of which have been dubbed the best beaches near New York City. The Inn also provides guests with a parking pass for the village.
Address: 143 Main Street, East Hampton, New York
7. Hero Beach Club, Montauk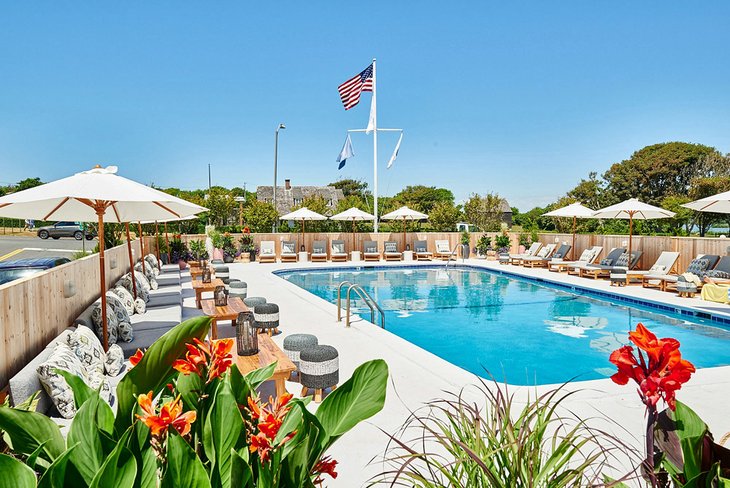 Accommodation: Hero Beach Club
If you're looking for a Hampton's beach hotel that's near the sand, Hero Beach Club is a great bet. This luxurious boutique resort is set steps from Montauk's Umbrella Beach, where you'll find complimentary beach loungers and umbrellas, as well as easy access to water-based fun. Fishing, paddleboarding, surfing, hiking, and horseback riding are popular here.
Hero Beach Club features 31 uber bright, modern rooms with a touch of Balinese charm. Most come with a private patio, in-room tablet, free Wi-Fi, plush mattress, luxury linens, and impeccable garden or ocean views.
Spend your days playing on the beach, splashing in the pool, sunbathing on the pool deck, or biking around the area. There are plenty of attractions in Montauk, and seemingly no end to fun things to do. In the evenings, cuddle around the bonfire pits on the lawn and lie back on a comfy daybed to stargaze.
The resort is also conveniently located near the Montauk Point Lighthouse, a landmark attraction famous across Long Island.
Address: 626 Montauk Highway, Montauk, New York
8. 434 on Main, Amagansett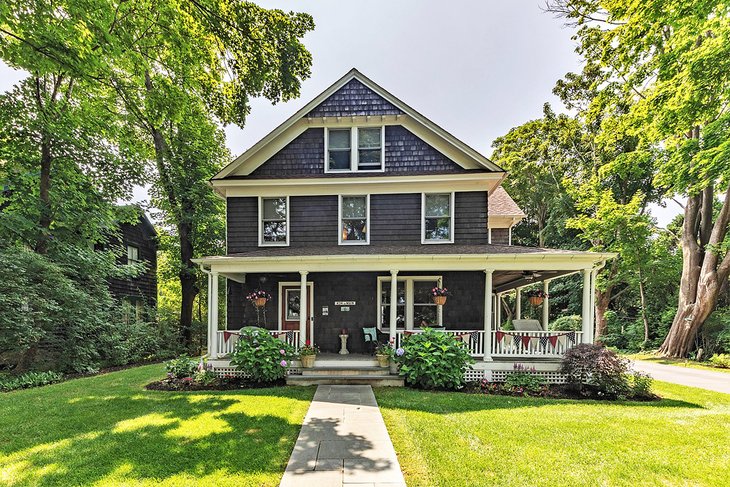 Accommodation: 434 on Main
If you prefer your hotels on the intimate and charming side, then 434 on Main is the perfect choice for your Hamptons' beach vacation. A small and friendly bed and breakfast, this sweet spot feels a little like spending a weekend at grandma's, but with more upscale amenities.
Pillow-top mattresses adorn the beds in each of the four quaint rooms. They've all been designed to bring a little 1905 charm to a present-day holiday. En suite bathrooms, luxe linens, free Wi-Fi, and fresh flowers are helpful touches that make it easy to feel at home.
While there's no pool or restaurant on-site, you won't have far to travel to find both, as well as the boutique shops and top attractions nearby. Rent a bike to explore the neighborhood, and feel free to bring your favorite fluffy friend along for the trip. 434 on Main is a dog-friendly haven.
Address: 434 Main Street, Amagansett, New York
9. Marram, Montauk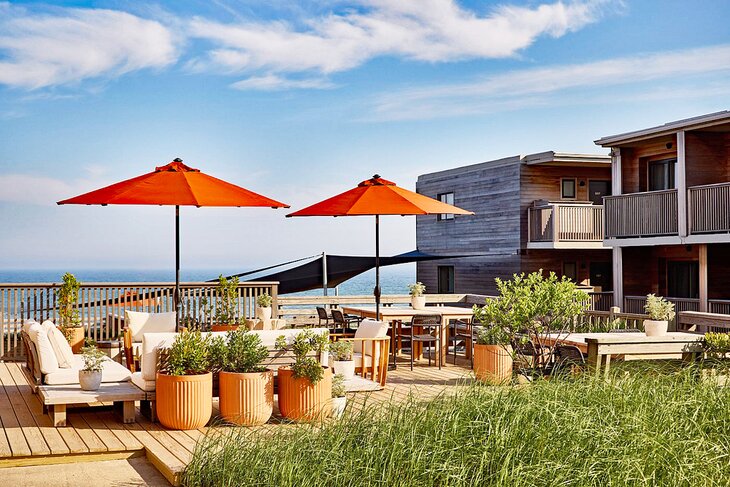 Accommodation: Marram
Roadside motel meets upscale chic at the lovely Marram beach resort in Montauk. Recently renovated when the resort changed ownership in 2019, this is the swankiest "motel" around. The 96 guest rooms and suites are lavishly decorated and nearly half of them boast fabulous ocean views.
Natural hues, exposed beams, oak furnishings, and plush bathrooms make it easy to settle in for an upscale stay by the water. One thing the rooms are missing is something you'll forget you ever wanted — a television. With views this stunning, who needs trash TV?
Named for the wild grass that fronts the sand-dune-lined property, this splendid resort boasts rejuvenating wellness classes (like yoga and meditation), creative workshops, nightly bonfires, and cruiser bikes on loan to explore the region.
An oceanfront pool is a highlight for families and couples looking for a luxurious place to cool off. The Mostador Marram café boasts a fresh and healthy menu featuring mouth-watering flavors; it's open between mid-May and mid-October.
Note: The resort closes in winter, so be sure to book your holiday between late April and late November.
Address: 21 Oceanview Terrace, Montauk, New York
10. Gurney's Montauk Resort & Seawater Spa, Montauk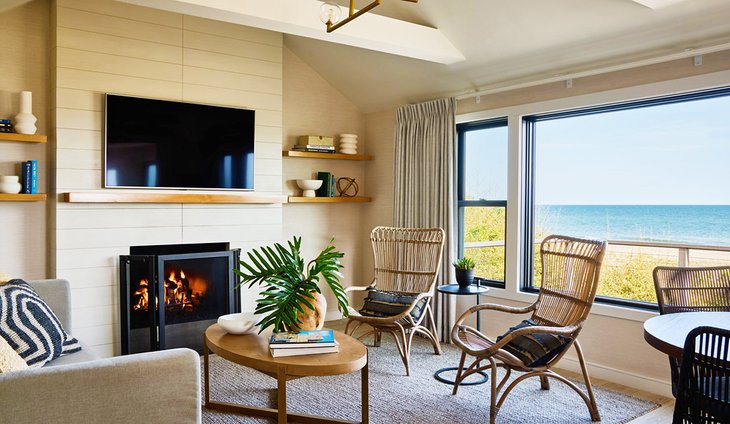 Accommodation: Gurney's Montauk Resort & Seawater Spa
All your needs will be met at Gurney's Montauk Resort & Seawater Spa. A high-end hotel that boasts a prime beachfront locale, this dreamy resort is a must for those who enjoy their vacation with a side of luxury. Beachfront wellness classes, fitness events, and a Spotify Playlist are just a few perks enjoyed by guests at this popular weekend getaway destination.
The 2,000-foot private beach is the best bonus. It is both pristine and quiet. Plus, the resort supplies the comfy beach chairs, towels, giant day beds, and umbrellas, which make it easy to spend an entire day by the shore.
The heated, seasonal outdoor pool is a must-visit during summer, and the fitness center is a perfect place to get energized year-round. If you're hankering for some pampering, head to the spa and soak in their Roman baths.
Choose from 158 rooms, suites, and cottages but be sure you reserve your choice early, as the summer season gets booked up early — we're talking up to a year in advance, especially on long weekends.
Not ready to cough up the extra dough required for a stay in a beachfront cottage? We get it. While they boast impeccable views, direct beach access, and a secluded spot to relax, the price tag can be a bit hard to stomach.
Luckily, the guest rooms and suites are just as plush and offer at least a partial view of the ocean as well as a pull-out sofa, free Wi-Fi, and luxe furnishings.
If you opt to dine at Scarpetta Beach, you're in for a treat. And you can enjoy another dining establishment and coffee shop, as well as a beach bar and lounge during your stay at this beach hotel in the Hamptons.
Address: 290 Old Montauk Highway, Montauk, New York
11. The Maidstone, East Hampton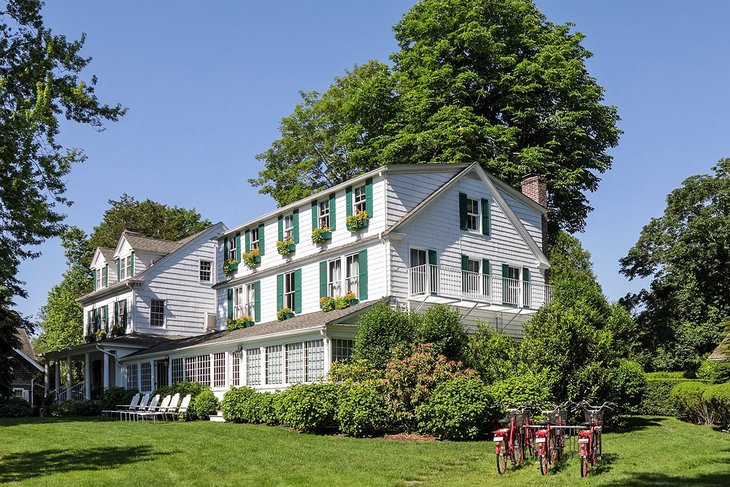 Accommodation: The Maidstone
All are welcome at the Maidstone resort in East Hampton: children, pets, couples, friends. When you arrive, you'll be greeted by a historic home so charming, you'll want to sit on the porch swing for hours and soak it all in.
In business since the 1920s, this pretty resort in the Hamptons has 19 rooms, an impressive curated selection of art, and a perfectly tended garden to soothe your soul. On a cool or rainy day, decompress in the lounge.
The Scandinavian room designs are flawless and so intriguing, you'll feel as if you're sleeping in a gallery. Each room is so unique, you'll want to ask the staff if you can peek at empty units.
Speaking of sleeping, the Hästens beds are heavenly, and the Jonathan Baker aromatherapy products provided in each room help even the most stressed-out traveler unwind.
Complimentary bikes are available on-site, and they're the vintage, grandma-style that look classy while saving your back. Wi-Fi is free, as is breakfast, and there's a lounge serving refreshments.
Address: 207 Main Street, East Hampton
Map of Resorts & Beach Hotels in the Hamptons, NY