17 Top-Rated Resorts in Minnesota
We may earn a commission from affiliate links ()
Minnesota offers no end of great vacation options for travelers thanks to its beautiful countryside, making it one of the top places to visit in the USA. Whether your journey is for business or pleasure, the Northstar State is also home to an abundance of excellent accommodation choices.
Those seeking a stay in a luxury location couldn't do much better than book into the historic Grand View Lodge on Gull Lake, popular for its elegant rooms and manicured grounds.
Prefer something a little more rustic? Then those seeking a comfortable stay in a traditional family-run wilderness resort should consider the charm of the well-appointed country cabins at Ludlow's Island Resort in Cook, or Kavanaugh's on Sylvan Lake near Brainerd, both popular with outdoor enthusiasts.
Whatever your preferred style of travel, we're certain you'll find the best place to stay with our list of the best resorts in Minnesota.
1. Best Western Premier The Lodge on Lake Detroit, Detroit Lakes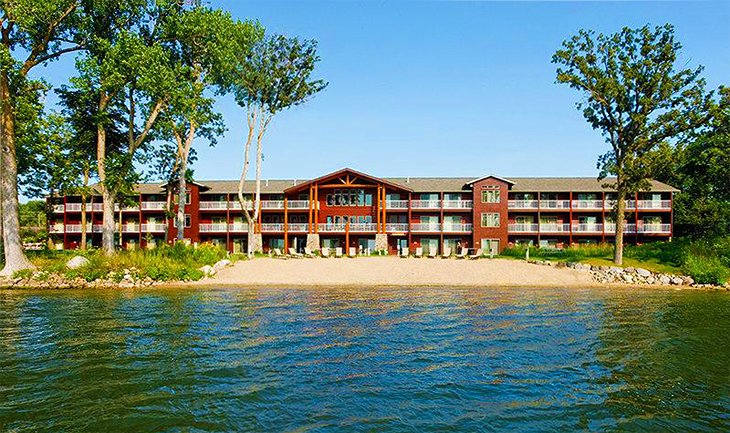 These bright rooms come with a choice of one or two queen beds, a handy mini-fridge and microwave, a wet bar, patio, and great views over the lake and surrounding shoreline. An upgrade to consider is the king suite. These spacious units also come with a jet tub, a cozy fireplace, plus a good-sized balcony. A number of easy-access units are also available for those with mobility issues.
On-site amenities include a private 150-foot-long beach for guest use only, boat slips, kayaks, as well as fire pits to enjoy as the sun sets over the lake. There's also a large heated indoor swimming pool, along with a steam room, hot tub, and full-service spa. Other notable features include a 24-hour fitness center, dining, and live entertainment.
2. Madden's on Gull Lake, Brainerd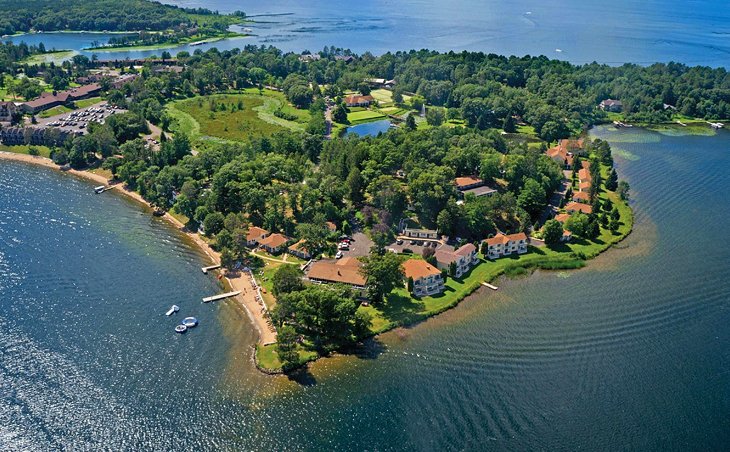 One of the most opulent is the large four-bedroom unit perched just feet away from the water. This impressive unit comes with multiple bathrooms, a full modern kitchen, separate living room with a fireplace (there's an additional fireplace in the screened-in porch), a private dock, and a dedicated fire pit. This first-rate accommodation sleeps up to 14 people comfortably.
Sports fans will love the on-site facilities. These include a golf course, tennis courts, badminton courts, croquet lawns, lawn bowling, and volleyball. For watery fun, there are three heated outdoor swimming pools, plus one indoor pool to choose from. Also worth a mention are the kids' wading pool, a hot tub, and a number of fun water toys on the lake, including trampolines and slides.
The resort also has its own marina and offers rentals of motorized watercraft such as boats and Jet Skis, along with canoes, paddleboards, and kayaks.
3. Chase on the Lake, Walker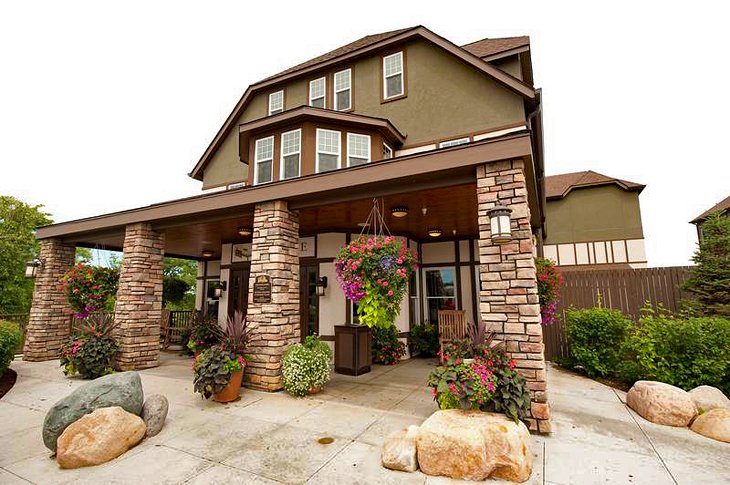 Whatever size unit you book, you'll enjoy standard features such as microwaves and mini-fridges, large bathrooms with stand-alone showers and bathtubs, and HDTVs. The condo suites come in one-, two-, and three-bedroom configurations and include such additional features as a master bedroom, a full-kitchen, plus a separate living room.
There's much to keep guests occupied at the resort. Highlights include enjoying a meal in the on-site restaurant, booking a massage or other treatment in the spa, or even taking in some family fun at the resort's private bowling alley.
Other features of note include an indoor swimming pool, a hot tub, as well as a private beach. Water activities include fishing, kayaking, and sailing. In the winter season, be sure to check into their excellent ice fishing packages.
4. Lutsen Resort on Lake Superior, Lutsen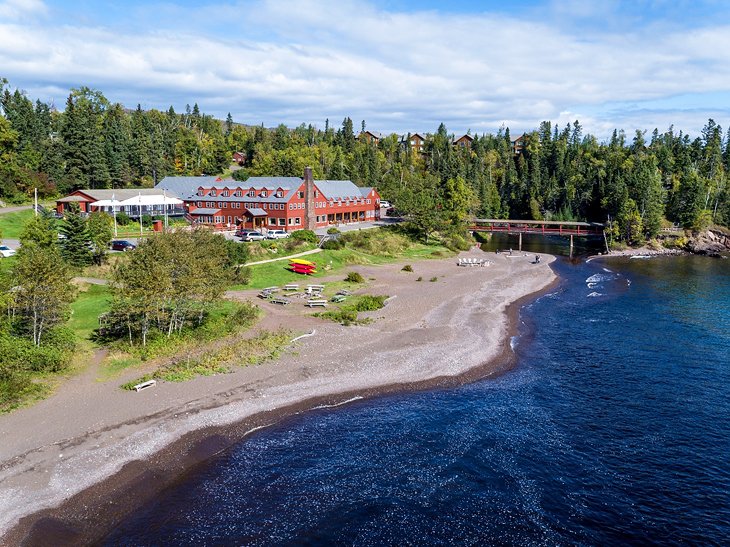 The emphasis is very much on fun activities and events for the whole family. Popular things to do for families include enjoying live music, taking nature hikes, as well as participating in guided kayak and canoe adventures. Other summer activities include golf, biking, swimming, and fishing.
Come winter, it's all about skiing (downhill and cross-country), snowboarding, snowshoeing, and snowmobiling, and the resort often offers affordable ski and stay packages. On-site dining is also available in the excellent restaurant (kids' menus are available), as is a full-service spa, a large heated indoor swimming pool, a games room, plus a kids' play area.
Popular accommodation choices include spacious one- and two-bedroom suites, some of which come with loft areas. Other notable features include full kitchens, living rooms with pullout couches, real fireplaces, and large furnished decks with barbecues. The larger two-bedroom units come with an additional bathroom and can sleep up to eight people comfortably. Some pet-friendly units are available.
5. Quarterdeck Resort, Nisswa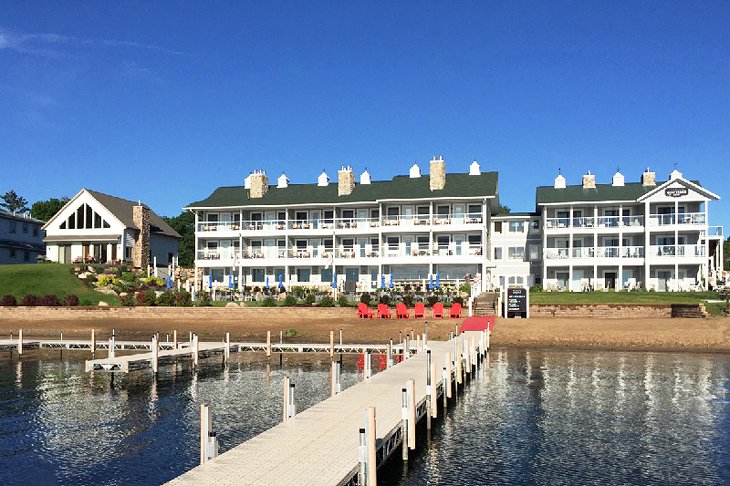 While couples like the main lodge suites with their king beds, families will want to book into the two queen bed option. In either case, you'll enjoy standard features, including good-sized bathrooms with jet tubs, kitchenettes, fireplaces, and balconies. Some larger suites are also available that include master bedrooms, full kitchens, pullout couches in the living areas, and a dining area.
With its focal point being Gull Lake, there are many fun things to do on the water. Highlights include swimming, fishing, boating (rent or bring your own boat or Jet Ski), and kayaking, as well as enjoying the abundant wildlife, which includes eagles and loons.
Notable on-site amenities include dining in the resort's popular restaurant, a full-service marina, a gift shop, a heated swimming pool with a hot tub, and a fitness center. The resort's attractive function spaces - not to mention its setting - has assured its spot as one of the region's top wedding destinations, too.
6. Arrowwood Resort & Conference Center, Alexandria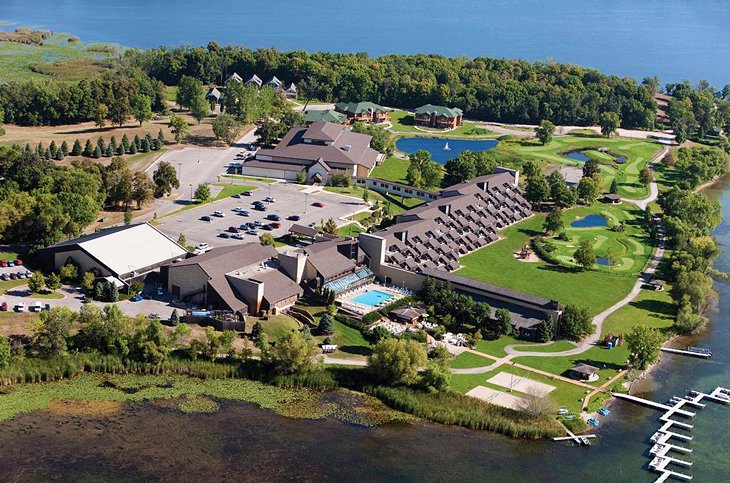 Traveling as a family? Then you'll enjoy this quality 3-star resort's huge indoor all-season water park, which comes complete with three thrilling waterslides, a lazy river, and a kid's splash area. Other notable on-site amenities include a full-service spa and a restaurant.
The guest rooms here are spacious and clean, and come with either a king bed or two queen beds. They also feature an always handy mini-fridge plus a microwave. If available, request one of the king rooms with a view of the lake. These larger units come with a master bedroom, a separate living room with a pullout couch, a gas fireplace, a kitchenette complete with a dishwasher and a full fridge, plus a spacious bathroom with a jet bathtub and stand-alone shower. They also offer a furnished patio.
7. Grand View Lodge, Brainerd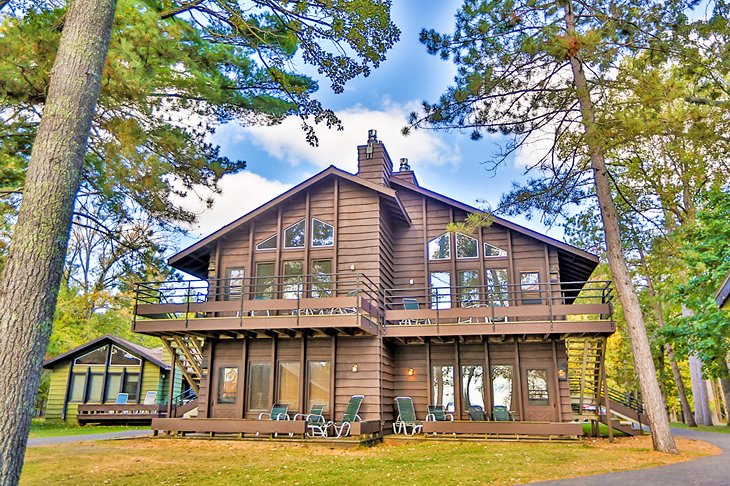 Much of the appeal is the resort's many excellent amenities. Highlights include a full-service spa that uses mineral waters from local springs as part of its treatment program; a variety of on-site restaurant options, including both casual and fine dining; and two world-class championship golf courses.
Fun activities also await at the private beach, along with the heated indoor swimming pool with its waterslide. There are also plenty of kid's programs and activities, and the resort also has meeting and function rooms.
Come bedtime, a popular choice for families are Grand View's fully-equipped townhomes. These spacious luxury units range in size from one to five bedrooms and come with large kitchens, separate dining and living areas (the latter with a gas fireplace), and large furnished terraces with barbecues.
Be sure to check the availability of resort packages in the quieter seasons, as well as during holidays such as Thanksgiving and Christmas.
8. Ludlow's Island Resort, Cook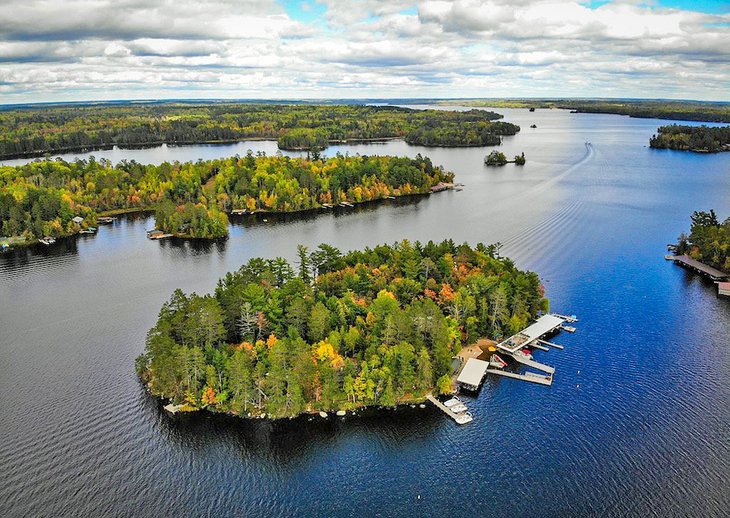 Notable features of the resort's 22 spacious and unique units include multiple bathrooms, authentic wood-burning fireplaces, as well as large screened-in porches and decks with barbecues (cabins range in size from one- to five bedrooms).
There's also much to do in and around the resort, too. Popular activities include the chance to squeeze in some wildlife spotting to exploring the lake's 1,200 miles of shoreline and 365 islands. Other highlights include a private beach area, along with boating, sailing, fishing, kayaking, and canoeing activities. The resort is also popular as a hiking destination. Numerous kids' programs and activities are also available.
9. Kavanaugh's Sylvan Lake Resort, Brainerd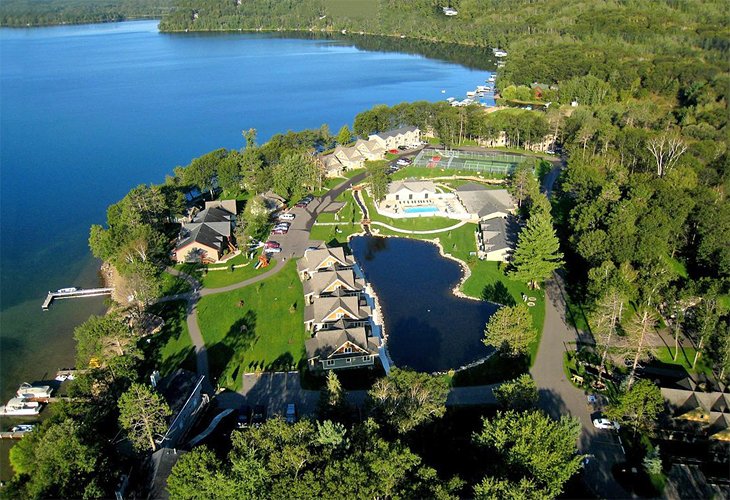 Highlights of a stay include relaxing at the recreation complex, which includes an indoor swimming pool plus a spa and fitness center. This sizeable amenity also houses a games room, laundry facilities, as well as the resort's large heated outdoor swimming pool. Sports enthusiasts can enjoy activities such as tennis, and the resort also boasts an extensive trail network that connects to area hiking routes.
When it comes to accommodations, there's plenty of choice. Popular with groups of up to five people, the one-bedroom cottages come with a master bedroom with a king bed and twin pull-out, a spacious bathroom, full kitchen, dining room, and a living area with a gas fireplace and a queen pullout. They also include a laundry room, plus a large lake-view deck with a barbecue. A three-bedroom cottage is also available.
10. Bluefin Bay on Lake Superior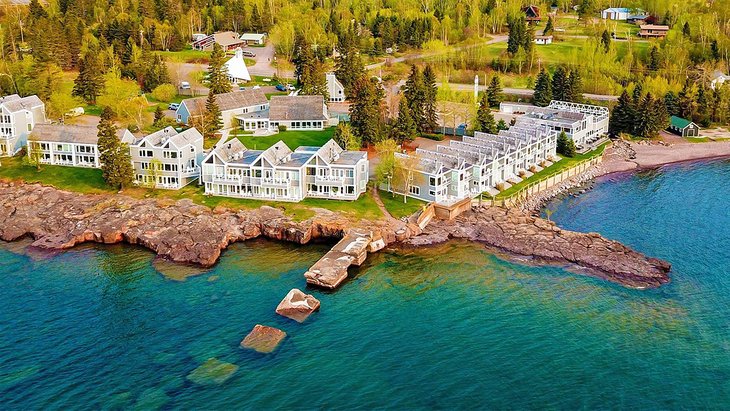 Topping the list is, of course, its sizable private beach, a focal point for families for its shallow water entry and water-based activities. In addition to swimming, the lake is popular for its boating, sailing, canoeing and kayaking adventures. It's also a popular fishing spot. Beachside fire pits are also fun.
The resort also boasts a number of tennis courts and is connected to a great hiking trail network. Other amenities include a restaurant, café, and bistro, which have a good reputation among the locals, too. Add to this the heated indoor and outdoor swimming pools, the sauna, plus a spa, and you'll definitely want to stay put.
As for the resort's accommodation, they certainly don't disappoint. Top choices are the apartment units. Coming in one-, two, or three-bedroom configurations, these spacious accommodations include full kitchens, as well as separate living rooms with pull-out couches and fireplaces.
11. Beacon Pointe on Lake Superior, Duluth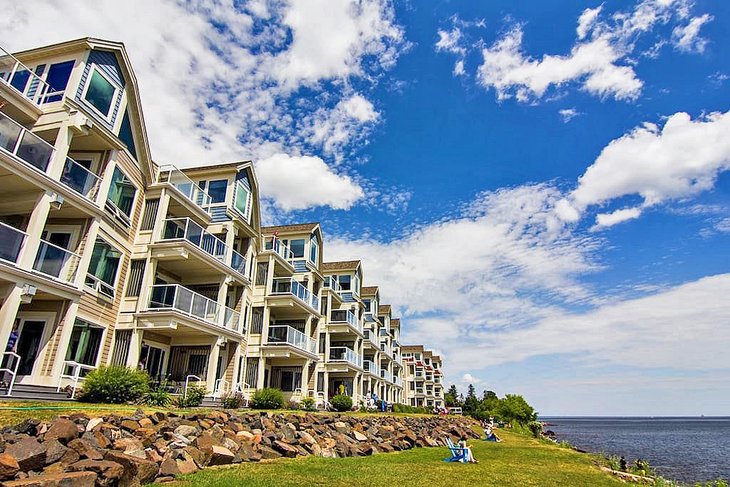 Designed in a traditional beach-house-style, the facilities here also tend to focus on its waterfront location. Topping the list of things to do here is enjoying a stroll along the eight miles of paved trails that make up the city's Lakewalk (it's also good for jogging and cycling).
The condo-style rooms are bright, with comfortable beds and nice furnishings and come in a variety of configurations to suite your needs. The larger suites and penthouses are a good option, as are the two-, three-, and four-bedroom condos. These larger accommodations also feature private lake-view balconies, well-equipped kitchens, separate living areas, gas fireplaces, and Jacuzzis.
12. Lodge At Giants Ridge, Biwabik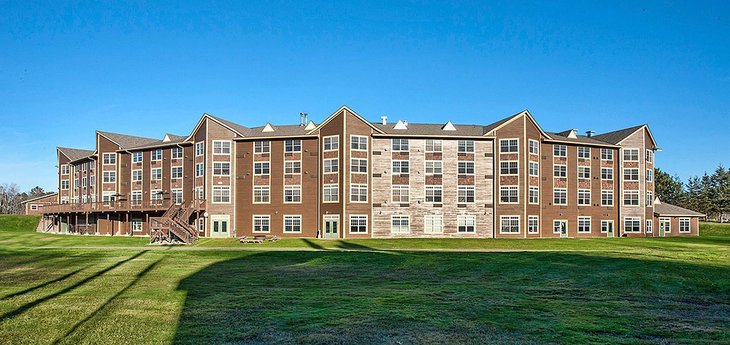 Accommodations are condo-sized and feature a choice of one- to four-bedroom units. Whatever size you opt for, standard features include pine furniture and rustic accents, living areas with futons, as well as kitchenettes. If you're here in ski season, be sure to request a unit with ski-in/ski-out access. Other upgrade options include hot tubs and fireplaces.
Visiting in summer? If so, you'll want to check out the private beach and outdoor swimming pool, as well as sample nearby Legends Golf Club. Also worth a mention are the indoor swimming pool, fitness center, spa, games room, and casual dining restaurant.
13. Gunflint Lodge, Grand Marais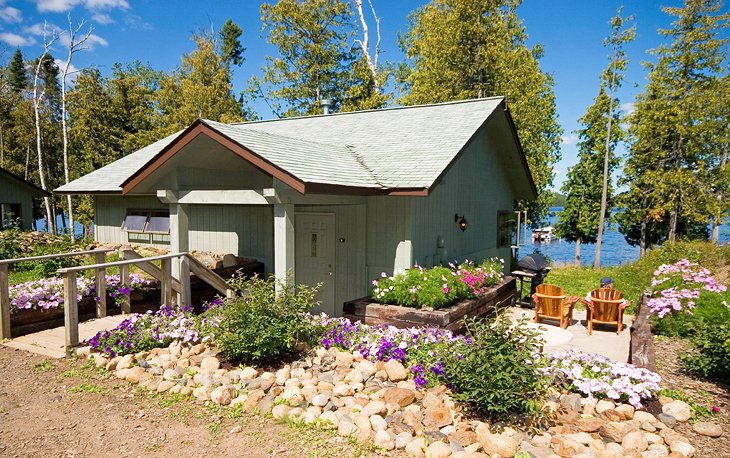 Guests can expect a warm welcome and friendly service, whether it be when seeking expert advice on area activities and attractions, or when learning how to get the most out of your stay here.
Activities provided include nature hikes and guided canoe trips, fishing, and even wolf howls. The resort, in fact, operates a full outfitting service, ensuring guests have access to everything needed to explore the surrounding wilderness. Watercraft such as canoes and kayaks are available when needed. The resort also has its own full-service spa, as well as a great restaurant.
Consisting of stand-alone cabins and cottages ranging in size from one to four bedrooms, you can expect such features as real fireplaces with ample supplies of firewood provided, full kitchens, charcoal barbecues, spacious bathrooms, and daily towel service. If so desired, request one of the units with its own sauna and laundry facilities.
Larger groups should consider the five-bedroom Pow Wow Lodge. This huge accommodation sleeps up to 10 guests and also comes with three bathrooms, a large living and seating area, lake view porch, and its own garage.
14. Voyagaire Lodge, Crane Lake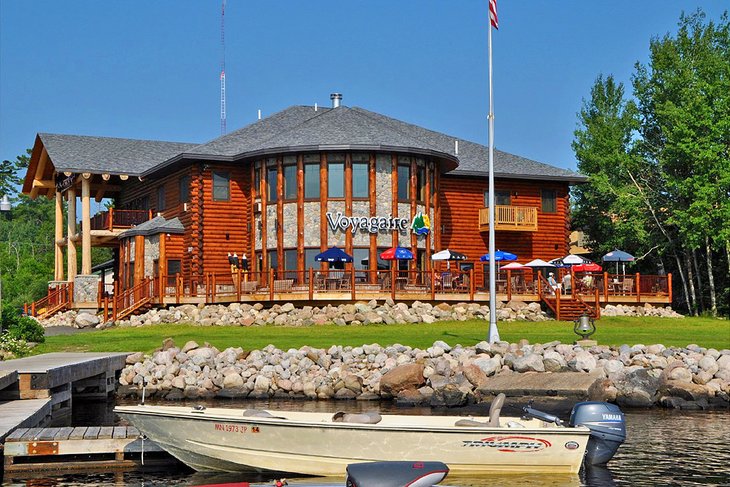 Open only seasonally (it's closed all winter), this summer resort is located close to Voyageurs National Park, the state's only national park and a popular destination for outdoor enthusiasts that's easily accessible to guests. The park is, in fact, easy to get to by boat, kayak, or canoe, all of which are available from Voyagaire Lodge.
The resort also offers unique vacations aboard its houseboats. Other activities include swimming and fishing.
The rustic log lodge offers a variety of accommodation options, including larger units with full kitchens. Be sure to request a lake view if available.
15. Fair Hills Resort, Detroit Lakes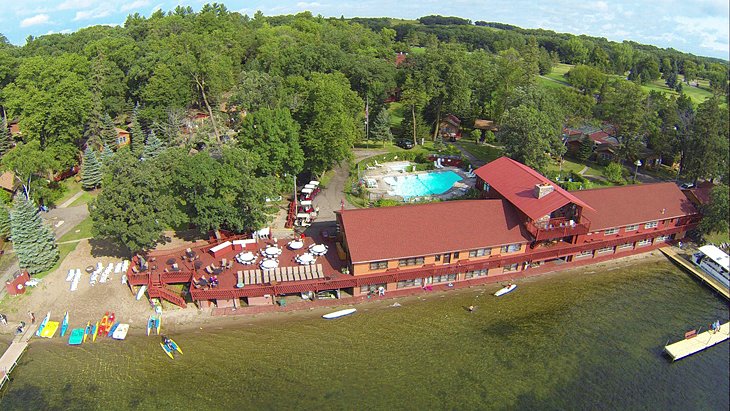 Popular activities include participating in talent contests, as well as their famous "Hootenanny," a concert celebration featuring folk music and entertainment. Organized sports events and activities are also plentiful, and include swimming (there's a large private beach, plus a heated outdoor pool), kayaking, and sailing, as well as tennis, basketball, volleyball, and golf.
Adding to the relaxation are the inclusion of hammocks and fire pits. There are also a number of function and conference rooms, too.
Included with your cabin are standard features such as spacious bathrooms, seating areas, and daily housekeeping services. Sizes range from one to three bedrooms, each of which comes with a large private and furnished deck with great views over the lake. Three meals a day are included with your stay.
And a note for TV addicts: forget it! Fair Hills is very much focused on outdoor fun, so TVs aren't provided in your accommodations. And rightly so. With so many things to do outside, who wants to stay indoors anyway?
16. Lost Lake Lodge, Nisswa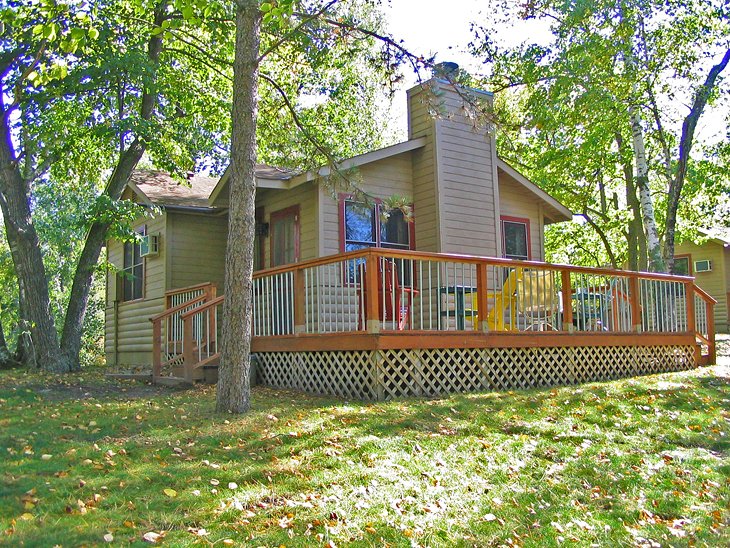 Outdoor activities include a water slide, boat rentals, rowboats, canoes, paddleboards, and kayaks. Also fun are the many hiking and biking trails waiting to be explored, nightly campfires, sports such as volleyball and basketball, and the use of fishing rods.
Guests sleep in their own charming and cozy cabin, which comes in a choice of one-, two-, or three-bedroom configurations, each with a wood-burning fireplace, HDTV, pullout bed, mini-fridge, microwave, coffee maker, and dock. The largest three-bedroom units can sleep up to 10 people comfortably and include a loft seating area, a family room with a pool table and pull-out couch, three full bathrooms, a laundry room, full-kitchen, and furnished screened in porch.
17. Nelson's Lodge, Crane Lake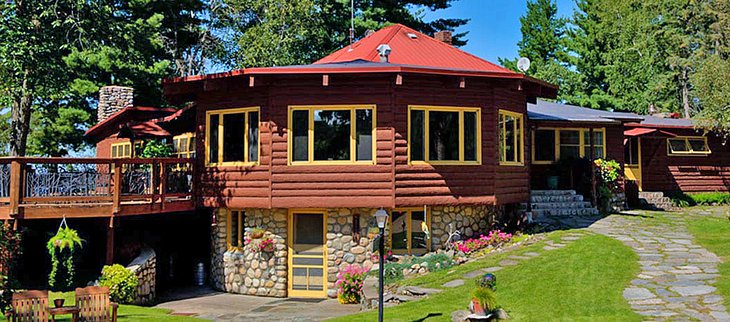 Each self-contained cabin features home comforts such as living rooms, large bathrooms with stand-alone showers, and private decks. Upgrades include full kitchens and real fireplaces.
There's no end of fun to be had outside, too. Guest amenities include a sauna and a beach area, plus free use of the resort's kayaks and canoes. There's also a great little playground for those traveling with kids, as well as a games room. An on-site restaurant serves three meals a day, and boat rentals are available.