10 Best Tours & Excursions from Cabo San Lucas
We may earn a commission from affiliate links ()
Perched at the southernmost tip of Mexico's Baja Peninsula, Cabo San Lucas truly feels like the end of the world. In fact, the iconic stone arch (El Arco) that sits at the tip of the peninsula is often referred to as "Land's End." It's a paradise for lovers of culture, the beach, outdoors, and fine dining. And the best tours and excursions from Cabo San Lucas give you a little taste of it all.
Today, Cabo San Lucas makes up one part of the world-famous Los Cabos destination, which also includes nearby San Jose del Cabo. Los Cabos is one of Mexico's most luxurious destinations, known for its five-star hotels, A-list restaurants, and stunning surroundings. It's the perfect recipe for wonderful and enriching tours and excursions.
While many visitors to Cabo San Lucas prefer to be pampered in their beautiful hotels, others want to see and take advantage of the surrounding landscape and all the things to do in the destination. Think whale watching, culinary tours, dune bashing in the desert, gallery hopping in small villages, and diving with creatures of the deep.
If you're ready to explore the active and adventurous side of Los Cabos, here are the best tours and excursions from Cabo San Lucas.
Note: Some businesses may be temporarily closed due to recent global health and safety issues.
1. Catch a Glimpse of Gentle Giants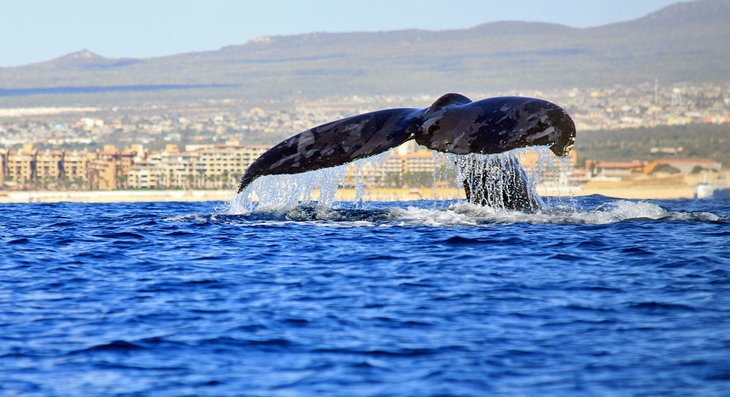 Every year between December and April, the waters surrounding Los Cabos become absolutely electric with pods of massive, elegant humpback whales. The whales migrate down from the Arctic feeding grounds to the warm waters off the coast of the Baja Peninsula to give birth to their calves.
It's during this season that Cabo San Lucas becomes one of the best places in the world to spot these graceful giants. In fact, it's one of the very best tours and excursions from Los Cabos in general.
Consider a humpback whale watching tour in Cabo San Lucas. This one takes travelers aboard a boat accompanied by a marine biologist who will act as the guide, shedding light on the marine life in the area, from the sea lion colonies to the whales themselves. This tour is small and personalized and includes a picture-perfect view of the iconic Land's End Arch, so don't forget to bring your camera.
The tour is about 2.5 hours and has several departure options, though the morning departures tend to have calmer waters.
2. Horseback Riding on the Beach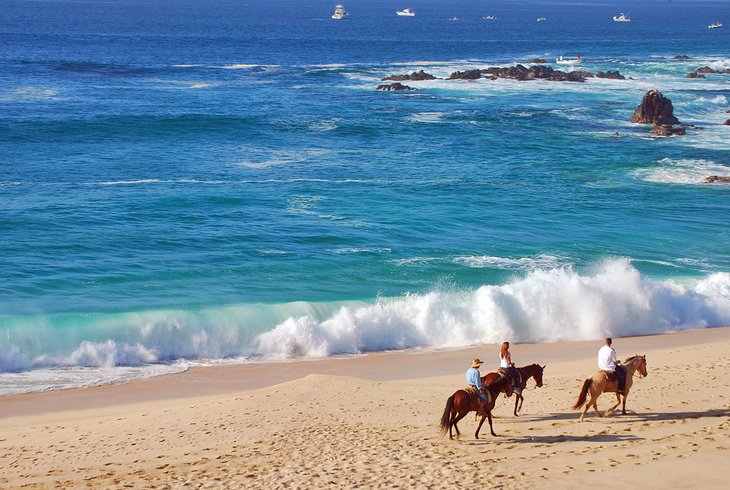 The landscape along the Pacific Coast is truly breathtaking. Picture sweeping, golden sandy beaches; cobalt-colored water; and rugged, red rocks that taper off into the desert. There's no better way to capture the soul of Los Cabos than by seeing all its natural splendor. One of the best tours and excursions from Los Cabos is to explore it on a horseback riding adventure.
This Pacific Horseback Riding Tour makes it easy by offering round-trip transportation from your hotel. From here, visitors are taken to a traditional Baja California horse ranch, where you will be matched with a horse that fits your riding experience. All levels of experience are welcome. Then it's time to saddle up and head out onto the sand for some of the best views of Cabo San Lucas.
Along the way, brace yourself for unbeatable views of the rugged and wild flora, like towering cacti. Be ready to drink in the mesmerizing views of the Pacific coastline – your camera is a must. The tour concludes with a return back to your hotel.
3. Get the Lay of the Land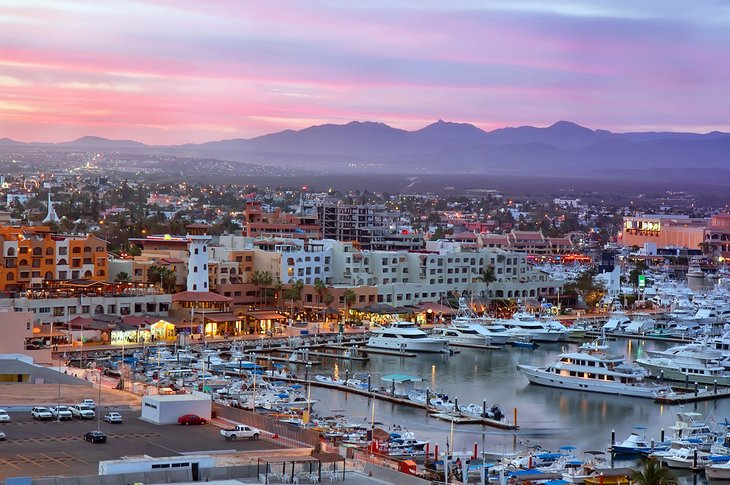 Ever wonder why they call it Los Cabos? It's an umbrella term that refers to the two main tourist cities that sit at the end of the Baja Peninsula: Cabo San Lucas and San Jose del Cabo. While the two together make up the entire iconic beach resort destination, they have entirely different vibes and energies that are entirely their own. Cabo San Lucas, for example, is where the majority of luxury hotels are, while San Jose del Cabo has more of the energetic nightlife.
Visitors can discover the best of both with a sightseeing tour combo. This five-hour sightseeing tour shows off all the highlights of Los Cabos and the surrounding area, both by land and by sea.
It begins in Cabo San Lucas, where visitors are taken to the main square to look at the many historic landmarks downtown. From here, it's off to the marina to board a glass-bottom boat. This part of the tour visits the iconic El Arco – the internationally recognized symbol of Los Cabos.
Guests disembark in San Jose del Cabo for a trip to the lagoon estuary and a chance to see the remarkable birdlife that lives in the area. Guests are also given ample time to explore the many shops and galleries that pepper San Jose del Cabo. The tour concludes with transportation back to your hotel.
4. A Journey to Land's End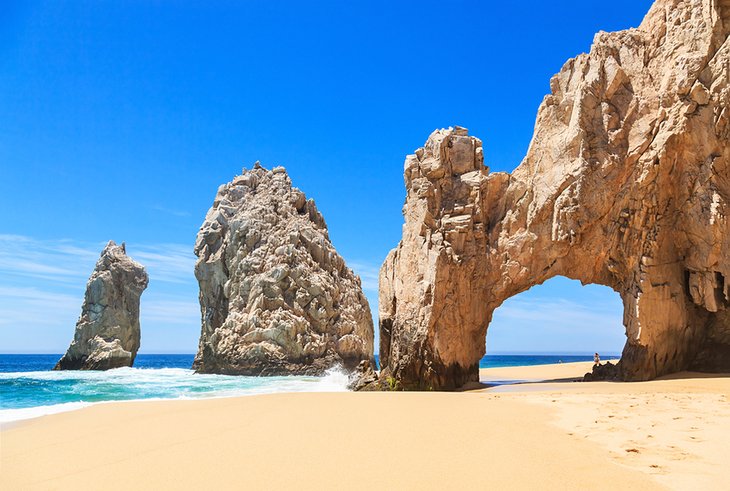 Even if you've never been to Cabo San Lucas, you know its legendary symbol, the mesmerizing arch, also known as El Arco. The Arch of Cabo San Lucas is the signature rock formation and iconic image for the entire destination. It's where the Pacific Ocean meets the Sea of Cortez. If you come to Los Cabos and don't visit the arch, have you even really been to Los Cabos?
To make sure you don't miss it, it's best to book a boat tour. This glass-bottom boat cruise is a great option to consider. From the marina in Cabo San Lucas, visitors board the glass-bottom boat, which offers a crystal-clear view of the colorful fish and marine life darting below the boat. World-famous scuba diver, Jacques Cousteau, once called this part of Mexico, "the aquarium of the world," and you'll soon discover why.
But the sightseeing doesn't end there. Passengers on this cruise will also see the famous sea lion colony, Lover's Beach and Divorce Beach, Pelican's Rock, and more. After the 45-minute boat ride, passengers are transported back to their hotels.
5. A Spectacular Sunset Cruise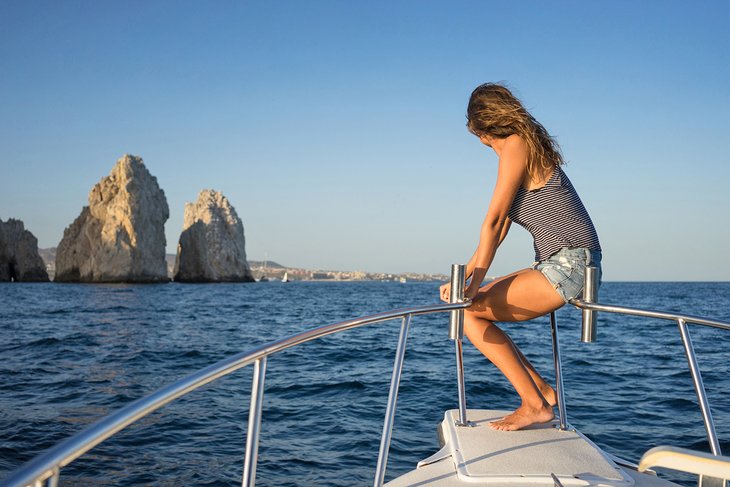 Cabo San Lucas enjoys an enviable location, perched at the convergence of the Sea of Cortez with the Pacific Ocean. To get out onto the water in Los Cabos, with nothing but an expanse of endless blue as far as the eye can see, is one of the best things you can do.
But if you're looking to raise the bar, getting out on the water at sunset is a surefire way to put the entire destination in a whole new light. A sunset cruise is, without a doubt, one of the best tours and excursions from Los Cabos.
Cabo San Lucas is known for its legendary sunset cruises. These evening sailings are bookable by dozens of operators all across Cabo San Lucas and San Jose del Cabo. They range from the crème de la crème luxury cruises to much more scaled down. But what they all have in common is typically a food spread, good music, and the best view in the house of the fiery sunsets that paint the Pacific skies a swath of incendiary colors.
6. Desert and Beach Dune-Bashing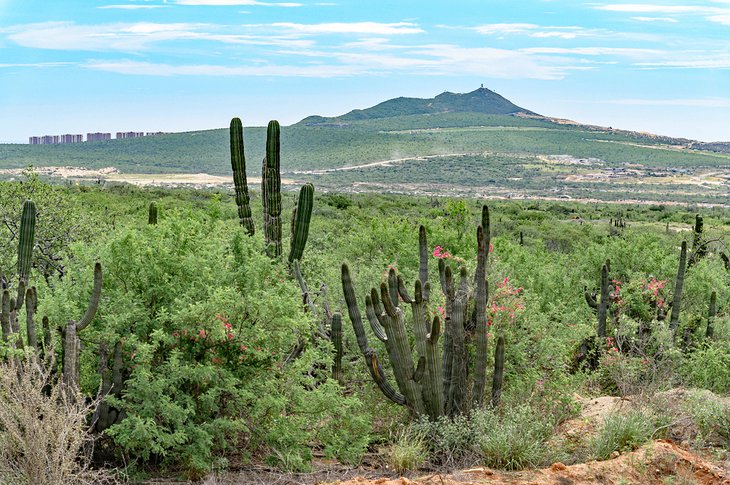 The beaches of Los Cabos are certainly beautiful but, for the most part, the water is deemed too treacherous for swimming. But that doesn't mean there isn't fun to be had on the sand. An ATV adventure is a great option for a tour and excursion from Los Cabos.
This Beach and Desert ATV tour creates an off-road adventure across Margaritas Beach, one of the beautiful white-sand beaches in the destination. But it then mixes it up with a tour through the dried creeks and canyons of the desert within the G-Force Adventures park, one of the extreme adventure parks in Los Cabos.
There's no need to have prior ATV experience – it's a very user-friendly tour, and the guides provide all equipment. They will take you into the park, as well, teaching you about the local flora along the way. When you hit the beach, there is even a possibility to catch a glimpse of the whale migration, depending on the season.
7. Cooking Class and Market Tour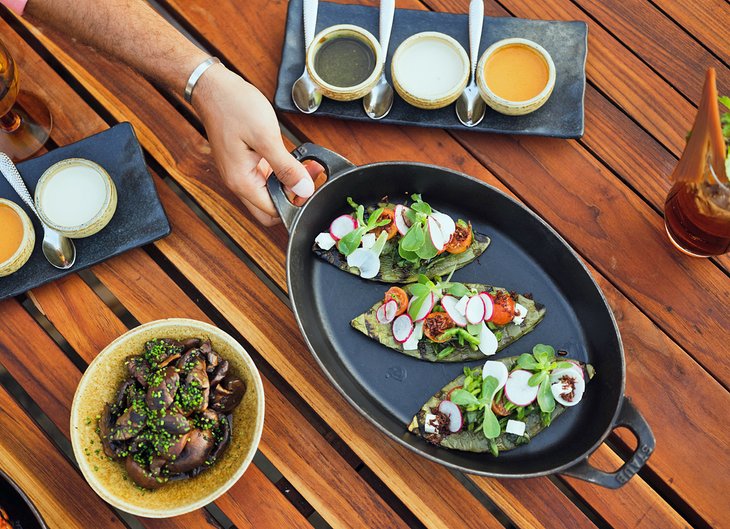 Mexican cooking always tops the list of reasons why travelers long for a trip south of the border. So why not learn how to make your own?
Mexican cuisine is one of the most fascinating in the world. It varies from state to state and is highly dependent on local ingredients, centuries-old recipes, and secrets that each chef has perfected on their own in their years of practice. What you eat in Baja will be very different from what you eat in Oaxaca, Playa del Carmen, or Mexico City.
When visiting Los Cabos, a great tour and excursion from Cabo San Lucas is this cooking class and market tour. The half-day class brings you to a local market, where you work with your guide to help select the ingredients for that day's preparation. Then, working alongside the chef, you prepare your own tortillas, as well as an authentic Mexican meal that changes based on what ingredients are available. Meal options can include tamales, mole sauce, Baja-style paella, and an assortment of tacos.
8. Todos Santos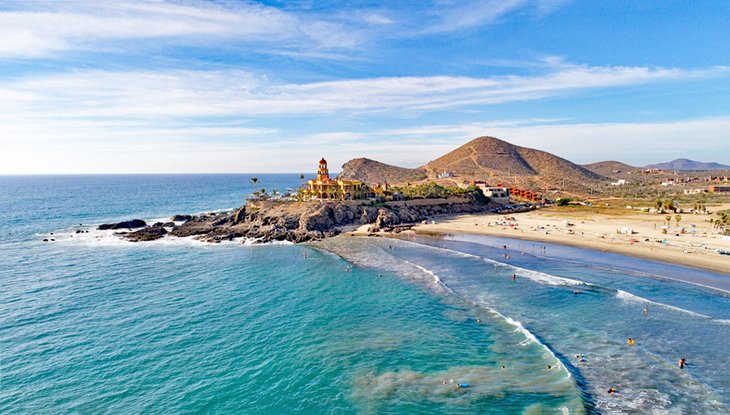 Todos Santos is the Mexican beach town surfer legends are made of. Once a hideaway for beatniks and bohemians, Todos Santos is an artistic enclave perched on the Pacific, just an hour from Cabo San Lucas. Picture cobblestone streets flanked with art galleries, restaurants, and cafés. It may not be far from Los Cabos, but it certainly is its own little world.
Day trips to Todos Santos make for wonderful tours and excursions from Los Cabos. This Todos Santos day trip will take you from Cabo San Lucas along the Pacific coast to the vibrant little community. Browse in and out of art galleries and shops to work up your appetite for a delicious lunch at the iconic Hotel California – yes, that Hotel California. Other stops include a Mexican blanket weaver shop and the Casa de La Cultura.
9. Cabo Pulmo National Marine Park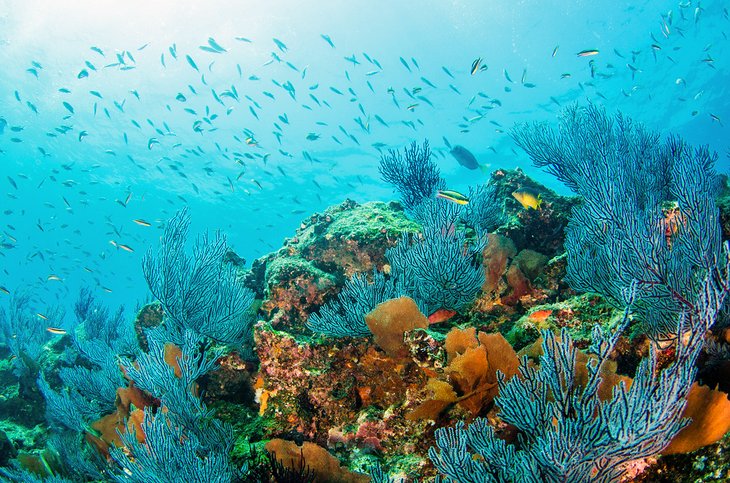 While much of the development on the Baja Peninsula is along the Pacific Coast and in Los Cabos, the idyllic "East Cape" is still relatively off the radar (though a recently opened Four Seasons will surely change that). Still, the East Cape, which touches the Sea of Cortez, is about as unspoiled as it gets, with expansive sandy beaches; rugged, rust-colored mountains; and a gorgeous stretch of sea. Not far from Los Cabos, the East Cape is where you'll find Cabo Pulmo National Marine Park.
Cabo Pulmo National Marine Park is home to the oldest living reef on North America's Pacific Coast. As such, it is a paradise for snorkelers and divers who flock to peek at fish, whale sharks, dolphins, manta rays, and sea turtles. The park is a UNESCO World Heritage Site, and there are many tours and excursions from Los Cabos.
Most tours leave from Cabo San Lucas and include snorkeling and diving. Some tours even include other attractions like El Arco and a trip to a sea lion colony.
10. Sierra de la Laguna Biosphere Reserve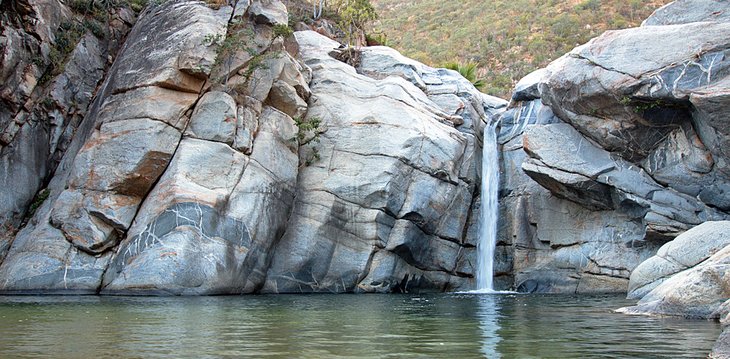 While most of the activity around Cabo San Lucas happens on or near the water, the region has a plethora of day trips and excursions inland, as well. Take, for example, the Sierra de la Laguna mountains, which are strewn with oak and pine forests. It's quite a dramatic change from the desert beaches of Los Cabos, and one worth an excursion.
This is prime territory for hiking, backpacking, climbing, and bouldering. In fact, Picacho de la Laguna, the range's highest peak, caps out at 7,090 feet above sea level. Plenty of guided hikes are available to take outdoor enthusiasts out on the trails. Bear in mind, however, that the trails can be challenging, so those looking for a gentle stroll may want to look elsewhere. The truly adventurous can even camp out at base camps if they really want to immerse themselves in the experience.