Best Time to Visit Boston, MA
There's a lot to love about Boston. Charming cobblestone streets, historic buildings, eclectic shops, and fantastic food make this city a must-see locale. Oh, and the Red Sox. Who doesn't love the Red Sox? To get the most out of your holiday, it's important to time your visit to Boston right.
Weather wise, the best time of year to travel to Boston is between May and June and September to October. You'll miss summer's heat and oppressive humidity and avoid the ice and snowbanks created during the winter months. Trust us, slogging through two feet of snow on the Freedom Trail is less than ideal.
Traveling at these times also ensures the city's main attractions are open since some outdoor venues close during low season. That said, certain other times of the year offer different perks, including better hotel deals and less tourists.
Here's everything you need to know to help you choose the best time to visit Boston.
On This Page:
Average minimum and maximum temperatures for Boston, MA in °C
J
F
M
A
M
J
J
A
S
O
N
D

2

-6

4

-4

8

-1

13

5

19

10

25

15

28

18

27

18

23

14

17

8

11

3

6

-2

PlanetWare.com
Average monthly precipitation totals for Boston, MA in mm.

100

84

98

91

82

82

78

86

88

96

101

95

Average monthly snowfall totals for Boston, MA in cm.

30

31

18

3

0

0

0

0

0

0

3

21
Average minimum and maximum temperatures for Boston, MA in °F
J
F
M
A
M
J
J
A
S
O
N
D

36

22

39

24

46

31

56

41

67

50

77

59

82

65

80

64

73

57

62

46

52

38

42

28

PlanetWare.com
Average monthly precipitation totals for Boston, MA in inches.

3.9

3.3

3.9

3.6

3.2

3.2

3.1

3.4

3.5

3.8

4.0

3.7

Average monthly snowfall totals for Boston, MA in inches.

12

12

6.9

1.1

0

0

0

0

0

0

1.3

8.1
Best Time of Year to Visit Boston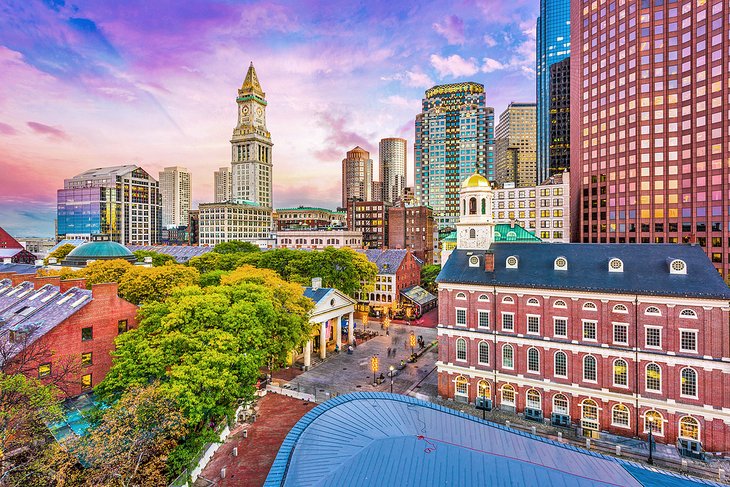 If you're looking for a seamless vacation packed with fun adventures and ideal weather conditions, the best time of year to go to Boston is during the late spring and early fall. This is technically Boston's high season.
From May through the end of June, things are starting to warm up nicely. You're looking at highs in the upper 60s to high 70s and more comfortable lows in the 50s. Not too hot nor too cold, these temps are perfect for wandering the streets all day. Still, you'll want to pack layers to be sure you're prepared for the fluctuating temperatures.
The months of September and October also present visitors with optimal highs in the mid-60s (October) to high 70s (September). Lows range between high 40s to high 50s. Again, you'll likely need layers. At this time, you'll witness an impressive sight: vibrant red, orange, and yellow hues envelop the city in the form of fall foliage, especially towards the end of October, rewarding photographers with picture-perfect backdrops.
Boston hotels will be more expensive during this time, and you can expect to see larger crowds of tourists, but overall, late spring and early fall are the best times to visit Boston. Since many of the city's best attractions are outside (i.e. the Freedom Trail and Fenway Park), you're guaranteed an enjoyable visit that allows you to visit the city's most popular points of interest with ease. Plus, you'll be able to ride a Swan Boat in Boston Common. This "ride" is closed during the cold winter months.
Best Month to Visit Boston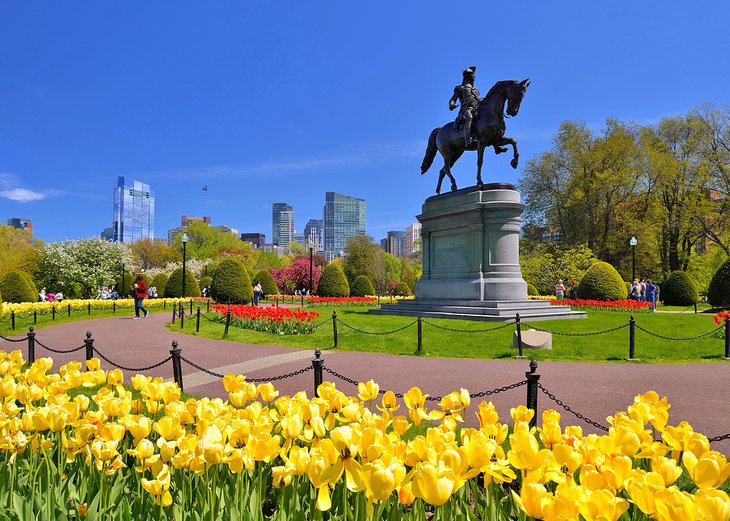 May is the best month to visit Boston. In addition to its idyllic weather, this spring superstar offers visitors a sneak peak at summer's lush beauty. Budding blooms cover the trees, bursting into life in the form of lush green leaves. Bright blossoms pepper the city's immaculate gardens, and the university graduates' families haven't taken all the hotel rooms (as they'll do in June).
Yes, the room rates start to increase during this month, but they haven't yet hit their peak. Plus, you'll be able to roam the streets, enjoy lunch outdoors, and take a boat cruise without being weighed down by a heavy winter coat. The average highs hover around the mid-60s.
May also plays host to the Boston Calling Music Festival, featuring some of the world's best performers.
Cheapest Time to Visit Boston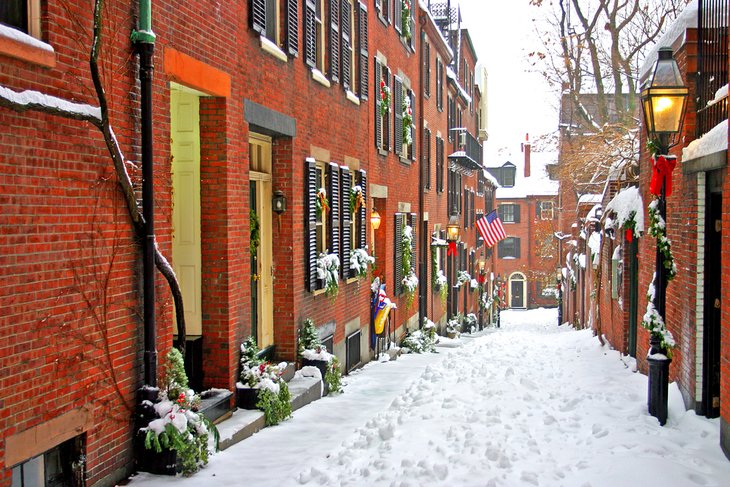 Looking to lap up a little luxury without gauging your pocketbook? Head to the city's high-end hotels (that's you, Fairmont Copley Plaza Boston) during January. The holidays have passed, and no one wants to brave streets covered with snow and ice. That means you'll have the place (almost) to yourself at a fraction of the cost you'd pay during the high season.
Yes, your nose hairs will freeze when you step outside, but you'll be so warmed by the awesome deals you're getting that you'll barely notice. And it's nothing a little steam from a cup of hot chocolate can't cure.
February is runner up for Boston's cheapest month. Again, you'll be facing arctic conditions, but this low season gem also boasts inexpensive hotel and restaurant deals and a well-appreciated lack of other tourists. Plus, it's Chinese New Year, so you'll be able to partake in a few fun festivities.
Best Time to Visit Boston in the Fall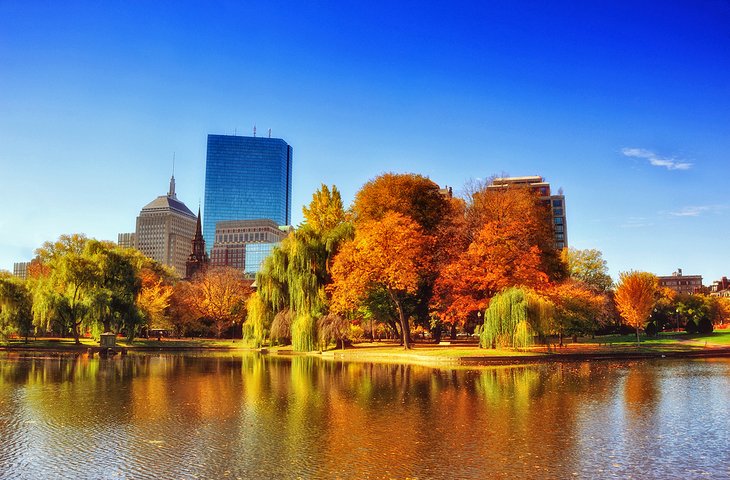 Visiting New England in the Fall is one of life's most awesome pleasures. Not only will you enjoy a moderate climate with crisp, clean air, but you'll also be privy to the area's most sought-after feature - its remarkable fall foliage. Lovely, bright colors dot the horizon, making an already beautiful city even more outstanding.
The best time to visit Boston in the Fall is during September. While the height of autumn's most impressive colors hits in October, this is the time when hotels are at their most expensive. You can blame the hefty price tags on multiple October conventions and the uber-popular Head of Charles Regatta.
September, on the other hand, offers more reasonable rates, a comfortable temperature ranging from lows in the high 50s to highs in the low 70s. It's also the ideal month to catch one of the New England Patriots' first games of the season at Gillette Stadium. Or, catch the Red Sox in action at one of their final games of the season (unless they make it to the World Series) at Fenway Park.
Worst Time of Year to Visit Boston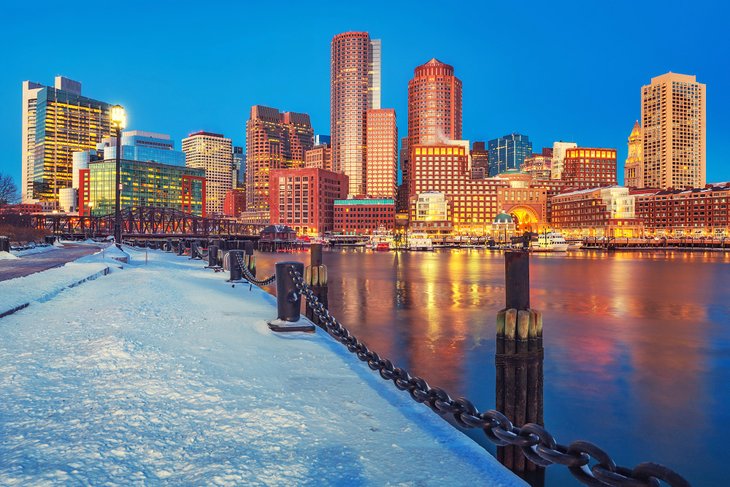 Winter is the worst time of year to visit Boston, hands down. Unless you're a fan of sleet, slush, and two-foot-high snowbanks, you'll want to avoid traveling to Beantown from December through February. That said, it's been known to snow in November and sometimes into May, so you never really know what to expect or when to expect it.
There is a bonus to visiting Boston after the mercury has fallen below zero degrees: cheaper hotel rooms and a dramatic lack of other tourists. Plus, you'll get to ice-skate outdoors in Back Bay.
While you're outside freezing, why not add a little holiday shopping into the mix? Searching for the festive spirit at the Holiday Market at Snowport is a fun thing to do in winter. Based in the Boston Seaport district, this European-inspired market hosts over 100 small business selling everything from handmade ornaments to hot chocolate to actual Christmas trees.
December also plays host to the Harvard Square Holiday Fair. Held over two long weekends mid-month, and a total of eight or nine days in total, this popular fair has graced Harvard Square since 1986. Wandering this marketplace is free, but you're sure to give your wallet a workout when you spy the unique, artistic creations.
Weather in Boston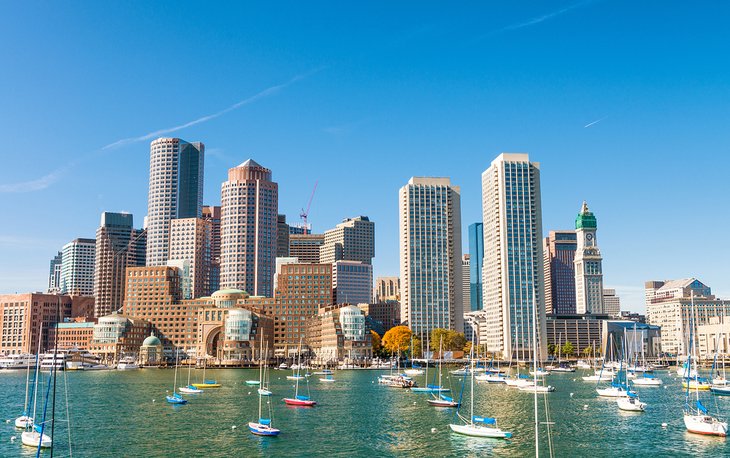 Boston plays host to typical New England weather fronts. That means you'll face everything from sweltering summers to frigid winters. This is great news for those who love to truly experience the ups and downs of every season.
Atop the Berkeley Building (a.k.a. the Old John Hancock Tower), stands a 65-foot-tall mast topped by a beacon light. Known as Boston's official weather forecaster, this beacon tells locals what the day's climate has in store:
A steady blue light means it's clear.
A flashing blue light means it's cloudy.
A steady red light means rain.
A flashing red light during the winter means snow.
A flashing red light during baseball season means a Red Sox game has been canceled due to bad weather.
So, when you're in town, look out for the beacon's up-to-date reading on the day's climate. Otherwise, here's a breakdown of what to expect from Boston's weather during every season:
Winter offers Bostonians a reason to dream about beach vacations. Ranging from lows that hover in the 20s to highs in the low 30s, you're going to want a parka, gloves, and a hat when venturing outside. We'd also add a scarf and wool sweater for good measure. Oh, and don't forget your snow boots. Squalls can hit at any time, bringing tons of the white fluffy stuff.
Spring rejuvenates locals, offering them a well-deserved respite from the freezing temperatures. Although snow has blanketed the city in April (and a few times in May), you're looking at more rain than anything thicker between March and May.
Summer is hot, hot, hot, not to mention super humid. If you want to know what it feels like to live in an oven, visit Boston between July and August. While the sweat drips down your back, you'll be thankful that every museum features air-conditioning on full blast. Highs only reach the low 80s, but the humidity makes this warmth feel almost unbearable at times.
By the time Fall comes around, you'll be more than ready to ditch your tank tops. With average temps in the 70s and the oppressive humidity all but a memory, Boston is back to hosting an enjoyable, moderate climate. Yay!
Best Festivals in Boston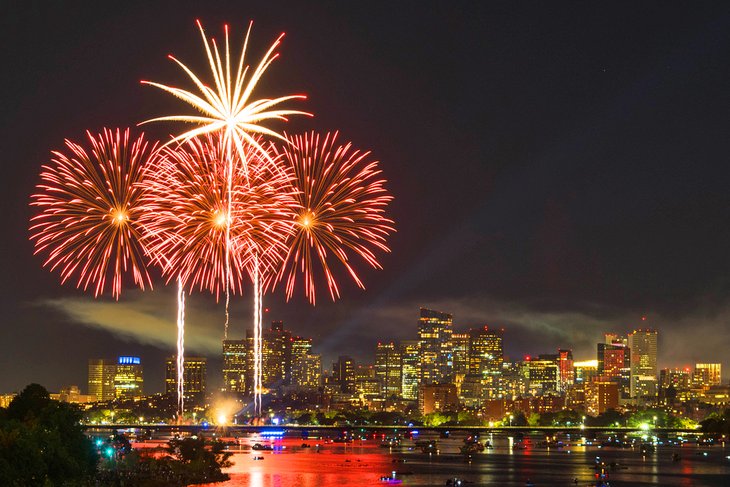 No matter the season, there is a ton of fun to be had in Boston. Want to experience a historical reenactment, watch fireworks, run a marathon, or stand front row at a parade? You can do all this and so much more. Here are a few of Boston's best events and festivals:
January: L Street Brownies New Year's Day Swim - While you may not want to partake in this frigid event, watching the brave (or crazy, depending on how you look at it) thrill seekers run into the icy water in South Boston is something you won't forget.
February: Chinese New Year Parade - Celebrate the Chinese New Year at this annual event that starts on the main stage of Philips Square. Lunar New Year Celebrations also take place at Faneuil Hall Marketplace.
March: Boston's St. Patrick's Day Parade is famous for good reason. It features elaborate costumes, uplifting Irish gigs, phenomenal food, and an unbeatable atmosphere. The Irish Film Festival also takes place in March, as do guided walks of the Irish Heritage Trail.
April: Lace up your running shoes and get ready to compete in the Boston Marathon. Not an athlete? This inspiring race is super fun to watch as a bystander, not to mention inspiring. If only we could burn calories by watching other people run! Film buffs will love the Boston International Film Festival, which is also hosted by the city this month.
May: The annual Boston Calling Music Festival attracts music lovers from all walks of life, featuring big names like the Red Hot Chili Peppers and Foo Fighters. You won't want to miss this epic concert series, which takes place in late May.
June: Two big events happen in June: The Cambridge Arts River Festival (early June) and the Boston Pride Parade (mid-June). The former plays host to fantastic open-air concerts (some on a stage and some that move through the streets), as well as art exhibits and markets. The latter features floats and costumes like you've never seen before.
The Boston Hong Kong Dragon Boat Festival also takes place in June; usually on a weekend towards the beginning of the month. Tourists head to the Charles River (between JFK Street and Western Avenue) to watch the colorful boats of 50 New England teams race each other. The entertainment doesn't stop there. Visitors to this fun event are privy to special dances, live music, Japanese drumming, and plenty of tasty treats.
July: Beat the heat at Boston Harborfest, an annual festival held during the first week of June. It features hundreds of activities (including concerts, art displays, and a water parade of beautifully lighted boats) to celebrate the city's history. On July 4th, head to the Boston Pops Fireworks Spectacular- an Independence Day festival that ends with a bang.
August: Don't miss Movie Night at Fenway Park. A one-night event taking place in mid-August, this is your chance to watch a film under the stars, with the Green Monster as your backdrop. Visitors will also be able to walk the park's warning track.
September: The Boston Arts Festival takes place over a weekend in early September. It features museums, artists, and crafts makers displaying their talents in Christopher Columbus Waterfront Park. See a circus, hop on an amusement park ride, pet an animal, or stuff your face with insanely delicious local food, all at the Big E (a.k.a. Eastern States Exposition).
October: Boston's Head of the Charles Regatta is attended by hundreds of thousands of rowers each year, making it one of the largest rowing events worldwide.
November: Every November, the city hosts the popular Boston Christmas Festival at the Boston World Trade Center. This is where holiday shoppers can find unique gifts (from art to jewelry to clothing) for everyone on their Christmas list.
December: Once a year, Boston hosts the Boston Tea Party Reenactment, a day devoted to celebrating the "most important event leading up to the American Revolution."
More Related Articles on PlanetWare.com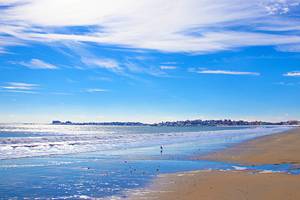 Get Outside in Boston: You probably won't want to be outside for too long during Boston's hearty winter. If you visit during any of the other, more optimal seasons, however, the city's beauty will be on full display. From nearby beaches (including Spectacle Island) to beautiful hiking and walking trails, there are a ton of awesome outdoor venues to enjoy near Beantown.