12 Top-Rated Family Resorts in Hawaii
We may earn a commission from affiliate links ()
The US island state of Hawaii should definitely feature highly on everyone's list of top family resort destinations. And not simply because the weather is brilliant, Hawaiian beaches are endless, and there are plenty of fun things to do in Hawaii for kids (and mom and dad, for that matter). Perhaps equally important for anyone in the planning stages of a great Hawaii vacation are the excellent resorts.
Whether you prefer to organize your holidays yourself or book vacation packages directly with one of the states' many all-inclusive hotels or resorts, there are endless possibilities for fun family vacations in the Aloha State.
To help you find the best place to stay for your next family vacation, be sure to use our list of the top family resorts in Hawaii.
1. Four Seasons Resort Oahu at Ko Olina, Oahu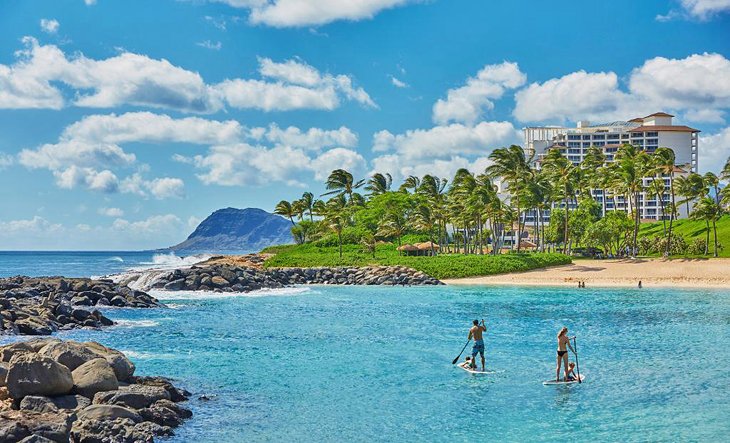 Accommodation: Four Seasons Resort Oahu at Ko Olina
The Four Seasons Hotel & Resort group certainly know a thing or two about luxury vacations - and families. And the company's exquisite 5-star Four Seasons Resort Oahu at Ko Olina on Oahu is certainly no exception. Given its impressive collection of 370 luxurious units, there's plenty of choice available for those traveling with kids.
A good starting place when checking for holiday accommodation deals are the spacious suites. For those with toddlers or a single child, the bright, airy junior suites with their large bathrooms and separate bathtubs and showers should work well, as roll-away beds can be added.
There are also a number of larger units available, including the massive two-bedroom penthouse with its multiple bathrooms and separate living and dining rooms. All units come with either a terrace or balcony. Some sea-view units are also available, so let your preferences be known when booking.
Your kids are also going to appreciate the family-friendly amenities here, too. Given the size of this resort property, it's a lot of fun to explore, with plenty of fun things to do at every turn. Highlights include hanging around the family swimming pool, as well as the resort's beach. Fun activities on the waterfront include snorkelling or exploring the coast on a sea kayak, paddleboard, or Jet Ski.
When it's time to act all grown-up, treat the kids to a kid-friendly spa treatment or a meal from the special kids' menus in any one of the five on-site restaurants. Asian, Italian, and seafood restaurants are available, and live music can be enjoyed in the on-site café.
Address: 92-1001 Olani Street, Kapolei, Hawaii
2. Grand Wailea - A Waldorf Astoria Resort, Maui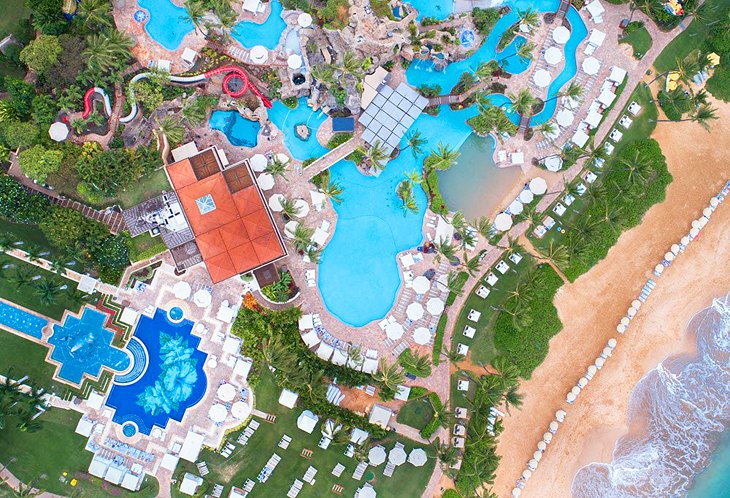 Accommodation: Grand Wailea - A Waldorf Astoria Resort
One of the largest resort property's on Maui, the impressive Grand Wailea from the Waldorf Astoria hotel group offers no end of fun for families, with plenty of pampering along the way.
The 40-acre grounds offer plenty of opportunities for kids to explore their surrounds, with landmarks such as the huge on-site water park ensuring they never lose their bearings.
Boasting no less than nine different swimming pools, there's plenty of fun to be had here. Other features include a long lazy river with its own dedicated pool, four waterslides, caves, a water elevator, plus plenty of rope swings to climb.
Indoor fun for children includes a 20,000-square-foot kids' club featuring a video game arcade, movie theater, along with organized programs including arts and crafts. Rest assured the rooms are luxurious and come in a variety of different configurations, including spacious multi-roomed villas with separate living areas.
Address: 3850 Wailea Alanui Drive, Wailea, Hawaii
3. Grand Hyatt Kauai Resort & Spa, Kauai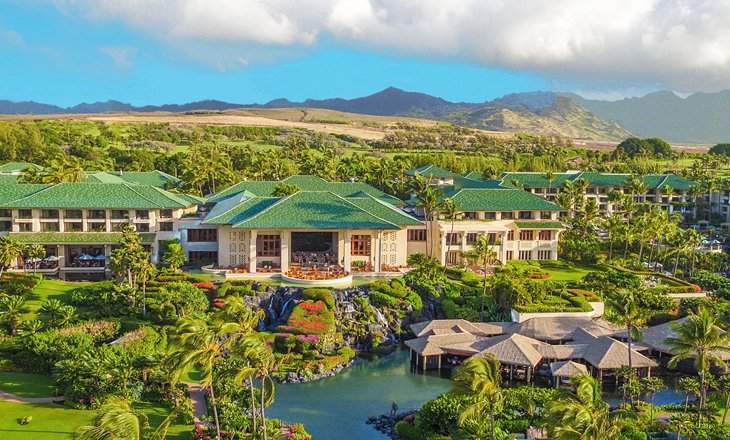 Accommodation: Grand Hyatt Kauai Resort & Spa
The attractive garden setting of Kauai's Grand Hyatt Kauai Resort and Spa certainly helps families visiting this top resort relax, as do the accommodations.
Notable features of the comfortable standard rooms include spacious balconies, HDTVs, and coffee makers, while the larger suites come with additional living space, pullout couches, a dining area, and handy wet bar.
There's plenty of fun specially geared to keeping kids busy, too. Highlights include kid-friendly menus at the restaurants, kids' programs including some that focus on Hawaiian culture, large swimming pools (one with a saltwater lagoon), water volleyball, a long lazy river with waterfalls, plus a 150-foot waterslide. There's also a large shopping area that's fun to explore.
Address: 1571 Poipu Road, Koloa, Hawaii
4. Four Seasons Resort Hualalai, Hawaii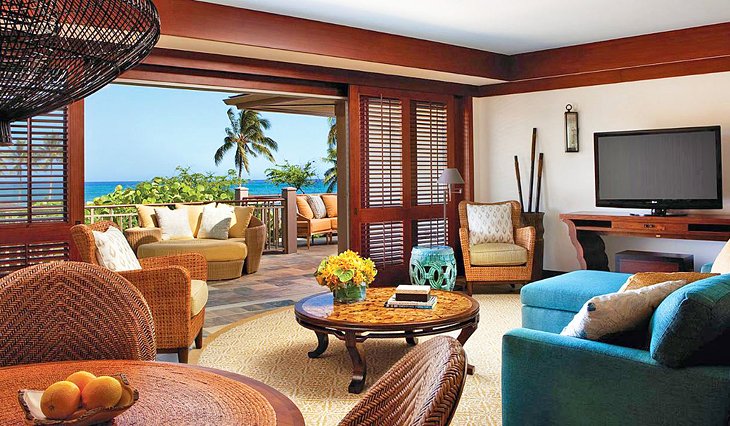 Accommodation: Four Seasons Resort Hualalai
The luxurious Four Seasons Resort Hualalai on the Big Island offers a variety of accommodation options, one of the best for families being its vacation bungalows.
Large and very roomy, these bright and pleasantly decorated units feature multiple bedrooms, living and dining rooms, full-kitchens, and good-sized patios. Nice touches include bathrobes for the whole family, along with nightly milk and cookie treats.
There's plenty of fun for kids around the resort, too. In addition to organized activities such as arts and crafts, other things to do include snorkeling in a special pool stocked with fish and other marine life (gear provided). In addition to the private beach, there are a total of seven swimming pools to explore, one dedicated to younger kids. Childcare services are available.
Address: 72-100 Ka'upulehu Drive, Kailua, Hawaii
5. Mauna Lani, Auberge Resorts Collection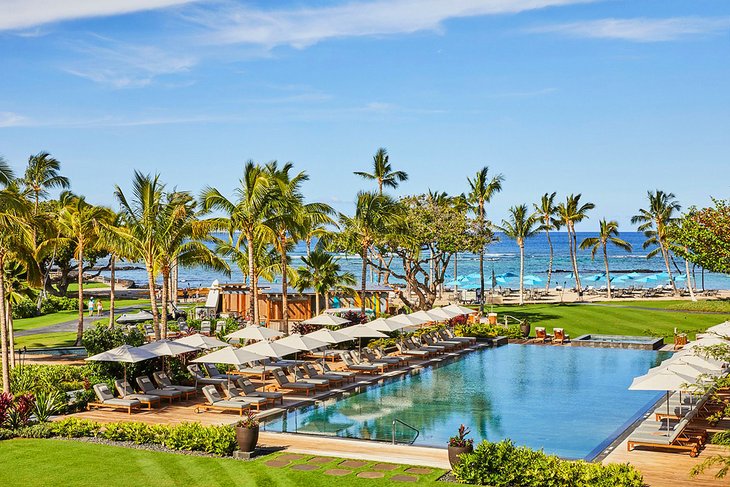 Accommodation: Mauna Lani, Auberge Resorts Collection
On the Big Island's dramatic Kohala Coast, the Mauna Lani by the Auberge Resorts Collection is a 5-star resort that is also family friendly.
Set on 32 beautifully landscaped acres that feature natural lava plains, tropical gardens, beachfront, and fish ponds, it prides itself on "experiential luxury." Head down to their Surf Shack to book a myriad of water adventures, from traditional spearfishing to paddling an outrigger canoe. Activities like surfing and snorkeling and diving are also offered.
The resort offers a variety of rooms, suites, and residences to choose from. All feature furnished lanai balconies with ocean and mountain views, and lots of hardwood, natural fabrics, and bright colors in the understated luxe rooms.
Families will like the suites, which have more space for kids. Another option is to book one of the gorgeous residences that come with 4,000 square feet of space, two bedrooms, three baths, and a private swimming pool.
Amenities here include a kids' club, large swimming pool, sun loungers, and umbrellas on the beach for guests and a full-service spa.
CanoeHouse is the signature restaurant and has long had a reputation for excellent Hawaiian-focused culinary delights. Choose from a la carte or a six-course tasting menu – just arrange for babysitting for the kids for a few hours. There are also more casual eateries on the grounds.
Address: 68-1400 Mauna Lani Drive, Puako, Hawaii
6. Turtle Bay Resort, Oahu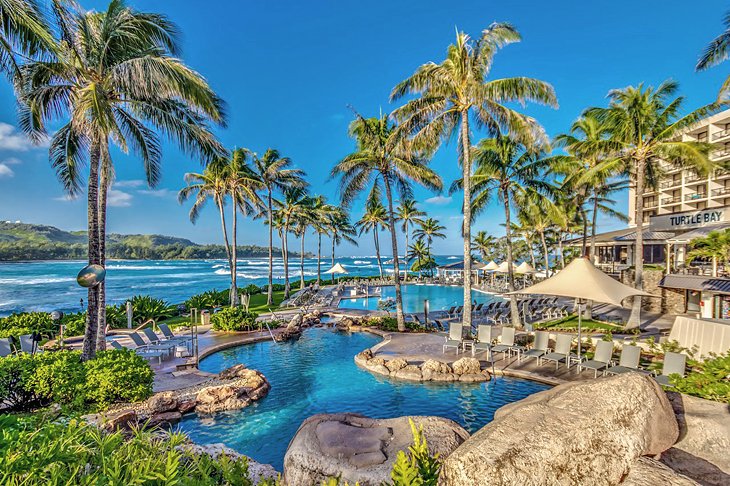 Accommodation: Turtle Bay Resort
Be sure to include the family-friendly Turtle Bay Resort on your list of great places to stay in Hawaii. Located on the north coast of Oahu, there's no end of fun things for kids to do on this massive 850-acre site. Topping the list of kid-friendly features are the private beach, the heated outdoor swimming pool with a waterslide, plus bike rentals so you can explore the surrounding area together.
But back to the beach. It's here that kids can join in organized activities, such as the resort's surf school, and take advantage of the gentle waves to master the sport. Snorkels, flippers, and masks are available to guests for free, as are racquets for those who enjoy a game of tennis.
Are your kids interested in sea life? Just a short drive away, Pupukea is a fun place for kids to explore at low tide, with the many exposed tide pools seemingly bursting with creatures such as tropical fish, sea urchins, and even octopus.
When it comes to bedding down for the night, consider one of this elegant 4-star resort's larger family villas. These three- and four-bedroom units come with everything needed to ensure the kids are kept happy: HDTVs, full-kitchens, balconies with ocean views, and laundry facilities. A number of individual cottages are also available for rent, and are popular for their spacious furnished patios.
Address: 57-091 Kamehameha Hwy, Kahuku, Hawaii
7. Aulani, A Disney Resort & Spa, Oahu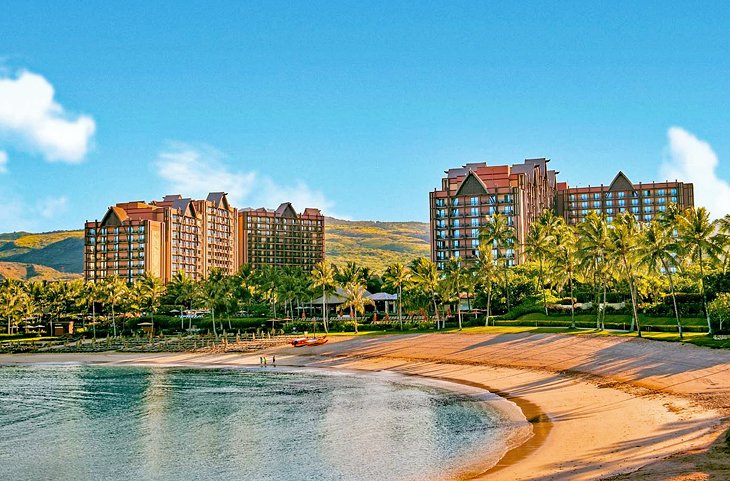 Accommodation: Aulani, A Disney Resort & Spa
Let's face it: no one knows (or does) family vacations quite like Disney - and certainly not on the scale of Disney. One of the newest additions to the Disney family is Aulani, A Disney Resort & Spa. This elegant 4-star resort certainly delivers the kind of memorable holidays the company is famous for.
The resort offers guests a choice of one-, two-, and three-bedroom villas, and the quality of these luxury accommodations is evident everywhere. Standard features of these roomy units include fully equipped kitchens and very private and comfortable sleeping quarters. They also come with spacious living rooms and handy laundry facilities. Additional features such as high-chairs, cribs, and roll-away beds can also be requested.
OK, now for the fun stuff! Designed to entertain and occupy kids aged three-to-12, the kids' club covers a huge area and offers everything from traditional Hawaiian cultural activities, including music and art, to organized games and crafts. Add to this mix movie nights and pool parties featuring Disney's favorite characters, and you're guaranteed lasting memories of fun with the whole family.
There's also a fun beachside clubhouse offering a variety of great kids' programs. Babysitting services are also available, giving parents a chance to have some fun of their own at the spa, in the restaurant, or simply relaxing by the adult pool.
Address: 92-1185 Ali'inui Dr, Kapolei, Hawaii
8. Montage Kapalua Bay, Maui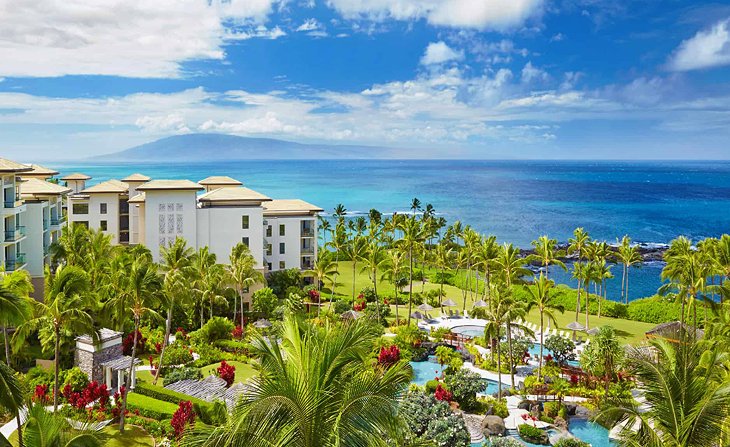 Accommodation: Montage Kapalua Bay
One of the top luxury resorts on the island of Maui, the elegant 5-star Montage Kapalua Bay does as good a job taking care of the vacation needs of families as it does couples. The focus is very much on comfort and quality, especially in the largest luxury suites, which are spread across the 24-acre site, featuring ocean or garden views.
Accommodation varies in size, from one- to four-bedrooms covering 4,000 square feet and sleeping up to 12 guests, you'll enjoy such features as large patios or balconies and plenty of living space, including a living room and dining room, a full-kitchen, and large bathrooms.
The on-site amenities are also family-focused, and include a great kids' club offering a variety of programs lasting anywhere from an hour to a full week, ensuring everyone-including mom and dad-can enjoy the resort's facilities. Teen programs are also available, and include activities like horse riding, ziplining, and fishing.
A fine-dining restaurant is also located on the premises, offering traditional Hawaiian dishes along with kid-friendly menu options. A full-service spa is also located on-site.
Address: 1 Bay Drive, Lahaina, Hawaii
9. Hilton Waikoloa Village, Hawaii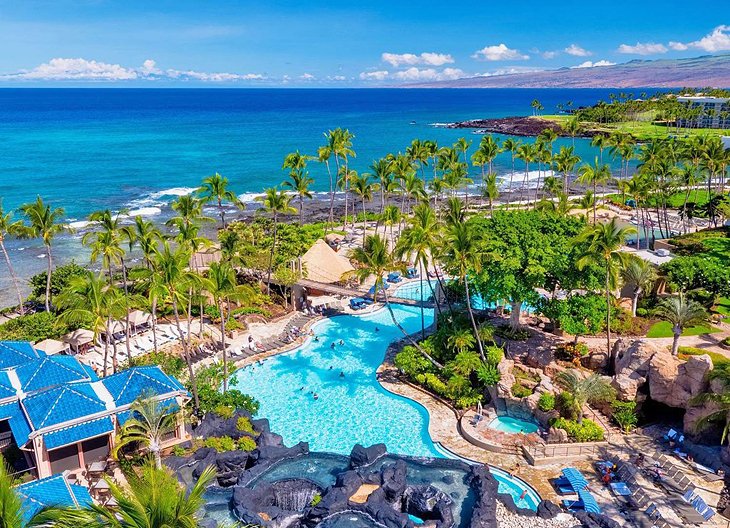 Accommodation: Hilton Waikoloa Village
Located on the Big Island of Hawaii, the Hilton Waikoloa Village offers a variety of great holiday packages geared to families. Spread across this large property's 62 acres of oceanfront are three outdoor swimming pools, each with waterfalls, with one boasting a fast and furious 175-foot-long waterslide. There's also a fun lazy river meandering through the resort, which will keep the kids busy for hours.
Then there's the resort's expansive private beach overlooking a lovely, four-acre lagoon that provides plenty more water fun for young and old alike. Fun things to do here include safe swimming in the shallow waters, dolphin experiences, and a variety of cruise options. Other outdoor activities include golf (the resort features two courses), along with tennis.
A variety of spacious suites are available, ranging in size from one-bedroom units right up to huge multi-bedroom penthouses. The one-bedrooms are certainly ample for families of up to four and consist of a choice of a king bed or two doubles, with a pullout couch in the living room.
Address: 69-425 Waikoloa Beach Drive Waikoloa, Hawaii
10. Sheraton Maui Resort & Spa, Maui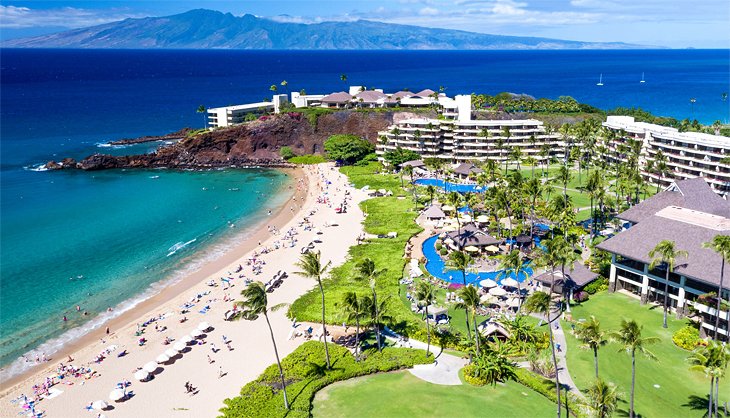 Accommodation: Sheraton Maui Resort & Spa, Maui
The Sheraton Maui Resort & Spa offers a variety of great vacation options for families, including some of the top-rated all-inclusive vacation packages on Maui. Its location overlooking Ka'anapali Beach means you'll have direct access to one of the island's best beaches, along with plenty of water sports fun, including snorkeling adventures. There's also a thrilling cliff dive ceremony held each evening at sunset.
The watery fun continues in the resort itself, too, with its huge lagoon-style swimming pool, plus a pool that's set aside for children to use. There's also a lazy river that adds to the fun quotient, along with a kids' club offering a variety of fun programs and activities ranging from canoe adventures to learning about (and making) traditional Hawaiian arts and crafts.
With some 508 rooms and suites to choose from, you'll certainly find the perfect accommodation type to suit your needs, including a number spacious family suites.
Address: 2605 Kaanapali Pkwy, Lahaina, Hawaii
11. The Westin Ka'anapali Ocean Resort Villas, Maui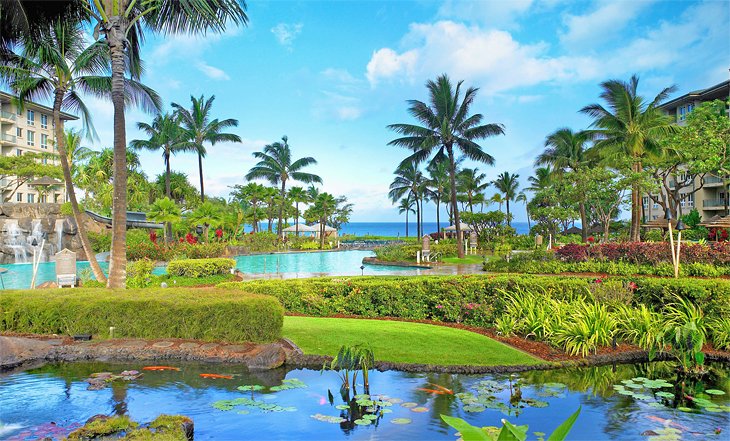 Accommodation: The Westin Ka'anapali Ocean Resort Villas
The Westin Ka'anapali Ocean Resort Villas is a popular choice for those planning family trips to Hawaii. In addition to its picturesque setting overlooking North Ka'anapali Beach, one of Maui's top-rated beaches, this kid-friendly vacation spot has much to offer. Highlights include the spacious one- and two-bedroom accommodations, large condo-style affairs that offer all the comforts of home, from fully-equipped kitchens (with dishwashers) and laundry facilities to separate dining and living spaces.
There's also much about this location, considered one of Hawaii's top all-inclusive family resorts, that makes it a great choice for those traveling with kids. For starters, children under the age of 12 are treated royally in the resort's restaurants, enjoying their own all-inclusive dining plan with kid-friendly (and healthy) menu items.
Outdoor activities for kids include no less than two kids' swimming pools, one with a fun pirate ship theme and waterslides. Kids also have access to a basketball court plus a fun kids' club offering crafts and other entertainment.
Address: 6 Kai Ala Drive, Lahaina, Hawaii
12. Wailea Beach Villas, Maui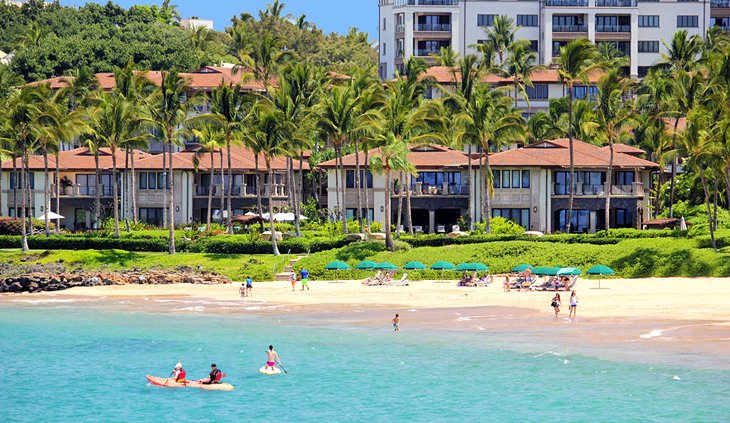 Accommodation: Wailea Beach Villas
Another great choice for family vacationers - and this time on the island of Maui - is Wailea Beach Villas. With plenty of space for families large and small to relax in, the resort's spacious villas come with all the comforts of home, ensuring everyone's kept happy while enjoying their Hawaii vacation.
Featuring unique furnishings and décor, the villas range in size from one to five bedrooms, and come with fully-equipped kitchens, dining and living rooms, and spacious terraces with plenty of comfortable seating.
The amenities and resort features are equally well-suited to the needs of children. For starters, there's no end of watery fun to be had on popular Wailea Beach, where activities include swimming, snorkeling, sea kayaking, and jet skiing. The resort's 11-acres of grounds also provide plenty of potential for fun. In addition to the extensive network of paths to explore, guests have access to lush gardens, ponds, and waterfalls, along with a large family swimming pool.
Address: 3800 Wailea Alanui Drive, Kihei, Hawaii
More Related Articles on PlanetWare.com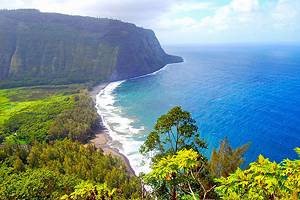 The Islands: Once you've chosen your resort and decided which island you'll be visiting, you can start planning your activities and things to do. Use our guide the attractions on the Big Island of Hawaii, Kauai, and Maui. If you'll be staying in Oahu, be sure to see our article on the best beaches around the island.