15 Top-Rated Resorts in Fort Lauderdale, FL
We may earn a commission from affiliate links ()
It's no coincidence that Fort Lauderdale is associated with words such as "upscale," "chic," and "ritzy." Not only is this city on Florida's southeastern coast home to beautiful mansions, huge mega-yachts, and high-end shopping malls, it's also where you'll find some of the state's top luxury resorts and hotels.
Leading the way in the luxury accommodation stakes are properties like The Pillars Hotel Fort Lauderdale, an elegant boutique hotel that boasts plenty of old-world charm. The much larger, yet no less exquisite, Ritz-Carlton, Fort Lauderdale is also popular and is one of the luxury resort brand's top hotels in the Sunshine State.
If money is no object, you may also wish to consider the Conrad Fort Lauderdale Beach, where no indulgence is denied. Also worth splashing out on is the beautiful, family-owned Lago Mar Beach Resort & Club.
This is not to say that more affordable options aren't available. National brands with pleasant mid-range offerings, including Embassy and Westin, also have a presence here. These, along with a number of other mid-priced resorts, offer great accommodations and package hotel deals in what is undeniably one of the top tourist destinations on the Atlantic coast of the US.
Find the best place to stay with our list of the top resorts in Fort Lauderdale, Florida.
1. The Ritz-Carlton, Fort Lauderdale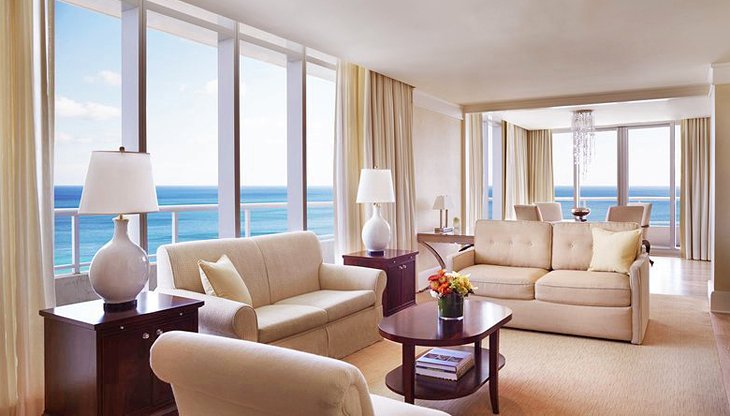 Larger one-bedroom Residential Suites of up to 1,583 square feet are also available and come with kitchenettes and dining tables. Added services include twice-daily housekeeping, free water bottles and newspapers, laundry, and in-room dining. A limited number of rooms are allocated access to a special club area with a dedicated concierge, and are worth the upgrade if your budget will allow.
The pampering doesn't end in your room, though. On-site amenities include a full-service spa with separate lounge areas for men and women, plus a couples' area; a heated outdoor infinity swimming pool with private cabanas and a huge terrace, beach chairs, and umbrellas; use of resort bikes and a water taxi; and a state-of-the-art fitness center. Valet parking is also available, and guests are granted privileges at a nearby championship 18-hole golf course.
2. W Fort Lauderdale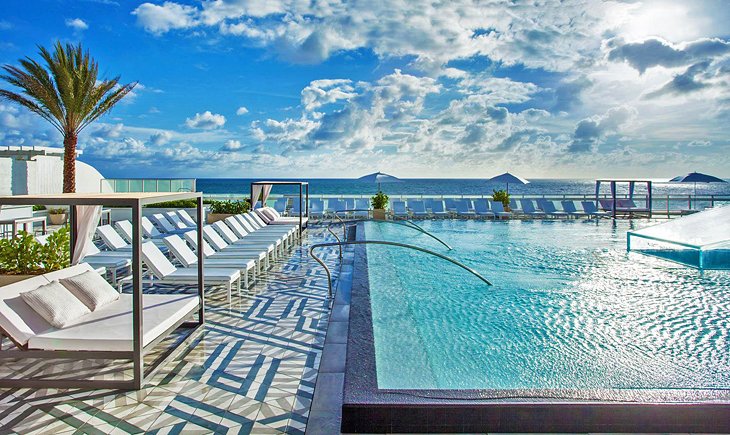 This luxurious resort's ultra-modern rooms are a delight and come in a variety of sizes, each beautifully decorated and furnished. A popular choice if your budget allows are the sumptuous oceanfront suites, each with commanding views over the beach and water through floor-to-ceiling glass doors leading to the private balcony.
If available, request one of the popular corner units for even better views. Some of these units also come with a second balcony off the main living room. In-room features include fridges and work desks, while available services such as in-room dining are also available. Pet-friendly options can also be booked.
There are plenty of things to do around the resort, too. Popular features include a large fully-equipped fitness center with personal trainers if needed, two infinity-edge swimming pools overlooking the ocean, a full-service spa, and great dining.
3. The Dalmar, Fort Lauderdale, a Tribute Portfolio Hotel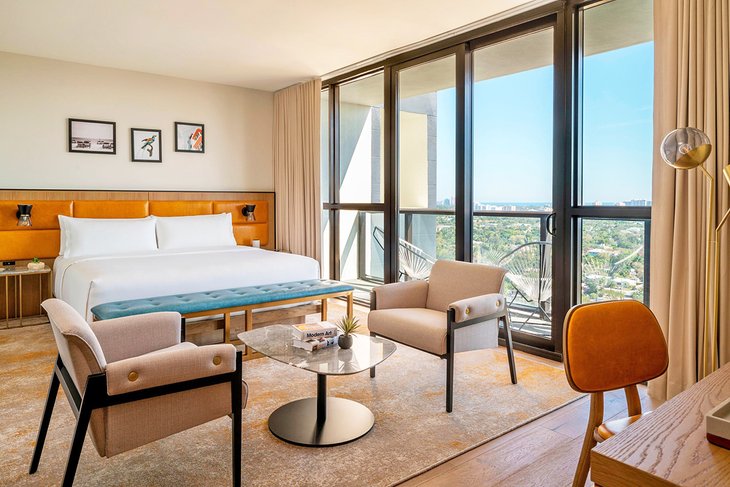 Brightly decorated and boasting an attractive floral décor consisting of living plants, the building is attractively designed throughout. On-site amenities include a full-service spa; a suspended infinity swimming pool; and no less than five places to enjoy a meal or snack, including rooftop dining and a casual café.
Other highlights include a well-equipped fitness center, along with meeting and convention space. Yoga classes are available for guests to participate in.
4. The Pillars Hotel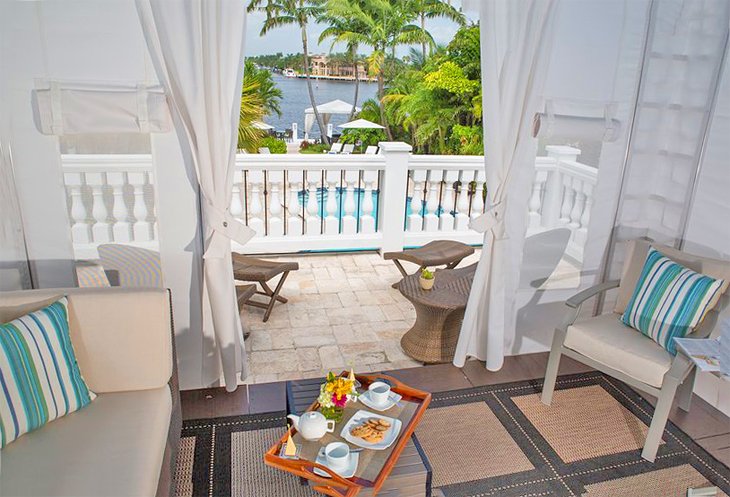 Guests can choose from a variety of well-appointed, sumptuously decorated, and extremely elegant accommodations. Popular choices include the chic king or double queen rooms, right up to larger suites with spacious private patios with canopies.
There's much to say about The Pillars' world-class amenities, too. Highlights of a stay include fine dining, including alfresco and in-room options (there's even a private dining club you can join that offers unique packages and bespoke menus); grabbing a ride aboard the hotel's yacht and public water taxis, which give you access to pretty much the whole city via 150 miles or so of waterways; or simply relaxing poolside on the spacious sun terraces and patios.
5. Conrad Fort Lauderdale Beach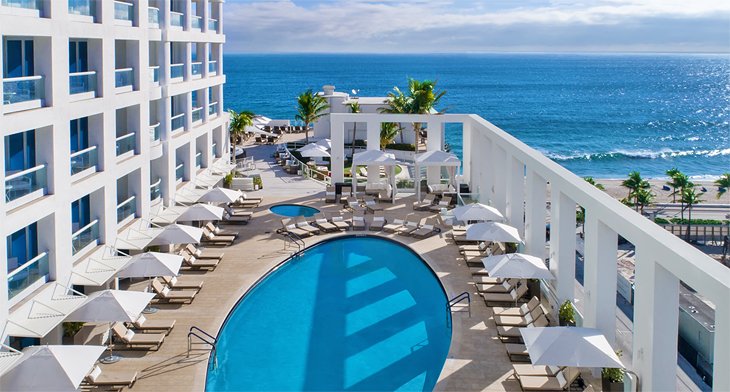 A nice luxury touch is the chance to choose your favorite pillow type. Other notable features include a classy marble bathroom with separate shower and bathtub. All rooms come along with a large furnished terrace or balcony.
For those wanting additional space, go for the 1,700-square-foot "Residence" unit. These extremely elegant suites boast a full kitchen and breakfast bar, a large stove plus a fridge, along with separate dining and seating areas. They also feature a pullout couch, and the master bedroom comes with its own en-suite bathroom and private balcony.
There are also plenty of fun things to do around the resort, too. Amenities include the full-service Conrad Spa with its many treatment and massage options, a state-of-the-art fitness center (trainers available), along with a large heated swimming pool with private cabanas. A variety of great dining options can also be experienced, including in-room and al fresco options, plus curated chef menus in the on-site restaurant.
6. Lago Mar Beach Resort & Club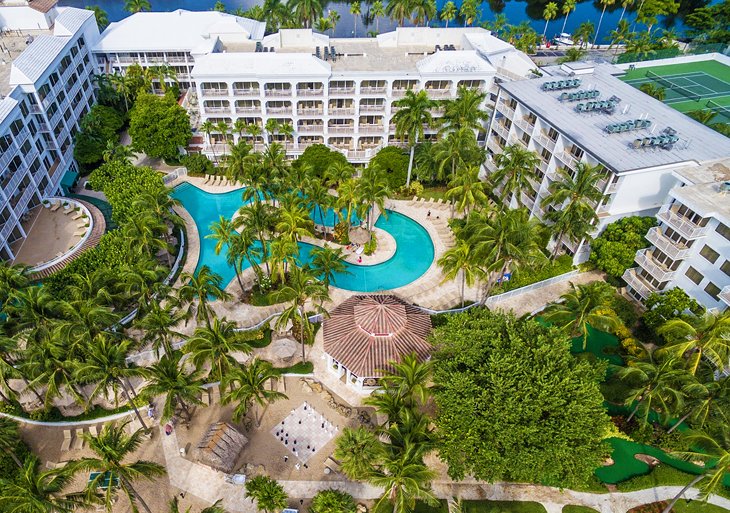 The resort consists of a mix of 204 rooms and suites. Among the most popular options are the 600-square-foot, one-bedroom suites. These chic units come with separate living rooms, pullout sofa beds, well-equipped kitchenettes, and good-sized private balconies.
If available, consider one of the 675-square-foot suites which come with a full-kitchen - very handy for those traveling with hungry kids. If even more space is needed, opt for the spacious 1,103-square-foot, two-bedroom unit. It, too, comes with a separate living room and larger kitchen.
On-site amenities include great dining, including a variety of in-room options, a full-service spa, and plenty of meeting and function space. The focus, though, is very much around the resort's 500-foot private beach. Thanks to its plentiful palm trees, the beach area offers many shady spots for when you're done sunbathing (another option is to rent a private cabana).
7. Pelican Grand Beach Resort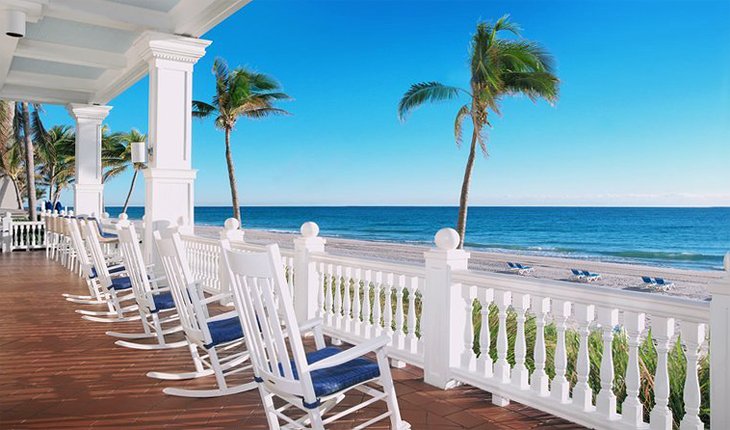 The resort also has a large gradual entry swimming pool, beachfront (or on-the-beach) dining, a fitness center, full-service spa, and underground valet parking. Also nice is the huge terrace with its comfy rocking chairs looking directly out to sea. The resort's restaurant has also earned a reputation among locals and guests alike for its excellent brunch buffet.
8. Hilton Fort Lauderdale Beach Resort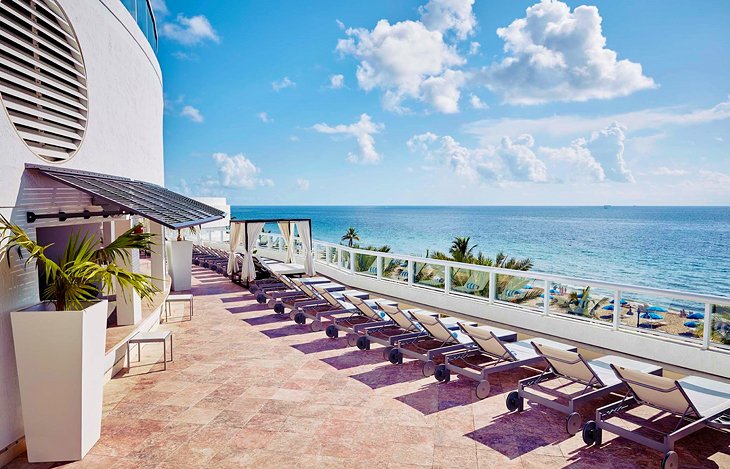 In addition to its proximity to the beach (it's just steps away), this beautiful all-inclusive luxury oceanfront property boasts world-class gourmet and casual dining options in its restaurants, adults-only lounge areas, a full-service spa providing indoor and outdoor treatments, a fitness center, heated outdoor swimming pool, and a hot tub.
Kids are well catered to as well and can enjoy a variety of fun activities and programs. Other useful on-site amenities include snack and gift shops, a convenience store, and bike rentals.
9. Atlantic Hotel and Spa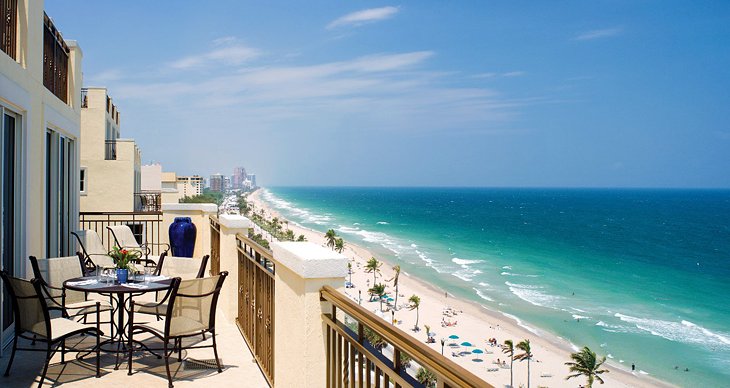 One of the largest is the huge 2,200-square-foot penthouse unit. Along with stunning views from its rooftop terraces, the unit comes with two large bedrooms, a separate living area, dining room, and a full kitchen with modern appliances. More modest 1,200-square-foot suites are also available.
On-site amenities include a large fitness center, a full-service spa that's popular for its outdoor massages, a hair salon, plus a heated outdoor swimming pool. The resort has earned a reputation for the quality of its restaurant, which offers a great dining experience, both in the restaurant and on the patio (in-room dining is also available).
10. Fort Lauderdale Marriott Harbor Beach Resort & Spa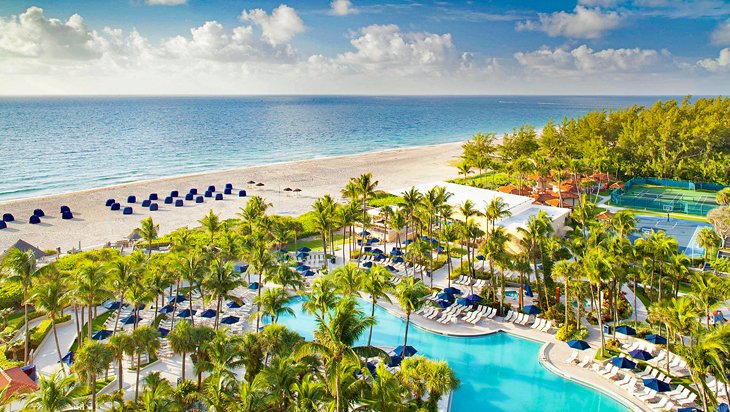 Other notable amenities include a large, heated, lagoon-style swimming pool, a world-class spa and fitness facilities, plus great dining at the on-site restaurant. A gift shop is also located on the premises. Other useful services include a concierge desk, limousine hire, and in-room meals delivered from area restaurants (Las Olas Boulevard is close by and offers a huge selection of great dining).
11. The Westin Fort Lauderdale Beach Resort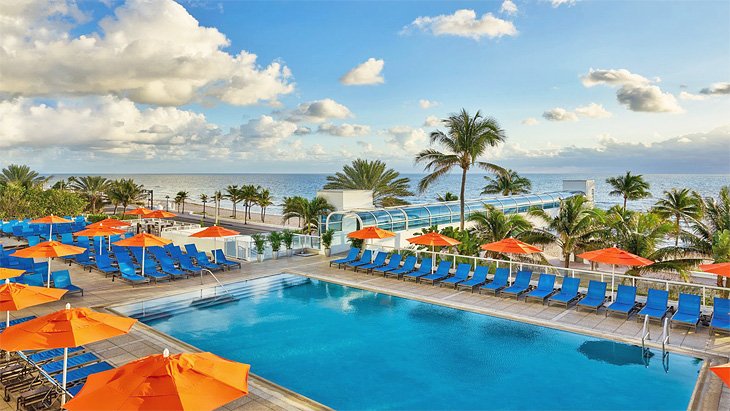 On-site amenities at this high-end resort include the full-service Heavenly Spa, a large state-of-the-art fitness center (including athletic wear if needed), jogging path, an outdoor heated swimming pool, bike rentals, tennis facilities, gift and clothing shops, plus a marina.
Other available guest services include a concierge desk, limousine hire, valet parking, babysitting, laundry and dry cleaning, plus luggage storage. There's plenty of great dining on-site, as well as a Starbucks. The resort even has its own photographer to help capture those great vacation memories. For a memorable special event or wedding, check into the availability of the resort's rooftop Sky Terrace, popular for its stunning ocean views.
12. Sonesta Fort Lauderdale Beach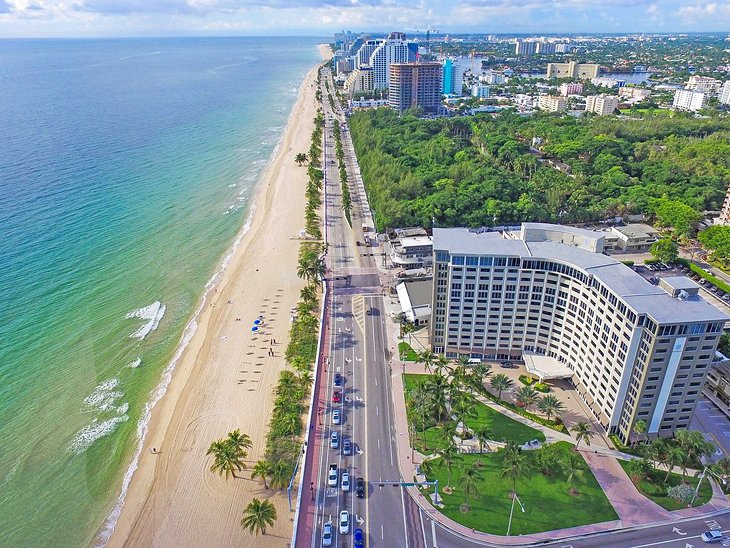 The focal point here is very much the large terrace area around the heated outdoor swimming pool, where guests can easily pass the time as they relax and sunbathe (be sure to book a private cabana) or maybe enjoy some alfresco dining at the restaurant overlooking the ocean. Other notable amenities include function and meeting rooms, a fitness center, and spa treatment rooms. It's also a popular resort for wedding parties looking for a beach setting.
13. The Westin Fort Lauderdale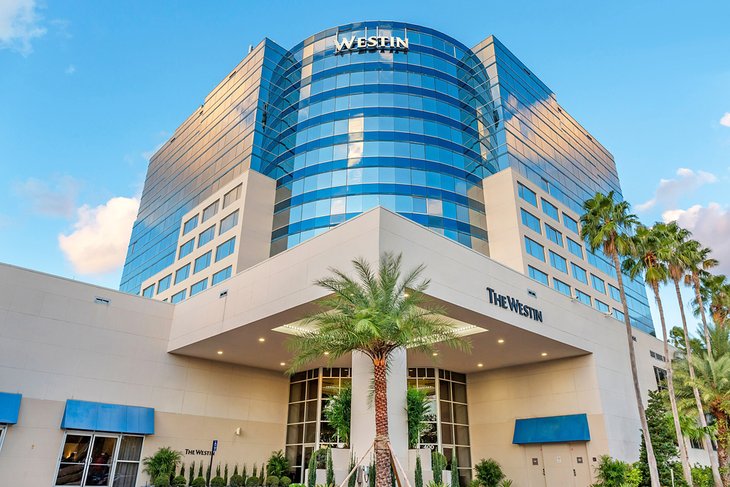 On-site amenities include a huge outdoor swimming pool overlooking a three-acre lagoon, a fully-equipped fitness center with a sauna, dining (including in-room menu options), luggage storage, laundry services, a concierge, and laundry. There are also a number of golf courses nearby.
14. Residence Inn Fort Lauderdale Intracoastal/Il Lugano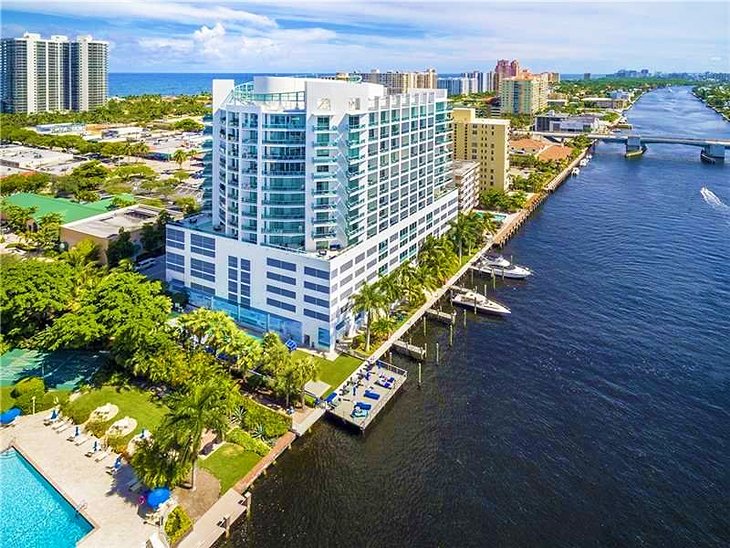 Other on-site amenities include a restaurant; event and meeting rooms; a large, heated outdoor swimming pool; a well-equipped fitness center; and a beauty shop. Bike rentals are also available, and a handy grocery service is offered for those not wanting to venture out.
15. Marriott's BeachPlace Towers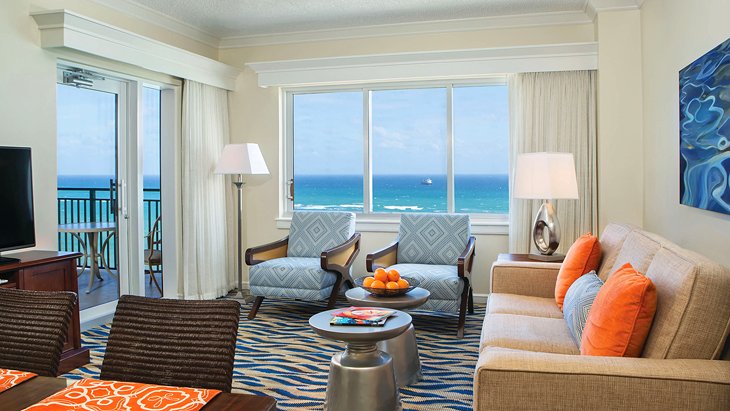 The laundry room is another useful feature. The master bedrooms are also a treat and come with large en-suites with separate showers and huge jetted tubs. Another perk are the large balconies, either looking over the beach or the city's inland waterways.
Amenities include a large heated outdoor swimming pool with a terrace and hot tub, poolside dining, a spa, plus a fully-equipped gym. The resort is located directly opposite the beach, where you can make use of their chair and umbrella rentals.