12 Top-Rated Resorts in Arkansas
We may earn a commission from affiliate links ()
Backdropped by wooded settings and natural hot springs, resorts in Arkansas vary from lakeside locations to secluded outdoor getaways. And all provide a memorable place to spend the night.
The densest collection of first-class resorts in Arkansas surround the cities of Hot Springs and Eureka Springs in the west and northwest part of the state. But other areas, like Greers Ferry Lake and the rest of the Ouachita and Ozark Mountains, also provide comfortable places to get away.
Whether you are looking for an active family vacation, a romantic retreat, or just a reason to explore a beautiful location, resorts in Arkansas deliver with their own unique blend of hospitality and culture. Find out more about the best places to stay in the state with our list of the top resorts in Arkansas.
Note: Some businesses may be temporarily closed due to recent global health and safety issues.
1. Mountain Harbor Resort & Spa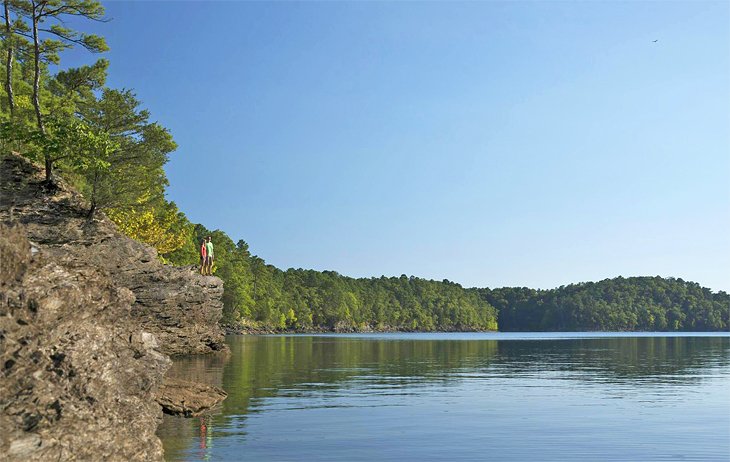 Centrally located within the Ouachita National Forest, overlooking the sprawling waters of Lake Ouachita, this family owned resort has been hosting visitors for more than 50 years. Water activities, island excursions, wildlife watching, and relaxing moments lost in the landscape are commonly enjoyed at Mountain Harbor. Mountain bike trails also surround the entire property.
The Lake Vista Trail system is easily accessed from Mountain Harbor Resort and has more than 40 miles of multi-use trails. The resort offers boat rentals, guided fishing tour recommendations, horseback riding, and scuba-diving certification through their dive shop. Days, however, are easily spent within the comfortable confines of the resort as well.
A wide variety of lakeside spa services are available at the on-site Turtle Cove Spa at Mountain Harbor. And the Mountain Harbor Lodge Restaurant is open for every meal of the day.
Overnight accommodations include motel rooms, kitchenettes, condos, and lakeside cabins. Other popular amenities include three swimming pools, tennis courts with equipment, and special events throughout the year.
Address: 994 Mountain Harbor Road, Mt Ida, Arkansas
Accommodation: Mountain Harbor Resort & Spa
2. 1886 Crescent Hotel and Spa
Overlooking the city of Eureka Springs, this century-old, mountaintop resort is a landmark hotel known for its hospitality and history. This full-service luxury hotel features 72 rooms and an additional collection of lavish suites and cottages. The property is surrounded by 15 acres of Ozark Mountain landscapes and includes a three-acre garden and wooded park lined with hiking trails.
Much of the old-world charm and décor remains the same within the hotel. With amenities like the full-service New Moon Spa & Salon and decadent community areas like the spacious lobby and Crystal Dining Room, the resort caters to indoor pleasures as well. The rooftop Gourmet Pizza bistro is good place to grab dinner with a view.
Parlor suites, penthouses, and standard double rooms are available at the Crescent, as well as Cottages in Crescent Park, with plenty of room for the whole family. Upscale accommodations like the Governor's Suite feature stately decorations alongside balcony views, a spacious parlor, and Jacuzzi tubs.
Address: 75 Prospect Avenue, Eureka Springs, Arkansas
Accommodation: 1886 Crescent Hotel and Spa
3. Beaver Lakefront Cabins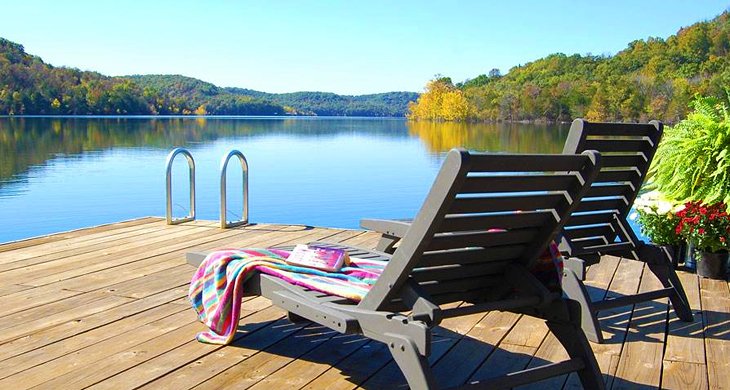 Perfect for a romantic retreat in Eureka Springs, Beaver Lakefront Cabins offers cabins and private suites built for two. With a crisp, clean, and modern design to match the aesthetics of the secluded property, each cabin and suite features a front glass wall and two-person jacuzzi that faces Beaver Lake.
The unique Bluff Cabin is the highest overnight space on the property, and alongside great views it comes with a private, outdoor shower. Full kitchens and luxury linens are available at each cabin and lakeview suite.
In-room private dining and massage services can be added onto any stay. Popular lake activities at the resort include an indoor, heated fishing area, guided fishing services, and a floating sundeck to catch a tan. Motorized boat rentals and complementary non-motorized water vessels are also available to guests.
Address: 1234 Co Road 120, Eureka Springs, Arkansas
Accommodation: Beaver Lakefront Cabins
4. Wyndham Resort at Fairfield Bay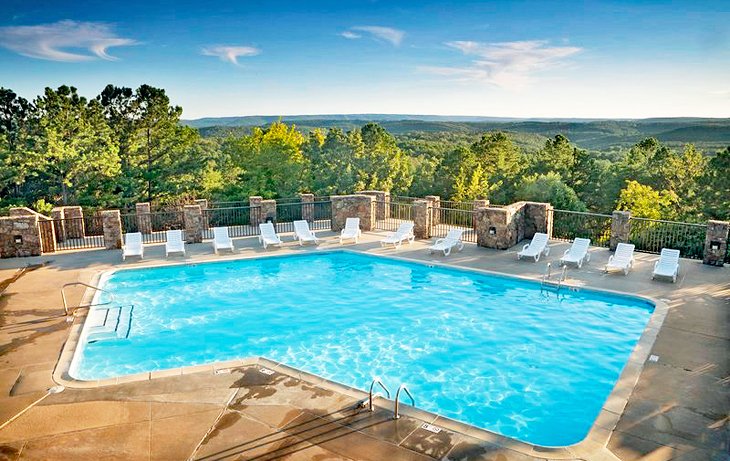 Encompassing 14,000 acres near Greers Ferry Lake in northern Arkansas, this family-friendly resort caters to all sorts of outdoor pursuits. Hiking trails, water sports, lake fishing, and cave exploring are just a few of the activities around the resort. The facility is near two different 18-hole golf courses.
For even more to do at Fairfield Bay, tennis courts can be found on the complex, and the indoor and seasonal outdoor swimming pools are fun places to relax. The nearby Fairfield Bay Marina has a variety of water vessels available to rent.
Accommodations at this destination resort include one- and two-bedroom deluxe suites. All overnight accommodations come with ample kitchen space, private balconies, and whirlpool tubs. Each suite also comes with separate living and dining areas, and the two-bedroom suites feature a fireplace.
Address: 110 Village Lane, Fairfield Bay, Arkansas
Accommodation: Wyndham Resort at Fairfield Bay
5. Lookout Point Lakeside Inn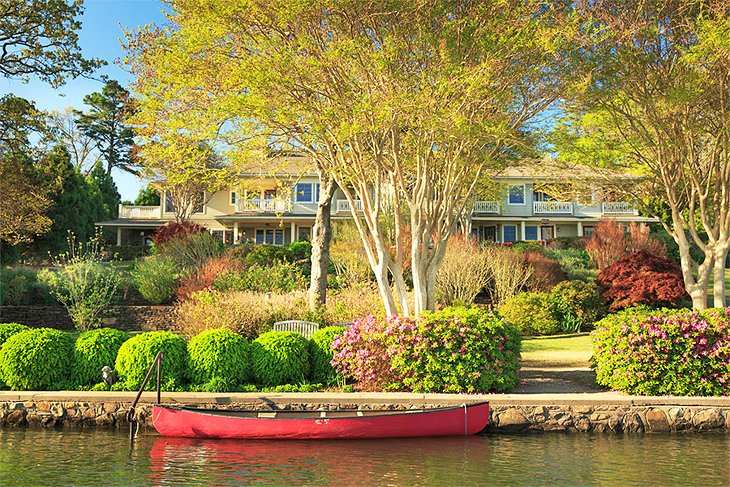 A popular choice for honeymoon vacations and romantic weekend retreats, this small boutique hotel in Hot Springs pampers every guest who walks through the door. The 13 suites available at Lookout Point all have private views of nearby Lake Hamilton backdropped by the Ouachita Mountains. Each room is also uniquely decorated with fine linens and comfortable furnishings.
Some rooms come with electric fireplaces and patio space. All rooms lend to the many scenic amenities enjoyed at Lookout Point, including the shores of Lake Hamilton. One of the most popular activities at Lookout Point Lakeside Inn is a seasonal boat cruise that takes to the water throughout the day between April and October.
A gourmet breakfast is served in the dining room or outdoor patio each morning, and an afternoon innkeeper's reception features artisan cheeses, iced tea, and chocolate truffles. For fine dining in the evening, this lakefront resort is within short driving distance to the many great restaurants of Hot Springs.
Address: 104 Lookout Circle, Hot Springs, Arkansas
Accommodation: Lookout Point Lakeside Inn
6. Lake Lucerne Resort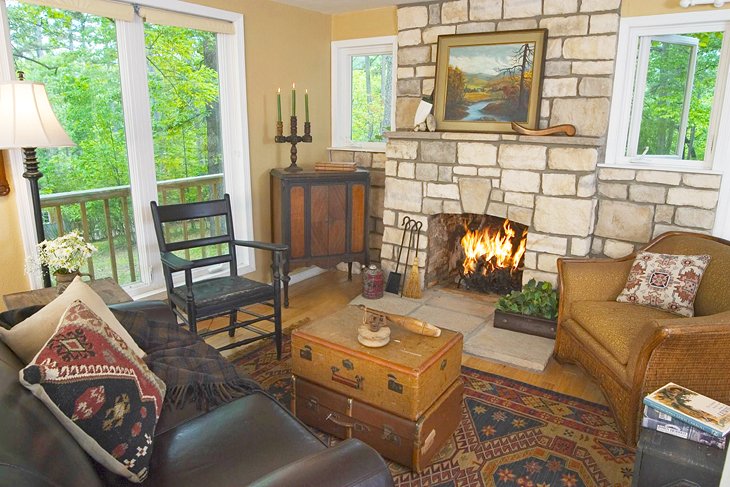 For a rustic retreat with first-class amenities, Lake Lucerne Resort offers 11 comfortable cottages and cabins. All overnight spaces at Lucerne Resort have unique names like like Tom Sawyer, Kingfisher, and Sassafras.
Each cabin and cottage are also uniquely designed and decorated with features like fireplaces, large decks, two-person Jacuzzi tubs, and lakefront views.
Great for a relaxing weekend with the family or a romantic retreat, some cabins feature full kitchens and sleep six, while others are made for a cozy couple's experience.
Surrounding the cottages and cabins, the 40 acres of woodlands encompass the six-acre scenic Lake Lucerne itself. Fishing is highly encouraged at Lucerne Resort, with three docks and a floating gazebo.
Address: 48 CR 317, Eureka Springs, Arkansas
Accommodation: Lake Lucerne Resort
7. Arlington Resort Hotel and Spa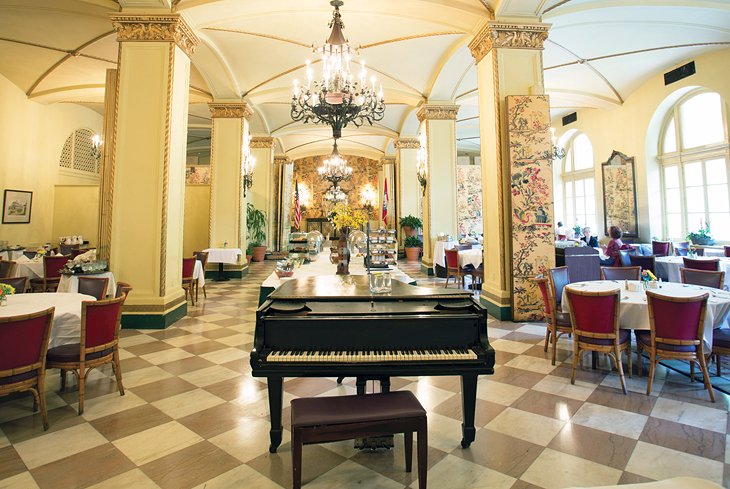 The current Arlington Resort Hotel has stood tall in Hot Springs since 1925. Previous versions of this luxurious resort have served the community since 1875. Through that time, the Arlington has hosted numerous influencers of American history, including Franklin Roosevelt, Babe Ruth, and Al Capone. What has attracted so many iconic guests over the years can still be found throughout this 500-room resort today.
The historic Bathhouse Row of Hot Springs National Park is right outside the front doors of the Arlington Resort Hoel. The resort itself is home to the Arlington Thermal Bathhouse and Spa. Here, guests can enjoy pampering services like a deep tissue massage or thermal bath. Couples' massages are available.
Dining options at the Arlington Resort Hotel include regular meal service in the historic venetian dining room, as well as a Friday night seafood buffet and Sunday morning brunch. Guests to the resort also obtain full member privileges to the nearby Hot Springs Country Club, and tee times can be reserved ahead of time.
Rooms at the Arlington range from standard and historic rooms to parlor suites. Many rooms include mineral water with hot spring water pumped directly into a tub.
Address: 239 Central Ave, Hot Springs National Park, Arkansas
Accommodation: Arlington Resort Hotel and Spa
8. Pratt Place Inn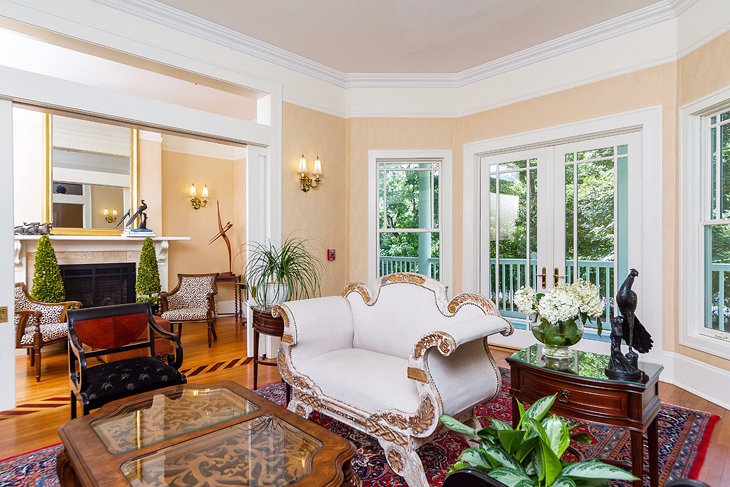 Minutes from downtown Fayetteville on Sassafras Hill, Pratt Place Inn is a luxury boutique hideaway on 140 acres of land. Popular with parents and students of the nearby University of Arkansas, Pratt Place Inn also hosts travelers from around the country looking for a romantic retreat or luxury settings.
The seven unique guest rooms offered at this popular resort vary, with features like private verandas, soaking tubs, and plenty of living space. A fully furnished cottage is also available and is recognized on the National Register of Historic Places.
Pratt Place Inn is one of the area's most popular wedding venues, mostly thanks to the Barn at Pratt Place, with its eloquently decorated interior and 350-person capacity.
Address: 2231 W Markham Road, Fayetteville, Arkansas
Accommodation: Pratt Place Inn
9. Lindsey's Resort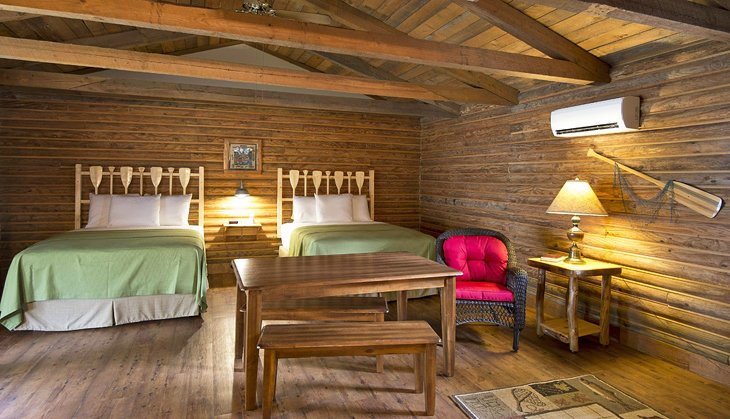 This full-service, trout-fishing lodge is located on the banks of the Little Red River near Greers Ferry Lake. Guided fishing trips, boat rentals, and a bait shop make this rustic resort one of the best fishing vacations you can find in the state.
A variety of fully furnished cabins are available at Lindsey's Resort, including Jacuzzi cabins and riverfront family cabins. Tent campsites and full hookups for RVs are also available.
The on-site Pot O' Gold restaurant is a great place to feed the whole family, and the kitchen can cater for large events, for which the 200-person River Retreat Conference Lodge also comes in handy.
Address: 350 Rainbow Loop, Heber Springs, Arkansas
Accommodation: Lindsey's Resort
10. The Wharf Resort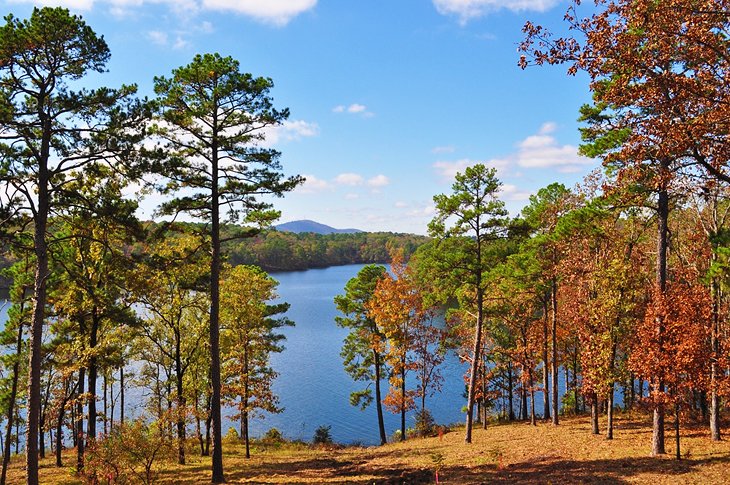 With easy access to Lake Hamilton and the historic Hot Springs National Park, this luxury resort caters to active and relaxing vacations alike. Ideal for a weekend retreat or extended stay, all 11 condos at The Wharf Resort feature two bedrooms and two bathrooms. The condos also come complete with a full kitchen, whirlpool tub, and plenty of additional living space.
With a great location, guests often find themselves spending the day exploring the nearby Lake Hamilton and Hot Springs National Park. Guests also tend to take advantage of the swimming pool and tennis courts on the property. Other on-site activities include fishing, barbecuing, and enjoying the Ouachita views from each room's private balcony.
Address: 408 Long Island Drive, Hot Springs National Park, Arkansas
Accommodation: The Wharf Resort
11. Cabins at Sugar Mountain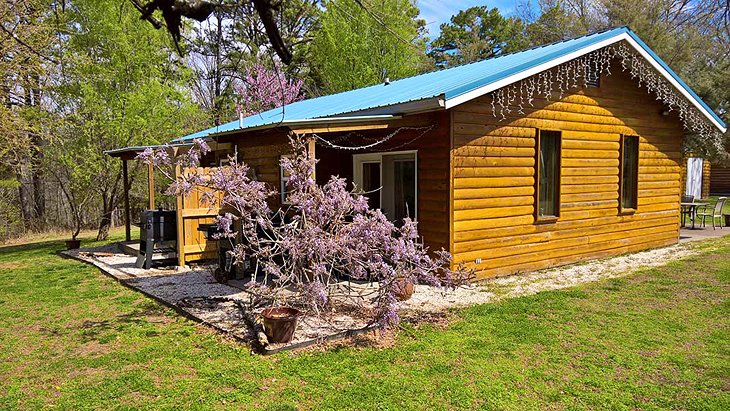 For a cozy weekend getaway in a quiet, wooded environment, the Cabins at Sugar Mountain provide a secluded setting to really relax in. The resort features five boutique cabins, all with a modern design and furnishings, that are well suited for business travelers, extended vacations, or couples looking for romance.
Besides tiled floors and knotty pine walls, each "Sugar Suite" comes with a full patio space with seating and a grill. Close enough to town to make easy grocery runs or tourists stops, one of the biggest appeals of Sugar Mountain is the privacy it provides, including the seclusion from other guests staying at the resort.
Address: 78 Co Rd 116, Eureka Springs, Arkansas
Accommodation: Cabins at Sugar Mountain
12. The Capital Hotel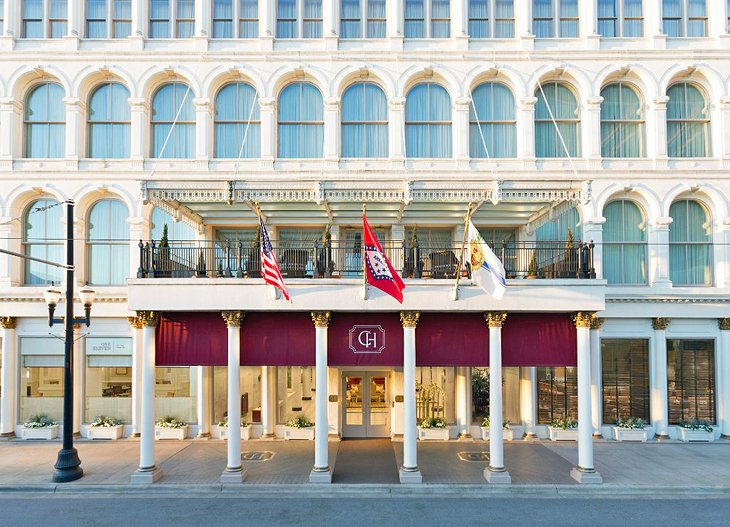 As one of the only five-star hotels in Arkansas, and one of the top spots in Little Rock for romance, any visit to this first-class establishment goes well beyond an ordinary hotel stay. The decadently furnished lobby offers live jazz on weekend evenings, and guests are immediately greeted with Southern hospitality the moment they walk through the door.
The class and service extend throughout an entire visit, and extra-special amenities like spiced pecans, turndown service, and restored antique furnishings are just a few of the little touches that add extra appeal. The on-site One Eleven bistro, headed by the world-famous chef Joël Antunes, also attracts plenty of attention.
Rooms at The Capital Hotel vary from deluxe and capital king rooms to spacious suites. All rooms come with luxury linens and a stately charm. Accommodations like the grand capital suites feature plentiful space and a full dining room table.
Address: 111 W Markham Street, Little Rock, Arkansas
Accommodation: The Capital Hotel