12 Top-Rated Resorts in Lake Placid, NY
New York State's Adirondack Mountains are absolutely spectacular. In fact, the Adirondacks span six million acres and are home to the largest park in the lower 48. It covers one fifth of New York State. At the heart of the Adirondacks is the village of Lake Placid. You may recognize the name from the two Winter Olympics the village has hosted over the decades. As a result, the destination has become a hot spot for travelers, all of whom are looking to lay their heads somewhere comfortable, clean, and with character. For these, they look no further than the top Lake Placid resorts.
The resorts in Lake Placid have a little bit of something for everyone. Whether it's a luxury stay at the base of a mountain or within close proximity to a decadent spa, or it's an eco-hotel overlooking the lake, or a Swiss chalet-style bed and breakfast, Lake Placid has a wide variety of options.
Most of the resorts overlook Mirror Lake itself, or are within a close distance to the village. All use the prime Adirondack real estate for inspiration, and offer guests an endless list of things to do, summer or winter, to enjoy the striking beauty of Lake Placid.
If you're ready to start your adventure to Upstate New York, read our list of the top Lake Placid resorts.
1. Whiteface Lodge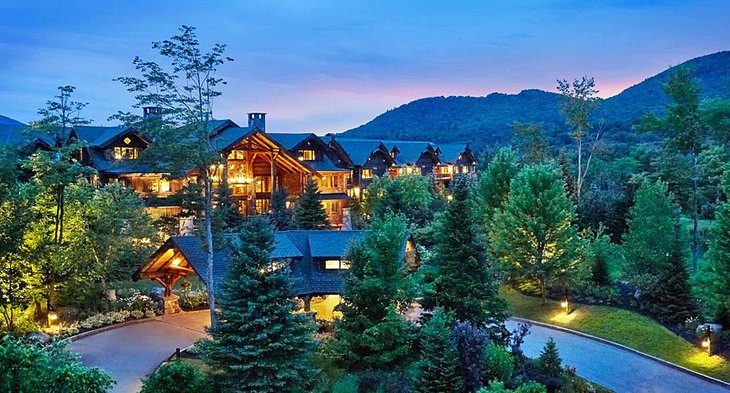 Accommodation: The Whiteface Lodge
After a long day on the slopes, or hiking the many trails in the area, Whiteface Lodge is a more than welcoming place to call home. The elegant lodge sits on stunning grounds peppered in pine trees and lined with manicured gardens and walking paths. The welcoming lobby is equally grand, with cozy reading nooks, a roaring fireplace, plump leather sofas, and beautiful carpets.
The hotel has 94 suites in the main building, and additional suites in the nearby Clubhouse. All rooms have kitchens. The Clubhouse is where you'll also find the pool and the catch-and-release fishing pond. In fact, this is just the tip of the iceberg when talking about the activities available at the lodge. A spa and a Kamp Kanu for kids, as well as an ice-cream parlor and bonfire round out the lengthy list of things to do.
In the summer, most guests will be hanging out at the Canoe Club, which is the private lakefront area of Lake Placid. A free shuttle takes guests to the beach, which has a grill restaurant for lunch. Canoes, kayaks, and paddleboards are available free of charge. Guests can also play horseshoes, volleyball, or bocce.
Back at the resort, you'll find the spa, which has seven treatment rooms, as well as a sauna, steam room, and fitness center. And while all rooms do have kitchens, the KANU dining room is one of the top draws to the resort. It serves breakfast, lunch, and dinner.
Address: 7 Whiteface Inn Lane, Lake Placid, New York
2. Mirror Lake Inn Resort and Spa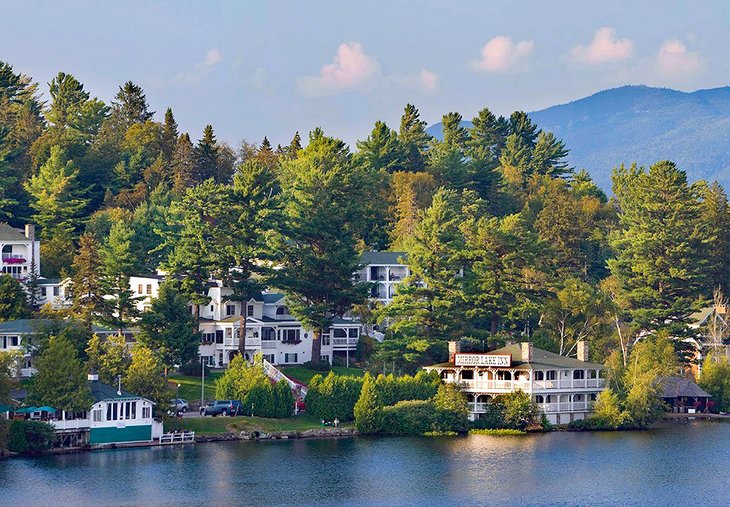 Accommodation: Mirror Lake Inn Resort and Spa
For almost a century, the family-owned Mirror Lake Inn has sat on the shores of Mirror Lake and provided upscale lodging to the visitors of lake Placid. The property has 131 cozy rooms, all decked out in traditional lodge style (think gas fireplaces, jetted tubs, dark wood, and plenty of plush furniture).
Undeniably one of the prettiest spots in all of Lake Placid, the Mirror Lake Inn is festive and colorful year-round. The lobby is elegant and stately, with glittering chandeliers and antique furniture. An extension of the lobby leads to a library and plenty of reading corners. Come winter, the lobby is decorated with twinkling lights as the fireplace blazes in the background.
Rooms include Classic and Signature styles, with either balconies or large windows, and bathtubs with showers. The suites are even larger, and some have two levels and whirlpool tubs.
Additional amenities include a spa and salon, three restaurants, two pools, a fitness center, and water sports equipment for the lake.
Address: 77 Mirror Lake Drive, Lake Placid, New York
3. Lake Placid Stagecoach Inn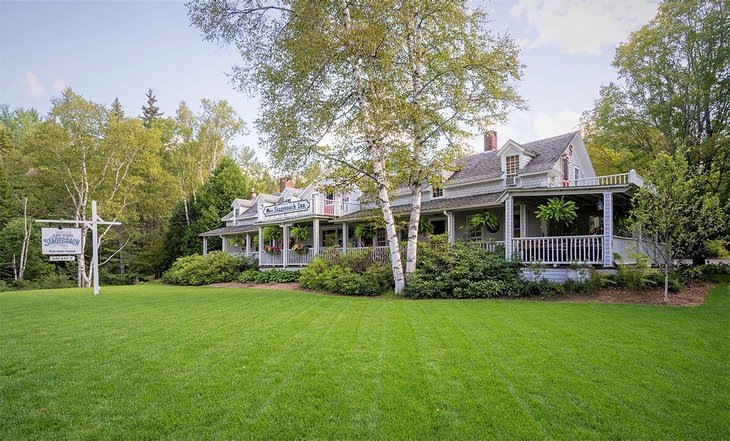 Accommodation: Lake Placid Stagecoach Inn
If you're looking for history that nestles up nicely to modern comforts, it has to be the Lake Placid Stagecoach Inn. The building dates back to the late 18th century and sits on seven acres of land. It is the oldest building in Lake Placid, and today serves as a charming and cozy hotel.
Each room rate includes a sumptuous two-course breakfast prepared by the chef daily, free Wi-Fi, in-room fireplaces, covered porches, and more. Suites are decorated in individual styles. The best room in the house is the Martin Lyon Suite XL, which is a two-bedroom suite with a private sitting area. In the evenings, complimentary refreshments are served by the fire, which is the perfect place to warm up after a day exploring all the natural attractions around Lake Placid.
Address: 3 Stage Coach Way, Lake Placid, New York
4. High Peaks Resort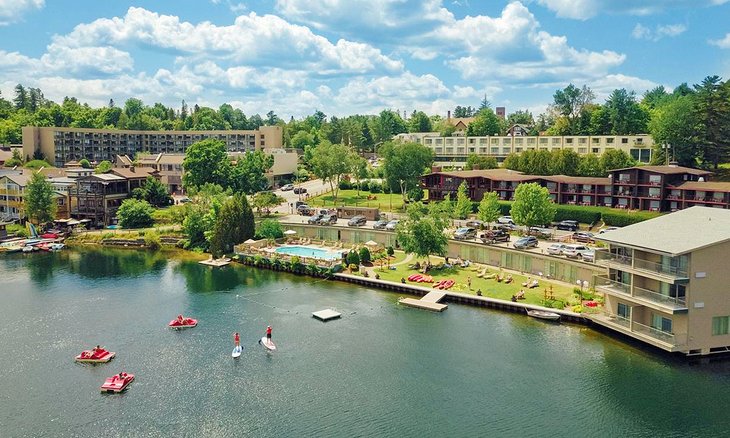 Accommodation: High Peaks Resort
The High Peaks Resort gives you many reasons to love it. Let's start with the location. Right on the banks of Mirror Lake, steps from Main Street, the resort affords views out over the lake with the mountains in the background. Plus, it's a stone's throw to all the quaint cafés, restaurants, shops, and ice-cream parlors, as well as the walking/cycling path around the lake itself.
Then we have the actual resort, which is positively charming. The lodge-like resort has cozy, warm rooms that come in either Signature or Superior View. Signature rooms overlook the courtyard and pool, while Super View rooms overlook the lake and mountains. All rooms have rainfall showers tiled with stones, while suites have jetted tubs and fireplaces. Then there are the Adirondack-style Waterfront Collection rooms on the lake, with direct lakefront access, as well as the 44 Lake House rooms.
Amenities include kayaks, canoes, row boats, stand up paddleboards, and paddle boats, as well as four pools, an Avid Concept Spa and Salon, a fitness center, and an all-day casual restaurant known as Dancing Bears.
High Peaks Resort: 2384 Saranac Ave, Lake Placid, New York
5. Crowne Plaza Lake Placid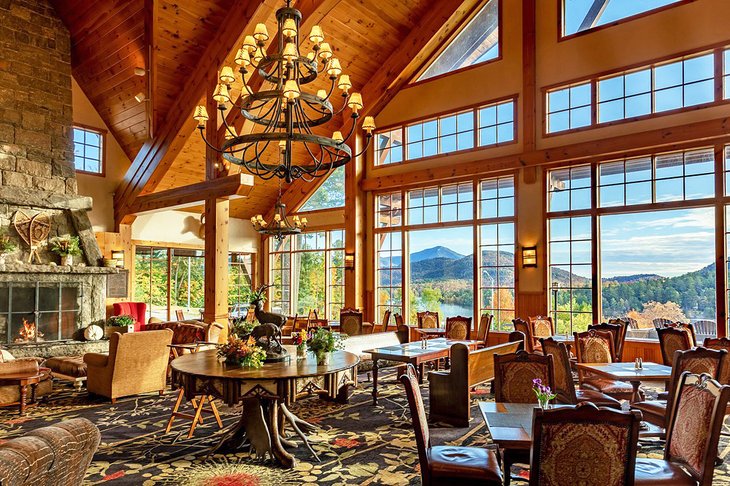 Accommodation: Crowne Plaza Lake Placid
Comfortable and cozy, the Crowne Plaza Lake Placid has far more personality than your more standard Crowne Plaza hotels. This particular hotel is charming. The 249 rooms, suites, and chalets enjoy private beach access, golf, restaurants, and several other delightful perks.
Let's start with the welcome. Guests are greeted by The Great Room, which has a restaurant, and is decorated with overstuffed furniture and warmed by a roaring fireplace. A wide variety of rooms are available, but the most updated ones are in the Adirondack Wing. These rooms have balconies and gas fireplaces. Other rooms include the Tower Suites, Chalets, or the Grandview Cottage. The Cottage has three bedrooms and can sleep up to eight people.
The hotel is chock-full of amenities, from the 45-hole Golf Club to the Cross-Country and Snowshoe Center. A private beach, an indoor pool with a Jacuzzi, a fitness center, and meeting rooms are also available.
As for dining, the resort has three restaurants, as well as a lobby restaurant, so no matter the time of day, guests will always be able to find something to munch on.
Address: 101 Olympic Drive, Lake Placid, New York
6. The Haus Lake Placid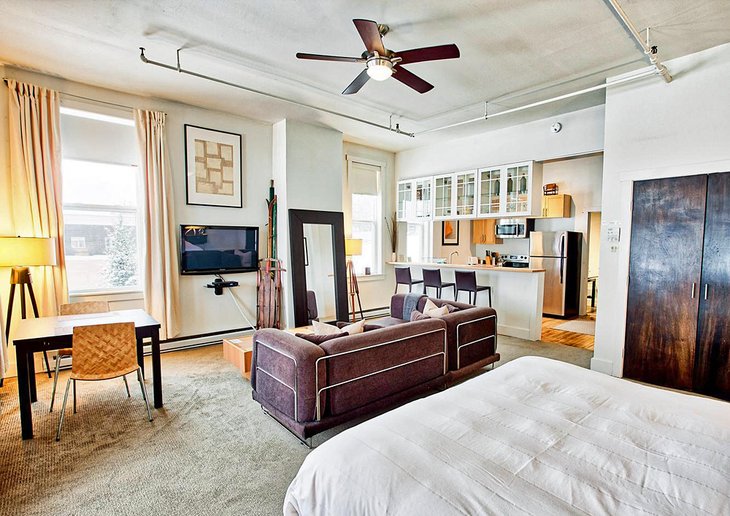 Accommodation: The Haus Lake Placid
Cozy and minimalist, The Haus on Mirror Lake offers a modern approach to Lake Placid lodging. The vibe swings Scandinavian in design, with clean lines, a mix of dark and light colors, low couches, and natural accents like rows of birch branches.
The Haus sits right on Mirror Lake and offers 10 suites, each one decorated slightly differently. Most suites have views of the High Peaks, as well as the lake. Some even have balconies. The suite to beat is Suite 10, which is a Premium Deluxe with private lake access. It can sleep up to six people and has a gourmet kitchen, two floors, an outdoor BBQ, and a private deck.
The Haus is an eco-friendly hotel, as well, and prides itself on its energy star appliances and its recycling program, plus the building was constructed with repurposed materials throughout. The Haus is located on Main Street, within walking distance to the shops and restaurants of the village.
Address: 2439 Main Street, Lake Placid, New York
7. The Pines Inn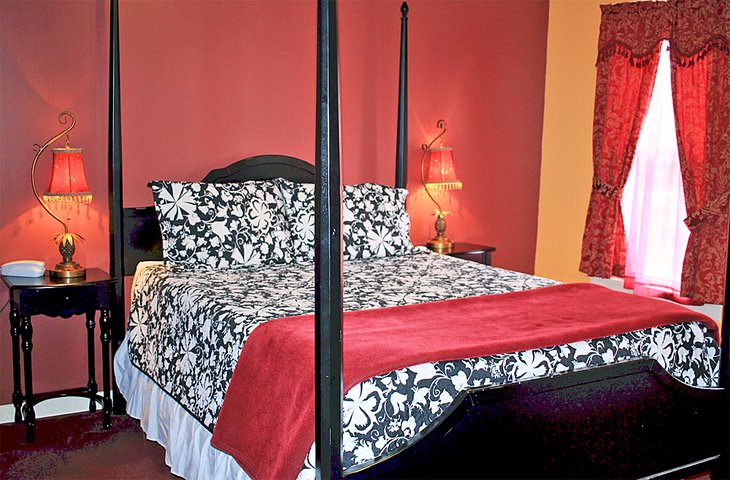 Accommodation: The Pines Inn
Historic and charming, The Pines Inn is a family-owned Lake Placid hotel that dates back more than 100 years. Built in 1907, the inn has been part of the fabric of Lake Placid for decades. It provides a warm, friendly environment to rest your head after spending all day enjoying the many outdoor adventures that Lake Placid has to offer.
The Pines Inn has a bit of a shabby chic vibe to it, with vintage furniture, fabric curtains, and lots of wood paneling. Still, it has modern comforts like pool and foosball, a hot tub, small fitness center, free Wi-Fi, and an on-site restaurant.
Rooms are intimate and decorated in a vintage style, some with four-poster beds, others with wrought iron headboards. Guests can book rooms with one, two, or three beds depending on the size of the group.
Address: 2302 Saranac Ave, Lake Placid, New York
8. Town House Lodge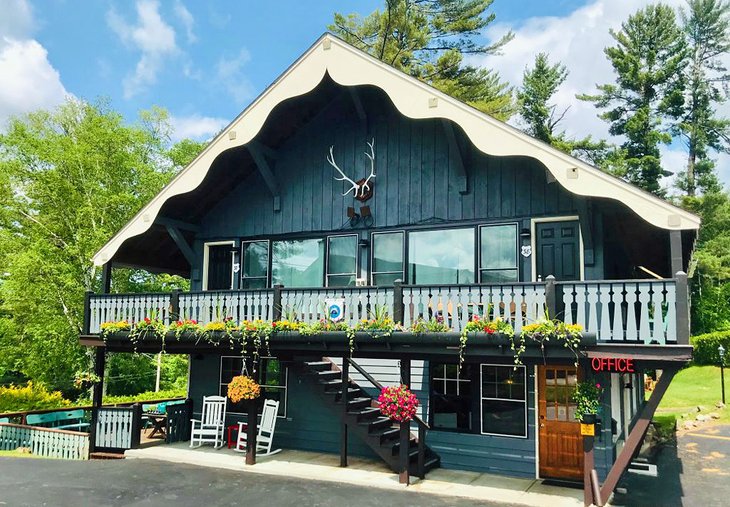 Accommodation: Town House Lodge
Just off of Main Street, the Townhouse Lodge is a small boutique hotel with a decidedly Alpine vibe. You'll notice it immediately once you feast your eyes on the slanted roof, wraparound porch, and exposed wooden beams.
The lodge experience promises the best of both worlds, from the proximity to Main Street and its hustle and bustle, to the tranquility of being far enough away to enjoy a bit of quiet. The lodge even has its own boat launch in the backyard, as well as a heated pool and space for barbecues.
The lodge features 22 rooms, all of which have their own PIN numbers, so guests can skip the front desk check-in process. Rooms come in King Suites, Standard King, Queen Suites, Double Queen, and Standard Doubles. The property is pet-friendly, and your pup can stay for free, though a deposit is required. All rooms feature a mini fridge, coffee machine, flat-screen TV, and Wi-Fi.
Resort amenities include a communal kitchen, which is open to all guests and is stocked with the necessities for cooking. Also available to all guests is the pool, a bonfire pit, and Cruise Bikes.
Address: 2267 Saranac Ave, Lake Placid, New York
9. Courtyard by Marriott Lake Placid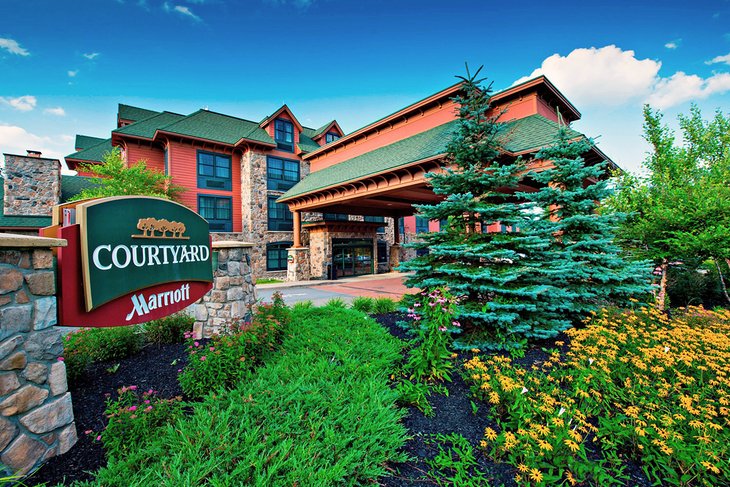 Accommodation: Courtyard by Marriott Lake Placid
Part of one of the world's most omnipresent chains, the Courtyard by Marriott Lake Placid strives to give guests a sense of place. That's evident from check-in in a lobby that closely resembles a ski lodge, complete with fireplace and cozy leather chairs. In the summer, you'll find the courtyard buzzing with people enjoying the sun-drenched space.
Rooms are standardly decorated, and each one looks basically the same. All rooms have flat-screen televisions and mini-fridges, as well as a tub/shower combo. The resort is not within walking distance to the village.
That said, the amenities here are more than adequate, with a fitness center, an indoor pool with two Jacuzzis, a free breakfast buffet, and a trolley that shuttles guests to and from Whiteface Mountain in the winter.
Address: 5920 Cascade Road, Lake Placid, New York
10. Golden Arrow Lakeside Resort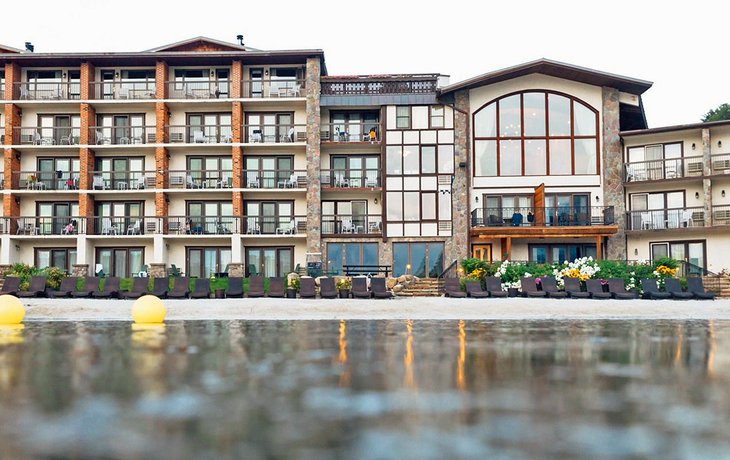 Accommodation: Golden Arrow Lakeside Resort
What's wonderful about the Golden Arrow Lakeside Resort is that it is exactly that – lakeside. The 165-room, family-run Lake Placid resort is in the heart of downtown, right on the lake. Guests love the serious Swiss chalet vibes here, especially with the brown and white exterior. Inside, the lobby is renovated, complete with a fireplace, windows overlooking the lake, and ample seating.
The rooms, suites, and condos all have Keurig coffee makers, microwaves, and mini fridges. The Lakeside rooms have the best views of Mirror Lake, while first-floor rooms have patios and access to the resort's beach and dock. Guests will also find Specialty Rooms and Family Suites, which have even more amenities, like fireplaces and whirlpool tubs.
Taking advantage of its lakeside location, Golden Arrow has plenty of activities included in its rates, from kayaks and canoes to paddleboats and stand up paddleboards. You can even arrange for a gondola ride in a boat that came straight from the canals of Italy.
Other amenities include an indoor pool, sauna, and steam room, as well as a fitness center and an on-site restaurant, Generations.
Address: 2559 Main Street, Lake Placid, New York
11. Lake House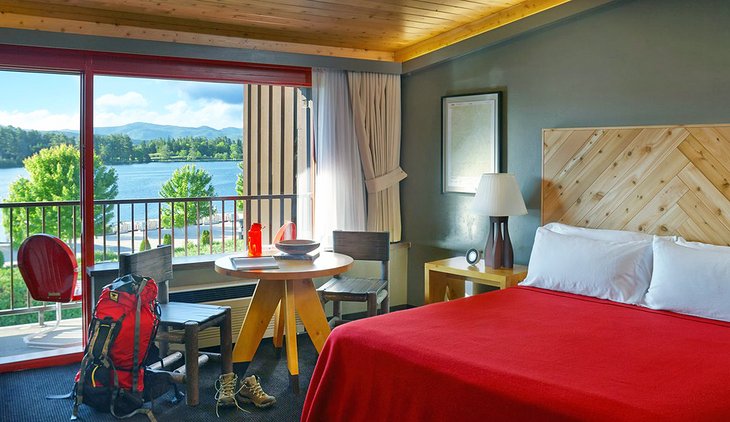 Accommodation: Lake House
The great thing about Lake Placid is you can totally fit a visit into your budget. A stay at Lake House, for example, is an ideal mid-range lodge that is still comfortable, clean, and centrally located.
We love the red and gray color combo of the resort, as well as the wood accents like exposed beams and wood-paneled seating. The slate gray of the fireplace and pops of red and teal add a nice color combo. Lake House feels very social, with a young, almost guesthouse vibe, but infinitely more elevated and private. The hotel is part of the High Peaks resort complex, and shares its facilities.
Make yourself at home around the fire pit in one of the Adirondack Chairs, or cozy up in the lobby by the fire with a good book. The resort offers three room types: Single Queen, Double Queen, and King. All have cedar beds and sliding glass doors that lead out to balconies. The resort overlooks the lake, as well, which is a beloved plus.
Facilities at the High Peaks Resort include two outdoor seasonal pools, as well as an indoor pool. The Lake House has its own indoor pool and a small hot tub. A fitness center and an Element Day Spa and Salon are popular with guests, as well. Snacks are available on property but for a proper meal, most guests head across the street to the Dancing Bears Restaurant.
Address: 1 Mirror Lake Drive, Lake Placid, New York
12. Hampton Inn & Suites Lake Placid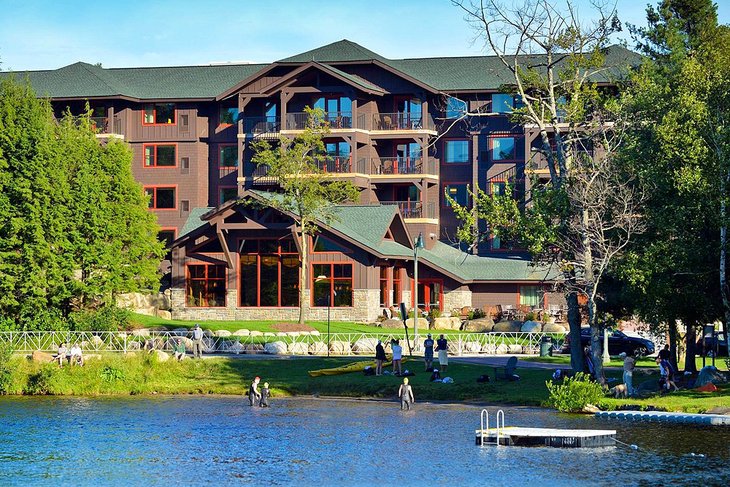 Accommodation: Hampton Inn & Suites Lake Placid
Hampton Inn & Suites Lake Placid has many things going for it, but one of its biggest selling points is the location. The resort sits right on the edge of Mirror Lake, next to the public beach, and walking distance to Main Street.
Rooms here are clean and comfortable, though they do not offer much in terms of local character. What you will find here are standard resort chain-style rooms, but they certainly do the job if you want a spacious, comfortable, and clean room.
In terms of amenities, the Hampton Inn & Suites Lake Placid offers its guests free hot breakfast, as well as an on-site restaurant. An indoor pool is available, too, though guests do take full advantage of the beach location right on the lake. A fitness center is available, as well.
The patio of the resort offers beautiful views, whether you're having a coffee in the morning or reading a book in the afternoon. For those who want to explore all the best things to do in Lake Placid, the resort is two blocks from Main Street, and a short distance to the Olympic Conference Center.
Address: 801 Mirror Lake Drive, Lake Placid, New York