From New York City to Boston: 5 Best Ways to Get There
We may earn a commission from affiliate links ()
Whether you are looking for a weekend getaway to take in some history, catch a Red Sox game, explore museums, or just want to escape New York City's bustle, the small New England city of Boston is the perfect choice. Located 216 miles northeast of New York City, Boston is accessible by several methods of transportation from the Big Apple. Visitors can go on a tour, take the bus or train, drive, or fly. Allocate anywhere from three-and-a-half to six hours of travel time between the two cities.
Once in town, take advantage of the country's oldest subway (known as the T) to reach landmarks and attractions, like Quincy Market, Boston Common, Fenway Park, and the Museum of Fine Arts. To help you plan your Boston trip, we've put together the five best ways to travel from New York to Boston.
Note: Some businesses may be temporarily closed due to recent global health and safety issues.
1. From New York to Boston on a Day Trip Tour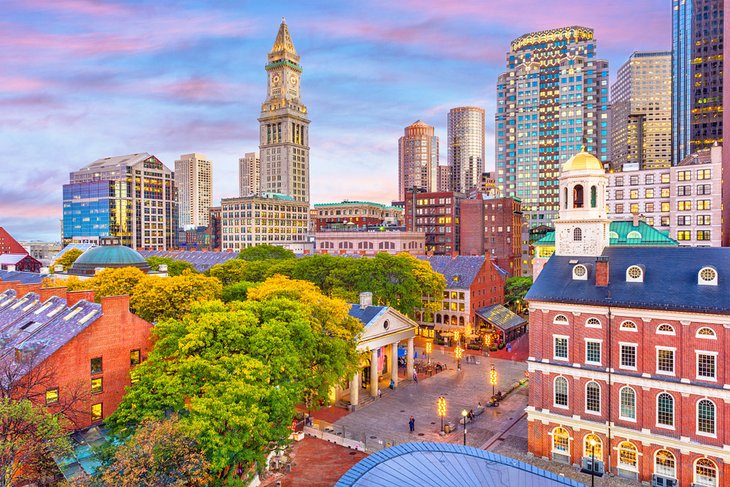 Boston is at least a four-hour drive from New York City, but organized tours give you the chance to visit this vibrant city on a day trip without the hassle of driving or dealing with public transportation.
The Boston Freedom Trail Day Trip from New York City shows travelers the city's highlights, from the Freedom Trail to its top tier universities. Get picked up in midtown Manhattan in a comfortable, Wi-Fi-equipped vehicle, and travel along the scenic Connecticut coast to Boston.
The 13-hour tour comes with a professional guide, and stops at Harvard Yard and the university's Widener Library, MIT, Cambridge College, and landmarks such as Trinity Church. A stroll along the Freedom Trail brings you to the sites of the Boston Massacre and the Boston Tea Party, Faneuil Hall, and Boston Common. Stop at Quincy Market for a fresh seafood meal on your own.
2. From New York to Boston by Car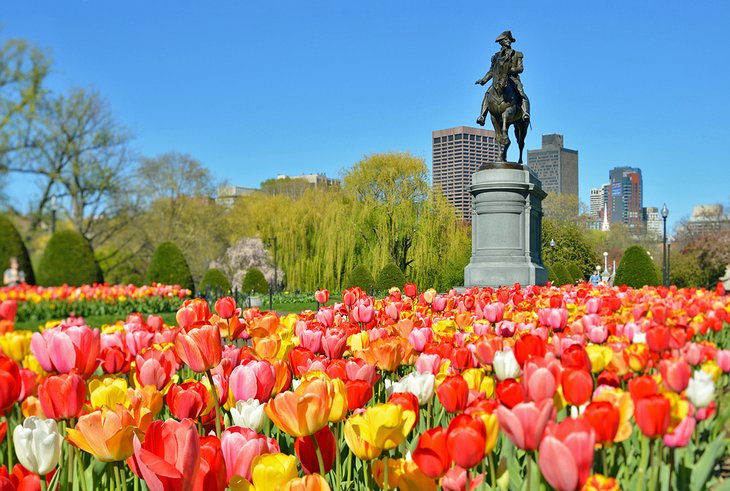 If you want the freedom to explore the city with access to a car, driving to Boston can be enjoyable, albeit a bit ambitious. The drive can take anywhere from four to six hours, depending on traffic. It might be a good idea to stay overnight or for a weekend instead of making a day trip.
Whether you are renting a car or bringing your own vehicle, consider parking garage fees (including those associated with hotels), as street parking can be hard to find.
To avoid the heaviest traffic, consider taking the Hutchinson River Parkway to I-684 from White Plains to Brewster. From here, join I-84 through Connecticut, which leads straight to I-90 (Mass Pike) in Massachusetts.
The ideal time to depart on weekdays is just after rush hour to avoid traffic and zip through the Bronx in time for a delicious sandwich lunch (or dinner) at Nardelli's in Milford, CT (a good halfway point), before continuing on your road trip.
It's best to avoid driving in the winter, as you may face potential snow and ice, poor road conditions, and slower traffic.
3. From New York to Boston by Train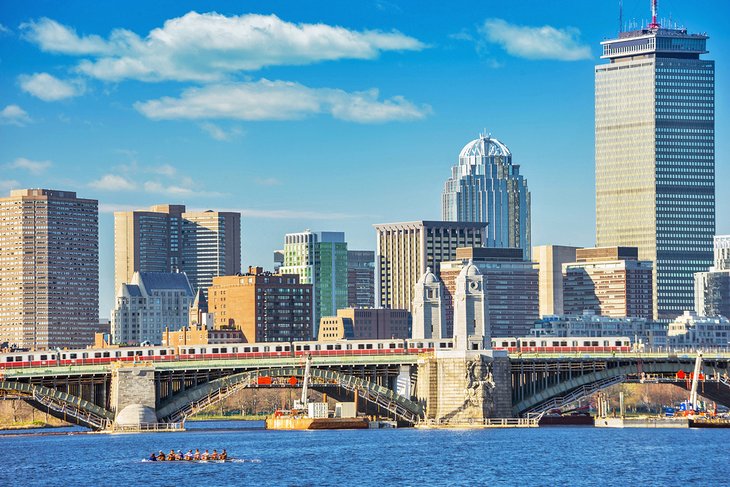 Taking the train is perhaps the most charming and relaxing way to get to Boston from New York City. You will catch a train from Penn Station in Manhattan to either Boston South Station, right in the heart of the city, or Boston Back Bay Station located in the South End. Back Bay Station is a bit quieter and connects to the Orange Line (gateway to North Station), while South Station connects to the Red Line; both have access to commuter trains.
Amtrak's Acela Express takes around four hours and provides a beautiful ride with Wi-Fi connectivity, power outlets, foldout tables (if you need to work), and a café car. The train is exclusively Business and First Class; prices vary depending on class and departure times. A First Class ticket comes with a complimentary at-seat meal, beverages, the option to use the stations' richly appointed lounges, and early boarding.
Acela Express trains depart hourly during rush hour on weekdays, starting from 6:15am for anyone traveling between the two cities for business.
If you are budget conscious and not in a hurry, opt for an Amtrak Northeast Regional train that takes about four-and-a-half hours. Train travel is the best and fastest option during the winter months, allowing you to bypass poor road conditions or flight delays caused by weather.
4. From New York to Boston by Bus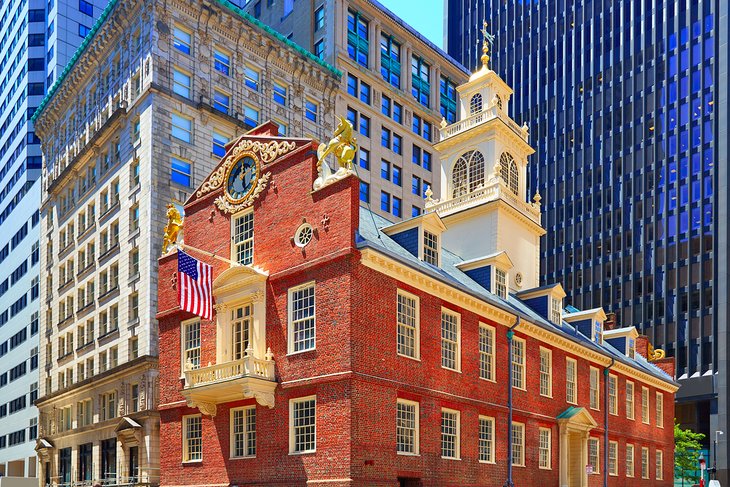 Traveling by bus may not always be the most glamorous experience, but it's often the least expensive. Expect to spend several hours on the bus, given the unpredictability of traffic between the two cities. Buses depart from New York City's Port Authority Bus Terminal, and companies like Greyhound offer rides with Wi-Fi connectivity. The buses come with onboard restrooms, reclining leather seats, and power outlets.
Megabus and BoltBus are other cost-effective carriers, with more rides per day and curbside pickup from a designated location in Midtown Manhattan. Megabus has reserved seating and varying fares based on the time of departure. BoltBus provides free Wi-Fi, power outlets, leather seats, and more legroom.
Tickets for these three companies can all be purchased online. Bus rides take anywhere from four-and-a-half to six hours (if you are traveling on a Friday afternoon/evening). All buses drop off customers at South Station Bus Terminal.
5. From New York to Boston by Plane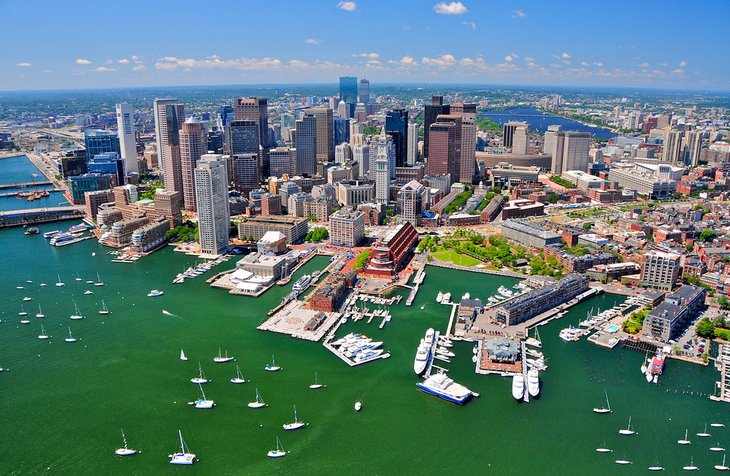 The fastest way to get to Boston from New York City is by plane, as long as there are no flight delays. The flight to Boston's Logan International Airport takes approximately an hour (with just 35 minutes in the air); add the time you need to get to the airport, clear security, and wait to board, and you're looking at three hours or more before landing in Beantown.
Sometimes flight prices are cheaper than the train, making flying a more affordable option. Major airlines like JetBlue, United, American, and Delta fly from New York City area airports to Boston. Once you reach Boston's Logan International Airport, catch the Silver Line bus to South Station (between 5:30am and 12:30am, seven days a week).