12 Best Resorts in the Finger Lakes Region, NY
We may earn a commission from affiliate links ()
The Finger Lakes Region of New York is a haven for outdoor enthusiasts. Home to 9,000 square miles of breathtaking scenery, including waterfalls, mountains, hills, and the 11 finger-shaped lakes that inspired its moniker, this is one of New York's gems. Luckily, the region also boasts a bevy of first-rate resorts to enjoy during your visit.
From tranquil lakeside retreats to mountain-based ski resorts to more vibrant resorts featuring their own ziplines and water parks, you're sure to find the perfect place to spend an unforgettable Finger Lakes vacation.
With so many good resorts on offer, you'll be spoiled with choices. Help determine the best place to stay with our list of the best resorts in the Finger Lakes Region in New York.
1. Mirbeau Inn & Spa, Skaneateles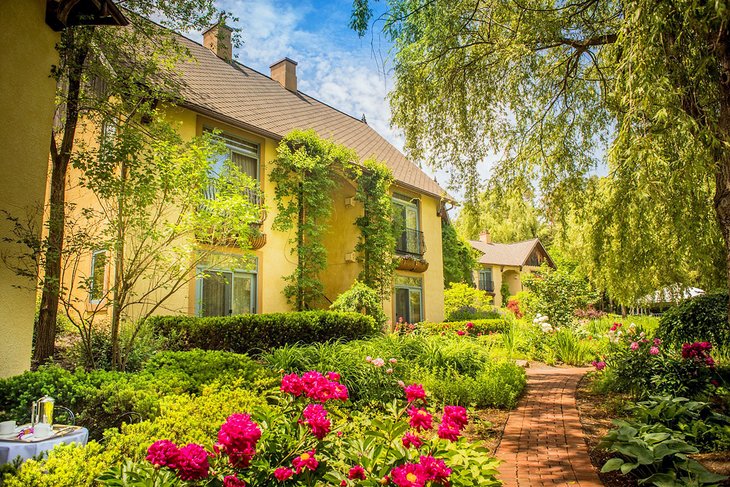 Accommodation: Mirbeau Inn & Spa
It's easy to forget you're in New York when wandering around the Mirbeau Inn & Spa. Dubbed the best boutique resort in the Finger Lakes region of New York, this lavish inn offers guests a relaxing retreat in a remarkable French-style château. Talk about a romantic locale.
Choose from 49 rooms boasting modern amenities, oversized bathrooms, king or queen-sized beds, and enchanting fireplaces. The impressive gardens took Claude Monet's works as inspiration, and burst with colors so vibrant, it's hard to tear your eyes from their splendor.
When hunger hits, the resort's on-site restaurant, Willow by Charlie Palmer, will come to your rescue. They serve meals so tasty, you'll beg for seconds. If your bed looks too tempting to leave, order room service. The food is just as delectable when enjoyed in your pjs. If you've overindulged, which is easy to do, plan a next day visit to the fitness center.
The spa includes a resting room, whirlpool spa, sauna, and steam room in addition to enjoyable treatments to help ease both your body and mind.
Address: 851 West Genesee Street, Skaneateles, New York
2. The Statler Hotel at Cornell University, Ithaca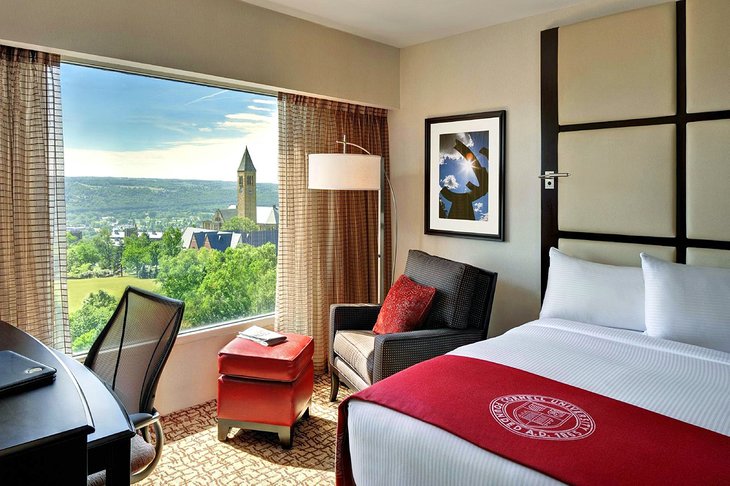 Accommodation: The Statler Hotel at Cornell University
Cornell University is an Ivy League star set upon the magnificent soil of Ithaca. The sprawling campus features historic buildings, perfectly manicured grounds, and stunning vistas. Luckily for those who visit, it is also home to the highly rated Statler Hotel.
Designed to educate students about the hotel industry in 1950, this remarkable spot continues to be one of the best resorts in the Finger Lakes region. A combination of factors contribute to its success: high-end, contemporary amenities and furnishings; a remarkable view over the magnificent campus and sparkling Cayuga Lake; and most importantly, unbeatable service. Here, you'll find students working alongside seasoned professionals, all clamoring to ensure your stay is first rate.
This AAA Four Diamond award winner offers a business kiosk, fitness center, free airport shuttle, and extremely comfy beds. Taverna Banfi, Regent Lounge, The Terrace Restaurant, and Mac's serve tasty fare with a pretty view. The cuisine varies by restaurant, so you can enjoy an Italian dish one night a Pan-Asian bowl or pizza the next.
While you're in the area, take a moment to check out the falls at Robert H. Treman State Park. It's one of the best things to do in the Finger Lakes Region.
Address: 130 Statler Drive, Ithaca, New York
3. The Inns of Aurora, Aurora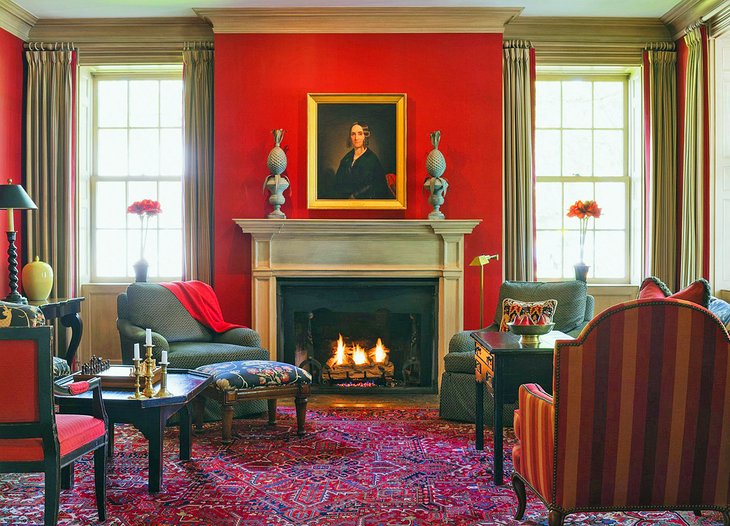 Accommodation: The Inns of Aurora
If you're looking for an intimate, luxurious, and romantic Finger Lakes escape, book a stay at the Inns of Aurora. Consisting of five distinct high-end properties that encompass the adorable village of Aurora, this lovely resort offers a variety of options for an enjoyable stay. Kids under 14 aren't permitted unless you've rented the entire residence, so you can enjoy a quiet, almost adults-only retreat.
Each of the inns offers first-class service, plush furnishings, and stunning views, so you won't feel short-changed by choosing one location over another. Their amenities include two restaurants, a cooking demonstration kitchen, wellness center, yoga classes, complimentary bikes, canoes, kayaks and paddleboards, and access to a 3.5-mile nature trail. A plush spa also opened in June, 2021.
The various inns are set on the serene shore of Cayuga Lake and dotted throughout the enchanting village of Aurora, adding an impressive level of elegant charm to their surroundings.
Established in 1883, the Aurora Inn is the second oldest and most storied of the properties. It was restored in 2003 to add a bit of contemporary luxury to the historic allure. Only those over 14 are invited to stay here, making it a great option for couples looking for a romantic interlude.
Rowland House was built in 1903 and restored more recently, in 2014. The two-story boathouse is particularly charismatic, but it's the waterfront Grecian temple that has us wishing we could sit here to enjoy a sunset.
Built in 1858, the E.B. Morgan House is the oldest inn on the property. It is home to seven cozy guest rooms and large, picturesque porches. It was restored in 2005.
Wallcourt Hall boasts a newly revamped interior and a more contemporary feel than its counterparts. Built in 1909, it was restored in 2016 and boasts 16 rooms.
The Zabriskie House dates to 1904, but it was restored most recently in 2019. It is found in the center of the village and houses 11 guest rooms and an iconic columned front porch.
Address: 391 Main Street, Aurora, New York
4. Woodcliff Hotel & Spa, Fairport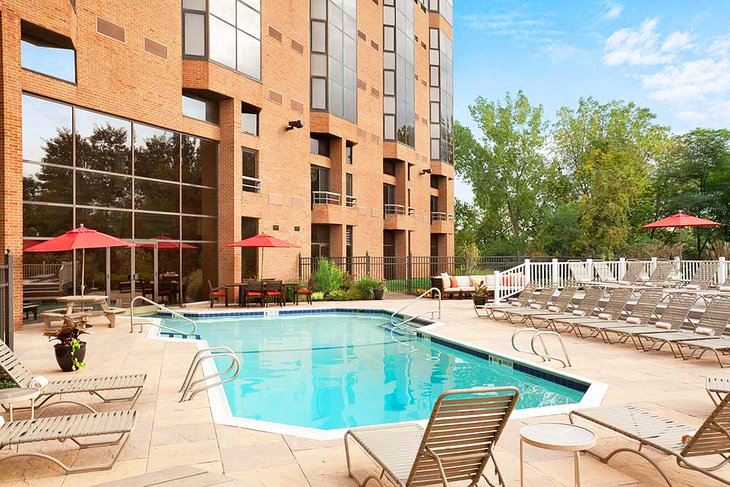 Accommodation: Woodcliff Hotel & Spa
Set atop a hill a mere 20 minutes outside downtown Rochester, the Woodcliff Hotel & Spa in Fairport offers visitors a serene getaway from the bustling city. In addition to a spectacular view, the Woodcliff charms visitors with a peaceful spa adept at pampering everything from your toes to your hair. There's even a golf course on-site for guests who prefer to spend their days trying to finally sink that hole in one.
Indoor and outdoor pools are a must for those who like to spend their days lounging poolside. Or you can book a Jacuzzi suite and enjoy a romantic and relaxing soak in a private tub. Level up with a two-story suite.
Horizons Restaurant & Lounge is the place to be for those who like their food served with a hefty side of impressive mountain views. Note: it's only open for dinner. The Craftsman Café offers breakfast fare including the popular "Every Day is Tuesday" scrambled egg soft tacos.
Address: 199 Woodcliff Drive, Fairport, New York
5. Hope Lake Lodge at Greek Peak Mountain Resort, Cortland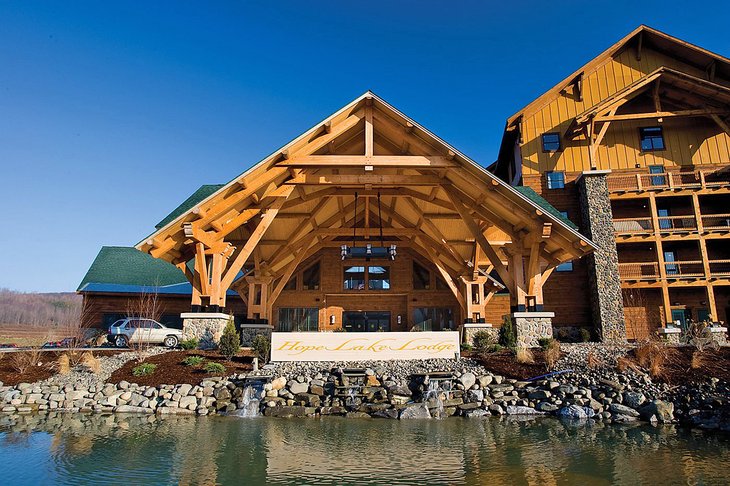 Accommodation: Hope Lake Lodge at Greek Peak Mountain Resort
Traveling with kids? Thrill them with a trip to Hope Lake Lodge at Greek Peak Mountain Resort. A comfortable spot with encapsulating mountain views, an outdoor pool, hot tub, fire pit, two restaurants, a Starbucks, and endless activities, this expansive lodge is one of the best resorts for families in the Finger Lakes region.
Inside, guests are surrounded by rich, honey-colored beams, thick wooden panels, and a central stone fireplace, evoking an intimate wood cabin feel despite the resort's grand size. Imagine Disney World's Animal Kingdom Lodge and Great Wolf Lodge had a baby, and you'll have an inkling of what this resort is like.
A fan of little ones, the resort will coddle your kids with children's menus, coloring pages, afternoon crafts, outdoor games, and free treats. The 151 suites are tailored to families, offering comfy beds, a fireplace, and often a fully equipped kitchen. If you're lucky, you'll have a set of stairs to an upper level containing a bed and second bathroom – something the kids will deem the "coolest" feature ever.
While not included in your room rate, the resort provides easy access to the Cascades Indoor Waterpark, where little ones (it's best for under 10s) can splash their way down waterslides, stand under the dumping bucket, and play in the wave pool.
Enjoying the multiple activities at Greek Peak Mountain Resort across the street (also for an additional fee) is one of the best things to do in the Finger Lakes region. It boasts a mountain coaster, zipline, bounce house, and ropes course, as well as ski and snowboard facilities during winter.
Need time to relax after all that adventure? Leave the kids with your adult traveling companion and enjoy a quiet moment in the sprawling spa. Each treatment room comes complete with a personal sauna and an ambience guaranteed to help you unwind.
Address: 2177 Clute Road, Cortland, New York
6. del Lago Resort, Waterloo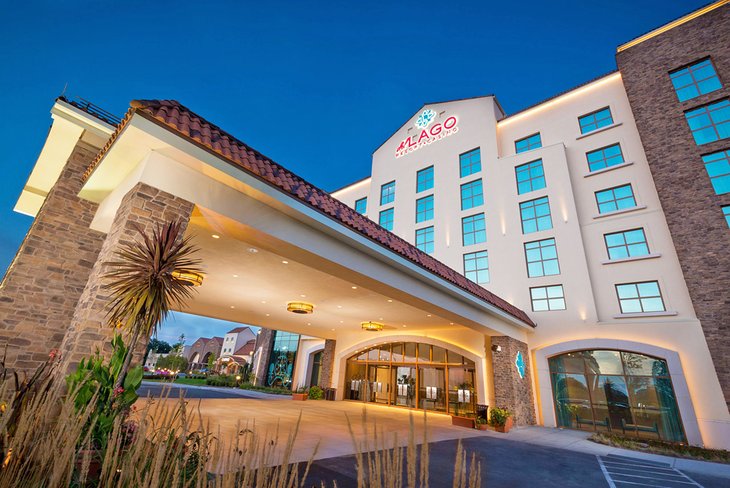 Accommodation: del Lago Resort
There's always something fun happening at the del Lago Resort. This expansive property boasts 205 luxury rooms and suites, a shopping area called the Galleria del Lago, and nine restaurants and bars, so there's not much need to leave the grounds if you're hoping to spend a weekend in. An adults-only retreat, this is one of the best resorts in the Finger Lakes Region for couples.
A herbal steam room and cedar wood sauna welcome visitors to the on-site Spa del Lago, where they can enjoy a treatment (or three) from a varied menu that includes everything from a raindrop therapy massage to an aromatherapy manicure to a haircut. The Vine Showroom hosts concerts and comedy acts.
On a budget? No worries. This resort is constantly offering great packages. Be sure to check their website often for the best deals.
Address: 1133 State Route 414, Waterloo, New York
7. Belhurst Castle, Geneva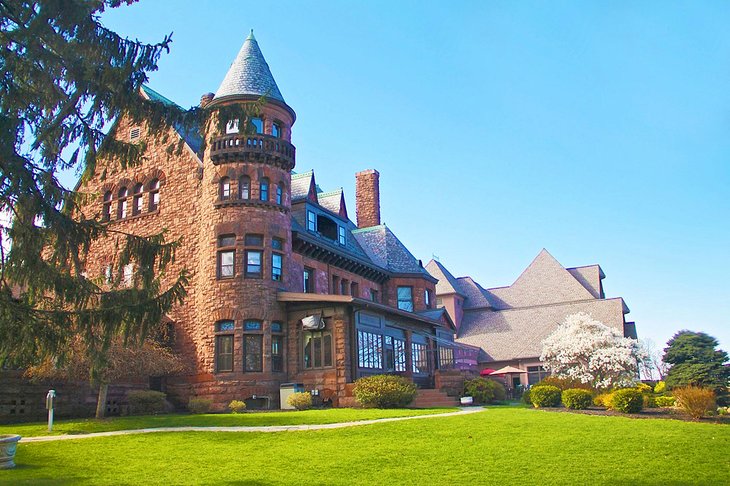 Accommodation: Belhurst Castle
If you're looking for a romantic locale in a historic setting, a stay at Belhurst Castle will tick all the boxes. Standing regally by the shore of Seneca Lake, this unique hotel is set in an actual castle that dates to the late 1800s. It has been listed on the National Register of Historic Properties and has been dubbed one of the most romantic resorts in the Finger Lakes.
Essentially three separate hotels, guests can choose to take a trip back in time in the Victorian era at Belhurst Castle Chambers, or enjoy a more modern and contemporary stay at Vinifera Inn, which was built in 2003. White Springs Manor lies two and a half miles from the castle. This 1900s-era Georgian mansion is both intimate (there are 12 rooms and one cottage) and luxurious.
Two restaurants are on-site to keep you satiated without the need to tear yourself away from the gorgeous setting. Be sure to make a reservation when you book your room, as these fill up quickly. The hotel is also home to the Isabella Spa and Salon, which boasts treatments to help ease any tension not erased by the view.
Address: 4069 West Lake Road, Geneva, New York
8. Argos Inn, Ithaca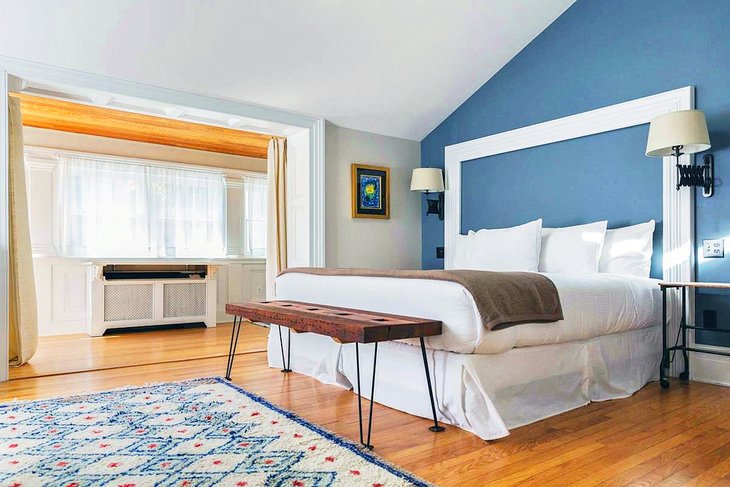 Accommodation: Argos Inn
Looking for an adults-only retreat to help reignite your spark? A charmingly intimate hotel awaits your visit to Ithaca. Called the Argos Inn, this historic white mansion oozes charm, and spoils its guests with stellar service and a great attention to detail. Pets and kids under 12 aren't allowed, so you can expect serenity during your stay – no crying babies or barking dogs will wake you during the night.
Built in 1831, this boutique inn is a listed National Historic mansion. It is peppered with fun antiques; 20th-century art; and, thanks to a refurbishment in 2017, modern amenities. Beautiful hardwood floors line the hallways and rooms, elegant furnishings are found throughout, and heated stone floors add a luxurious flare to the bathrooms.
Grab a snack at the Rook SnackBar or enjoy a meal at the inn's sister property, the Argos Warehouse, which lies next door.
Address: 408 East State Street, Ithaca, New York
9. The Lake House on Canandaigua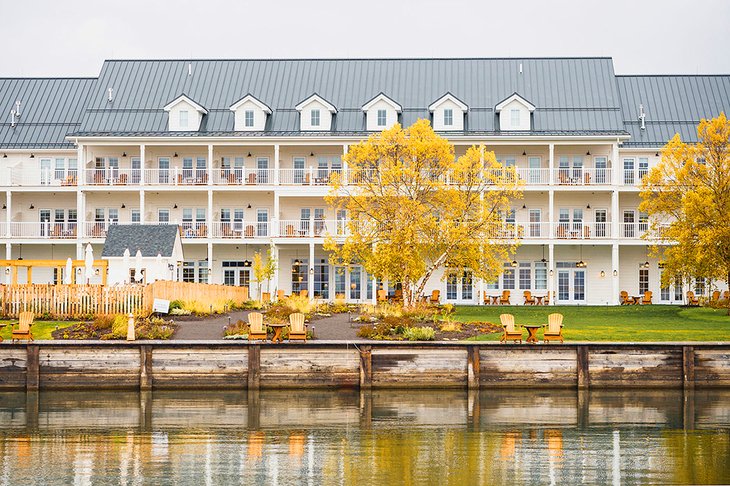 Accommodation: The Lake House on Canandaigua
A stay at the stunning Lake House resort in Canadaigua is a treat for all your senses. A family-run beauty, this pretty resort combines historic charm with new world luxury on an immaculate lakeside.
From your room, enjoy the tranquil Canadaigua Lake vistas from a balcony, or settle into the sumptuously soft furnishings. Waterworks rain showers, hand-carved furniture, and fireplaces make it difficult to leave your room. That said, the grounds here are glorious, featuring vibrant gardens spotted with sculptures that are a perfect place to lose yourself for a while.
When hunger makes it impossible to stay in, the Rose Tavern serves meals that will please your palate, while the Sand Bar serves the most delicious fries and other tasty snacks.
During summer, guests can make the most of the lakefront locale, spending their days lazing by the shore, swimming in the fresh water, sailing, or paddleboarding. The outdoor pool is another perfect spot to enjoy a refreshing dip, or warm yourself in the hot tub.
Address: 770 South Main Street, Canandaigua, New York
10. Watkins Glen Harbor Hotel, Watkins Glen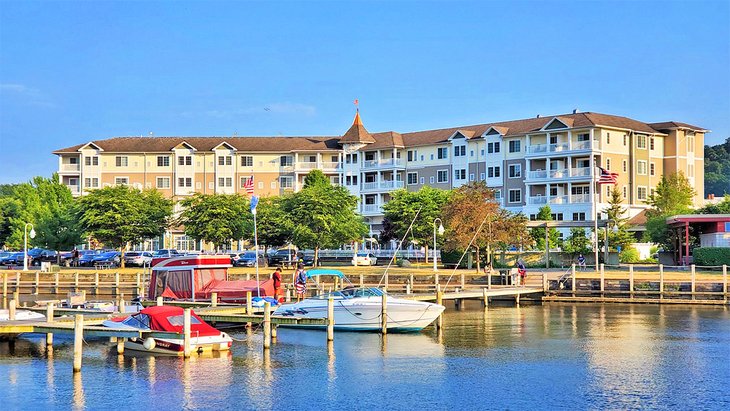 Accommodation: Watkins Glen Harbor Hotel
Whether you choose to stay in a guest room or suite, you'll enjoy plenty of space at the Watkins Glen Harbor Hotel. Known for their spacious, comfortable accommodations, this historic hotel is one of the best resorts in the Finger Lakes Region.
A perfect jumping-off point for exploring nearby Watkins Glen (don't miss the impressive waterfall), this AAA Four Diamond resort offers guests breathtaking views of Seneca Lake, pillow-top mattresses, and a fridge in which to store late night snacks.
The Blue Pointe Grill serves American fare featuring fresh, local ingredients while the Coldwater Bar offers light bites that can be enjoyed on The Patio, beside a scenic outdoor fire pit. Work off your second helping with a trip to the fitness center, or swim laps in the indoor pool.
Address: 16 N Franklin Street, Watkins Glen, New York
11. La Tourelle Hotel, Bistro & Spa, Ithaca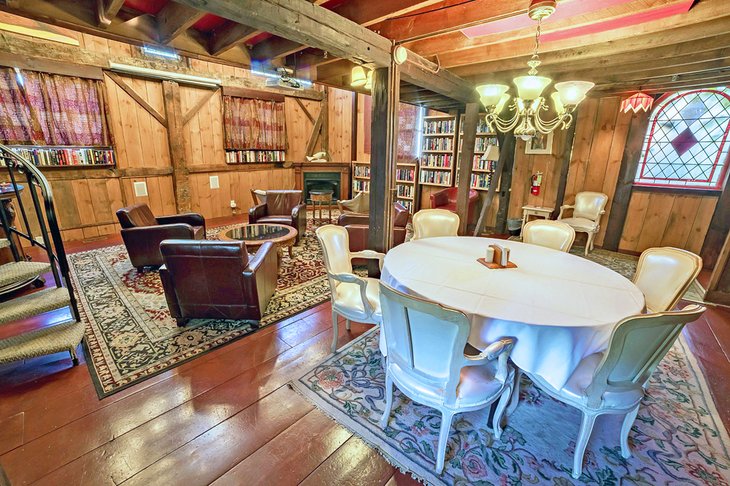 Accommodation: La Tourelle Hotel, Bistro, & Spa
La Tourelle Hotel, Bistro & Spa is another gem situated in the rolling hills of Ithaca. Making the most of their 70 acres of natural wonderland, this top resort offers guests plenty of lawn to traipse around, ponds to gaze into, and trails to explore. If you keep going, you'll hit Buttermilk Falls, one of the best waterfalls in New York.
Relaxation is the priority for guests at this vast estate. Many of the rooms and suites contain romantic fireplaces, and they're all adorned with plush beds and lovely vistas. The gardens are spotted with picturesque gazebos, the fitness center awaits your next workout, and the August Moon Spa is primed to soothe overworked bodies.
A business center and gift shop are also on-site, as is the delightful Bistro At La Tourelle, a restaurant with a variety of palate pleasing meals.
Address: 1150 Danby Road (96B), Ithaca, New York
12. Springside Inn, Auburn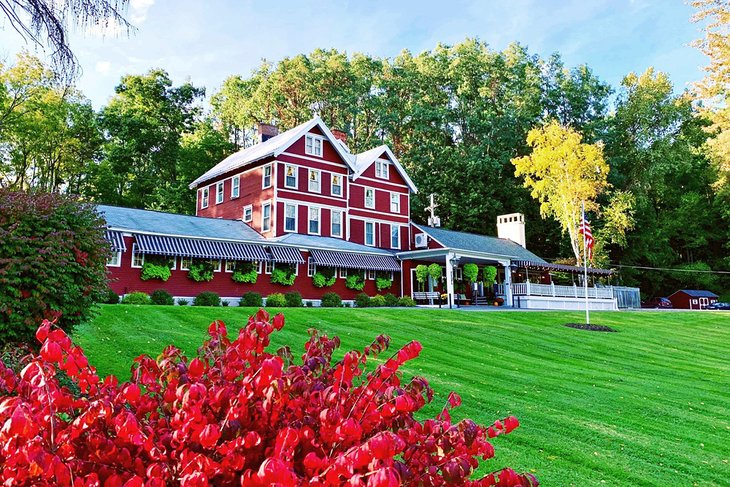 Accommodation: Springside Inn
The historic Springside Inn is a wonderful spot to enjoy a weekend away in the Finger Lakes. Built in 1854, this adorable B&B-style resort has an impressively storied past. It acted as one of Harriet Tubman's hiding spots for runaway slaves she led through her work on the Underground Railroad.
Seven charming rooms evoke a simpler time, when four-poster canopy beds and floral elegance reigned supreme. Each room includes a complimentary breakfast, and meals can be enjoyed at the Oak & Vine restaurant. While some say the style is "outdated," if you're looking for charm, you'll find it here.
The inn is serenely located across from the western edge of Owasco Lake and is surrounded by lush green lawns and meticulously kept gardens.
Address: 6141 West Lake Road, Auburn, New York