10 Best Tours & Excursions from Cancun
We may earn a commission from affiliate links ()
Mexico's most popular destination is, without a doubt, Cancun – and for good reason. With world-class hotels, some of the most beautiful beaches in the world, exquisite restaurants, culture, and beautiful blue water, it's no wonder Cancun tops the travel lists of so many from around the world. Those coming to this part of Mexico can take advantage of the many tours and excursions from Cancun, as well.
From snorkeling and diving to horseback riding, speed boat tours, and archaeological ruins, there is a tour and excursion from Cancun that will please all sorts of travelers. Dive beneath the waves to explore the colorful world of fish and coral, or simply enjoy the view from a luxury yacht above the waves. Saddle up for a ride through the mangrove jungles, or take a plunge into the underground paradise of the ancient Mayan world.
Visiting Cancun can certainly be about enjoying the magnificent all-inclusive hotels and picture-perfect beaches, but it's the tours and excursions that really seals the deal at this A-list resort town on the Caribbean coast of Mexico. Plan the best places to visit on your next vacation with our list of the top tours and excursions in Cancun.
Note: Some businesses may be temporarily closed due to recent global health and safety issues.
1. Reef and Wreck Snorkeling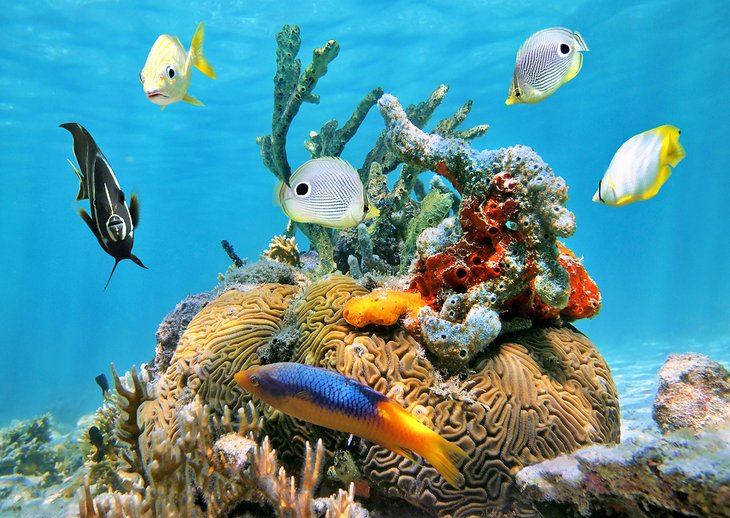 The first thing you'll notice when you touch down in Cancun is, undoubtedly, the electric blue water. To call it hypnotizing is an understatement, so any traveler would be remiss to not plan tours and excursions from Cancun around the water. A snorkel trip is a great place to start.
The Reef and Shipwreck Snorkeling Tour takes travelers to some of Cancun's most impressive underwater worlds. From brilliantly colored coral reefs teeming with a kaleidoscope of fish to the skeleton of a shipwreck, there is so much to see beneath the surface of the waves. Keep your eyes peeled for giant sea turtles, too!
The 3.5-hour snorkeling tour is a small group excursion that includes round-trip transportation from your Cancun hotel. You'll be able to snorkel the reef and shipwreck and have a choice of morning or afternoon departure.
2. Tour the Cenotes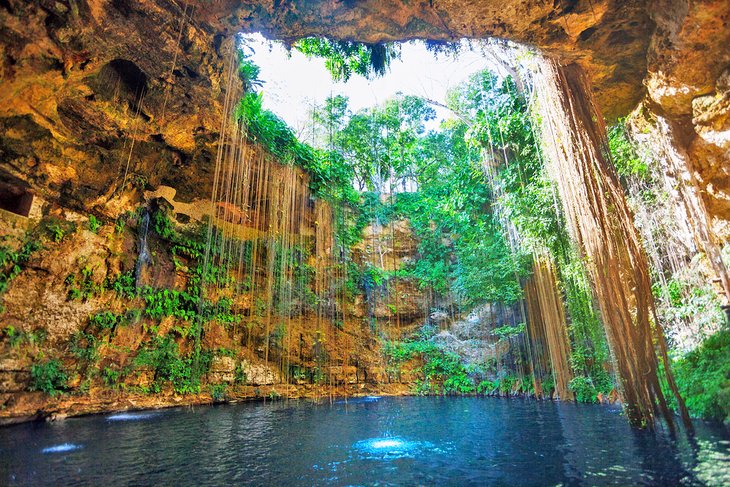 Speaking of things to do in the water, did you know that the Yucatan peninsula sits atop a web of underground caves and rivers? Called "cenotes," these natural formed sinkholes are a result of freshwater running through the limestone bedrock that makes up the terrain of the peninsula. As a result, hundreds of miles of rivers flow beneath the ground's surface.
These cenotes play a huge part in the Mayan culture, which is indigenous to the region. The Maya people believe these cenotes are the gateways to the underworld.
What's neat is that visitors are able to tour many of these cenotes with the assistance of local guides. With the Xenotes Oasis Maya tour, visitors have a full-day, guided eco-adventure kayaking through the underground caverns, snorkeling in the cenotes, and floating the gentle currents on inner tubes. Along the way, local guides will share Mayan folktales to help give a sense of place and history to these mystical waters.
This tour includes the Xenotes Oasis Maya park, which has four cenotes within the jungle, each one with its own adventure, like rappelling, ziplining, kayaking, and snorkeling. It also includes round-trip transportation from your hotel, as well as a picnic lunch.
3. Explore the Rich Mayan Heritage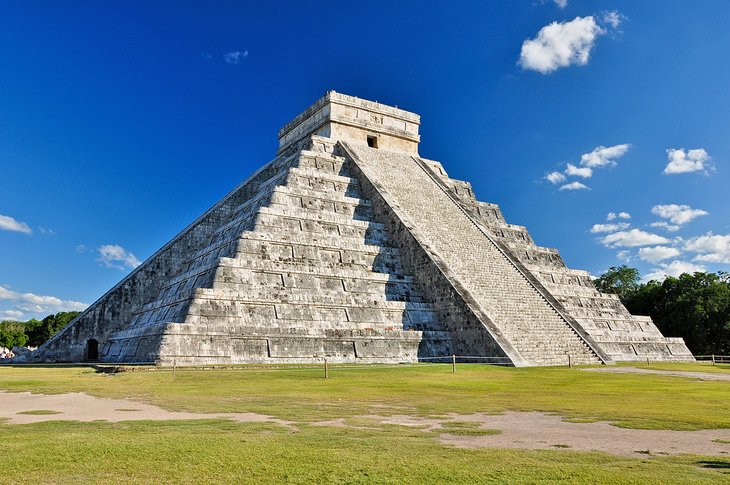 It's no secret that the Yucatan peninsula is packed with Mayan treasures. From the ancient, coastal city of Tulum to the towering pyramid at Chichen Itza, from southern Quintana Roo to deep into the jungles of neighboring states like Yucatan, Campeche, and Chiapas, the Mayan influence is palpable across this part of Mexico. The best part about staying in Cancun is that you're never far from immersing yourself in this vibrant part of Mexico's history.
This Mayan-focused private tour to three cities is an entire day devoted to Mayan history and culture through the centuries. The adventure starts with an early morning pickup at your hotel. Your guide will then take you from the developed, high-rise hotels of the Hotel Zone into the lesser developed lowlands of lush, jungled interior.
You're on your way to Valladolid, Yucatan's third largest city, which was developed in the 16th century by the Spanish. Prior to being a Spanish colonial city, it was an important city to the Mayans. While in Valladolid, you will have the opportunity to see the historic Spanish architecture, walk the charming cobblestone streets, and even participate in a Mayan purification ritual called a Temazcal, guided by a real-world Shaman.
From Valladolid, venture on to Chichen Itza, a UNESCO World Heritage Site, and one of the most mesmerizing temple complexes in the world. This major Mayan city is known for the massive pyramid dedicated to the Mayan god, Kukulkan.
End the day with a trip to a refreshing, jungle-shrouded cenote for a dip and a locally inspired lunch. After a swim and a cool down, you will be transported back to Cancun directly to your hotel.
4. Go Deeper into the Mayan World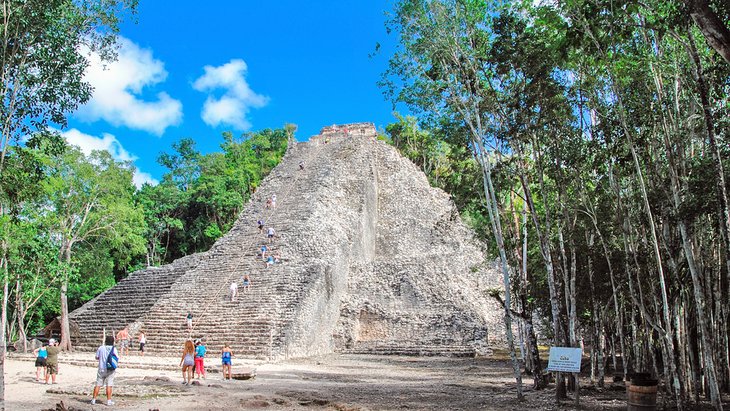 Chichen Itza may be the most famous archaeological site in Mexico, but Cancun is close to so many other ruins that are equally worth a visit. Two that must be mentioned are the ruins at Tulum and the ruins at Coba.
Tulum is easily recognizable for the iconic stone tower that sits perched on a cliff overlooking the turquoise Caribbean Sea (and one of the best beaches in Mexico) below. The Coba ruins are much lesser known, tucked in the jungle not far from Tulum town, and has one of the last remaining pyramids from the Mayan world that visitors can still climb.
Fortunately many tours and excursions from Cancun combine both archaeological sites. This Coba and Tulum Ruins tour, for example, includes hotel pickup and drop-off, education on the local cultural traditions with a visit to a thriving Maya community, and, of course, visits to Tulum and Coba.
With the visit to Coba, visitors are encouraged to climb the 120 steps to the top of Nohoch Muul, which is the tallest pyramid in the Yucatan. Bring your camera for breathtaking uninterrupted views of the sea of jungle below. This tour also includes lunch.
5. Dive the Coral Reefs for Beginners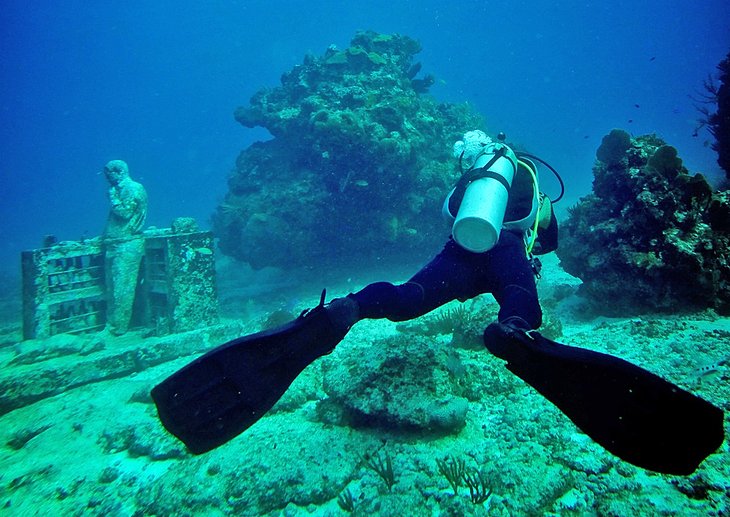 If you're dipping your toe into the wide world of underwater diving, you've come to the right place. Cancun and the Riviera Maya have some of the best diving in the entire world. Just off the coast of Cancun, divers can relish spectacular reef systems, shark-filled tunnels, shipwrecks, an underwater museum, and the waters surrounding beautiful Isla Mujeres.
Divers of all levels will find something exciting to see in Cancun, but if you're a beginner diver Cancun is a great place to start thanks to the calm, gentle waters that provide excellent visibility. Consider this two-tank dive for beginners in the Mexican Caribbean.
The tour begins in the marina, where the tour guide outfits each diver with equipment according to their size. This is followed with a 35-minute theory class to make sure everyone is up to speed on equipment use, communication signs, and diving safety and techniques. After that it's time to board the boat for a 30-minute trip out into the warm, delicious turquoise-colored sea.
The first dive takes visitors to MUSA, which is the underwater museum off the coast of Cancun. The dive is 35 minutes, and maximum depth is 10 meters. Here, feast your eyes on the 400 underwater sculptures. It takes museum viewing to a whole new level.
From there divers will move to the second dive site for another 35-minute dive. This one will explore the tropical life surrounding the beautiful multi-colored reef.
6. Sail to Isla Mujeres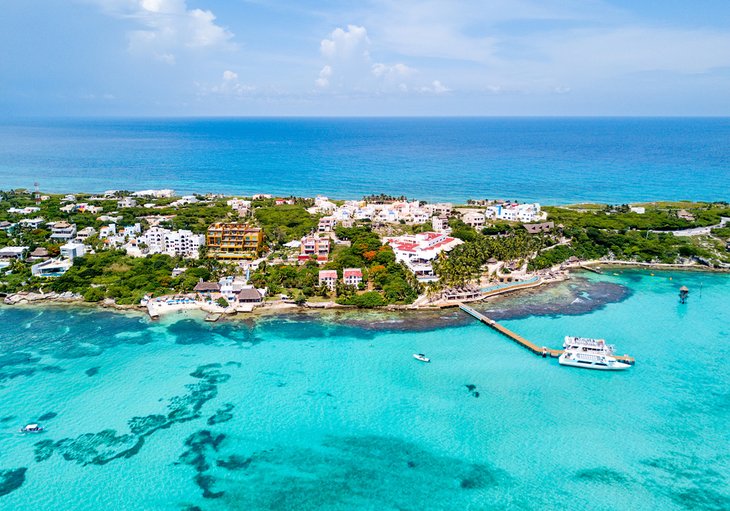 What's a trip to the Caribbean (yes, even the Mexican Caribbean) without a little island hopping? Off the coast of Cancun and the Yucatan peninsula are a string of beautiful islands that each has its own personality and charm. Isla Mujeres is off the coast of Cancun's Hotel Zone and makes for a perfect day trip or excursion from Cancun.
Isla Mujeres is one of Mexico's Magic Towns, which is a special designation given to parts of Mexico that hold onto its local heritage and charm. The skinny island is popular for diving, snorkeling, boat rides, catamaran trips, ziplining, fishing, and much more. Plus, its sugary shores are about as classic Caribbean as it gets.
To explore Isla Mujeres for the day, this all-inclusive luxury yacht tour is a 5.5-hour tour that sails the crystalline waters around the beautiful island. The adventure starts with a pickup from your hotel, where you are taken to the catamaran to board. After that, it's up to you to kick back, relax, and enjoy the endless shades of blue. If you feel like taking a dip, bring your bathing suit for some snorkeling just off the boat.
After a swim and a decadent gourmet lunch, the boat docks in Isla Mujeres, where you have the opportunity to explore beaches, do a bit of shopping, or rent a golf cart to cruise around to the island's most popular land sites. In the afternoon, board the boat for the return to Cancun and transportation to your hotel.
7. Discover an Underworld Paradise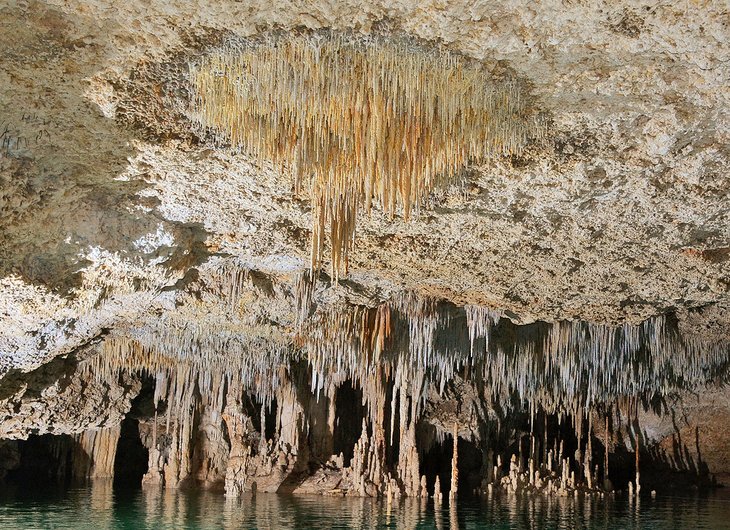 If cenotes piqued your interest, you may be curious to learn more about the cave system that runs underneath the peninsula. Picture Jurassic Park-inspired stalactites and stalagmites dating back thousands of years, crystal-clear rivers that carve their way through cavernous tunnels, and a prehistoric universe directly under the world's feet. The absolute best way to discover this world is to visit Rio Secreto.
Rio Secreto is a spectacular underground river known for its maze of mesmerizing stalactites and stalagmites. This Rio Secreto tour takes travelers up close to this geological masterpiece. Don a wetsuit and a helmet with a headlight and brace yourself for an epic underground adventure exploring the underground canals and tunnels. Learn about the millions of years of geological history that helped to create the places you are exploring. The three-hour tour wraps with lunch before you are taken back to your Cancun hotel.
8. Jungle Speedboat Tour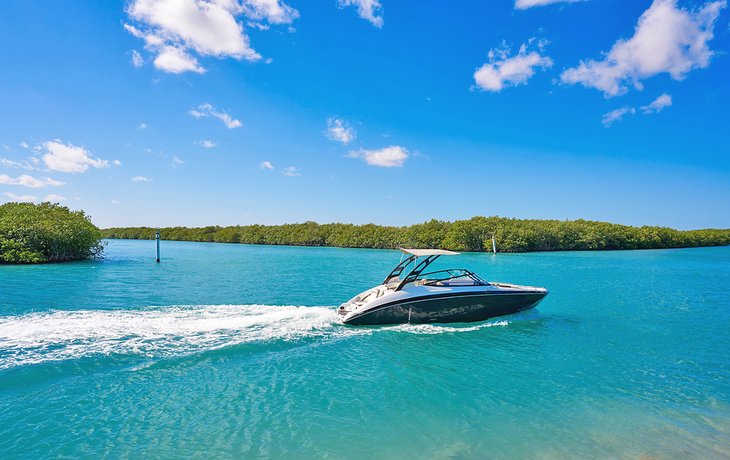 Most travelers to Cancun are absolutely content to stay put by the sea. Totally understandable! It's gorgeous. But the Nichupte Lagoon often gets washed out of the Caribbean Sea spotlight. On the opposite side of the famous Hotel Zone strip, the wide expanse of water you see is the Nichupte Lagoon, and it's a world all its own worth discovering.
The Nichupte Lagoon is made up of several lakes and has two channels that lead out to the Caribbean Sea. It's a popular destination for fishing, kayaking, canoeing, scuba diving, and snorkeling. Since it faces the west, it's also a great spot from which to catch the sunset.
This Jungle Tour Adventure is a two-hour tour that takes visitors on an adrenaline pumping speedboat ride around the lagoon. The two-passenger speedboat zips around the lagoon for a unique look at a different type of ecosystem, fringed in mangroves and teeming with birdlife.
After the high thrills of the speedboat ride, the pace slows down with a snorkel trip over an underwater museum at the Punta Nizuc coral reef. A dip in the warm, crystal clear water is quite a contrast from the jungle-shrouded mangroves just a few feet away.
9. Explore on Horseback
Exploring on horseback may not be your first thought when you think of Cancun, but it's absolutely an activity worth checking out. Exploring the lush, verdant jungle trails on horseback is a unique and adventurous way to see this side of Cancun.
Choose this Horseback Riding and Cenote Swim Tour to combine a few experiences in one. With this tour, travelers are picked up from their hotel in Cancun or Playa del Carmen and transported to Rancho Bonanza, where they are matched up with a trusty steed. Riders are matched based on experience level, so no worries if you're still a beginner.
From here, riders will follow their guide through the jungle as they learn about the local wildlife. This particular tour includes a lesson in bubblegum making, made from materials found right here in the jungles of the Yucatan.
After this steamy jungle ride, guests are invited to refresh themselves with a dip in a beautiful, fresh cenote. This is accompanied by drinks and snacks before returning back to your hotel.
For this tour guests are provided with transportation, a guide, all necessary equipment, bottled water, snacks, and towels. But don't forget to pack your bathing suit if you'd like to take a dip in the cenote.
10. Explore Isla Contoy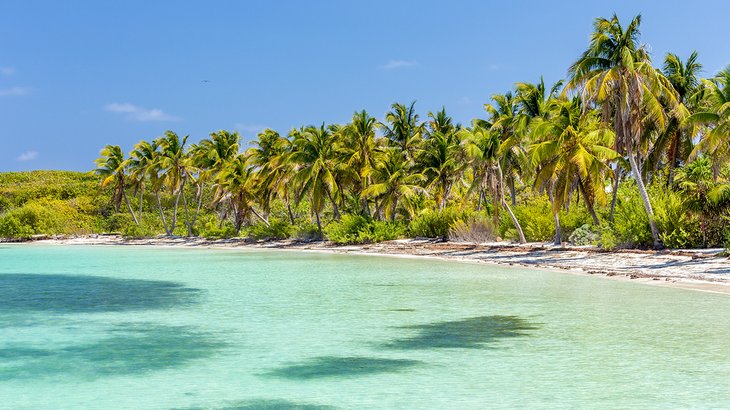 As popular a destination as Cancun is, it's still very easy to get yourself off the beaten path, especially if you know where to look. Just off the coast of the Yucatan Peninsula is the protected island, Isla Contoy.
Since the 1960s, Isla Contoy has been protected by the Mexican government and was officially declared a national park in the 1990s. Today, it is known for eco-tourism, regulated commercial fishing, and its conservation work. Only 200 visitors are allowed per day, and what they are rewarded with is an insider look at what pristine Caribbean Mexico looked like many years ago.
The 5.3-mile-long island is wreathed in powder-soft sand, peppered with palm trees, and is a haven for turtles looking to nest. Approximately 152 tropical marine birds call Isla Contoy home, as well. This full-day Isla Contoy sightseeing tour includes transportation, guide service, snorkel gear, and a rarely seen glimpse into this unique side of Cancun.