7 Top-Rated Resorts on Sanibel Island, FL
Sanibel Island acts as a barrier between the Gulf of Mexico and the larger Pine Island, connected to Fort Myers on the mainland by the Sanibel Causeway. The central and eastern part of the island is most active with tourists and is full of resorts, restaurants, and shops that can be easily reached by foot or via the trolley that stops at all the major hotels.
Resorts and hotels on Sanibel tend to be smaller, older, and more traditional. You won't find Miami Beach style hotel glitz or glam here, just solid comfortable places to unwind and relax.
The south-facing beaches are the island's widest and most crowded, known for an extraordinary abundance of seashells. As you head west, the beaches narrow, but the resorts spread out, resulting in more privacy.
At its northern tip, Sanibel Island connects via a bridge over the Blind Pass to its tiny sibling, Captiva Island. Here, you will find resorts that have shores facing both the gulf, as well as the more protected Pine Island Sound, perfect for vacationers who will be arriving by water.
Marinas are also available on the north side of Sanibel Island, opposite the resort-lined beaches. All the island's resorts have amazing sunsets over the gulf and offer plenty of recreational activities for both families and adults.
Choose your tropical getaway with our list of the top resorts on Sanibel Island.
1. Sanibel Moorings Resort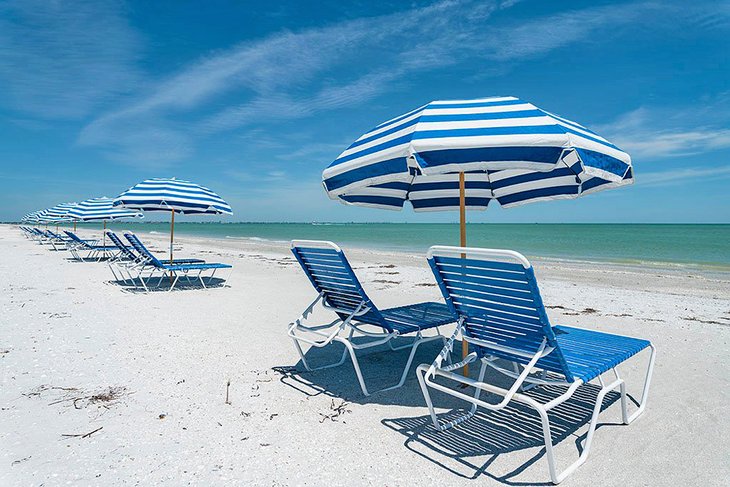 Accommodation: Sanibel Moorings Resort
Located on the eastern end of the island near Sanibel Lighthouse, the Sanibel Moorings Resort is a quiet getaway boasting a private beach with complimentary lounge chairs and umbrellas for guests' use.
Nature-lovers will appreciate the guided beach walks and shelling lectures conducted weekly by a marine biologist, as well as tours of the property's six-acre tropical botanical garden, which includes a butterfly garden.
Resort amenities include two heated pools plus a kids' area with a separate pool, two tennis courts, a fitness center and business center, self-serve laundry, library, and resort-wide Wi-Fi. The resort also has rentals available for canoes, kayaks, and paddleboards, as well as bicycles, so you can easily explore the island.
Pet-friendly units are available, and all lodgings include a full kitchen, his and hers sinks in the master bath, and a private screened porch. There are also dockside units available for those arriving by boat.
2. Sundial Beach Resort & Spa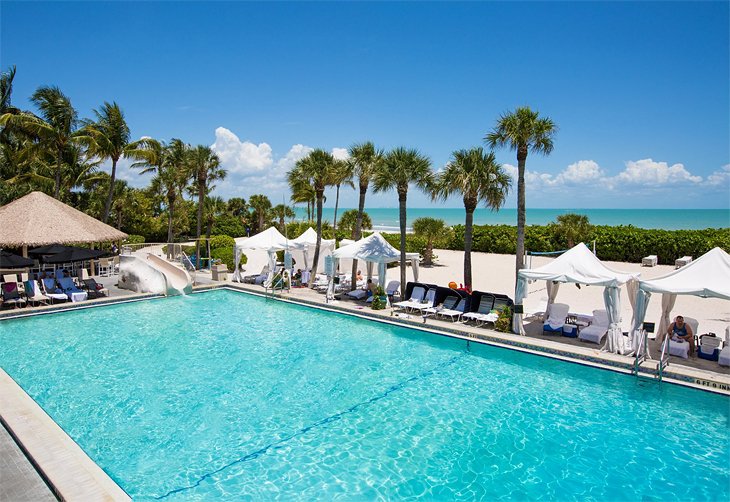 Accommodation: Sundial Beach Resort & Spa
Condominium-style lodgings at the Sundial Beach Resort & Spa range from studios to three-bedroom suites equipped with full kitchens and on-site self-serve laundry facilities.
Accommodations include a full breakfast, housekeeping, and complimentary use of equipment such as paddleboards and kayaks. In addition, the resort hosts recreational activities for all ages. Sports facilities include a fitness center, tennis courts, beach volleyball, and pickleball, as well as tabletop games like ping-pong and foosball.
The resort is also home to an 18-hole golf course with club rental, and an on-site day spa that offers a full range of services. Live entertainment and refreshments are available at the resort's swimming pools, and there are plentiful poolside cabanas and deck chairs to accommodate everyone.
There are five restaurants on the property that offer everything from American fare to sushi, plus a convenience store with groceries and a gift shop. Check out the Sea Breeze Cafe, which is considered some of the best waterfront dining in southwest Florida. You can grab a table outside with gorgeous views, especially at sunset. There is also a pizza restaurant that is popular with families for its slices of pizza, hot dogs, and ice-cream scoops.
3. West Wind Inn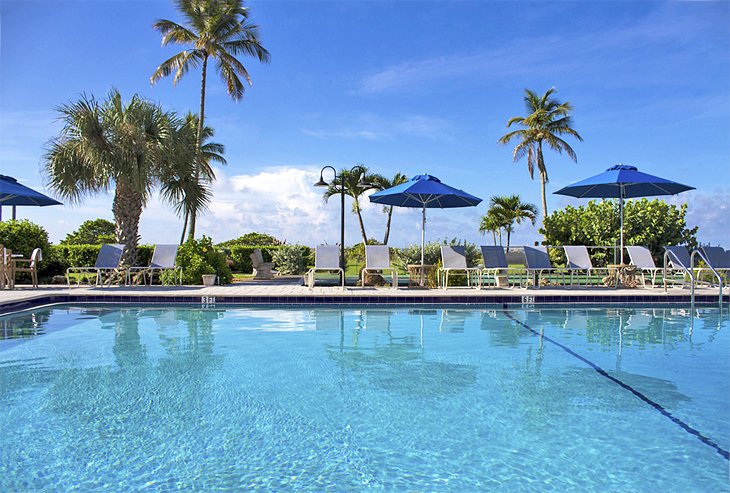 Accommodation: West Wind Inn
The West Wind Inn offers a choice of standard guestrooms or kitchenette rooms, all of which come with a screened-in balcony or deck with views of either the Gulf of Mexico or the resort's lovely tropical gardens.
The property includes a peaceful butterfly garden and goldfish pond, a heated pool with a large deck and poolside entertainment and refreshments, and a private beach.
For guests' convenience, management provides a shell-cleaning area, as well as multiple faucets throughout, where guests can rinse the sand from their feet and shoes to keep the grit out of their rooms.
Beach chairs and umbrellas are available for rent, and local activities like sightseeing cruises can be booked directly by the concierge. Other resort amenities include tennis, shuffleboard, self-serve laundry, free parking, and Wi-Fi.
Those with mobility issues should request a ground floor room as there is no elevator.
4. Island Inn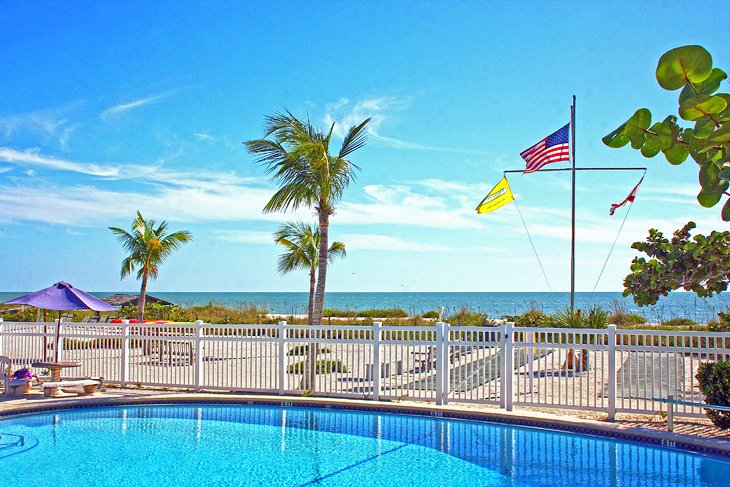 Accommodation: Island Inn
The eco-conscious Island Inn provides guests with all the amenities of a full-service resort without the extra fees, offering lodgings ranging from standard rooms with kitchenettes to fully equipped beach cottages that can accommodate up to 12 people.
Set on 10 acres, the property sits in the central part of Sanibel Island and includes a private beach, where you can enjoy educational naturalist-guided tours.
There is a convenient cleaning station for shell-collectors, as well as fishermen - you can cook your catch on one of the gas grills or opt to have the inn's restaurant expertly prepare your fresh-caught meal.
On-site recreational facilities include volleyball and tennis courts, shuffleboard, and horseshoes, while rentals are available for bicycles, as well as kayaks and paddleboards.
For a break from the sun or to socialize on a cool evening, the library and family lounge offers a fireplace, television, computers, books, and games.
5. Casa Ybel Resort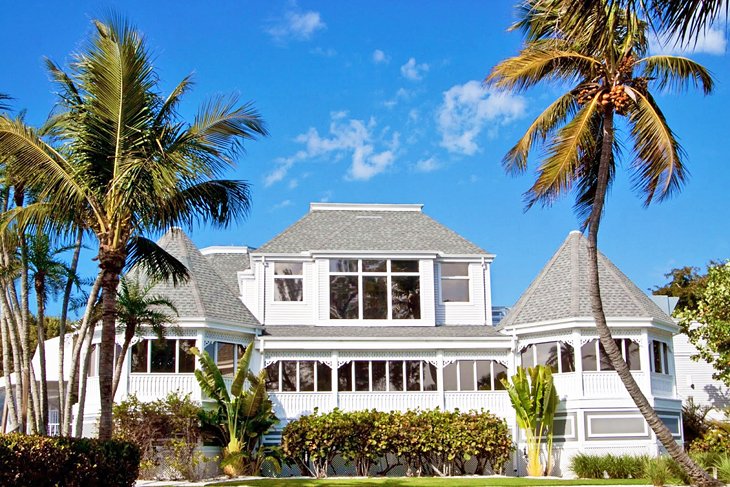 Accommodation: Casa Ybel Resort
The all-suite Casa Ybel Resort sits on 23 acres along Sanibel Island's Knapps Point, facing south over the gulf.
Every suite is oceanfront and includes a full kitchen and outdoor gas grill; a separate living room with a pullout couch; and a screened balcony or lanai, so you can enjoy the ocean views bug-free in the evening.
The resort offers many ways to make guests feel welcome and get the most out of their beach vacation, including group classes like yoga on the beach at sunrise and sunset and family activities, like s'mores and a bonfire or an outdoor movie in the evening.
Both experienced and new tennis players will enjoy the six courts and optional lessons and clinics, and those who want to have fun in the water can take advantage of Jet Ski, paddleboard, and ocean kayak rentals.
In addition to a large heated pool with the convenient Coconuts Grill, there is a well-shaded kiddie pool with plenty of room for parents to relax.
The resort also offers on-site dining at Thistle Lodge Beachfront Restaurant. Sanibel's most historic dining establishment, it has hosted everyone from Henry Ford to Thomas Edison over the centuries. The fine-dining restaurant serves Floridian and European fare for brunch, lunch, and dinner and has special holiday menus as well.
Other resort amenities include a range of spa services, including massages. These can be enjoyed in your room, at the pool, or on the beach.
6. Song of the Sea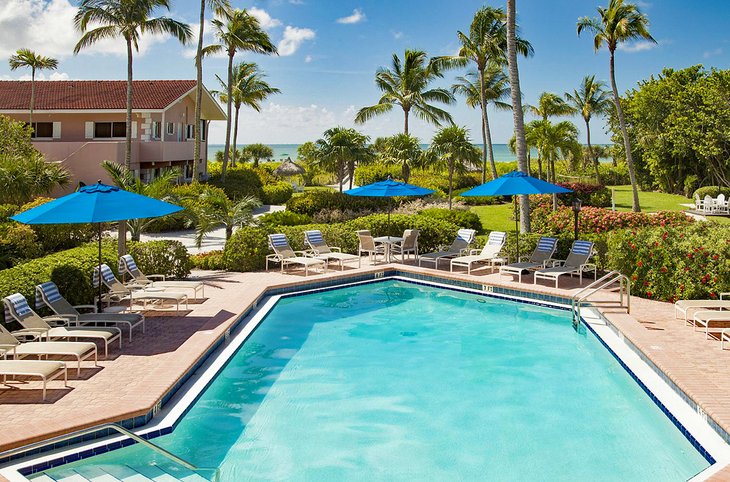 Accommodation: Song of the Sea
This small, intimate resort is best suited for couples. Just 50 yards to one of Florida's best beaches, the resort is quiet and comfortable. A small but delightful pool area is surrounded by lush greenery. Settle into a lounge chair and dive into the latest bestseller. Or, better yet, head to the beach and search out a fine collection of shells to take home as souvenirs.
Rooms are classic "Old Florida," not uber-modern, but comfortable, clean, and cozy. Rooms overlook the pool area and have screened-in patios, a necessity for Sanibel's evening munchers, also known as no-see-ums. The rooms also feature kitchens; ideal for preparing a morning coffee; cooking up some fresh seafood; or for those less inclined, heating up a few leftovers from last night's dinner.
If you are a golfer, be sure to pack your clubs. All guests of the Song of the Sea Resort have membership to the Dunes Golf and Tennis Club for the duration of their stay. Song of the Sea is part of the Inns of Sanibel Group; as a guest, you have access to the facilities of the other three hotels, all located nearby.
Address: 863 E Gulf Drive, Sanibel, Florida
7. Sanibel Inn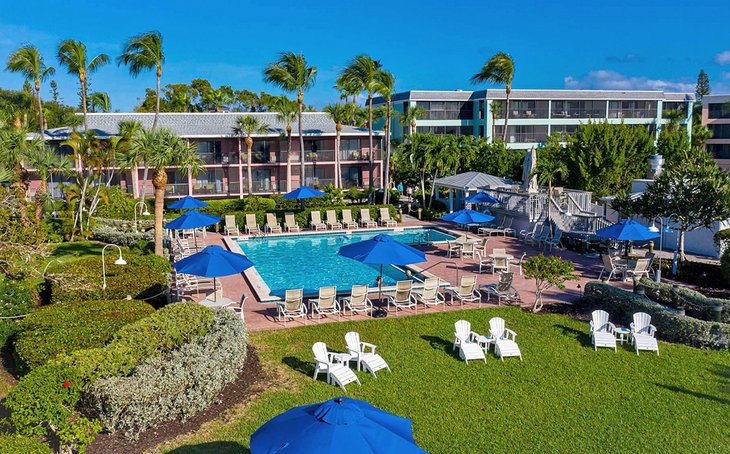 Accommodation: Sanibel Inn
This family-focused resort occupies a prime beachfront location near the southern end of Sanibel Island. The beach is mere steps away, but you may not want to leave the lush grounds, complete with a large pool surrounded by lounges along with tables and umbrellas.
Accommodation options here range from standard guest rooms, suites (some with kitchens), and newly renovated condominiums complete with full kitchens. No matter which option you choose, all rooms come with private screened-in patios, just perfect for soaking up the famous Sanibel sunsets (and avoiding the bugs!).
Sanibel Inn has two restaurants located on the premises: Dante's Coal-Fired Pizza Club and Island Time Grill. Both are popular choices and draw a crowd consisting of not only guests of the hotel, but for those folks from around the island in general.
Sanibel Inn, along with Song of the Sea Resort, Sunset Beach Inn, Seaside Inn, and the Dunes Golf and Tennis Club are all part of the Inns of Sanibel Group. This enables guests to use the facilities of other resorts along with the golf and tennis club should they wish to do so.
Address: 937 East Gulf Drive, Sanibel, Florida
Resorts to Consider on Nearby Captiva Island
1. South Seas Island Resort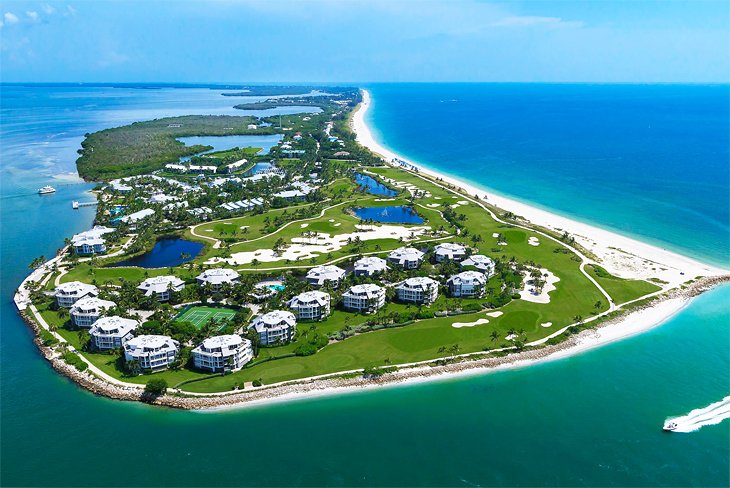 Accommodation: South Seas Island Resort
Occupying the entire northern section of Captiva Island, the South Seas Island Resort provides guests with everything they need to enjoy this island paradise. The property is so large that a trolley runs from one end to the other, and resort activities are nearly endless.
In addition to a full-service marina, the resort's Offshore Sailing School provides lessons and rentals, and several fishing and eco-tours depart from here as well.
Guided nature walks throughout the 330-acre wildlife preserve offer a chance to learn more about the ocean life, birds, and ecosystem, while guests are free to roam the 2.5 miles of pristine beach. Kids' and teen education programs are also offered, as well as many family activities, including crafts, games, and even crab racing.
Camp Skullywags is open for half or full days to kids aged three to 11, perfect for giving them a change of pace and giving parents some alone time or a chance to relax at the full-service resort spa. There are an astounding 20 pools to choose from, including the main pool area, which features dining and live entertainment.
Other recreation includes a playground, tennis, volleyball, and an arcade room, as well as fishing and a wide array of water sports. The resort also boasts a private, nine-hole, par-27 golf course with a pro shop, and multiple dining options, including full-service restaurants; a gourmet market; an ice-cream shop; and, of course, a Starbucks.
The resort has a wide range of lodging options to fit every need, including hotel-style rooms, condos of various sizes, and even beach home rentals with as many as six bedrooms.
2. 'Tween Waters Island Resort & Spa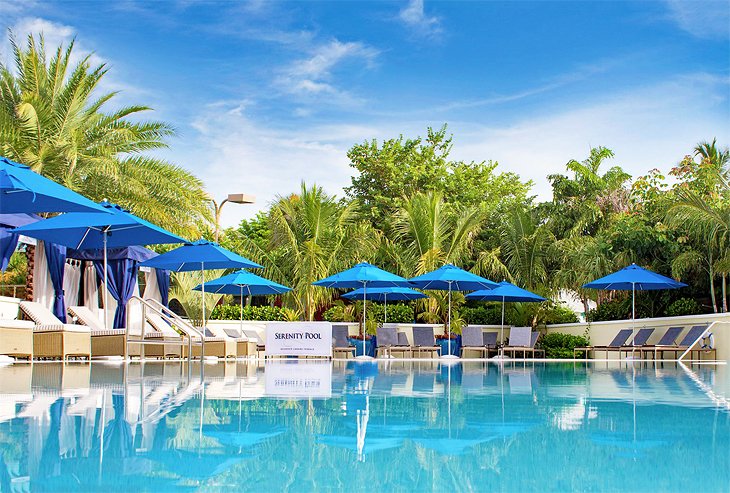 Accommodation: 'Tween Waters Island Resort & Spa
Located in the narrow central part of Captiva Island, 'Tween Waters Island Resort & Spa has the ambience of "old Florida" hospitality. The 13-acre property faces the water on both sides, with a private beach to the west and a marina on Pine Island Sound to the west.
The marina is available for guests' private craft and also offers rentals, as well as guided eco-adventures. In addition to the beach, waterbugs can enjoy the Olympic-size pool, the smaller Serenity Pool, a hot tub, and a kiddie pool for little ones.
Other resort recreation includes tennis, pickleball, and kayaking, as well as crab races, karaoke, and live entertainment nightly.
The resort spa offers a full range of services to help guests relax, and although there is no golf course on the property, guests are given a discount at a nearby golf club.
There are a few different dining options on-site, including the award-winning Old Captiva House restaurant. It is a national historic landmark and is famous for its homemade breads, fresh Florida cooking, and locally sourced produce all served in a nautical setting. It is open for breakfast and dinner.
Also on-site is the Crow's Nest Grille. It features views of the Gulf of Mexico and island classics served in casual, family-friendly environs.
Map of Resorts on Sanibel Island, FL