10 Best Resorts on Marco Island, FL
Whether you're into shelling, fishing, boating, or tanning on sugar-white sand, you're in for a treat on Marco Island. The largest of Florida's Ten Thousand Islands, this is a haven for beach lovers, which is why it boasts so many fantastic beach resorts.
Looking to bask in the opulent glow of a luxury hotel? There are plenty of options to choose from. One even includes pool chair dining service. Want to settle somewhere more tranquil and a little less touristy? Marco Island boasts some adorable low-key resorts you'll love.
Most of the resorts are located along the main beach area, a spectacular stretch of sand extending for four miles along the Gulf of Mexico. The beach faces west, with a slight south tilt, so the sunsets from the rooms at the resorts are some of the finest in Florida.
Our list makes it easy to choose the best beach resort on Marco Island. All that's left for you to do is sit back, relax, and watch the waves roll in.
1. Hilton Marco Island Beach Resort & Spa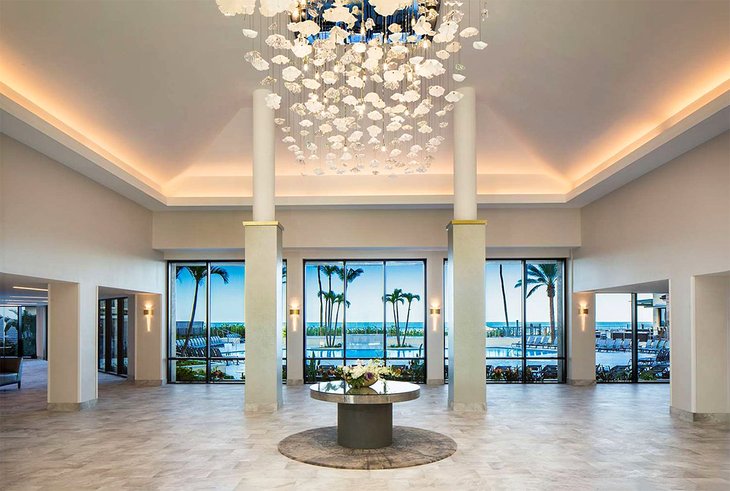 Accommodation: Hilton Marco Island Beach Resort & Spa
The $60 million transformation project has done wonders for the Hilton Marco Island Beach Resort & Spa; not that it was shabby to begin with. Now, this plush boutique resort is the place to be for those looking to add a side of luxury to their beach vacay.
The Hilton Marco Island Beach Resort & Spa occupies if not the best, a very close second, patch of real estate on the beach. Owing to the beach public access corridor beside the resort, out front, you'll find one of the liveliest beach scenes on the island, with locals and visitors alike having a good time and soaking up the sun.
Each of the 310 guest rooms are elegantly decorated and big enough that you won't come close to tripping over each other when trying to reach your private furnished balcony. They also feature Hilton's famous Serenity Bed, so guests are guaranteed to melt into the comfy mattress for a superior night's sleep.
The Hilton Hot Shots Kids Club keeps little ones so well occupied, parents won't feel guilty as they head to the fitness center for a workout, indulge in a treatment (or three) at the spa, or lounge beachside. Speaking of beachside, chairs and towels are complimentary, as are pool toys.
As for food, your tastebuds won't be disappointed by any of the dishes served at the multiple on-site restaurants. Nothing says luxury like sticking a flag on your poolside chair and having someone bring a "Gulf Cart" of refreshing snacks directly to you.
Hoping for a fancier dining experience? Enjoy a phenomenal meal that's almost as captivating as the Gulf-front scenery at The Deck at 560.
Insider's tip: Once kids realize there's an area of the 560 Market devoted to Dylan's Candies, you'll have trouble keeping them out of the store.
Address: 560 South Collier Blvd., Marco Island, Florida
2. Marco Beach Ocean Resort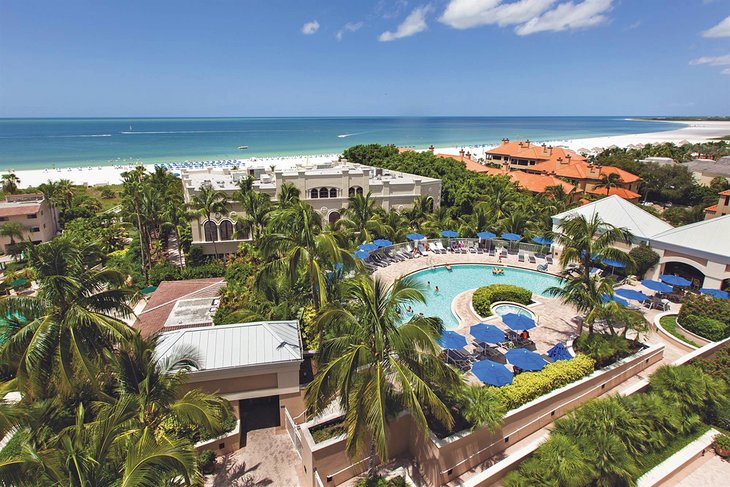 Accommodation: Marco Beach Ocean Resort
A gorgeous building both inside and out, the AAA Four Diamond Marco Beach Ocean Resort is about as luxurious as it gets on Marco Island. Five-star amenities and exceptional service transform a regular holiday into a relaxing vacation in this regal resort. It is conveniently located a quick walk from the island's best shops, restaurants, and entertainment.
Be sure you're at the beach or pool by 3pm. That's when the free smoothies start circulating. They're a delicious and uber refreshing treat to help close out a hot afternoon spent in the sun.
Too lazy to get lunch? Order it to your beach chair! We highly recommend the fish tacos. Or clean up and treat yourselves to a meal at Sale e Pepe restaurant, the only AAA Four Diamond restaurant on the island.
Traveling with kids? The two-bedroom suites are ideal for families. The kitchenette is perfect for stocking snacks and prepping a quick breakfast, plus you'll have enough space to enjoy each other's company without being on top of each other.
Need to work? No worries. The resort boats a business center and conference facilities. You'll also find a fitness center and lavish spa on the premises.
Address: 480 South Collier Blvd., Marco Island, Florida
3. JW Marriott Marco Island Beach Resort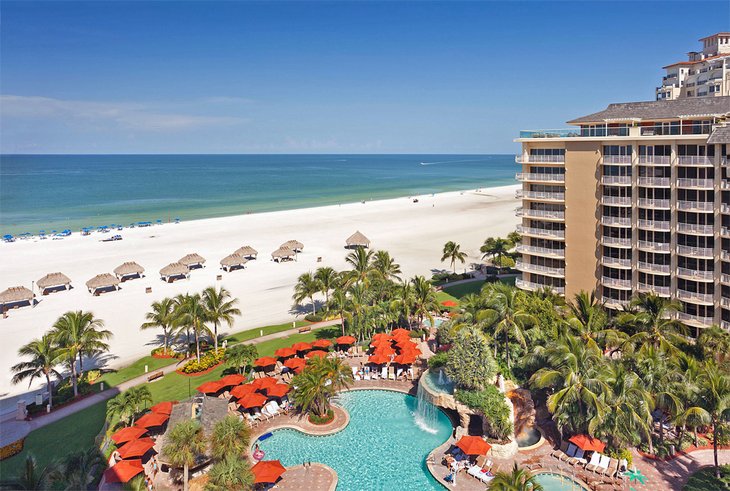 Accommodation: JW Marriott Marco Island Beach Resort
The JW Marriott Marco Island Beach Resort doesn't skimp on much when it comes to keeping guests happy. Two outdoor pools, one of which boasts a waterslide up the fun and glam factors.
Rent a pool cabana or beach Chickee Hut for added privacy and some built-in shade. When it's time for a heat break, steer the kids towards the on-site arcade, a perfect place to spend some down time. Later, book yourself some "me time" and enjoy a treatment at the Spa by JW.
When hunger strikes, head to one of the resort's 12 restaurants. There's no lack of cuisine choices at this exquisite spot.
Each comfortable room boasts a private balcony, and many offer spectacular views of the Gulf of Mexico. If you're looking for more tranquility with your vacation (and aren't traveling with kids), opt for a stay in the more modern, adults-only Sirene tower.
The JW Marriott Marco Island Beach Resort is one of the more exclusive resorts on the beach. Non-resort guests are not allowed on the property before 5pm each day, ensuring you'll have a good chance of securing that perfect patio table for lunch or an early dinner.
Address: 400 South Collier Blvd., Marco Island, Florida
4. Marriott's Crystal Shores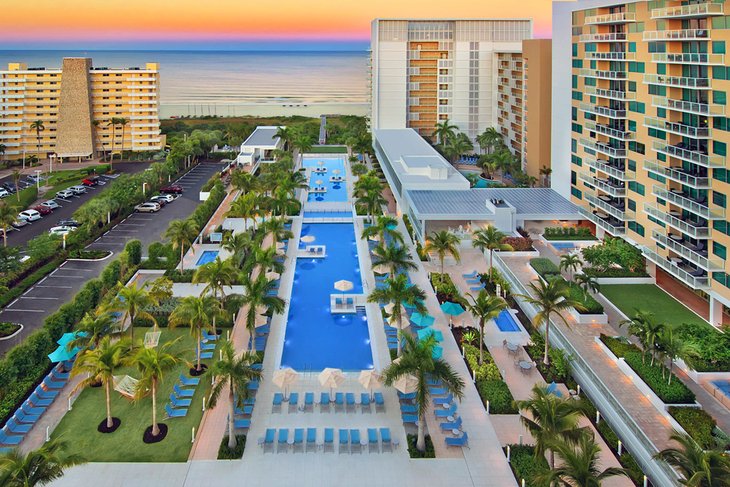 Accommodation: Marriott's Crystal Shores
Technically a vacation resort, Marriott's Crystal Shores is one of the best beach resorts for families on Marco Island. The spacious two- and three-bedroom "villas" offer guests plenty of space to stretch out. The sitting area is separate from the bedrooms and often includes a pull-out sofa. There's also a dining room and outdoor space on the balcony.
The in-room kitchen makes it easy to feed kids' bellies at any time of day or night. Or head to the on-site restaurants (Pizza Cucina and Stilts) to give someone else a turn to cook.
Crystal Shores visitors receive all the perks of a traditional beach resort - like a fitness center, indoor children's play area, marketplace shop (for sundries and snacks), beach access, and a large outdoor pool.
The resort is close to the island's shops and restaurants, and a nearby grocery store makes it easy to stock your beach cooler and kitchen.
Address: 600 South Collier Blvd., Marco Island, Florida
5. Club Regency of Marco Island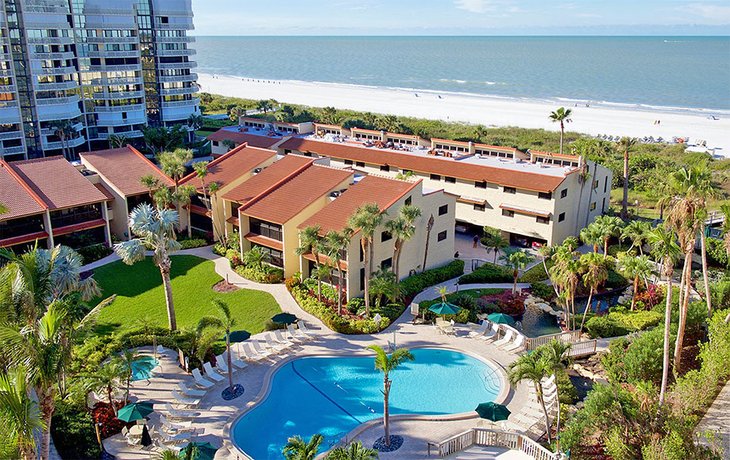 Accommodation: Club Regency of Marco Island
Hilton Grand Vacations offers access to the Club Regency of Marco Island. A true home away from home, each spacious two-bedroom suite comes with a fully equipped kitchen and plenty of space for everyone to lounge about.
This resort is one of the very few along the beach that is not a huge tower with hundreds of rooms. Instead, it's a low level collection of condos surrounding a pool area. This gives the resort a cozy feel and makes interaction with other guests, especially those with children playing in the pool, easy to do.
Enjoy breakfast on your screened in porch (a.k.a. lanai), catch a flick on the television, or head outside to where the real action begins. Amenities include basketball and tennis courts; shuffleboard; a swimming pool and hot tub; and access to the beach, which is a two-minute walk away.
The lush resort is spotted with palm trees and beautiful vegetation, lending a romantic feel to its winding pathways. Marco Island's best shops and restaurants, as well as museums and other entertainment venues are located mere minutes away, as is a grocery store.
Address: 500 South Collier Blvd., Marco Island, Florida
6. Eagle's Nest Beach Resort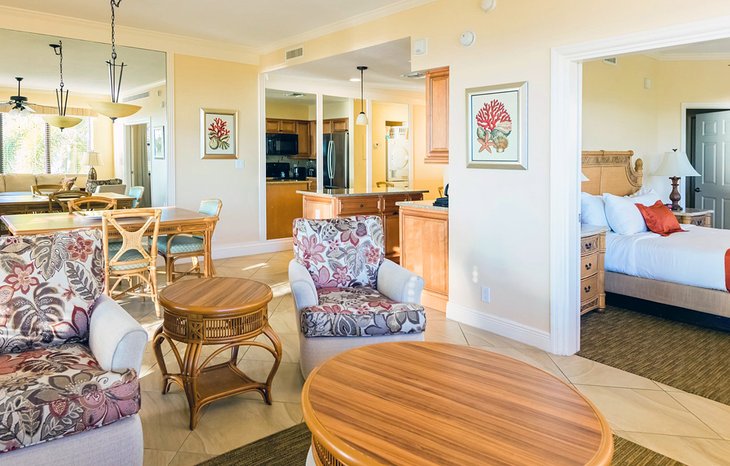 Accommodation: Eagle's Nest Beach Resort
Eagle's Nest Beach Resort is clean, comfortable, and perfect for families. A more affordable option than the resorts listed higher on this list, Eagle's Nest is managed by the Hilton Grand Vacations Company and serves as a "timeshare" property that is also available for short-term rentals.
One- and two-bedroom condos are peppered throughout the 70 tower units and 26 villas. Each boasts a screened balcony and fully equipped kitchen, making them perfect for families. There's also a good-sized pool to play in and of course, miles of sandy beach peppered with shells. Bring a bucket to start collecting, and keep your eyes peeled for sand dollars.
Pretty gardens and tall trees offer a relaxing respite from the hot Floridian sun, and a pool area concession stand offers refreshing drinks and snacks.
Address: 410 South Collier Blvd., Marco Island, Florida
7. Marco Island Lakeside Inn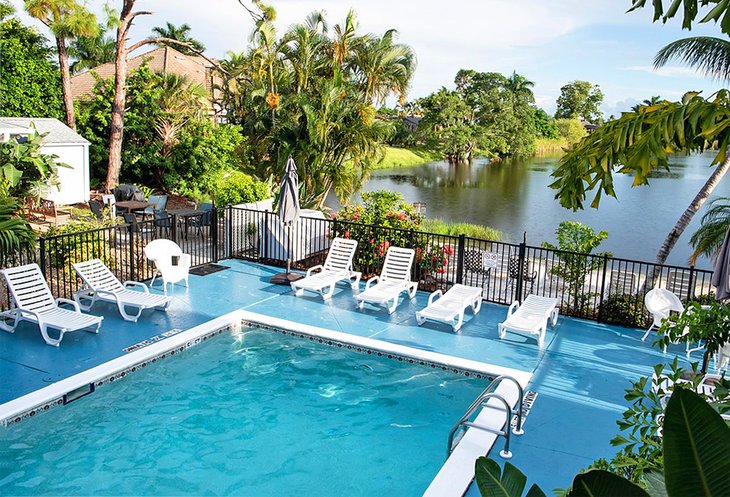 Accommodation: Marco Island Lakeside Inn
A small and captivating inn welcomes visitors to enjoy a premiere view of Marco Island's only freshwater lake. The white-walled bungalow lies in stark contrast to the towering high rises that flank Collier Blvd. If you're looking for a tranquil vacation abounding with Floridian charm, this is the spot for you.
While not set on the beach, Marco Island Lakeside Inn still boasts a beautiful water view. Watch the wildlife fly and jump about in the lake, or swim laps in the heated pool. You won't have to fight hordes of tourists for a lounge chair, which is a definite plus!
Although small, this sweet inn has 19 comfortable and spacious guest suites and villas, all with kitchens and private outdoor space, which makes it a wonderful locale for a longer, quieter vacation. When you're itching for sand, grab one of the complimentary chairs and head to the beach. It's only a two-mile drive away.
Address: 155 1st Avenue, Marco Island, Florida
8. Holiday Inn Club Vacations Sunset Cove Resort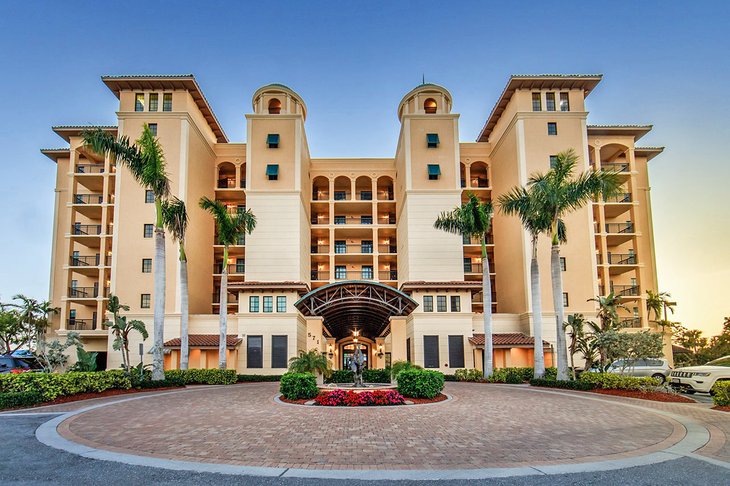 Accommodation: Holiday Inn Club Vacations Sunset Cove Resort
The exterior of the Holiday Inn Club Vacations Sunset Cove Resort is both opulent and welcoming. Set on the quieter Smokehouse Bay, this resort boasts luxurious villas featuring kitchens that sport stainless steel appliances and granite countertops.
If you have your own powerboat, tie up right outside the resort. Access to the Gulf of Mexico and all that it offers is easy through first Smokehouse Bay and then Collier Bay.
A zero-entry pool, hot tub, fitness center, and game room are on the premises and accessible to all guests of the resort. If you absolutely must get some work finished while you're here, head to the business center.
If you have extra time to play, hop on one of the free bicycles to explore the area, which is lush with colorful vegetation. Better yet, head further afield to explore the island. When it's time to hit the surf, hop on the free beach shuttle. The resort offers complimentary beach chairs and coolers to take with you.
Insider's tip: Be sure to return in time for the sun to set over the bay. The best viewing spot is the pool deck.
Address: 571 Elkcam Circle, Marco Island, Florida
9. Marco Beach Vacation Suites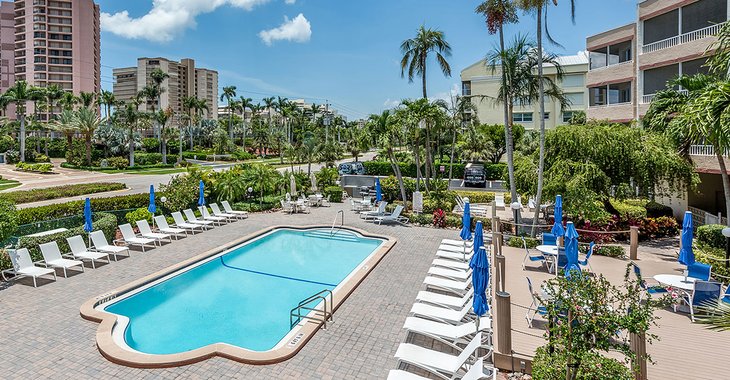 Accommodation: Marco Beach Vacation Suites
A laid-back vacation awaits on Marco Island's southwest coast. The quaint Marco Beach Vacation Suites sits quietly across the road from the beach, offering guests complimentary beach chairs and towels to use as they while away their time on the sand. No need to walk down to the public access alleyway, Marco Beach Vacation Suites has its own private access walkway to the main beach.
You won't need to jostle for space here, as is the culture in larger, more expensive resorts. Instead, you can rest assured knowing that even if you sleep in past eight, you'll be assured a lounge chair by the pool or at the beach.
Each one- and two-bedroom suite features a screened lanai, fully equipped kitchen, and separate living and dining areas to make guests feel more at home. Take a dip in the on-site pool, lounge under a beach umbrella, or cook dinner on one of the outdoor gas grills.
You'll also save money on those dreaded resort fees and parking fees by staying here. The resort proudly does not charge them, unlike most of the other resorts on the island.
Address: 901 South Collier Blvd., Marco Island, Florida
10. The Boat House Motel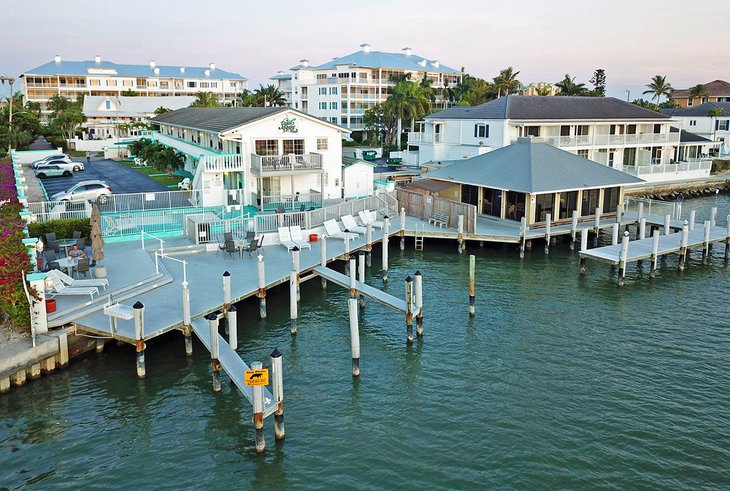 Accommodation: The Boat House Motel
The gorgeous Boat House Motel oozes Old Floridian charm. Painted a refreshing white, and flanked by balconies spanning its length, this lovely hotel fronts the quiet Collier Creek on the northern section of the island.
This sweet, family-run resort consists of one rental house, three condos, and 20 guest rooms. While not on the beach, you are as close as you can get to the water without getting wet. Fish off the dock, enjoy a picturesque sunset from the balcony, or take a dip in the waterfront pool. Keep your eyes peeled for dolphins; they are often seen splashing in the creek. You may not find the glitz and glam available at other resorts on this list, but what this motel lacks in glamor, it makes up for in charm.
If you are a boater, this is the place to stay. Extensive docks and almost instant access to the Gulf of Mexico ensure you'll be out fishing early and easily. If you've got the right gear and a bit of luck, hopefully you'll catch your dinner, which you can cook on one of the complimentary barbecues.
If you prefer to have others do the cooking for you, several local restaurants are within easy walking distance of the hotel in the Old Marco area.
Address: 1180 Edington Place, Marco Island, Florida
Map of Resorts on Marco Island, FL
Marco Island, FL - Climate Chart
Average minimum and maximum temperatures for Marco Island, FL in °C
J
F
M
A
M
J
J
A
S
O
N
D

24

12

24

12

26

14

28

17

31

19

32

22

33

23

33

23

32

23

31

20

28

17

25

13

PlanetWare.com
Average monthly precipitation totals for Marco Island, FL in mm.

51

55

53

51

107

208

203

205

206

91

51

39
More Related Articles on PlanetWare.com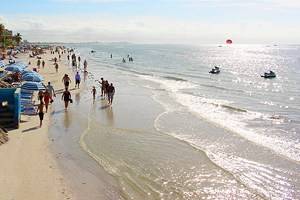 Visiting Nearby Places: Just a 30-minute drive from Marco Island is the beautiful little city of Naples. Pop over here from some great dining, shopping, and other entertainment options. Naples' beaches are also beautiful and a wonderful place to soak up some sun. A good day trip from Marco Island is to Fort Myers Beach, where you can wander around Times Square, grab some lunch, or browse through the beach shops.