Where to Stay in Lake Tahoe: Best Areas & Hotels
Lake Tahoe boasts more than 300 inches of snowfall annually, plus an equal number of sun-filled days in a typical year. First-time visiting families, couples, groups, or solo travelers may want to consider basing themselves along the shores of downtown South Lake Tahoe, where the ski resorts of Heavenly, Monument, and Sierra are located.
Nearby beaches and hiking trails also make this a popular place to stay in summer. Squaw Valley and Northstar ski hills are located at the northern end of the lake, where most accommodations are priced for and suited to the ultra-luxe international crowd.
Where to Stay in Lake Tahoe for Luxury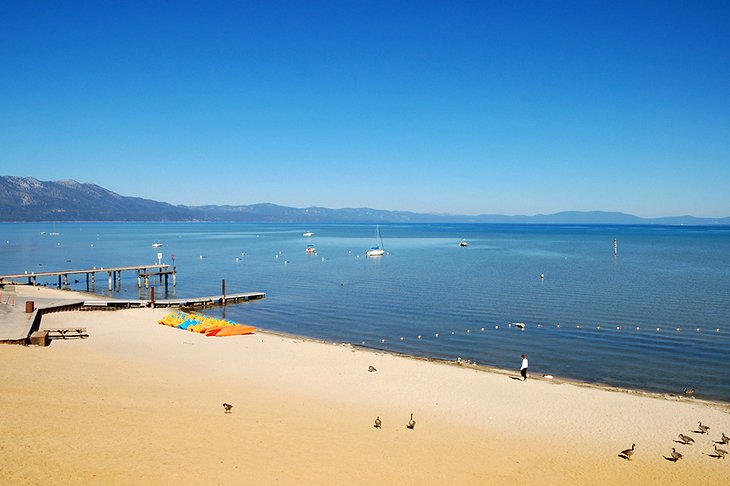 Deerfield Lodge at Heavenly is a luxury mainstay of South Lake Tahoe, secreted into the welcoming tall pines downtown and presenting invitingly large pet-friendly digs fitted with fireplaces, sumptuous mattresses, some with Jacuzzi tubs and balconies, and all capped by gorgeous views. The helpful staff members are famous for sightseeing, dining, and outdoor adventure suggestions, plus bottled water and snacks in-room are free, as are parking and Wi-Fi.
The Landing Resort & Spa is the newest spa resort in downtown and is going all out to impress. Built on the lakefront in a unique contemporary structure, the gorgeous wood and stone décor carries throughout, while top-tier gourmet cuisine is on-site, an impressive spa enclave lists feel-good therapies, and a five-star service team is at your every call.
Postmarc Hotel and Spa Suites celebrates a complete upgrade throughout by offering guests idyllic spa features in 52 suites near South Lake Tahoe Beach, downtown. Whirlpool jets abound in new Jacuzzi tubs, large European-style showers attract couples, fireplaces grace the King & Honeymoon Suites, and there's even mood lighting.
Located steps from the tastiest culinary spots in town, the non-smoking suites also boast fridges, microwaves, coffee makers, complimentary Wi-Fi, and free parking.
Where to Stay in Lake Tahoe: Mid-Range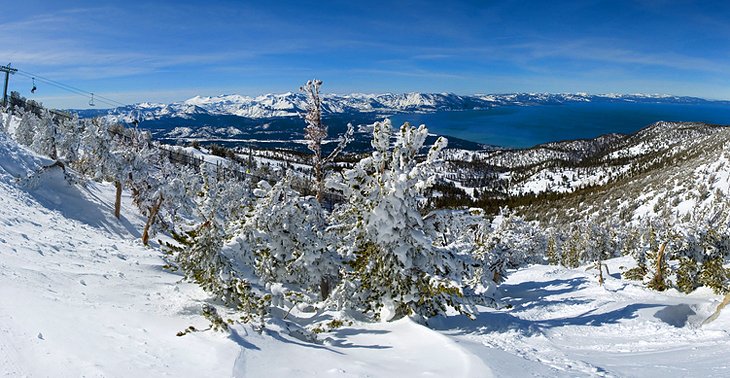 Tahoe Beach & Ski Club has outdoor activity covered, whether skiing the nearby slopes, chillin' at the beach, or hiking endless park trails. Meanwhile, flexible room and suite accommodations mean families, couples, groups, or single visitors are welcomed and may equally enjoy on-site amenities such as the pool, fitness center, hot tub, and tennis court.
While it might be difficult to leave your waterfront balcony downtown, overlooking both the lake and mountains, the menu of sights, events, and dining options nearby is long. Popular nightly fire pit gatherings bring happy days to a glorious lakeside conclusion.
Hotel Azure attracts visitors to a downtown South Lake Tahoe locale amid giant Jeffrey pines, directly across from El Dorado Beach, and overlooking the power and grace of mountains on all sides. Features include an outdoor heated pool, a unique two-level hot tub, and a well-equipped fitness center.
Settle into the game room with loved ones, use the on-site barbecues, or play horseshoes. The concierge-led services team is legendary at designing local outings, making dining recommendations, or customizing your stay.
Three Peaks Resort & Beach Club underplays their recent renovation, but guests will agree this mountain-style cabin resort near the beach downtown has an abundance of room and suite styles, a spectacular service ethic, and is one of a few pet-friendly options in South Lake Tahoe. Guests enjoy super comfortable rooms and suites, decorated tastefully to suit the pine log structures and equipped with high-end linens, fireplaces, and Jacuzzis, plus all accommodations are non-smoking.
A heated pool, complimentary Wi-Fi, free parking, and proximity to beachfront activities and local attractions make this resort an amazing option.
Where to Stay in Lake Tahoe on a Budget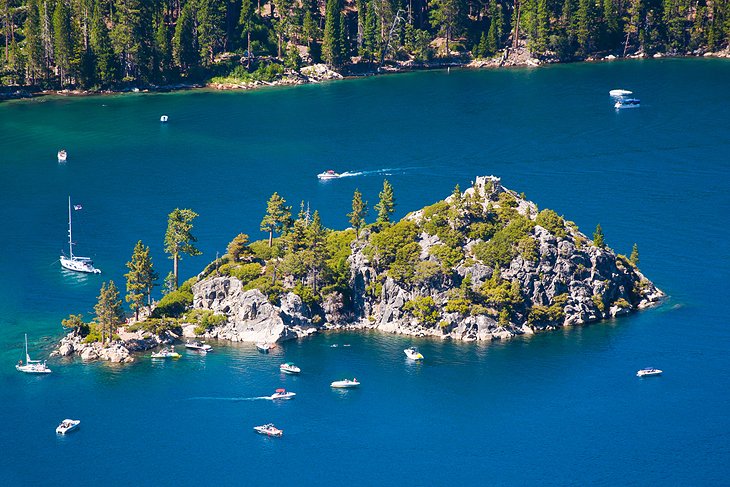 Hotel Becket surprises many guests with its central downtown South Lake Tahoe location, directly across from Heavenly Village. It features a pool and hot tub, an on-site barbecue eatery, free parking, and Wi-Fi for a reasonable price.
Unusual, yet hip mountain décor throughout underlines the added value of this pet-friendly property. Fun use of stacked wood tables and trim abounds here, and compelling artwork dresses the walls, making this hotel seem more expensive.
Big Pines Mountain House of Tahoe is a clean and well-serviced motel in the downtown core, minutes from the ski lift, private beach access, and the attractions and sights of Heavenly Village. Rooms are comfortable, and the huge outdoor pool is a popular feature.
Whether you wish to hit the ski slopes or the beach, arrange a paddleboat tour, or hike at one of the parks, the friendly service team here will help direct you to the fun.
Elevation provides affordable access for all travelers to ski hills, hikes in state parks, beach sports, and a huge menu of attractions and events throughout the downtown area. Geared to families and groups, as well as couples and single vacationers, this hotel also invites pets. Amenities include discounted breakfast coupon's for the restaurant next door, Heidi's, WiFi and laundry facilities.
Where to Stay in Lake Tahoe for Families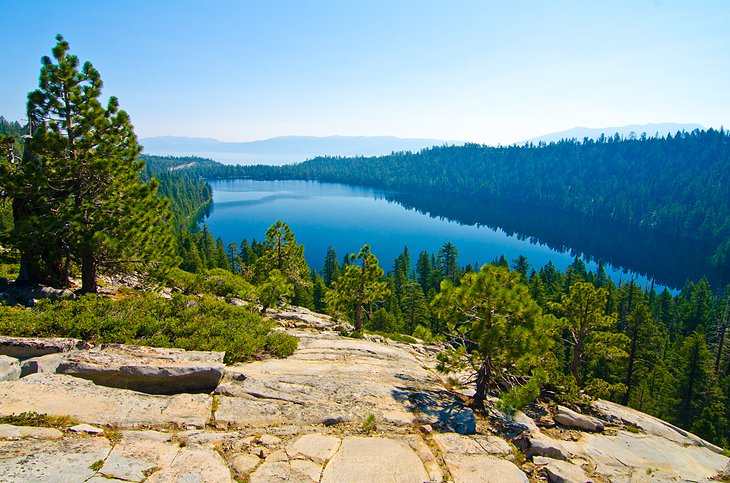 Americana Village is five minutes from downtown attractions and events and a year-round playgrounds for adults, children, and those who simply wish to relax. Manicured grounds, picnic areas, a popular fire pit, and Finnish sauna allow guests to recharge before heading to nearby ski slopes, the beachfront, or national parks.
Residence-style units (studios or one- and two-bedroom suites) come with kitchenettes, free DVD movies, morning coffee, and continental breakfast, plus complimentary Wi-Fi, on-site laundry facilities, a computer, and printer. Helpful staff members direct guests to their heated pool, gym, or children's programs.
Stardust Lodge boasts extensive activities for younger travelers, starting with free morning doughnuts. The stellar staff members provide fun options to make the kids' stay enjoyable. Free popcorn and a DVD library are a nice touch, and the abundance of board games, free Wi-Fi, and no-charge mountain bikes may have the entire family singing this downtown resort's praises.
Where to Stay in Lake Tahoe for Romance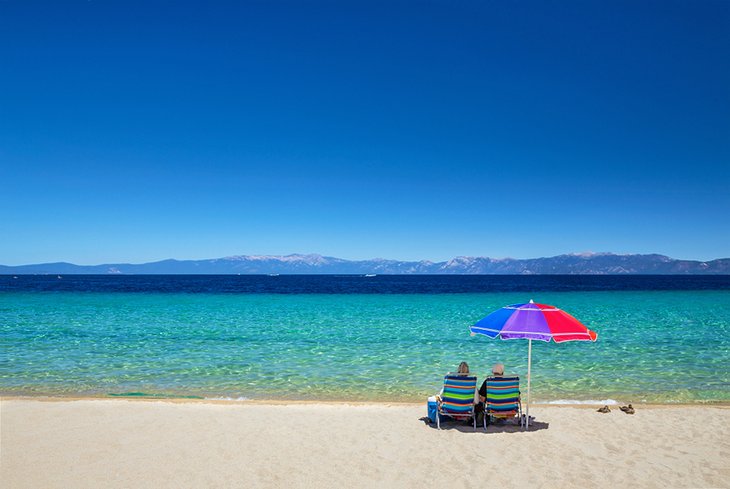 Grand Residences by Marriott is next to Heavenly Village with a gondola to the mountain top, plus excellent curio shopping and dining venues nearby in downtown. But if you and your significant other wish for romance time on-site, the attentive concierge service, spa treatments, and residence-style amenities will serve you both perfectly here.
Freshly made cookies are served to guests in the lobby upon arrival, the sumptuous suites are dressed for romance, and amenities include a heated pool and hot tub, an extensive fitness center, and a fire pit for cozy evening gatherings against the dreamy mountain and lake backdrop.
The Coachman Hotel tempts lovers of the unique to a new 1960s-style structure of 42 singular and ultra comfortable rooms and suites. Frette linens, Apple TVs, and heated toilet seats are standout features, but being located at the foot of the Heavenly ski slopes downtown does inspire travelers into outdoor action.
Breakfast is included here, and nightly fire pit sessions are legendary, as are the charming mountain décor touches throughout. The swimming pool and hot tub combine with a roof sundeck and impeccable service to attract those "in the know."
Where to Stay in Lake Tahoe near the Airport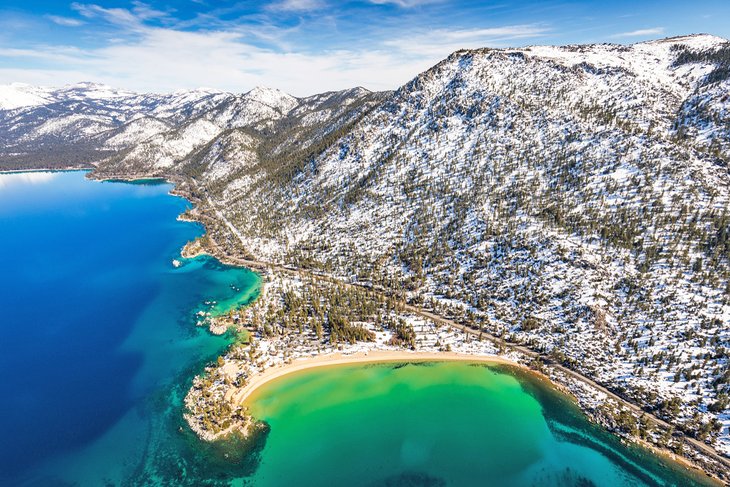 If you arrive at Reno-Tahoe International Airport late at night or have to catch an early morning flight, staying at a hotel near the airport makes a lot of sense. One good choice is Aloft Reno-Tahoe International Airport. The hotel features stylish rooms and suites with some interconnecting rooms for families. The vibe is contemporary, with colorful striped rugs, comfy beds, and large windows with blackout curtains.
The hotel is pet friendly and has a swimming pool and a 24-hour fitness room. If you're traveling for business, there are meeting rooms and banquet space. There is also a free airport shuttle service.
Hyatt Place Reno Tahoe Airport is another popular choice, located just across from the international airport. This 3-star hotel has modern rooms, and suites come with work stations, sitting areas with sleeper sofas, and single-serve coffee makers. Suites are very spacious and great for families.
Amenities include a free breakfast, a restaurant, and an indoor swimming pool. There is also a free airport shuttle service.