12 Best Resorts in Lake Tahoe, CA
Love the idea of an idyllic getaway spent by a shimmering lake, dramatically winding roads, and majestic snowcapped mountains? Book a stay at one of the best resorts in Lake Tahoe. This breathtaking region presents guests with dramatic scenery and outdoor adventure of all kinds – golfing, swimming, and skiing, anyone?
Cutting through Nevada and California, with the country's second largest lake at its core, this is a dream destination for all types of travelers. To cater to its millions of annual visitors, Lake Tahoe boasts a slew of top resorts offering accommodations and services almost as magnificent as the surroundings.
Whether you're hoping to ski straight out the resort's door, slide down a 120-foot waterslide, or be pampered in a luxurious spa, you'll find the perfect place for your next vacation on this list of the best resorts in Lake Tahoe.
1. Edgewood Tahoe Resort, Stateline, NV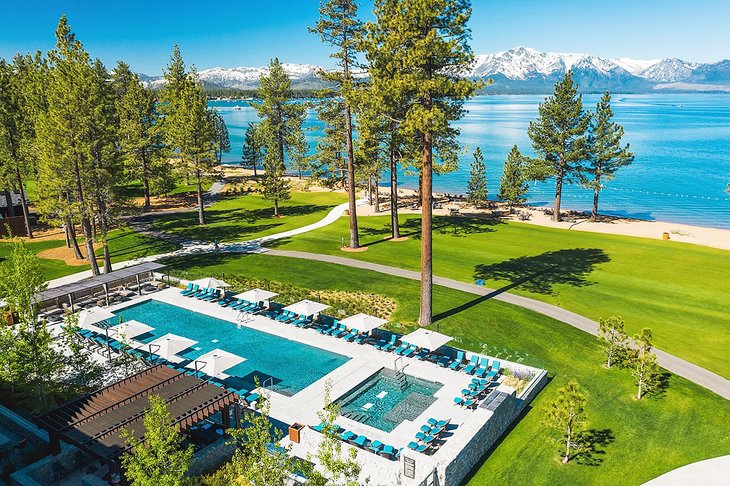 Accommodation: Edgewood Tahoe Resort
A stay at the resplendent Edgewood Tahoe Resort makes it easy to leave everyday stresses behind. A gorgeous, first-class lodge houses chic guest rooms featuring giant picture windows, private balconies or terraces, soaking tubs, and gas fireplaces. This lakefront golf resort offers unbeatable lake and mountain views.
Level up with a stay in the opulent Emerald Suite, a spectacular one-bedroom enclave with an expansive terrace so picturesque, it will cause you to gasp in delight. As for amenities, this resort boasts plenty. A fitness center, beach, and heated outdoor pool that's open year-round make it easy to stay fit.
Dole out a little extra cash for a more exclusive lounging experience with a full- or half-day pool cabana rental or beach service, which includes comfy chairs, as well as food and beverage service on the sand.
Speaking of food, three on-site restaurants serve a variety of options to please even the pickiest of gastronomes. Upon waking, head to the Great Room for a complimentary breakfast, aka the Après Sleep cart service.
The Spa Edgewood is a four-star haven for those looking for a side of deluxe pampering with their vacay. Other resort-based activities include golf, morning yoga classes, and an evening s'mores bar, as well as seasonal fun like concerts, outdoor movies, star tours, kayaking, wreath-making, ice skating, snowshoeing, and painting classes. Not surprisingly, this is one of the best resorts for families in Lake Tahoe.
In the summer of 2022, the resort will add luxurious villas to the accommodations' menu.
Address: 180 Lake Parkway, Stateline, Nevada
2. The Ritz-Carlton, Lake Tahoe, Truckee, CA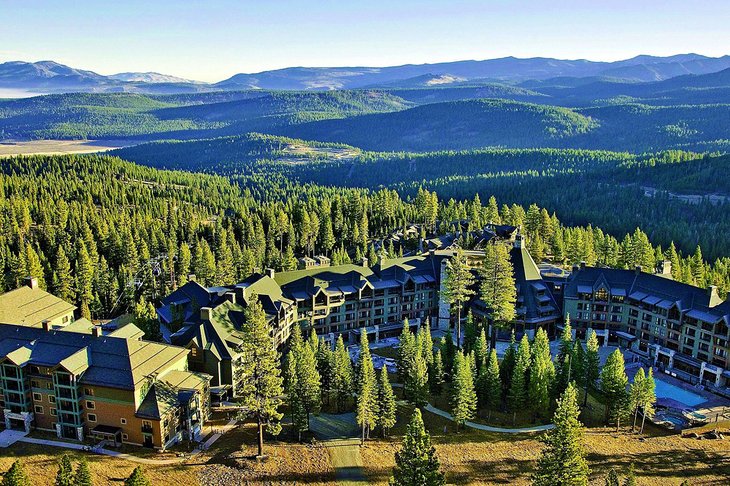 Accommodation: The Ritz-Carlton, Lake Tahoe
It's easy to live large at the Ritz-Carlton Lake Tahoe. It's home to the five-star luxury for which this lavish chain is known. You can add an impressive array of jaw-dropping views to this resort's attributes, and as if that wasn't enough, this swish property boasts friendly service, gondola access to an entrancing mountain village, and its own exclusive Lake Club. Where do we sign up?
The spacious guest rooms combine elegance with a mountain lodge feel. Gas fireplaces and floor-to-ceiling windows add to the overall comfort and charm. Outside, you'll find a skating rink (in winter), as well as a pool and hot tub open for year-round enjoyment. A high-end spa lies on the slope side of the resort, offering sumptuous treatments.
Delectable comfort food can be enjoyed at the Backyard Bar and BBQ, while a more gourmet experience can be had at the Manzanita restaurant. Avid skiers favor this locale for its ski-in/ski-out access to the Northstar California, which is home to the village mentioned above. It's here that you can find shops, restaurants, and a fun après ski environment. Ski rentals and a ski concierge are also available at the resort.
This property is not on the lake. For an extra fee, guests can enjoy the amenities offered at the Lake Club: an outdoor hot tub, kayak and SUP rentals, food and beverages, and shower facilities. To get here, hop on the resort's free shuttle.
One of the top resorts in Lake Tahoe for families, the Ritz-Carlton has a fantastic kids' program to keep little ones (ages five to 12) entertained during the day. For a fee, staff will transform your room into an indoor campsite complete with tent, teddy bears, and s-mores.
Be prepared: a resort fee is required on top of the regular room rate, and there's a fee for valet parking.
Address: 13031 Ritz-Carlton Highlands Court, Truckee, California
3. The Landing Lake Tahoe Resort & Spa, South Lake Tahoe, CA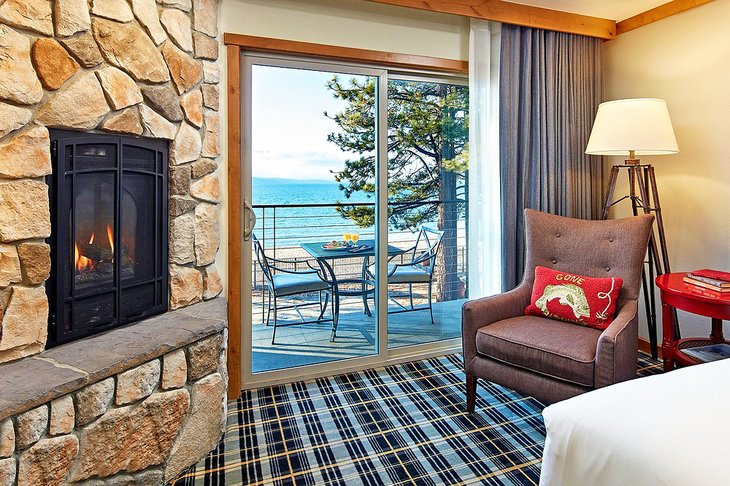 Accommodation: The Landing Lake Tahoe Resort & Spa
With so many beautiful locales, it can be tough to decide where to stay in Lake Tahoe. The luxurious Landing Lake Tahoe Resort & Spa is a great place to start, no matter what time of year you're traveling. This property has beach access and is only a short drive from Heavenly Ski Resort.
This award-winning retreat is home to 82 chic rooms and suites, all of which overflow with luxurious amenities in a serene atmosphere. Snuggle up by your in-room fireplace, soak in the deep tub, or settle on your private balcony to enjoy views so spectacular, you won't want to blink. No one will blame you for ordering room service and staying in.
Speaking of delight, a pampering treatment at the on-site spa will whisk away the stress with which you arrived and replace it with a full body "ahh." Brunch or dinner are best enjoyed at Jimmy's Restaurant, a romantic venue offering up fresh local fare served in an upscale setting boasting fireplaces and spectacular vistas.
Address: 4104 Lakeshore Boulevard, South Lake Tahoe, California
4. Deerfield Lodge at Heavenly, South Lake Tahoe, CA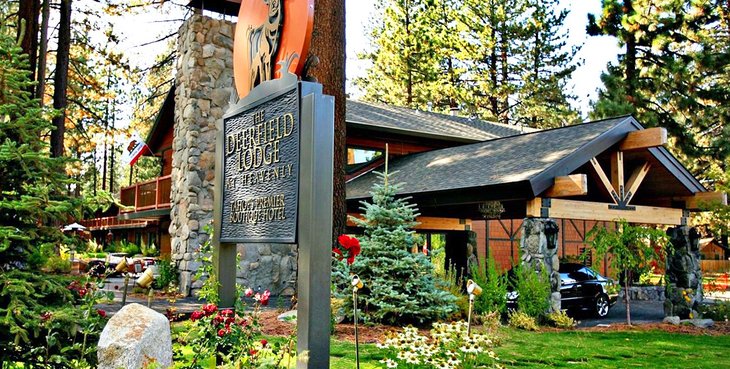 Accommodation: Deerfield Lodge at Heavenly
Nestled serenely between the Heavenly Ski Resort and Lake Tahoe, Deerfield Lodge at Heavenly is a perfect spot for outdoor enthusiasts to rest their weary heads. This four-star resort offers five-star service in an environment so welcoming and tranquil, you'll feel immediately relaxed.
After a day spent exploring the surrounding natural wonderland, settle into the comfy chairs on your balcony to admire the view. The rooms are sparklingly clean and spacious, face the peaceful courtyard, and feature stone fireplaces and a kitchenette. Be warned if you're traveling in summer - there's no air-conditioning.
While there's no restaurant on-site, shops and eateries are a short drive or walk away. And if you hate to leave your furry friends at home, you won't have to. They will be well loved at this pet-friendly resort.
Address: 1200 Ski Run Boulevard, South Lake Tahoe, California
5. Hyatt Regency Lake Tahoe Resort, Spa and Casino, Incline Village, NV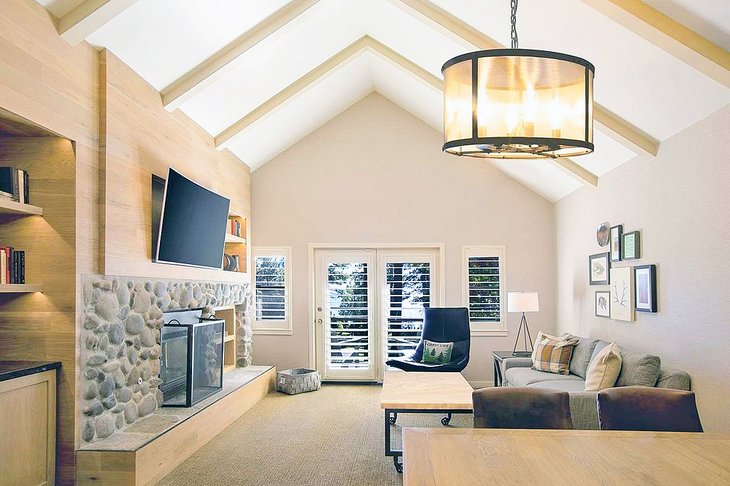 Accommodation: Hyatt Regency Lake Tahoe Resort, Spa and Casino
The 24 private waterfront cottages offer the most secluded, upscale type of stay at the Hyatt Regency Lake Tahoe Resort, Spa & Casino. You'll find a kitchenette, lavishly furnished patio, fireplace, and phenomenal lake views. That said, the 422 rooms (including 35 suites) are more than comfy and glamorous. Choose from a lake, mountain, or resort view.
Traveling with kids? Book a family room, which includes bunkbeds. Love to eat? You're in luck. This fun resort boasts seven eateries, including a pretty waterfront venue. You're more than welcome to bring your favorite fluffy friend along to this pet-friendly spot.
The Stillwater Spa & Salon, private beach, and fitness center make it easy to relax. The large, heated outdoor pool is accessible year-round and can be entered from inside the resort. Or indulge your inner adventurist with hikes, water sports, and a boat tour.
Winter activities, including skiing and snowboarding, are available close by, and a shuttle to local shops and restaurants is included with your daily resort fee. At night, head to the fire pit for some relaxing family down time (and a s'more or two).
Address: 111 Country Club Drive, Incline Village, Nevada
6. Marriott Grand Residence Club, Lake Tahoe, CA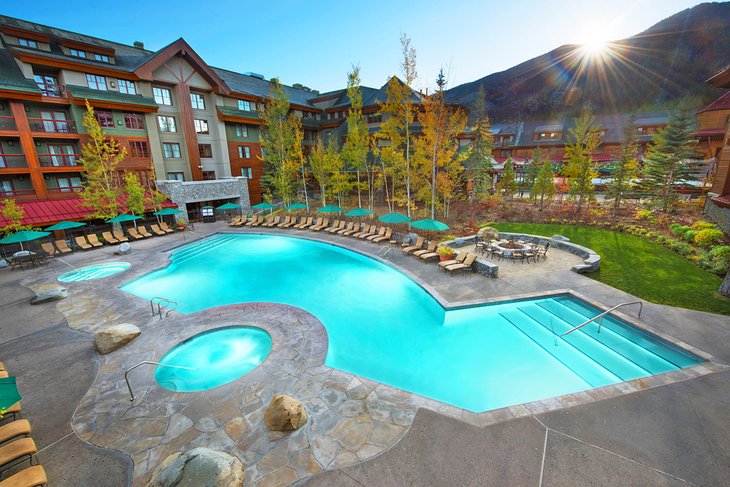 Accommodation: Marriott Grand Residence Club, Lake Tahoe
You'll feel right at home in the beautiful rooms and suites of Marriott Grand Residence Club in South Lake Tahoe. A fractional ownership resort, this high-end vacation retreat is a luxurious place to take a load off. And many of its plush units are available to rent short-term.
Guests are guaranteed a prime location for winter fun at this resort, which is situated beside the gondola at the base of the Heavenly Ski Resort. Other enjoyable year-round activities include swimming in the heated outdoor pool, exercising in the fitness center, hiking nearby trails, indulging in a treatment (or three) at the Serenity Spa, and tempting your palate at the tasty Fire + Ice Grill and Bar.
Choose from guest rooms; studios; and one- and two-bedroom residences that feature fireplaces, kitchens, and comfy furnishings designed to help you unwind in a truly glorious setting.
Need to host a meeting or event while you're here? No worries, the resort boats a conference services team and plenty of flexible meeting spaces.
Address: 1001 Heavenly Village Way, South Lake Tahoe, California
7. Marriott's Timber Lodge, South Lake Tahoe, CA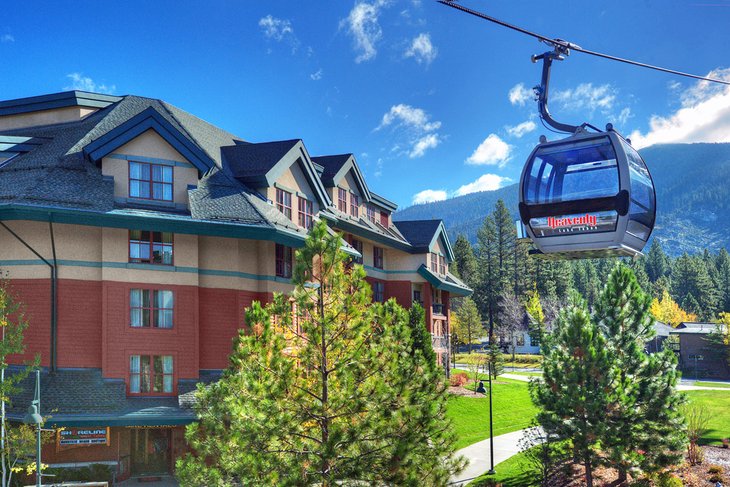 Accommodation: Marriott's Timber Lodge
Marriott's Timber Lodge is another stellar South Lake Tahoe resort located in Heavenly Village, near the gondola that takes visitors up the mountain. Mere steps from the Marriott Grand Residence Club, this lovely family-friendly vacation ownership resort in Lake Tahoe blends luxury with comfort in rooms that bring a feeling of home to every holiday.
Grab a bite of the Mongolian-style dishes served in the on-site restaurant, cook on one of the outdoor grills, whip up a meal in your in-suite kitchen, lounge before the cozy fireplace, or splash about in the heated outdoor pool or hot tub. Guests also garner access to free Wi-Fi and a sauna and fitness center while they are here. Accommodations range from guest rooms to one-, two, and three-bedroom villas.
Marriott's Timber Lodge offers easy access to some of the best attractions at Lake Tahoe, so the kids will never complain about being bored. Hike the Mount Tallac Trail, take a dip in Carson Hot Springs, swoosh down the slopes at the Heavenly Ski Resort, or kayak the sparkling Lake Tahoe.
Address: 4100 Lake Tahoe Boulevard, South Lake Tahoe, California
8. Resort at Squaw Creek, Olympic Valley, CA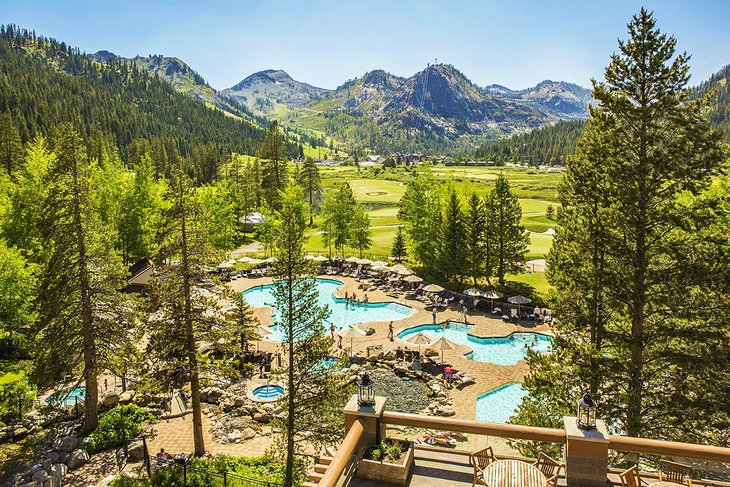 Accommodation: Resort at Squaw Creek
A visit to the Resort at Squaw Creek, serenely set at the base of Squaw Valley, will cure what ails you. Just minutes from North Lake Tahoe, this glamorous spot is well located in a setting so tranquil, it's impossible to feel stressed.
This Hyatt property offers all you've come to know and love about the brand: friendly staff, super comfortable pillow-topped beds, uber soft bathrobes, and fantastic amenities. Upgrade to a suite for more space, a gas fireplace, and a kitchenette. Or treat yourself to a penthouse stay where you can enjoy your own laundry facilities, a full kitchen, and two bedrooms.
One of the best resorts for families in Lake Tahoe, this glamorous spot boasts a golf course, heated outdoor pools, a 90-foot waterslide, lawn games, a skating rink, cross-country ski center, and a fly-fishing center. Bikes are available on-site, including kid carts, and there's a fab trail, the Truckee River Bike Path, that's perfect for kids.
Don't miss trying a game of FootGolf, a combination of soccer and golf, which can be played on the golf course. In the winter, you can borrow snowshoes and boots form the Nordic Center, and rent sleds for a day spent zipping downhill. In any season, families can head out on a guided tour with a resort staff member.
Hoping to ski? The Resort at Squaw Creek offers ski-in/ski-out access as well.
Address: 400 Squaw Creek Road, Olympic Valley, California
9. Northstar Lodge, Truckee, CA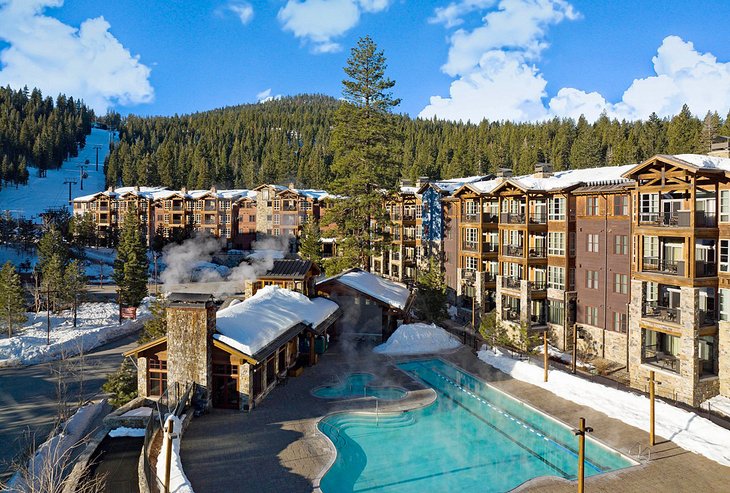 Accommodation: Northstar Lodge
The best time to visit Northstar Lodge is during winter–if you're a skier, that is. Tucked serenely at the base of the Northstar ski area, this lovely vacation ownership resort is an alpine lover's dream.
In addition to boasting its own pulse-driven gondola, the resort boasts ski-in/ski-out privileges for its guests, making this one of the best resorts in Lake Tahoe for skiers.
If you're looking for fun things to do apart from skiing, you'll love the resort's other amenities. The 19-seat movie room and pool at the Village Swim Fitness Center are very popular.
When it comes time to rest, choose from a condo-style, studio, two-, three-, or five-bedroom villa. All include indoor and outdoor fireplaces, a private deck, and a washer/dryer.
While there is no restaurant on the premises, the Northstar Lodge does provide fully equipped kitchens in all its "vacation rentals," as well as communal grills, making it easy to prepare a meal when you've returned from a busy day of outdoor activities. There are plenty of restaurants close by in the Village at Northstar if you'd rather not cook.
Insider's tip: Northstar Lodge charges a nightly resort fee, which grants guests free Wi-Fi, access to the fitness and activities centers, use of the Village pool and jacuzzi, lawn games, use of the grills, and the services of a seasonal equipment valet.
Address: 970 Northstar Drive Truckee, California
10. Harrah's Lake Tahoe, Stateline, CA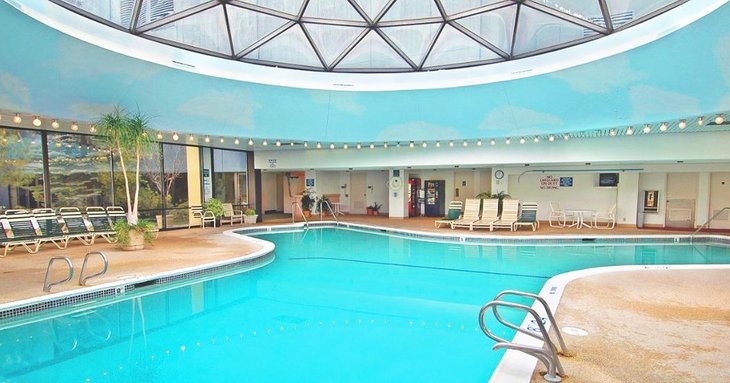 Accommodation: Harrah's Lake Tahoe
It's impossible to get bored at Harrah's Lake Tahoe resort. Whether you're looking to work out in the fitness center, play for par at the golf course, hike the nearby trails, swim laps in the heated outdoor and indoor pools, or lounge in the hot tub, you'll be happy you chose to stay at this fun resort.
Those hoping to partake in a little pampering should head to the spa or hair salon, or perhaps they'd prefer to practice a little retail therapy at the on-site shops. When you're feeling hungry, there are six restaurants to choose from, each with a different menu and ambience.
Choose a fireplace suite if you're looking to feel more at home. These luxurious pads come with fireplaces, kitchenettes, full-sized sofas, soaking tubs, and gorgeous views through the floor-to-ceiling windows.
Have kids in tow? They'll love this family-friendly resort, especially once they catch sight of the designated children's pool and 120-foot waterslide. Have little ones of the fluffy variety? Pets are welcome, too.
Address: 15 Highway 50, Stateline, Nevada
11. Harveys Lake Tahoe, Stateline, NV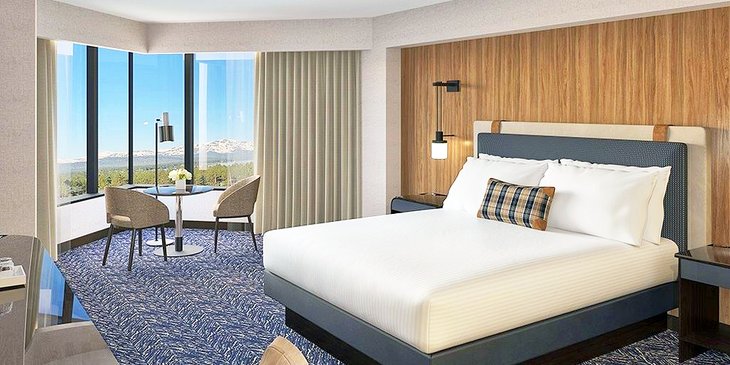 Accommodation: Harveys Lake Tahoe
There's so much to do at Harveys Lake Tahoe resort that you may be tempted to stay on its vast grounds for the entirety of your holiday. In addition to the common finds like a spa, outdoor pool, and fitness center, guests of Harveys are also privy to Turkish baths, a game room, steam room, and sauna.
Two coffee shops are available on-site, and four restaurants will help fill any type of food craving. Of course, if leaving your room feels like too much effort, you can always order room service at this top Lake Tahoe resort.
The rooms are spread out throughout the 19-floor resort and feature paid Wi-Fi, flat-screen TVs, and air-conditioning. They're a bit basic, but you'll have everything you need, and they're clean and feature comfy beds.
Address: Highway 50 at Stateline Avenue, Stateline, Nevada
12. Old Greenwood, Truckee, CA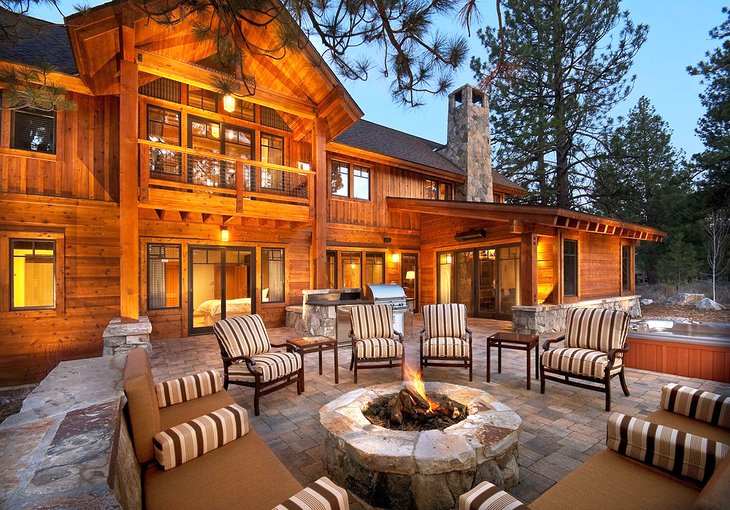 Accommodation: Old Greenwood
Guests of Old Greenwood gain access to over 660 acres of spectacular landscape, the highlight of which is a Jack Nicklaus Signature golf course.
Accommodations at this Tahoe Mountain Lodging property are in two-, three-, and four-bedroom cabins, townhomes, and villas, which allow guests to enjoy a comfortable, home-away-from-home experience. Inside are amenities like a gas fireplace, fully equipped kitchen, and washer and dryer. These residences also come with an outdoor patio or terrace.
When you don't feel like cooking, head to the restaurant at the Pavilion at Old Greenwood, which lies at the center of the resort. This is also where you'll find a spa, tennis courts, and a fitness center.
If all that wasn't enough, anyone who stays at Old Greenwood can enjoy an outdoor pool and hot tub, children's waterslide, complimentary underground parking, outdoor grills, a games room, ski lockers, and free Wi-Fi. They also gain access to the nearby Village Swim & Fitness center. Plus, vacation rental homes at this resort include membership at the Tahoe Mountain Club.
Address: 12915 Fairway Drive, Truckee
Map of Resorts in Lake Tahoe, CA
Lake Tahoe, CA - Climate Chart
Average minimum and maximum temperatures for Lake Tahoe, CA in °C
J
F
M
A
M
J
J
A
S
O
N
D

5

-9

6

-8

8

-6

12

-3

16

0

21

3

26

4

26

3

22

1

17

-3

9

-7

6

-10

PlanetWare.com
Average minimum and maximum temperatures for Lake Tahoe, CA in °F
J
F
M
A
M
J
J
A
S
O
N
D

41

15

42

17

46

22

53

26

61

32

70

37

79

40

79

38

72

33

62

26

49

20

42

14

PlanetWare.com