12 Top-Rated Resorts in Scottsdale
We may earn a commission from affiliate links ()
Scottsdale has some of the finest desert resorts in the United States. They offer stunning settings, first-class service, and a long list of amenities, from spectacular pools to championship golf courses.
Scottsdale encompasses a large area, so you may want to consider location when making your choice of accommodation. Many of the attractions, interesting shops, and restaurants are centered around the southern part of the city, in or near Old Town Scottsdale.
If your plan is to stay mainly on the resort property to enjoy the facilities, retreat to the desert, or just spend time on a golf course, location is less important. Many of the resorts have all you need: fine dining, spas, gyms, and programs to keep you entertained.
Choose the best place to stay from our list of the top resorts in Scottsdale.
1. Four Seasons Scottsdale at Troon North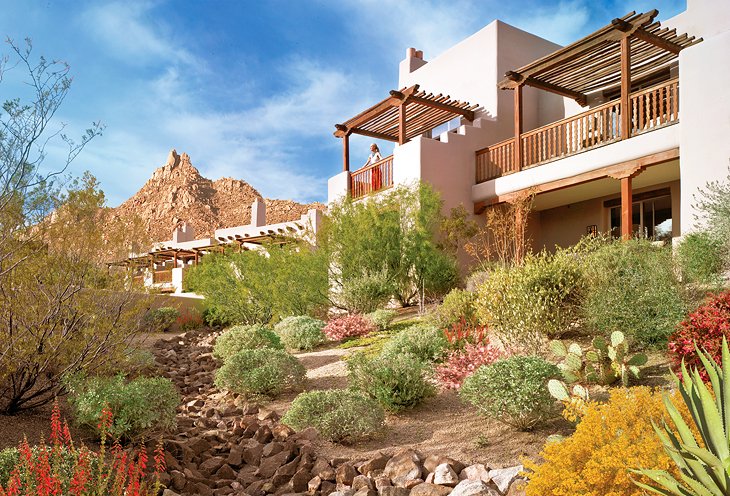 Accommodation: Four Seasons Scottsdale at Troon North
The Four Seasons Scottsdale at Troon North is an elegant luxury resort with only 210 guest rooms, casitas, and suites. Set among saguaros and the fantastically shaped boulders in the foothills of Pinnacle Peak, the quaint mission style complex blends perfectly into the desert landscape.
Guests can enjoy beautiful desert views from the main lobby, the pool, the restaurants, and the rooms and balconies. Unlike some of the larger resorts in Scottsdale, the Four Seasons offers a more intimate atmosphere, which combined with attentive staff make this a relaxing and stress-free experience.
Over the last several years, the resort has undergone extensive renovations and upgrades. All accommodations are very private and have a balcony or terrace. Golfers will enjoy the convenience of the iconic Troon North Golf Club with its two beautiful courses right next door. A complimentary shuttle is available for guests.
The resort also has a spa and gym, and fitness classes, like yoga or guided hikes, are available. Dining options include Talavera, an upscale-casual Spanish steakhouse, and Proof, a more relaxed dining experience focusing on foods from across America, with enticing and beautifully designed indoor and outdoor eating areas.
2. The Phoenician, a Luxury Resort Collection Resort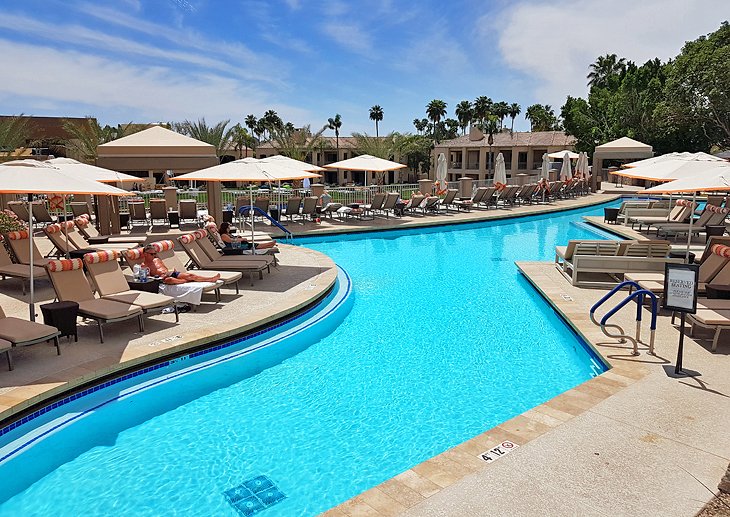 Accommodation: The Phoenician
Long one of Scottsdale's premier resort destinations, The Phoenician continues to evolve following a massive renovation to all areas, including the golf courses. Some buildings have been completely rebuilt. The resort is built on the lower slopes of Camelback Mountain and blends in beautifully as it flows down across the desert landscape.
The new modern design has incorporated some of the desert motifs, from a cactus garden to the sophisticated décor. The stunning three-level pool area is perfectly positioned to catch the sun throughout the day. A separate children's area with waterslide and splashpad is set well apart from the adults-only pool area.
The Phoenician has 648 total rooms consisting of regular guest rooms, casitas, and suites. Rooms in the large main building, offered in traditional and grand deluxe versions, are ideally positioned for quick access to the pool area and restaurants. For more privacy, consider one of the casitas also available in deluxe and grand deluxe versions, located off on their own, approximately 300 yards from the main building.
If you want to step it up a level, consider one of the spectacular Canyon Suites. Enjoying a 5-star rating, these suites provide the ultimate in luxury and privacy. Large guest rooms, along with one- and two-bedroom suites feature king-sized beds and sumptuous marble bathrooms complete with a bathtub and separate shower.
Step out onto your private balcony and revel in the view of the pool area and Camelback Mountain or the golf course with the Sonoran desert off in the distance. The Canyon Suites are located off on their own in an area inaccessible to other guests at the main Phoenician resort.
You'll never need to leave the resort if you get hungry. Restaurants, including the J&G Steakhouse, Mowry & Cotton, and the Relish Burger Bistro, offer a full-range of dining possibilities, from fine dining to casual.
3. Fairmont Scottsdale Princess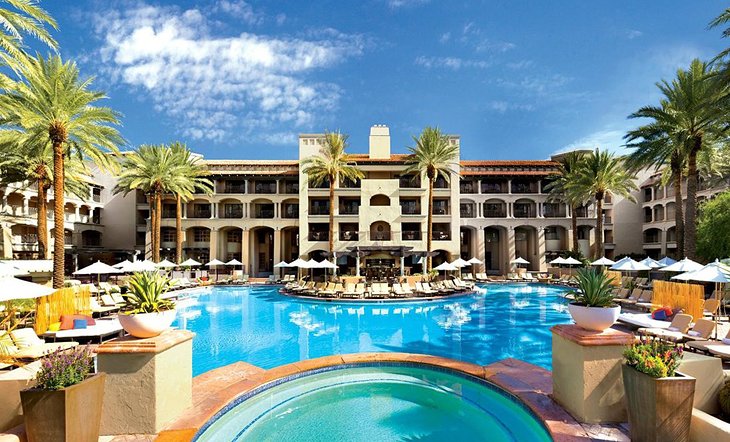 Accommodation: Fairmont Scottsdale Princess
A stay at the Fairmont Scottsdale Princess allows you to experience the best of the Sonoran Desert scenery coupled with all the luxury services and amenities that the Fairmont chain of hotels is famous for.
Some of the highlights of the resort include the two nearby golf courses, where guests are offered preferred tee times, the Well & Being Spa, with a wide array of soothing treatments, and the six pool areas, including the unique and innovative 9,000-square-foot Sunset Beach.
This is a large resort with 750 rooms and casitas, which include oversized luxury bathrooms, premium bedding, and terraces looking out to the mountains, pools, or golf courses. The four restaurants offer Mexican, Latin American, and contemporary American cuisines.
4. Boulders Resort & Spa Scottsdale, a Curio Collection by Hilton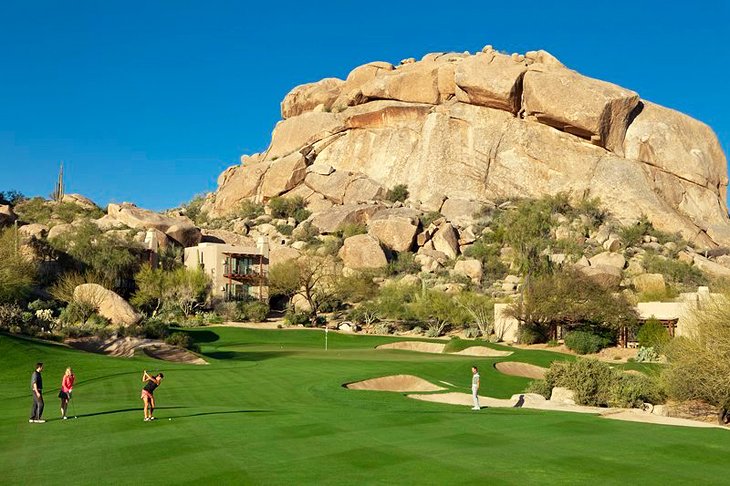 This resort has long been a popular destination for golfers. The two beautifully laid out golf courses flow across 1,300-acres of Sonoran desert.
Also on-site is a 33,000-square-foot spa featuring all the latest treatments along with a labyrinth and shamanic tipi ideal for meditation or rituals lead by a local shaman.
Accommodation options range from casitas and villas to executive suites. No matter your choice, each room offers luxury and elegance and features a stone shower and wood-burning fireplace. Boulders is part of the Hilton collection of hotels.
5. Hotel Valley Ho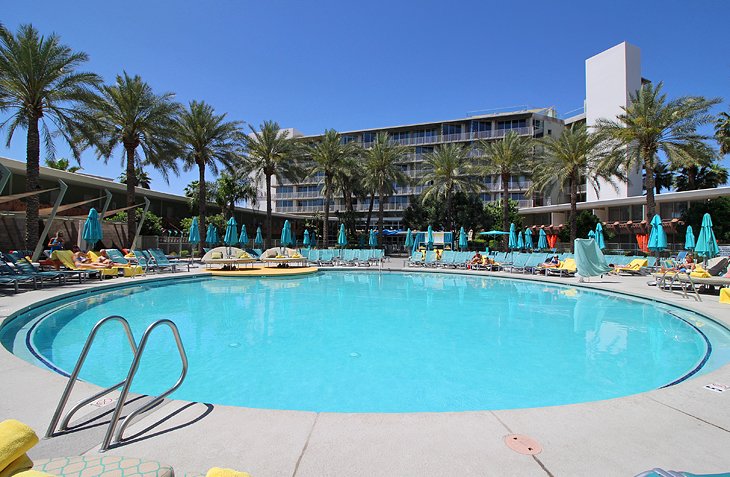 Accommodation: Hotel Valley Ho
One of the city's landmark historic hotels, this mid-century modern classic has been brought back to its former glory by its enthusiastic owners. Often described as cool, the Hotel Valley Ho has a hip and trendy vibe and is within walking distance to Old Town Scottsdale. The location is unbeatable.
Well thought out floor plans and a 1950s-style decor combined with the modernized luxury standards of today's discerning traveler, make this one of the most unique places in the city. Each room has its own balcony or patio, and unlike some of the larger resorts, the pools and restaurants are only steps away.
Many famous actors and actresses have stayed here over the years, and the hotel is included as a drive-by stop on some city tours. The hotel's ZuZu restaurant has a retro atmosphere in keeping with the rest of the property.
6. Andaz Scottsdale Resort & Bungalows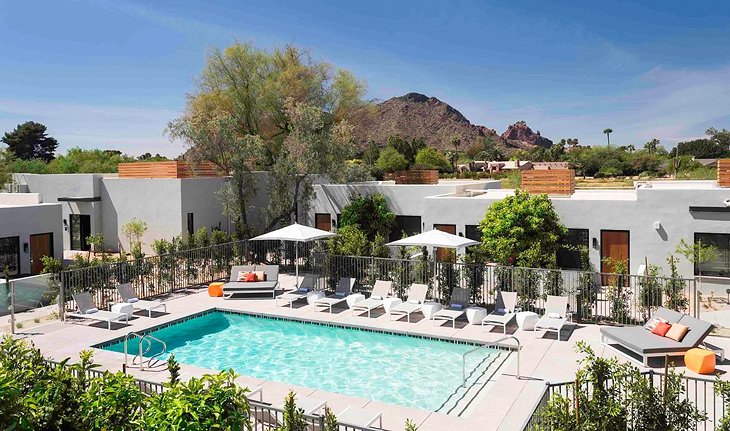 Accommodation: Andaz Scottsdale Resort & Bungalows
Spread out across 23 acres, the mid-century modern Andaz Scottsdale Resort & Bungalows features the design brilliance of Alexander Girard. The large bungalows each have their own patio or private terrace and display an array of eclectic art from the Cattle Track Arts Compound.
You can be as busy or as lazy as you like here. Those looking for sun and relaxation can sit by one of the three pools, and those looking to exercise their creative side can sign up for a course led by the artist in residence.
If you'd prefer a bit of pampering, visit the Palo Verde Spa & Apothecary. Andaz Resort is conveniently located just a short drive from historic downtown Scottsdale.
7. The Westin Kierland Resort & Spa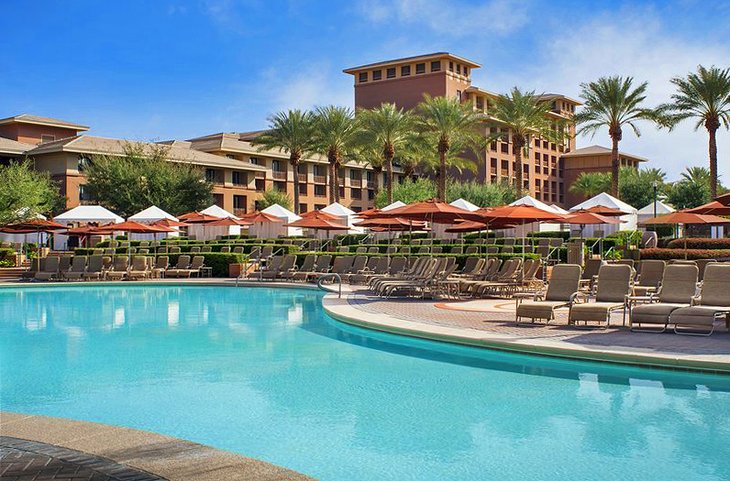 Accommodation: The Westin Kierland Resort & Spa
Whether you are interested in planning a golf getaway, a family vacation, a romantic weekend, or a friends' trip, the Westin Kierland Resort and Spa delivers. Golfers can enjoy the three Scott Miller-designed golf courses right on the property.
For pampering and relaxation, look no further than the Agave Spa. Kids can spend all day on the 110-foot waterslide and 900-foot lazy river, and all ages can find excitement on the FlowRider, a water feature that allows you to surf on a permanent wave.
Rooms at the Westin Kierland are large and sumptuous and feature private balconies, which either overlook the golf courses or the mountain ranges off in the distance. Dining options are varied, from casual right up to fine dining at the recently renovated Nellie Cashman's or at the Latin-inspired deseo restaurant.
Looking for something more than just a traditional hotel room? Open your pocketbook and reserve one of the Westin Kierland Villas. These wonderful villas have everything you could need or hope for. Settle in for a restful sleep, and wake up with coffee in hand prepared in your own kitchen as you gaze out at views of the desert oasis in front of you. Large sitting areas with couches and the latest electronics including large screen televisions make you feel as comfortable, if not more so, than at home.
No need to worry about securing a lounger at the Westin Kierland Villas, you'll have two pools of your own. In the evening, settle in around the outdoor fireplace and watch the stars.
8. Scottsdale Plaza Resort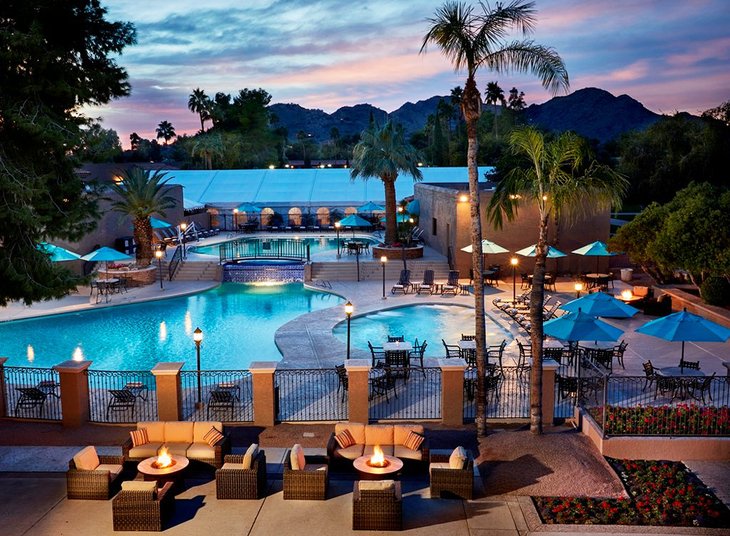 Accommodation: Scottsdale Plaza Resort
The Scottsdale Plaza Resort should be on your places to check out if you are looking for a relaxing stay. Five pools make your sunbathing decision a tough one. After a hard day at the pool, you may need some time enjoying a treatment at the spa to recover.
Offering larger than average guest rooms and all the comforts of home at no extra cost, this resort is generally considered to be good value.
The five restaurants on the property feature a mix of quick bites and casual fare in a fun environment.
9. Hyatt Regency Scottsdale Resort & Spa at Gainey Ranch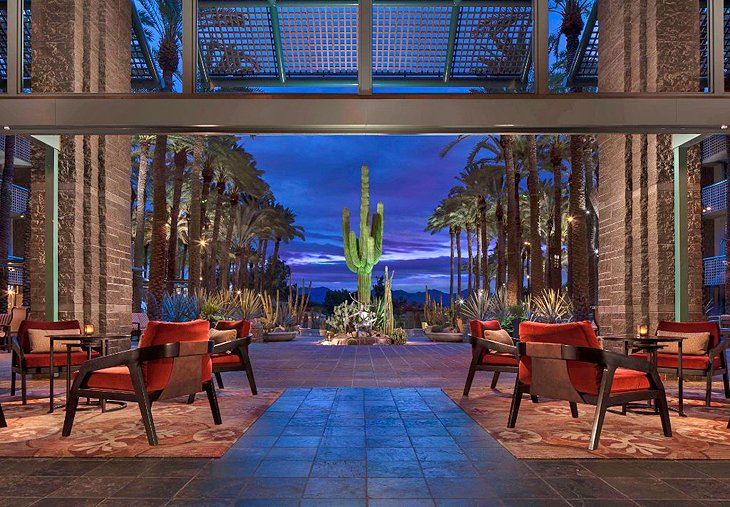 Accommodation: Hyatt Regency Scottsdale Resort & Spa at Gainey Ranch
The Hyatt Regency Scottsdale Resort & Spa at Gainey Ranch is a perfect family destination. The resort features a 2.5-acre water park with a three-story waterslide, 10 pools, whirlpools, and even a white-sand beach.
This is a mid-size resort with 493 generously sized rooms and suites, all of which have private balconies or terraces, luxury amenities, and refrigerators. Views are either out to the mountains, over the pool area, or off towards the golf course.
Activities abound at the resort, with four lighted tennis courts, and guests have access to the Gainey Ranch Golf Club featuring 27 holes of golf across three courses. One of the most unique features of the Hyatt Regency Scottsdale is the opportunity to take a gondola ride and be serenaded by a gondolier as you tour the lakes behind the resort.
The resort also has 10 restaurants allowing for all manner of dining options, from quick and easy right through to fine dining.
10. Scottsdale Camelback Resort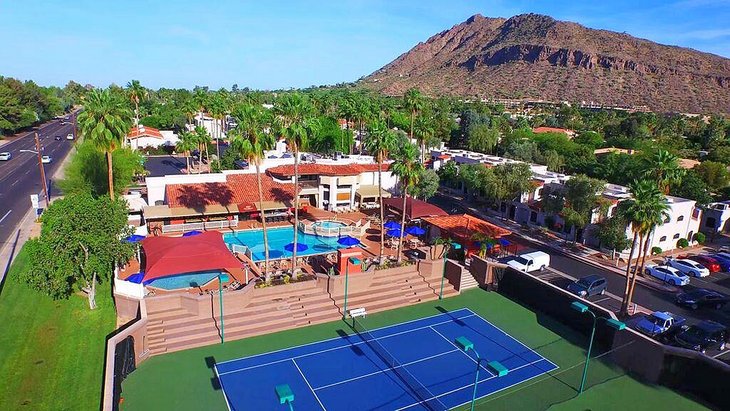 Accommodation: Scottsdale Camelback Resort
Well positioned close to Old Scottsdale, the Camelback Resort is a good mid-range option for families and those on a tighter budget. All the accommodations are in well-thought-out studio and one-, two-, and three-bedroom villas.
Villas come with full kitchens, a washer and dryer, and even a wood-burning fireplace. The villas are spacious, and with a large balcony, everyone will be able to find their happy place. It's debatable how much time you'll spend in your villa, though, with a fantastic pool area complete with a hot tub and lots of loungers to soak up the warm Arizona sun.
Other fun things to do as a family include playing a round of mini golf, pickleball, volleyball, or swinging on the playground and showing off for mom and dad.
11. Sheraton Desert Oasis Villas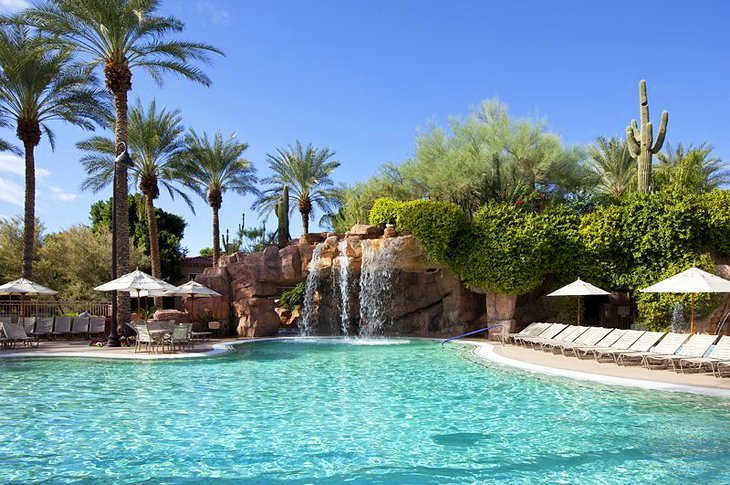 Accommodation: Sheraton Desert Oasis Villas
The Sheraton Desert Oasis is unique in the Scottsdale area for being an all-villa hotel. The resort has 300 one-bedroom villas, either in a standard or premium version. Each villa comes with a balcony or terrace, full kitchen, dining area, and separate bedroom. A washer and dryer are also included.
This is an ideal setup if you are self catering or planning a longer stay. The resort also has a 4,500-square-foot swimming pool complete with waterfalls and a sun deck, where light meals are available from the only restaurant on the property.
The resort is in north Scottsdale, just a short distance from Frank Lloyd Wright's Taliesin West.
12. Mountain Shadows Resort Scottsdale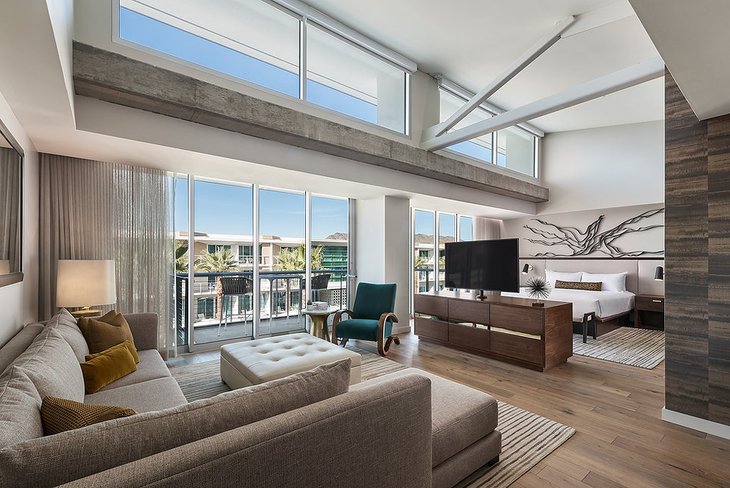 Accommodation: Mountain Shadows Resort Scottsdale
Looking for one of the trendiest hot spots around? Look no further than Mountain Shadows Resort. This 1950s, mid-century modern classic was completely renovated in 2017 and now boasts the best of both eras.
Large rooms, all with balconies or patios, surround a pool area where there is always something fun going on.
The hotel's Hearth '61 restaurant features innovative dishes served in a 1950s-style decor.
Bring your golf clubs and enjoy the resort's own par 3 course, suitable for beginners right through to pros. If you prefer hiking, the trail to the top of Camelback Mountain is just a short distance away.
Mountain Shadows is the sister property to the Hotel Valley Ho, another 1950s throwback kind of place.