12 Top-Rated Resorts in Puerto Vallarta
When it comes to beach destinations in Mexico, Puerto Vallarta is one of the most diverse and unique. Not only is it home to beautiful beaches and resorts, it's also a thriving historic capital, complete with historic architecture, cobblestone streets, and red-tiled terra-cotta roofs.
Today, Puerto Vallarta is one of the largest coastal cities and has expanded its footprint far beyond the historic Zona Romantica. As such, it offers several different vibes for hotels, whether you're looking for a barefoot luxury beach resort or a chic, glamorous boutique city hotel.
No matter which atmosphere you choose, it's always a treat to wake up to the glittering Bay of Banderas, which is wreathed in emerald-colored Sierra Madre peaks. Still, it can be difficult to decide which is the best resort in Puerto Vallarta.
Read on to discover the best places to stay on your next vacation with our list of the best resorts in Puerto Vallarta.
1. Hotel Mousai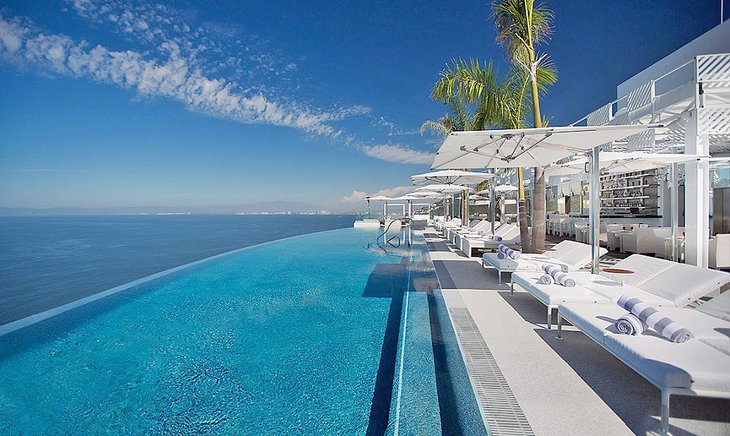 Accommodation: Hotel Mousai
About 15 minutes south of Puerto Vallarta's Zona Romantica, Hotel Mousai is one of the best resorts in Puerto Vallarta, perched on a jungle-carpeted peak overlooking the Bay of Banderas. Technically, the resort is part of Puerto Vallarta's Garza Blanca hotel, but operates as its own mini boutique resort within a resort.
Known for their dramatic views from every room, the suites at Hotel Mousai have expansive terraces and sweeping vistas overlooking the bay or the Sierra Madre mountains. The rooms pop with chic, modern furniture, and a palette of blacks, reds, and purples that oozes rockstar-level sex appeal.
On the rooftop, guests enjoy even more spectacular views from the infinity pool. There is a small restaurant up here, as well, serving small plates (which are best paired with Puerto Vallarta's epic sunsets).
A second tower opened in 2021 expanding the resort's features and amenities. Mousai now has six dining establishments, though guests of Mousai also have access to the restaurants at Garza Blanca.
Address: Carr. a Barra de Navidad Km. 7.5, Sur, 48390 Puerto Vallarta, Jal., Mexico
2. Garza Blanca Preserve Resort & Spa Puerto Vallarta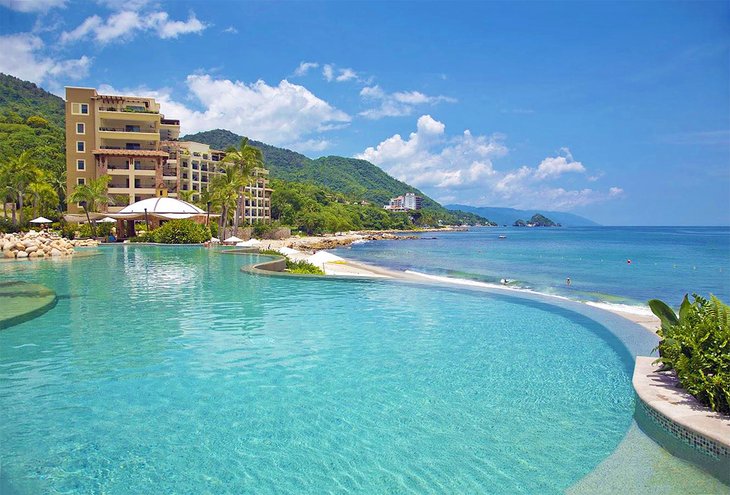 Accommodation: Garza Blanca Preserve, Resort & Spa
Nestled on 85 acres of jungle, at the base of the Sierra Madre, where the mountains meet the Bay of Banderas, sits this half-beach, half-jungle resort that is one of the best resorts in Puerto Vallarta.
Comprising 165 suites (all with ocean views), Garza Blanca's rooms to beat are the Ultra Suites, which are guaranteed to be on the highest floors in the Panorama towers and offer views of both the beach and the mountains. On the property, guests have outdoor options, from snorkeling to hiking and bird-watching.
Garza Blanca has five towers on the property, with Towers 1 through 3 on the beach side. The other two towers are up the hill on the other side of the coastal highway, and a trolley is needed to go back and forth. However, the trip is just a few minutes, and trolleys come frequently.
Sister property Hotel Mousai, just up the hill, has a gym and spa, which is shared with Garza Blanca. The beach is small but relatively private, and the resort provides snorkels, kayaks, and paddleboards. The main pool area has two pools, while a third pool is located up the hill.
Address: Carr. Costera a Barra de Navidad Km. 7.5 Puerto, 48390 Puerto Vallarta, Jal., Mexico
3. Casa Velas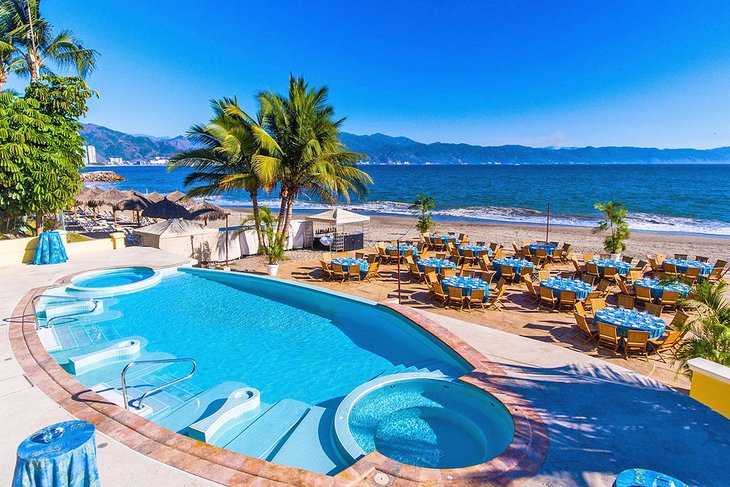 Accommodation: Casa Velas
Let's get one thing out of the way early: Casa Velas is not a beach resort in Puerto Vallarta. But guests quickly forget about that fact as they begin to see all the reasons why Casa Velas is one of the best resorts in Puerto Vallarta.
Located in the Marina Vallarta, this 80-room, adults-only all-inclusive resort sits on a golf course and is beloved by guests for its luxe touches, high-end service, and quiet vibe. The rooms are decidedly large for a resort of this size, too, and a few even have plunge pools or hot tubs.
The resort's amenities include a large pool and a restaurant. And for those who want the beach option, a two-minute shuttle ride puts guests at the resort's private beach club, which has a restaurant and a small infinity pool.
Address: C. Pelícanos 311, Marina Vallarta, 48354 Puerto Vallarta, Jal.
4. Secrets Vallarta Bay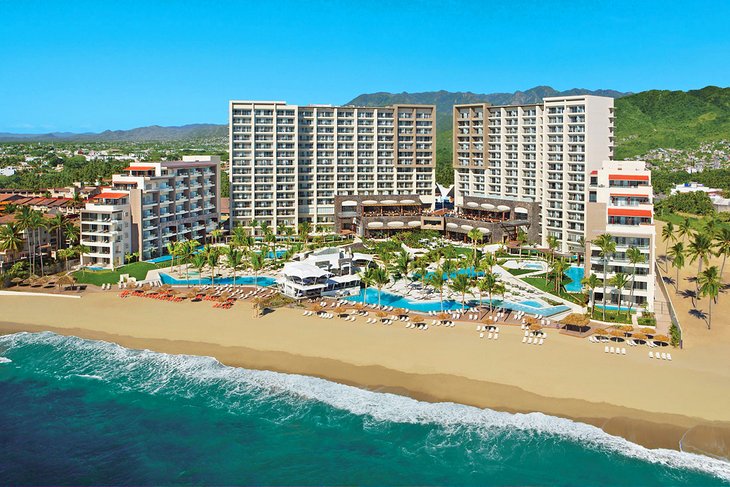 Accommodation: Secrets Vallarta Bay
You can't beat the location of Secrets Vallarta Bay. Not far from the airport, and a short taxi ride from the energy of the Zona Romantica, Secrets Vallarta Bay affords the best of both worlds in Puerto Vallarta.
The adults-only, luxury all-inclusive resort is relatively small, with 271 suites. Guests love that it's on the small side, which tends to be the norm for most of the resorts in Puerto Vallarta. Guests love it for the Unlimited Luxury program, which is a standard at Secrets resorts, meaning everything from gourmet restaurants and all day and night activities are included in the price.
Rooms are elegantly decorated, with pops of plum colors, floor-to-ceiling windows, and views out to sea. All rooms have marble floors and a private terrace or balcony, as well as a hydro tub.
This is one of the top resorts for couples, too. The spa is a must for a romantic getaway. The resort has three pools and a stretch of beachfront, too. Keep in mind that all beaches in Mexico are public, so it is not exactly the most private and tranquil beach experience.
Address: David Alfaro Siqueiros 164, Zona Hotelera, Las Glorias, 48333 Puerto Vallarta, Jal.
5. Grand Miramar All Luxury Suites & Residences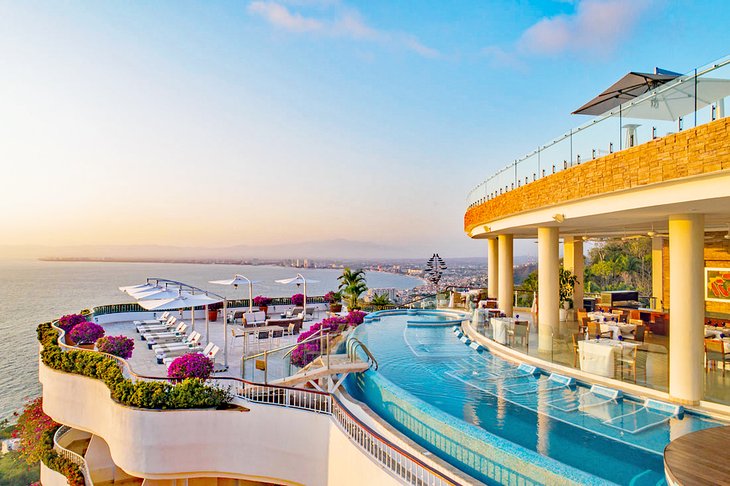 Accommodation: Grand Miramar All Luxury Suites & Residences
Conchas Chinas is one of the most exclusive neighborhoods in Puerto Vallarta, located at the southern end of the city with sweeping, panoramic views over the Bay of Banderas from the hillside of jungle-covered peaks. This is the stunning backdrop for Grand Miramar All Luxury Suites & Residences.
The hotel's buildings are staggered down the sloping hillside, which means that almost every room, pool corner, or restaurant has beautiful views. The resort has spacious suites, as well as larger family-sized residential units, but all have balconies and views.
Junior Suites have living areas, furnished balconies, and kitchenettes. Then there is the Three-Bedroom Residence, as well as the three-story Governor's Suite, which can house up to eight guests. A Presidential Suite has more than 9,000 square feet of space and a full kitchen.
Luxe amenities include several separate pool areas, including a large swimming pool, a lounge pool, and a relaxing pool with stools for sitting. Then there is the adults-only "sky pool," which is an infinity pool overlooking the sea, as well as a rooftop pool with built-in pool lounge beds.
Several restaurants include casual poolside dining, a daily breakfast buffet, and an elegant restaurant serving haute Mexican fare several times per week.
Address: Paseo de Los Corales 139, Conchas Chinas, 48390 Puerto Vallarta, Jal., Mexico
6. Grand Velas Riviera Nayarit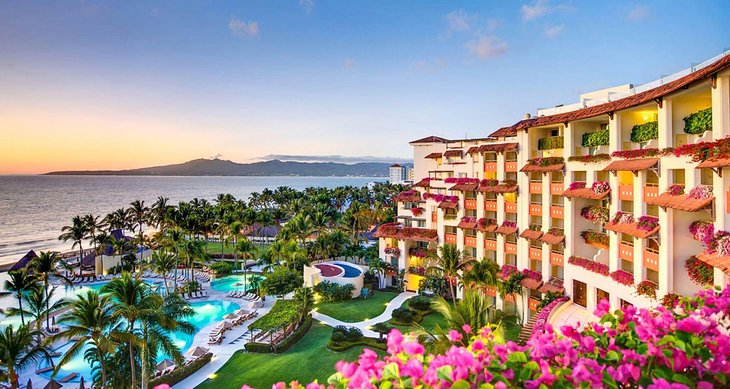 Accommodation: Grand Velas Riviera Nayarit
Velas Group has its fair share of luxury resorts across Mexico, but its property in Riviera Nayarit is one of its best. Though technically not in Puerto Vallarta proper, Grand Velas Riviera Nayarit is just over the bridge in Nuevo Vallarta in the state of Nayarit.
The experience at Grand Velas Riviera Nayarit begins at arrival, as guests are greeted in the expansive open-air lobby, topped by a massive thatch-roofed palapa. Nestled on the grounds are pools, restaurants, and plenty of Mexican artwork and hand-crafted furniture.
Rooms are massive, with suites starting at 1,000 square feet. Amenities include a 12-option pillow menu, L'Occitane bath products, and furnished balconies with pool and ocean views. Grand Velas also has Wellness Suites, which include complimentary spa treatments and exercise bikes in the room.
The resort's crown jewel is its three-tiered infinity pool, which overlooks the stretch of beach. A massive spa has 20 treatment rooms, as well as an ice room, plunge pools, and hydrotherapy.
A family-friendly resort means it is equipped with kids' clubs: one for kids under 12 and one for teenagers.
Address: Av. Cocoteros, Paseo de los Cocoteros 98, Sur, 63735 Nuevo Vallarta, Nay., Mexico
7. Villa Premiere Boutique Hotel & Romantic Getaway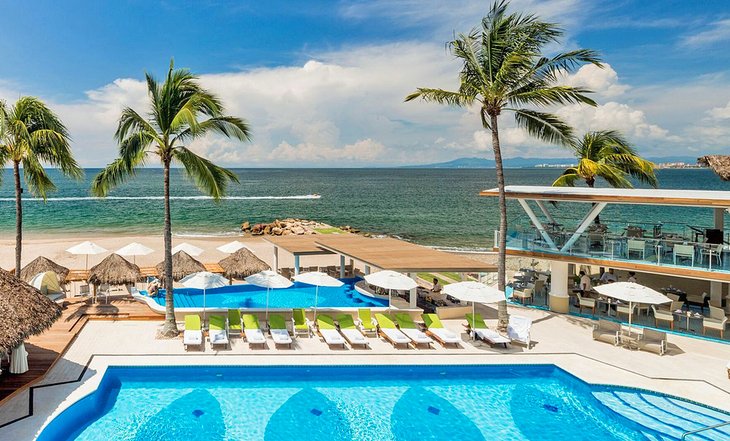 Accommodation: Villa Premiere Boutique Hotel & Romantic Getaway
At Villa Premiere Boutique Hotel & Romantic Getaway, it's all about location. Yes, the resort is lovely, with wonderful amenities and rooms, but one of the main reasons to book this resort is to take advantage of its beachfront location, as well as its proximity to Puerto Vallarta's downtown.
Located just 10 minutes from the city's famous malecon, the resort offers a combination of a beach getaway and a city hotel. Plus, it's positioned in the Cinco de Diciembre neighborhood, which oozes local vibes and is packed with restaurants and views of the Bay of Banderas.
The resort is just 80 rooms, all of them suites, and all with balconies and ocean views. Rooms are modern and upscale, with marble floors, contemporary artwork, light wood, and neutral tones. Opt for the spacious Premier and Honeymoon Suites, which have outdoor hot tubs and hammocks.
As for thoughtful touches, the hotel has plenty of amenities, from two pools and three restaurants to a small fitness center and spa. Plus, all guests who check in are entitled to a five-minute neck and shoulder massage in the lobby.
Address: San Salvador 117, 5 de Diciembre, 48350 Puerto Vallarta, Jal., Mexico
8. Casa Kimberly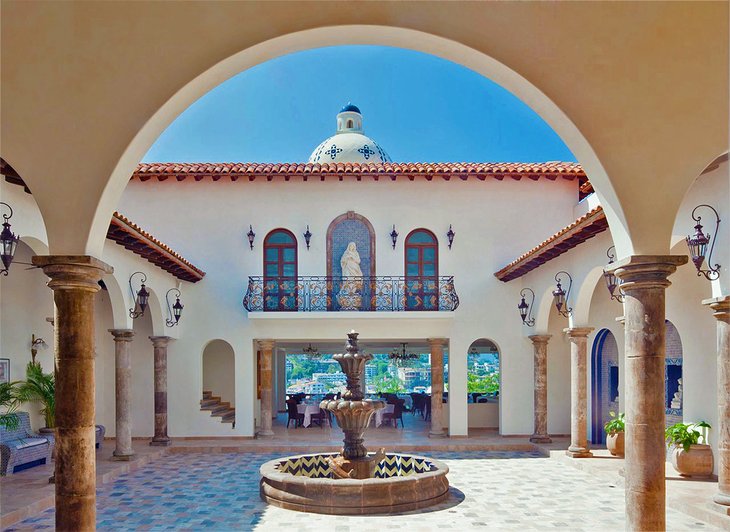 Accommodation: Casa Kimberly
More than just a luxury boutique hotel with a gorgeous design and stunning views, Casa Kimberly comes with a fascinating backstory: it used to be the home of Elizabeth Taylor. Today, it's one of the best hotels in Puerto Vallarta.
The villa, which sits perched on a hillside overlooking the entire Zona Romantica and the Bay of Banderas, was a gift to Taylor from Richard Burton, who owned the villa next door. Their relationship was tumultuous from start to finish, but Burton constructed a bridge between the two villas, which they would use to get between each other's villas without having to pass through the crowd of paparazzi.
Casa Kimberly is a true testament to the Hollywood queen, from the larger-than-life-sized portrait of her to the vintage, opulent decor and original furniture from when she used the villa as her private residence.
The suites are decorated with deep soaking tubs, wreathed in verandas, and all have views across the city.
The restaurant, Iguana Restaurant, is a signature of the city, as well, known for its haute cuisine and epic sunsets.
Address: Calle Zaragoza 445, Centro, 48300 Puerto Vallarta, Jal., Mexico
9. Hacienda San Angel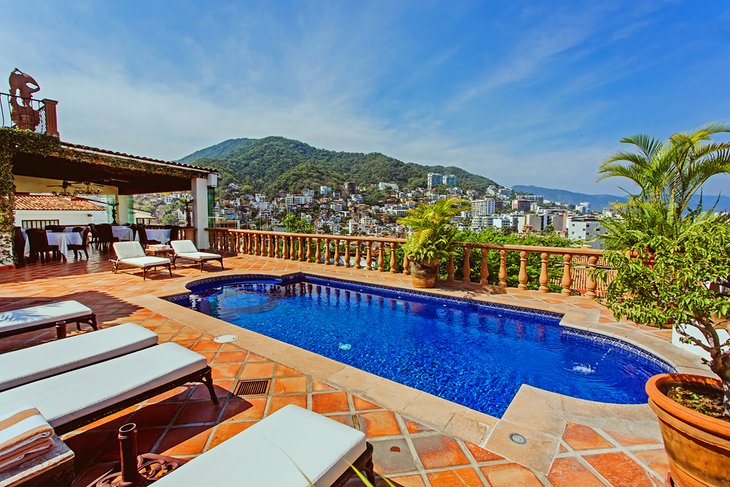 Accommodation: Hacienda San Angel
Perched above Puerto Vallarta, not far from Casa Kimberly, is Hacienda San Angel, which looks over the iconic crown of the Guadalupe Church. The 12-room boutique hotel has fantastic views of the bay and surrounding mountains, while inside, guests are greeted with beautiful gardens, three pools, and a rooftop restaurant.
Rooms start at Junior Suites, which have views over Puerto Vallarta and the resort's gardens. The Presidential Suite is undoubtedly the property's most lavish, with a private Jacuzzi, outdoor living space, and city and sea views.
Hacienda San Angel's restaurant is one of the best in the city, with beautiful views, particularly at sunset.
Address: Calle Miramar 336, El Centro, 48300 Puerto Vallarta, Jal., Mexico
10. Villa Mercedes Petit Hotel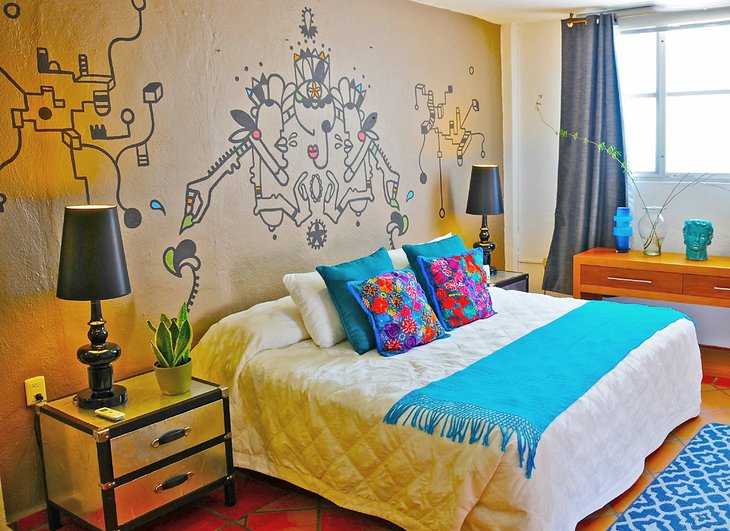 Accommodation: Villa Mercedes Petit Hotel
One of the most charming boutique resorts in Puerto Vallarta, Villa Mercedes Petit Hotel is a true family operation. The historic building once belonged to the now owner's grandmother, who has renovated it from top to bottom to emerge as a trendy, art-forward, LGBTQ-friendly hotel.
The hotel is just one block from Playa Los Muertos, one of the most famous beaches in Puerto Vallarta. It's in the Zona Romantica, as well, which means it's surrounded by restaurants, galleries, shopping, and an unlimited supply of energy.
Rooms are decorated with local textiles, modern accents, bright colors, and murals painted by a local Mexican artist. The more spacious Penthouses, as well as the Master Suite, have terraces and kitchen space.
The central courtyard is the social hub of the hotel, with a small, open-air pool, as well as entrance to the Restaurante Eclectico, which serves seafood, grilled meats, and salads.
Address: Amapas 175, Zona Romántica, Amapas, 48380 Puerto Vallarta, Jal., Mexico
11. Rivera del Rio Boutique Hotel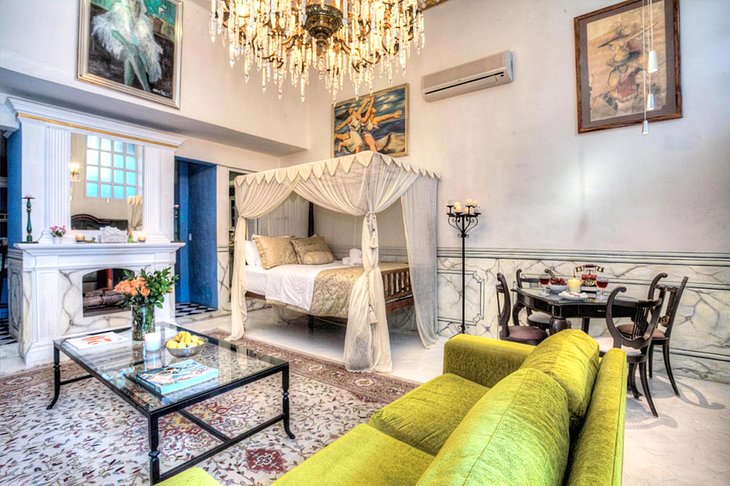 Accommodation: Rivera del Rio Boutique Hotel
The secret to Rivera del Rio is that even the most seasoned Puerto Vallarta traveler may not know it exists. Blended among the shops and houses in this section of the Zona Romantica, Rivera del Rio is a quirky and camouflaged boutique hotel carved out of an unassuming townhouse.
Inside visitors will find a mishmash collection of different styles of decor, and a layout that is evocative of an M.C. Escher painting, with hidden staircases, chandeliers, and a rooftop hot tub that looks like a Roman-style bath.
A recent renovation expanded Rivera del Rio to include a brand-new rooftop infinity pool. The new room count is up to 19 rooms, each of which is individually designed. Each is decorated in its own opulent style, with bold colors, lavish furniture, mirrored walls, fireplaces, and stately bed frames.
It's just a short walk to the beach, as well as the many restaurants and shops just off the malecon, yet it's in a quiet enough section of the neighborhood to ensure a peaceful night's sleep.
Address: Rivera del Río 104, Zona Romántica, Emiliano Zapata, 48380 Puerto Vallarta, Jal., Mexico
12. Hilton Vallarta Riviera All-Inclusive Resort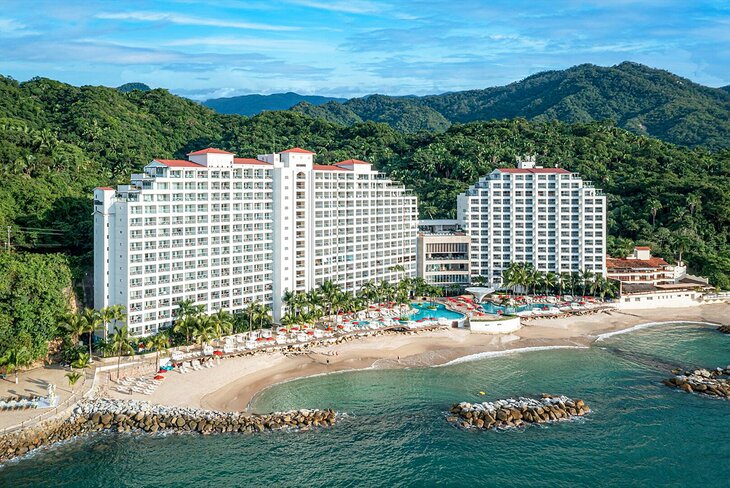 Accommodation: Hilton Vallarta Riviera All-Inclusive Resort
A quick drive from downtown along Highway 200 will put you at the doorstep of the Hilton Vallarta Riviera All-Inclusive Resort. This lovely oceanfront hotel features 444 rooms, all of which have private balconies and ocean views.
Tip: The Premium Level Rooms are located on the highest floors and have the best views. They also have access to the Club Lounge on the 13th floor.
Cuisine is top-of-mind at this all-inclusive resort, with many restaurants to choose from. One of the most popular is the sushi lounge, which opens every day at 4pm, offering fresh sushi with waterfront views.
The resort's pool deck is where the heart of the action happens, whether at either of the two oceanfront infinity pools, at the fitness center, or on the beach. Keep in mind that the beach is not as large as other beaches in the area, but because of the way the resort is positioned, the beach is entirely private to hotel guests.
Address: Carr Barra De Navidad Km4.5, Zona Hotelera, Sur, 48390 Puerto Vallarta, Jal. 322 176 1300
Map of Resorts in Puerto Vallarta