12 Top-Rated Resorts in Cancun for Families
We may earn a commission from affiliate links ()
The Mexican beach resort area around Cancun is a wonderful place for families to go on vacation as it is packed with a range of kid-friendly resorts for all budgets. In the Yucatan, Cancun offers visitors a tropical beach escape, as it sits along the sparkling turquoise waters of the Caribbean Sea.
All the resorts listed here are directly on the beach and are all-inclusive. Staying at an all-inclusive property can be a serious perk for families. Children who are picky eaters can order as many entrees (or make as many trips to the buffet) as they want, and adults also don't have to curtail menu choices.
So really the biggest decision you have to make is what style of resort you want: something big, small, totally kid-focused, or luxurious. Explore your options with our list of the best resorts in Cancun for families.
Note: Some businesses may be temporarily closed due to recent global health and safety issues.
1. Hyatt Ziva Cancun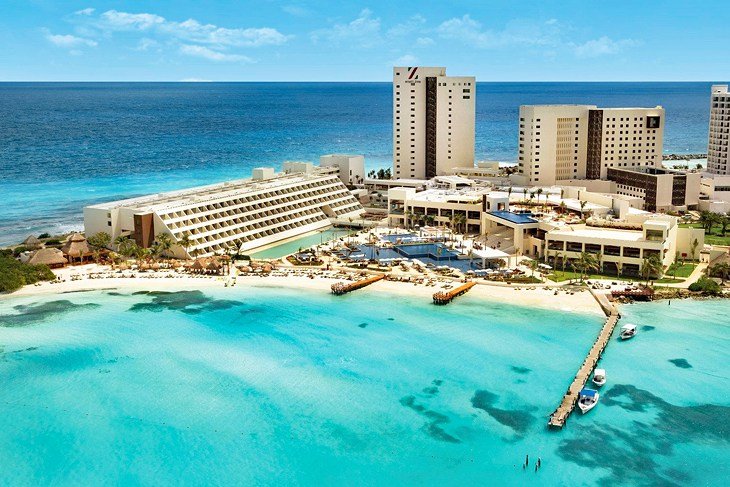 Families will love the all-inclusive Hyatt Ziva Cancun, which has a kids' club with a big play space and swimming and water play area. It also has a mix of stylish rooms and suites, the latter of which have plenty of space for families. The property is large with some 547 units, but this is one of the top family-focused resorts in the Hotel Zone.
Away from the rooms there are three infinity pools, spa facilities for when parents need to relax, and 17 different restaurants and lounges. Habaneros is one option. It serves tacos and other Mexican fare right by the beach.
For an all-inclusive, good-value resort where kids can be kids, the Hyatt Ziva Cancun is a favorite destination resort.
Accommodation: Hyatt Ziva Cancun
2. Club Med Cancun Yucatan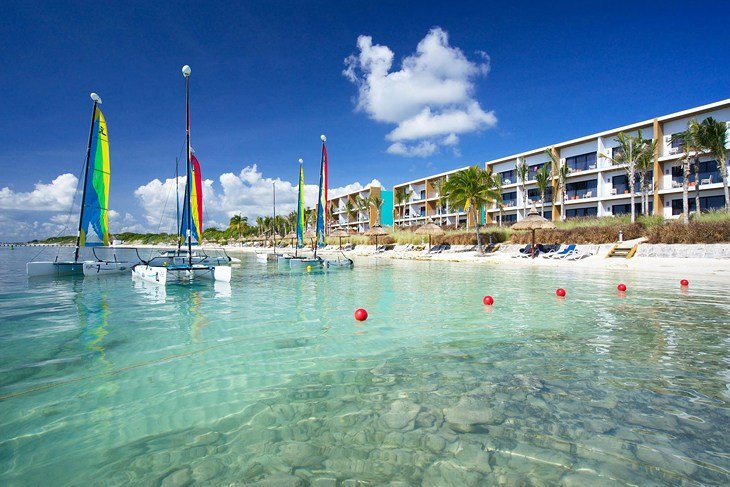 There is a distinct family focus at the all-inclusive Club Med Cancun Yucatan, which caters to kids of all ages with a number of different amenities and has a great location on the spectacular Punta Nizuc coastline.
There are dedicated activities and spaces for infants, young kids, and even teenagers with included on-site activities ranging from flying trapeze to snorkeling and separate kid and teen clubs. Parents will also like the child-friendly menus, which include baby food.
The 376 rooms are not the main reason to stay at Club Med, the all-inclusive activities are. The rooms have some nice private outdoor spaces, but book the Trident Suites if possible as these are much brighter and have a luxe safari-style vibe.
Accommodation: Club Med Cancun Yucatan
3. Hard Rock Hotel Cancun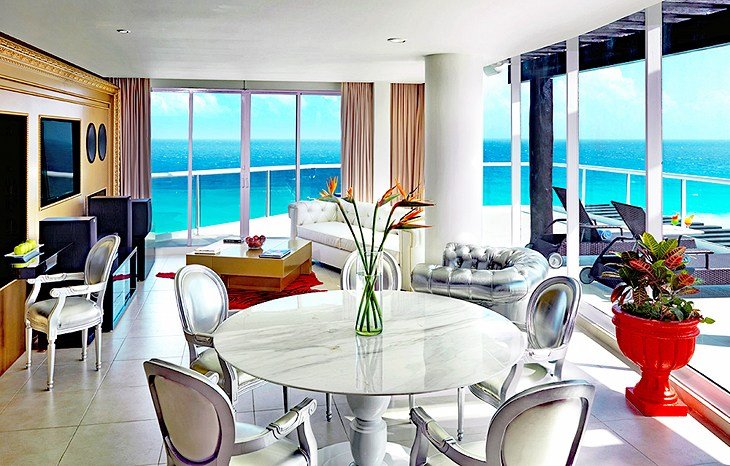 On a gorgeous white-sand beach in Cancun's central Hotel Zone, the Hard Rock Cancun is a mega-resort that attracts a lot of couples but also features amenities for families, like a kids' club with a children's pool and age-relevant activities.
The all-inclusive property offers spacious and modern rooms with rock-n-roll accents and double jetted tubs in the middle of the room, as well as open-style bathrooms, which may present privacy concerns with older kids.
There are five restaurants on-site. The kids will like The Market, which is a buffet serving global fare from Mexico to Asia. Another family-friendly favorite is Pizzeto, which cooks up brick oven-style pizzas and other Italian dishes.
The resort also has a large infinity pool with an area for children, daily activities, free non-motorized water sports, and lighted tennis and basketball courts. For parents, the Rock Spa is perfect for a relaxing massage treatment.
Accommodation: Hard Rock Hotel Cancun
4. Fiesta Americana Condesa Cancun All Inclusive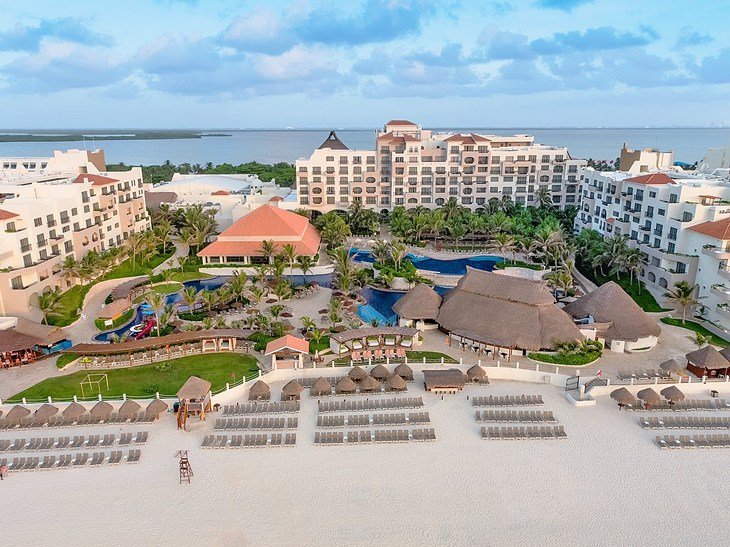 Another all-inclusive beachfront property located in the Hotel Zone, Fiesta Americana Condesa caters to families with a kids' club and games room, as well as a children's area in the huge two-level outdoor swimming pool.
Recently renovated rooms are contemporary, clean, and comfortable, with locally inspired designs, but note that the bathrooms are open-concept, which might not be enough privacy for some families.
Away from the rooms, you'll have 11 different restaurants to choose from - some are buffet but many are a la carte. There is also a luxe spa and palapas on the beach for guests to use.
Accommodation: Fiesta Americana Condesa Cancun All Inclusive
5. Moon Palace Cancun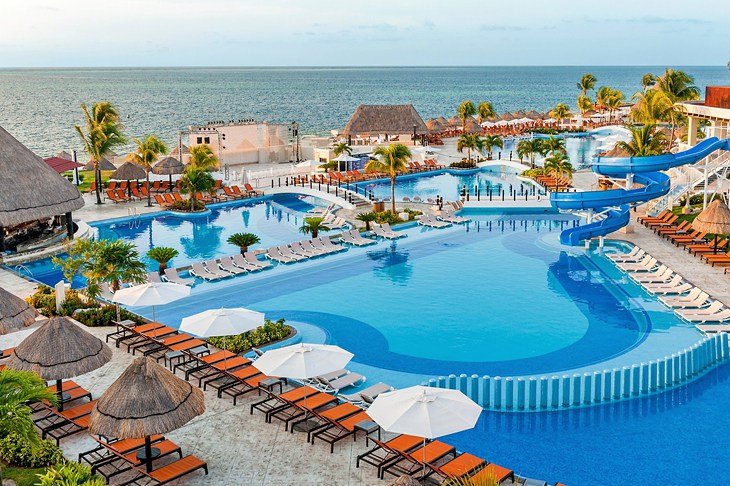 Located away from the hotel zone in the Mayan Riviera, Moon Palace Cancun is a great pick for families who want to get away from the hustle and bustle. It also has one of the top kids' clubs in the area, with a number of different themed rooms and an outdoor playground. However, the beaches here are not as impressive as those in the Hotel Zone.
Moon Palace is truly an all-inclusive property, though, with three different hotel sections, each with its own design and amenities, making up a total of 2,433 rooms, which are all luxe and contemporary.
There are also more than 20 restaurants on-site, multiple fitness centers and stand-alone spas, a 30-hole golf course, plus mini-golf for the kids and a plethora of pools. Kids will also love the giant pool with waterslides and the Flowrider machine.
Accommodation: Moon Palace Cancun
6. Beach Palace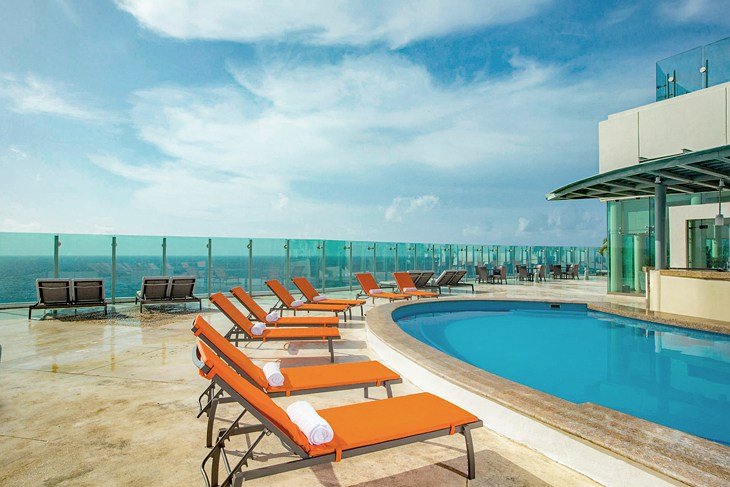 Located on a lovely white-sand beach in the Hotel Zone, the all-inclusive Beach Palace caters to families with children of all ages by offering both kids' and teen clubs and a kids' pool with a waterslide. Other child-focused amenities include movie nights, arts-and-crafts hours, video games, and children's menus in the restaurants.
Rooms and suites are elegant and comfortable, and all come with double Jacuzzi tubs and balconies.
There are four on-site restaurants, including Wok, which does Pan-Asian fare, and Bocelli, which features Italian and Mediterranean dishes, including lots of pasta selections. If the kids are tired after a day at the beach, you can also order complimentary room service day or night.
Other amenities on-site include a spa and gym with views of the Caribbean.
Accommodation: Beach Palace
7. The Royal Sands Resort & Spa All Inclusive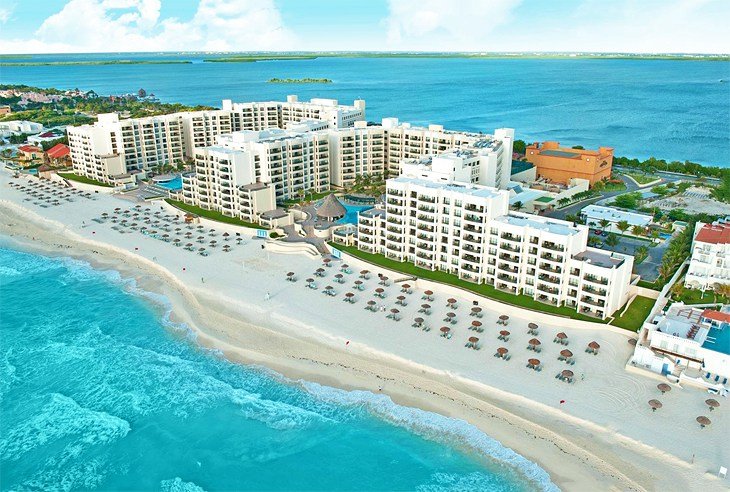 The Royal Sands Resort & Spa All Inclusive is located on a pretty white-sand beach, and the property offers an array of kid-friendly amenities, including a kids' club with supervised activities for various age groups and plenty of water sports opportunities. Rooms and suites are clean and comfortable and have plenty of space for families.
There are three on-site restaurants. Try La Veranda for family-friendly dining inside or on the terrace by the pool. It serves a global buffet with nightly themes – on Friday there is a poolside BBQ with live Mexican music. Guests can also dine at the restaurants in the four other Royal Club Vacations properties in Cancun thanks to a frequent complimentary shuttle service.
Accommodation: The Royal Sands Resort & Spa All Inclusive
8. Iberostar Cancun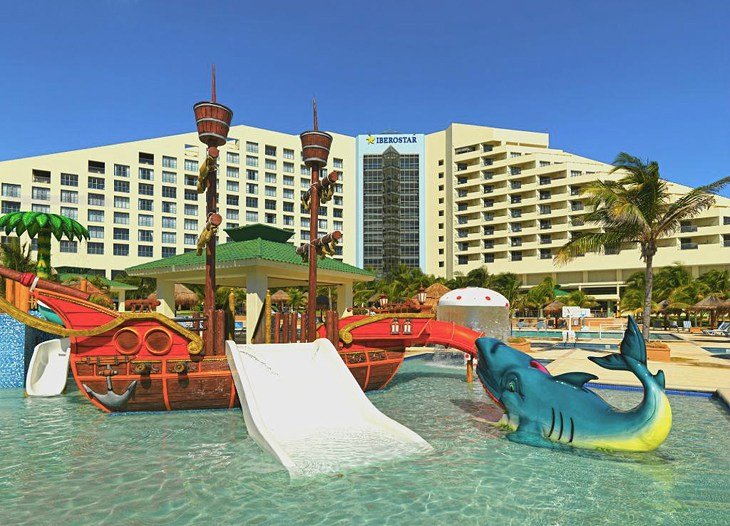 For a luxe all-inclusive Cancun family vacation, check out the Iberostar Cancun, which caters to children up to the age of 17 with separate teen and kids' clubs on-site. Other child-focused amenities include a water park with slides and even a pirate ship.
On a pretty beach, about 15 minutes' drive from the airport, in a pyramid-shaped structure, the hotel is impossible to miss. Rooms and suites are modern and comfortable and many come with fantastic sea views.
There are a number of restaurants to choose from and a huge selection of activities on offer.
Accommodation: Iberostar Cancun
9. Paradisus Cancun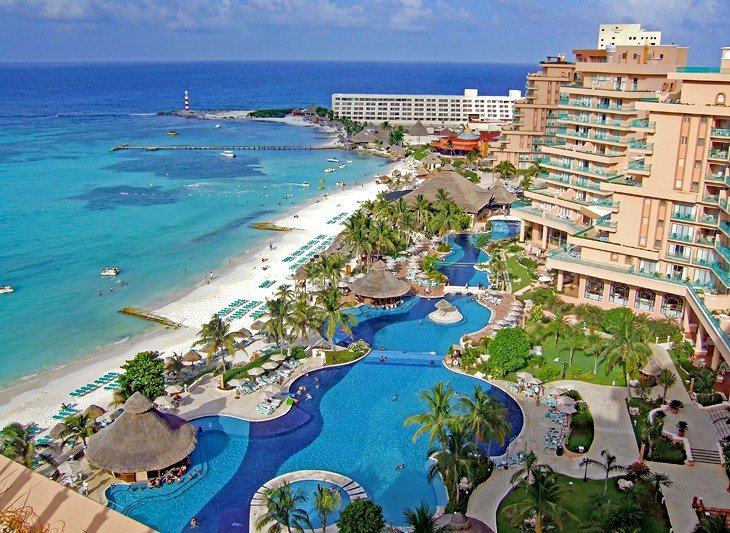 Another all-inclusive, family-friendly option, Paradisus Cancun is comprised of five interconnected pyramids. The property is known for its better-than-average cuisine and has a number of restaurants.
Rooms and suites are spacious and contemporary in decor and feature either sea or lagoon views.
Other amenities on-site include a nine-hole golf course, top-notch spa, and a large free-form swimming pool. The resort also feels smaller than its size thanks to its beautiful interior landscaping featuring tropical gardens and a koi pond.
Accommodation: Paradisus Cancun
10. Hotel Riu Palace Peninsula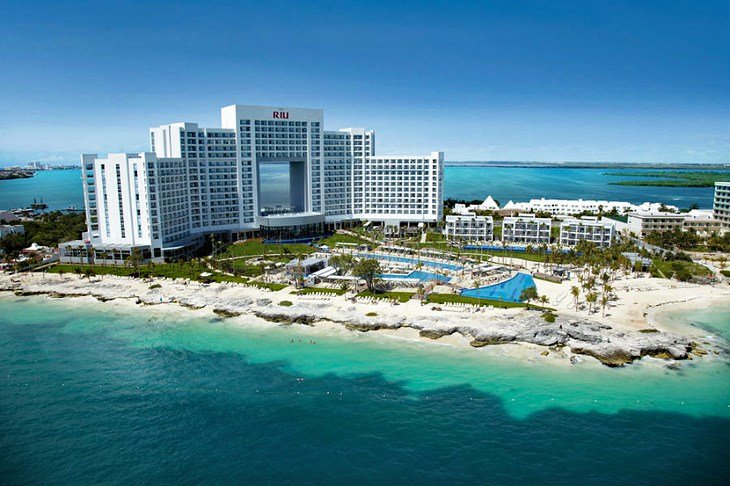 The Hotel Riu Palace Peninsula is in a fantastic locale and offers guests a dual beach experience: one beach has soft, powder sand, and the other is wild and rocky.
For families, this all-inclusive resort offers a kids' club with its own pool, and oversized rooms and suites, which have a fun, upscale Euro-style vibe, with separate spa bathtubs and walk-in showers.
Away from the rooms, you'll find multiple swimming pools, including an infinity pool, a spa with a Turkish bath, a state-of-the art gym, and nine different restaurants.
Accommodation: Hotel Riu Palace Peninsula
11. The Royal Cancun All Suites Resort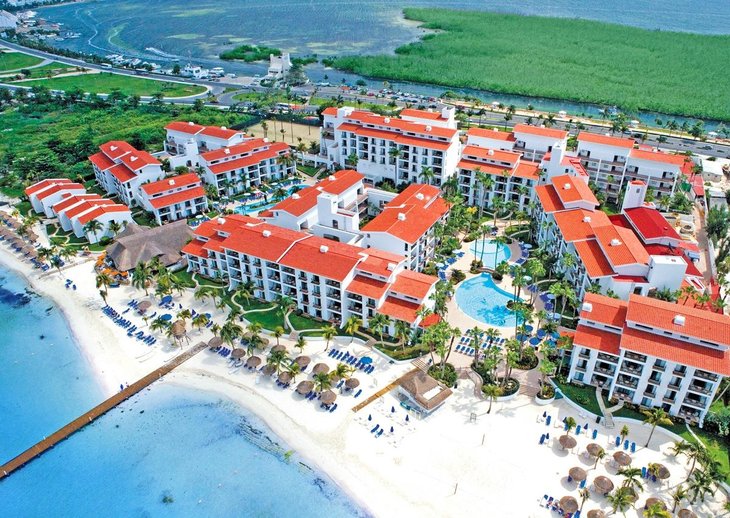 The Royal Cancun is another resort in the Royal family, and guests staying here also have access to restaurants and amenities at the other four Royal resorts in the Cancun area – all are linked by a free shuttle service.
The Royal Cancun overlooks the turquoise waters of the Caribbean and offers all-suite accommodation, which is popular with families, as they come with full kitchens and living and dining rooms.
Although the property is all-inclusive, anyone traveling with kids who get hungry at odd hours will appreciate being able to cook up a grilled cheese on the spot. Restaurants on-site include one serving Mexican cuisine and another focused on American fare.
There are also family-friendly activities, three swimming pools, and a kids' club here.
Accommodation: The Royal Cancun All Suites Resort
12. GR Caribe by Solaris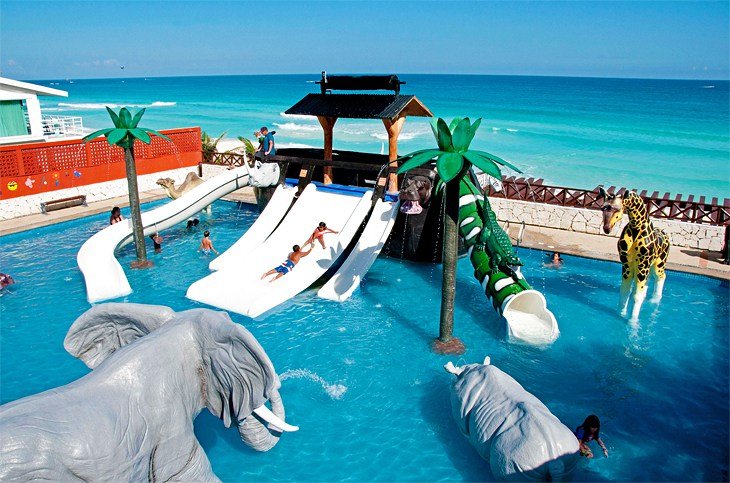 The GR Caribe by Solaris is a luxe, and by comparison petite, resort (it has just 200 rooms and suites) on a white-sand beach in the central Hotel Zone. The property features catchy Cycladic architecture, and accommodations are quite stylish and often come with sunken living rooms and sea views.
The property is family-friendly but doesn't have any kid specific activities – beyond a mini-golf course – making it a better bet for families with teenage children looking for an upmarket getaway.
That said, guests do have access to all the amenities at the Royal Solaris next door, which includes kid-friendly features. Back at the GR Caribe, there are three on-site restaurants and a relaxing pool area with two hot tubs fronting the ocean.
Accommodation: GR Caribe by Solaris