12 Best All-inclusive Resorts in Cancun
We may earn a commission from affiliate links ()
When it comes to beach destinations in Mexico, none is more famous than Cancun. The city, in fact, was built specifically as a tourist hot spot in the 1970s, and since then, its legendary Hotel Zone has seen resort after resort spring up along its sugary shores.
Cancun is known for its all-inclusive resorts, which run the gamut, from basic and budget to over-the-top luxurious, with no detail or amenity spared. What these all-inclusive resorts in Cancun have in common is the stunning backdrop of bleached white sand and shimmering turquoise water.
With so many fantastic resorts, it can be daunting to choose. Make your choice a little easier with our list of the best all-inclusive resorts in Cancun.
Note: Some businesses may be temporarily closed due to recent global health and safety issues.
1. Le Blanc Spa Resort Cancun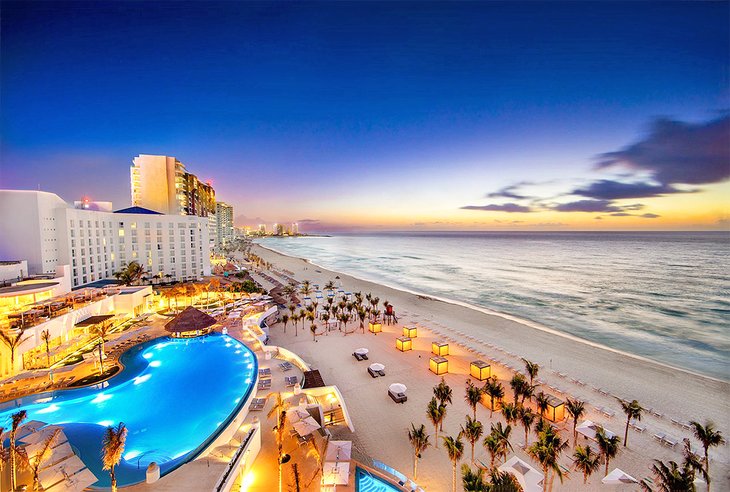 Undoubtedly one of the most luxurious all-inclusive resorts in Cancun, Le Blanc Spa Resort Cancun has been turning heads ever since a multimillion-dollar renovation in 2018. The adults-only beach resort in Cancun's Hotel Zone exudes a chic and elegant vibe, with one of the best stretches of beach in this resort town.
It's all about pampering at this posh resort. Thoroughly washed in white from head to toe, the sleek and elegant resort offers pool attendants, concierges, aromatherapy, and in-room pillow menus. Speaking of rooms, they are exceedingly luxurious, with Bvlgari toiletry amenities in the bathrooms, marble floors, and large windows. Two thirds of the rooms offer an ocean view.
Downstairs, the beach is a guest favorite, with a pristine stretch of stark white sand. Three outdoor pools are on property, as well. The main pool is an infinity-style right on the beach, while a smaller infinity pool is on the third floor. Another pool is on the lagoon side of the resort and is located near the BlancSpa, which is yet another jewel in this already encrusted crown.
Dining is highly rated at this property, as well, from chic Italian at Bella to decadent Japanese at Yama. Restaurant Lumiere is the finest dining option, serving elegant French fare.
Accommodation: Le Blanc Spa Resort Cancun
2. Live Aqua Beach Resort Cancun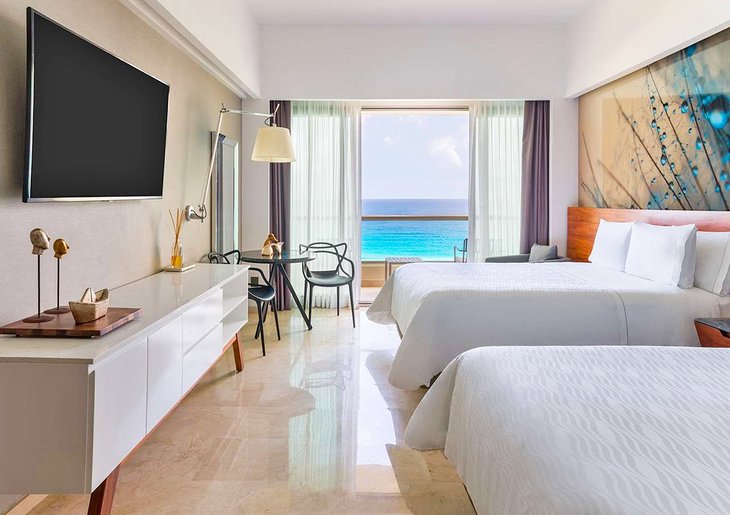 Officially opened in 2007, but fully renovated in 2019, Live Aqua Beach Resort Cancun is a posh adults-only playground on a beautiful stretch of Cancun beach. Guests are greeted to the white-splashed lobby, with an elegant water pond at its center.
The sleek resort has 371 guest rooms, all of which have ocean views and balconies. Rooms are relaxed and contemporary, with white marble and open bathrooms, and many with deep soaking tubs and separate rainfall showers. Guests who book Premium Aqua Club rooms have additional benefits like private check-in at the exclusive Aqua Club, which serves food and drinks throughout the day and has beautiful ocean views.
Down on the pool deck, several pools and hot tubs are scattered throughout, each with a different energy, from hyped up with dance music to more subdued. Pool chairs are plentiful, with daybeds and cabanas available for rental, both on the pool deck and down on the sand.
Dining is superb at this all-inclusive adults-only resort. MB serves up molecular gastronomy cuisine, while Sea Corner offers casual Mexican fare with a toes-in-the-sand vibe. Another highlight is the brand-new restaurant, Inlaakech, which serves elevated Mexican fare in a subterranean restaurant meant to resemble a cenote.
Inside on the ground floor, guests will find the spa, a Starbucks, and a full-service gym.
Accommodation: Live Aqua Beach Resort Cancun
3. Beach Palace Cancun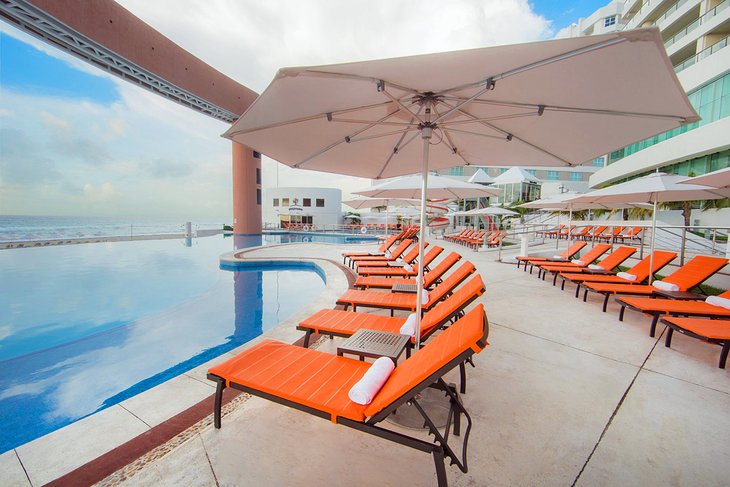 Intimate by Cancun standards, the 285-room Beach Palace is an elevated resort option among all-inclusive resorts in Cancun. The family-friendly resort sits on a stretch of sandy beach right in the heart of Cancun's bustling Hotel Zone.
Rooms are clean and welcoming, with marble bathrooms and furnished balconies. Family Deluxe Rooms have special amenities for kids, like beach toys and Hershey's milkshakes and kid-friendly snacks. Kids can request an Xbox 360 in the room, as well.
The star of the show at Beach Palace is (you guessed it) the beach. Cancun's shoreline is some of the best beachfront in the country, but Beach Palace's specific location is renowned for its wide-open space and carpet of fluffy sand. But the resort has three pools, as well, two on the rooftop and one at beach level. The lower level pool has a waterslide and a kids' club nearby.
Restaurants include Mexican, Italian, Mediterranean, and Asian, as well as wood-fired pizzas and steaks.
Accommodation: Beach Palace Cancun
4. Secrets The Vine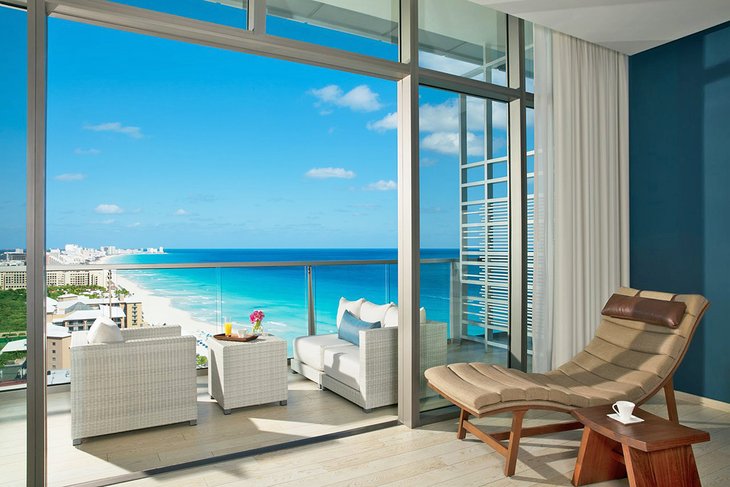 Another all-inclusive resort in Cancun designed for couples, Secrets The Vine Cancun is another romantic oasis on a beautiful stretch of white sand. Located in Cancun's Hotel Zone, the upscale and modern resort exudes style, with marble floors; high-end decorations; and plenty of stone, wood, and neutral colors. The tone here is somewhat subdued compared to other resorts in the Hotel Zone.
The resort has nearly 500 rooms, each with large windows, balconies, and sophisticated decor. Guests rave about the picture-perfect beach, with its quintessential Caribbean colors and plenty of lounge chairs for basking away. Four pools are also available, including an infinity pool for the upgraded Preferred Club guests.
The spa at the resort is one of the Crown Jewels, with 14 treatment rooms and a hydrotherapy area, as well as a gym. Classes include yoga, water aerobics, and dance.
As for dining, there are six a la carte restaurants and a 24-hour café, as well as a piano lounge that plays live music.
Accommodation: Secrets The Vine Cancun
5. Beloved Playa Mujeres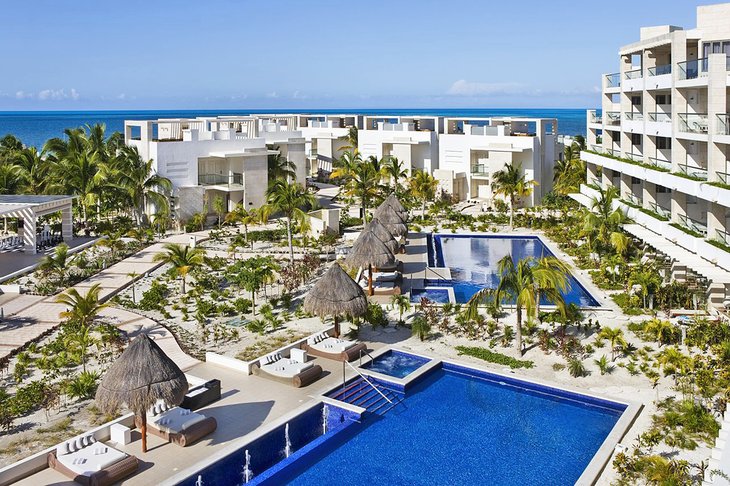 Designed exclusively for couples, Beloved Playa Mujeres is one of the most romantic, intimate, and luxurious all-inclusive resorts in Cancun.
The couples-only all-inclusive is splashed in white on a gorgeous, quiet stretch of sand. The sleek resort has just 109 rooms, keeping it quiet and private. Each room is massive, starting at 960 square feet. All rooms have whirlpool tubs and private terraces.
Swim-Up Suites are also available, and several room categories even have their own private plunge pools. Luxe touches include pillow menus and Nespresso machines in-room.
In addition to all the private pools on property, three common outdoor pools are available, two near the room buildings and one near the beach. But the real gem of the property is the 35,000-square-foot spa, with a legendary hydrotherapy circuit, steam rooms, hot and cold plunge pools, jet massagers, heated lounge beds, and more.
Golf-lovers will like that the location of the resort is near a Greg Norman-designed course. There is also a marina nearby.
Four gourmet restaurants include French cuisine, Italian, steaks, and Mexican. In keeping with the elevated vibe, a dress code is required at the restaurants for dinner.
Accommodation: Beloved Playa Mujeres
6. Hyatt Ziva Cancun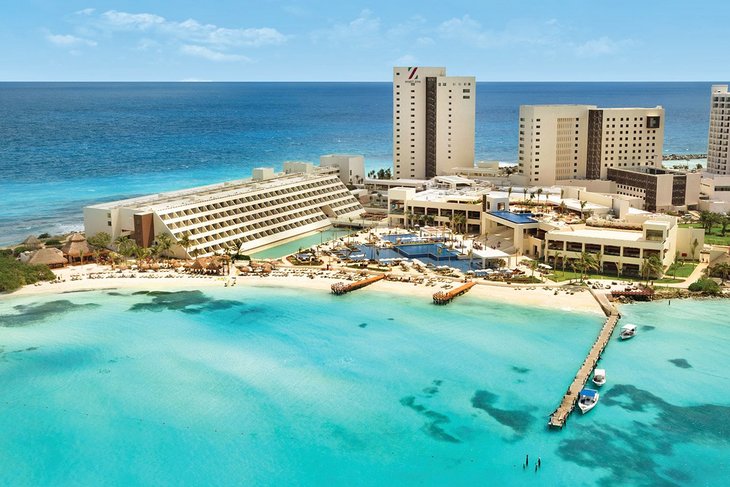 When Hyatt Ziva Cancun opened, it raised the bar for the all-inclusive Cancun resort experience. Perched at the point of the famous Hotel Zone, Hyatt Ziva Cancun is surrounded on three sides by endless turquoise blues and powder-white sand. And even though it's geared entirely toward families, it still ranks among the top luxury all-inclusive resorts in Cancun.
The resort was formerly the Dreams Cancun, but reemerged under a Hyatt flag in 2016, following a multimillion-dollar renovation. Guests are welcomed into the bright, airy lobby, with sleek, shiny floors; wood accents; and neutral tones. The resort has 547 rooms and suites, flooded in light with floor-to-ceiling glass doors that lead to furnished balconies. Certain rooms are swim-up suites, though these rooms don't allow children under 13.
Children ages 4 to 12 can spend the day at the kids' club, which has a large playroom and an outdoor water park area with slides. Note: Although the resort is family-friendly, it has a Turquoize section, which is adults-only, with its own beachfront tower, infinity pool, adults-only restaurant, and check-in area.
The resort has seven restaurants and three lounges. But the entertainment doesn't stop there. Because of its location on a point, two beautiful beaches are available, each sprinkled with loungers and palapas.
Included in the all-inclusive rate are unlimited paddleboarding, snorkeling, and kayaking. Three infinity pools and two hot tubs are peppered around the property, as well.
Accommodation: Hyatt Ziva Cancun
7. TRS Coral Hotel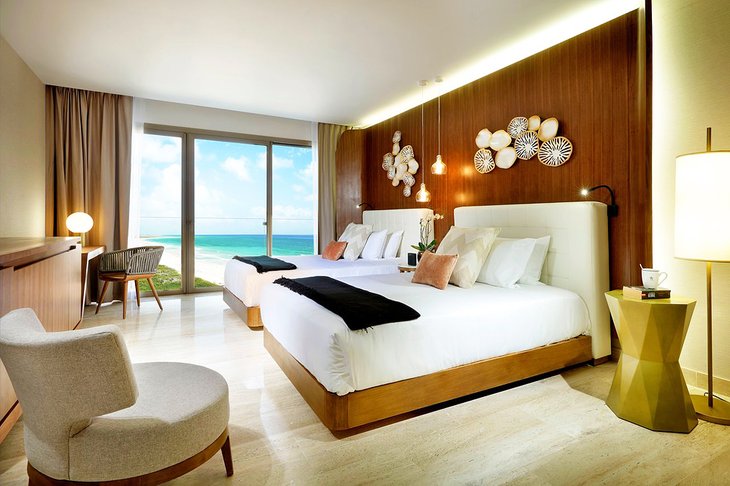 Back in Playa Mujeres, TRS Coral Hotel, the sister hotel to Palladium Costa Mujeres, is a chic, adults-only resort with 469 spacious rooms. Not only do guests of TRS Coral Hotel have all the activities and amenities of their own resort, they are also granted access to the next-door, family-friendly Grand Palladium, including its Zentropia wellness center.
The hotel swings a touch Art Deco, with a lobby decked in black marble and gold and silver accents. Guests love the property for its tranquil vibe, though the pool music and nighttime entertainment breathe a tasteful amount of energy into the resort.
The rooms are modern and sleek, with bathrooms that have freestanding soaking tubs. Rooms either have hydrotherapy tubs on the balconies or direct swim-up access.
Aside from the powder-soft beach (which is truly a plus) and beach club, the resort has a pool with submerged loungers. Seven restaurants are available at the resort, with certain dining options reserved only for TRS guests.
Accommodation: TRS Coral Hotel
8. Hyatt Zilara Cancun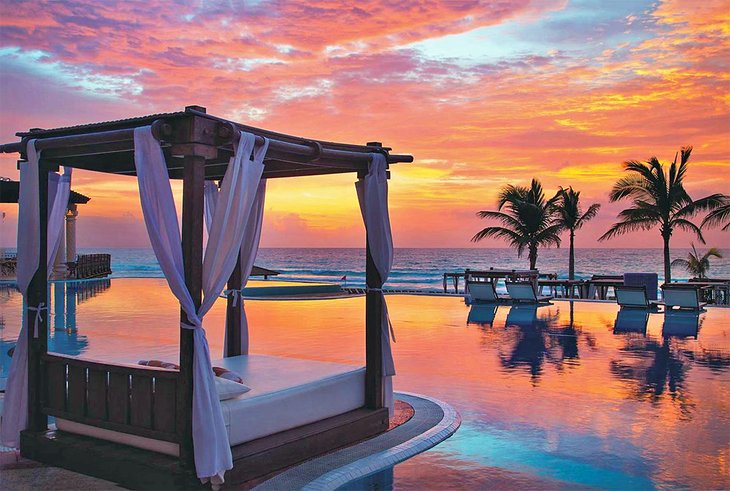 The sister resort to Hyatt Ziva, Hyatt Zilara Cancun is an adults-only, all-inclusive resort in Cancun. The 307-room resort is often rated as one of the best all-inclusive resorts in Cancun for its design, which is beautiful, splashed in marble, decorated with wood beams and wrought-iron, and even an expansive stained-glass ceiling in the lobby. But it's also ranked highly for its food and entertainment, as well as its amenities.
The adults-only resort affords a stunning stretch of beach, as well as a location right in the heart of the Cancun Hotel Zone. Rooms are decorated in an elevated colonial style, with dark wood and natural stone, white linens, and marble floors. Most rooms even have views of the ocean, as well.
Guests love the resort for its infinity pool, which is crisscrossed with bridges, and has lovely ocean views. There is also a beach restaurant, surrounded by lounge chairs and cabanas. The spa includes a gym and a Pilates studio, as well as an outdoor lap pool.
Accommodation: Hyatt Zilara Cancun
9. Excellence Playa Mujeres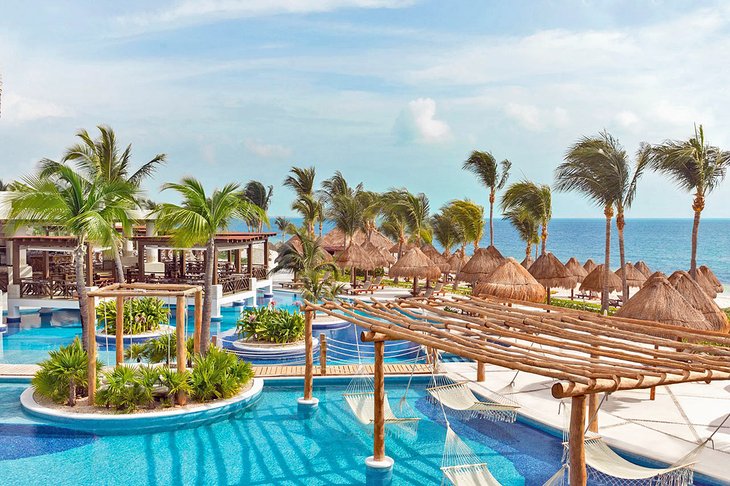 Not far from Beloved Playa Mujeres – in fact, it's part of the same private complex – Excellence Playa Mujeres is a luxury all-inclusive resort designed for adults. It's much larger than its sister resort, with more than 400 rooms, and far more entertainment and dining options. But it doesn't skimp on quality and design.
The vibe at the resort swings explorer style, with dangling vines, stained-glass ceilings, sand-colored decor, and sweeping staircases. From the lobby, guests can look out over the swimming pools and the powdery sand beach. The entire complex, which includes a third resort, Finest Playa Mujeres, has access to the marina with 170 slips.
Rooms are stylish and spacious, each with their own whirlpool tubs and balconies. Two-story suites have rooftop terraces with a plunge pool, as well.
One of the best features of the resort is its beach, which is located far from Cancun's Hotel Zone and is about as picture perfect as it can get. The bleached sand is idyllic, the water crystal clear, and the lack of massive development ensures it's relatively quiet.
Other features include seven swimming pools, hot tubs, a lazy river, 24-hour gym, the Miile Spa, and several restaurants.
Accommodation: Excellence Playa Mujeres
10. Grand Palladium Costa Mujeres Resort & Spa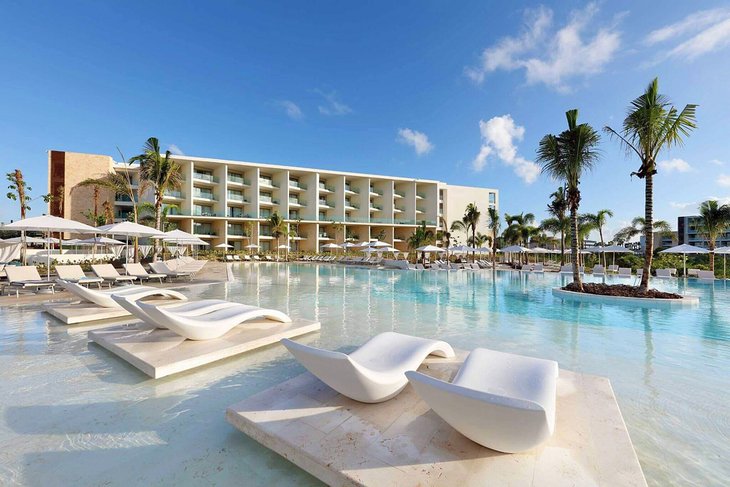 Just 30 minutes north of the Cancun airport is a swath of Caribbean sand that is being newly developed. Costa Mujeres, as it is called, is a smaller beach community that sits in the shadow of Cancun, with pristine beaches, wide-open space, and a rising number of all-inclusive resorts.
Grand Palladium Costa Mujeres Resort & Spa is one of the newer all-inclusive resorts in this part of Cancun. What sets it apart is its stunning beachfront setting, as well as the series of man-made canals that break up the property.
The upscale all-inclusive resort is a sprawling development with 670 suites that has offerings for both couples and families. Guests move around the property either on foot, golf carts, or on small boats that ferry them up and down the canals.
Each room offers ample space with plenty of natural light and neutral colors. Many rooms have balconies with private whirlpools, as well.
Grand Palladium Costa Mujeres has 10 restaurants to choose from, with food ranging from Thai and Italian to Indian, Japanese, and Mexican. There's even a cabaret restaurant that adds a little dinner theater to the mix.
The Zentropia Spa and Wellness Center is a posh playground with hydrotherapy circuits, indoor and outdoor pools, steam baths, sensation showers, and more. Other offerings include the Rafa Nadal tennis center, three kids' clubs, water sports, and a soccer field.
Accommodation: Grand Palladium Costa Mujeres Resort & Spa
11. Moon Palace Cancun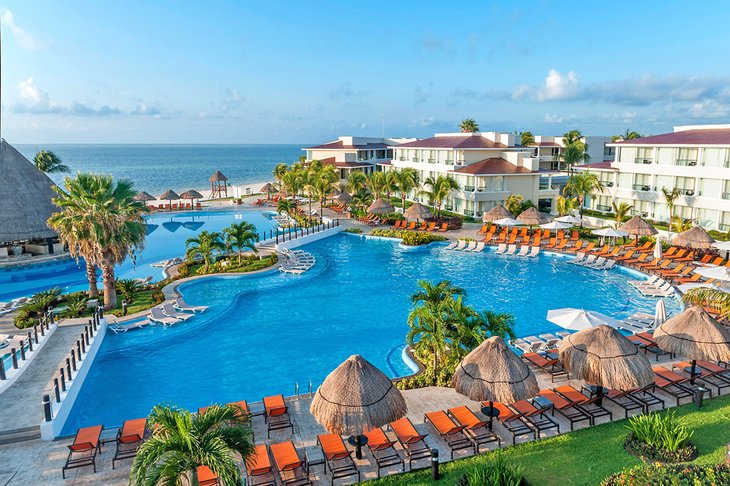 One of the largest all-inclusive resorts in Cancun, Moon Palace Cancun is all about fun, family, and options. There are more than 2,000 rooms in the resort, which are divided between the Nizuc and Sunrise sections, which means there never has to be a dull moment, and still Moon Palace offers plenty of places to steal away for a quiet respite. There is a smaller, more exclusive hotel within the hotel, known as The Grand at Moon Palace, which has access to the rest of the resort.
Activity-seekers will want to book a room at Sunrise, which has about 12 restaurants and a boisterous water park with a Flowrider machine. Add to that mini-golf, tennis, and a kids' club, and you'll see why Sunrise is where the energy sizzles.
Nizuc, on the other hand, is a bit more upscale and toned down, with a spa, pool, and a few restaurants. The larger of the resort's gyms is in this section, as well.
And then there's Grand at Moon Palace, with more than 1,300 rooms with nine pools, 10 restaurants, and an impressive spa. Rooms are slightly more elevated with upgraded decorations and amenities. That said, the rooms in The Grand do not have ocean views. They are, however, swim-out suites and feature indoor whirlpools.
Accommodation: Moon Palace Cancun
12. Hard Rock Hotel Cancun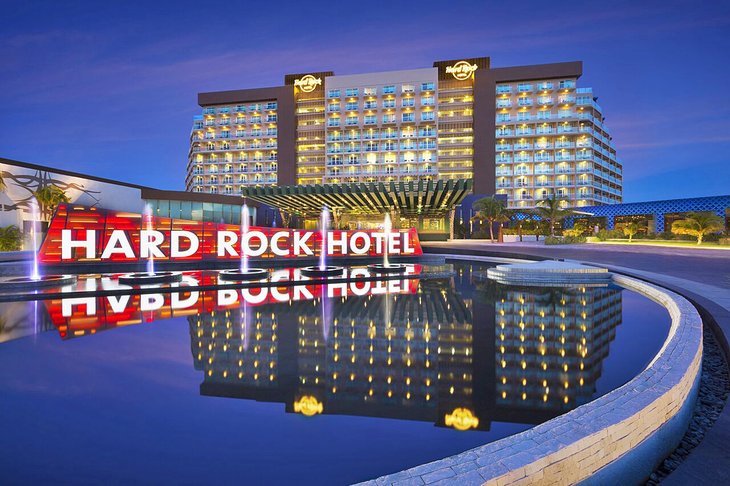 The first all-inclusive Hard Rock Hotel to open in Mexico, the Hard Rock Hotel Cancun is all about turning a vacation into a rockstar retreat. From iconic music history memorabilia, to tricked out amenities, this all-inclusive resort in Cancun is definitely one of the more unique resort options in the area.
It starts on arrival into the marble-coated lobby, and main area of the hotel, which is festooned with rockstar memorabilia. Piped through the majority of the resort is a curated soundtrack of old school and modern rock music. Even the rotunda is shaped like a guitar. And it doesn't stop there.
Guests can expect a lively, energetic vibe day or night at this all-inclusive resort, from the 601 rooms to the infinity pool, the beach, and the nightly shows.
Rooms are decorated in regal rockstar style with high-backed headboards, lounge lamps, and hot tubs in each room. Guests can choose to add on fun room perks to fulfill their true rockstar fantasies, like reserving one of 20 Fender guitars, which come with headphones, to create a mini studio right in-room. Or, if they prefer to listen to music rather than create it, Hard Rock has a series of Crosley turntables available to rent in-room with a selection of records.
Five restaurants round out the offerings, as well as a Rock Spa and Body Rock gym. A kids' club offers child-friendly entertainment all day long, as well.
Accommodation: Hard Rock Hotel Cancun