Where to Stay in Ottawa: Best Areas & Hotels
Ottawa's center expands from Canada's Parliament Buildings along the Ottawa River waterfront, and visitors should stay in this downtown quarter for the best sightseeing, events, dining options, and hotels in all categories.
Nearby, Byward Market attracts travelers and locals alike for its colorful farmers market, specialty shops, and dining venues, while the Sparks Street pedestrian mall charms with the city's mainstream shopping, fine dining, and galleries.
Staying downtown also gives travelers access to Rideau Canal, the world's longest skating rink and a fair-weather haven for canoeing, boating, jogging, biking, and strolling through the city's legendary tulip festival.
Where to Stay in Ottawa for Luxury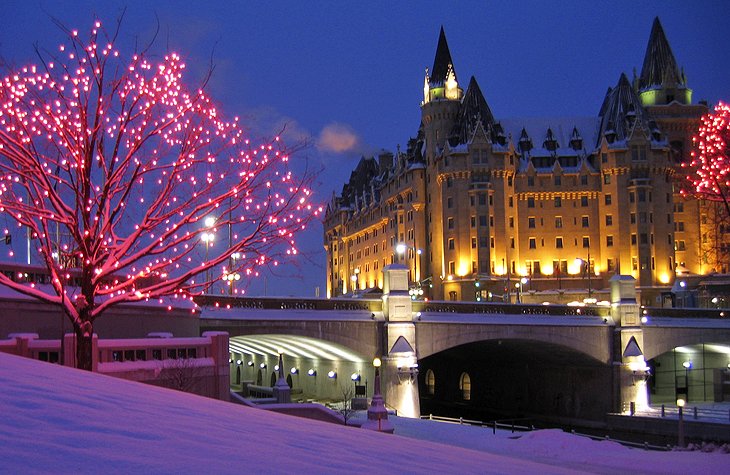 Fairmont Chateau Laurier is the city's luxury hotel landmark downtown, and since 1912 has welcomed a virtual Who's Who of dignitaries, film stars, adventurers, and world leaders to this chateau-style limestone castle. The health club and pool area is a stunning Art-Deco destination by itself, inviting patrons to linger, nourish, and stimulate their senses.
Each impressive room or suite comes with amenities too numerous to list, but hypoallergenic pillows, fluffy bathrobes, coffeemakers, and kettles set the stage for complete relaxation, while five-star service, glamorous common spaces, and a view of the Parliament next door seals the deal.
The Westin Ottawa is immediately impressive. From the superlative entrance design to the exceptional materials employed throughout, elegance sings a melody of crafted comfort, taste, and five-star service. With a central downtown location, easily accessing Byward Market, Parliament, and Rideau Canal, this sleek, artsy building overlooks all major sightseeing attractions, including the nearby Rideau Centre shopping mall.
The spa, pool, and fitness center are state-of-the-art, coupled with the talents of a concierge, plus 24-hour gourmet room service, deluxe bath amenities, and a pet-friendly policy, so guests are truly made to feel pampered.
Andaz Ottawa Byward Market brags rightly so about their popular rooftop views over Parliament, the Ottawa River, and its locale in the Byward Market, a popular zone for boutique shopping, charming cafés, and the farmers market. This is the capital's newest hotel, and sleek minimalism prevails in this downtown high-rise, filled with light from large windows and open, art-filled common spaces.
The contemporary feel continues with the rooftop dining option, and a delicious room service menu and multilingual service team are other highlights.
Where to Stay in Ottawa: Mid-Range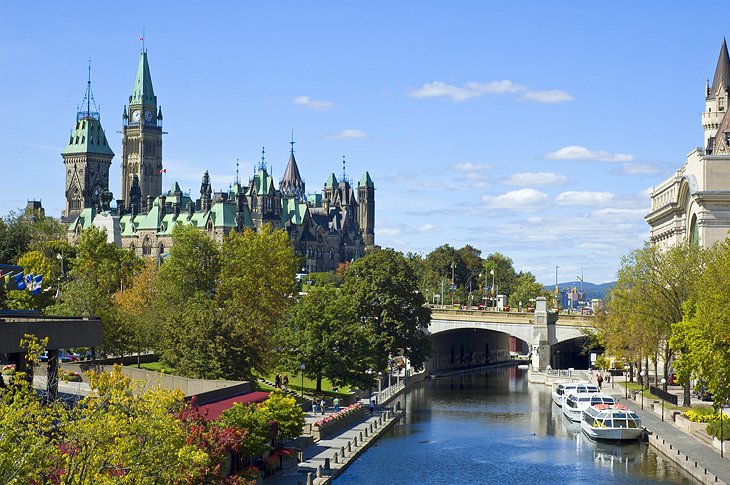 The Business Inn & Suites brings a legacy of custom-made beds and linens to the marketplace, with unanimously positive results. Families, groups, couples, and solo movers and shakers all agree this non-smoking building is a gem.
Located in downtown within walking distance of the National Arts Centre, Rideau Canal, Parliament, and Byward Market, this high-rise hotel is also near Elgin Street, with strolling, dining, and live music. Comfortable, well-equipped rooms and suites come with free breakfast, laundry, and Wi-Fi, as well as a fitness center.
Alt Hotel Ottawa continues its exciting recipe of European-styled accommodation in the heart of downtown's newly developing business sector. From the second guests enter, it is obvious there is no other brand like this French Canadian winner.
Modern art abounds, while feng shui is alive and kicking throughout the communal spaces and in the comfortable, well-equipped rooms and suites. Egyptian cottons marry with feathered duvets and Italian-designed furnishings, while bathrooms soothe with spa-style showers. Techies delight at the flat-screen TV and free Wi-Fi. Enjoy the 24-hour eatery serving fresh goodies, drinks, and surprises.
Cartier Place Suite Hotel is a friendly, family-run operation located in a tranquil sector of downtown, and just a short stroll to the iconic Parliament attractions, historical buildings, Rideau Canal, and major festivities. The more than 200 air-conditioned rooms and suites are well equipped, including one- and two-bedroom units boasting full kitchens, separate bedrooms, and balconies.
Private gardens are home to a shuffleboard court and kids' playground; the games room is a hit with all ages; and there is a pool, business center, and restaurant to compliment a great service team.
Where to Stay in Ottawa on a Budget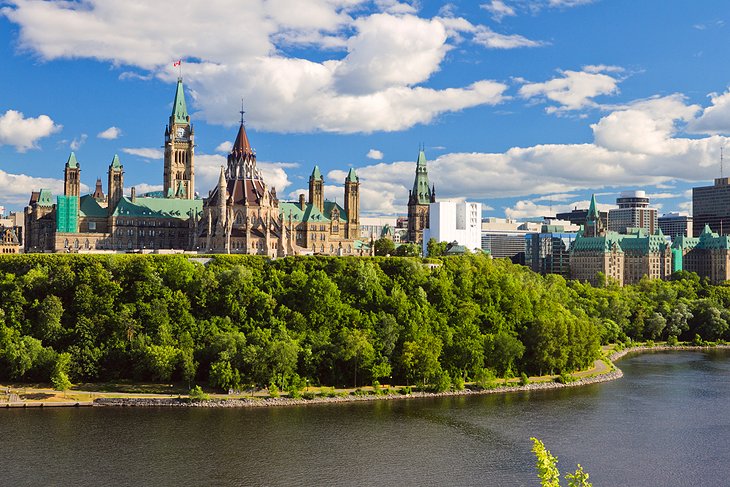 Days Inn Ottawa is an attractive pet-friendly downtown option, close to Parliament and Byward Market, with easy access to sightseeing, galleries, and even the Prime Minister's Residence. Free high-speed Internet, along with a great fitness center, non-smoking rooms, and business center are capped by an affordable price point.
Byward Blue Inn has the gold standard location inside Byward Market, affording guests a sightseeing bonanza in the immediate neighborhood; Parliament Hill and Rideau Canal are only a five to 10-minute walk away, while a host of other major attractions, eateries, and fun diversions are steps away. A better than average breakfast is included here, and major amenities include an on-site spa, pool, and fitness center.
Econo Lodge Downtown is an outstanding deal located between the Byward Market and the Rideau River, a healthy walk to Parliament and the best sightseeing in town. Breakfast is included here, along with complimentary Wi-Fi and parking. Some rooms have microwaves and fridges, and all units benefit from friendly staff and the non-smoking policy. One block from MacDonald Gardens Park, this hotel is also a short distance to the river and picturesque walkways.
Where to Stay in Ottawa for Families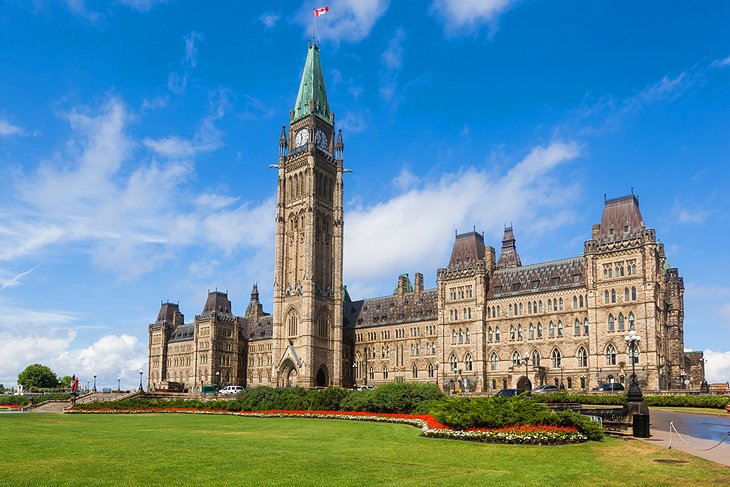 You may not venture far from Best Western Plus Ottawa Downtown Suites due to it being one block from the Canadian Museum of Nature, a kids' magnet of serious proportions. The air-conditioned rooms and suites here include free Wi-Fi for the game hounds, a fitness center and spa to keep the blood flowing, and a massive no-charge breakfast buffet the kids adore.
The hotel is located downtown in a quiet quarter, and the family may walk to all major sightseeing treats, watch the Changing of the Guards on Parliament Hill, and still have enough energy for shopping on nearby Elgin or Banks streets.
Albert at Bay Suite Hotel serves family guests perfectly by providing a downtown location ideal for a wide range of options, including kicking back, exploring the Trans Canada Trail, or discovering the attractions and history of Canada's capital city.
Super large non-smoking suites include fully equipped kitchenettes with separate dining areas, but there is also an on-site eatery serving family fare. Amenities include soft towels and pillows; your own washer, dryer, fridge, and microwave; and comfortable balconies.
Away from the rooms, you'll find an immense rooftop sundeck and a courtyard garden that allow outdoor time. You can also work out the kinks in the beautiful pool and hot tub or at the professionally equipped gym, which overlooks the cityscape.
Where to Stay in Ottawa for Romance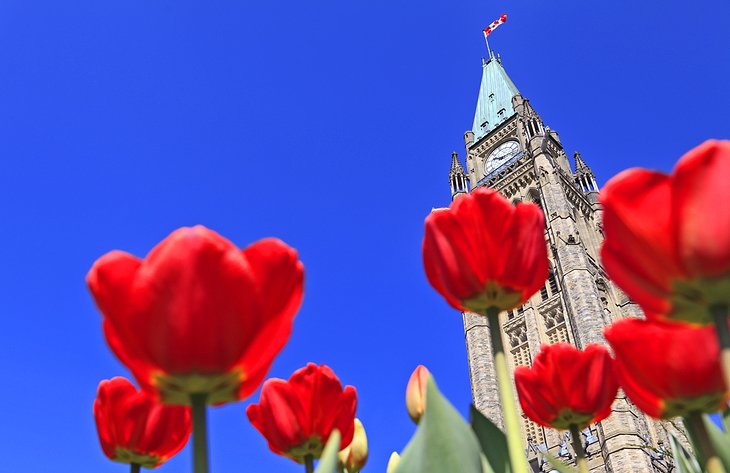 An elegant renovation means the downtown Lord Elgin is dressed and ready for romance. A cozy fireplace in the stunning new lobby signals a significant level of posh upgrades to this limestone landmark. This time-honored favorite is ideally located within a short walk to Parliament Hill, Sparks Street, and the National Art Gallery.
Curl up together inside an inviting room or suite accentuated by floor-to-ceiling windows and designer decorations of plush finery. Couples may explore the considerable on-site amenities as well, including an extended lap pool, fitness center, and hot tub.
Les Suites Hotel Ottawa overlooks all the major sightseeing attractions in a modern decked out address downtown at the edge of Byward Market. The romance of calling for delectable room service is only topped by the option to dine at the city's best tables nearby. One- and two-bedroom elegant suites include balconies, and the in-house heated pool, hot tub, and fitness center complete the amenities.
Where to Stay near the Ottawa Airport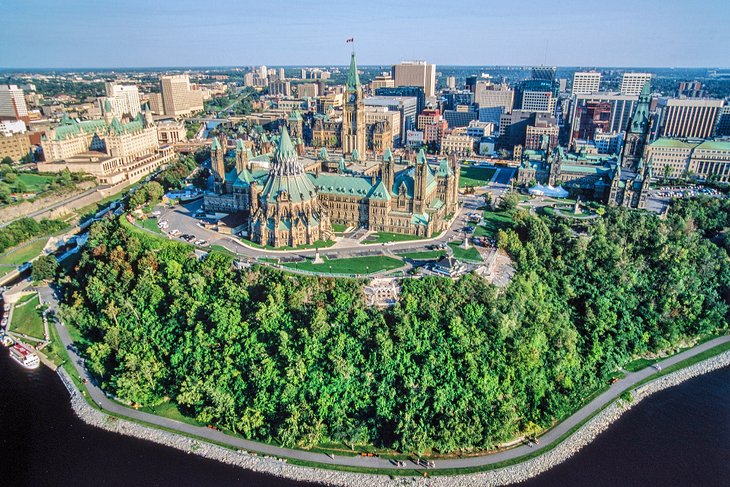 Just a few minutes drive away from the Ottawa International Airport, the Hilton Garden Inn Ottawa Airport runs a 24-hour shuttle service to and from it, making it a super convenient choice if you arrive very late or need to leave ultra early and aren't driving.
The rooms and suites here are contemporary and comfortable and, best of all, they are soundproof. There are also family rooms with pullout sofas for children. If you're hungry, the Garden Grille serves breakfast, lunch, and dinner.
Days Inn by Wyndham Ottawa Airport is another good-value hotel near Ottawa's international airport. The hotel runs a free shuttle service to and from the airport. Rooms are spacious, comfortable, and clean. Some even come with fireplaces and Jacuzzi tubs.
The Days Inn also does a free continental breakfast for guests. Other amenities here include an indoor heated swimming pool and a small fitness center. Parking is free if you are driving. If you need to park at the hotel when you are traveling, there is also an extended parking option for a fee.
Also check out the Residence Inn Ottawa Airport. It is a good option if you need more space. The property features suites in various room configurations. These are also designed for extended stays and come with a fridge, microwave, dishwasher, and a two burner stove-top (but no oven). There is also free parking on-site.