5 Best Resorts in Osoyoos, BC
Immerse yourself in comfort while vacationing in Osoyoos — a resort town known for sandy lakeside beaches and some of the warmest fresh water in Canada. You will find resorts from budget to four-star luxury in this small international border town just north of Washington State.
Situated on the shores of one of the most popular lakes in B.C., Osoyoos sparkles in the sunshine. Taking casual relaxation to a whole new level, this town claims to provide "Canada's warmest welcome."
Osoyoos is a preferred resort destination because of its natural attributes and host of amenities. Lounge beneath a parasol or make a splash in a deluxe outside pool. Receive head-to-toe pampering from a menu of spa treatments. Hit the links at your resort in a golf cart instead of driving somewhere else to make par. Exercise these options (and more), or simply take a break from doing anything at all.
Most resorts have their own beach on Osoyoos Lake, which makes everyone smile: families with children, couples taking time out for a romantic getaway, and close friends looking for a retreat from the city.
However you define rest and relaxation, you will discover your happy place from our list of the best resorts in Osoyoos.
1. Walnut Beach Resort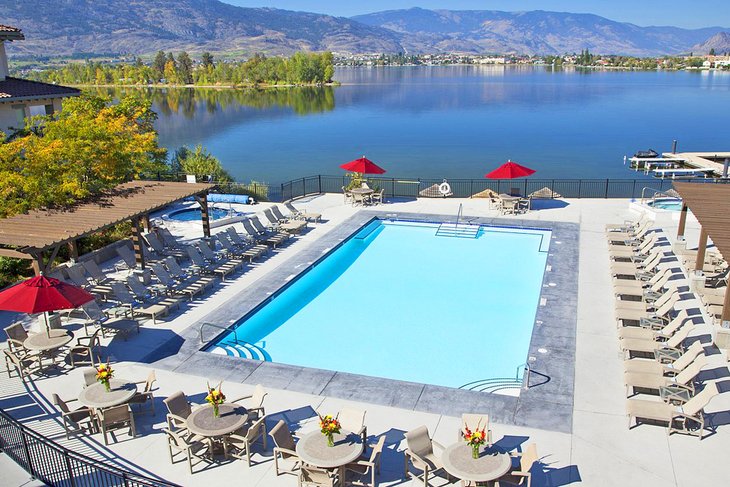 Accommodation: Walnut Beach Resort
Highlights: Right on Lake Osoyoos, accommodation in studios or suites with lake and mountain views
Walnut Beach Resort is on Lake Osoyoos and situated less than four kilometers from downtown. Rolling up to the entrance, the high beams of the colonnade give the impression of grandeur that awaits you inside.
Large floral displays surround you, while mature smoke trees, maples, and cottonwoods reach overhead. The sound of water cascading over five basalt pillars adds to the feeling of welcome. You make your way to the small check-in desk on the second floor. Attentive staff await your arrival and help you settle in.
Comfort and luxury define each of the 100 accommodation units at Walnut Beach Resort. Whether you choose a studio, one or two-bedroom suite, or one of two penthouse suites that accommodate up to eight people, you will enjoy commodious digs with lake and mountain views.
Each pad features designer kitchens, flat-screen TVs, lightning-fast Wi-Fi, a DVD/MP3 player, and plush linens. The Sunset Fitness Studio is available to encourage you to maintain your workout routine, and the Vistas Conference Centre is handy in case you need to mix business with pleasure. Complimentary heated underground parking, laundry facilities, and an on-site store add worry-free convenience to your stay.
The simple elegance of Walnut Beach Resort frames the type of experience you can expect here. Facing west, the low-rise complex is shaped in a crescent to capture the glow of summer sunsets.
Reflecting symmetry in design, the sweep of guest suites and balconies on three levels wraps around an airy glassed-in dining room. This service area gracefully extends to a covered patio for informal noshing outside. For guests who prefer DIY meal prep, a bank of five commercial-grade Napoleon gas barbecues help you achieve grilling perfection.
Just beyond these food and beverage amenities, there's a year-round, heated outdoor pool; whirlpools; and ramada deck. This is where guests relax under sun umbrellas and stay cool with refreshing dips. The expansive yet intimate recreational terrace appears to be the focal point of Walnut Beach Resort, but there's more to discover where the terrace ends and the lake begins.
A curved stairway artfully descends to one of the most exclusive sandy enclaves in Osoyoos. On a hot sunny day, Walnut Beach is a desert oasis with palapa-shaded loungers. There's plenty of room to spread out your towel or beach mat on clean sand. The warm waters of Osoyoos Lake add to the tropical ambience.
Adjacent to the designated swimming area, guests safely moor personal watercraft within the resort's protective marina and docking facility. The marina is home to Wakepilot, a water sports equipment rental service that provides immediate guest access to Jet Ski and waveboarding activities.
Non-motorized boats and boards can be rented from Wakepilot when you're ready to launch. Paddle along the shore or across the narrow passage of Lake Osoyoos to Sẁiẁs Provincial Park at Haynes Point.
Address: 4200 Lakeshore Drive, Osoyoos, British Columbia
2. Spirit Ridge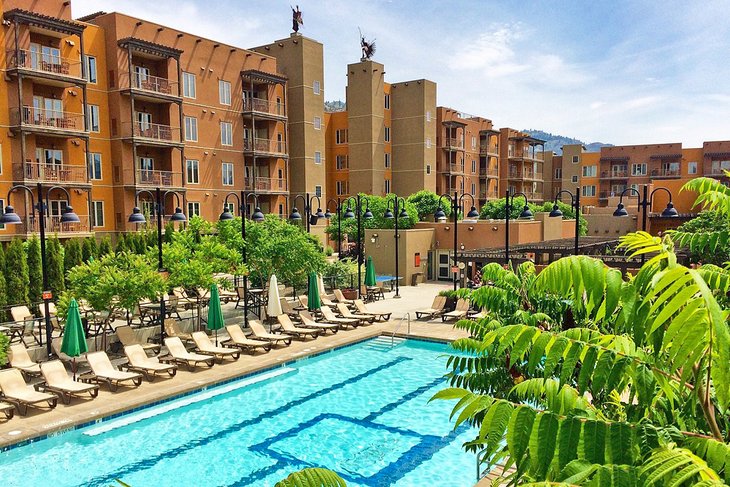 Accommodation: Spirit Ridge
Highlights: Indigenous culture and history represented, part of Hyatt's Unbound Collection, many activities offered
Spirit Ridge is a central component of the Nk'Mip (pronounced "in-ka-meep") complex, which is owned and operated by the Osoyoos Indian Band. The resort is less than five kilometers east of downtown and comprises 1,400 hectares of land.
The property is situated along the shores of Osoyoos Lake, embedded in hills of sagebrush and ponderosa pine, and encircled by craggy cliffs. Guests come here to unwind in a spacious natural setting, feel the dry desert breeze, and be energized by plunges in the lake and resort pools.
Spirit Ridge is founded on the tradition of gracious hospitality and Indigenous culture and history. Out of hundreds of Hyatt properties around the world, Spirit Ridge is one of only 16 properties in Hyatt's "Unbound Collection" of resorts. From every window, terrace, or balcony, soak in views of Anarchist Mountain, which rises behind the resort to the east, or westward to Osoyoos Lake in the valley below.
Inspired by the surrounding landscape, the resort features 226 condos, suites, and villas behind Pueblo-style adobe walls. Contemporary furnishings and amenities ensure that your stay is not only memorable, but also comfortable. In addition to a kitchen or kitchenette, the gas barbecue on your balcony is ready for grilling with your homemade ingredients.
Once you arrive, check-in and obtain a site map to navigate your way to activities. Take time to admire the public sculptures that reflect the majesty of ancestral warriors and nature spirit guides. Perhaps overwhelmed at first by the sheer size of the resort complex, you will quickly get the hang of it.
Make your way to the Solterra Desert Spa; nine-hole Sonora Dunes Golf Course; Indian Grove Riding Stables; Footprints Beach; restaurants; family and adult-only pools; waterslide; Cardio Studio; and hiking, biking, and riding trails.
When needed, hop aboard the resort shuttle to get you from A to B. Until you check out at the end of your stay, stash your keys and leave your car in Park. If you have a dog, arrange with the resort to reserve a unit that accepts your four-legged friend.
Spirit Ridge seeks to wow you with snack and dining options when you are ready to take a break from activities on land and water. Four food and beverage outlets serve contemporary and Indigenous-inspired good eats. While there is something to satisfy all taste buds, the atmosphere remains casual whether you take a seat outside or retreat to air-conditioned comfort.
You might be looking forward to exercising your chef skills in the well-appointed kitchen of your private suite. Perhaps the name of the resort's main restaurant will stir extra creativity into your gumbo: The Bear, The Fish, The Root & The Berry.
To the people of the Osoyoos Indian Band, Nk'Mip is more than a place of rest and recreation. This is sacred land to many generations who have sourced food and shelter here, and now welcome you to do the same by staying at Spirit Ridge.
You can learn more by visiting informative exhibits displayed in the beautiful Nk'Mip Desert Cultural Centre and its adjacent nature trails. The center has a gift shop offering locally crafted treasures for purchase.
Interpretation of local Indigenous history and cultural traditions will enhance your appreciation of everything you see, the people you meet, and the adventures you enjoy while staying at the resort.
Address: 1200 Rancher Creek Road, Osoyoos, British Columbia
3. Watermark Beach Resort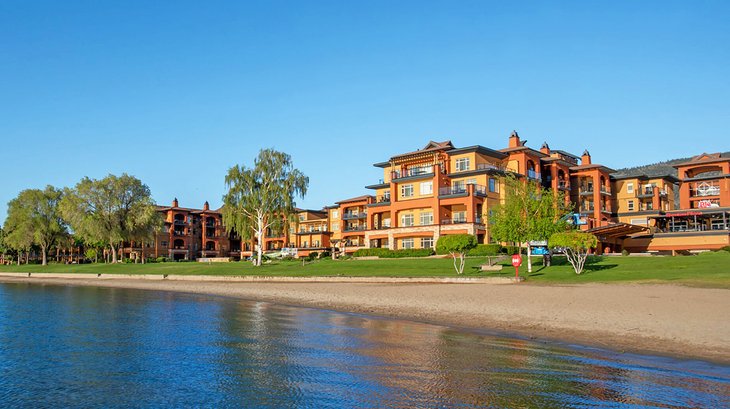 Accommodation: Watermark Beach Resort
Highlights: Right downtown and on the Osoyoos Lake beachfront, it boasts the full resort package
Watermark Beach Resort checks off many priorities for discerning guests who seek a full-service resort experience. What sets this property apart from comparable resorts in Osoyoos is its location: Downtown beachfront on Osoyoos Lake. This resort is ideal for people who want to park the car in a secure location and walk to conveniences and points of interest.
At the Watermark, you can relax on more than 300 meters of sandy beach, saunter to local cafés and restaurants, and mingle at neighborhood hangouts. Pick up local produce for dinner or cream for your dark roast morning java.
The tasteful Tuscan design of the Watermark Beach Resort incorporates contemporary touches that enhance guest comfort in a complex of 153 luxury beachfront suites and townhomes. Each unit features an outdoor area for private lounging on a patio or balcony. Expect modern décor and furnishings, including residential kitchens, comfy beds, and in-suite laundry.
Preferred units look out over Osoyoos Lake, Gyro Park, and the picturesque walkway that separates the resort from the beach. All guests have access to a central barbecue area with gas-powered grills.
If your pooch could vote on where you should vacation in Osoyoos, the Watermark would likely be its top pick. With numerous dog-friendly trails outside your door and an off-leash beach nearby, your dog will yelp location, location, location! Plus, resort staff are proud to exceed its PetsCanStay certification guidelines by shelling out dog treats and providing a "welcome packet" for your special canine friend. Book a pet-friendly unit to receive two paws up from Fido.
The Watermark features an indoor café and terraced bistro, outdoor pool and waterslide, family hot tub, serenity tub for adults only, a fitness center with TRX workout gear, and steam rooms for men and women.
This resort also offers a village atmosphere under one roof. In addition to the deluxe amenities associated with the resort, on-site commercial space includes full-service treatments at Levia Wellness Spa, tasty licks at Robert's Gelato, and the ever-popular Boston Pizza.
Adjacent to the resort are attractions and activities at Gyro Park and Beach that draw visitors and locals. Steps away from your suite is a large, designated swimming area, golden sand, children's playground, and civic bandstand. Wannabe hippies fly frisbees, and fathers help kids launch kites in the field.
Sip on a freshly whipped latté at the Gyro Beach Café, where melodic opera music gently mixes with sounds of summer from passing Jet Skis and laughter from the Wibit waterpark. This is a place of summer reverie and the lakeside backdrop to your stay at Watermark Beach Resort.
Address: 15 Park Place, Osoyoos, British Columbia
4. Casa Del Mila Oro Resort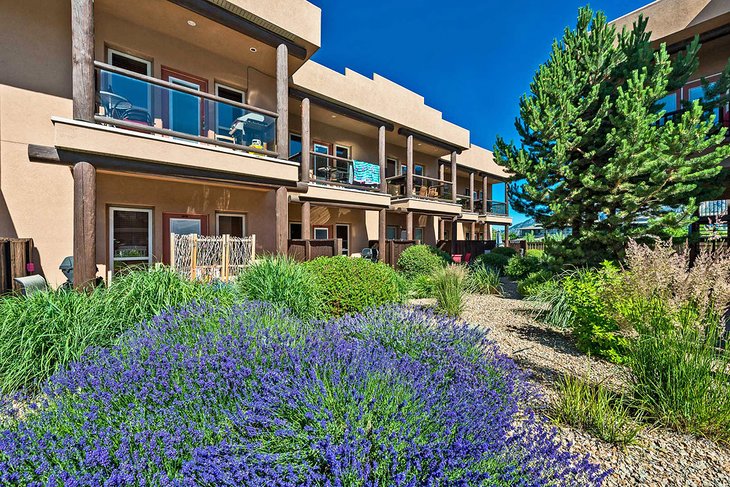 Accommodation: Casa Del Mila Oro Resort
Highlights: The perfect self-catered holiday choice, units have full kitchens; located just across the street from a private sandy lakefront beach
Across the Osoyoos Lake bridge and less than three kilometers from downtown, Casa Del Mila Oro Resort is a gateway to fun and sun for families and groups of friends getting together for a beach vacation or getaway.
Located across Lakeshore Drive from almost 100 meters of private sandy beach, guests enjoy informal hangouts around the pool and hot tub, in the shaded patch of grass off the private patios of each unit, and in the park-like setting of the beach.
Book your choice of a two-bedroom condo or three-bedroom townhouse. In the condos, expect all the fixings for a self-catered holiday including a fully equipped kitchen, barbecue, and private deck overlooking the pool.
The townhouse option more than doubles the area of your living space with residential kitchens, views of the lake from the master bedroom (with ensuite), and a private garage for your car and beach toys. Depending on the policies of the unit you book, you might also be able to vacation here with your dog.
Address: 47- 5401 Lakeshore Drive, Osoyoos, British Columbia
5. Shiraz Villa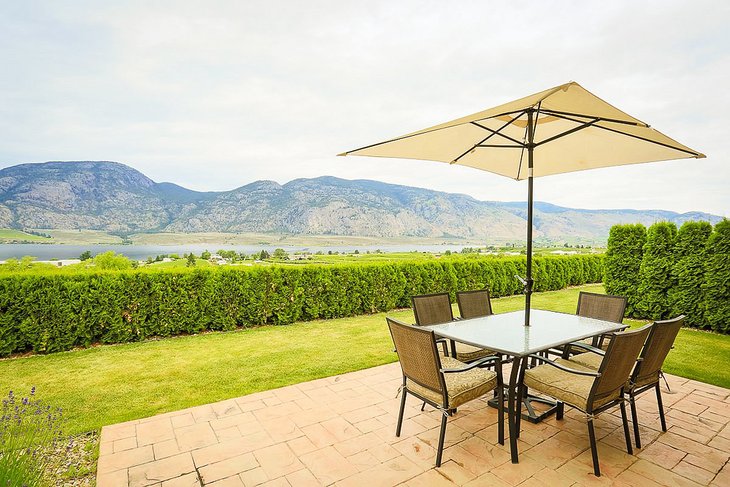 Accommodation: Shiraz Villa
Highlight: Set on a 10-hectare fruit orchid, feels like a rural European villa
Less than four kilometers before reaching downtown Osoyoos, find your turnoff to Shiraz Villa and enter a veritable Garden of Eden. A paved avenue resplendent with cherry blossoms in springtime and ripe fruit in July leads you to a restful haven with panoramic orchard, lake, and mountain views.
Different from other resorts on our list (except for luxurious comfort), Shiraz Villa might remind you of a country inn in rural Europe. Intimacy and understated hospitality blend to make you feel right at home. Ten sumptuous Jacuzzi suites feature private patios and a common lawn to stretch out. You can relax here and appreciate breathtaking scenery.
Each villa offers a queen bed, 40-inch flat-screen TV, sitting area, desk and mini-fridge. In addition to complimentary Wi-Fi, guests share an elevated observation deck, common kitchen, barbecues, and a patio for summertime feasts. Each morning, guests are treated to a continental breakfast with fresh seasonal fruit. A separate two-bedroom villa guesthouse is also available to rent.
Guests are encouraged to enjoy the harvest of cherries, nectarines, peaches, plums, apples, and grapes handpicked from the resort's 10 hectares. Purchase fruit directly from staff who are on call around the clock.
Address: 12190 Highway 3, Osoyoos, British Columbia
Map of Resorts in Osoyoos, BC
Best Time to Visit Resorts in Osoyoos, BC
The best time to visit the resorts in Osoyoos, BC is summer. Oosyoos' northern locale means that summer days are long, and you'll find the clearest blue-sky days of the year. That is not to say you won't see rain, however. Even in August, the driest month, Osoyoos still sees an average of 6 days of rain versus 22 days of sunshine.
June and July are the warmest months, when high temperatures average around 80 degrees Fahrenheit.
September and October are still pleasant times to visit. The average high is around 50 degrees in both months, with about 10 days of rain and snow.
Winters in Oosyoos are very cold. Days are short, and you can expect up to 17 snow days in December. In January, the average high temperature is only 28 degrees Fahrenheit with lows dipping to around 14 degrees, and snow and rain fall for about two-thirds of the month.