Where to Stay in Siem Reap: Best Areas & Hotels
We may earn a commission from affiliate links ()
The Cambodian city of Siem Reap is best known as the home of the Angkor Wat temple complex. About 1,000 years ago, the area was the capital and main city of the Khmer empire. Now connected to the world with direct flights from Hong Kong and other Asian hubs, it's easier than ever to get here.
The city, bisected by the Siem Reap River, is relatively compact. Most accommodations are in the Old French Quarter, which is a large area that encompasses neighborhoods like Temple Town, City Centre, and the Pub Street district. Just across the river from the Old French Quarter, the Wat Bo area is also convenient to everything, but a bit quieter.
The whole city is so small that any hotel is only about 15 minutes from the Angkor Archaeological Park. Taxi and tuk-tuk (like a scooter rickshaw for two passengers) transportation is easy to find and very cheap, most rides within the city are under five dollars.
On This Page:
Where to Stay in Siem Reap for Luxury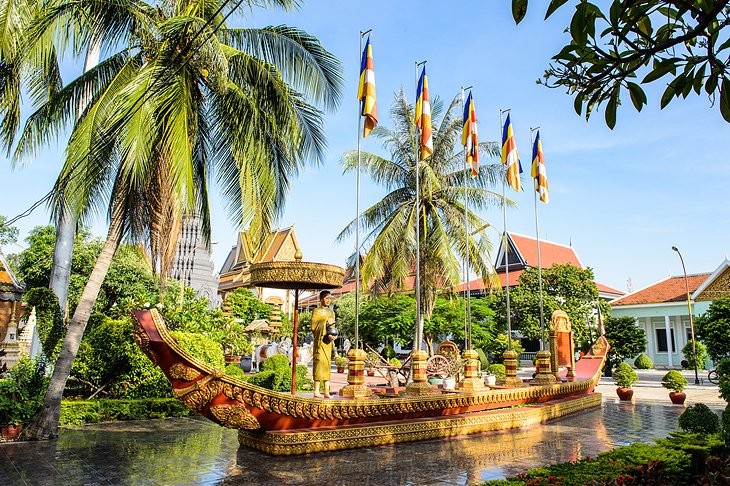 The best of the best is Amansara, housed in the former guesthouse of the Cambodian king. Starting with airport pickup in a vintage Mercedes limo by white-suited and white-gloved valets, the chic resort creates an exclusive, bespoke experience for their guests. It's located right off the main road, with easy access to the temples and to other sightseeing.
The small property, part of the Aman luxury resort chain and with only 24 open-plan suites, can be hard to book as it's very popular. Amenities include a world-class spa; specially curated temple tours that focus on different eras and subjects; and warm, personal service. About 12 of the suites, which are beautifully finished and styled, have private saltwater plunge pools.
The resort offers an extensive menu of programming, with a constant cycle of visiting experts in art, architecture, food, music, and other subjects who give talks and tours. They're also known for their helicopter tours, providing guests the opportunity to see multiple temple sites, some deep in the jungle and some farther away than is reasonably accessible by tuk-tuk.
For a traditional, colonial, luxury experience in the Old French Quarter, Raffles Grand Hotel d'Angkor is the go-to choice for smart travelers. The luxury hotel is a modern resort, although the main building dates from 1932, and it's all done in the traditional colonial style. The Raffles is right on the main road, where you'll find most of the city's luxury and resort hotels.
The Raffles' Cabana Suites are especially popular as their balconies (which have day beds and private, outdoor dining areas) have direct access to the pool (the largest in Cambodia) and gardens. And lovely gardens they are; the Raffles sits amid 15 acres of lush tropical landscaping and French gardens.
Le Meridien Angkor offers Siem Reap's best corporate hotel luxury experience, with traditionally decorated rooms and suites at very reasonable prices. The brand's French heritage works perfectly with the French influence in Cambodia, and the hotel itself is a modern recreation of a colonial mansion.
The 213-room resort hotel has a large Cambodian-inspired (lots of big structures like ruins) pool area, a large lake, and a canal surrounds the property and the individual buildings. Lily pads and other aquatic life make it a beautiful place to stay and to explore. Le Meridien is in the center of Siem Reap, also on the Charles de Gaulle road near Raffles.
The hotel offers inexpensive cooking classes, one session in the morning, one in the afternoon, giving guests a chance to cook traditional Khmer dishes with the hotel's Executive Chef.
Where to Stay in Siem Reap: Mid-Range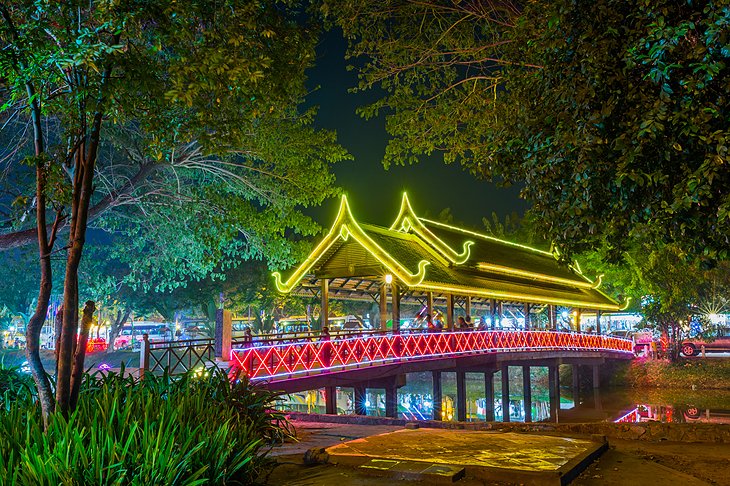 The Angkor Village Resort is a large and very popular hotel that mimics several of the branded resort properties in the area (Raffles and Le Meridien specifically). The lack of connection to a major corporate brand can lead to some English language issues with the staff, but it also means lower prices. Rates include an extensive breakfast buffet with local and Western specialties.
The FCC Angkor is a recreation of, and run by the same group as, the historic Foreign Correspondents' Club found in Phnom Penh. Originally the mansion of the French governor, it's now a luxury boutique hotel, located right on Siem Reap's main road.
There's a spa and a saltwater swimming pool. The restaurant, also called FCC Angkor, is excellent and considered one of the best in Siem Reap. Ask about a suite upgrade, the hotel is known to do them for a small fee.
The Courtyard by Marriott Siem Reap Resort is a new property (the brand's first in Cambodia) that reflects the chain's reputation for value and stylish accommodations. The six-story hotel has a rooftop lounge that gives guests beautiful views of the Angkor complex, and they even provide binoculars.
There's a saltwater pool, fitness center, and a full-service spa called Quan. The Courtyard by Marriott offers amenities usually found at luxury hotels, like cooking classes and a kid's club program. As an additional bonus, it's right near the famous Siem Reap Night Market, a must-see attraction when visiting Siem Reap.
Where to Stay in Siem Reap on a Budget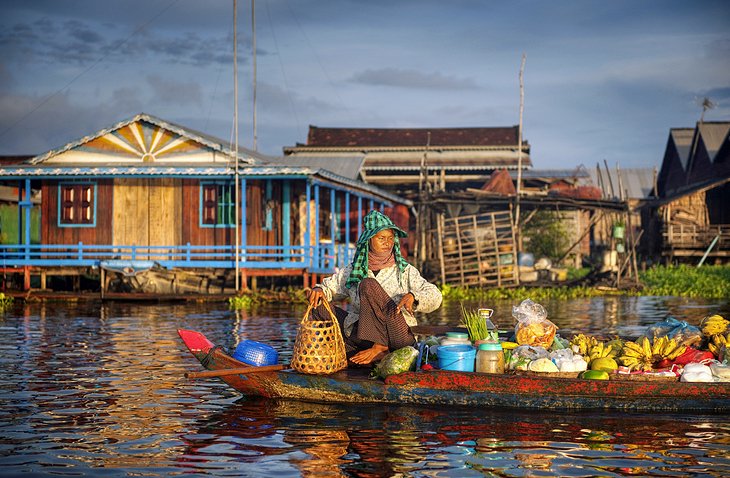 As one of the world's most popular backpacker destinations, Siem Reap is filled with very cheap hostels and guesthouses, but clean, comfortable, private hotel rooms can be found for around $50 per night. A good example of this is the Sokha Palace Siem Reap Hotel.
Built by a Chinese developer to mainly cater to Chinese tour groups, the large, 700-room hotel is quite beautiful, with a resort-style pool and a range of luxury amenities (large fitness center, spa, multiple restaurants). It's on the main road, almost at the temple park complex entrance, farther away from the noise of the Old French Quarter.
The hotel can be quite crowded with tour groups, making it hard to enjoy these amenities, like the free breakfast buffet. Rooms are large, clean and new, but quite basic, with simple furnishings and not much style.
Feeling more like a luxury resort, the budget-priced Metta Residence and Spa adds to its value with free tuk-tuk service to the temples and around Siem Reap, complimentary airport transfers, free Wi-Fi, and an excellent free breakfast.
It's a new construction, which also separates it from many of the other budget options. The Metta is also a bit farther out than many other hotels, located past Wat Bo, but still only a five-minute ride from Pub Street and 20 minutes from the temples.
Located a bit off the main road on a soon-to-be-paved dirt road, the new Grand Bayon Siem Reap Hotel has nice new rooms (some with balconies), surrounding a swimming pool, for hostel prices. There's free Wi-Fi; a free, yet basic, breakfast; and a friendly, helpful staff looking to generate good word-of-mouth for the newly opened property.
There's also a small restaurant and laundry service. You can walk to the entertainment and Night Market areas.
Another Sokha property is about 20 minutes outside town (and 30 minutes from Angkor Wat) with some very low rates. The Sokha Roth Premium Hotel is a smaller property from the Chinese company, but it has extremely large rooms (some with balconies), a nice pool, and friendly staff who speak fairly good English. The value gets even better with free Wi-Fi and free breakfast.
Where to Stay in Siem Reap for Families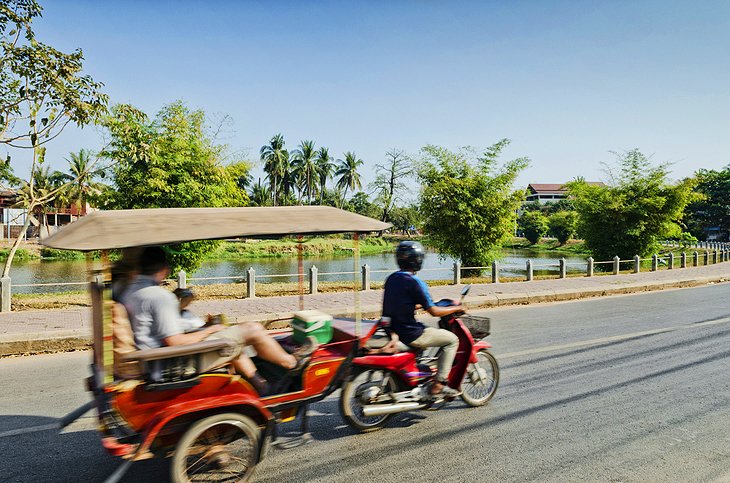 For families on a budget, the Baby Elephant Boutique Hotel has three large Deluxe Family Rooms (and 22 rooms of other types). The family rooms have two queen-sized beds and stylish modern bathrooms. They'll even stock the rooms with toys upon request.
There's a little cafe at the hotel, and the kitchen is open until 10pm for late-night snacks. The hotel also takes environmental issues seriously by not using plastic water bottles and by offering reusable straws. Breakfast and Wi-Fi are free, as is an airport pickup service.
Mane Village Suites has two-bedroom, family-ready suites that have two bathrooms and a kitchenette. There's also a 40-inch flatscreen TV and an iPod dock in each unit. The family-run and owned hotel's Celadon Restaurant serves modern Khmer food, and there's also a pool snackbar for more casual fare.
It's in the City Centre area, close to the main road. Breakfast and Wi-Fi are both complimentary, and the staff can plan special itineraries and tours just for kids.
Jaya House River Park is set in a lovely location right on the Siem Reap River surrounded by trees. This luxury boutique property has just 36 rooms, and these are beautifully decorated in a modern Khmer Art-Deco-inspired look, featuring lots of dark wood against bright white. The service here is also impeccable, with staff going above and beyond to cater to guests every whim.
There are two swimming pools on-site, as well as a restaurant and a spa with excellent massages. The grounds are equally appealing, with lush gardens and a play area for kids. Babysitting can also be arranged at this family-friendly small hotel.
Where to Stay in Siem Reap for Couples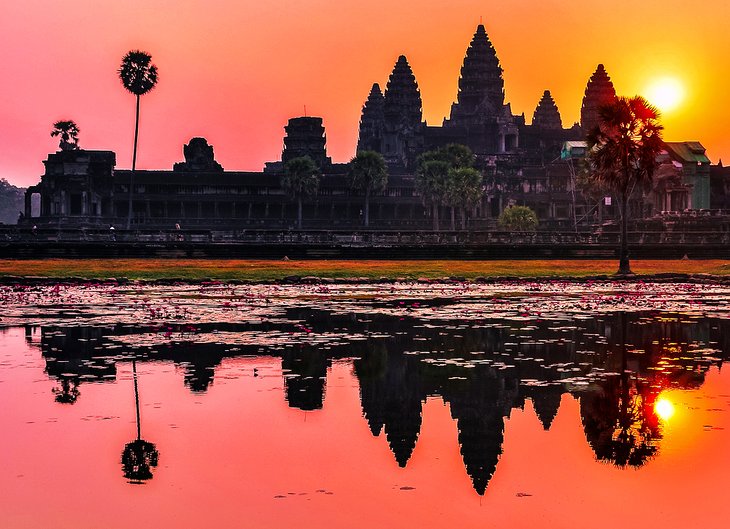 The sister hotel to the Angkor Village Resort, the Angkor Village Hotel is a luxury, adults-only property that caters specifically to couples. It also focuses on delivering a foodie experience, specializing in local Khmer cuisine.
The rooms and suites are in individual pagoda-like buildings, situated around a central lotus pond and gardens. There's a freeform swimming pool and a small spa, guests also have access to facilities and amenities at the larger Angkor Village Resort a few minutes away.
The Navutu Dreams Resort and Wellness Retreat offers a luxurious way for couples to spend time together while also healing mind and body. Their Grand Tour Rooms are perfect for romance, with private gardens; roof terraces; and large, semi-circular whirlpool bathtubs.
As a wellness resort, there's a wonderful array of healthy food options and a wide variety of spa treatments, yoga classes, and other healing experiences. There are also three swimming pools to choose from. The resort is on the outskirts of Siem Reap, meaning downtown is about a 10-minute tuk-tuk ride away.
Another romantic option is the 5-star Grand Élysée La Résidence. This boutique property has 32 luxe and contemporary rooms and suites with large windows and white-on-white decor. Expect local art on the walls and fun extras, like guitars to strum. Some rooms open directly onto the swimming pool.
Amenities include a complimentary breakfast, as well as free airport transfers. There is a spa on-site if you want a bit of pampering.