18 Top-Rated Hotels in Morro Bay, CA
We may earn a commission from affiliate links ()
For a quiet, coastal getaway in San Luis Obispo County, hotels in Morro Bay deliver with seaside accommodations. The best hotels in Morro Bay are located close to the main waterfront drag, the Embarcadero, where dining establishments offer coastal views. Hotels on the beach and overlooking the ocean epitomize a California coastal vacation.
Morro Bay hotels range from romantic coastal digs with views of Morro Rock to hotels that cater to the whole family. Other lodging options in Morro Bay are found slightly more inland from the ocean. These hotels still lend close access to the Embarcadero and the ocean, as well as other places to visit like Morro Bay State Park. Other accommodations found throughout Morro Bay include pet-friendly hotels and extended-stay suites.
Budget-friendly options can also be found in Morro Bay that are far from cheap in terms of the quality of stay. For family vacations, an intimate place for couples to watch the sunset, or a business trip, hotels in Morro Bay include a slice of coastal appeal, and with a year-round Mediterranean climate, Morro Bay offers reasons to visit every month of the year.
On This Page:
Best Hotels on the Beach Morro Bay
1. Estero Inn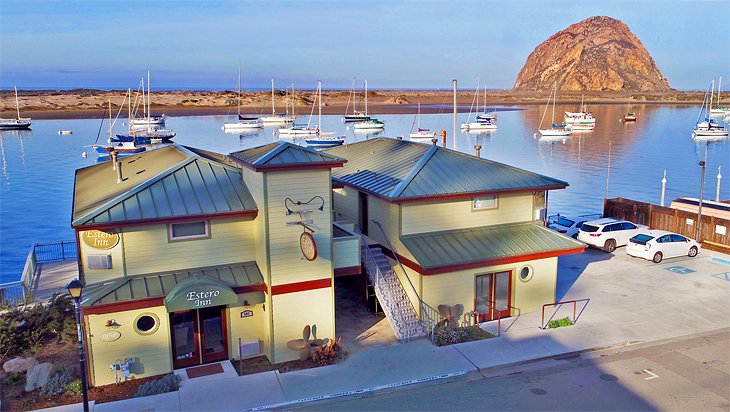 Suites at Estero Inn include a Marine Luxury Suite and Sunset Suite, and all overnight spaces are adorned with stately seaside decor.
The seaside landing at Estero Inn is a great place to catch the sunset over the water, and the hotel provides a wide range of rentals including bicycles, stand up paddleboards, and tandem kayaks.
For some fresh coastal flavor, the adjacent Embarcadero is lined with seafood restaurants and seaside patios.
2. Inn at Morro Bay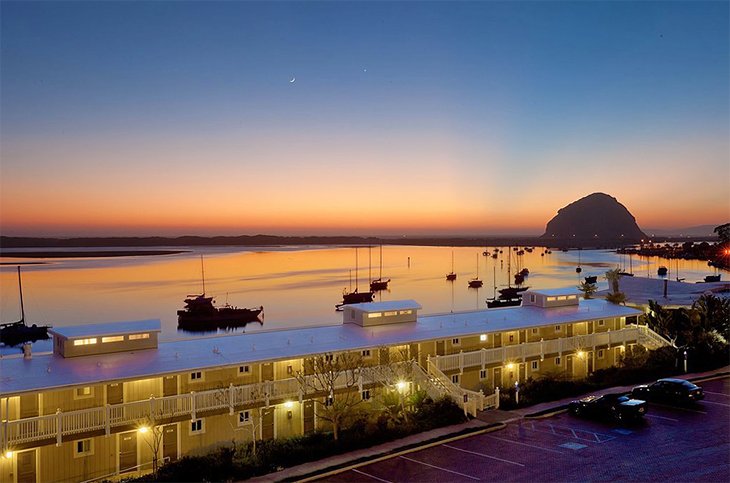 Accommodations at the Inn range from petite queen rooms to deluxe rooms with private balconies overlooking the bay. For extra oceanside entertainment at the hotel, the outdoor heated pool and Jacuzzi is a popular place to gather.
The in-house 60 State Park restaurant at the hotel is a community favorite for seaside dining with views of Morro Rock. Free parking at the Inn at Morro Bay makes life easier for traveling, and sunsets viewed from the property are often moments that define a vacation.
A favorite hotel for big events and gatherings, the Inn at Morro Bay is one of the most popular wedding venues in the county.
3. Anderson Inn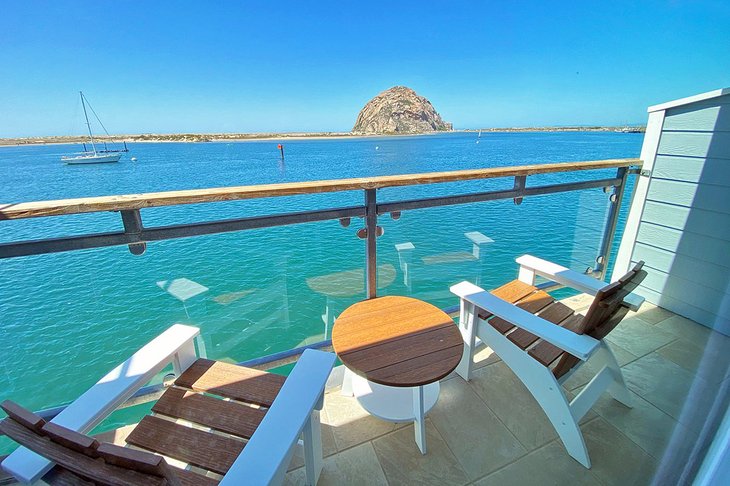 The rooms and suites have been recently renovated and have an ocean-inspired vibe that makes use of mixed materials, including wooden headboards and rich blue area rugs. The ocean-facing rooms are what to book. These boast furnished balconies from which you can watch the sun setting over the Pacific Ocean and the iconic Morro Rock. You'll often hear the calls of sea lions and harbor seals or see sea otters frolicking in the waves. Many rooms have jetted tubs and fireplaces as well.
Amenities include the Galley Restaurant, which is popular with locals and tourists alike. There is also direct beach access and a hot tub if you just need to relax. Bikes are available, and parking is free.
4. 456 Embarcadero Inn & Suites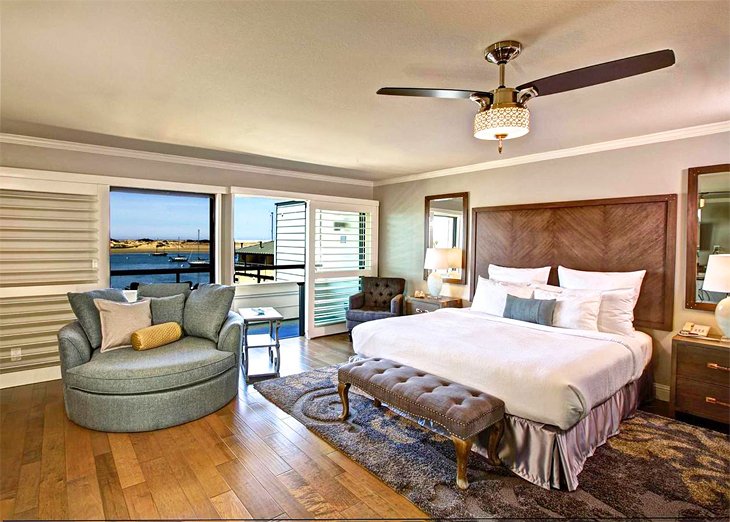 The free continental breakfast at the 456 Embarcadero goes beyond the average hotel spread, and the entire Embarcadero street is lined with great places to find a meal. The guest hot tub at 456 Embarcadero is a popular amenity of the hotel throughout the year, as well as the on-site covered parking.
456 Embarcadero Inn & Suites is a pet-friendly hotel near the beach, and about a quarter of the rooms accommodate canine companions. Many of the rooms at the 456 Embarcadero also include complimentary sunset views.
Best Family-Friendly Hotels in Morro Bay
1. Blue Sail Inn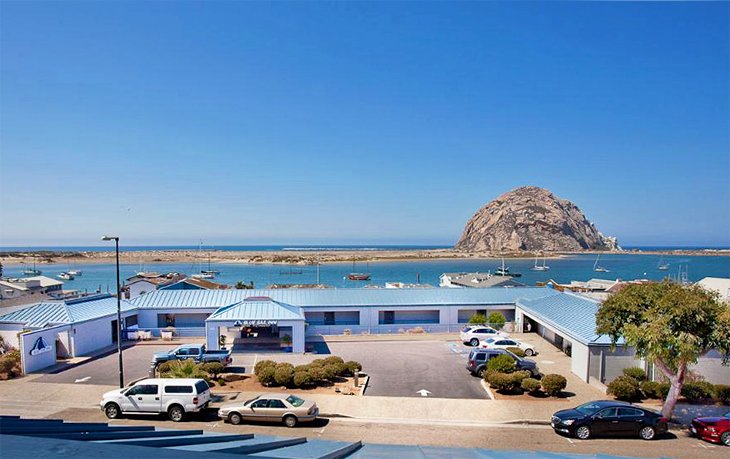 Overnight accommodations at the Blue Sail Inn range from standard queen rooms to junior suites with full views of the Bay. The complimentary breakfast at the Blue Sail Inn is served in a four-seasons patio within eyesight of the ocean.
2. The Landing at Morro Bay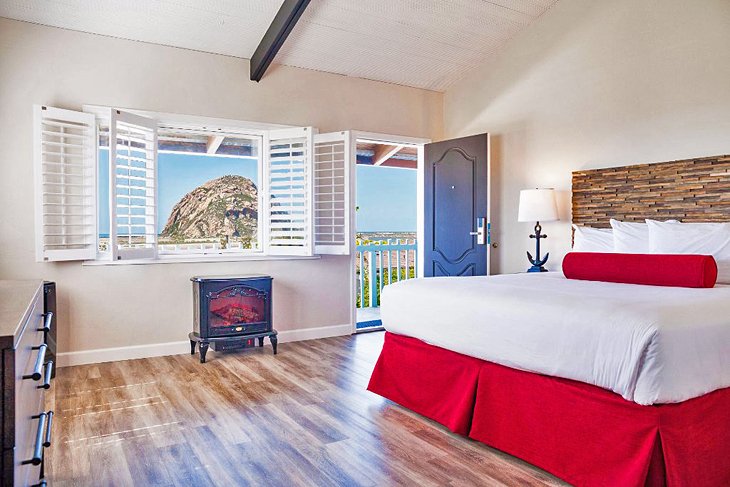 Both parents and kids enjoy the quiet nature of The Landing at Morro Bay, as well as the impressive ocean views from the patio of the hotel. Access to the ocean and the Embarcadero is nearly unbeatable at The Landing at Morro Bay, which opens numerous opportunities for day trips and dining out without driving a car.
A complimentary breakfast starter including oatmeal, fruit, and hard-boiled eggs is available at the hotel, as well as an espresso machine for lattes and cappuccinos. A special package deal at the hotel includes breakfast at the nearby and local-favorite Dorn's restaurant.
Some rooms at The Landing at Morro Bay include views of Morro Rock, and all rooms have a built-in electric fireplace.
3. La Serena Inn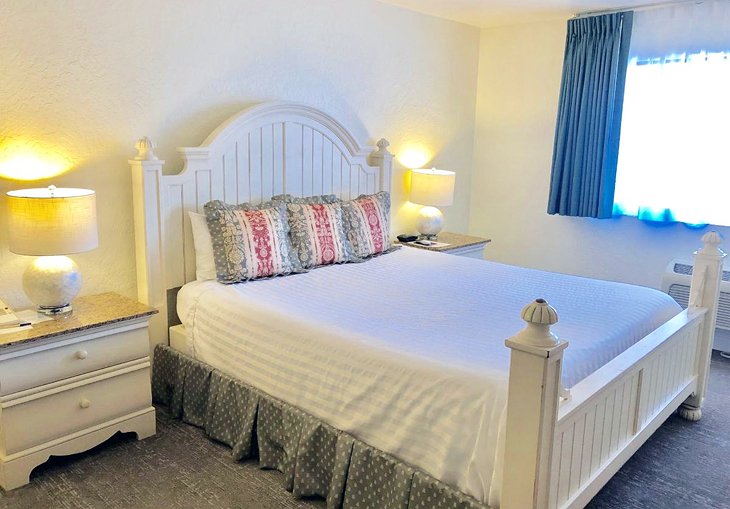 4. Pleasant Inn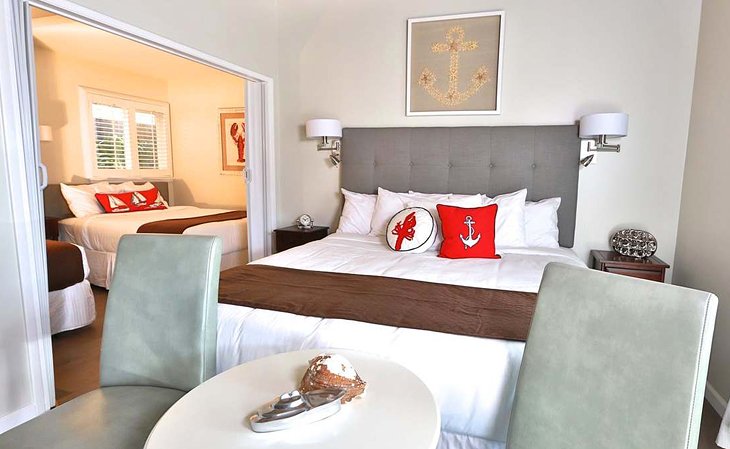 5. Pacific Shores Inn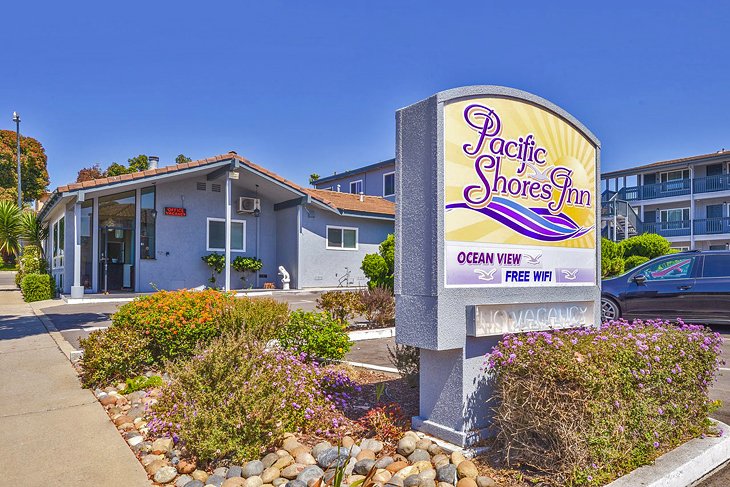 Plenty of restaurants and shops can be accessed immediately out the front door of the Pacific Shores Inn, as well as numerous natural spaces, including Morro Rock and Morro Bay State Park.
Best Hotels for Couples in Morro Bay
1. Ascot Suites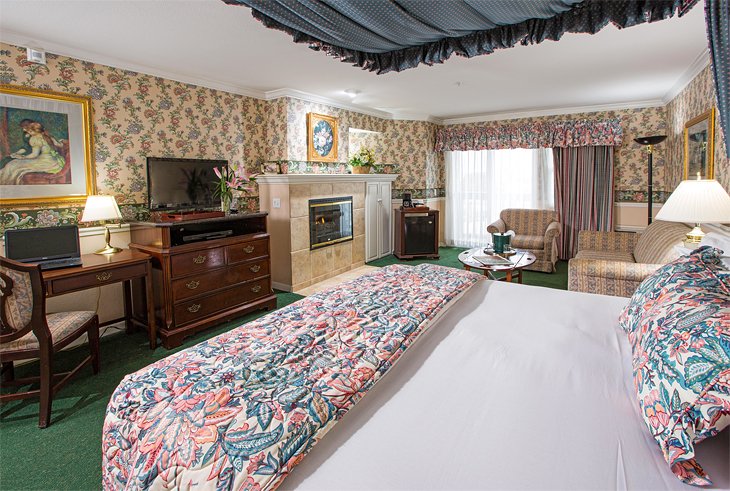 In-room activities are also easily accommodated at Ascot Suites, with fireplaces and Jacuzzi tubs in some of the rooms. For breakfast with a view, the rooftop deck is a popular place to enjoy the continental offerings each morning.
2. Beach Bungalow Inn and Suites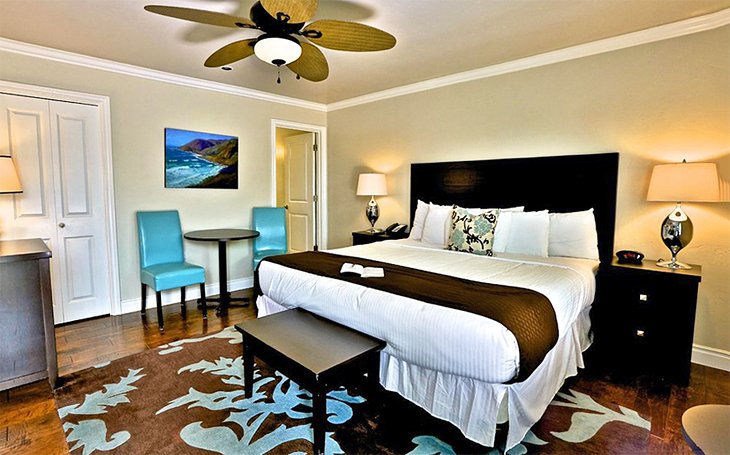 The hotel's complimentary Wi-Fi helps couples stay connected with friends and family. The hotel also features complimentary beach cruisers that make getting around town a breeze. Common spots to bike to from the Beach Bungalow Inn and Suites include Morro Rock, the Embarcadero, and Morro Bay State Park.
3. Masterpiece Hotel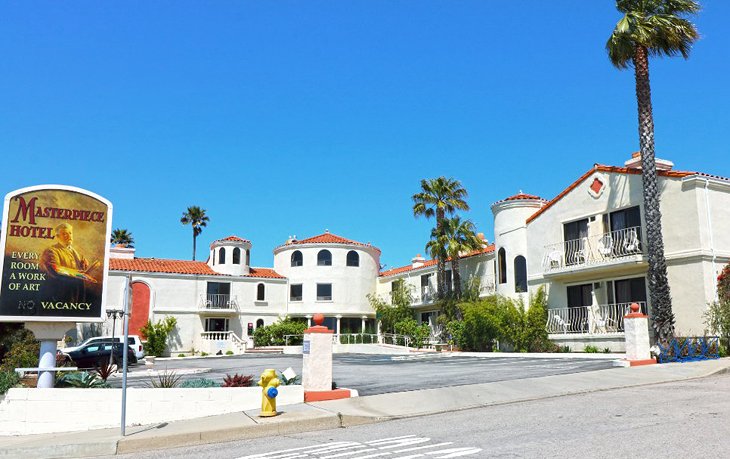 A Romanesque public hot tub at the hotel adds a unique experience to any stay, and a special romance package at the hotel offers more pizazz with roses, cheeses, and a chilled beverage of your choice.
4. Gray's Inn and Gallery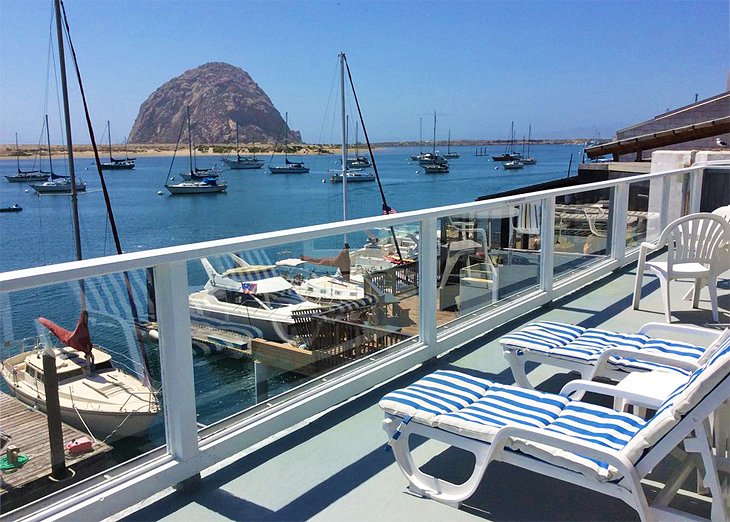 This hotel is ideal for a home away from home, with plenty of room to call your own, and the central location offers easy access to the dining, shopping, and nightlife of Morro Bay.
Best Budget-Friendly Hotels in Morro Bay
1. Sundown Inn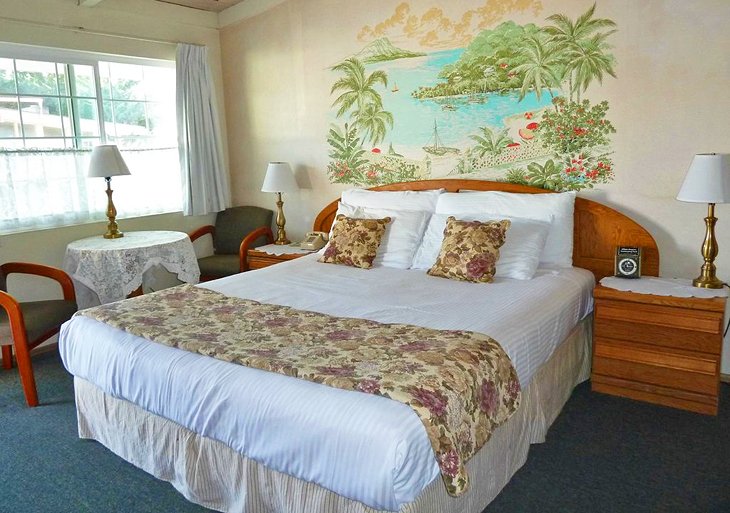 Visitors can expect a personal greeting at this family-owned motel, as well as a little touch of home within each room. Popular with longtime regulars and new visitors to Morro Bay alike, the Sundown Inn adds to a Morro Bay vacation experience.
2. Harbor House Inn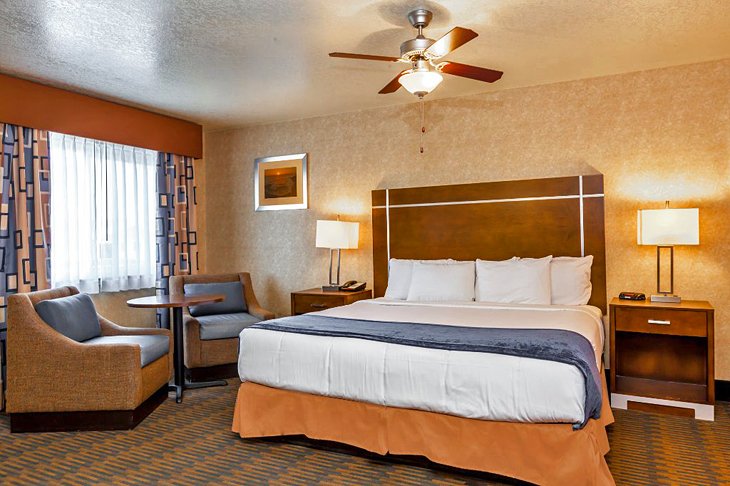 3. Morro Bay Sandpiper Inn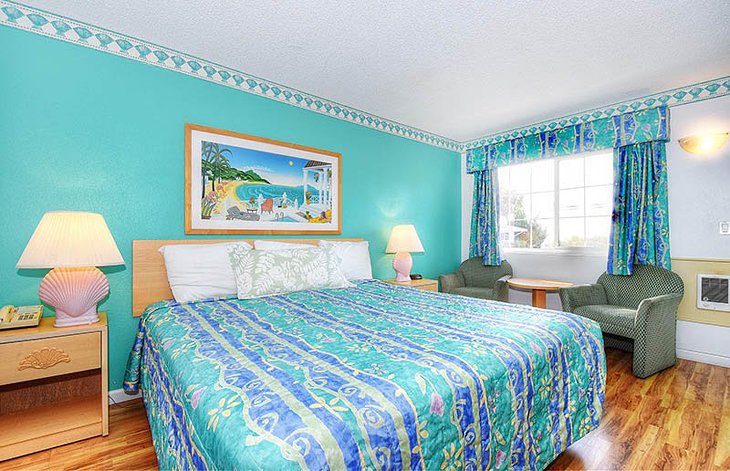 4. Twins Bay Inn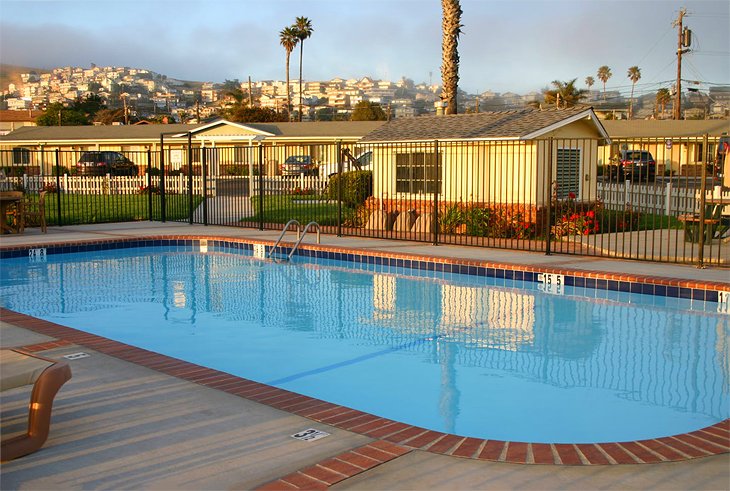 Two outdoor patio areas are free for guests to use, as is the seasonal outdoor heated swimming pool. All guest rooms at the Twins Bay Inn are on the first floor of this motor court hotel, and all lend easy access to area attractions, including Morro Rock and Hearst Castle.
5. Fireside Inn