13 Best Parks in Fresno, CA
Several scenic parks dot the city of Fresno, one of the largest cities in the San Joaquin Valley of Central California. These outdoor spaces range from pocket parks with playgrounds to regional parks filled with attractions.
The nice weather that makes Fresno a farming region also gives a sunny forecast to most park visits. And when the heat turns up in the Central Valley, several of Fresno's best parks are well-equipped with splash pads and kid-friendly ways to keep cool.
Other popular park activities in Fresno include dog walking, playing disc golf, and sitting under a shady tree. Several parks also have lighted and non-lighted sports facilities, including multi-use courts and fields, and all the best parks have an array of picnic tables and shelters for a lovely meal spent outside.
Enjoy your next outdoor adventure with our list of the top parks in Fresno.
1. Woodward Regional Park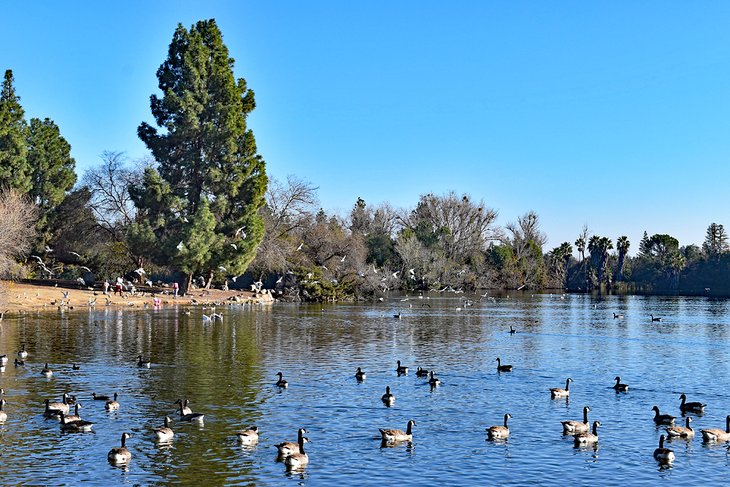 Woodward Regional Park is the signature outdoor space of Fresno. It's on the city's north side, approximately 12 miles from downtown. It's the largest park in Fresno County, encompassing over 300 acres of varied landscapes. Among these natural spoils are bird-heavy bodies of water and rolling hills for cross-country activities.
Many families head to Woodward for the several lakeside picnic areas in the park. Bird-watchers also tend to gather in the same place, as much of the aquatic landscape is a designated bird sanctuary. Whatever the reason, the lake is often a central part of any visit, thanks to its shimmering appeal.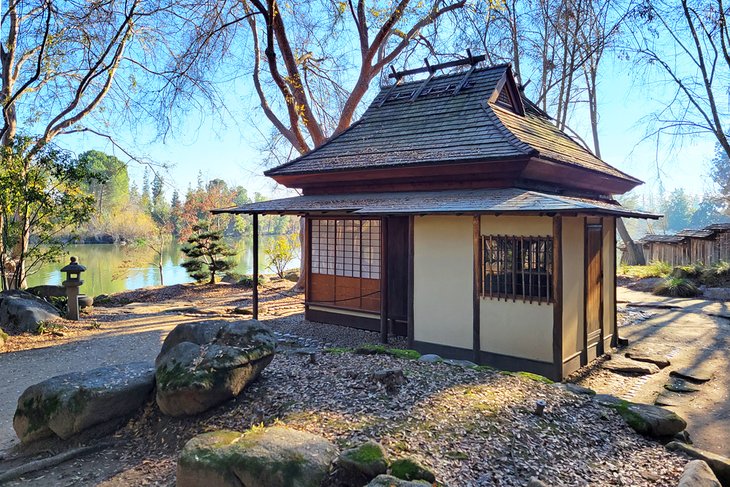 It's free to visit Woodward Park, although parking costs five dollars. Other park features include a BMX pump course and a hilly 18 holes of disc golf. The park is also home to the 3,500-seat Rotary Amphitheater, which hosts open-air concerts throughout the year.
Park-goers should opt for a visit to the Shinzen Japanese Garden when visiting Woodward. This tranquil space is accessible from the north end of the park and requires an additional small price of admission. But with blooming walkways, beautiful bridges, and a bountiful collection of bonsai plants, it's a worthy reflective moment in the day.
Official site: https://www.fresno.gov/parks/parks-trails-facilities/
2. Oso de Oro Park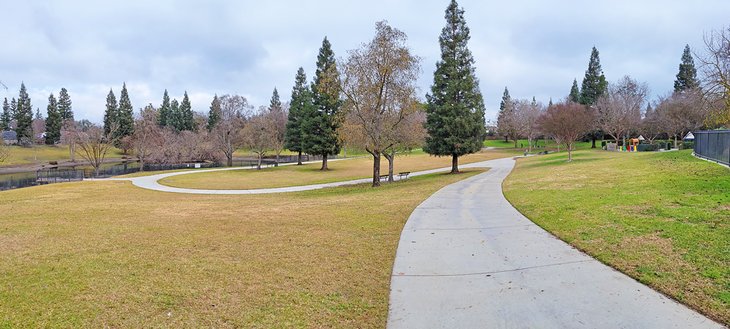 The Fresno Metropolitan Flood District operates Oso de Oro Park, also known as Sloan Johnson Oso de Oro Lake Park. It's a unique park that primarily serves as a groundwater reservoir. But most wouldn't know that upon visiting, because amid this urban engineering is a lovely park with several facilities.
It's a popular place to visit for families thanks to its several playground facilities. Two large playgrounds for different age groups are at the center of a foamed plaza surrounded by other playtime equipment. This entire space is wheelchair accessible and designed to accommodate every child that visits.
The other half of this fenced-in park comprises the stormwater basin, where ducks and geese like to gather. Wide and paved trails lead down to this small lake, lending a view of the aquatic environment. No fishing is allowed.
Oso de Oro is a fenced-in park, and an attendant is on duty during operating hours.
3. Roeding Regional Park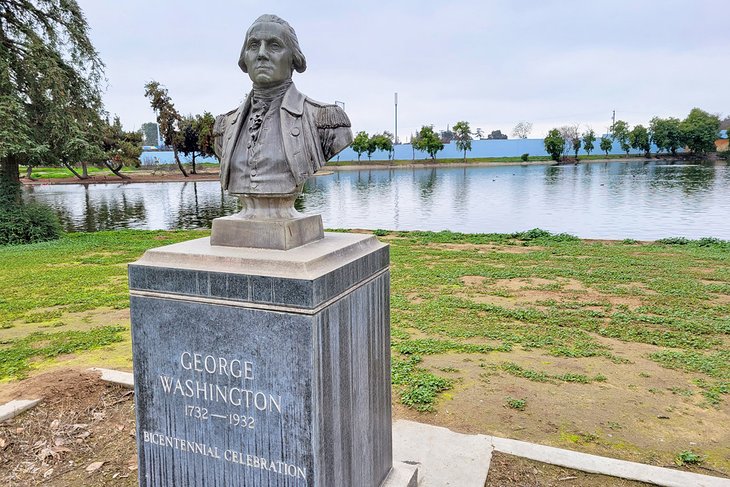 Roeding is another popular regional park near Fresno. It's just west of the Tower District, next to the Golden State Highway (California State Route 99). Its 148 acres comprise several large trees punctuating a rolling contour of open lawns. The shores of Lake Washington and other small wetland ponds also add an aquatic element to the park.
Despite its pleasant environment, Roeding's most notable feature is the Fresno Chaffee Zoo within park borders. This non-profit and AZA-accredited facility is home to over 200 animals, big and small. A few popular residents include African elephants, American flamingos, and stingrays.
Roeding Regional Park is still a lovely place to visit outside the zoo. It's especially nice for open-field activities and picnic space, and it's a popular venue for children's birthday parties. Eight picnic shelter areas are available for day-use reservation, ranging in capacity from 25 to nearly 500 people.
4. Kearney Park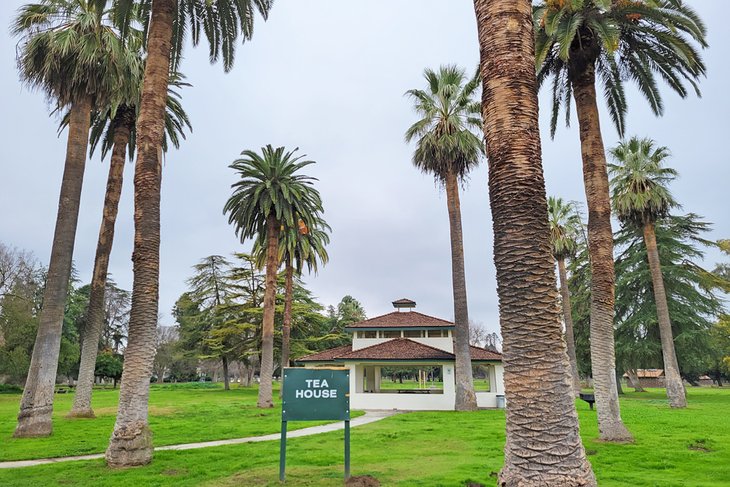 Kearney Park is a historically significant park located approximately seven miles west of Fresno. It was the first Fresno County Park, dating back to 1949, and before that, it was part of the Kearney Mansion estate. A significant figure in Fresno history, Kearney spent his final years developing the beautiful park surrounding his home.
Kearney Park encompasses 225 acres, all connected via a scenic boulevard. Abundant open space and tall trees define much of the area, with various picnic facilities lining the boulevard. Popular activities at the park include picnics, hiking and biking, and playing a round at the lengthy 18-hole disc golf course.
Kearny Park is also home to the Kearny Mansion. This regal residence dates to the late 1800s and features eye-catching French Renaissance architecture. Guided tours are available during regular operating hours. Check the website for details.
5. Inspiration Park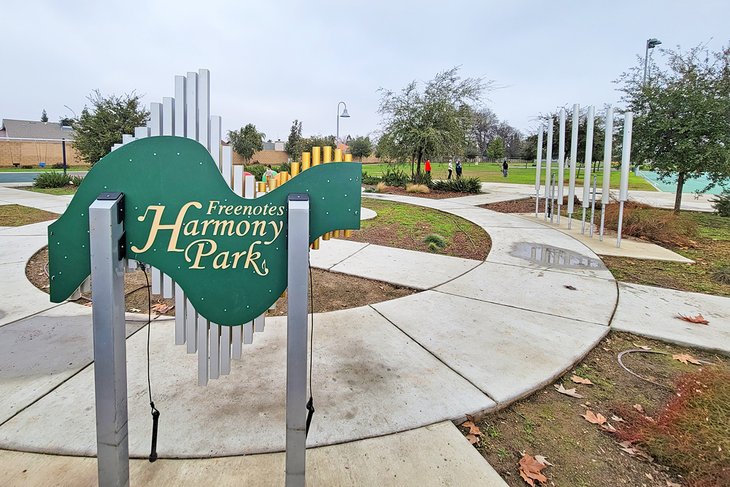 Inspiration Park is a newer city park located northwest of downtown, across the Golden State Highway from Forestiere Underground Gardens. Several park features vie for attention throughout all eight acres of the park.
The set of playgrounds at Inspiration Park is always popular, one for toddlers and the other for bigger kids. The primary playground area comprises traditional chutes, slides, and ladders, and other climbing structures, like webs and balance beams, add to the conventional playground experience. A soft rubber pad is underfoot throughout the entire playground area.
Other park attractions include basketball courts, an enormous blackboard, and a large splash pad. The park also has a fitness course, a telescope hill, and a small dog park for little dogs only. And kids and adults like to spend time in the park's sensory garden, where it's fun to make some noise with interactive musical features.
6. Trolley Creek Park

Trolley Creek Park is the other park operated by the Fresno Metropolitan Flood District. It's tucked onto a quiet street behind a Wal-Mart, approximately four miles east of downtown. And despite its small footprint, it's packed with playground equipment and small tidbits of history.
The park has different play areas for different ages, from tots to age 10. The playground has swings, seesaws, and slides alongside jungle gyms and other climbable features. The park also features giant replicas of significant city landmarks, including a trolley car and the Fresno Water Tower.
Like Oso de Oro Park, a fence surrounds Trolley Creek Park. A park attendant sits in a kiosk during operating hours and keeps a loose watch over things. The play space and inviting grounds tend to see moderate crowds when the weather is nice. A separate green lawn area comprises the park's second half and is usually a less busy area to hang out.
7. Courthouse Park
The Fresno County Courthouse sits in the center of Courthouse Park, which itself is in the middle of downtown. Courthouse Park is a beautifully manicured city space, and the imposing courthouse building is eye-catching itself, dating back to 1966.
Courthouse Park is much older, dating back to the 1870s when the first courthouse was built. Thanks to the many memorials and plaques throughout, this air of history is more apparent. And as it's been for over 150 years, the park is home to several community gatherings and engagements still today.
Courthouse Park is simply a nice place to walk around and take a seat downtown. Come lunchtime, several food trucks tend to park on the curbsides near the park, encouraging a nice meal outside.
8. Figarden Loop Park
Figarden Loop Park is a small five-acre park northwest of downtown. It has a variety of park attractions that draw a crowd on the weekends, including a popular splash pad and playground set. It's also home to a lighted baseball field that hosts intramural games throughout the spring, summer, and fall.
Figarden Loop Park also has maintained green space, perfect for laying down a beach towel or picnic blankets. The park has picnic tables available and a reservable picnic shelter for more elevated meals.
The back half of the park comprises the fenced-in Figarden Dog Park. It's one of eleven free dog parks in the city, each offering places to run around leash-free.
9. Jaswant Singh Khalra Neighborhood Park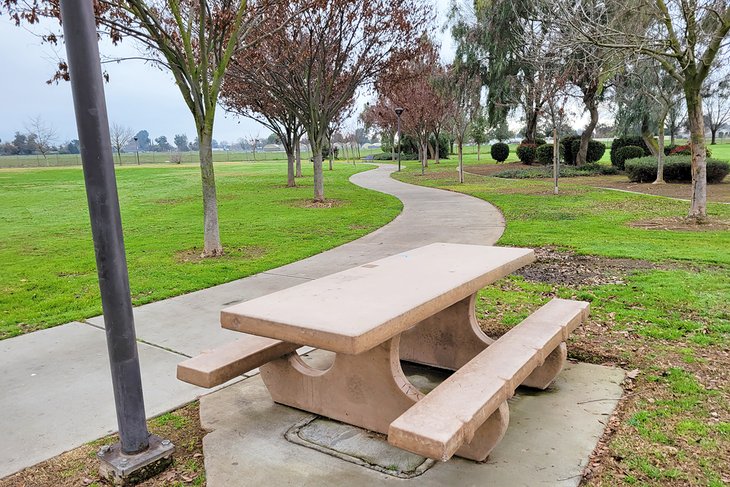 This neighborhood park in West Fresno was renamed after a Sikh human rights advocate in 2017. It's a small park with popular features like basketball courts and playground equipment. It's also home to a small dog park with enough space for a few dogs at a time.
The park is also simply a nice place to stroll around. Park benches and trees line a paved path that meanders throughout the open green space. This path winds far enough from the park's Clinton Avenue entrance to lose traffic noise.
10. Regional Sports Complex
The Regional Sports Complex is the third regional park within easy driving distance of Fresno. It's on the southwest side of the city and comprises over 110 acres, much of which is dedicated to organized sports fields. The parkland itself is a picture of urban engineering, reclaimed from a former landfill.
Six lighted baseball and softball fields define much of the park. These diamonds attract little leagues, adult leagues, and casual baseball practices throughout the week. The park is also a central hub for soccer and football activities, with nine total fields, two of which are championship size.
Outside the sports facilities, the Regional Sports Complex has many of the same amenities as other parklands. Visitors find open space to explore, as well as a large pond in the park's northwest corner. Picnic tables scattered throughout these areas cater to a meal outside.
11. Todd Beamer Park
This city park is on Fresno's north side. It opened in 2010 and is named after a hero on Flight 93. This fateful flight crashed into a rural field after passengers, including Todd Beamer, thwarted hijackers' attempts on September 11th.
The park encompasses just over six acres and is a haven on hot days in Fresno, thanks to its expansive splash pad. Near this kid-friendly splash zone, a shaded playground structure also draws a lot of attention. Several picnic tables surround this popular area of the park.
Todd Beamer Park is also home to sports facilities, including lighted basketball courts and soccer fields. It's also home to a popular skate park with several concrete blocks, ramps, and a freestyle course.
12. Einstein Park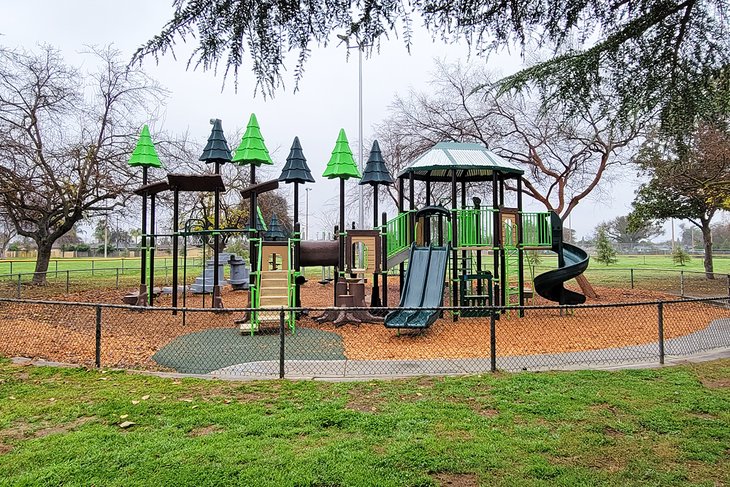 This relatively quiet park is less than four miles northeast of downtown in the McLane neighborhood. It features park facilities like a playground, a pool, and basketball courts. It's also home to some nice shady green space for picnics.
The basketball courts at Einstein Park are lighted, making for popular evening pick-up games. The park is also home to a newer playground set, popular with children. The pool season at the park spans approximately June through September.
13. Martin Ray Reilly Park

Martine Ray Reilly Park is a relatively new park in Fresno, which opened in 2015. It's northeast of downtown, tucked at the corner of Chester Avenue and the Sequoia-Kings Canyon Freeway (State Route 180). And it's generally a quieter park despite being next to the highway.
The park is less than half a city block, offering green space and a small collection of kids and sports facilities. This collection includes a playground, splash pad, and picnic shelters. Martin Ray Reilly also has two convertible basketball/tennis courts popular for pick-up games.
Fresno - Climate Chart
Average minimum and maximum temperatures for Fresno, CA in °C
J
F
M
A
M
J
J
A
S
O
N
D

12

3

16

5

19

7

23

9

28

13

33

16

36

19

35

18

32

16

26

11

17

6

12

3

PlanetWare.com
Average monthly precipitation totals for Fresno, CA in mm.

55

54

56

19

10

6

0

0

7

17

28

34