12 Top-Rated Attractions & Things to Do in Fresno, CA
We may earn a commission from affiliate links ()
One of the largest cities in the San Joaquin Valley of Central California, Fresno offers a refreshing mix of urban and outdoor things to do. Agriculture defines much of this rich region of California, and Fresno is no exception. The best way to experience the bountiful produce surrounding the city is by biking or driving the Fresno Blossom Trail in late February or early March, when the fruit and nut orchards absolutely shine with spring color.
Other fun things to do on the outskirts of the city include subterranean adventures at Forestiere Underground Gardens. Constructed by hand in the early 1900s by Sicilian immigrant Baldassare Forestiere, this unique attraction features elaborate masonry and catacomb-like passageways. The Fresno Chaffe Zoo is also found just outside of downtown, and both parents and kids enjoy seeing resident animals like tigers, orangutans, and bears.
If you are looking for something to do at night, the Tower District is a trendy area just northwest of downtown that features restaurants, live music, and places that are open late. Tourist attractions in Fresno, like the massive waterslides at Island Waterpark, help beat the summer heat.
For more sightseeing ideas, see our list of the top attractions and things to do in Fresno.
Note: Some businesses may be temporarily closed due to recent global health and safety issues.
1. Forestiere Underground Gardens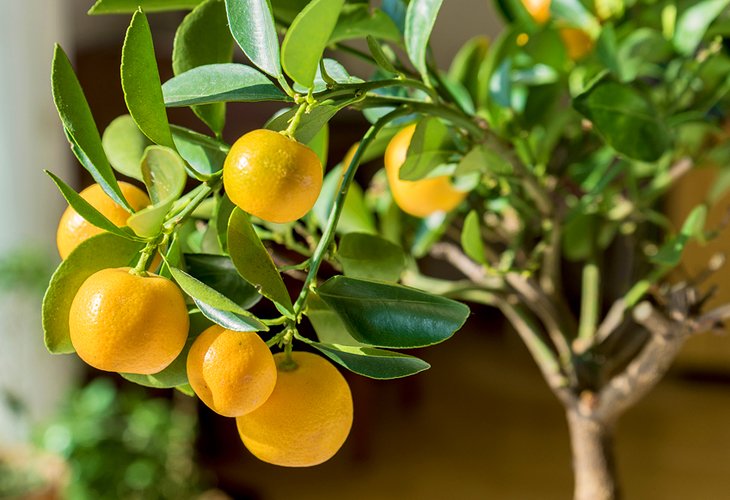 An underground attraction located less than 10 miles northwest of downtown, this unique example of human engineering offers a cool activity in the summer. Construction of these underground gardens started in the early 1900s by Sicilian immigrant Baldassare Forestiere as he built patios, grottos, and intricate stonework by hand. After forty years of subterranean toil, Forestiere built a truly unique labyrinth of underground rooms, passageways, and planters for numerous fruit-bearing trees.
The underground gardens are now a California Historical Landmark, and the only way to experience them is through a one-hour guided tour. On the tour, in addition to learning about the man and his methods behind the underground garden, visitors see the catacomb-inspired architecture and some of the original trees that are still bearing fruit today.
As part of the design, the temperature of the underground gardens is typically 10-20 degrees below the temperature at the surface.
Address: 5021 West Shaw Avenue, Fresno, California
Official site: http://www.undergroundgardens.com/
2. Fresno Chaffee Zoo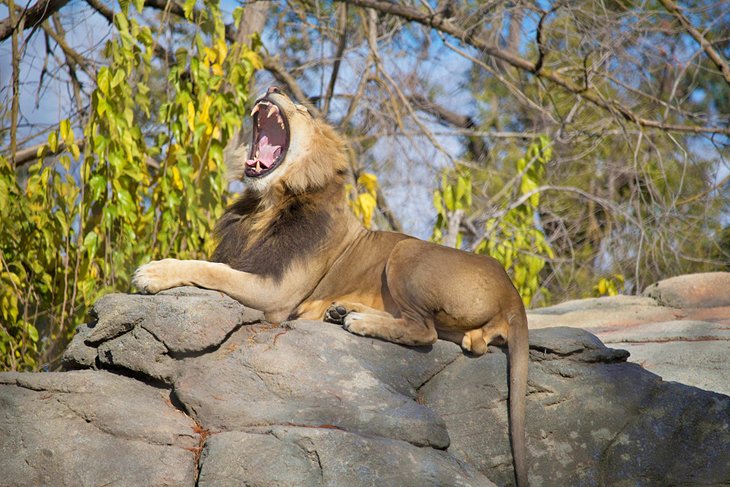 Accredited by the Association of Zoos & Aquariums, the Fresno Chaffee Zoo is located within Roeding Park, three miles northwest of downtown. Featuring numerous exhibits, like an African Adventure and Wilderness Falls, the zoo houses wildlife such as tigers, orangutans, and warthogs.
The zoo also hosts numerous special activities like animal meet-and-greets and behind-the-scenes tours, as well as educational programs including summer camps and Zoo Talks.
The surrounding Roeding Park also provides a fun, public space to bring the whole family, with abundant green space and trees and amenities like picnic shelters and water fountains. The family favorite Rotary Storyland Playland Family Amusement Park is also within Roeding Park and features a fun environment ripped straight from classic children's books.
Address: 894 W Belmont Avenue, Fresno, California
Official site: https://www.fresnochaffeezoo.org
3. Woodward Regional Park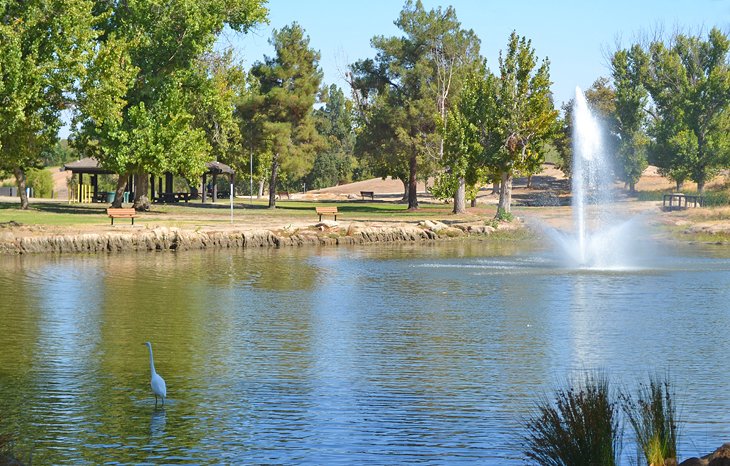 A 300-acre park on the north side of the city, this regional park features a bird sanctuary, an authentic Japanese garden, and numerous reservable gazebos. Paved roads and dirt hiking trails span the public space, connecting other picnic areas and the various bodies of water throughout the park. Popular things to do at Woodward include jogging, bicycling, and photographing the many birds that hang out close to shore.
The Shinzen Friendship Garden within the park features cherry trees and ornamental Japanese structures. The park also features the impressive Rotary Amphitheater, which seats up to 2,500 people for special events.
Other park amenities at Woodward include a BMX course, mountain biking trails, and a disc golf course. The park is also home to the annual Woodward Shakespeare Festival, which features two professional play productions during the summer.
Address: 14528 26 Mile Road, Oakdale, California
4. Downtown Fresno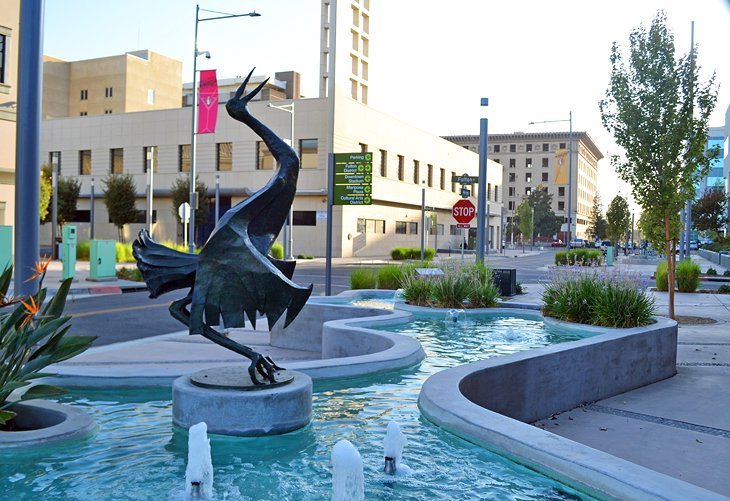 The largest inland city in California, Fresno features a downtown district that has been undergoing vast revitalization efforts to become a central attraction of the city.
Courthouse Park is at the heart of the downtown district and is home to the imposing Fresno County Superior Court building. The architecturally impressive Fresno City Hall is also near Courthouse Park, as is the historic Old Fresno Water Tower.
Many local restaurants are near Courthouse Park, as are numerous boutiques and retail shopping stores. Other nearby downtown attractions include theaters, museums, and Chukchansi Park-home to the minor league baseball team, the Fresno Grizzlies. Alongside revitalization efforts over the last decade, new public art on the streets of downtown Fresno makes for a pleasurable pedestrian experience.
Downtown events in Fresno include numerous live music performances at local venues, as well as an outdoor Mariposa Music Series that takes place throughout the summer.
A new downtown celebration, the summer Fulton Street Party celebrates revitalization efforts on this historic thoroughfare. The tasty Fulton Street Food Truck Fest is a part of this street party and features over 30 trucks and a true culinary caravan.
5. Fresno Blossom Trail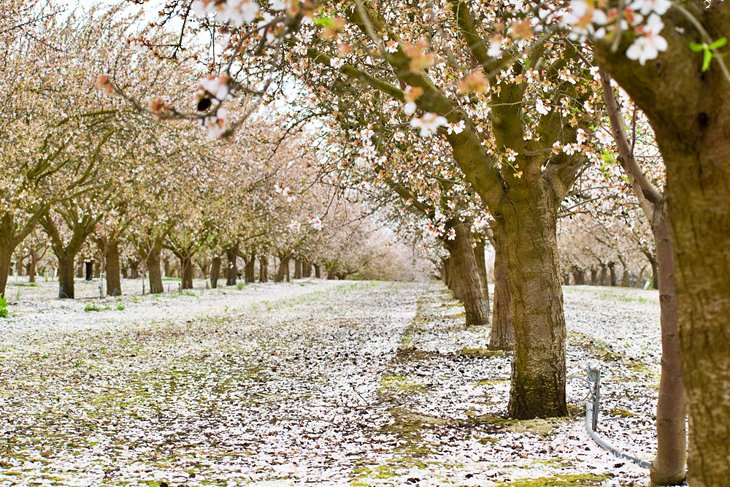 Spring comes with some color in Fresno, particularly throughout the fruit and nut orchards on the southeast side of the city. Highlighting the abundance of agriculture in the region, the Fresno Blossom Trail is a 62-mile driving/biking route that tours the most colorful apple, apricot, and peach trees of the Central Valley (among many others). Timing is key to seeing the fullest color, and, typically, blooms last for just a few weeks between mid-February and mid-March.
Official site: http://www.goblossomtrail.com/
6. Tower District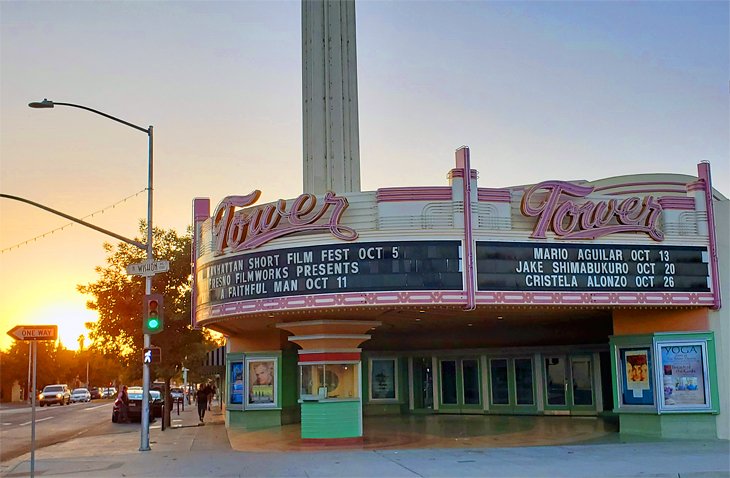 A hot spot for nightlife and dining northwest of downtown, the Tower District attracts an evening crowd. This eclectic neighborhood is named after the historic Tower Theatre, which still illuminates an intersection at East Olive Avenue, the Tower District's main thoroughfare.
Every meal of the day is offered in the Tower District, with a classic breakfast menu at Irene's Cafe, and places like Veni Vidi Vici offering upscale dinner menus with stylish digs.
Live music is also a staple of the Tower District, and regularly scheduled shows can be seen at the Tower Theater or enjoyed with a meal at Roger Rocka's Dinner Theater.
Coffee shops, art galleries, and boutique storefronts also line the Tower District, as well as numerous vintage and antique shops. The Tower District is also home to festive cultural events, including the Fresno Film Festival.
Official site: https://www.towerdistrict.org/
7. Warnors Theatre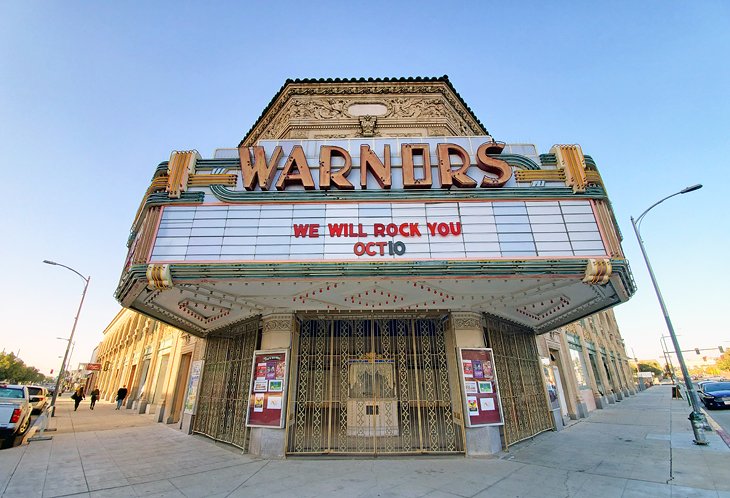 In downtown Fresno, this historic performance space first entertained the community with vaudeville performances in 1928 and quickly evolved into a silent-movie house. The long legacy of Warnors Theatre continues to this day with live music performances and sold-out shows, from comedy to Broadway and children's performance theater.
Half the fun of attending any show is the ambience of this historic venue. Warnors Theatre is also a popular venue for private parties, including wedding ceremonies and receptions.
Address: 1400 Fulton Street, Fresno, California
Official site: http://warnors.org
8. Fresno Art Museum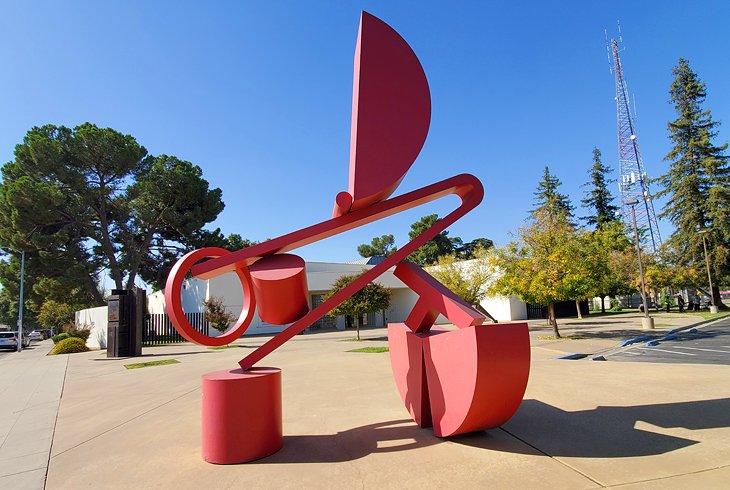 Born from humble beginnings in the 1940s, the Fresno Art Museum has evolved into a nationally recognized museum with a wide diversity of artworks. Over 3,600 works comprise the museum's permanent collection with an emphasis on paintings, sculptures, and prints.
The museum rotates exhibits nearly every season, providing something new to appreciate with each visit. One of the most popular events hosted by the Fresno Art Museum is the Trashique art and fashion show fundraiser.
Address: 2233 N First Street, Fresno, California
Official site: https://www.fresnoartmuseum.org/
9. Sequoia & Kings Canyon National Parks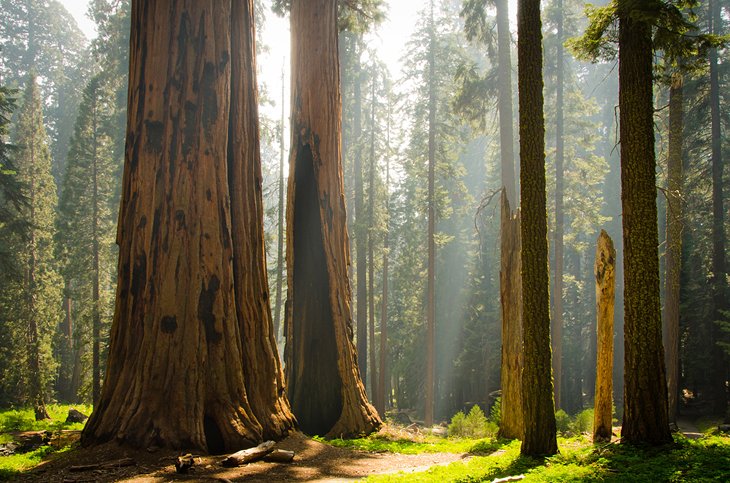 Encompassing rugged mountain peaks, giant sequoia trees, and incredibly dark night skies, the grandeur of Sequoia & Kings Canyon National Parks can be accessed from Fresno in an hour's dive. Popular activities at these jointly managed Sierra Nevada national parks include rock climbing, backpacking, and day hiking throughout the giant forests. A route leading to the top of Moro Rock is a popular avenue for adventure that includes stone steps and a spectacular view.
You can find campgrounds in both parks. Among the best campgrounds at Kings Canyon National Park, the Azalea Campground, located in the Grant Grove area, is surrounded by the biggest attractions. The campgrounds at Sequoia National Park also offer incredible opportunities for camping under the stars and among the trees.
Official site: https://www.nps.gov/seki/index.htm
10. Meux Home Museum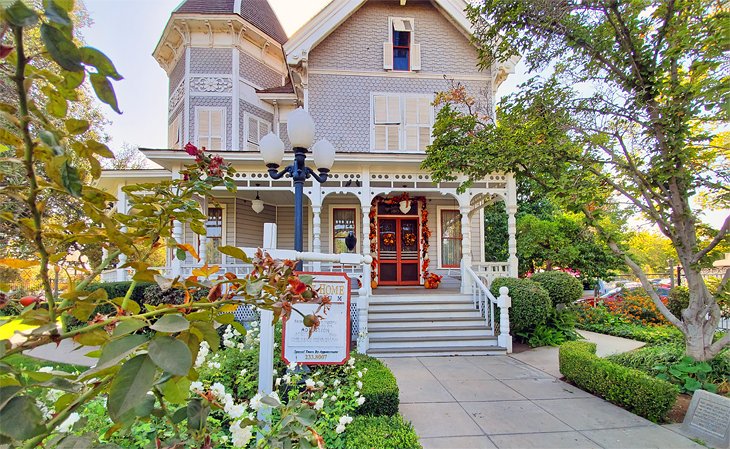 Originally constructed in 1889 by Dr. Thomas Richard Meux, a medical physician and veteran of the Civil War, this historic 16-room Victorian Mansion is now owned by the city and open for the public to explore. Visitors can appreciate the intricate Gothic Victorian architecture from the outside, and the only way to see the well-preserved interior is on an hour-long guided mansion tour.
Events at the Meux Home Museum include candlelight tours, holiday celebrations, and charity fundraisers.
Address: 1007 R Street, Fresno, California
Official site: https://meuxhomemuseum.org/
11. River Park Shopping Center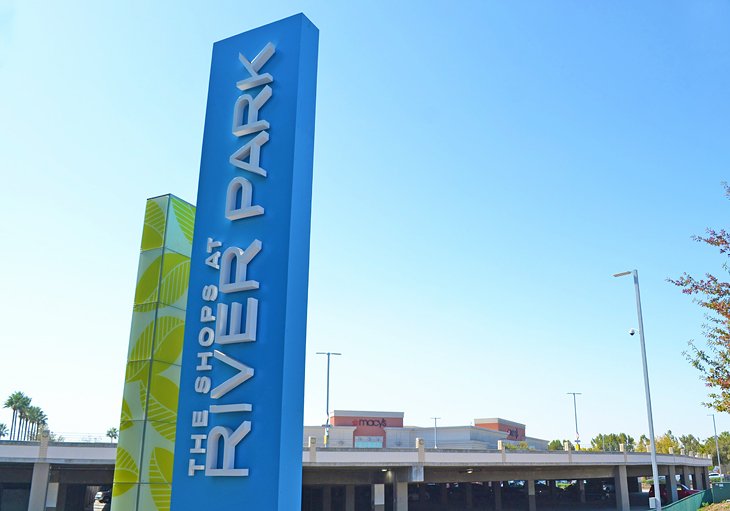 On the north side of the city, near the sprawling acreage of Woodward Regional Park, this shopping center is a central destination for clothing, appliances, furniture, and sporting goods. Public buses run regularly to the shopping center, and ample parking is available. Storefronts like Target, REI, and Macy's are popular at River Park, as is the Regal Edwards Fresno movie theater. Over 30 restaurants are also scattered throughout the River Park campus ranging from fast and easy to excellent date night locations.
Address: 71 E Via la Plata, Fresno, California
Official site: https://www.shopriverpark.com
12. Island Waterpark
On the northwest side of the city, near Forestiere Underground Gardens, Island Waterpark is an aquatic destination for family fun. With over a dozen waterslides including the solo, raft, and family-raft variety, this sprawling water park also features a lazy river, wave pool, and rentable cabanas. Designated grassy areas in the park also allow families to set up their own shade structure.
Island Waterpark operates for an extended summer season and hosts special After Dark Friday night swims that are fun for the whole family.
Address: 6099 W Barstow Avenue, Fresno, California
Official site: https://www.islandwaterpark.com
Where to Stay in Fresno, California for Sightseeing
Mid-Range Hotels:
Budget Hotels:
More Related Articles on PlanetWare.com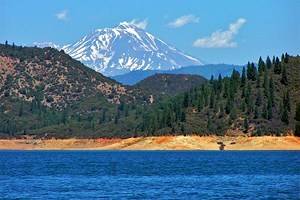 More Cities in California's Central Valley: As well as growing the most agricultural produce in the state, the Central Valley of California is also one of the fastest growing regions. Many great cities welcome tourists with fun attractions, including Modesto to the north. The city of Redding is on the far northern end of the Central Valley, and alongside diverse cultural attractions, the city also lends access to the surrounding mountains. For a little taste of country music and scenic Sierra Nevada foothills, Bakersfield to the south also warrants a weekend visit.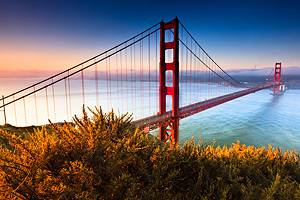 Bigger Cities in the Bay Area: The beautiful bayside views of San Francisco can be reached from Fresno in under a three-hour drive. The lively city of Oakland in the East Bay is a bit closer and provides other fun places to visit, including Jack London Square and Redwood Regional Park. South of San Francisco, San Jose is the largest city in the Bay Area and home to numerous city attractions including the stunning Municipal Rose Garden.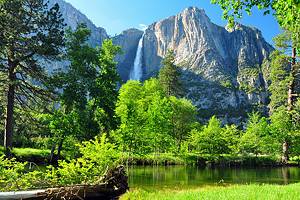 More to Explore in California: Spanning the entire state from south to north, and from desert floor to ocean shore, the best places to visit in California include a diverse set of landscapes and cultural attractions. For some of the best hiking trails and campgrounds in California, the best national parks in California deliver on much of what makes the state so special. If you feel like celebrating a special occasion in style, our guide to the most romantic getaways in California delivers with sunset views and intimate surroundings.