10 Top-Rated Resorts in Ras Al-Khaimah
We may earn a commission from affiliate links ()
The resorts of the Emirate of Ras Al-Khaimah may be lesser-known among foreign vacationers than the resorts of Dubai, but the coastline here, with its white-sand beaches trailing along the shore, makes this emirate prime territory for resort vacations.
The main resort hubs are southwest along the coast, from Ras Al-Khaimah city in the Al-Hamra area to the manmade Marjan Island (both around 90 kilometers northeast from Dubai). Most resorts here are owned by well-known international hotel brands.
Although the beach is a main resort focus, Ras Al-Khaimah is the UAE's major activity center, and resort guests are as likely to be heading out to zipline, hike, or climb the mountain of Jebel Jais as laze on the beach. This means there are as many bed-and-breakfast deals as there are all-inclusive deals.
Discover the range of resorts in this emirate with our list of the best resorts in Ras Al-Khaimah.
1. InterContinental Ras Al-Khaimah Mina Al Arab Resort & Spa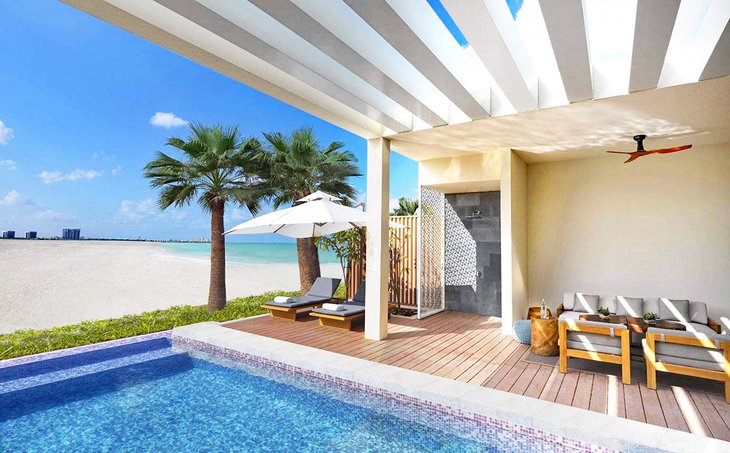 This is where you come to soak up the secluded and peaceful environment of Hayat Island, surrounded by palm-sprinkled gardens and fronted by a powdery white-sand beach.
All the rooms, suites, and villas here have seafront views and larger-than-normal balcony or terrace outdoor spaces to help guests make the most of island life.
The modern, minimalist style of the rooms, utilizing natural fibers and textures against a soft palette of taupe and blue, evokes easygoing casual glamor.
For dining, there are six restaurants and café spaces to choose from, whether you're after fine dining on a menu of classic Middle Eastern flavors at Levant & Nar or want to sample the meaty grills and New York-style street-food snacks and sharing plates of NoHo Grill.
The large swimming pool, with adjoining children's pool area, provides plenty of space to relax if you don't want to be on the sand–though this resort really is all about the beachfront itself.
On the beach, you'll find sunrise yoga, stand up paddleboarding, and kayaking available for guests who want to make the most of the simple pleasures of sun, sea, and sand.
Address: Hayat Island, Mina Al Arab
2. Waldorf Astoria Ras Al-Khaimah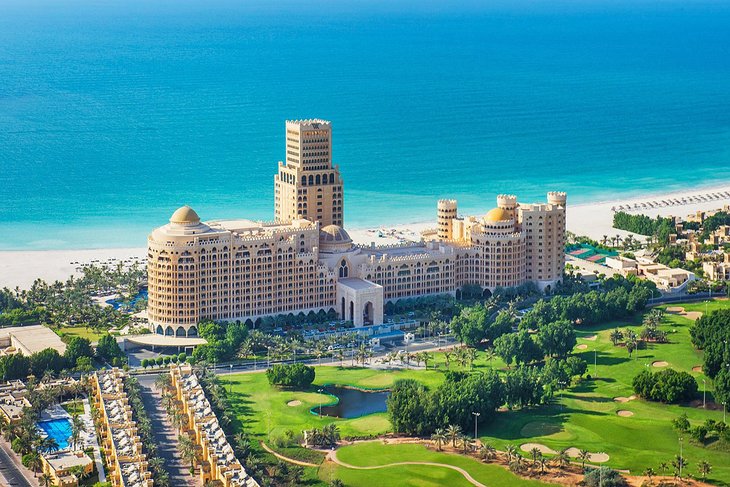 Accommodation: Waldorf Astoria Ras Al Khaimah
Center stage in the Al-Hamra area of Ras Al-Khaimah (28 kilometers southwest of central RAK city), the Waldorf Astoria is a sumptuous palace of a resort, fronting a wide sweep of soft white-sand beach.
Neighboring Al-Hamra's 18-hole championship golf course, designed by Peter Harradine, the Waldorf Astoria is a favorite choice with golf fans as well as beachgoers.
If you feel like relaxing rather than playing a round, there are two large swimming pools here. The Waldorf Astoria Spa, with its signature herbal sauna, floatation bed, and hydrotherapies, makes this a prime choice for spa break vacations.
With eight restaurants, there's no need to step outside of the resort to dine, as you have the steaks and seafood of the Lexington Grill and the sushi and teppanyaki of Umi Restaurant right on hand on-site.
Families will find they're well looked-after here with the Pearl Kid's Club offering a full program of activities for under-12s. There's a designated children's swimming pool complete with water playground equipment, a babysitting service available for parents, and all the resort restaurants have separate kid's menus.
The 346 rooms and suites, with views across the glittering blue Arabian Sea or the lush green of the golf course, are all about contemporary elegance, using lashings of white set against soft neutrals to create a modern regal ambience. Many come with balconies.
Address: Vienna Street, Al-Hamra village
3. Hilton Ras Al-Khaimah Beach Resort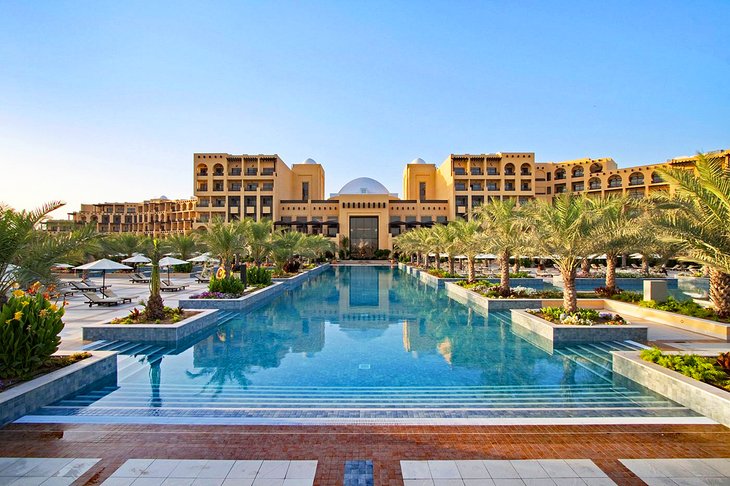 Accommodation: Hilton Ras Al Khaimah Beach Resort
Straddling the shorefront of Ras Al-Khaimah city, the Hilton Ras Al-Khaimah allows for resort living while still being within easy reach of the central city.
This makes it a popular resort choice with travelers in RAK city for business, as well as those here purely for vacation.
The resort's 1.5-kilometer-long stretch of private white-sand beach is a major drawcard for those seeking a simple beach break, but the Hilton's vast amount of facilities and activities on offer make this an excellent choice whatever kind of vacation you're looking for.
There are seven swimming pools here including a separate children's pool complete with waterslides, a saltwater pool, and another pool reserved for adults only.
When you want to brush off the sand and head out for some action, the on-site water sports operator offers kayaking, parasailing, jet skiing, and sailing, along with courses where you can learn to windsurf, wakeboard, or water-ski.
For a more relaxing experience, the Hilton's Spa has a full range of beauty and body treatments as well as a traditional hammam (Turkish bath) if you want to experience this ancient bathing ritual.
There are nine dining, entertainment, and café spaces within the resort, so you're never stuck for restaurant choice–the Lebanese-inspired flavors of Al Maeda and Italian fine dining at Piaceri Da Gustare the two main restaurant choices.
The 471 rooms, suites, and villas are designed in a classic European style, utilizing plentiful soft, neutral tones, and all come with balcony or terrace.
Address: Al Maareedh Street, Ras Al-Khaimah City
4. The Ritz-Carlton, Ras Al Khaimah, Al Wadi Desert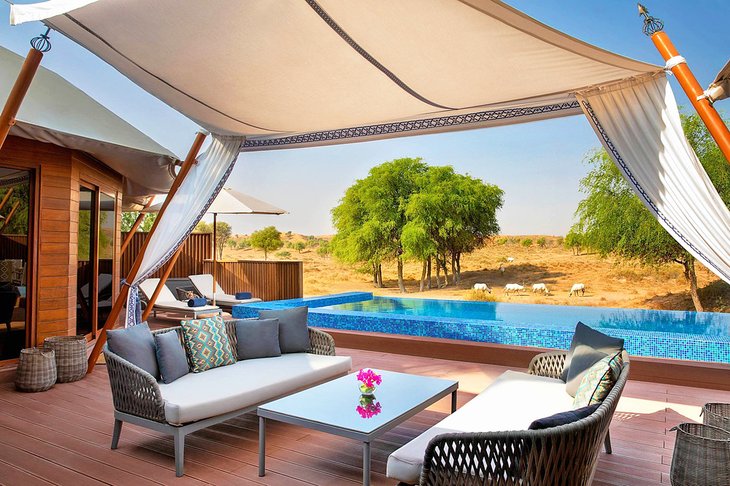 Sitting amid the protected 1235-acre Al Wadi Nature Reserve, 35 kilometers southwest of central RAK city, the Ritz Carlton Al Wadi Desert is a luxurious wilderness getaway.
The villas here, surrounded by the raw beauty of the sweeping desert, are either built from traditional mud brick or take their influence from Bedouin tents. All come with private plunge pools and outdoor lounging decks.
It's all about experiencing the desert here, with guided nature hikes to spot Arabian Oryx, sunset camel rides, falconry shows, desert horse rides and bike trails, yoga in the desert, and stargazing tours all on offer.
When you've come back from your desert adventures, the Ritz Carlton Rainforest spa is a destination in itself and one of the top choices for a five-star spa-break in the UAE. Its signature offerings include HydraFacial treatments, traditional bamboo massages, and their unique hydrothermal bathing ritual.
While you may be amid the wilderness of the desert, resort dining is sophisticated, ranging from the casual rooftop Moon Lounge with its sunset views across the orange dunes, to the Moroccan and Mediterranean menu of Moorish Restaurant.
Address: Al Maazra Wadi Khadija
5. Marjan Island Resort & Spa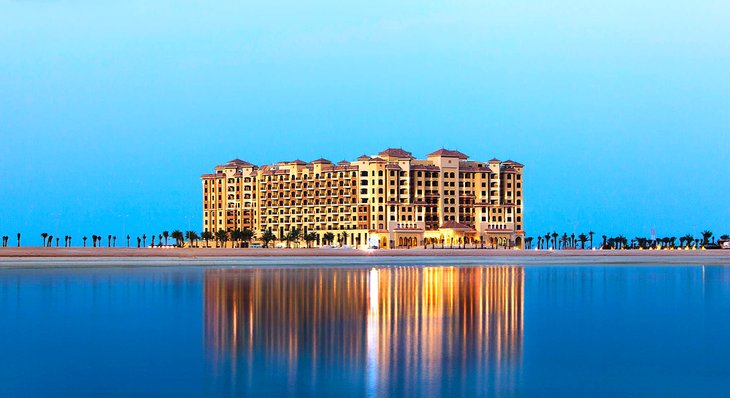 Accommodation: Marjan Island Resort & Spa
One of Marjan Island's premier resorts, this five-star destination is all about soaking up the sun on the resort's swath of private white-sand beach.
Catering to families as well as it caters to couples on a romantic break, the Marjan Island Resort & Spa has a kids-stay-free policy. The Pirates Club outdoor playgrounds and dedicated indoor game room for younger guests are on hand to keep little ones busy.
There are three swimming pools as well as the beach, so there are plenty of areas for sunbathing and swimming, while the water sports operator provides lots of opportunities for more active travelers with kayaking, stand up paddleboarding, windsurfing, wakeboarding, and fishing boat trips all available.
The restaurant options here take guests on a globe-trotting journey, so there's plenty to choose from, whether you're in the mood for pizza at Al Forno, Lebanese meze at Zaitouna House, or the Asian-fusion and Middle Eastern menus of Al Liwan.
The 299 rooms and suites are spacious and light-filled, designed in a classic clean-lined style with gold accents. Although they all offer great views across the beachfront, you'll need to upgrade to a premium room for a balcony.
Address: Marjan Island Boulevard, Marjan Island
6. The Ritz-Carlton Ras Al-Khaimah, Al-Hamra Beach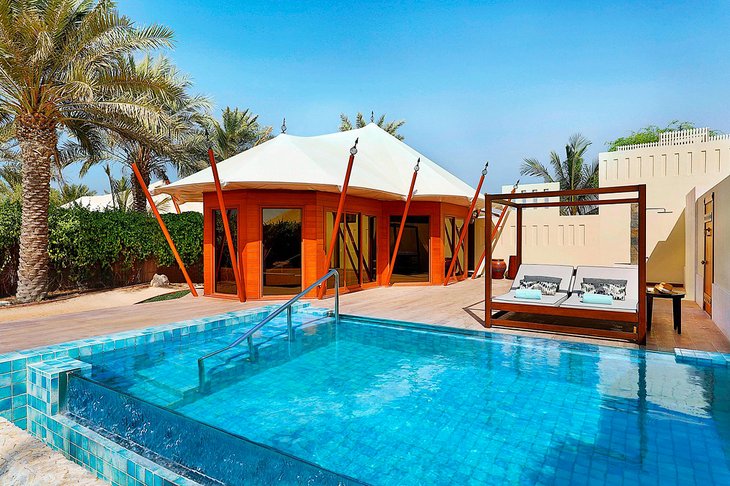 The ultimate exclusive luxury living escape, villas here are surrounded by lush palm gardens for privacy and are infused with traditional elements of Arabian design. All come complete with outdoor terraces and private plunge pools.
If you do feel like leaving your villa, the Shore House Restaurant offers a menu specializing in seafood with plenty of other inspiration from global cuisines, while the resort's "destination dining" experience can organize private dining at your villa or right on the beach.
The Ritz Carlton Spa can add extra pampering to your stay with its private waterfront pavilions, the perfect place to relax and indulge in beauty treatments while listening to the waves.
For activities, guests can be whisked to the Ritz Carlton's sister property for the day to experience desert hiking, horse riding, and camel riding in the Al Wadi Nature Reserve.
Address: Vienna Street, Al-Hamra village
7. Hampton by Hilton Marjan Island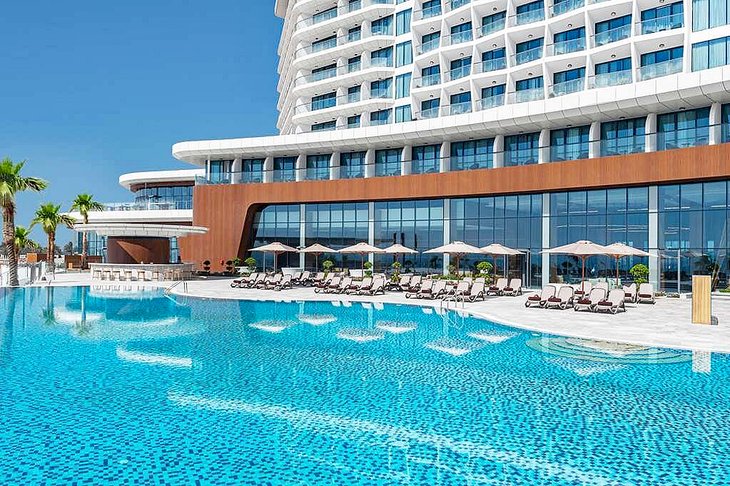 Accommodation: Hampton by Hilton Marjan Island
On Marjan Island (33 kilometers southwest from central RAK city), Hampton by Hilton Marjan Island is a beachgoer's paradise, with a 750-meter-long stretch of private white-sand beach at their disposal.
Rooms, though on the small size, are bright and breezy with a welcoming beach vibe, and all come with little balconies.
As there's an emphasis on family-friendly facilities here, there are plentiful room options for larger family groups.
For dining, the resort has seven separate spaces with plenty of buffet options that offer a range of international cuisines.
Although the beach is the main drawcard, there's also a good-sized infinity pool overlooking the beach and a separate family pool where little ones can safely splash about.
Address: Marjan Island Boulevard, Marjan Island
8. The Cove Rotana Resort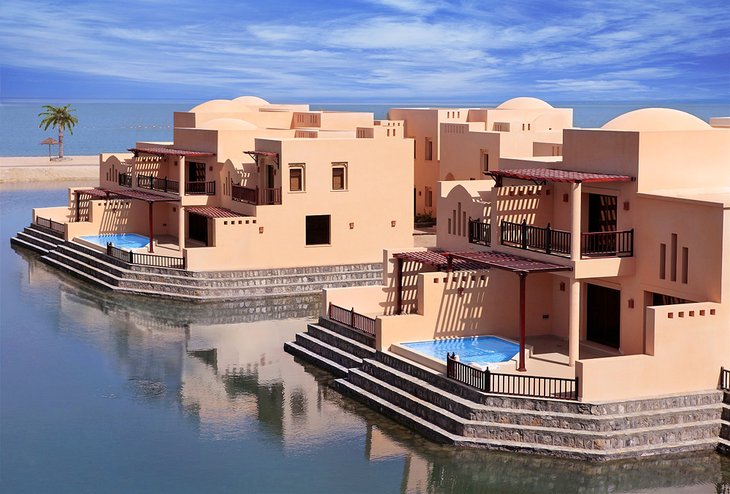 Accommodation: The Cove Rotana Resort
Just 14 kilometers southwest from central RAK city, the Cove Rotana Resort is designed to look like an Arabian village with its clusters of domed buildings tumbling down to the shore.
The complex is vast, so golf buggies help to buzz guests around the resort, whether it's down to the private beach that trails for 600 meters along the shore, out to one of the resort's two restaurants, or to one of the three swimming pools.
The domed rooms, all with balconies, are simply designed with colorful local touches and brickwork accents. Upgrade to a deluxe room for a better view.
The villas (ranging from one-bedroom duplexes to three-bedroom villas) are a hugely popular accommodation option for families here.
Address: Sheikh Mohammed Bin Salem Road, Al Dhait South
9. Rixos Bab Al Bahr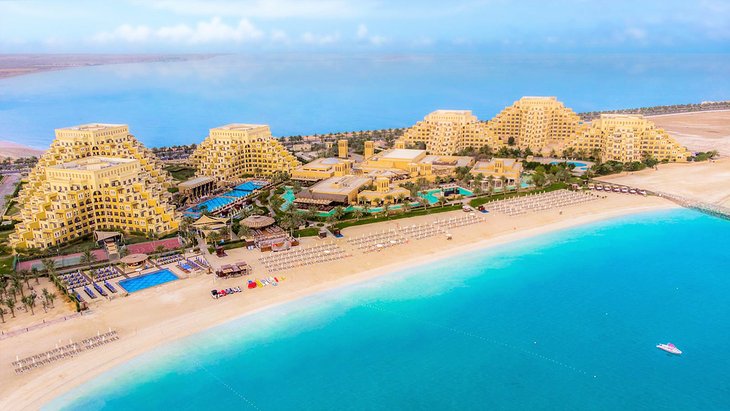 Accommodation: Rixos Bab Al Bahr
This all-inclusive resort on Marjan Island straddles a long stretch of powdery white-sand beach.
One of the best options in the Ras Al-Khaimah area if you don't want to leave your resort, the Rixos Bab Al Bahr offers everything you need at your fingertips.
There are four outdoor swimming pools, a dedicated children's pool, and an aqua park pool for when the kids need more pool activities than just splashing about.
Down on the beach, the dive center and water sports operator offer up plenty of opportunities to get off your sun lounger, with scuba diving, kayaking, parasailing, and jet skiing among the activities on offer.
The Rixy Kids Club hosts a full program of activities throughout the day, ranging from tournaments on the beach to arts and crafts to keep smaller guests happy. There is regular family-friendly entertainment and other events during the evenings.
With seven restaurants, you won't run out of dining choices during your vacation, whether you want to sample Lalezar's menu of traditional Turkish flavors; Aja's classic Asian dishes, which cover the specialties of Thailand, Japan, China, Indonesia and India; or the best of Italian trattoria dining at L'olivo.
Rooms and suites are simply designed, large, and light-filled, with views over the resort complex or overlooking the sea. Only some rooms come with balconies.
Address: Marjan Island Boulevard, Marjan Island
10. Radisson Resort Ras Al-Khaimah, Marjan Island
The 388 rooms are simply-designed. You'll want to make sure to get one with a balcony to make the most of the sea views.
Fronted by a private strip of beach and a selection of swimming pools, including one with waterslides that's designated for kids, this resort is all about an easy-going vacation focused on sun, sand, and sea.
There are six dining spaces on-site with a restaurant choice for everyone, from the Mediterranean flavors of La Med to the barbecue and fish specialties of the Seafood Shack.
Address: Marjan Island Boulevard, Marjan Island