Where to Stay in Durban: Best Areas & Hotels
Deciding where to stay in Durban may depend on your travel plans but you can find good hotels in a few areas. Durban's long stretch of beautiful beaches, famed for their warm water and great surfing, are among the city's top attractions. Collectively known as the Golden Mile, this area just east of the Central Business District, features tourist accommodations in all budgets, especially around North Beach. You'll also find a promenade with shops and restaurants and uShaka Marine World.
More hotel options are found in the trendy suburbs, like Morningside, Berea, and Glenwood, that spread north and west of the downtown area and are also good places to stay. The CBD itself, which is known for colorful markets like Victoria Street, is best visited during the day, and not a place most tourists want to stay–although there are some quality budget and mid-value hotels right on its edge.
Durban is also famous for its Indian cuisine, especially curry, and a local speciality know as "Bunny Chow," and Florida Road in the Morningside suburb is the city's main dining district and a great place to eat local food. There are lodging options here as well. The uShaka International Airport is about a 40-minute drive from downtown Durban and there are some hotels in the suburb of Umhlanga Rocks between the city and the airport.
Where to Stay in Durban for Luxury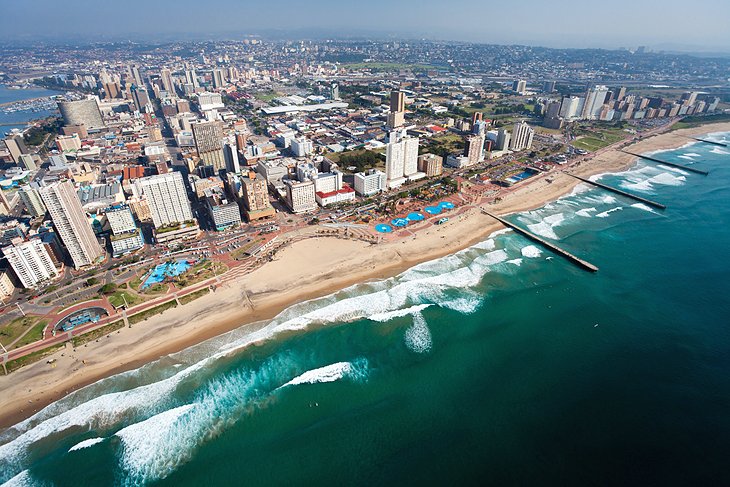 In a quiet Morningside location with sweeping city views, African Pride Audacia Manor Boutique Hotel is an elegant, old-world, romantic, five-star boutique hotel. Accommodation is inside a 1928 colonial-style mansion, and spacious rooms feature balconies and period wood furnishings. A delicious breakfast buffet is included. There is also a restaurant with patio seating for lunch and dinner, an outdoor pool and hot tub, and the opportunity to arrange in-room massage treatments.
Right on the North Beach promenade, which is part of the Golden Mile, the Protea Hotel by Marriott Durban Edward is a good-value luxury option. In a building dating back to 1911, the hotel has a charm often lacking in chain hotels - check out the photos of old Durban displayed in the stairwells. Rooms are clean and comfortable, and many have direct ocean views from furnished balconies. There is an all-day buffet restaurant, rooftop pool, and underground parking. Service is excellent.
The Hilton Durban is located between the CBD and the Golden Mile, right next to the International Convention Centre, and is a top luxury bet if you're looking for a larger branded property with consistently good service and cleanliness. Rooms are modern, with comfortable beds, workstations, and marble baths, as well as city skyline views from large windows. Book a higher floor for the best views. There is an on-site restaurant and pool.
The Oyster Box is located a little farther out of town in the ritzy Umhlanga Rocks suburb, where Durban's A-list crowd hangs out. Easily the area's top luxury property, it is a beautiful fusion of Mediterranean and colonial European style, with doormen in pith helmets and red-and-white striped cushions on sunloungers by the pool. The location is right on the beach near an old lighthouse, and some rooms offer views of both. The on-site restaurant is excellent, serving a delicious breakfast buffet - just keep an eye out for monkeys who will steal your food.
Where to Stay in Durban: Mid-Range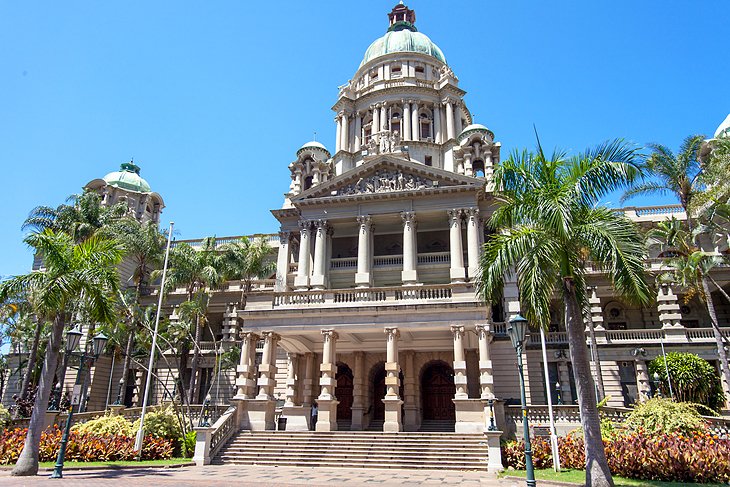 One of the best-value mid-range properties, Royal Hotel is just at the eastern edge of the CBD, and the location may turn off some. But once inside, you'll find a lovely old-fashioned hotel with Art Deco touches. Rooms are elegant, comfortable, and clean with nice linens and city views. There is a swimming pool and restaurant on-site.
Another well-priced property, Coastlands Musgrave Hotel offers clean and comfortable rooms in the Musgrave suburb, about five miles from uShaka Marine World. The rooms have free Wi-Fi and satellite TV, and the best come with private balconies and city views (just make sure you book on a higher floor). There is also an outdoor pool, coffee shop, fine dining restaurant, and a spa with three treatment rooms.
Slightly more expensive, but right in the heart of the Florida Road dining buzz, Quarters Hotel Florida Road, inside an elegant Edwardian-style house, is another top mid-range choice. The upscale rooms are decorated with French antiques, and some have four-poster beds and private patios. Breakfast is included, and there's an airy restaurant with a terrace for other meals.
Where to Stay in Durban on a Budget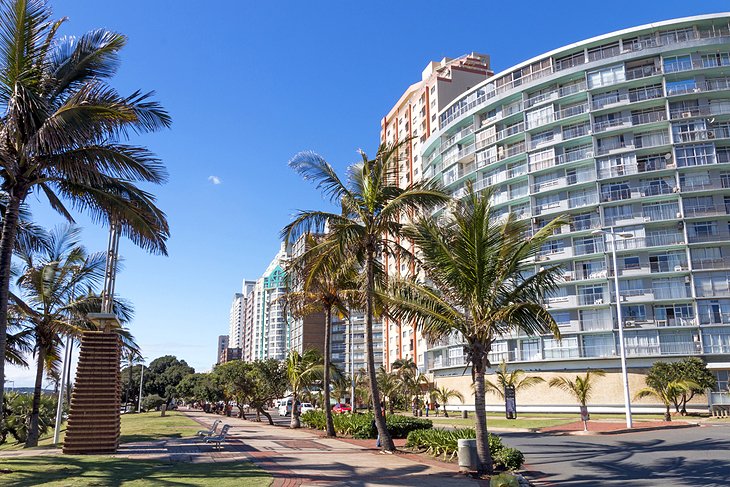 Durban has a number of budget options that are very similar in price and amenities. They tend to be located either near North Beach and the Golden Mile or on the outskirts of the CBD.
Right on the promenade in North Beach, just a few minutes' walk from the ocean, the Parade Hotel offers clean budget rooms with sea views. The staff is cheerful and efficient, and the included buffet breakfast gives you fuel to start the day.
A little farther west towards the CBD, but still just a 10-minute walk from the beach and in the vicinity of numerous restaurants, Road Lodge Durban is another excellent budget choice. It features small but clean rooms and friendly service. The property is child-friendly, and babysitting can be arranged.
Just a few blocks south of the CBD and across from Durban Harbour, the Riviera Hotel offers basic but clean rooms. The included breakfast is very good, and the staff is friendly. There are plenty of taxis waiting outside.
Where to Stay in Durban for Families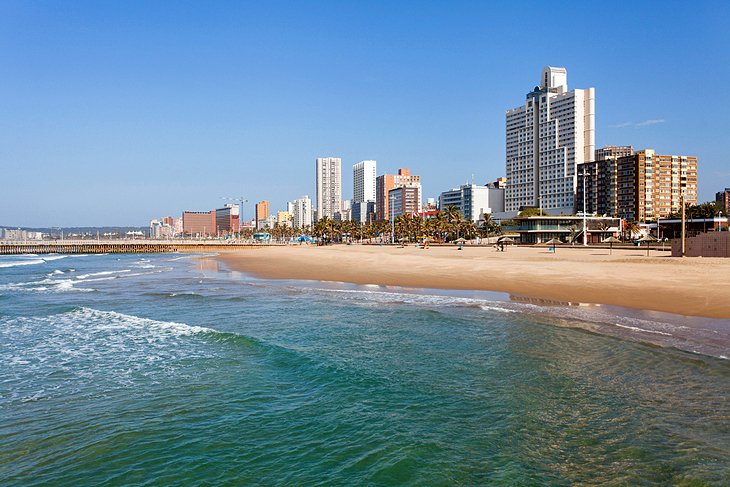 A favorite splurge for families is the luxe Southern Sun Elangeni & Maharani on North Beach. There are family rooms and suites, some with kitchens, to choose from, and accommodations are stylish and modern with flat-screen TVs, ocean views, and Wi-Fi. You'll have plenty of variety for eating with 11 on-site restaurants. There are also three pools and a spa.
Also in North Beach, Belaire Suites is a more affordable family choice. Comfortable suites come in a variety of sizes and bed configurations and are relatively basic but spacious and clean with kitchenettes. The included buffet breakfast is a plus, as is the location right off the sand.
Right on the Golden Mile, The Suncoast Towers is a family-friendly beach vacation spot. The hotel sits at the northern end of North Beach and offers a mix of rooms and suites, including family rooms that are all done up in modern style with large windows. Family-friendly amenities include beach access, babysitting, and a pool. There is also a restaurant, fitness center, and spa on-site.
Where to Stay in Durban for Romance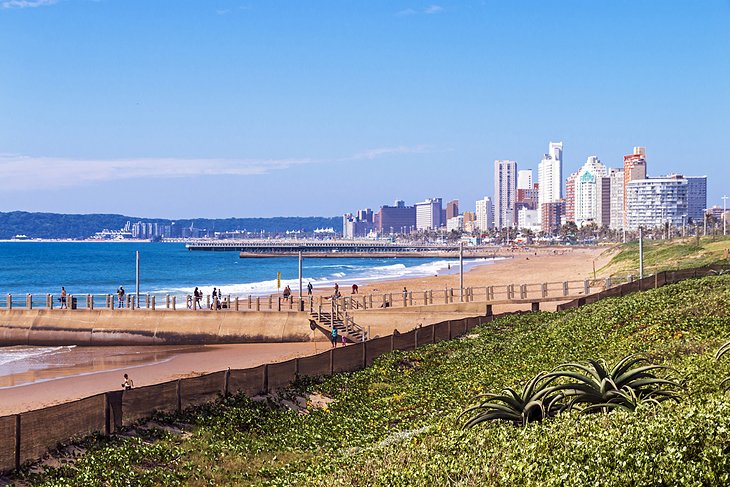 Tucked away in the quiet Durban North suburb, Endless Horizons Boutique Hotel is farther out from downtown's main attractions but perfect for a luxury romantic holiday. Let them know you're celebrating a marriage or anniversary before you arrive, and they'll leave a love message in rose petals on the floor.
While not directly on the beach, it is close, and many of the stylish rooms at this modern boutique hotel feature ocean views. Beds are super comfortable, and the rooftop infinity pool is fabulous. There is also a restaurant on-site.
In the hip Morningside suburb, home to the Florida Road entertainment district, The St. James on Venice is another excellent romantic choice. The boutique luxury guest house is set on a quiet, leafy street across from the historic St. James Church, in a building dating back to 1892.
Rooms are elegant with modern touches like flat-screen TVs and free Wi-Fi, and some feature views of the church or tranquil gardens. The restaurant here is excellent, offering delicious, well-presented food and the option to dine on the outdoor terrace. Breakfast is included in the rates.
The Concierge Boutique Bungalows are another romantic option in the trendy Morningside suburb. The hotel is set inside a number of 1920s heritage-listed buildings that have been renovated inside to create a distinct, modern luxe vibe. Although the name mentions bungalows, the hotel actually offers 12 rooms inside four bungalows, making it an intimate property. Each room features custom-designed furnishings and a distinct look.
Make sure to grab breakfast or lunch at the on-site Freedom Café, which is located inside a steel shipping container, has indoor and outdoor seating, and is popular with locals.
Where to Stay in Durban near the Airport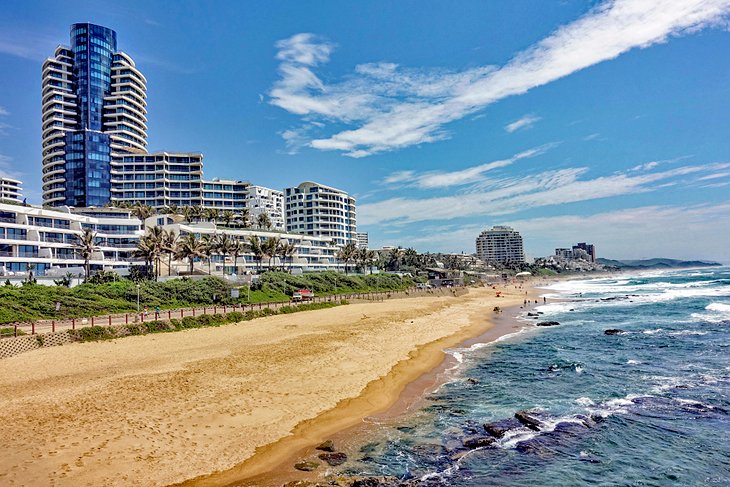 Durban does not have a lot of hotels close to its new international airport, uShaka International, but there are some options within 10 miles of it. The closest hotel to uShaka International Airport is the boutique De Charmoy Estate Guest House. Just under four miles from the airport, the family-owned and operated property offers just 16 charming rooms set in four different homes on the estate's peaceful grounds.
A hot breakfast is included in the rate and there are a limited number of adjoining rooms for families. Beyond running as a small hotel, the property operates as an event venue that can be booked for private functions. There is also a kid-friendly "Coffee Garden," with free-roaming giant tortoises on-site, and a spa with a range of treatments and its own Jacuzzi facilities.
A little farther away but still near the airport is Five Burnham Guesthouse. This boutique bed and breakfast is in the Umhlanga Rocks neighborhood, between central Durban and the airport, and is less than a 15-minute walk from the beach.
The four-star guesthouse has just five rooms, including one designed for families. All are colorful and charming in decor. Away from your room, look for an outdoor swimming pool and opportunities to arrange for lunch and dinner. A hot breakfast is included in the mornings.
Also near the airport in Umhlanga Rocks is uShaka Manor Guest House. Here, you'll find just six luxe suites and two apartment-style units with full kitchens that are perfect for families with kids. The suites are warmly decorated with plush bedding and small touches like fresh flowers. Amenities include a lovely garden area and outdoor swimming pool. The hotel offers an airport shuttle service as well.