14 Top-Rated Attractions & Things to Do in Medford, OR
Medford is at the heart of the Rogue Valley in Southern Oregon and offers a rich selection of natural spaces and community flavor. From jet boat and paddlesport adventures on the Rogue River to enjoying the fruitful produce of the region, things to do in Medford span night and day and the different seasons.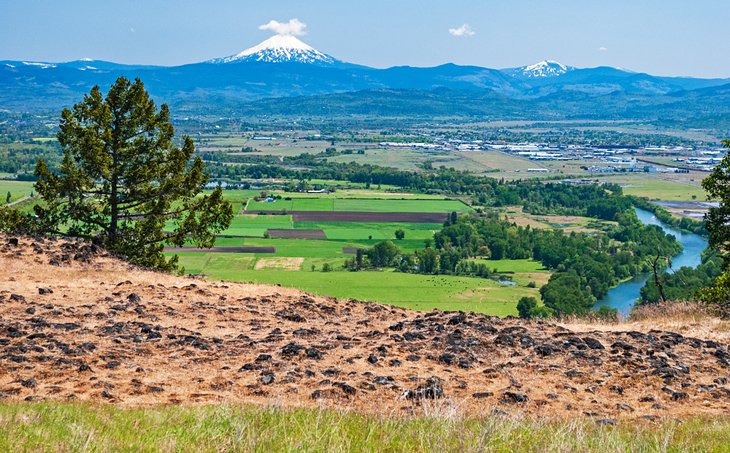 The prominent Upper and Lower Table Rock is exemplary of the outdoor attractions in the city and a must-hike when visiting. It offers several fun pathways to explore and stunning views of the surrounding valley. Other day trips and outdoor things to do around Medford include world-renowned attractions like Crater Lake National Park and the Wild and Scenic Lower Rogue River.
More family fun attractions in Medford include the Kid Time Children's Museum and Medford Railroad Park. For romantic things to do in Medford, places like the Craterian Theater offer a great stage for a date, and downtown restaurants like Porters Dining at the Depot feature intimate dining experiences.
It's not all about outdoor attractions in Medford. Numerous boutique shops, local restaurants, and things to do indoors line Main Street downtown. Whether it's antique perusing, dining on fresh fare, or community engagement, this downtown corridor offers unique activities around every street corner. For more shopping and entertainment near Medford, the charming small town of Jacksonville is 15 minutes west of the city.
Plan your sightseeing with our list of the top things to do in Medford, Oregon.
1. Rogue River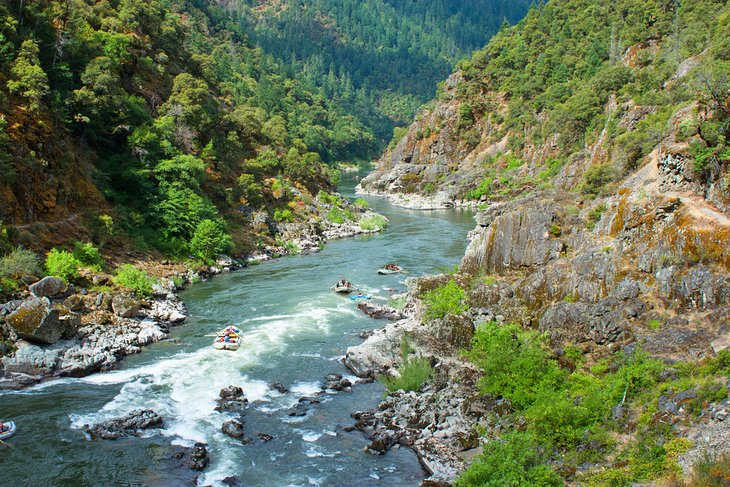 Carving its way into the culture of the surrounding valley, the Rogue River runs for 215 miles between its headwaters in Crater Lake National Park and its terminus at Gold Beach. Today, the river is categorized by upper, middle, and lower sections,
The Lower Rogue River was one of the first in the nation to be designated as "Wild and Scenic," and it epitomizes the stunning riparian habitat of the valley. Popular things to do on the Lower Rogue River include white water rafting, lodge-to-lodge floating, and salmon fishing.
Permits to raft the wild and scenic section of the Lower Rogue River are strictly enforced during the summer season, and numerous local outfitters are happy to guide tourists on the water. Upper portions of the Rogue River are more easily accessible to the everyday public, including the picnic areas and parking spots of TouVelle State Park.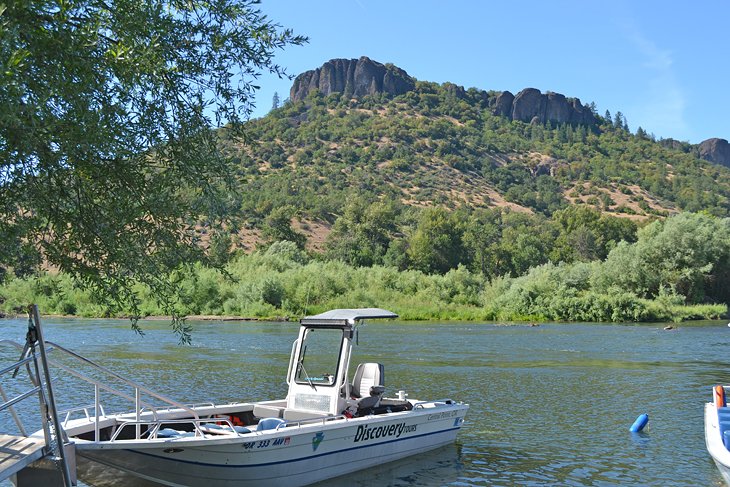 The family fun Rogue Jet Boat Adventures runs tours departing from TouVelle State Park and offers gliding jet boat rides up and down the river. Along the way and peppered with some exciting hairpin turns in a maneuverable jet boat, this guided adventure features historical narration about the surrounding region, including the towering Upper and Lower Table Rock prominently in view.
Those looking to enjoy the scenery by foot can hike along the Rogue River National Scenic Trail parallel to the banks. More day trips along the Rogue can be found farther north at the lava-carved Natural Bridge outside Crater Lake National Park.
Official site: https://www.fs.usda.gov/recarea/rogue-siskiyou/recarea/?recid=74299
2. Upper and Lower Table Rock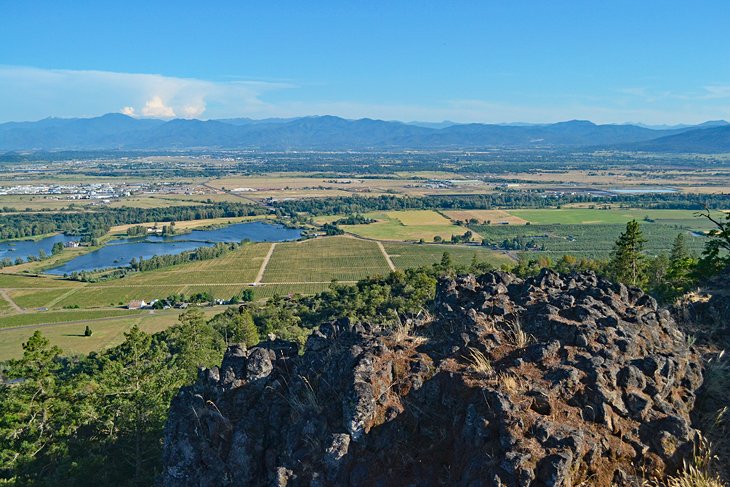 Upper and Lower Table Rock are two monolithic mesas standing 800 feet in the air, jutting from the banks of the Rogue River. The flat expanses atop both Table Rocks are a result of a volcanic eruption more than seven million years ago, and each played a significant role in the history and culture of the region's Indigenous culture.
Today, Upper and Lower Table Rock are popular hiking and long-distance viewing destinations, and two of the most prominent features of the Rogue Valley. It's less than a two-mile hike to the top of either of the Table Rocks, though it's nothing but uphill to summit the 800-foot mesas.
After making the climb up, numerous scattered trails navigate the flat terrain, with some trails leading to the edge for fantastic views of the Rogue Valley and the backdropping Siskiyou Mountains. Plan to spend at least two to three hours for the entire roundtrip hike.
Summer brings scorching temperatures to the top of both Table Rocks, with spring and fall often providing the best times to make the hike.
3. Downtown Medford Shopping and Dining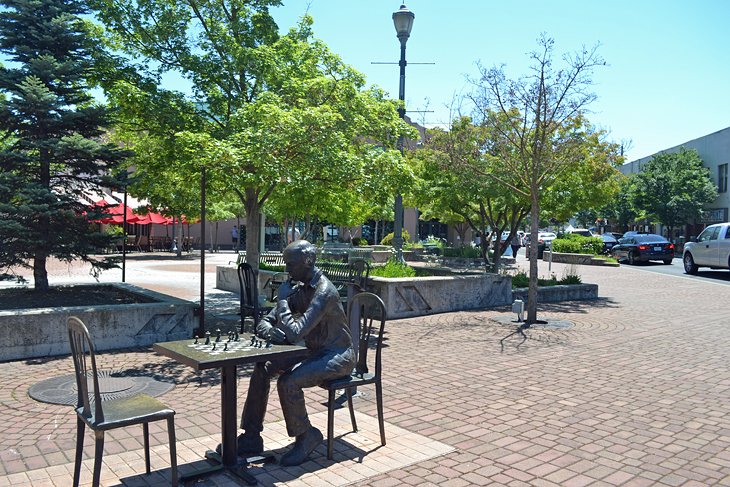 Unique shopping opportunities and local restaurants line downtown Medford, offering a laid-back sense of style and many experiences to choose from. Still undergoing a resurgence in culture and charm, downtown Medford and Main Street are a great place to visit without a plan to simply see where the day takes you.
For dining, local cafés like Jasper's offer casual fare, and more upscale restaurants, including Porters Dining at the Depot, feature a real potential for romance. Other popular eateries in downtown Medford, like Pomodori Bistro and Elements Tapas, also attract foodies and casual eaters alike.
Places like Pretty in Paint and The Coop de Ville offer some of the best shopping in Medford. These stores, and many others, also make downtown a great place to find homemade goods and antiques. Fashion, jewelry, and art are also prominently on display in downtown windows.
Numerous community events also occur in the downtown district throughout the year, including the Rogue Valley Growers Market on Thursday mornings. One monthly event not to miss is the Third Friday Art Walk featuring pop-up galleries and a street festival flair.
4. Prescott Park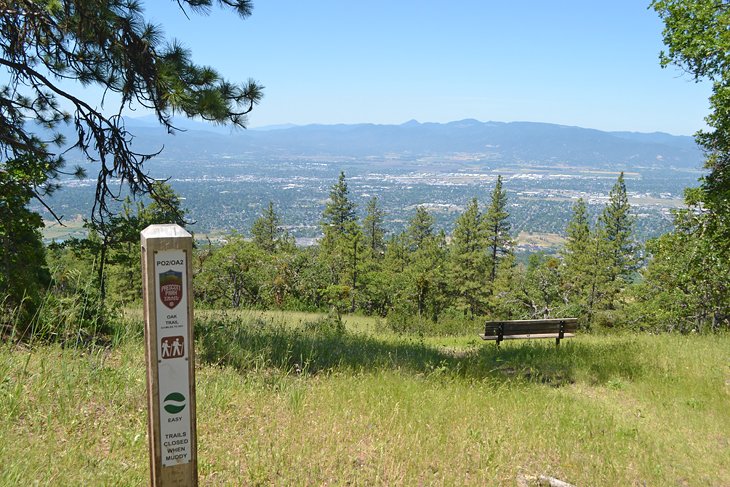 Prescott Park encompasses over 1,700 acres of natural space abutting the eastern part of the city. It contains one of the most prominent peaks seen from Medford, Roxy Ann Peak, rising 3,576 feet within the park. This mountain and surrounding natural space are one of the closest and most popular places to go hiking from Medford.
The grade is consistently uphill to reach Roxy Ann Peak, but the views of the surrounding Rogue Valley are well worth the effort. Several trails wind around the mountain, with the most common route consisting of an approximately five-mile loop. Mountain bikers also often descend on the mountain, and trail users should keep an eye out for one another.
Either avoid the hike in the middle of hot summer days or be sure to bring plenty of water and some shade protection.
Address: 3030 Roxy Ann Road, Medford, Oregon
5. Medford Railroad Park
This unique seven-acre park is open on the second and fourth Sunday of each month and provides a free, family-fun activity and place to visit. For those who grew up in the Rogue Valley or have kids, it's often a cherished childhood tradition.
The park was formally a sewer treatment plant prior to 1979. Today, this public space has been revitalized to include numerous intricate model train sets. Miniature train rides are also offered at this volunteer-run park, along with full-size locomotives and cabooses on display.
Address: 799 Berrydale Ave, Medford, Oregon
6. Crater Lake National Park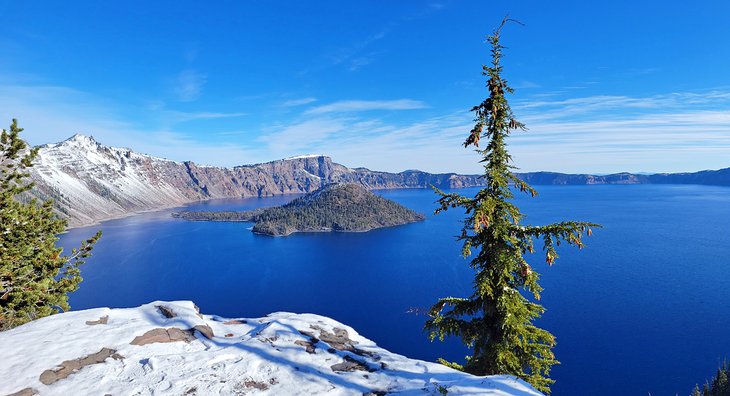 Crater Lake is one of the most stunning natural features of the American West, and it's just over an hour's drive from Medford. It's the result of a volcanic eruption over 7,000 years ago and is the longstanding remnant of what used to be Mount Mazama. Only rain and snowmelt comprise the icy blue waters of Crater Lake, which reach an astonishing near 2,000 feet depth, making Crater Lake the deepest in the country.
Crater Lake offers numerous things to do, but simply staring in awe at this unique natural landmark is one of the most popular activities in the park. The Rim Trail originates at the Rim Village Visitor Center on the southwest side of the lake and enables great views of the water and the steep slopes of the caldera, including vantage points of Wizard Island. Interested hikers can take a ferry to Wizard Island throughout the summer.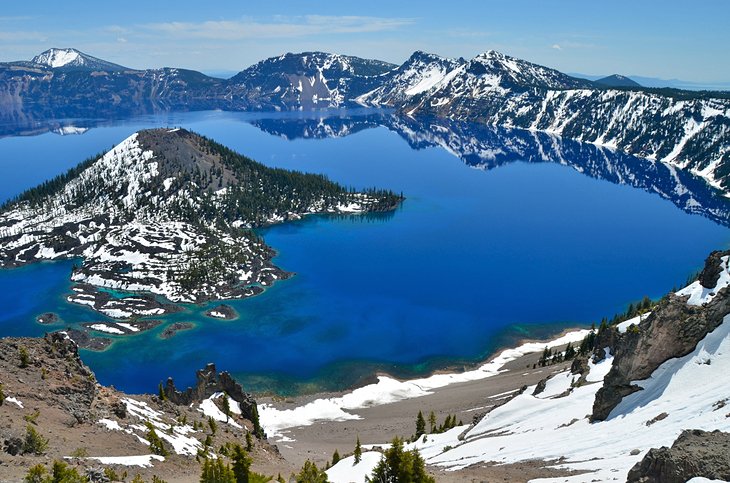 The Pacific Crest Trail makes a prominent side trip along the rim of Crater Lake, often filling the hiker/biker sites at the Mazama Campground with long-distance hikers. The Mazama Campground facilitates car camping and family travel, too, with over 200 sites available.
For additional add-on adventure to a Crater Lake trip, the stunning Natural Bridge of the Rogue River is only a 30-minute drive from the campground.
Official site: https://www.nps.gov/crla/index.htm
7. Jacksonville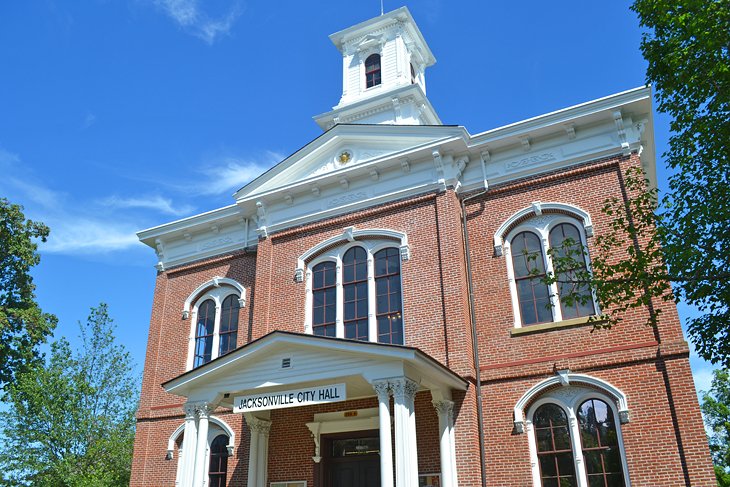 Jacksonville is a historic small town fifteen minutes west of Medford. It's a popular tourist destination for boutique shopping, antique perusing, and catching a live performance. Jacksonville is also a popular destination to enjoy the rich agriculture of the region with local restaurants and purveyors.
Numerous historical buildings and hiking trails line the small community, offering a great afternoon walk or after-dinner stroll. Many visit Jacksonville for the casual nature afforded by the town, where the best plans are to amble around and enjoy whatever piques the most interest.
The non-profit Britt Festival is a fun thing to do in Jacksonville throughout the summer. This celebrated concert series hosts music performances at their celebrated outdoor stage and venue space, featuring a natural amphitheater backdropped by a vibrant pine forest. Britt Festival music events often draw quite a crowd. A Britt Festival trolley runs back and forth from Medford to help alleviate the scarce parking opportunities.
8. Applegate Lake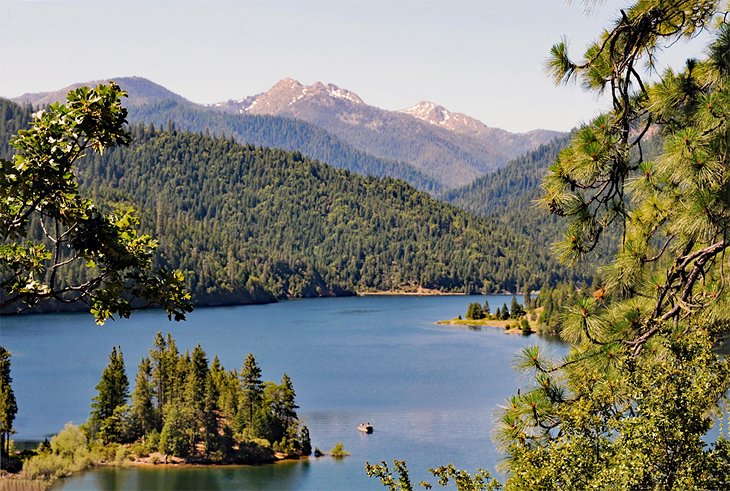 One of the most popular things to do in a Medford summer is visiting one of the many scenic lakes that surround the city. Applegate Lake, thirty miles south of Medford near the California border, is one such lake that draws summer crowds with activities like boating, fishing, swimming, hiking, and cycling.
The surrounding Hart-Tish Park adjacent to Applegate Lake offers a small selection of RV and tent camping sites within Siskiyou National Forest. This area is crawling with visitors throughout the summer months, but with plenty of space to explore, it rarely feels crowded.
An hour east of Medford, Howard Prairie Lake is also well utilized for cooling off during the summer, as well as other things to do like fishing, boating, and visiting the nearby Howard Prairie Lake Resort. A boat ramp and boat rentals are available at Howard Prairie Lake. Numerous public parks and camping opportunities surround Howard Prairie Lake and are popular with community members and tourists alike.
9. Craterian Theater at the Collier Center for the Performing Arts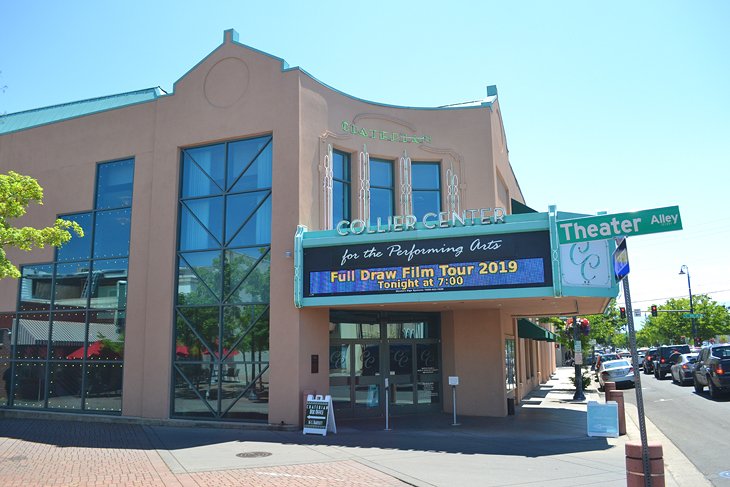 The Craterian Theater, in downtown Medford, first opened to the public in 1924 to the sound of a grand Wurlitzer organ. Following many years of community entertainment, including vaudeville performances and the advent of talking movies, the theater fell on its hardest times in the late 70s with the emergence of home televisions and multiplex theaters.
the Craterian Theater reopened to the public in 1997, completely restored to its original grandeur, after receiving much community support and funding. And today, it offers a variety of performances and entertainment for the whole family.
Performances at the Craterian Theater range from children's musicals to Russian ballet. The theater also features acoustic music shows, symphony concerts, and comedic engagements. And thanks to its extensive restoration, much of the fun of attending a show at the Craterion is its historic feel.
The Criterion accommodates 750 audience members, and every seat in the house offers a great view of the stage. The renovations also included updated sound and lighting equipment.
Address: 23 S Central Avenue, Medford, Oregon
Official site: http://www.craterian.org/
10. Oregon Caves National Monument & Preserve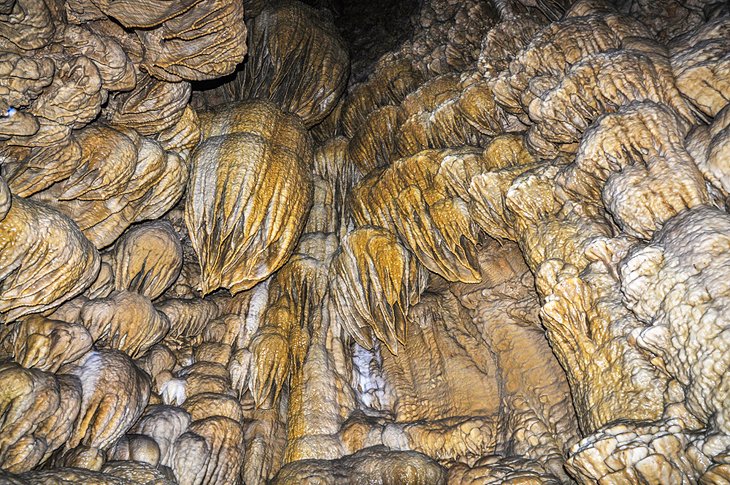 This underground attraction is a 75-mile drive west of Medford in the Siskiyou Mountains and features guided tours, ground-level hiking trails, and a subterranean world to explore. Visitors choose their own level of adventure at the monument, with many of the underground experiences featuring concrete walkways and lighted passageways.
Guided tours are the only way to see the inside of the cave. Daily trips range from the popular Discovery Tour to a 90-minute expedition designed for kids. Special off-trail cave adventures are also available for intrepid explorers, usually involving some degree of crawling around in the dark.
The Cave Creek Campground at the monument features 17 sites available on a first-come, first-served basis.
Address: 19000 Caves Highway, Cave Junction, Oregon
Official site: https://www.nps.gov/orca/index.htm
11. Kid Time Children's Museum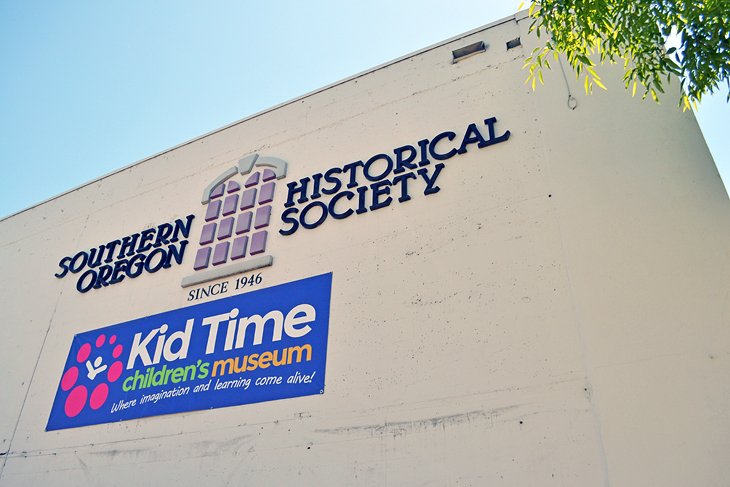 The Kid Time Children's Museum is within the Southern Oregon History Center in downtown Medford. It's a place where young learners can truly play free. The museum caters to infants and children up to 10 years old, as well as their parents.
This popular play spot features numerous themed play areas that focus on education through engagement. A few notable areas of interest include an Art Alley and Discovery Farm. Special instructors at the museum also facilitate hands-on activities and freestyle learning.
Address: 106 North Central Avenue, Medford, Oregon
Official site: https://www.kid-time.org
12. Natural Bridge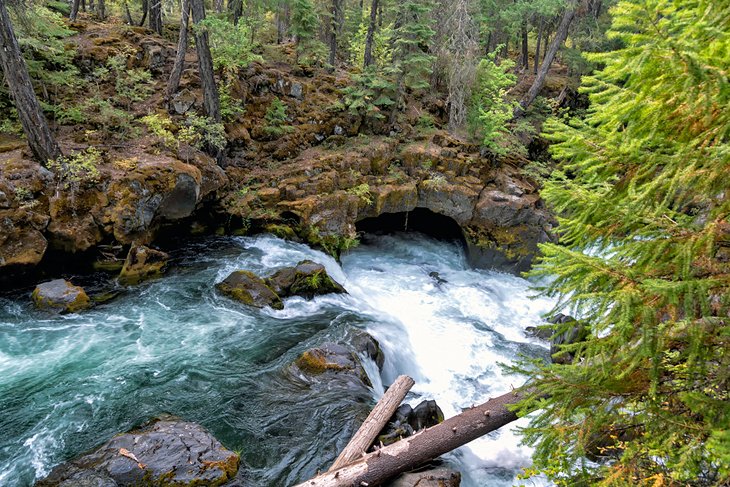 This amazing natural feature highlights the unique and dynamic force of the Rogue River. It's created by the river making a sharp and dramatic turn into an underground lava tube. This unique landscape gives off the appearance of the wild and raging river suddenly vanishing into the environment.
Natural Bridge is a 30-minute drive from Crater Lake, making it a great add-on adventure for a day or overnight trip to the national park. A two-mile loop and accessible trail take visitors to the Natural Bridge and back, touring the scenic river valley and old-growth forest along the way.
Official site: https://www.fs.usda.gov/recarea/rogue-siskiyou/recarea/?recid=69830
13. Crater Rock Museum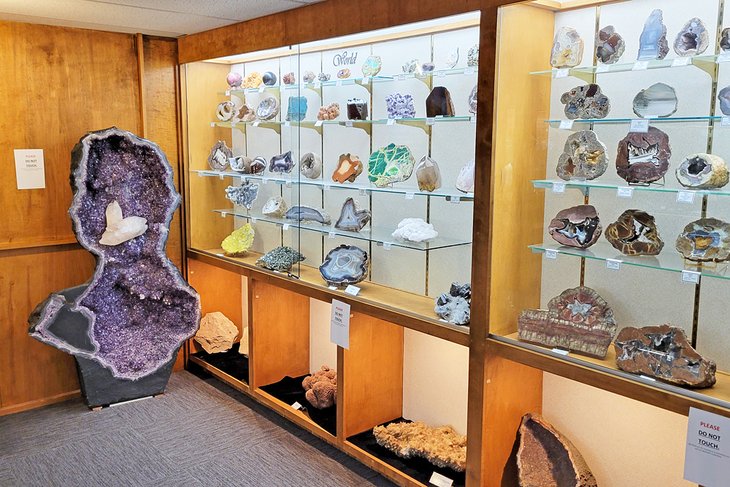 This homegrown museum in Central Point is one of the largest repositories for rocks and gems on the West Coast. The facility comprises over 12,000 square feet, including extensive glass-window galleries full of specimens. The museum also has an extensive gift shop at the front of the building, which is free to the public to peruse.
It's well worth the nominal fee to see the many rooms full of exhibits. And alongside numerous agates, geodes, minerals, and things like thunder eggs, information panels help navigate the geology. While it only takes 45 minutes to an hour to walk through the collection, rock hounds will want to take more time.
The Roxy Ann Gem and Mineral Society oversees the museum, and for those interested in taking rock hounding further, it's a society worth joining. Members receive access to the museum's Lapidary Workshop, where they can transform rough specimens into polished works of art.
Address: 2002 Scenic Ave, Central Point, Oregon
Official site: https://craterrock.com/
14. Valley of the Rogue State Park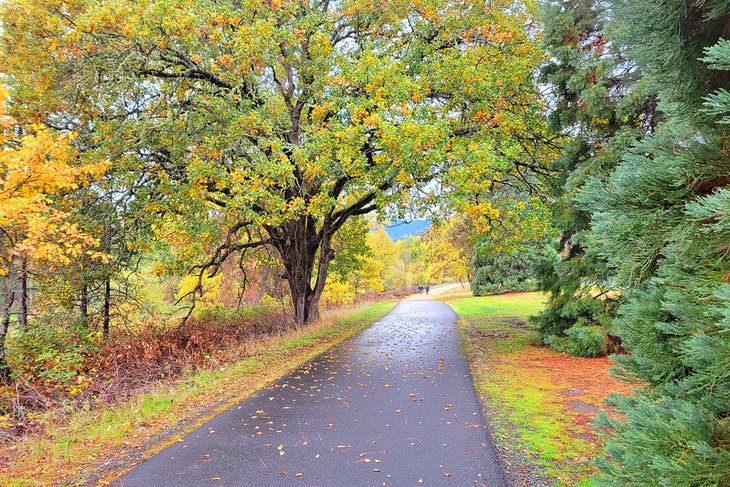 This interstate-adjacent campground is a 20-minute drive west of Medford. It's also next to the incredibly scenic Rogue River, which is the main reason visitors make the drive. Day-use facilities and a large campground at the state park enable picnics and pitching a tent near the water.
The park also features a 1.25-mile paved path next to the river. Here, several views of the surrounding Rogue River Canyon make a scenic stroll. Heading west, the trail connects to the Rogue River Greenway Trail for an extended adventure. The Greenway Trail spans another four miles to the City of Rogue River.
Valley of the Rogue has over 160 campsites available. These range from full-hookup RV spots to rustic yurts and smaller sites for tents. Potable water and showers are available to all overnight guests. Reservations are recommended during the summer season.
Medford, OR - Climate Chart
Average minimum and maximum temperatures for Medford, OR in °C
J
F
M
A
M
J
J
A
S
O
N
D

8

-1

12

0

14

2

18

3

22

6

27

9

31

11

31

11

27

7

19

3

11

1

7

-1

PlanetWare.com
Average monthly precipitation totals for Medford, OR in mm.

70

59

57

41

36

20

13

15

24

38

81

83

Average monthly snowfall totals for Medford, OR in cm.

7

1

1

1

0

0

0

0

0

0

0

5
Average minimum and maximum temperatures for Medford, OR in °F
J
F
M
A
M
J
J
A
S
O
N
D

47

31

53

32

58

35

64

38

72

42

80

48

88

51

87

51

80

44

67

37

51

34

45

31

PlanetWare.com
Average monthly precipitation totals for Medford, OR in inches.

2.8

2.3

2.3

1.6

1.4

0.8

0.5

0.6

1.0

1.5

3.2

3.3

Average monthly snowfall totals for Medford, OR in inches.

2.6

0.5

0.3

0.2

0

0

0

0

0

0

0.1

1.9
More Related Articles on PlanetWare.com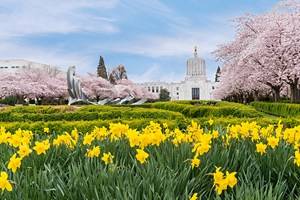 Other Oregon Cities to Explore: The next-door neighbor of Medford in Southern Oregon, the city of Ashland is world-renowned for attractions like the Oregon Shakespeare Festival and Lithia Park. Farther north in the state, the capital city of Salem features beautiful riverfront parks and an eye-catching State Capitol campus. The epicenter of culture and entertainment in Oregon, Portland is a great city for finding fun things to do day and night.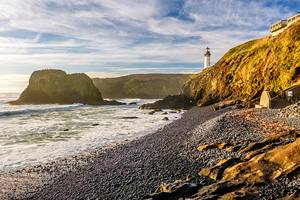 Exploring the Oregon Coast: The Oregon Coast is filled with scenic attractions. From towering sea stacks to wildlife-infused seashores, the best beaches on the Oregon Coast deliver with postcard aesthetics. Stretching from Astoria up north to Brookings in the south, scenic small towns on the Oregon Coast offer similar appeal. For a broader view of all the beauty, our guide to the Top Tourist Attractions on the Oregon Coast lays it all out from north to south.