Best Time to Visit Portland, Oregon
The vibe in Portland, Oregon is unlike that in any other city in the United States. It is a city of makers and creatives, surrounded by preserved natural beauty in places like Forest Park, Washington Park, and on Mount Hood volcano.
The best time to visit Portland depends on what you plan to do when you get here. The time of year and the weather in Portland can be significant factors when planning your trip. The outdoors is a way of life for locals and tourists, with trails for hiking and biking, and water activities on the Columbia and Willamette Rivers, which border the city. Cultural experiences abound, with local art and places like Powell's City of Books, a popular retreat and a must-see for visitors.
Portland is a pedestrian-friendly city and an easy place to visit because the locals treat visitors like one of their own. So, grab a cup of locally roasted coffee in one of Portland's iconic cafés and explore the possibilities.
Best Time of Year to Visit Portland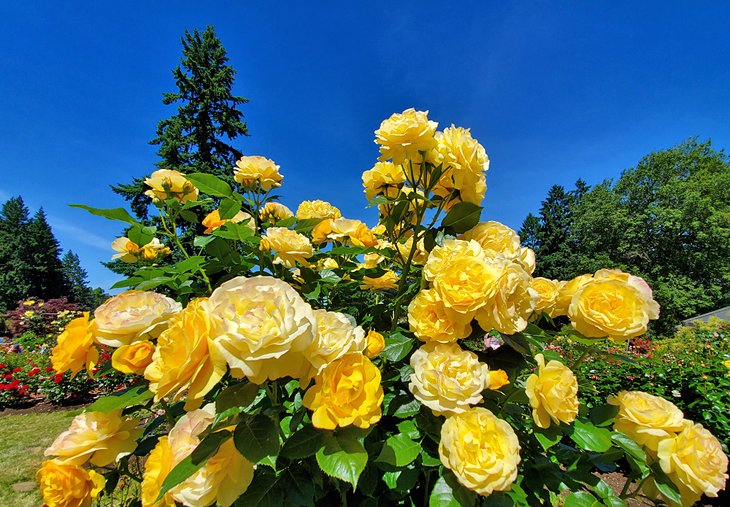 The best time of year to go to Portland is during the summer, when the City of Roses is on full display. The gardens are in bloom, the skies are sunny, and the city is alive with local markets and outdoor concerts. The summer months see the least amount of rainfall, so it's a great time to get in hikes at Mount Hood and the best opportunity to see the International Rose Test Garden and the Japanese Garden in Washington Park at their peak.
While summer is the best time to visit Portland it is also the high tourist season. That means more people on the ground and high rates for hotels and airfare. If you plan to visit in the summer, you should find a place to stay and book hotel rooms several months in advance to ensure availability.
Cheapest Time to Visit Portland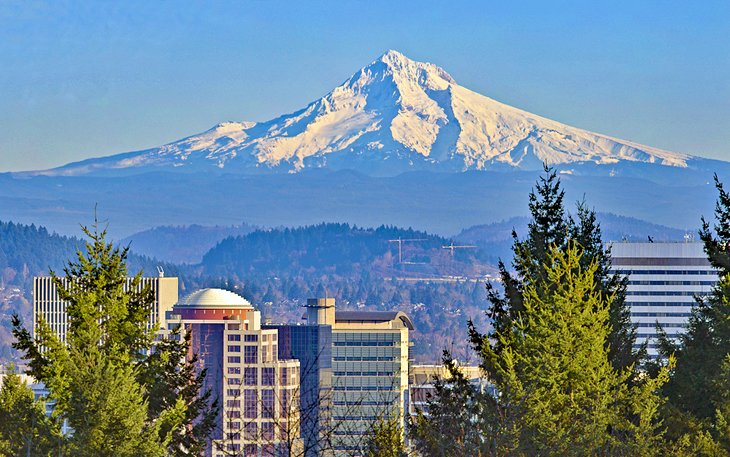 It is no surprise that the cheapest time to visit Portland, Oregon is during the winter months, when chilly temperatures and rainfall deter many tourists. November through February are great months to score deep discounts on Portland hotels and airfares to the city. You will have to contend with cold temperatures and the months with the most precipitation, but it's nothing that a jacket and a warm cup of coffee won't remedy.
You can take advantage of the low season rates and enjoy some of the winter outdoor activities, like skiing at Mount Hood, where they make plenty of snow despite the average winter temperatures that make for more rain in the city. Despite the gloomy weather during the bargain season there are many seasonal local events that you can still enjoy.
Best Month to Visit Portland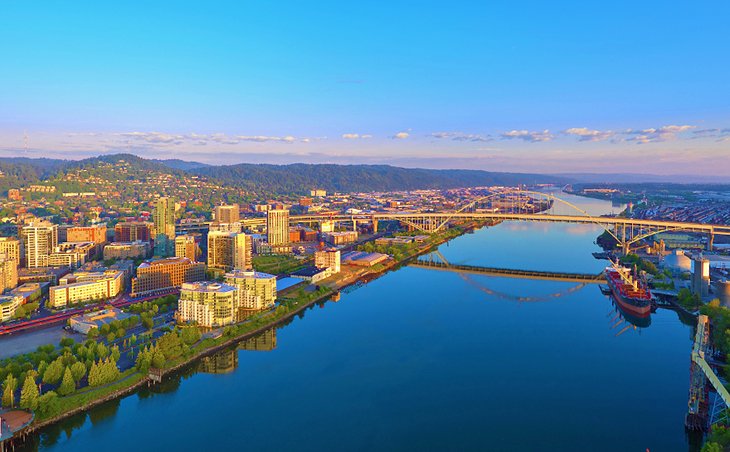 If you are looking for the best month to visit Portland, you cannot go wrong with June, July, or August. Since rainfall is common in Portland most months of the year, it is a top factor to consider when planning your vacation so that you can make the most of your time in the city, especially if you plan to do outdoor activities like hiking and biking. Since Portland is a pedestrian-friendly city, going when there is the least amount of rain will make it a more pleasant experience as you walk around the downtown streets.
August has the least amount of rain on average, followed by July and June. These months have warm weather and comfortable temperatures that will allow you to take full advantage of exploring Portland's unique neighborhoods, with galleries in the Pearl District, architecture in the Old Town Historic District, and the upscale scene in the Nob Hill district.
Best Season to Visit Portland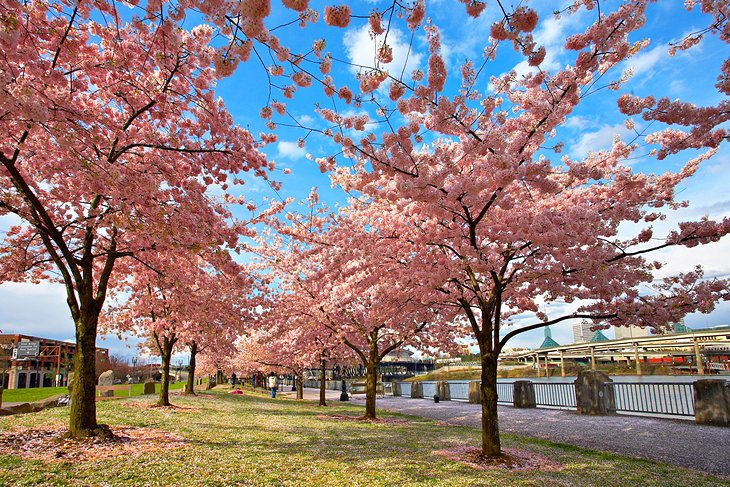 Every season brings unique experiences and opportunities in Portland, from blooming rose gardens and local festivals to skiing and hiking.
Spring: Portland begins to bloom in the spring months. With so many outdoor parks and gardens this is a great season to take advantage of the warming temperatures and get outdoors. Rainfall begins to subside in the spring, so while you will likely encounter a shower or two, there will also be days with sunshine to enjoy the views from overlooks and outdoor patios. March, April and May are the months to enjoy the blooming cherry trees, roses, and azaleas in the local parks.
Day excursions in the spring bring opportunities like whale watching and day hikes at Mount Hood. Spring is a nice time to visit after the dreary winter months and before the summer tourists arrive. You can still find some great deals on hotel rates before the summer season. While there are fewer rain showers in the spring months, you will still want to pack an umbrella and layers of clothing.
Summer: The summer months of June, July, and August are when Portland truly shines. These are the warmest months to visit, and there is also the least precipitation. Summer is when city parks are lush with mature trees, and gardens are in full bloom. You can enjoy daily outdoor events and festivals like summer concerts at the Oregon Zoo. It is the best season for hiking and outdoor activities.
Summer in the City of Roses also means locals and tourists can enjoy the century-old Portland Rose Festival, which is a city-wide celebration of parades, races, rose competitions, and auctions.
Take advantage of summer to enjoy local farmers markets and the culinary scene, and taste the fresh produce from the region. Summer is prime time in Portland, so you will see many other tourists, but since there is an expansive city landscape, it never feels crowded.
Fall: Fall is a beautiful time to visit Portland, especially with leaf peeping later in the season, but there will be a bit of rain. Fall festivals are big, so it is a fun time to visit the city. It is also the time of year when the city's arts scene is on display, so there are plenty of things to do, from seeing independent theater productions to symphony concerts.
Temperatures begin to drop in the early fall, and summer tourists are heading home after September. You can find lodging discounts in Portland starting in October and fill your agenda with fall color displays at places like Hoyt Arboretum. Fall hikes are nice as long as you take a light jacket.
Winter: While winter is the rainiest season in Portland, the temperatures are mild, so if you do not mind packing a rain jacket you can still get out and about in the city. The slight chill in the air makes it nice to enjoy one of Portland's best pastimes: relaxing in a local coffee shop. You can dodge the raindrops by staying indoors to visit Portland's many museums, like the Portland Art Museum, the Oregon Historical Society, and the Oregon Rail Heritage Center.
If you are a winter sports enthusiast, you will enjoy the skiing and snowboarding opportunities at nearby Mount Hood, which makes plenty of snow during the season. You will find bargain rates at hotels during the winter months.
Best Time to See Waterfalls near Portland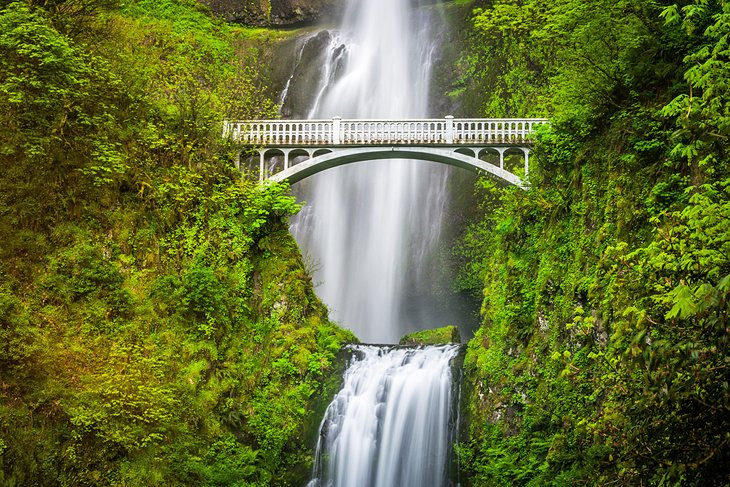 One of the benefits of Portland having so much rainfall during the year is the stunning waterfalls that surround the city. If you visit Portland, you should plan some time to visit a few and take advantage of this unique natural beauty that encompasses the urban landscape.
September and October are great times to visit some of the waterfalls in the area, when the ground is dry for hiking, fall colors are in play, and there are fewer tourists on the trails.
Some of the best waterfalls are in the Columbia River Gorge, where there are more than 90 of various sizes with flowing water. Some of the most impressive waterfalls are the Multnomah Falls, Bridal Veil Falls, and Latourell Falls. Stop for lunch in Hood River as you tour the falls.
The Columbia River Gorge is about 40 minutes from downtown Portland. You can catch one of several shuttles to the waterfalls or bike along the Historic Columbia River Highway to other access points that can get you to the trailheads of popular waterfalls.
Best Time to Experience Portland's Cultural Scene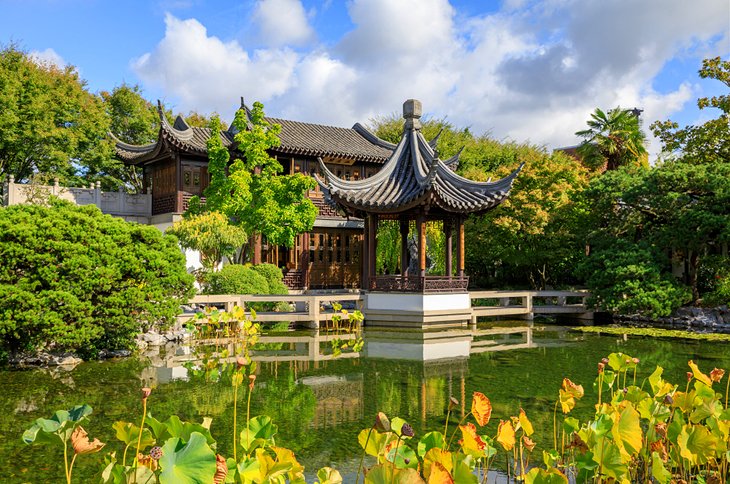 The cultural diversity in Portland is impressive, so there are always festivals, events, restaurants, arts, performances, music, and parades that reflect this eclectic community. Spring and summer are the times when festivals abound and offer great opportunities to learn more about the ethnic groups that live in Portland.
From the Native American, Chinese, and Arab communities to the Hispanic and Japanese communities, you will find shops and restaurants throughout Portland that honor them all. While the spring and summer come alive with cultural events, there are other opportunities during the year for cultural immersion, like the Japanese New Year celebration in January and Native American powwows during other months.
Things to Do in Portland by the Month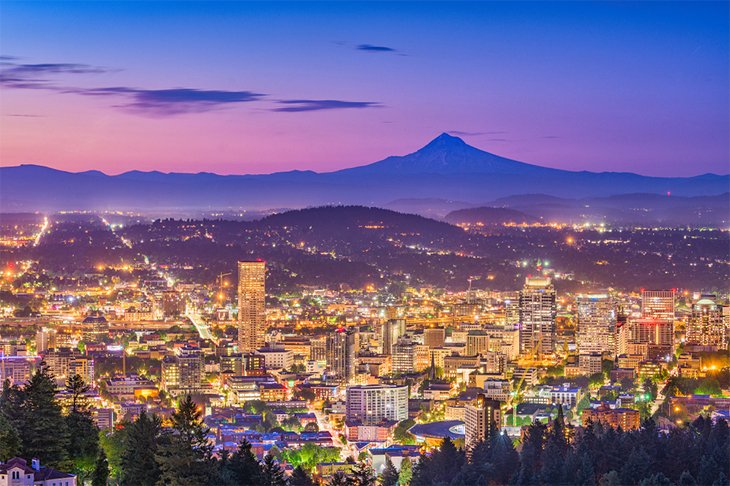 There is so much to do in Portland, from shopping at the art boutiques of local craftspeople to hiking and biking on the city's many trails. Here are some of the top ideas to keep on your radar by the month:
January: In wet Portland, January is a great month to enjoy Chinese New Year celebrations at the Lan Su Chinese Garden, which is one of the city's most prized gardens. You can catch a theater performance from independent companies or plan your visit around Portland's annual Fertile Ground Festival that celebrates city artists of all genres.
February: You will probably spend a lot of time indoors in February, which makes this month a great time to check out the many local coffee roasters and sample varieties of eclectic doughnuts from the famous Voodoo Doughnut shop. You can also fill your time at Powell's City of Books, which is one of the largest independent bookstores in the world and covers an entire city block.
March: With the hint of spring air in March, you can join the locals in some of their favorite traditions in early spring, like the Portland Saturday Market in Old Town. It is a must-see, as it is the longest operating open-air market in the nation, selling arts and other wares from local vendors.
March is also Portland's "dining month," so you can sample the best of the culinary scene at deep discounts from local restaurants. If inclement weather prevents outdoor activities, you can enjoy indoor fun at the Oregon Museum of Science.
April: Head down to Pioneer Courthouse Square, also called Portland's living room, to catch one of the more than 300 events taking place in the central part of the city. From concerts to performances, this is the hub of Portland and where the locals like to hang out.
May: Portland's landscape will be greening-up by May, so it is a great month to spend time in Washington Park. The city park has more than 400 acres with a zoo, walking trails, an arboretum, and Japanese Gardens.
June: Get outside to explore Portland's driest season. Spend a day at the Oregon Zoo, which is one of the best attractions in the city. You can see more than 230 species or animals, many that are endangered. You can also take a picnic lunch and enjoy the scenery at Tom McCall Waterfront Park, where there are jogging trails and a pedestrian walkway along the Willamette River.
July: This is a perfect month to enjoy water activities like windsurfing and kiteboarding in the Columbia River Gorge. Whether you enjoy the sports or just want to watch the locals in action, you can take a shuttle bus from Portland to the gorge.
August: Take a tour at Pittock Mansion, an early 1900s-built home and a great place for bird-watching. Walk through the mansion's 46 rooms and spend some time outside to admire the landscaping and gardens.
September: Head out for some historic Portland fun at the Oaks Amusement Park, one of the oldest operating amusement parks in the United States. There are more than 20 rides, including a roller coaster, an iconic Ferris wheel, and a roller skating rink that has been open since 1906.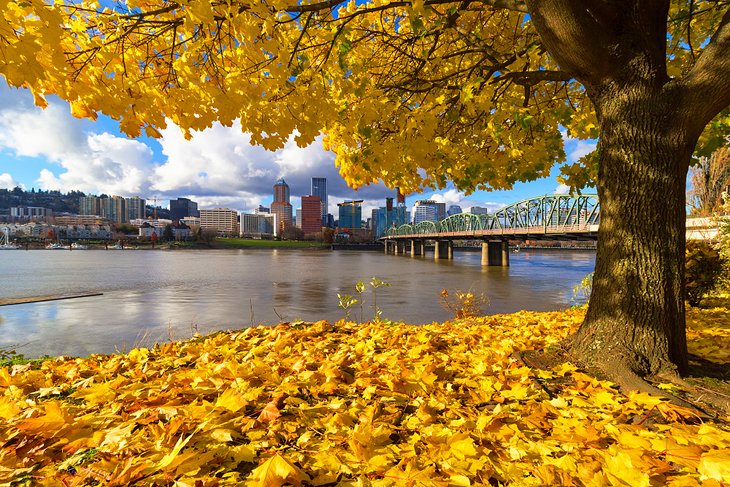 October: Take a short day excursion to Forest Park to experience one of the most expansive forest reserves in the country. The park has eight miles of landscape and more than 70 miles of trails to enjoy as you explore many varieties of tree and bird species. It is especially beautiful in the fall, when the leaves begin to change color.
November: Portland has a wide range of tours that you can take for a guided exploration of the city. From food tours and city tours that take you to Portland's highlights to walking tours and regional tours that take you just outside of the city to places like Mount Hood and the Willamette Valley.
December: December is a fun time to walk Portland's unique neighborhoods to see the holiday decorations and lights. Shopping is the next best thing to do in December, and boutiques sell items from local artists. Some of the top places to shop are Pioneer Place for upscale brand shopping, Union Way for small shops, and the Pearl District for galleries and upscale specialties.
More Related Articles on PlanetWare.com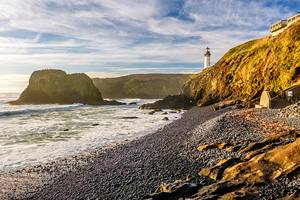 Exploring Oregon: If your trip brings you to Oregon, there are many opportunities outside of Portland to explore while you are here. Visit the Oregon Coast for whale watching and scenic drives, hike to some of the best waterfalls or beaches in Oregon, or seek out the majestic hot springs throughout the state.