5 Top-Rated Resorts in Sandusky, OH
We may earn a commission from affiliate links ()
Sandusky, Ohio, can trace its history as the state's leading vacation destination all the way back to 1870, when the town's first dance hall opened on Cedar Point Peninsula. Fast forward to today, and this point of land jutting out into Lake Erie is not only reputedly the "roller coaster capital of America," it's also home to some of the top all-season family resorts and conference facilities in the state.
Leading the way are some of the state's largest resorts. These include Cedar Point's Hotel Breakers, notable for its state-of-the-art convention space and proximity to theme parks, and the always-popular-with-the-kids Kalahari Resorts & Conventions and Great Wolf Lodge. Not that adults aren't well catered to in Sandusky.
These resorts, in addition to great places to stay like Farrell House Lodge and familiar brand names like Hampton Inn, also make great places to spend quality time with loved ones and good bases from which to explore the area and its many attractions.
To find out more about the best places to visit (and stay), be sure to read our list of the best resorts in Sandusky.
Note: Some businesses may be temporarily closed due to recent global health and safety issues.
1. Cedar Point's Hotel Breakers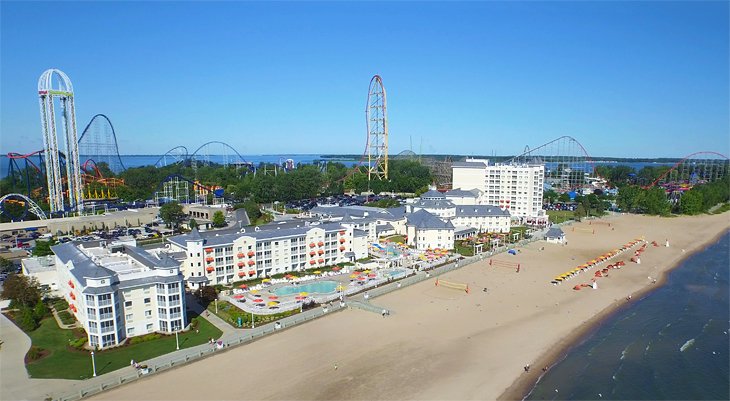 For those wanting to be as close as possible to Sandusky's theme parks, Cedar Point's Hotel Breakers is your top choice.
Consisting of an impressive 669 guest rooms, this large resort-style hotel is about as close as you can possibly get to the popular Cedar Point theme park. In fact, the hotel boasts a guest-only entrance to the park, which even opens its doors an hour early to those enjoying an overnight stay. Another theme park perk is the chance to buy discounted admission tickets to Cedar Point, as well as Cedar Point Shores Water Park.
You'll also be spoilt for choice when it comes time to relax and unwind after all that family fun. The hotel offers a collection of standard accommodations along with larger suites and stand-alone cabins for those needing extra beds and separate living rooms. Some lake-view rooms are available and are certainly worth the additional expense.
On-site amenities include an indoor swimming pool and two outdoor heated swimming pools, hot tubs, plus a fun splash area for younger guests. Guests also have access to the mile-long beach area adjacent to the theme park, too, and Jet Ski rentals and parasailing adventures can be booked on-site. A variety of dining options are also available, as is a Starbucks coffee shop.
Address: 1 Cedar Point Drive, Sandusky, Ohio
Accommodation: Cedar Point's Hotel Breakers
2. Farrell House Lodge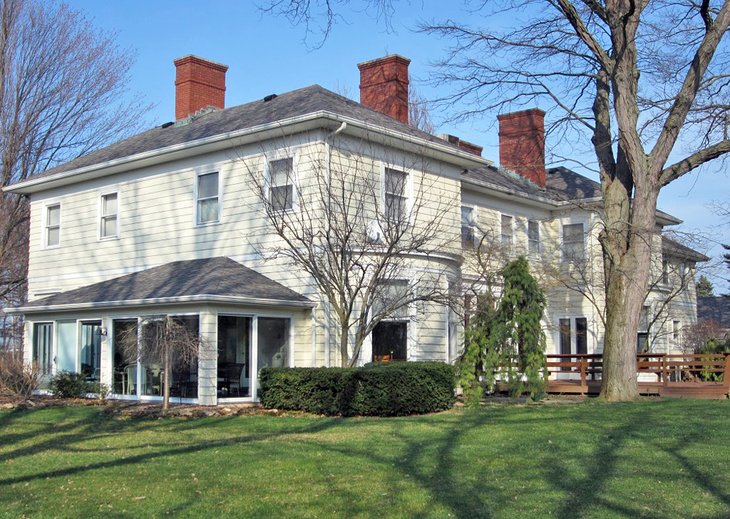 For those looking for a something a little more intimate in Sandusky, the historic Farrell House Lodge is just the place. With only 10 luxuriously appointed guest rooms, this beautiful 19th-century, southern-style mansion offers a degree of privacy and tranquility that is not found in the many larger resorts in the area.
Perfect for romantic couples' getaways, this country estate is set on a 130-acre conservation area consisting of a wildlife-rich mix of meadows and woodlands that's perfect for nature lovers. The property also has a pristine stream that is home to a number of trout species.
If your budget allows, book one of the exquisite master suites for an added dash of luxury. Consisting of two rooms, these elegantly decorated suites feature two queen beds, a separate seating area with fireplace, a large private bathroom, and great views over the estate. For those seeking something a little different, two stand-alone homes are also available.
One, an original farmhouse, comes with three bedrooms, a kitchen, and dining room. The other is a fully restored former granary barn that's been turned into funky cabin-style accommodations and includes a large loft dormitory area with a king and four single beds.
Wherever they stay on this sprawling property, guests have access to a wide variety of summer activities. Highlights include the use of canoes, kayaks, and a rowboat, along with a games room, DVD library, and fishing privileges (a daily fee applies for the latter).
A hearty breakfast is also included in your stay, and lunch and dinner options are available in the main lodge dining room.
Address: 1104 Lima Sandusky Road, Sandusky, Ohio
Accommodation: Farrell House Lodge
3. Kalahari Resorts & Conventions, Sandusky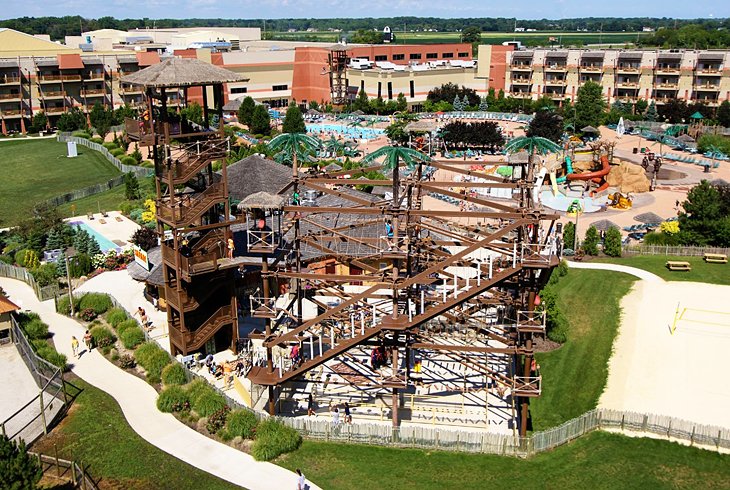 Kids just love Kalahari Resorts & Conventions. Not only does this massive African-themed property include two separate waterparks - one indoors, one outdoors - it also offers kids the opportunity to immerse themselves in a wide variety of fun programs and entertainment options.
That's not all. As Kalahari guests, kids also get the chance to explore the neighboring safari-styled adventure park, with its exotic and domestic animals, fun rides, and exciting ziplines.
The fun doesn't stop there, though. In-room adventures continue in the resort's oversized suites, which come with large-screen TVs and plenty of space to spread out. Large groups are particularly well catered to thanks to a clever layout that allows a number of rooms to be combined to create a huge 10 bedroom unit. These large family compounds include a central living area, as well as a full kitchen and large living room.
For a dose of real luxury, book your friends or family into the ultra-deluxe Entertainment Villa. This huge, two-level, five-bedroom home-away-from-home comes with its own large and private patio and barbecue, a dedicated games room with a pool table, a full kitchen, and dining area for entertaining, and seven large HD TVs. Set apart from the main resort, this unique luxury villa offers an unforgettable vacation experience.
Address: 7000 Kalahari Drive, Sandusky, Ohio
Accommodation: Kalahari Resorts & Conventions
4. Great Wolf Lodge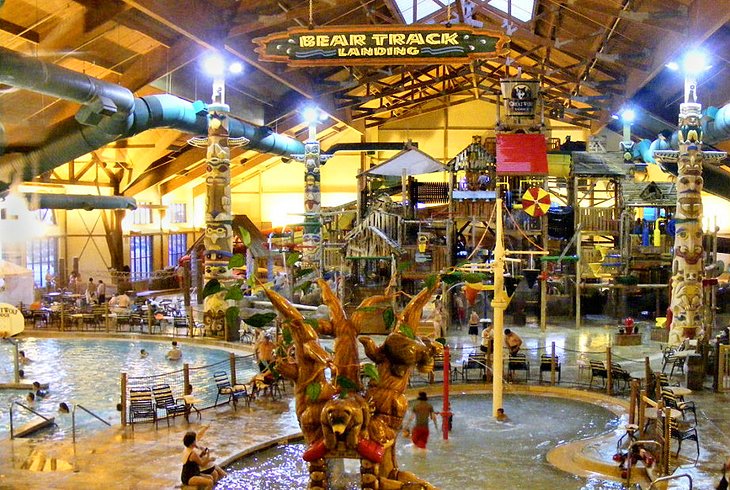 Another of Sandusky's larger kid-friendly vacation destinations, Great Wolf Lodge offers no end of great opportunities for families to reconnect as they unwind. As much as the resort emphasises the fun of playing together in its pools, it has also created a wonderful in-room experience for young and old alike.
The highlight for kids in these over-sized family suites are the "KidCabins," mini-suite-within-a-suite affairs that give them their own place to sleep and play. Best of all, these unique spaces include bunks and day-beds and come in a variety of themed décor options, including wilderness and log cabin themes.
For parents seeking a little time on their own, go for one of the spacious two-story loft suites. While the kids are bedded down for the night upstairs, the lower living area provides plenty of opportunity to reconnect over an in-room meal in front of the cozy fireplace, or to take in a movie on the big screen TV.
Better still, take advantage of the resort's babysitting services and get out and enjoy one of the on-site restaurants. The resort in fact has a variety of dining options, including one for adults only, as well as shopping and a fitness center. Historic downtown Sandusky is just a few minutes away by shuttle bus and offers plenty of dining and entertainment, too.
Unlike some of the other resorts in the area, Great Wolf Lodge is open year-round. Popular times to visit include Christmas, with special programming aimed at the kids (yes, there really is a Santa, at least at great Wolf Lodge). New Years packages are also available, with programs and events available for kids, and later for parents wanting to ring in the New Year together while the kids are tucked up in bed.
Address: 4600 Milan Rd, Sandusky, Ohio
Accommodation: Great Wolf Lodge
5. Hampton Inn Sandusky-Central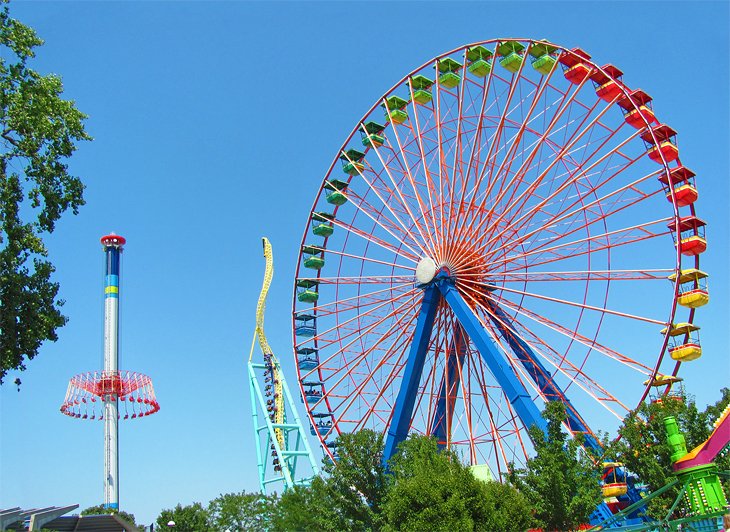 One of the largest names in affordable yet comfortable hotels across the USA, Hampton Inn Sandusky-Central is certainly worth considering when visiting this part of Ohio. Location is everything, and the hotel is just minutes away from the huge Cedar Point amusement park, with its many roller coasters and rides. It's also close to the Kalahari water parks, too.
Its proximity to Lake Erie also makes it an ideal base from which to explore the many islands that make up this pretty part of the Great Lakes, as well as for visits to the historic downtown core of Sandusky itself. Other fun things to do in the area including golf, shopping, and hiking.
Accommodations consist of 50 clean and well-maintained guest rooms, each with features like free Wi-Fi and desks. A number of easy access suites are also available for those with mobility issues. The largest rooms available include king beds, fridges, a seating area, plus a large bathroom with walk-in showers and a whirlpool tub.
Complimentary breakfasts are included in your stay, as is use of a fitness center and a swimming pool. Numerous off-site dining options are also located nearby.
Address: 6100 Milan Road, Sandusky, Ohio
Accommodation: Hampton Inn Sandusky-Central