14 Top-Rated Day Trips from Belfast
Over the years, Belfast has transformed itself from a divided city with a troubled past to a bustling metropolis packed with museums, restaurants, and the iconic Titanic Quarter. Despite its many attractions, sometimes it's nice to head out for a day trip from Belfast. Within a short drive, visitors can take in a wealth of natural beauty and partake in other fun activities, all located within a short drive.
Rent a car for independent exploring or take advantage of the many tours leaving from the city to transport you deeper into the countryside. Road trips along the Great Atlantic Way are popular, and dramatic cliffs, medieval castles, mountains, and movie sets are all just a few of the popular attractions located a quick trip away.
Find the best places to visit with our list of the top day trips from Belfast.
1. The Giants Causeway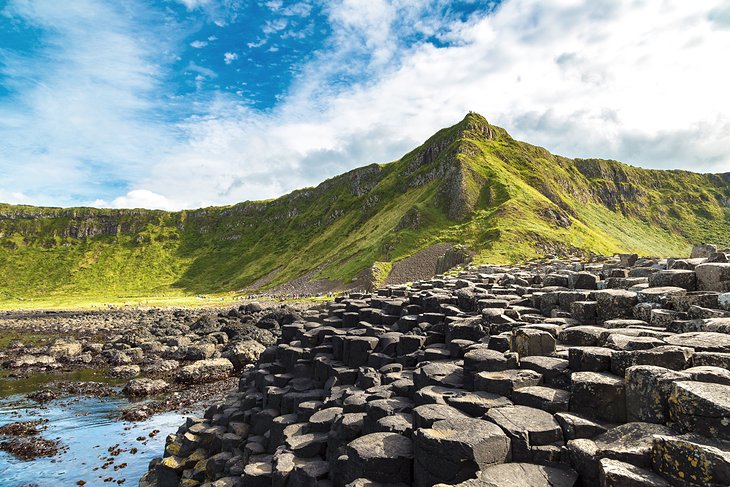 A little over an hour's drive from Belfast gets you to one of the Emerald Isle's most popular attractions: the Giants Causeway. Its unique beauty and close proximity make this a perfect day trip from Belfast and one of the best places to visit with the family.
An otherworldly locale, Giant's Causeway is home to over 40,000 basalt columns that pepper one of the most beautiful coastlines in Ireland. Local legend has it that the columns are what remain from a road built by enemy Goliaths. In actuality, they are the remnants of a volcanic eruption from millions of years ago.
Visitors can walk along the path, making their way down to the ocean until the rocks eventually disappear into the sea. With a bit of creative imagination, tourists can easily imagine the lore behind this UNESCO World Heritage-listed sight.
If you'd like someone else to do the driving, consider taking an organized tour. One of the best, most reasonably priced, options is the Giants Causeway Day Trip from Belfast. It takes about 10 hours and includes a trip along Antrim Coast Road and stops at Carrickfergus and Dunluce Castles, as well as the Dark Hedges and beautiful Carnlough Harbour, before it reaches the Caves of Cushendun.
2. Carrick-A-Rede Bridge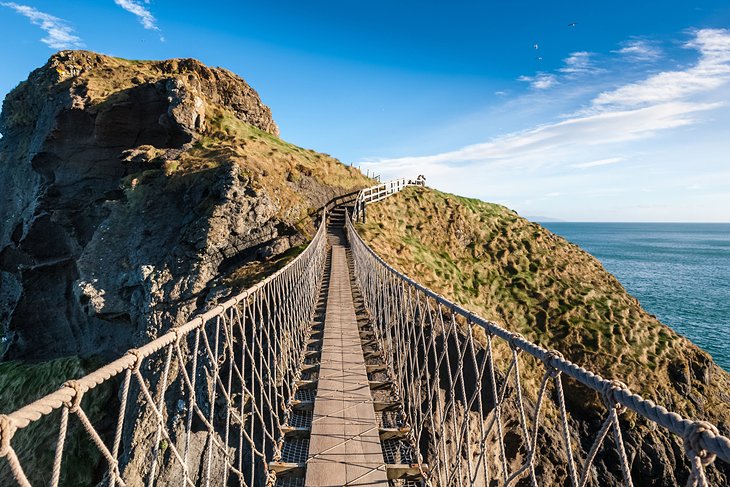 Looking for heart-pumping adventure during your next day trip from Belfast? Visit the Carrick-A-Rede Bridge, a dramatic, centuries-old suspension bridge located a 14-minute drive west of Giant's Causeway.
While not for the faint of heart, the thick rope crossing, lined with strategically placed wooden planks, has linked the mainland to the tiny island of Carrick-a-Rede for centuries.
Originally built in 1755 by salmon fisherman, this attraction has seen millions of visitors over the years. You can cross it (if you dare) for a fee when the weather cooperates. Spectacular views will be your reward, and dolphins can often be seen in the distant waters. Walking across it is one of the best things to do for adventurers.
3. Royal Portrush Golf Club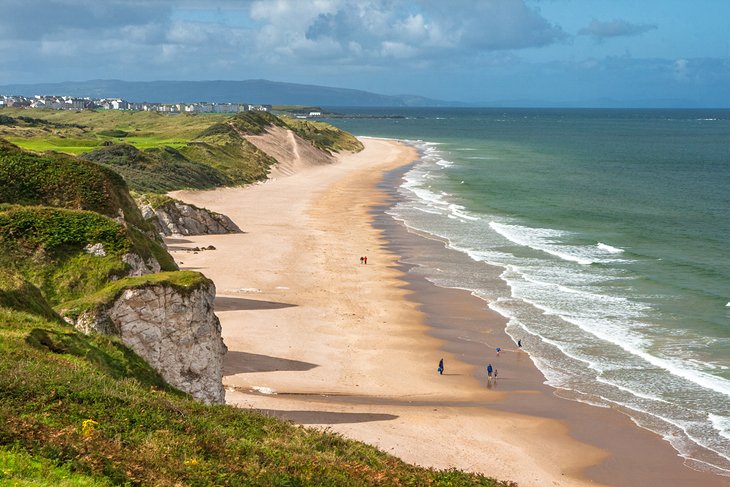 Royal Portrush Golf Club boasts one of the most challenging golf courses in the world, which makes it the perfect place to hit the links. Established in 1888, it is the only club to host The Open Championship in Ireland. It is open year-round and well worth the 96-kilometer drive from Belfast to take your game to the next level.
Bragging rights will allow you to say you played a round of golf where kings and other aristocrats have teed off for over a hundred years. Many holes overlook the ocean, and the often-viewed sight of horses and their riders galloping along the beach is memorable. Not surprisingly, playing golf in this spectacular locale is an impressive and enjoyable thing to do for those who enjoy the sport.
4. The Gobbins Cliff Path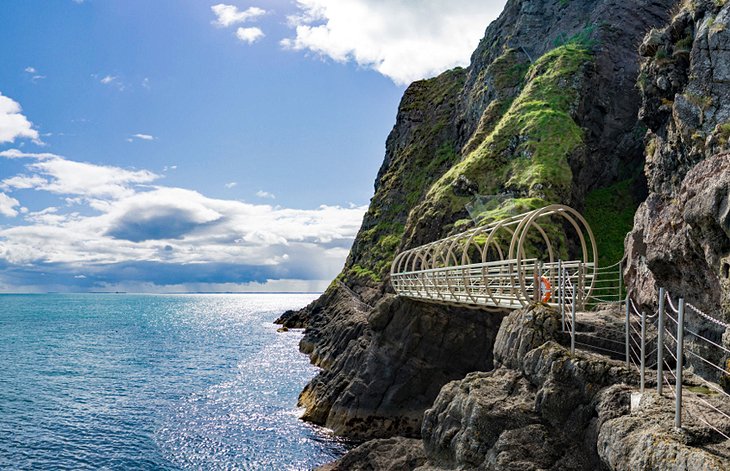 Who wouldn't want to wander along a path called Gobbins Cliff Path? It certainly sounds intriguing! Less than a half-hour drive from Belfast, this unique, at times rocky path is a picturesque place to stop, stretch your legs, and admire the breathtaking view on the Causeway Coastal Route.
Take the guided tour across impressive suspension bridges, past caves, and through tunnels. With spectacular coastal vistas of this beautiful, rugged landscape, you'll find yourself perched precariously on a narrow path, leaning as far as you can to get the best photos. It's easy to see why this scenic hike is nicknamed the most dramatic walk in Europe.
Because of its popularity, you will want to consider making arrangements in advance. Keep in mind this attraction is only open from mid-February to the beginning of November, and it's best viewed on a dry (and hopefully sunny) day.
5. Dunluce Castle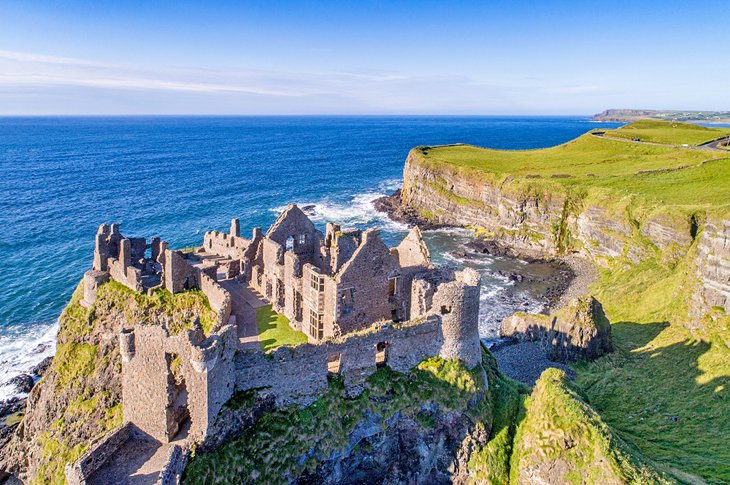 Another must-see attraction when enjoying a day trip from Belfast is Dunluce Castle in County Antrim. The historic castle has an interesting and occasionally sordid history dating back to the early 1500s and is set atop a rugged cliff backed by bright azure waves. It is a true marvel to behold, and you can reach it in a little over an hour from Belfast.
Although now in a state of ruin, the medieval castle and abandoned town are well worth the trip. The elevated remains clearly demonstrate the visual advantage the setting gave to the reigning clan, and the scenery is so magical you won't want to rush your visit.
Visitors can access the site by a bridge from the mainland. Guided tours as well as an on-site café are available, so you can grab a snack as you explore the grounds.
6. Derry (a.k.a. Londonderry) Area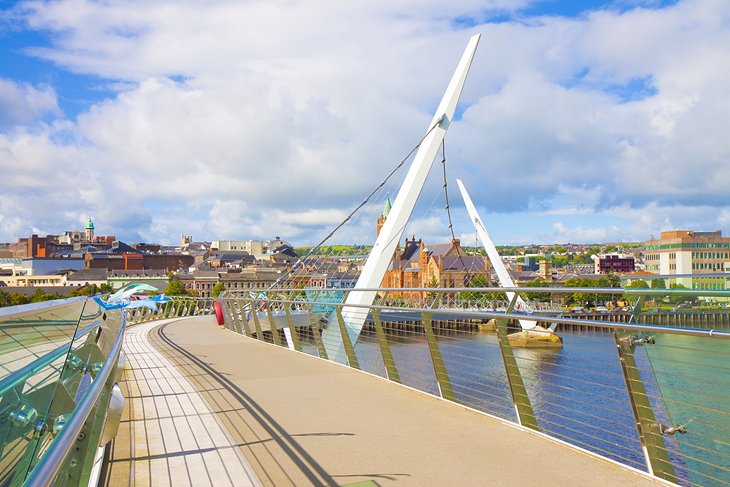 A day trip from Belfast isn't complete without a stop in Derry (a.k.a. Londonderry). This vibrant city, the fourth largest in Ireland, has a small-town feel despite its size and is bursting with culture and charm.
Located about 112 kilometers from Northern Ireland's capital, this border city is a great spot to head to a local public house for some traditional Irish fare. Tourists will also enjoy a stroll among the centuries-old streets, filled with rich architecture. Keep your eyes out for the many colorful and dramatic murals found throughout. There's no lack of fun things to do for tourists in this town.
While you are here, make sure to walk or bike across the Peace Bridge. This newer piece of architecture is an engineering marvel that connects Ebrington Square to the city center, offering a spectacular bird's-eye view of Derry.
After crossing the bridge, don't miss the Derry Craft Village in the heart of the city. It's filled with a mix of craft shops, restaurants, residences, and coffee shops on a replica of an 18th-century street.
7. The Sperrins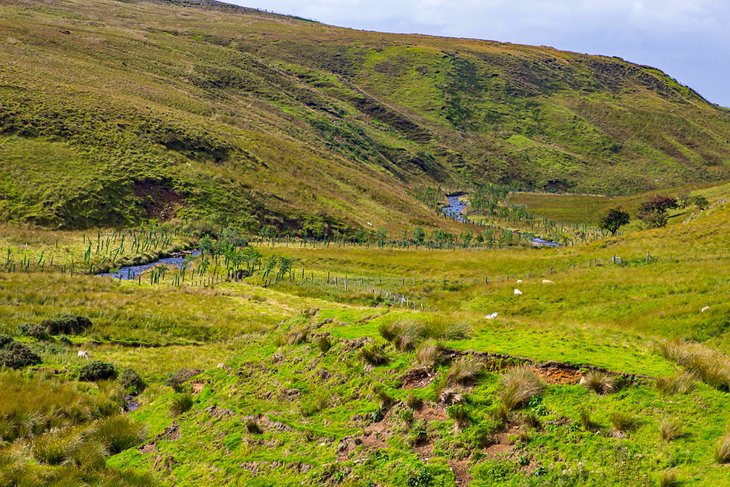 The Sperrins mountain range makes up one of the largest upland areas in Ireland. Located about an hour and a half northwest of Belfast, this is the place to visit if you love both nature and hiking.
The beautiful vistas and rugged landscape overlooking gorgeous green fields and rolling hills were carved out millions of years ago during the Ice Age by glaciers. You'll want to capture them for posterity through your camera's lens. Wear good shoes, layers (including a raincoat), and pack snacks and water. You'll likely wander this area for hours.
The drive to and through The Sperrins is another highlight at this point of interest, adding to the allure of this enticing day trip from Belfast. The scenery is so amazing that this has been named one of the top scenic drives in the world.
8. Dark Hedges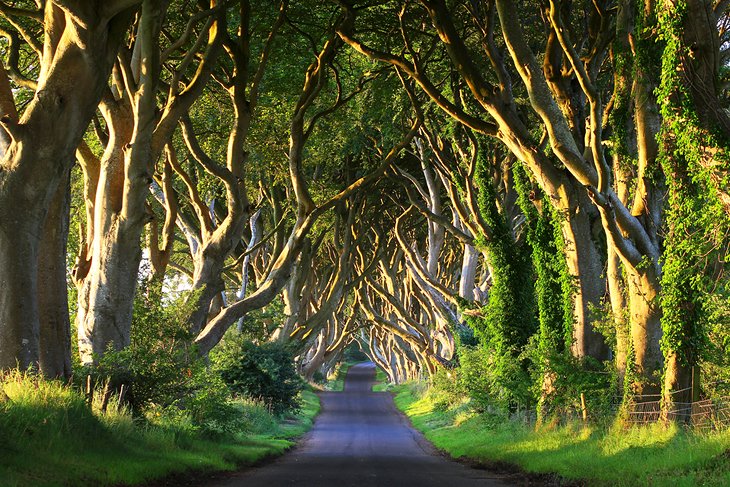 Game of Thrones fans agree: no trip to Belfast is complete without visiting Dark Hedges, one of the famous locations used on the popular series. A dark street lined with beech trees that form a mysterious tunnel along Bregagh Road, this ethereal place is a must-see even if you haven't watched the show.
This previously little known area has now found a cult tourist following for those who can't get enough of the medieval fantasy story. If you go when the fog is thick, it has an ethereal look that lends itself perfectly to the lore and legends of Ireland, as well as the HBO hit.
Looking for more GOT locales and an inside scoop on behind-the-scenes action? Book this Game of Thrones and Giant's Causeway Full-Day Tour from Belfast.
9. Dublin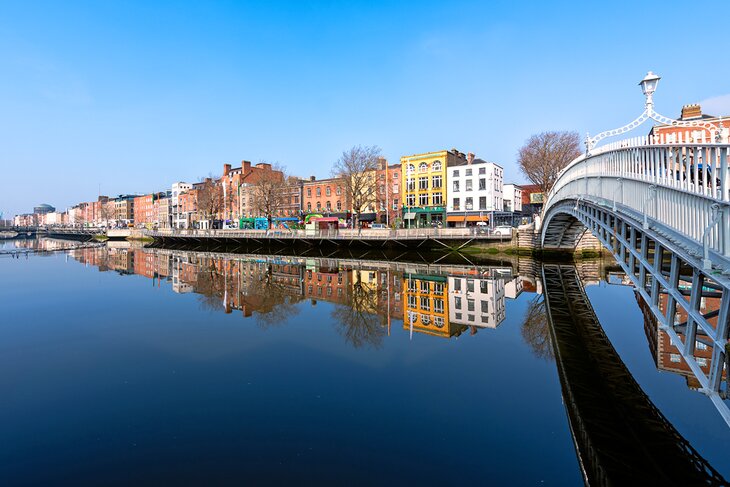 While many may not think of Dublin as a day-trip worthy destination from Belfast, its proximity makes it an easy getaway for a quick jaunt. At 165 kilometers, it takes about two hours to reach Ireland's capital. Once you arrive, you'll be happy you made the trek, especially if you leave early in the morning.
The only problem with traveling to Dublin will be choosing which attractions to see while you're in town. With so many top tourist sites on offer in Dublin—like Trinity College, Grafton Street, and the Little Museum of Dublin—there are enough places to visit to keep you occupied for days.
If you're hoping to explore Irish art, you won't want to miss the National Gallery of Ireland. If you love to shop, Grafton Street is one of the best places to practice some retail therapy. If you're a fan of green space, head to St. Stephens Green for a quiet stroll or picnic. Also, be sure to grab a bite while you're in town, Dublin is known for its wide variety of restaurants.
The best way to get from Belfast to Dublin is either by train or by bus. Both are reasonably priced and take just over two hours.
10. Lough Erne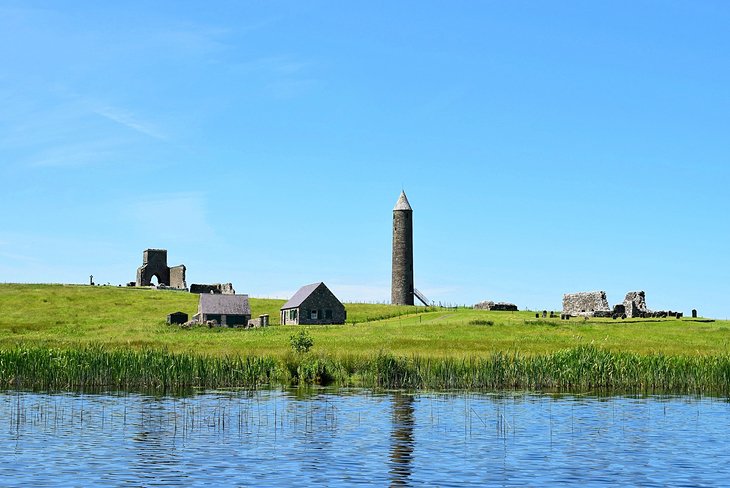 To escape it all, head to the Lough Erne lake region. Located in the northwest of Ireland, just over two hours west of Belfast, this resort area is the gateway to the town of Enniskillen. It's a whopping 40 miles long and consists of two lakes (Upper Lough Erne and Lower Lough Erne) that are joined by a 10-mile strait.
This large lake offers visitors a relaxing, comfortable place to while away a day admiring the area's panoramic views. When you've had enough water-based fun, award-winning golf can be found nearby. It's easy to see why the world's most discerning travelers flock here year-round.
11. Carrickfergus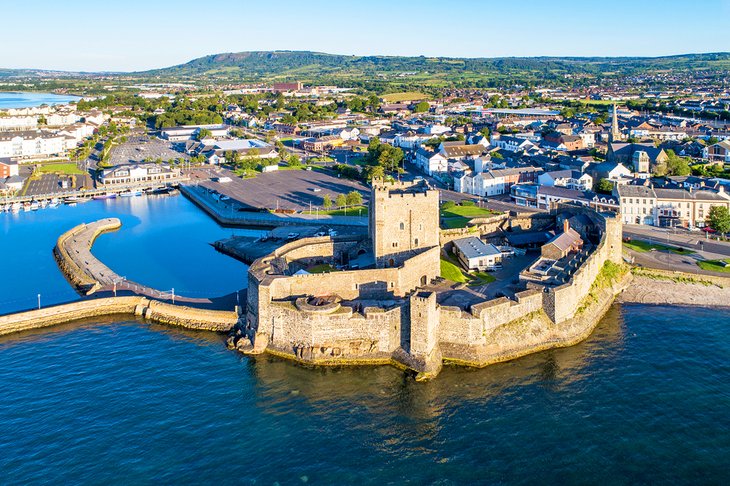 The charming town of Carrickfergus lies just 30 minutes north of Belfast by car, along the rugged Irish coast. This County Antrim village is home to one of the best castles near Belfast, Carrickfergus Castle. A historic Norman stronghold, this ancient wonder has survived multiple attacks over its 800 years.
The city itself harkens back to medieval times, its lovely stone walls adding to the romantic allure. No wonder the famous Irish Ballad, "Carrickfergus" was written about this pretty spot. Carrickfergus Museum & Civic Center is an art-lovers paradise filled with local works and historic gems popular with tourists from across the globe.
Just outside town, you'll find the Knockagh Monument, a tall obelisk erected to honor those who fought and died in the World Wars. It offers phenomenal views of the sprawling countryside.
12. Donegal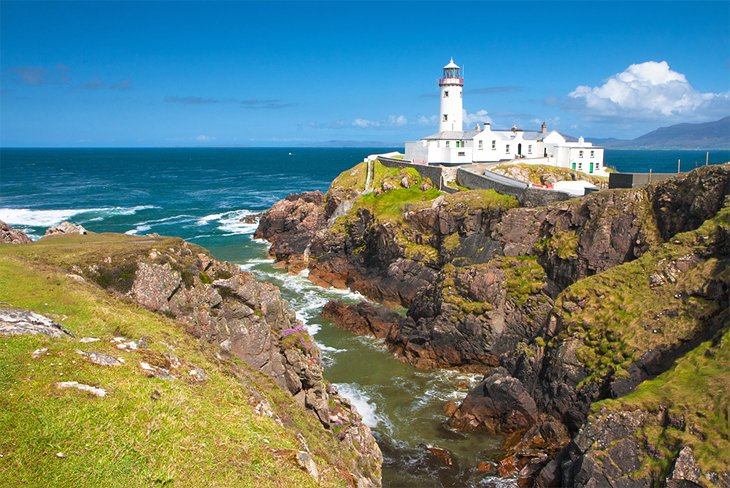 The popular county of Donegal is vast and filled with some of the most beautiful scenery in Ireland. The prevailing winds can quickly bring in extreme weather, so be prepared with the proper gear. A picture postcard setting introduces some extraordinary beaches, like Culdaff Beach.
Splendid cliffs and rolling hills seem to continue forever in the distance. Take a drive from Belfast (about two hours) to fully appreciate its splendor and experience a dramatic portion of the Wild Atlantic Way.
Small towns dot the path to Donegal and make good stopping points, where you can appreciate the views. Other points of interests include Glenveagh National Park and the castle, and Malin Head, the Northernmost point of Ireland. Finally, save room in your suitcase for a bit of tweed from Magee, weaving their craft since 1866.
13. Mussenden Temple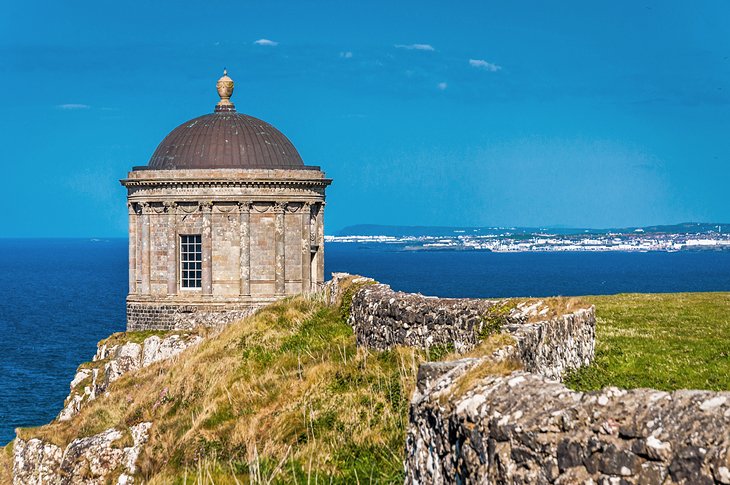 Inspired by the famous Temple of Vesta in Italy, the Mussenden Temple was built as a summer library on Downhill Demesne, a scenic estate by the sea. This circular building sits high on the cliffs and is one of the most photographed structures in Ireland.
Despite the fear of it falling off the edge of its precarious setting, this building has braved the extreme weather of coastal Ireland since 1785. A secret chamber was built into the underground where Catholic priests were rumored to hold mass. On a clear day, visitors can see for miles along the coastline, and it provides a scenic spot for a picnic.
14. Winterfell Castle Ward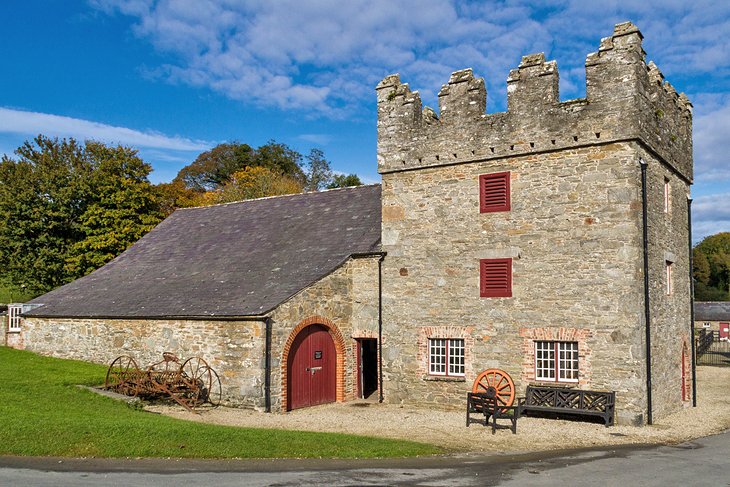 Winterfell Castle Ward is a historic farmyard located in Northern Ireland, about 48 kilometers from Belfast. This area serves as one of the main locations featured in the Game of Thrones.
Ward castle, the grounds, and many of the nearby locations have become popular tourist destinations because of the show's global audience. Props, costumes, and other memorabilia from the show will be on exhibit in this "new" historic destination in County Down.
Map of Day Trips from Belfast
More Related Articles on PlanetWare.com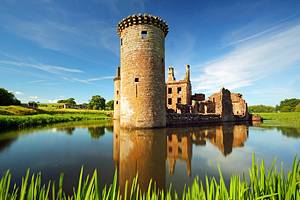 More to Explore in the Region: As an island, water travel is a part of the Irish lifestyle. To explore further afield, visitors can take connecting ferries between Belfast and Scotland. In addition, the Isle of Man, sitting in the Irish Sea about equidistant between the two, represents another distinctive piece of the British Crown.