Northern Ireland in Pictures: 21 Beautiful Places to Photograph
Northern Ireland's dramatic landscapes are so spectacular they beg to be photographed. The area's crystalline lakes, craggy cliffs, glacier-carved gorges, and resplendent castles have become the picture-perfect backdrop for tourists, film crews, and professional photographers alike. Ever seen Game of Thrones? Its fantastical scenery was largely thanks to this region's rustic beauty.
Home to the stunning Giant's Causeway, majestic Mourne Mountains, and bustling Belfast, Northern Ireland has too many impressive sights to see in one visit. That doesn't mean you shouldn't try! Lace up your hiking boots, grab a camera, and get ready to commit these gorgeous places to unforgettably wonderful memories.
Use our list of beautiful places to help inspire your photo-worthy travels through Northern Ireland.
1. Carrick-a-Rede Rope Bridge, Carrick Island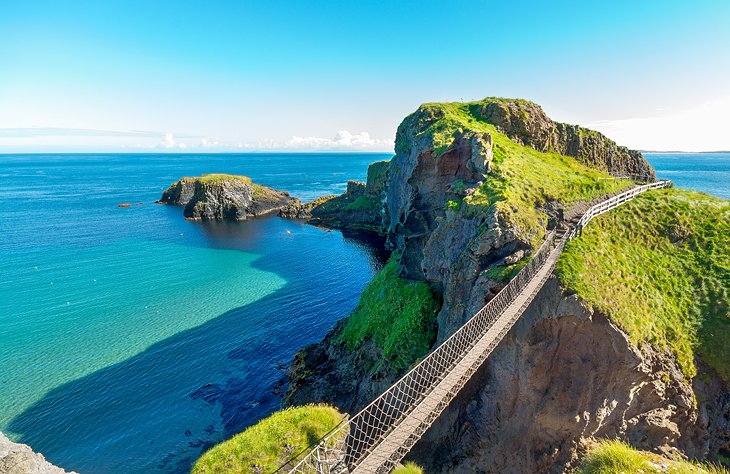 Visitors prepared to conquer their fear of heights on the Carrick-a-Rede rope bridge will be rewarded with unsurpassable views of Rathlin Island. The bridge, which connects mainland County Antrim with Carrick Island, has swayed above the rushing waves for over 250 years. Don't worry! It barely moves today and contains roped handrails. If you're not comfortable with rocking 30 meters above sea level, don't look down!
2. Giant's Causeway, County Antrim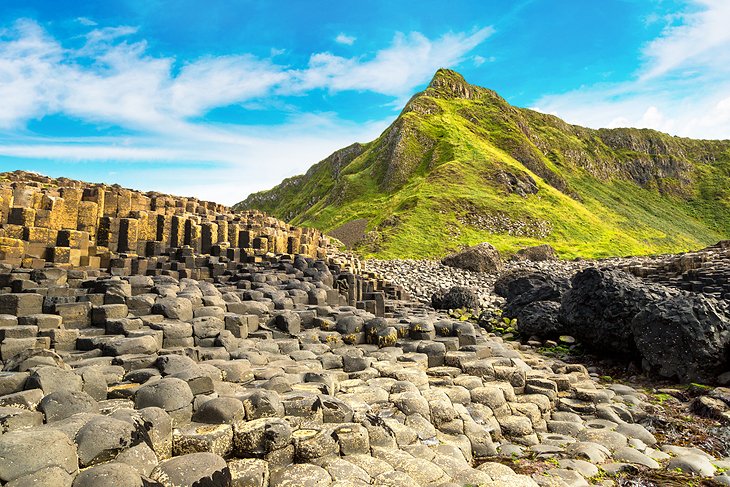 The most famous natural wonder in the region, the Giant's Causeway is not to be missed. A UNESCO Heritage Site, this geological icon sits along the Causeway Coastal Route on the coast of County Antrim. Consisting of thousands (about 40,000 in fact) hexagonal-shaped basalt columns, the site, which dates back nearly 60 million years, is otherworldly and utterly fantastic. Your camera will get a massive workout here. You can visit the site on a day trip from Belfast.
3. The Mourne Mountains, County Down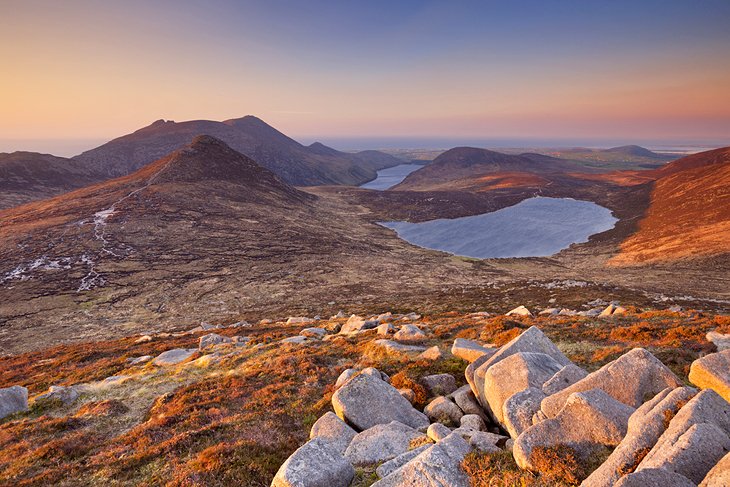 One of Northern Ireland's most scenic places, the Mourne Mountains consist of 28 stunningly gorgeous peaks. Stretching above crystal-clear lakes, the peaks present hikers and climbers with a vast playground of opportunity. The tallest peak, Slieve Donard, is a more challenging climb, rewarding those who summit with impeccable views of Murlough Bay and Newcastle. Smaller slopes on Butter Mountain, Slieve Binnian, and Slieve Corragh are easy on the camera's shutter as well as your feet.
4. Belfast City Hall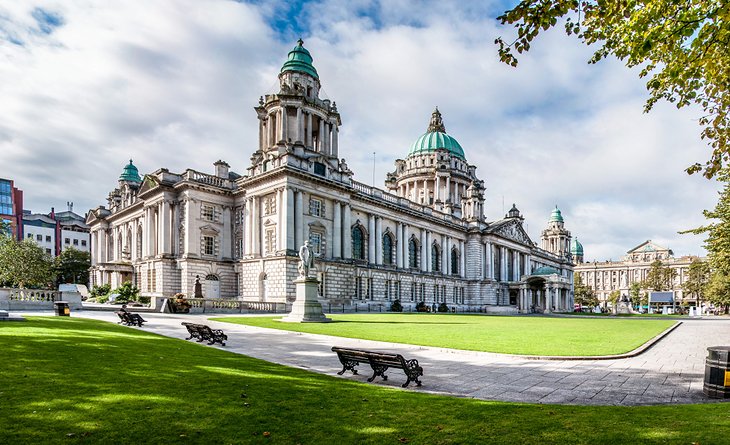 Smack in the center of Belfast's bustling Donegall Square sits Belfast City Hall. The green-domed buildings house rooms in which city council gathers to discuss political matters. It's open to the public, with guided tours offered throughout the week. Belfast City Hall also boasts a visitor exhibition on the ground floor, which takes tourists on a journey through the city's past.
5. Causeway Coastal Route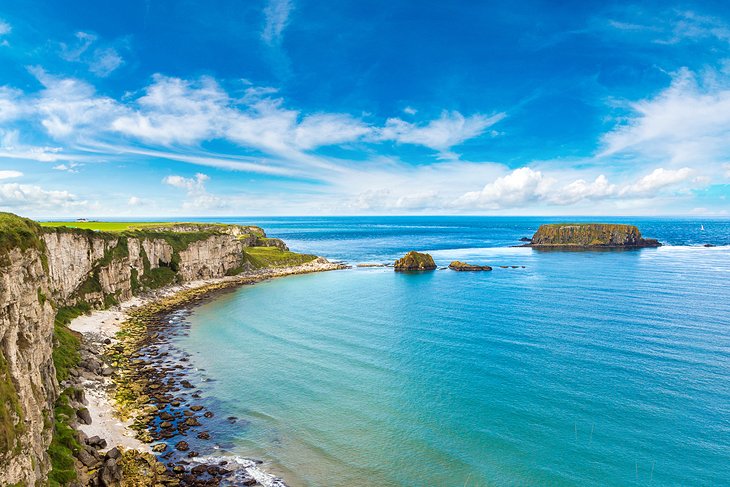 The Causeway Coastal Route lies between Belfast and Derry-Londonderry. The well-traveled route offers visitors magical views of the best natural landscapes Northern Ireland has to offer. From towering cliffs to bubbling brooks to green glens to craggy mountains, the route winds its way past the region's top attractions, including Dunluce Castle, Torr Head, Carrick-a-Rede Rope Bridge, and the Giant's Causeway.
6. Dunluce Castle, County Antrim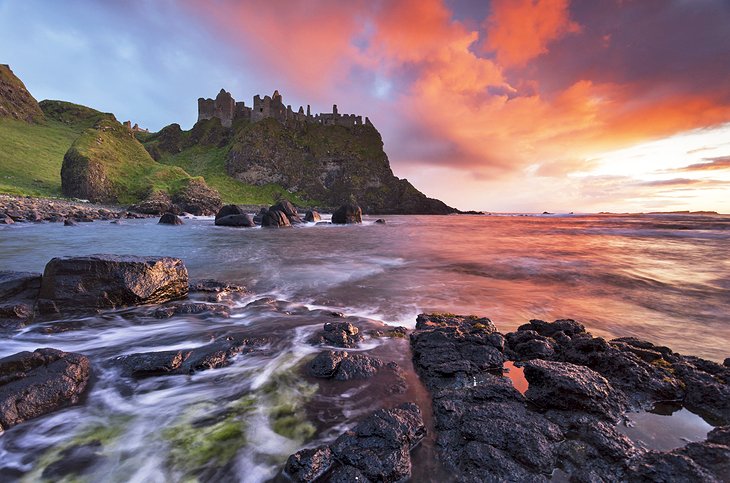 The rugged beauty of ruined Dunluce Castle lends itself to plenty of mysterious lore about prior owners, the Clan McDonnell. The isolated nature and wild surroundings of this medieval fortress are at once eerie, breathtaking, and romantic. No wonder it was used as a location in the famed television series Game of Thrones. Watch your step; the castle is surrounded by steep drops over the basalt cliffs.
7. Tollymore Forest Park, Bryansford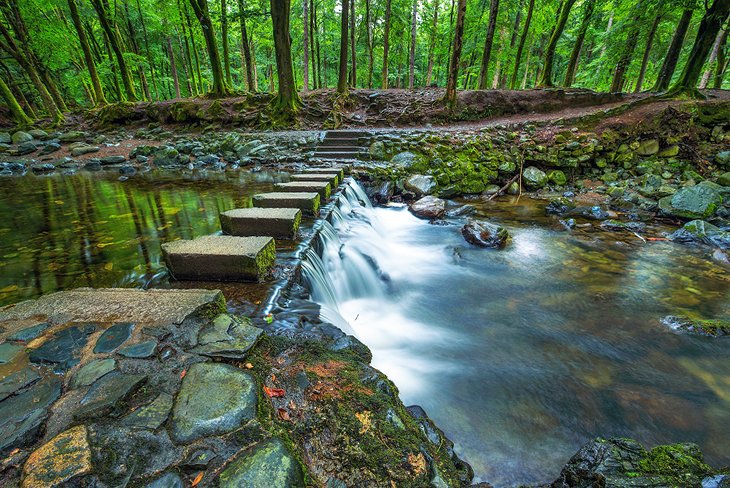 This quaint stone footbridge crosses the Shimna River in Tollymore Forest Park. Situated at the foot of the looming Mourne Mountains, just two miles northwest of Newcastle, this natural beauty is a must-see when visiting Northern Ireland. Pack a picnic and plenty of water and don good walking shoes to hike its vast trails. Follow the red trail to find locations used to film episodes of Game of Thrones.
8. Torr Head, County Antrim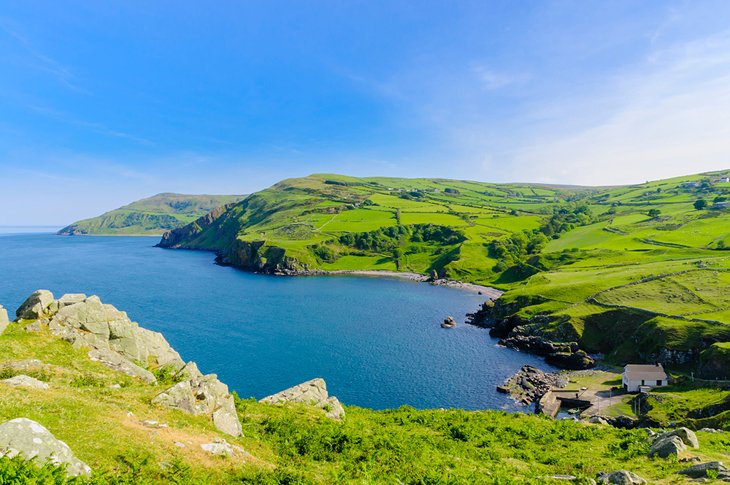 A rugged beauty peppered by stone walls, lush pastures, and roaming sheep, Torr Head is a headland famed for its rustic and rural charm. Home to the ruins of Altagore Cashel (dating back to the 6th century), this spot is well-loved for its crashing waves and impressive views of the Mull of Kintyre. It lies between Ballycastle (to the west) and Cushendun (to the south).
9. Flagstaff Viewpoint, County Armagh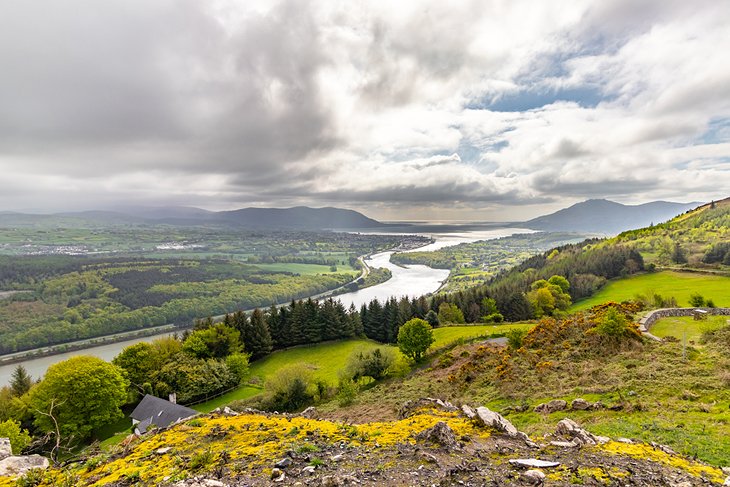 Pop to the top of Fatham Hill for a postcard-worthy view. Extra points if you catch this spot on a sunny day. Located near the adorable town of Newry, the vista at this romantic point includes unsurpassable views of Carlingford Lough, Mourne Mountains, and the Cooley Mountains. It was named for the flags that once flew atop the hill, announcing the arrival of boats to Carlingford Louth. Be sure your camera battery is fully charged.
10. Whiterocks Beach, Portrush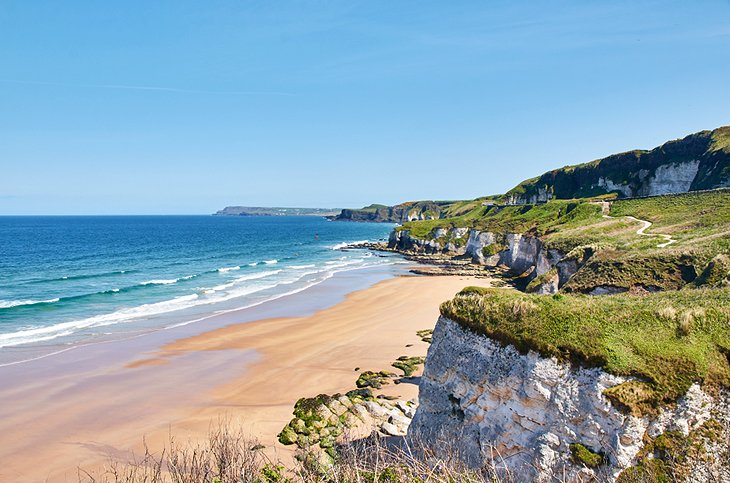 Sparkling, white limestone cliffs (a.k.a. White Rocks) back this Blue Flag, award-winning beach. The soft, golden sand begs travelers to walk barefoot along its stunning strand, just off the Causeway Coastal Route. This is a perfect place to surf, kayak, sun yourself, or relax to the ocean's meditative music. Lifeguards are on duty during July and August, which is your best bet for weather warm enough to enjoy a swim.
11. Dark Hedges, Armoy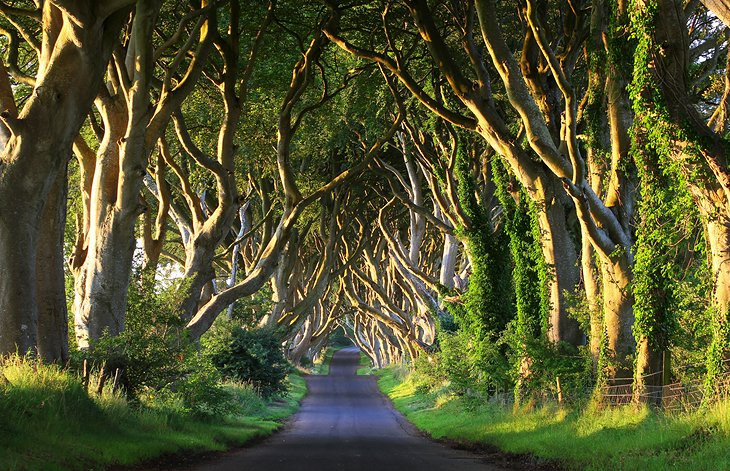 The Dark Hedges at Armoy are the place where fantasy and reality meet. Wait here long enough, and you just might spot a fairy (or at least you'll think you saw one). Engulfed by a tunnel of beech trees, Bregagh Road joins Armoy to Stranocum. A spectacular sight, this unique tree tunnel was used in Game of Thrones. It's located near a car park and small gift shop.
12. Mussenden Temple, Castlerock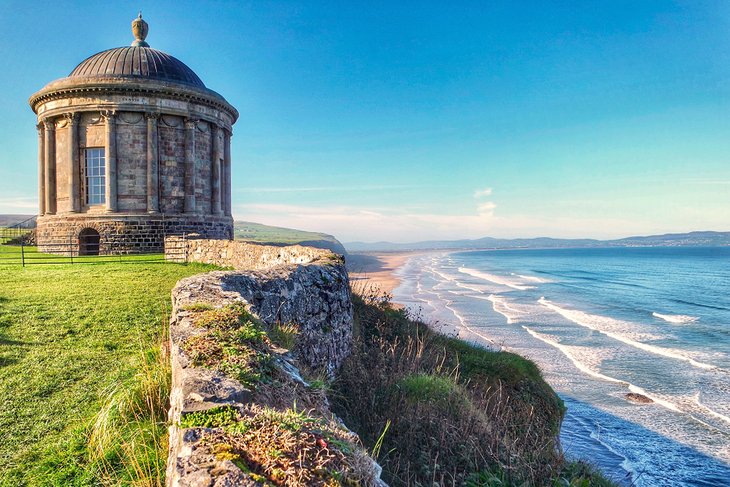 It's easy to see how artists become inspired by the stunning Mussenden Temple. A domed, Romanesque stone tower set at the precipice of the lush and rugged Downhill Strand cliffs, this spectacular structure is worthy of at least a dozen photographs. It was originally built as a library based on Tivoli's Temple of Vesta.
13. Ballintoy Harbour, Ballintoy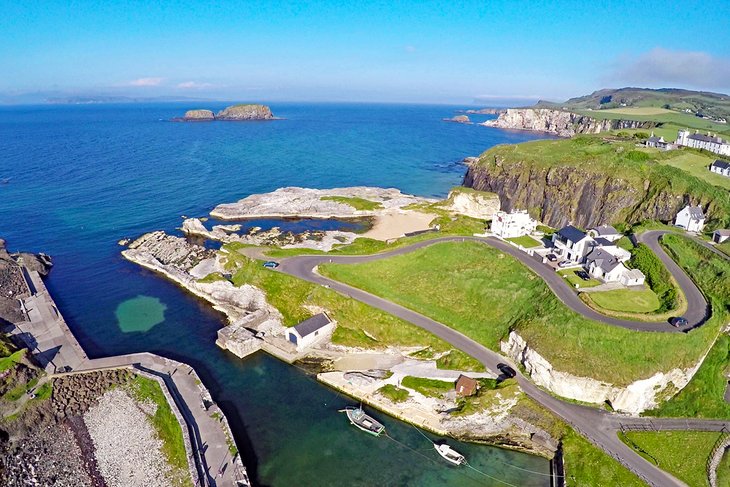 Just west of the impressive Carrick-a-Rede Rope Bridge lies a small village oozing charm. Called Ballintoy, the village's quaint, shallow harbor is particularly captivating. Surrounded by ancient stone walls, lush green fields, and giant boulders, the rock pools are a must see, especially for those traveling with kids. Arrive early, as this spot can get quite busy with Game of Thrones bus tours.
14. Lough Erne, County Fermanagh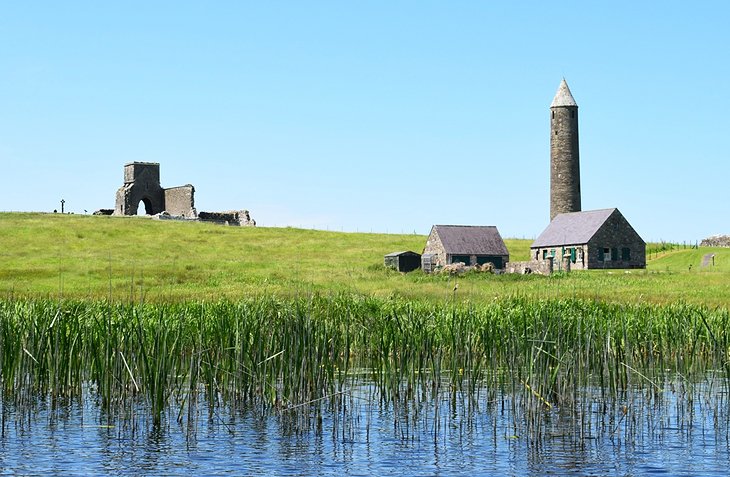 Lough Erne is vast and beautiful, sparkling and clean. On its gentle banks lie impressive farmland and the well-preserved ruins of churches dating back to the 12th, 15th and 16th centuries. These rest upon the Devenish Monastic Site on Devenish Island, which is accessible only by the water. The Lough itself is divided into two sections: Upper Lough (including Enniskillen) and Lower Lough Erne, which is wider and more unspoiled.
15. Glens of Antrim, County Antrim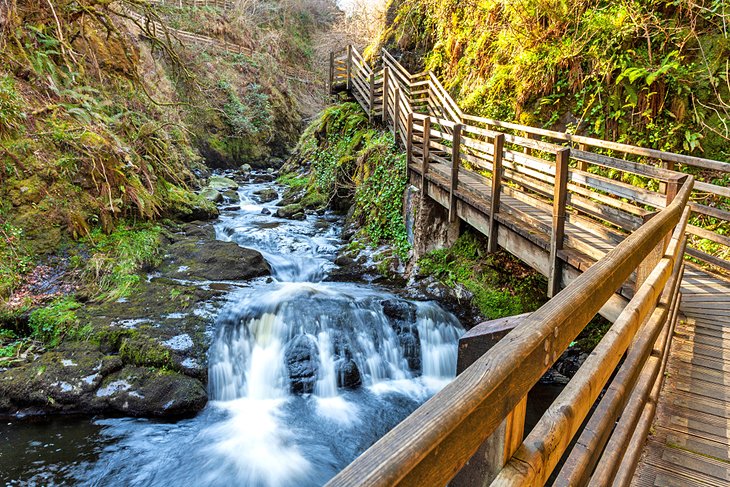 Waterfalls, wooden bridges, verdant forests, and mythological lore greet visitors to the nine beautiful glens of northeastern Antrim. Nestled between the towns of Cushendun and Glenarm, the unique glens were chiseled by glaciers many, many years ago. Each August, Cushendall plays host to the Heart of the Glens Festival, filled with singing, dancing, and tasty traditional Irish fare.
16. Binevenagh, Limavady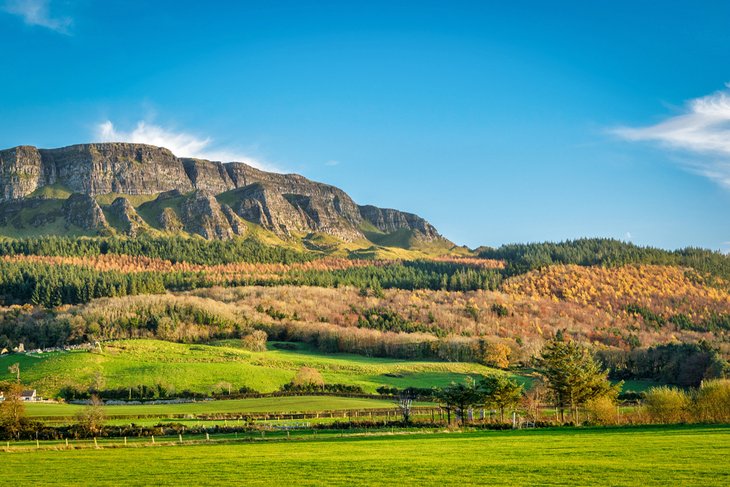 Binevenagh Mountain towers beside the artificial lake of the same name. These majestic wonders join rugged cliffs spanning six miles on the western edge of the Antrim Plateau. An Area of Outstanding Natural Beauty, Binevenagh is a breathtaking spot to hike, take photos, or merely gasp with delight at the stunning panoramic views. Visitors can also fish, glide, or bird-watch.
17. Portstewart Strand, County Londonderry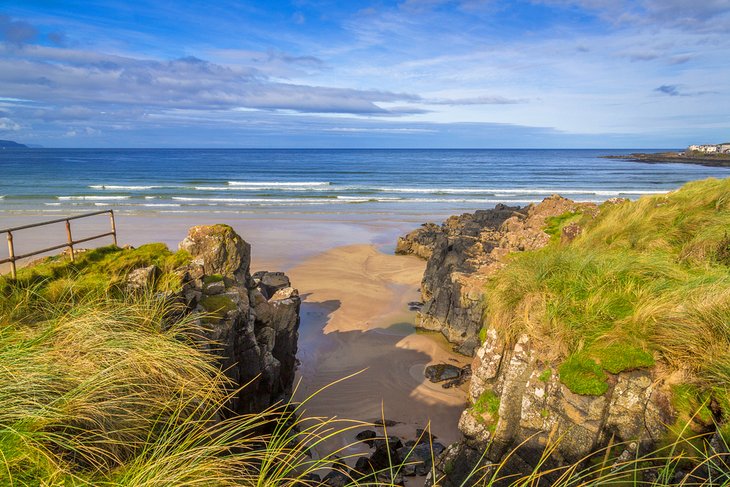 Love to surf? You can hang 10 on the gnarly waves at Portstewart Strand. If you'd rather stay on land, there are plenty of ways to enjoy yourself. Admire the 98-foot sand dunes, spot birds in the Bann Estuary, or walk along the Causeway Coast Way. If you time your visit right, you may get lucky enough to spy a rainbow. Maybe then you can search for that elusive pot of gold.
18. Kinbane Castle, Cregganboy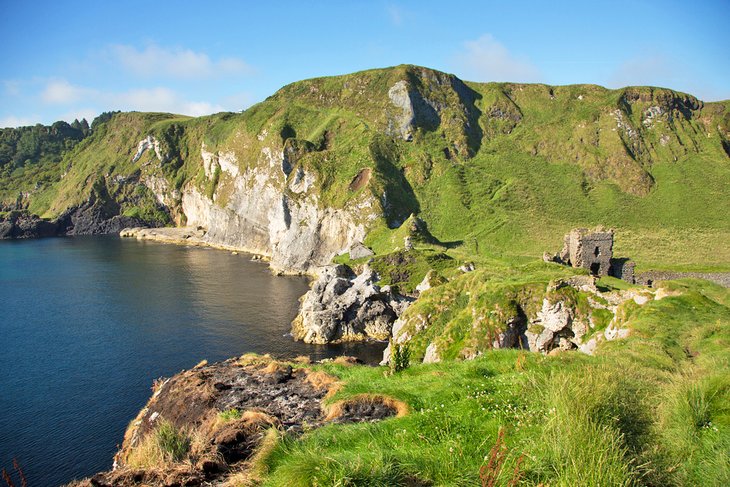 The ruins of Kinbane Castle are intriguing even on a rainy day. Named after the white limestone on which it stands, the castle's moniker means "white head." This Causeway Coast gem is worthy of a stop, and those who attempt to climb the narrow and steep steps up to this State Care Historic Monument will be wowed by unparalleled views of Rathlin Island.
19. Titanic Museum, Belfast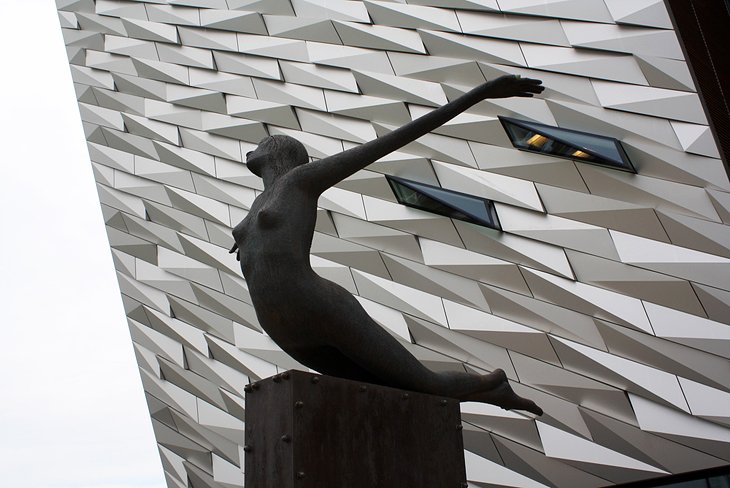 Set in the heart of the Titanic Quarter, Belfast's Titanic Museum was designed in tribute to the ill-fated ship, which was built here. A phenomenal feat of architecture, the building itself was created to mimic the ocean liner's shape. Inside, you'll find nine interactive galleries, a bistro, gift shop, and the true story behind what happened to the Titanic.
20. Carrickfergus Castle, Carrickfergus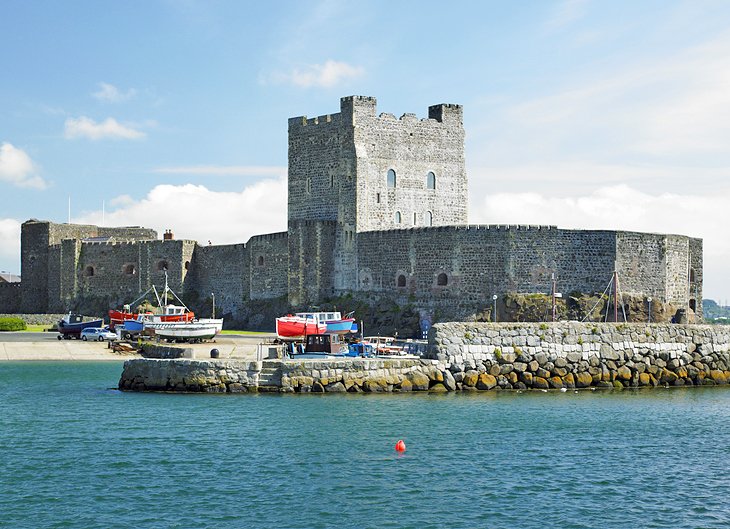 No trip to Northern Ireland is complete without a visit to a castle. Luckily, this one is as picturesque as its history is vast. Located only 20 minutes from Belfast, this Norman castle is impeccably preserved, especially the updated (and recreated) banquet hall. In fact, it's one of Ireland's best-preserved medieval structures. The castle survived centuries of unrest to become what it is today, a wonderful reminder of the area's strength and perseverance.
21. Boa Island, Lower Lough Erne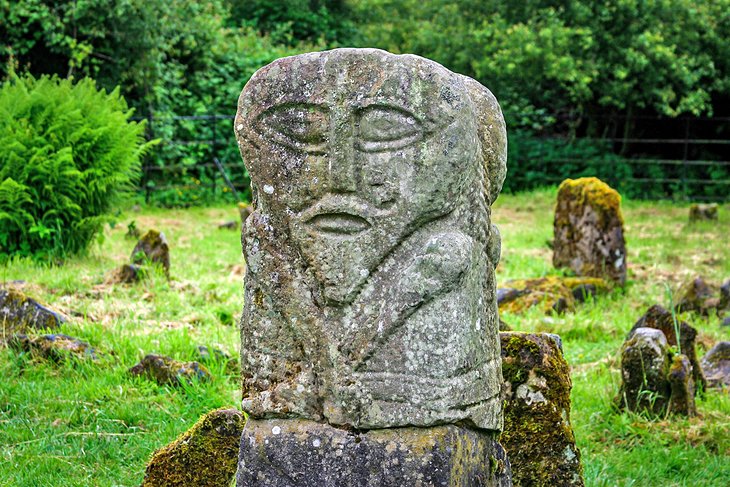 Located on Lower Lough Erne in county Fermanagh, Boa Island has become famous as the home of strange ancient stone carvings. The Janus figure is the larger of the two main carvings. Each side of this stone features a separate face and body. It's believed to represent a Celtic deity or goddess and can be found in the island's Caldragh Cemetery.