Best Time to Visit Tokyo
Tokyo is a perennial favorite destination among travelers. But to make the most of this world-class city, it's worth thinking about the best time to visit Tokyo.
The bustling Japanese capital has pleasant, mild weather for most of the year. The comfortable temperatures and sunshine in the spring and fall lend themselves to sightseeing all day long. Winter is chillier, with some chance of snow. Summer can be very hot, humid, and rainy – bring your umbrella.
But beyond the four traditional seasons, Tokyo also has a few very special times of year. The sakura (cherry blossom season) in mid-spring gives Tokyo an explosion of beautiful pink and white blooms (along with massive crowds who want a view). And in the fall, tourists can see the momiji (autumn maple leaves) turn golden and burgundy for just a few short weeks.
With so many great experiences, finding the perfect season to travel to Tokyo can be tricky. Let our guide to the best time to visit Tokyo help you plan your adventures to this incredible city.
Best Time of Year to Visit Tokyo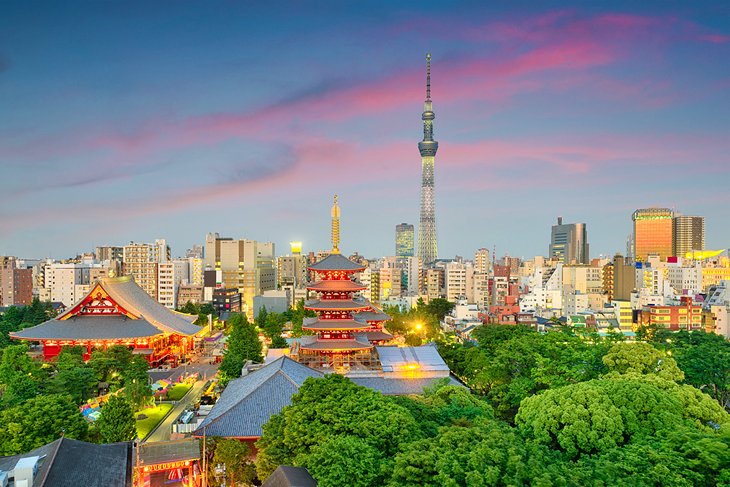 Fall (late September through November) and spring (March through May) are the best times of year to visit Tokyo. They offer the perfect blend of gorgeous sightseeing weather and unique natural phenomena that travelers from all over the world come to see. Plus, both seasons boast event calendars chock full of fun cultural festivals for tourists.
Tokyo treats tourists to absolutely superb weather in the springtime. March can still be a little chilly – expect temperatures to be around 13 degrees Celsius during the day and as low as 5 degrees Celsius in the dead of night. Tokyo starts warming up in April, bringing daytime highs to an average of 19 degrees Celsius and nighttime lows to 10 degrees Celsius. And by May, the city hovers between a balmy 15 and 24 degrees Celsius.
Even though spring is the best time of year to visit Tokyo, the season does come with a couple of downsides: Tourists can expect the city to be rainy about eight or nine days each month during this season. Hopefully, your trip will occur during some of Tokyo's sunnier days, but be sure to bring an umbrella and a water-resistant jacket just in case.
Furthermore, the spring is also one of the busiest times to visit Japan and the major tourist attractions. Nearly three million overseas travelers visit Japan in the peak tourism month of April in typical years, with March and May not far behind. Those numbers, combined with the local Japanese tourists eager to see the cherry blossoms, can make Tokyo feel crushingly crowded and impossibly expensive during the spring. However, many tourists feel that the sheer beauty of the iconic pink flowers and springtime weather are a worthwhile trade-off for the long lines, high prices, and crowds.
Autumn, another one of the best times of year to visit Tokyo, also offers tourists nice weather for sightseeing. Some of summer's residual heat still lingers in September, with average highs in Tokyo hovering around 27 to 28 degrees Celsius. Book your trip for late September to avoid some of the high temperatures, or wait until October when things cool down to 22 degrees Celsius during the day and 15 degrees Celsius at night, on average. November feels similar to April in Tokyo. Tourists can anticipate the temperature to be between 9 and 17 degrees Celsius.
Tokyo is relatively sunny during the mid-to-late fall. On average, the city has about 12 rainy days in September, eight rainy days in October, and just six days of precipitation in November. You can bank on having great weather for long walks around the city during this time of year.
Despite the wonderful weather, Tokyo usually sees tourism slow down significantly in fall from the high number of visitors in spring and summer. September in particular is a less crowded time in Japan, with just over two million overseas tourists visiting the country during that month on average. Tourism picks up a bit in October as people come to see the autumn foliage, before falling again in November. Overall, fall gives tourists a lovely combination of temperate weather and fewer crowds than they might see in Tokyo in the spring.
Best Month to Visit Tokyo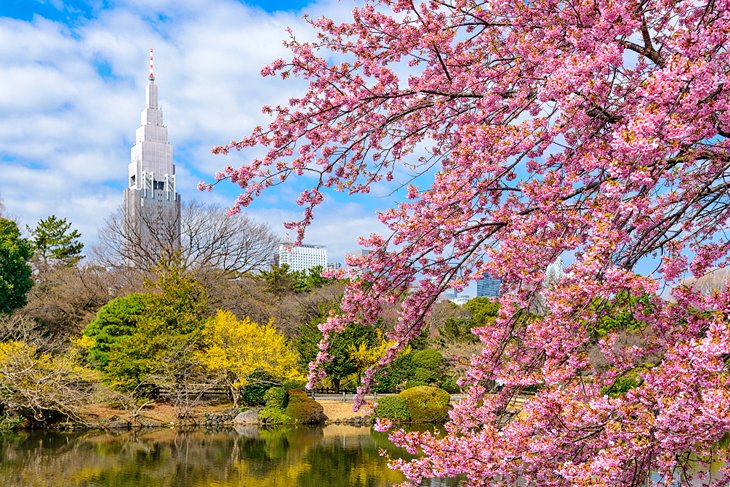 The best month to visit Tokyo is either April or October, depending on whether you prefer spring flowers or fall foliage (and you don't mind some crowds). Both months offer tons of things to do at tourist attractions in Tokyo and the best sightseeing weather you can hope for on a trip to Japan.
If you've got your heart set on seeing the cherry blossoms in Tokyo, you'll need some advanced planning and a bit of luck. No one can ever say for sure exactly when the trees will bloom every year. You'll need to keep your eye on weather predictions in the months and weeks leading up to your trip. It might be worthwhile to book a flexible flight, so you can adjust your travel dates closer to the peak season.
The best places to see cherry blossoms in Tokyo in April include the Shinjuku Gyoen National Garden, a 58.3-hectare manicured garden in Central Tokyo with over a thousand Japanese cherry trees, and Ueno Park, a famous tourist attraction with hundreds of trees. People stake out territory for hanami (cherry blossom viewing) by spreading out tarps early in the day. Tourists should also consider visiting the Koishikawa Botanical Garden, Meguro River and Asukayama Park for more opportunities to see the spectacular flowers.
October is just as nice as April in Tokyo, but for different reasons. You trade the cherry blossoms for stunning fall foliage in the sprawling parks spread around the Japanese capital. Like the springtime blossoms, the fall foliage comes at a different time every year, typically starting in mid- to late- October. The peak can be as short as just a couple of weeks to over a month long. Look out for forecasts starting in early summer, but expect the predictions to be updated as the fall foliage season draws closer.
If you're looking for the best places to see fall foliage in October in Tokyo, check out Hamarikyu Gardens. The tourist attraction features serene gardens brimming with bright red maple leaves in the autumn. You could also visit the Rikugien Garden, a centuries-old garden with hundreds of maple and gingko trees.
Cheapest Time to Go to Tokyo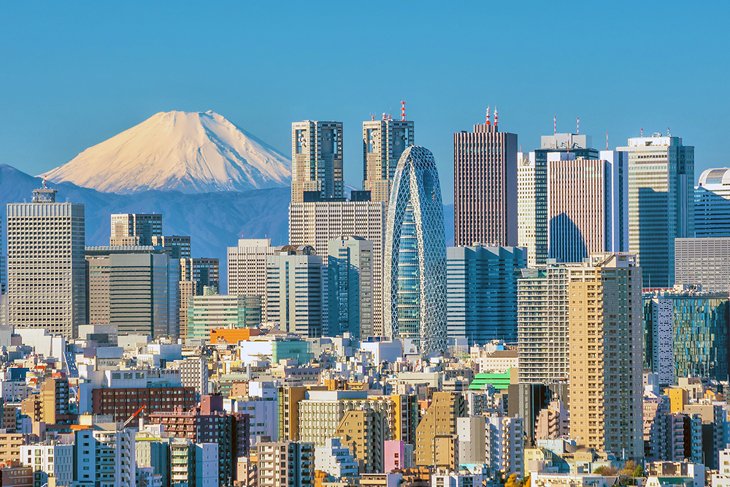 Tokyo is a highly advanced, world-class city with the prices to match for most of the year. However, the cheapest time to go to Tokyo is usually January and February.
Tourism typically dips in Japan during the dead of winter, with around two million to 2.5 million foreign arrivals during the month of February on average. That makes it easier for airlines and hotels to offer great deals to tourists. It should come as no surprise that the weather in Tokyo is cooler in January and February than other months of the year. Tourists should plan for highs around 10 degrees Celsius and lows just above freezing.
If you're visiting Tokyo during the winter, bring plenty of warm layers. Many Japanese buildings (especially the traditional inns known as ryokan) don't have central heating, so you'll want to bundle up.
Best Month to Go to Tokyo for Different Activities and Events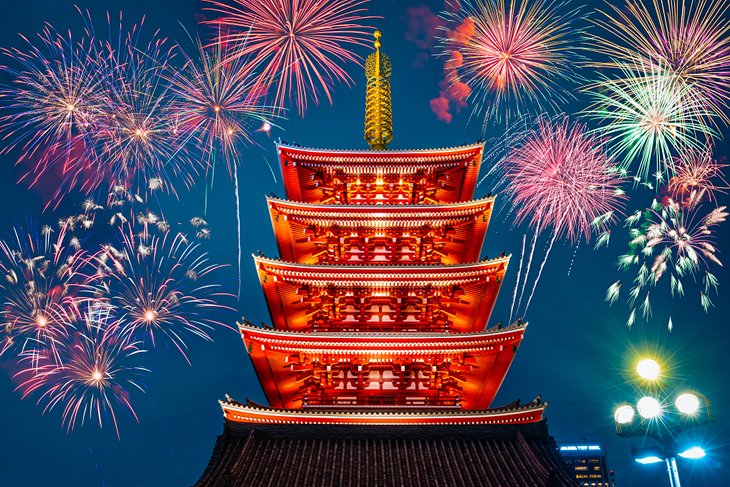 Tokyo has tons of things to do all year long, and there's really no bad time of year to visit this beloved destination. However, each month brings its own unique array of activities and events that are worth planning a trip around. Here's a breakdown of the highlights around Tokyo every month of the year:
January: In early January, Tokyo hosts its annual New Year Firefighter Ceremony (dezome-shiki). Donning Edo-era garb, firefighters climb bamboo ladders and perform daredevil acrobatics at Tokyo Big Sight. There are also parades of fire engines and displays of helicopters and boats used to fight blazes.
The second Monday of every January also marks Seijin no Hi (Coming of Age Day) in Japan, a holiday celebrating the transition of youth into adulthood. People who turned 20 years old (the age of majority) in the last year celebrate by wearing elegant kimonos and visiting shrines with their families. Swing by Meiji Shrine near Harajuku Station to see the celebrations in action.
February: You might be too early to see cherry blossoms, but the plum blossoms are in full swing in Tokyo starting in mid February. You can see the blushing blooms at Yushima Tenjin near the University of Tokyo, Hanegi Park in Setagaya Ward, and Koishikawa Korakuen near Tokyo Dome. While overshadowed by the cherry blossoms, the plum blossoms are just as rewarding to see, especially since it's not as crowded as sakura season.
March: In mid to late March, tens of thousands of tourists head to Tokyo for AnimeJapan, the country's largest anime trade show. Held at the Tokyo Big Sight exhibition center in the Ariake Minami district, the festival features a series of fun anime events for tourists. It gives anime fans a chance to meet the creators of their favorite cartoons, attend workshops, and even dress up as anime characters.
April: Cherry trees aren't the only thing in bloom in Tokyo in the spring. April is also prime viewing time for the azalea flowers around the city. Nezu Shrine in Bunkyo Ward hosts its annual azalea festival for most of the month of April into early May for tourists to appreciate more than 100 varieties of the bright pink and purple flowers growing alongside a series of traditional red torii gates.
Buddha's Birthday is also celebrated on April 8. Buddhist temples throughout Tokyo hold traditional ceremonies that involve dousing small Buddhist images with a special sweet tea.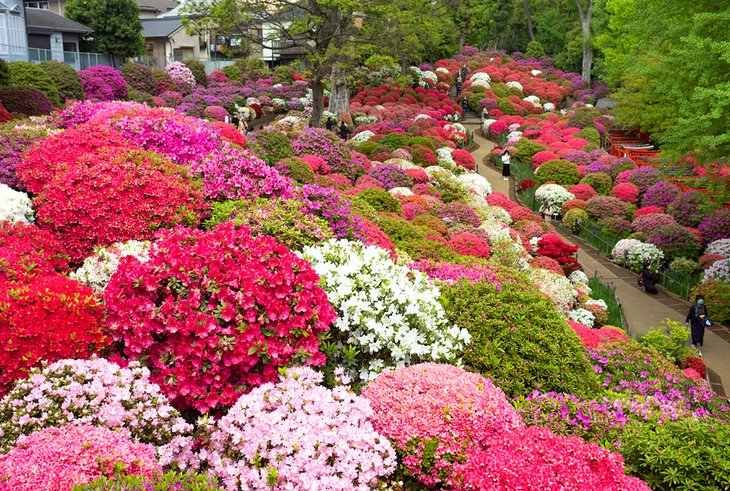 May: Tourists who visit Tokyo in May have the opportunity to experience the city's most popular shrine festival, Sanja Matsuri. The event, which typically takes place in the third weekend of the month, draws nearly two million tourists to the Asakusa district to see 100 portable shrines. Expect incredible street food, games, and live music all weekend long.
You can experience Japan's national sport, sumo, in May. One of Tokyo's three Grand Tournaments occurs over 15 consecutive days, giving tourists lots of opportunities to watch the giant wrestlers face off in a match.
June: Every tourist loves a day trip, but if you're visiting Tokyo in June, consider taking a night trip to the city of Fussa on the outskirts of the metropolis. It hosts its annual Firefly Festival in mid June every year. Visitors arrive starting as early as 1pm to take part in events and enjoy special foods and drinks. Just after sunset, the festival hosts release hundreds of fireflies for tourists to marvel at in Fussa Firefly Park.
July: Nothing defines a Japanese summer quite like fireworks, and the best fireworks shows happen in Tokyo starting in July. The city's largest fireworks event, Sumida Fireworks Festival, takes place on the last Saturday in July, when around one million tourists come to watch tens of thousands of fireworks light up the night sky over the Sumida River. But almost every weekend, you can see fireworks somewhere in Tokyo. Check events listings in local newspapers to see where the fireworks are taking place during your visit to Tokyo.
August: The summer fireworks season continues in Tokyo throughout the month of August. The scorching hot month is also the best time of year to chill out on the pretty beaches just a short train ride away from Tokyo. Consider spending the day at Onjuku Beach, Isshiki Beach, Southern Beach Chigasaki, or Shirahama Beach.
You could also take a short day trip to Nikko for Waraku Odori, an incredible folk dance event, which takes place over three days in August. The event began in 1913, when people spontaneously began dancing in the street to commemorate the visit of the emperor. Helpful staff offer English-speaking tourists English translations of the songs, making it easy to follow along.
September: Halloween is a big deal in Japan, and the celebrations usually start as early as September at Tokyo Disneyland. The theme park invites guests to dress in their most elaborate costumes and participate in fun, spooky events during the weeks leading up to Halloween. Highlights include the Happy Halloween Harvest Parade and the Haunted Mansion Holiday Nightmare, as well as costumed characters and amazing decorations throughout the park.
October: Mother Nature isn't the only one putting on a show in October in Tokyo. In addition to seeing the breathtaking fall foliage, travelers can also watch incredible productions at Tokyo's annual monthlong performing arts festival, Festival/Tokyo, starting in mid October. Tourists can choose from events such as modern dance recitals to comedies and dramatic performances at venues around the city.
You can also stick around for big Halloween celebrations at the end of the month and watch costumed revelers take to the streets in droves. Be sure to pick up a costume from a local shop, so you can take part in the festivities.
November: Tokyo lights up for the holidays, starting in November. The winter illuminations feature trees and attractions decked out in hundreds of thousands of twinkling lights. Wander around Tokyo after dark to get a view of the spectacle at places like Tokyo Skytree, Tokyo Tower, Yebisu Garden Place, and the Meguro River.
In the second half of the month, you can also experience the annual Gingko Festival. It takes place on an avenue flanked by approximately 150 gingko trees with bright gold leaves.
December: Listen for the bells at Tokyo's many temples, including Tsukiji Honganji, Ikegami Honmonji, and Tenryuji, on New Year's Eve. They are struck 107 times on the last night of December and one more time just after midnight to ring in the start of a (hopefully auspicious) new year.