13 Best Resorts on Siesta Key, FL
Siesta Key is one of those places that screams "vacation!" Soft white sand massages visiting feet, while the Gulf of Mexico's emerald waves provide a gorgeous backdrop for a swim.
An adorable, tree-lined village attracts shoppers and diners, while a bevy of resorts make it easy to find the perfect spot to relax at the end of a sun-drenched day.
Whether you're looking for a luxurious retreat complete with spa services or a more budget- and family-friendly spot to take a load off, this eight-mile-long barrier island has enough resorts to cater to every type of traveler. We're talking beachfront hotels, quiet bayside retreats, and resorts set in the bustling village center.
Before you book, choose an accommodation you won't regret from our list of the best resorts on Siesta Key.
1. Hyatt Residence Club Sarasota, Siesta Key Beach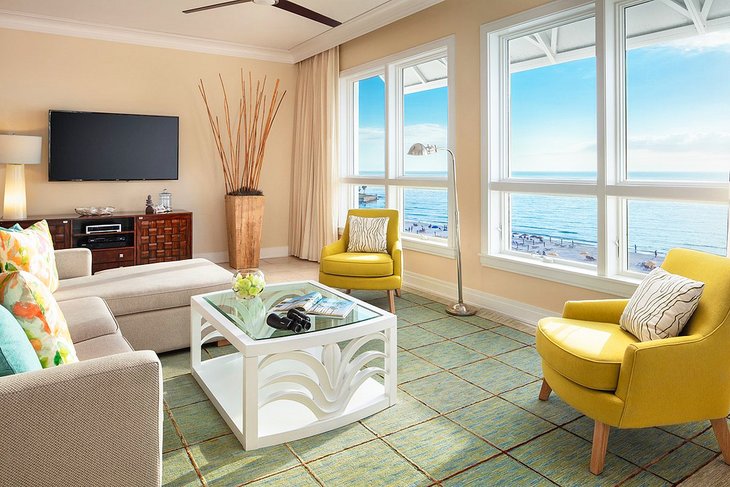 Accommodation: Hyatt Residence Club Sarasota, Siesta Key Beach
With 44 condominiums on-site, the Hyatt Residence Club Sarasota, Siesta Key Beach offers a lot of space to its guests.
These lavish units range in size from 1,800 to almost 3,000 square feet and feature multi-room layouts and kitchens, making it simple to feel at home. Of course, they also feature those insanely comfy Hyatt Grand Beds!
Plush and stylish interiors up the luxe factor, while oversized bathtubs (with jets) invite you to indulge in a relaxing soak at the end of a busy day. Speaking of unwinding, head to your private terrace, many of which overlook the Gulf of Mexico, for a soothing sunset view.
Rent a cabana by the pool, warm up in the hot tub, or get cozy by the beachfront fire pit. In true resort fashion, this Hyatt Residence boasts friendly staff, access to spa services, a business center, fitness center, and two on-site restaurants. Grab a lite breakfast at Beachview Terrace, or enjoy lunch at the poolside Cabana Cantina daily.
Prefer to stay in? No problem. Cook your own meals with food provided by the resort's personalized grocery delivery service. Or make use of the Chef in Residence Program for a restaurant quality meal served in your condo. Parking and Wi-Fi are included with your stay.
Address: 915 Seaside Drive, Siesta Key, Florida
2. Siesta Key Beachside Villas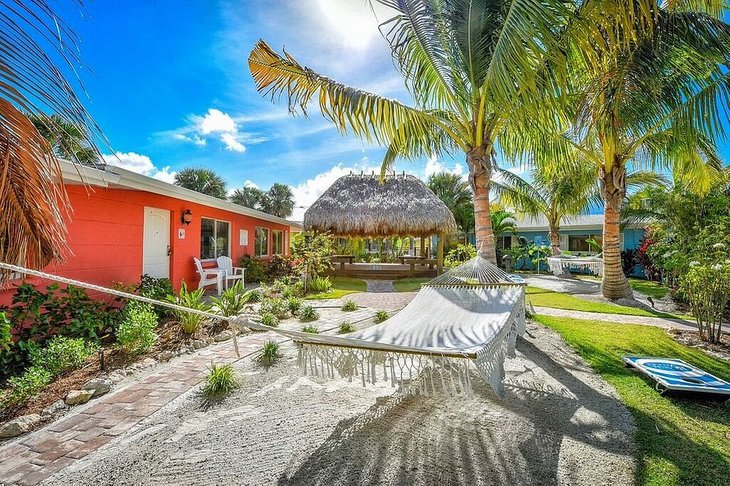 Accommodation: Siesta Key Beachside Villas
It's easy to forget you're in Florida while staying at this unique, Caribbean-style resort.
Shaded by tall, waving palms and peppered with buildings so brightly colored, you'll be happy you packed sunglasses. It's impossible to feel sad while staying at the Siesta Key Beachside Villas. Seriously, they have tiki huts and hammocks–what's not to like?
The resort is as smile-inducing on the inside as it is on the outside. Newly renovated rooms include coffee makers, comfortable linens, and kitchens. This truly is one of the best resorts on Siesta Key.
The villas are located in various convenient spots around town, many within walking distance of each other. Whether you're hoping to stay steps from the beach, close to the entertainment scene, or within walking distance of shops and restaurants, Siesta Key Beachside Villas will have a perfect place for you.
That said, the Beachside Villas are the most popular. They are located a two-minute-walk to the beach and only a few extra minutes to the village. Beach chairs, a beach cart, cooler, and bikes are also provided (if you've paid the daily resort fee).
Address: 124 Columbus Boulevard, Siesta Key, Florida (main office)
3. Tropical Beach Resorts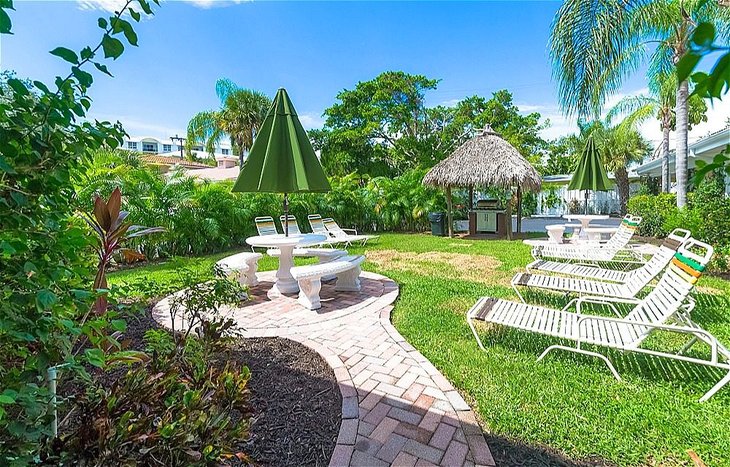 Accommodation: Tropical Beach Resorts
Guests of Tropical Beach Resorts are provided with a wealth of choices when it comes to where to rest their heads. There are 89 rooms sprawled across this four-acre property, all featuring modern amenities while oozing old Florida charm.
The smaller, standard studio is ideal for romance, while the two-bedroom suite is a fab spot for families to stretch out as they unwind. Each room houses a fully equipped kitchen (or kitchen appliances for studios), which makes it easy to prep and store snacks and meals during your holiday.
The resort's main draw is its epic location. Mere steps will get you to its private entrance to Crescent Beach. A quartz-sand continuation of the famed Siesta Key Beach, this is where most guests spend their days, frolicking in the waves, digging their feet in the sand, and building sandcastles.
The resort's beachside concession stand makes it easy for guests to rent everything from beach chairs to cabanas to kayaks. The front desk also offers a volleyball, shuffleboard, inflatables, and board games.
When you're sick of picking sand from your swimsuit, head back to the resort. Two heated saltwater pools lie in wait for sun-soaked guests wanting to cool off. No wonder it's been deemed one of the best resorts on Siesta Key.
Address: 6717 Sarasea Circle, Siesta Key, Florida
4. Ringling Beach House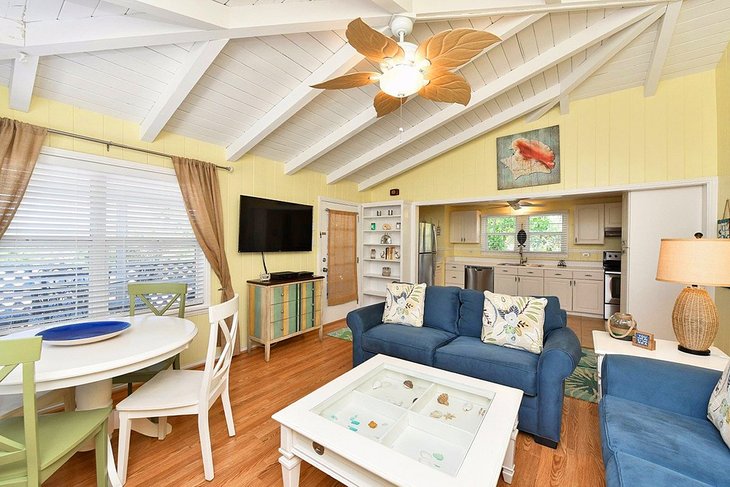 Accommodation: Ringling Beach House
Ringling Beach House is one of the best resorts on Siesta Key for people who don't want to rent a car.
Conveniently placed mere steps from Siesta Key Beach and only a few blocks from the village, this lovely boutique resort is filled with old Florida charm. And it welcomes pets (for a fee), which means Fido can come along.
You'll never feel crowded while staying at this family-friendly retreat. A mid-range hotel bursting with charm, it boasts 12 rooms of all sizes (three-bedroom condos are also on hand) and come with fully equipped kitchens and patios to make it easy to feed little ones at any time.
Kids will love the two outdoor pools, and their accompanying adults can grill dinner on the nearby BBQs or enjoy a moment of quiet in one of the on-site gazebos.
No need to pack towels or beach chairs for your trip: the hotel provides these, as well as sun-umbrellas to protect your skin from the sun's intense rays.
Parking is free, and there are plenty of board games and puzzles to help occupy children (and their grown-ups) on rainy days.
Address: 523 Beach Road, Siesta Key, Florida
5. Sea Club V Beach Resort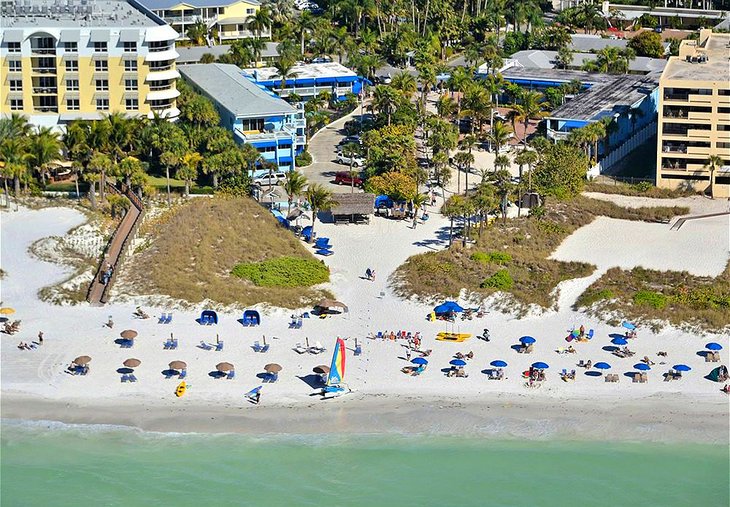 Accommodation: Sea Club V Beach Resort
It is easy to see why Sea Club V Beach Resort has been dubbed one of the best resorts on Siesta Key.
A collection of studio and one- and two-bedroom timeshare condominiums, it boasts a slew of complimentary amenities on a spectacular beachfront locale. All 41 units are housed within three buildings (a.k.a. Main, North, and South) that front the Gulf of Mexico.
The resort has a freshwater swimming pool and hot tub, as well as a volleyball court and its own section of white, sandy beach. Enjoy a beach cookout, lounge on the sand, whip around the area on a free bike, or splash in the clear waves of the Gulf.
Complimentary beach chairs and umbrellas are provided, as well as kayaks and paddleboards. You'll never get bored at this fun, family-friendly resort. Another bonus, you're so close to the village that you can walk in for dinner with a side of shopping.
Address: 6744 Sarasea Circle, Sarasota, Florida
6. Siesta Sands Beach Resort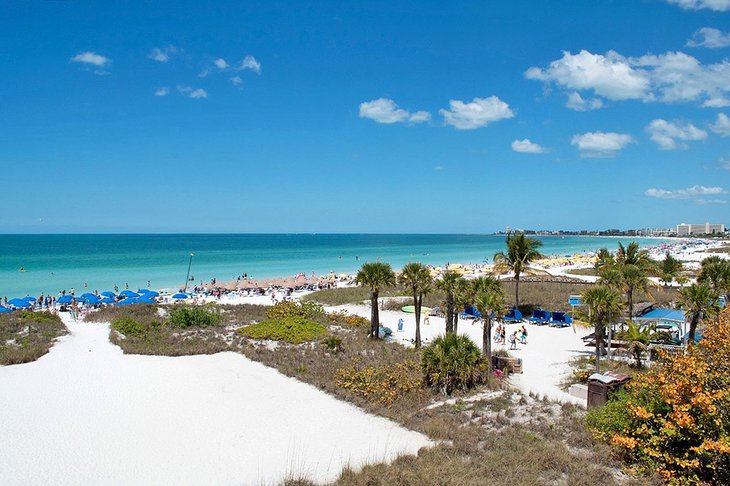 Accommodation: Siesta Sands Beach Resort
Bright and airy studio, one-, two-, or three-bedroom condos welcome visitors to the Siesta Sands Beach Resort.
In addition to the fully equipped kitchen and comfy beds, many of these units offer a remarkable view of Crescent Beach. When you're sitting on your private balcony, keep your eyes peeled–you'll likely spot a dolphin or two playing offshore.
Two outdoor pools are another plus, enticing guests to cool off in the crystal-clear water. Each boasts a BBQ to make outdoor grilling a cinch. Hoping for a bit more action on your Florida holiday? Head to Crescent Beach. It won't take long as this resort brushes its white, sandy shore.
Play Ping-Pong, work out in the fitness area, enjoy a meal in the covered pavilion, or walk miles along the sand. You'll never get bored with a stay at Siesta Sands Beach Resort. Other perks include on-site laundry facilities and free Wi-Fi.
Address: 1001 Point of Rocks Road, Siesta Key, Florida
7. Turtle Beach Resort & Inn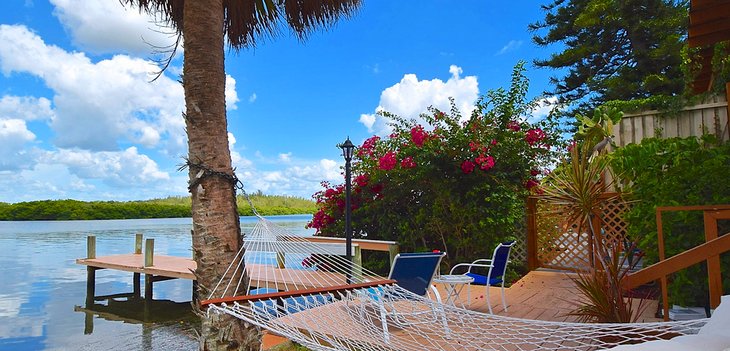 Accommodation: Turtle Beach Resort & Inn
Turtle Beach Resort & Inn offers singles, couples, and families (including their pets) a comfortable home away from home. Spacious suites and cottages come complete with kitchens and enclosed patios boasting a hammock and hot tub. Staying in never felt so relaxing.
This serene resort also has a pool and offers guests free access to bikes, kayaks, canoes, and fishing poles to help round out their Floridian vacay. Situated on the quiet Little Sarasota Bay, it's easy to forget your worries while sitting on the dock with your feet dangling in the water.
The resort's sister property, The Inn at Turtle Beach Resort is an adults-only romantic spot located on the same property. Here, you'll find tranquil suites with private patios and hot tubs offered at affordable rates. Choose one with a water view for an extra dreamy experience.
Turtle beach sits mere minutes away for those craving some sand and surf with their vacation.
Address: 9049 Midnight Pass Road, Florida
8. Siesta Key Palms Resort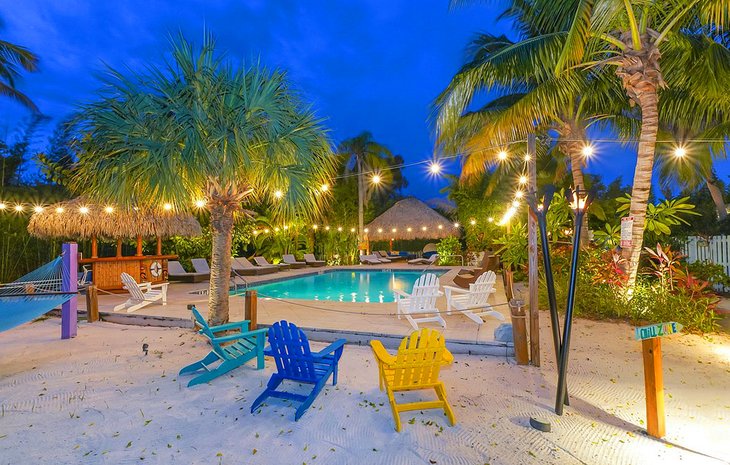 Accommodation: Siesta Key Palms Resort
Technically located in Sarasota, this gorgeous resort is only 0.6 miles from Siesta Key. You can get there on foot, by walking across the bridge.
The recently renovated rooms boast modern amenities and plush bedding. Excluding studios, the rooms include kitchenettes and pull-out sofa beds. Book the quadruple room if you're visiting with kids.
Each unit brings the tropics to you, their private garden courtyards surrounded by lush vegetation. The nearby communal tiki hut housing lounge chairs is so comfy, you may want to skip a trip to the beach, which is less than a mile-and-a-half away.
Two outdoor pools, one open to families, the other for those 21 and up, make it easy to find a quiet spot, while the hanging day beds are especially enticing for those who'd like to take a load off in a truly serene environment.
Address: 1800 Stickney Point Road, Sarasota, Florida
9. Twin Palms at Siesta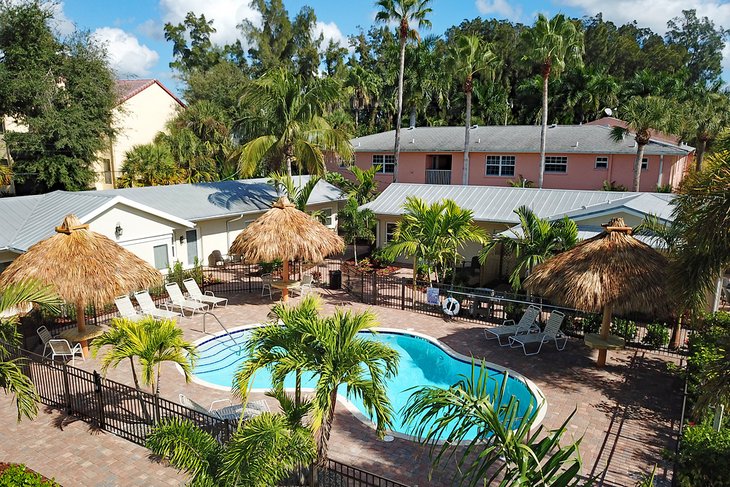 Accommodation: Twin Palms at Siesta
While Twin Palms at Siesta isn't directly on the beach, you can get to Siesta Key Beach in a quick, five-minute walk from your room. The resort also boasts a heated pool, so if you don't feel like brushing sand from your feet at the end of the day, you could always choose to lounge poolside instead.
A small and comfortable boutique resort boasting 8 rooms and suites, Twin Palms has barbecue grills for use by its guests as well as a terrace, garden, and picnic area to enjoy a meal alfresco.
All guest rooms come with a kitchenette and private patio. You won't miss having a restaurant at hand when you can easily make your own dinner, or better yet, head to one of the nearby eateries.
Address: 1115 Point of Rocks Road, Siesta Key, Florida
10. Tropical Breeze Resort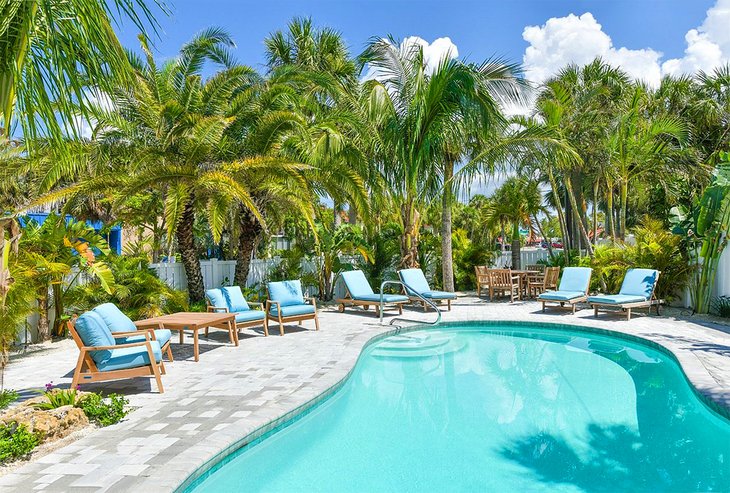 Accommodation: Tropical Breeze Resort
Guests can slip on their sandals and walk less than two blocks to the sandy shores of Siesta Beach from this lovely resort. Also within walking distance are the shops and restaurants of the vibrant Siesta Key Village. That means you won't have to combat any parking woes.
A pet- and family-friendly hotel, the Tropical Breeze Resort offers spacious suites featuring fully stocked kitchens and private balconies.
Hoping for a romantic holiday? Choose one of the cozy studio resort rooms. These have a quaint B&B feel and come complete with a mini fridge, microwave, and king bed.
On-site, you'll find two outdoor pools including one that boasts a hot tub, lush gardens, grills, and a charming tiki pavilion. Perks include complimentary beach chairs and towels, as well as bike rentals.
Address: 140 Columbus Boulevard, Siesta Key, Florida
11. Hibiscus Suites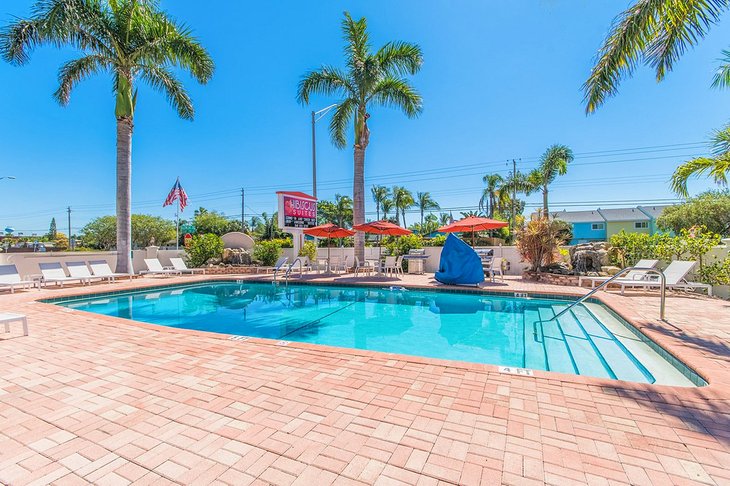 Accommodation: Hibiscus Suites
Hibiscus Suites is located at the southern entrance to Siesta Key, in nearby Sarasota. It's just one mile away from Siesta Key Beach, which means you won't have far to go if you're hoping to dig your toes into soft, white sand.
A great resort for families, the 43 newly renovated rooms at Hibiscus Suites come with full kitchens as well as separate living rooms and bedrooms. Large enough to feel spacious, these suites are ideal for those who'd like to spend more than just a weekend visiting this prime Florida locale.
The King suite comes with a king-sized bed and a sleeper sofa in the living room, perfect for couples.
Those with little ones in tow should choose a two-bedroom suite. These rooms are 850 square feet and include two bedrooms–one with a king-sized bed and the other with two queens.
The heated outdoor pool is a favorite feature, and it's surrounded by comfy loungers.
Address: 1735 Stickney Point Road, Sarasota, Florida
12. Captiva Beach Resort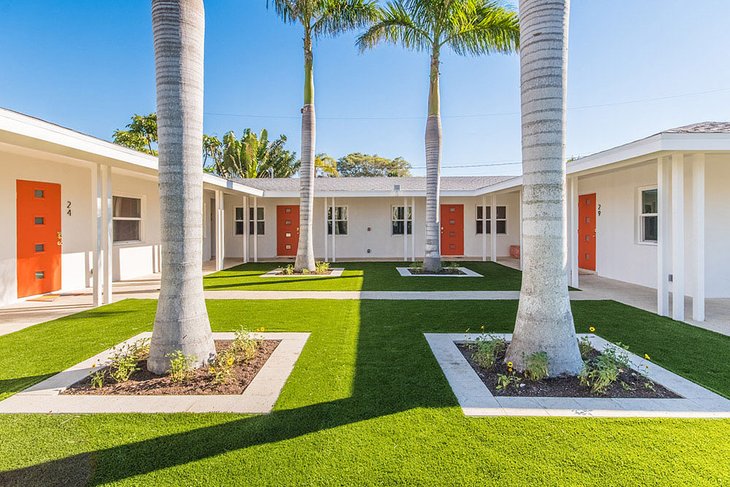 Accommodation: Captiva Beach Resort
You won't find cheesy tropical-themed wallpaper at this boutique resort. Despite being around since the 50s, this intimate retreat features 19 rooms and suites boasting a clean and modern, minimalist design.
Kitchens make life easy for those trying to stick to a budget or traveling with kids. Another plus, the surroundings are quiet, unlike other resorts located near the bustling heart of Siesta Key Village.
The well-manicured courtyard is a lovely place to sit back with a book or simply lounge in the sun, but most spend the majority of their time mere steps away, on the pristine white sand of Crescent Beach.
When you've had enough of the beach, head to the on-site pool or challenge your vacation buddies to a game of shuffleboard.
Feeling extra romantic? This affordable resort books and organizes weddings on–you guessed it–the beach.
Address: 6772 Sarasea Circle, Siesta Key, Florida
13. Siesta Key Beach Resort & Suites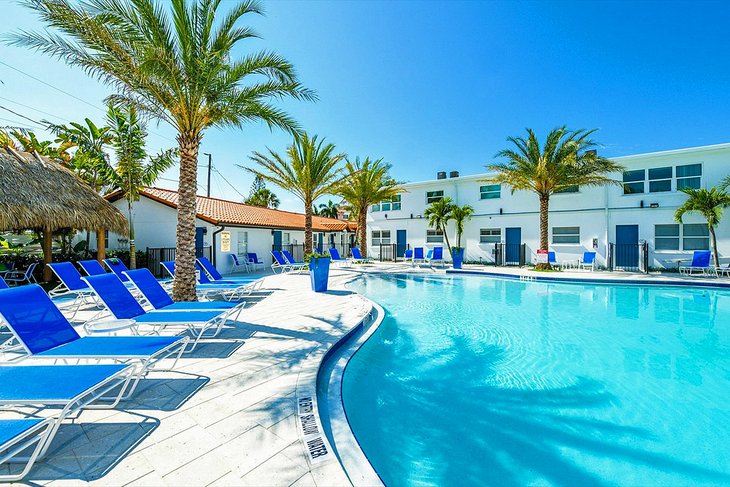 Accommodation: Siesta Key Beach Resort & Suites
Located in the heart of Siesta Key Village, Siesta Key Beach Resort & Suites is more affordable than many others gracing this list. It's also optimally located for those who prefer to ditch the car and walk to shops, restaurants, and the beach.
The resort's shining feature is a large, shimmering pool surrounded by high quality lawn chairs and a tiki hut. A hot tub and plenty of outdoor games (like Jenga) are on hand to up the fun factor.
Choose from a standard or studio room, or enjoy more space by booking a suite. Want to score points with the kids? Book the Bunk Room specialty room. The cute, one-bedroom Bunkhouse is another crowd-pleaser featuring a king bed, bunk beds, and a full-size sleeper sofa.
A bonus for those traveling with kids: free on-site laundry. Kids will love riding in a golf cart (available for rent at the hotel) and the provided beach chairs, beach carts, coolers, and bicycles will come in super handy during your trip. You'll have to pay a daily resort fee to use these amenities, but it's more than worth it!
Address: 5311 Ocean Boulevard, Siesta Key, Florida
Map of Resorts on Siesta Key, FL