15 Top-Rated Weekend Getaways from Washington D.C.
When it's time to get away from Washington D.C., your destination options include almost the entire Eastern United States. Aside from all the possible getaways by car, the city is well connected to the Northeast and New England by train, including Amtrak's Acela high-speed train. Acela service connects Washington and Boston with 14 stops in between. Amtrak's Silver Meteor train will get you to the theme parks of Orlando or the beaches of South Florida in about a day.
You can do an urban getaway to the Broadway shows, museums, and fine dining of Manhattan, or head to Harpers Ferry in West Virginia for some history, along with rural hiking or mountain biking.
The D.C. area is also within easy reach of many beaches, including those along the Chesapeake Bay and the Atlantic Ocean like Myrtle Beach or Ocean City. You may want to take a winter ski getaway, and there are several options within a two-hour drive of the city.
The area around Washington is home to a lot of destination resorts, where you can spend the entire weekend experiencing the available amenities and activities. Families will enjoy a visit to the massive Greenbrier resort in West Virginia, with its 11,000 acres of activities. Couples might like a romantic country house resort like the Goodstone Inn in Middleburg, Virginia.
For ideas on easy city escapes, browse this list of the top weekend getaways from Washington D.C.
1. New York City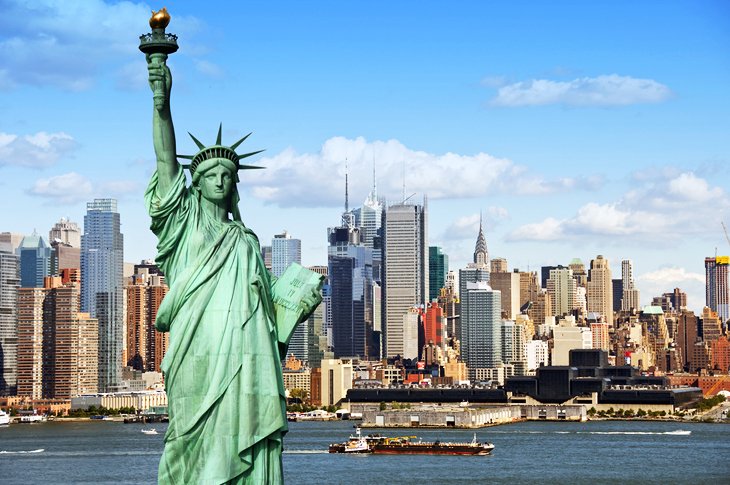 Any list of D.C. getaways has to start with New York City (or at least include it in the top three). Amtrak's Acela Express train service gets you from Union Station in Washington to Penn Station in Manhattan in three hours, sometimes even less.
Whether you take in a Broadway show, enjoy a foodie adventure in the city's many great restaurants, or spend your entire visit exploring the many museums, there is something for everyone.
The Dominick Hotel is one of the city's newer luxury hotels, located in a neighborhood called Hudson Square, next to SoHo and TriBeCa. It's within easy walking distance of Lower Manhattan, and there's a subway stop a block away to explore other areas of the city. The hotel is by far the tallest building in the area, giving its rooms and suites sensational views, some looking downtown, others uptown.
2. Ocean City, New Jersey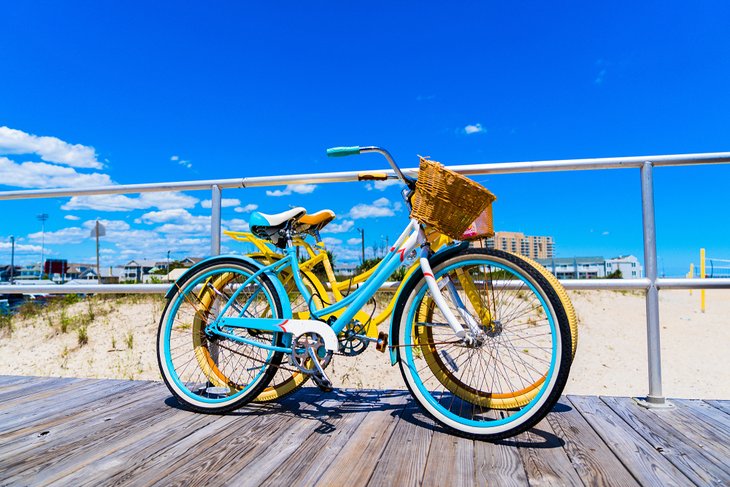 For a family-friendly beach getaway three hours from D.C., Ocean City, New Jersey is an excellent option. Although Ocean City, Maryland is an hour closer, the New Jersey resort retains more of its small-town, family feel - the town was founded 100 years ago as a church retreat location.
The family-friendly environment means no alcohol sales anywhere in the city and many businesses close on Sundays to allow for worship or family time.
There are no mega-resorts here, just small hotels and motels and a wide, beautiful beach fronted with an old-school 2.5-mile-long wooden boardwalk. The boardwalk is lined with shops, restaurants, ice-cream stands, and a few amusement parks. Beyond the boardwalk are miles of windswept dune beaches. Ocean City is a summer weekend getaway destination, and many of the businesses close for the winter.
The Port-O-Call Hotel is right on the Boardwalk at 15th Street. The city's original high-rise hotel (10 stories), it retains a retro charm and puts you within walking distance of the whole town. Some rooms have balconies overlooking the beach, and there's also a large pool.
3. Old Town Alexandria, Virginia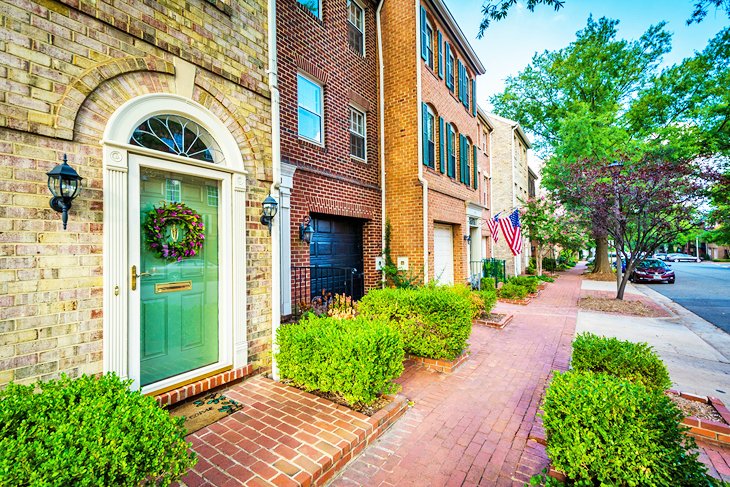 Alexandria, Virginia is right across the Potomac River from Washington and the home of many D.C. workers. But this city is also an easy getaway destination. It's a short trip by car, or you can even go by train via the Metro.
The Old Town area has a concentration of preserved buildings, now converted into more than 200 locally owned shops and restaurants. Old Town Alexandria is focused around a mile-long stretch of King Street, with cobblestone streets and red-brick sidewalks.
The Lorien Hotel & Spa is a luxury boutique hotel right in Old Town on King Street. The hip, stylish rooms are offered with warm, personal service and an effort to immerse guests in local culture.
4. Harpers Ferry, West Virginia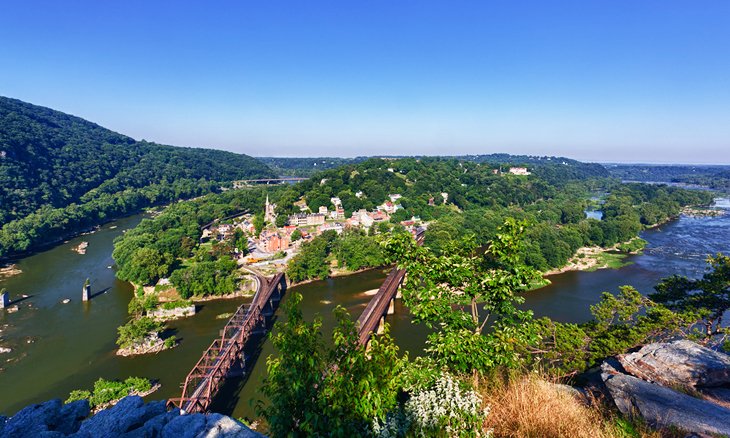 This city in West Virginia, about 90 minutes from Washington, is where the Potomac and Shenandoah Rivers come together. Famous for its role in Civil War history, the area is just as popular as a getaway destination for its scenic beauty and abundance of outdoor activities.
The Harpers Ferry National Historical Park offers both history and miles of hiking and exploring. There are numerous historic sites and exhibitions to learn about the area and its history, along with miles of hiking trails and beautiful scenery to explore. The Harpers Ferry Historic District has a lot of original homes and the historic downtown area.
For overnight stays in Harpers Ferry, there are plenty of camping areas, or The Ledge House Bed and Breakfast is a popular option. This boutique property has a scenic hillside location with sweeping views of the Potomac River from its large front porch.
5. Gettysburg, Pennsylvania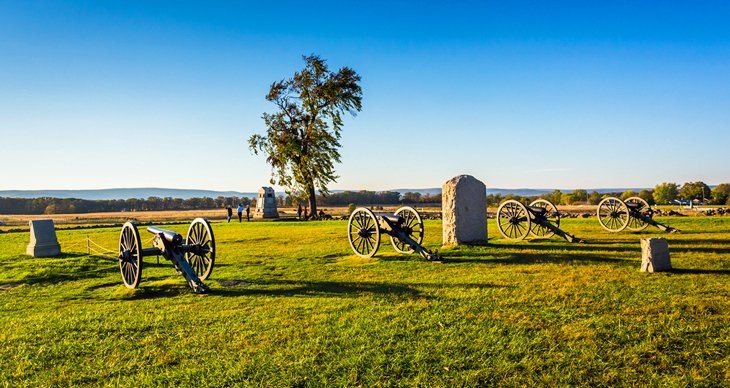 Gettysburg, site of the battle that was a key turning point of the Civil War, is only a 90-minute road trip from Washington D.C. The battlefield site, a national park called Gettysburg Memorial Battlefield, is in Southern Pennsylvania, and it's a moving place to visit.
Gettysburg is an hour from a very cool area called Pennsylvania Dutch Country, and the two make for a great getaway. Pennsylvania Dutch Country is a rural farming area, home to the local Amish population, along with many tourist attractions.
You can't find a more central location than the Gettysburg Hotel, at 1 Lincoln Square. This historic hotel has been around since before the Civil War (it opened in 1797), and a stay here is a great complement to a battlefield visit. It's a wonderful choice for families, as the hotel itself is a piece of living history with strong connections to the Civil War.
6. Philadelphia, Pennsylvania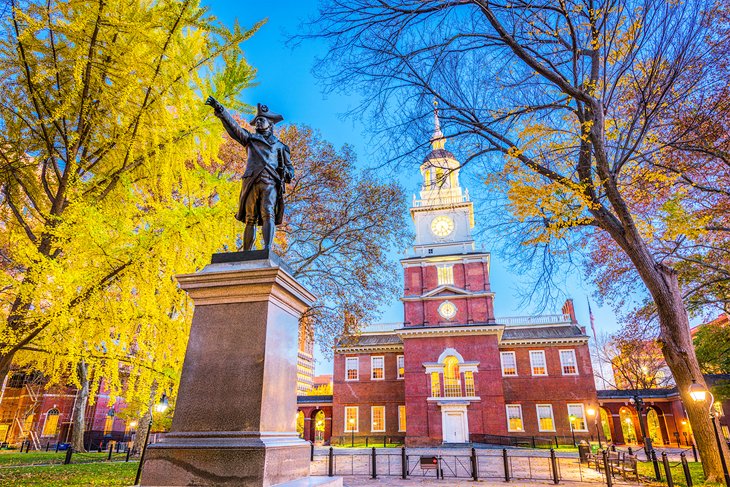 Philadelphia makes a great weekend getaway destination from Washington, and it's less than two hours away by train. This historic city is filled with museums, great restaurants, and plenty of history, especially that of the Colonial American period.
The historic downtown area called Old City (known as America's most historic square mile), near Independence Hall and the Liberty Bell, is a good area for sightseeing. The core is the Independence National Historical Park, which includes the Liberty Bell Center and other historic buildings from the colonial period.
To create a 24-hour-a-day historic experience in Philadelphia, a stay at The Morris House Hotel, built in 1787, is a great option. This luxury boutique hotel is a few blocks from Independence Hall and is also an excellent option for couples seeking a romantic colonial getaway. Not only is the Morris House hotel housed in a period building, the experience, furnishings, and decorations are all done in the Federal style.
7. Annapolis, Maryland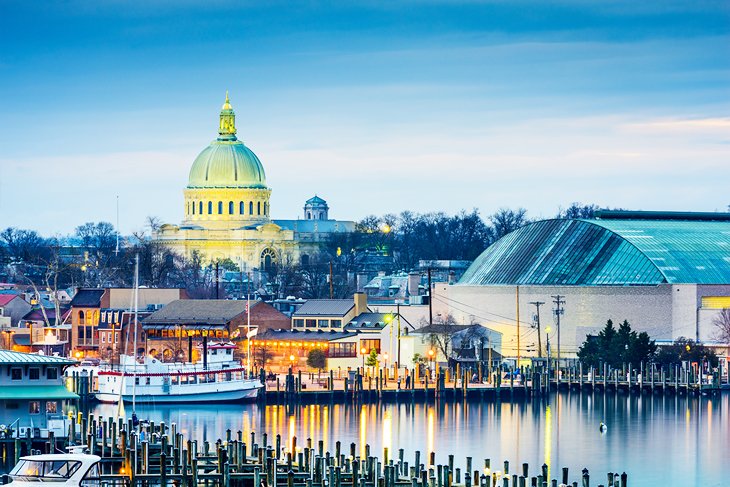 The capital city of Maryland is about an hour from Washington D.C., and its waterfront location makes it a great escape from the city, especially for a summer getaway. Annapolis is home to the United States Naval Academy (which is open for guided tours), and the city offers many museums, cool shops, and, of course, fresh seafood.
The Annapolis Waterfront Hotel, Autograph Collection lives up to its waterfront name with a great harborfront location (it's the city's only waterfront hotel). Some of the hotel's rooms and suites have perfect views of the harbor and its many boats. Autograph Collection is a Marriott boutique hotel brand.
8. The Greenbrier, West Virginia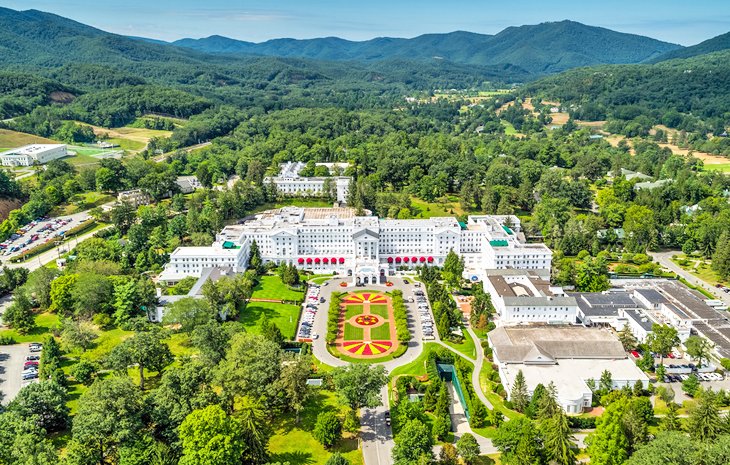 This large resort in West Virginia is a getaway destination in itself. A hotel first opened on the site in 1778, and it has grown into an 11,000-acre luxury mega-resort and wellness spa. There are so many things to see and do at the Greenbrier - it's a great destination for families, solo travelers, and couples seeking a romantic experience.
Over the years, 27 US presidents have stayed at The Greenbrier, along with a who's who of international royalty and celebrities. There is a wide range of activities available (more than 50 different things to do), with golf, fishing, and horseback riding among the most popular. There's even a bowling alley and a movie theater, all part of the vast resort.
The Greenbrier is in Sulphur Springs, West Virginia, about a four-hour drive from Washington D.C. You can also take the Amtrak Cardinal train from Union Station to the resort - the travel time is about six hours.
9. Rehoboth Beach, Delaware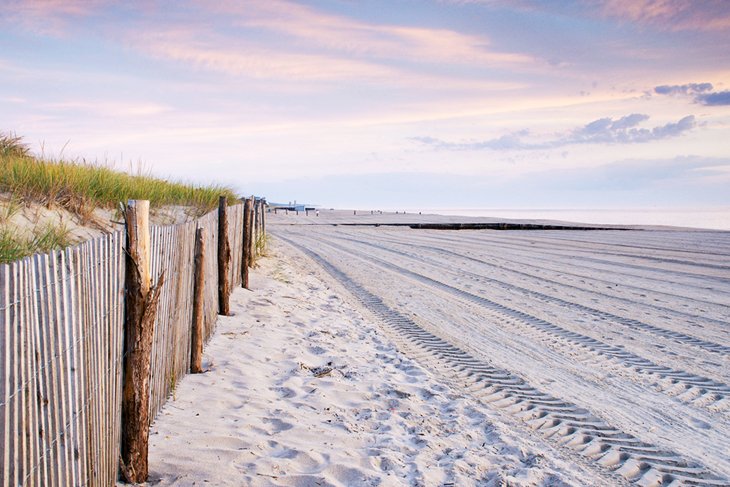 Another small-town beach city originally founded as a church group retreat, Rehoboth Beach, Delaware has long been a popular (and cheap) summer getaway for D.C. residents. It's not too far away, If you time it right, you can leave Washington and be on the sand of Rehoboth Beach within about 2.5 hours. Formerly known mainly to Mid-Atlantic residents as a great getaway destination, Rehoboth Beach has gained international fame, as it's home to the summer residence of President Joe Biden.
The beach itself is a broad, sandy, flat beach but the town is best known for its old-fashioned wooden boardwalk. There's even a bandshell in the center of town on the boardwalk, with plenty of great musical programming and performances. The boardwalk is lined with carnival games, food stands, and locally owned shops. The ocean is also especially clean, very highly rated by the Natural Resources Defense Council.
Rehoboth Beach is a very family-friendly place to visit. Adults and visitors seeking a more active nightlife head to the neighboring town of Dewey Beach. Rehoboth Beach is also a popular shopping destination, Delaware has no sales tax, and there's a large outlet mall just outside of town.
10. Cape Hatteras, North Carolina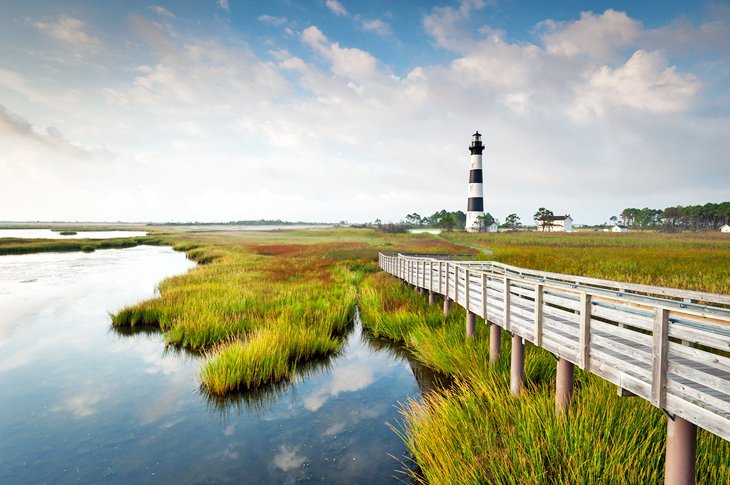 The Cape Hatteras National Seashore is a strikingly beautiful area, part of North Carolina's Outer Banks. There are miles and miles of raw, wild undeveloped beaches and grassy sand dunes. It's about a six-hour drive from Washington, but well worth it.
The area all around Cape Hatteras is just about one of the best places on the whole East Coast for sportfishing and surfing, too. The harbors and beaches provide a great vacation environment, and all the fishing results in incredible seafood.
The Cape Hatteras Motel sits right on the sand, facing the sea, not far from the Cape Hatteras Lighthouse. The rooms are not luxurious, but you'll be too distracted by the view to notice. The area in front of the motel is popular for surf fishing, where you stand on the beach or in the water and cast your line into the sea. The motel has oceanfront rooms, as well as two-bedroom suites with full kitchens.
11. Whitetail Resort, Pennsylvania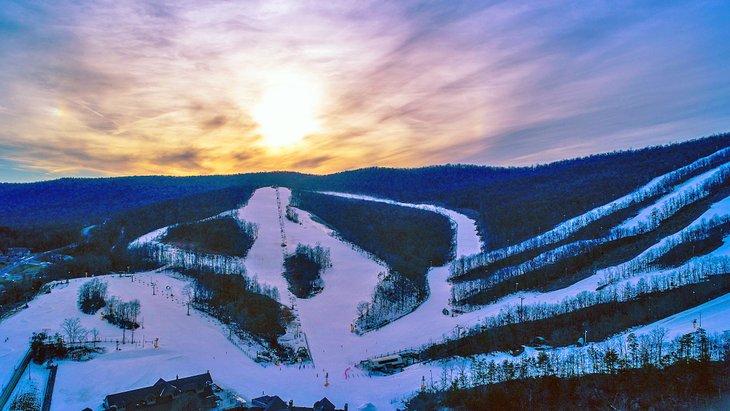 If you're looking for a good winter weekend getaway, Whitetail Resort is on Two Top Mountain in the Bear Pond Mountains in Mercersburg, Pennsylvania. It's the best, closest ski resort to Washington, D.C. - you can leave D.C. and be on the slopes within two hours.
Whitetail Resort has 23 trails to ski, all of which are lit for night skiing. The total elevation is only about a thousand feet, but there's a range of runs for skiers of all skill levels.
Whitetail has three high-speed lifts along with its own terrain park for snowboarders and snowtubers. The mountain resort offers rentals and lessons as well.
Whitetail is a four-season resort, which means aside from skiing in the winter, they offer visitors a range of activities all year-round. You can go hiking and mountain biking on mountain trails or go fishing in a mountain lake.
Only about 15 minutes from the mountain, the Mercersburg Inn offers a rather fancy bed-and-breakfast experience in an ornate turn-of-the-century (19th- to the 20th-century) Georgian Revival mansion. The 17-room inn has rooms and suites in a main house and a carriage house. Accommodations range from cozy bedrooms to lavish suites.
12. Goodstone Inn & Restaurant
This country inn is a great Washington, D.C. weekend getaway destination on its own. The Goodstone Inn & Restaurant is at the base of the Blue Ridge Mountains in the town of Middleburg, Virginia. The area is known as Virginia's "horse and hunt" capital - it's filled with horse farms.
About an hour from Washington, the inn features a complex of six historic houses and cottages on a 265-acre estate. The cottages have been converted to create 18 luxurious rooms and suites, all oozing with country English or country French style.
The Goodstone is a popular foodie destination, as it has its own farm, where much of the food is grown. The resort's restaurant features a French-inspired menu, and many make the drive from DC just for a meal.
To work off all the delicious food you'll eat, the luxury boutique resort has miles of hiking and biking trails along with an outdoor heated pool and a spa.
13. Orlando, Florida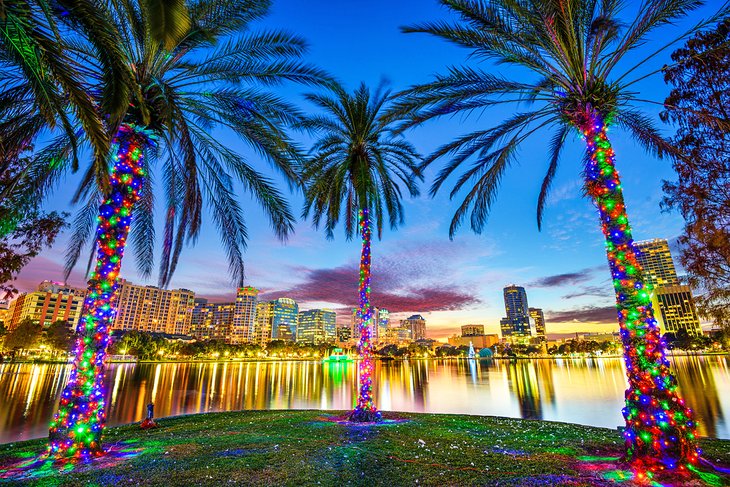 With some good planning, you can do a weekend getaway from Washington in Orlando. Direct flights take less than three hours, or you can take an overnight train. Amtrak's Silver Meteor leaves DC in the early evening and gets you into Orlando just after noon the next day. Of course, you can drive from DC to Florida, but it's not much faster than the train.
For a luxurious experience, The Ritz-Carlton Orlando, Grande Lakes is centrally located to all the local theme parks yet in a private, park-like lakeside setting. The resort has its own championship golf course, a world-class spa, and several fine-dining options on-property.
Accommodation: Top-Rated Resorts in Orlando, FL
Read More: Top-Rated Tourist Attractions in Orlando, FL
14. Myrtle Beach, South Carolina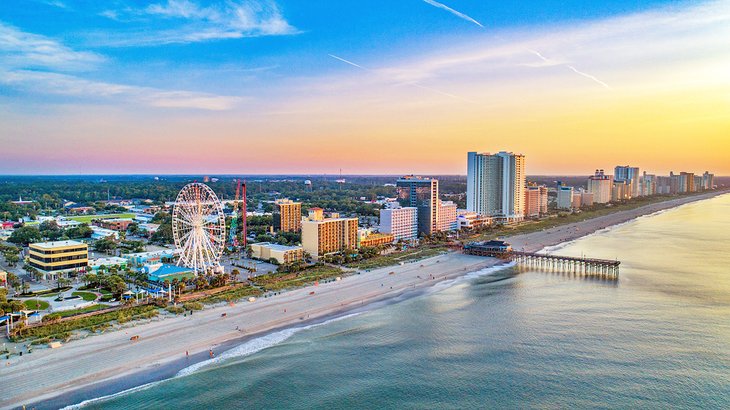 This casual, family-friendly golf destination is part of what's called the Grand Strand: 60 miles of beautiful beaches along the South Carolina coast. Myrtle Beach really delivers on all levels as a getaway destination. Aside from lots of great golf, there's a wide, beautiful beach to play on, a beachfront boardwalk, all kinds of water sports to enjoy, and amusement parks and fun things to do for the kids.
Cheap flights to Myrtle Beach are available from Washington; the flight time is about 90 minutes. The very scenic drive will take about seven hours.
The Hilton Grand Vacations Club Ocean 22 Myrtle Beach is right on the sand, about a 15-minute walk from the Myrtle Beach Boardwalk area. There's a nice pool, a gym, and a restaurant on-property. All the rooms and suites have private terraces, some with direct ocean views.
Accommodation: Best Resorts in Myrtle Beach
Read More: Best Tourist Attractions in Myrtle Beach, SC
15. Boston, Massachusetts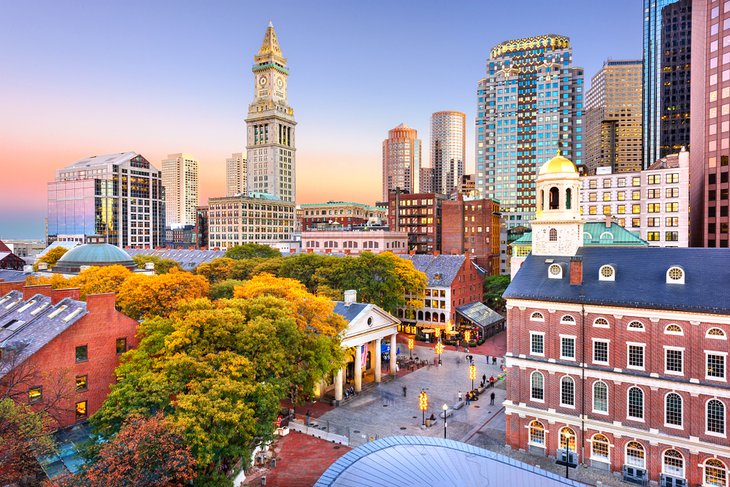 The history, food, and fun of Boston is an easy flight, train ride, or drive from Washington. Getting here is easy. A flight from DC to Boston only takes less than 90 minutes, or it's about a seven-hour drive up I-95. You can also take the Amtrak Acela train, which takes about six hours.
The Fairmont Copley Plaza, Boston is the city's Grande Dame hotel, located in the Back Bay neighborhood and close to all the things to do for visitors.
Consider taking a self-guided walking tour of the city's Freedom Trail, which includes sites important to the American Revolution. About 43 acres of downtown Boston and the surrounding area make up the Boston National Historic Park. Park rangers lead an array of guided tours and talks focusing on specific subjects or aspects of American history.
Map of Weekend Getaways from Washington D.C.