11 Top-Rated Resorts in San Juan, Puerto Rico
San Juan is a jewel, and one of the best places to visit in the Caribbean. Splashed with pastels, steeped in history, and pulsing with rhythm, the capital of Puerto Rico is truly an exotic escape.
With no need for a U.S. passport to enter, it's one of the easiest places to get to for Americans. If you're looking for the best place to stay, we've got the scoop on the top resorts in San Juan.
The colonial city sits right on the Atlantic coast, and as such has gorgeous stretches of powdery beach along its northern edge, from the ritzy Condado to the resort-packed shores of Isla Verde. You won't have to venture far from many of these resorts to see the attractions of San Juan.
If you're ready to go, check out our list of top resorts in San Juan, Puerto Rico.
1. Dorado Beach, A Ritz-Carlton Reserve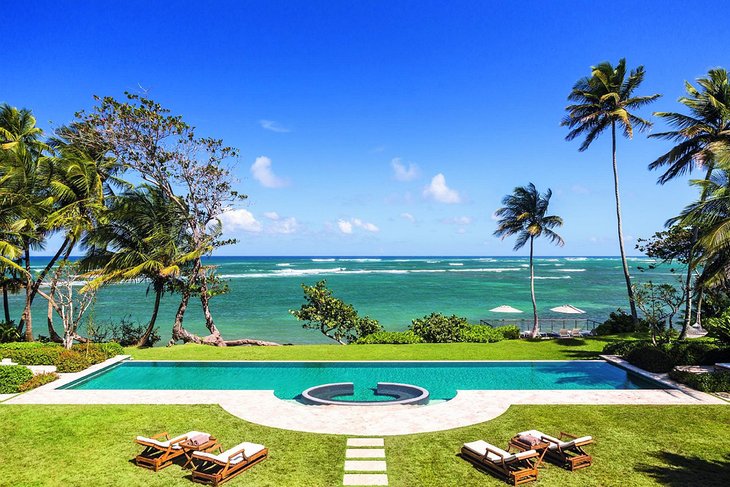 Accommodation: Dorado Beach, A Ritz-Carlton Reserve
You can't mention top resorts in San Juan without mentioning the exclusive Dorado Beach, A Ritz-Carlton Reserve. Though technically not in San Juan proper, the resort is just 30 minutes outside the city, but feels like another world away. And it is.
Set on a sprawling 1,400 acres, the glitzy, opulent resort sits on three miles of pristine beach. But while it certainly is one of the most refined resorts on the island, families are more than welcome, as the reserve has everything from a luxury spa to a water park.
Guests arrive down a road of coconut trees to the open-air pavilion, surrounded with perfectly landscaped ponds. The resort is divided into two areas: East Beach and West Beach. Most of the amenities are at East Beach, while West Beach has the beach club facilities.
Rooms are, understandably, perfect. They are in two-story villa configurations with one on the top and one on the bottom, either in East or West Beach. The starting category is palatial in itself, measuring at 941 square feet. All rooms have floor-to-ceiling doors that lead out to spacious terraces. If you want to splurge for another category, you may get your own private pool or private rooftop terrace.
Outside the room is even more impressive. Guests can't resist the gorgeous private beach, which is peppered with hammocks and sunbeds. Two pools include the Positive Pool and the Encanto Beach Club pool. The latter is better for families because it has a smaller pool for the kids.
As for activities, the resort has the Goodwinds Watersports, which has plenty of things to book, from sailing and kitesurfing to windsurfing and paddleboards. For kids, the resort has the Watermill water park, brimming with waterslides, a lazy river, and a wave machine.
Adults have their own playground at the Spa Botanico, a sprawling five-acre spa that has everything from treehouse treatment rooms to hammock massages, a fitness center, and personal training sessions.
Three restaurants include a Positive Sand Bar, which serves sushi and ceviche. The Signature Restaurant and Encanto Beach Club are also available, as is La Cocina Gourmet.
2. The Ritz-Carlton, San Juan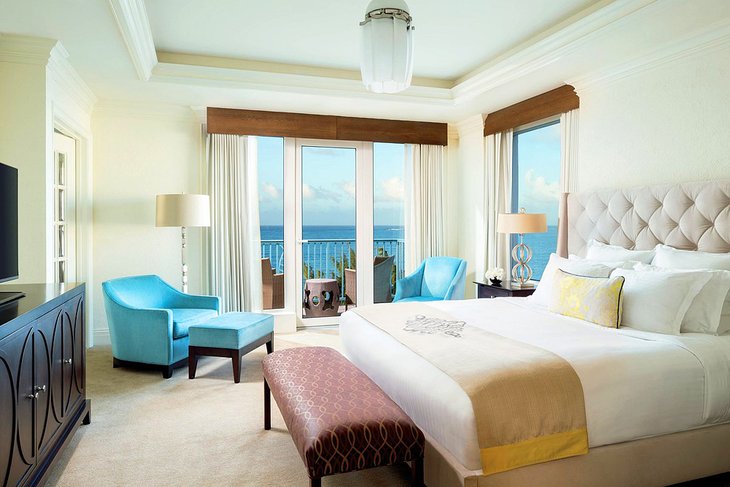 Accommodation: The Ritz-Carlton, San Juan
Of course, you can always opt for the more traditional The Ritz-Carlton, San Juan, located right in Isla Verde. One of the most luxurious hotels in Puerto Rico, The Ritz-Carlton San Juan recently reopened in 2018, following extensive renovations after Hurricane Maria. Today, however, it is fully reopened and remains one of the top resorts in San Juan.
Perched on two miles of sandy beach, the resort has 416 luxury rooms, including one expansive Ritz-Carlton Suite, six Executive Suites, and four Garden View Suites. The starting categories are 400 square feet, and most have views of the city.
The best views are found in the Pool View and Ocean View rooms (to be expected). If you upgrade to the Club Level, you have access to the Club Lounge, which offers additional amenities like complimentary food throughout the day.
One of the highlights of this Grande Dame is the 12,000-square-foot spa. It features 11 treatment rooms, as well as facilities for makeup, manicures, and pedicures. It also has steam rooms, a sauna, and a relaxation whirlpool. As for other activities, a Ritz Kids program is available, a pool, tennis, and, of course, the two miles of beach.
Five restaurants are available, including BLT Steak and Il Mulino, which are outposts of the flagships in New York City.
3. Condado Vanderbilt Hotel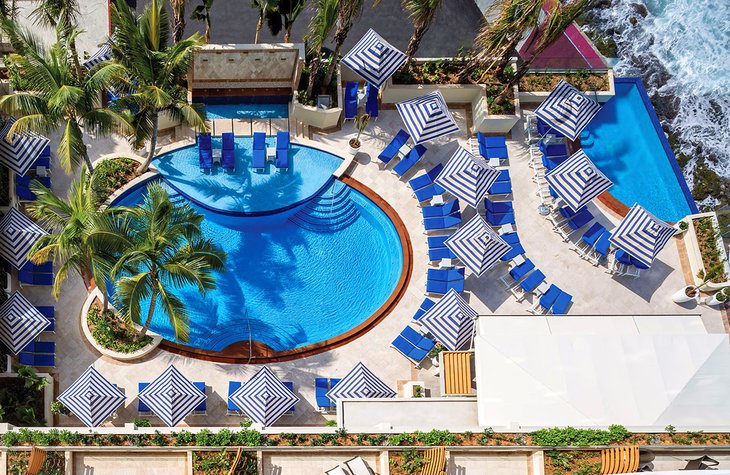 Accommodation: Condado Vanderbilt Hotel
When it comes to luxury, you cannot do much better than the Condado Vanderbilt Hotel. It starts with the decor, which is undeniably elegant and chic. The Condado Vanderbilt Hotel was built by Frederick William Vanderbilt, after all.
Guests are greeted by a gorgeous iron staircase that rises out of the center of the lobby. Other turn-of-the-century touches include wood-paneled reception desks, arched windows, and a red velvet sofa. You may think you're stepping back into Old World New York, until you notice that Condado Beach is just outside.
Rooms are equally sumptuous—just look at those tufted, white headboards. All rooms are decorated with delicate color palettes, and feature French presses for coffee. Some bathrooms offer rainfall showers, while others do a shower/tub combination. Suites are even more impressive, with high ceilings and kitchenettes.
What really makes this one of the top resorts in San Juan, however, are the features. Take, for example, the sleek and glamorous pool areas—one in each tower. The main infinity pool overlooks the ocean and is surrounded by plush lounge chairs. The second infinity pool is reserved for adults only.
Another amenity is the spa, which includes a hammam, as well as a menu of facials, nail care, massages, and hydrotherapy features.
4. Fairmont El San Juan Hotel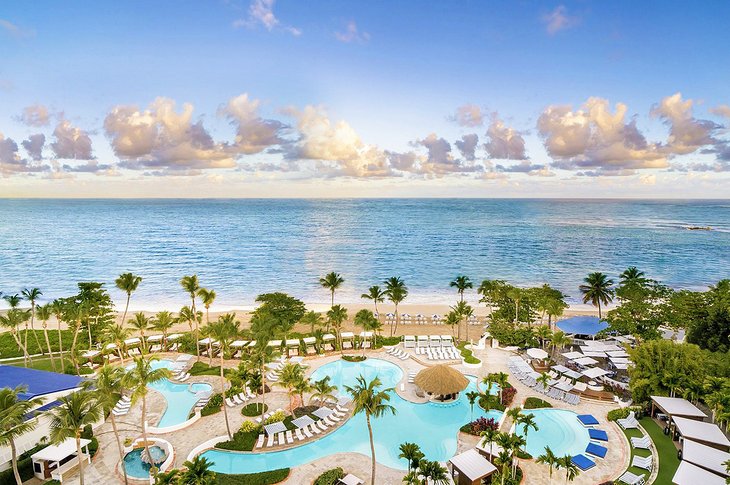 Accommodation: Fairmont El San Juan Hotel
The El San Juan Hotel is a slice of living history, located right in the heart of San Juan's beautiful beach area, and ranking among the best beach resorts in Puerto Rico.
The resort was built in the 1950s, and is considered a local legend, with guests like Frank Sinatra and Liza Minelli gracing its doors over the decades. In 2016, the resort underwent a $60 million renovation that re-elevated it to maintain its status as one of the top resorts in San Juan.
Today the resort retains its elegant Caribbean vibe, with distinctive Miami flair. One look at the hand-carved mahogany paneling in the lobby helps set the historic tone.
Add to that glittering chandeliers and the red marble floors, and you'll see why this resort was popular with Hollywood elite throughout the decades. The location doesn't hurt, either, with views right out to Isla Verde Beach's powder-soft sand.
Rooms come in several categories, all of which were renovated in 2016. The villa rooms have lounge areas and dining tables, while suites have separate bedrooms. The resort also has five on-site restaurants, serving everything from Puerto Rican cuisine to French Caribbean, steaks, and Mediterranean fare.
Guests also fawn over the pool area, from the San Juan Beach Club pool area to the Well & Being fitness pool. Speaking of fitness, a 24-hour fitness center is open to guests, and the resort provides a range of activities like volleyball, kayaking, sunset yoga, and a spa.
5. Olive Boutique Hotel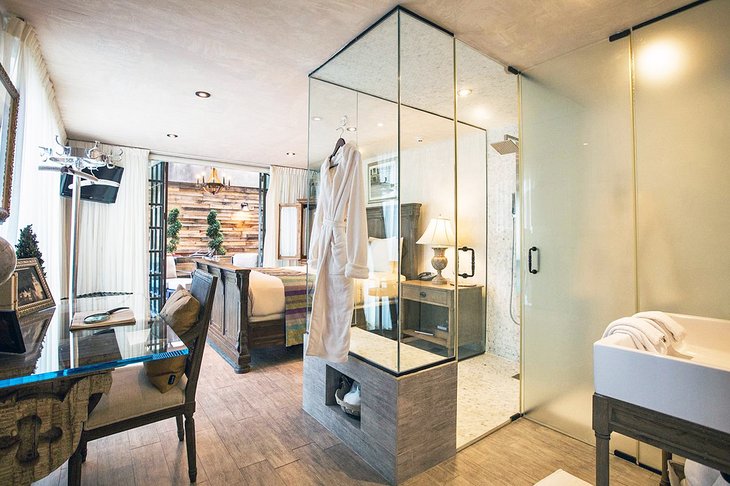 Accommodation: Olive Boutique Hotel
With just 15 rooms, the Olive Boutique Hotel is an intimate experience that offers something different compared to the typical beachfront resorts. Set in Condado, the boho-chic vibe is elevated and laid-back all at once. It's the epitome of understated elegance.
The hotel is a member of Small Luxury Hotels of the World, and it's easy to see why. The cozy atmosphere showcases personal touches like travel photos taken by the Puerto Rican couple who owns the resort. In fact, each floor of the hotel has its own travel theme. The top floor opens out to a lounge with plenty of secluded spots to steal away, all with views overlooking the beautiful Condado Lagoon.
Rooms are based in muted earth tones, with pops of jewel colors like opal. All rooms have outdoor terraces decked out with reclaimed wood and tile. Traces of the owners' style and love for art is apparent throughout. Rooms in higher categories have hot tubs. Ask about the Gran Cru Suite, which has a terrace with its own gurgling fountain.
The crown jewel of the hotel is its rooftop lounge, which has a plunge pool and seating areas, and hosts live music many nights a week. A corner of the rooftop is reserved for pre-arranged spa treatments, as well.
The hotel has its own steakhouse restaurant, which serves international cuisine that focuses on hearty cuts of meat. The breakfast is particularly delightful, too.
6. Sheraton Puerto Rico Hotel & Casino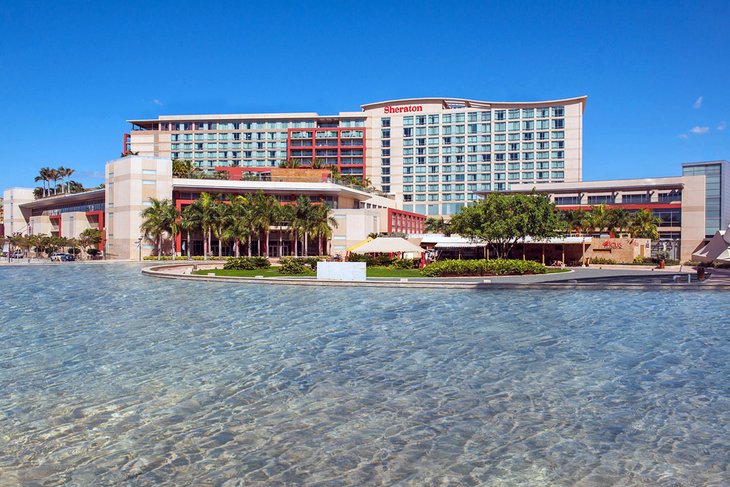 Accommodation: Sheraton Puerto Rico Hotel & Casino
The sprawling Sheraton Puerto Rico Hotel is certainly a flagship resort on the island. With more than 500 rooms, and a convention center across the street, it is what you would expect from a one-stop-shop all-inclusive.
Guests arrive in the modern lobby area with pops of purple and pink. Seeing as the resort is located across from the convention center, and has considerable meeting space of its own, you can expect to see a lot of other guests that are in town for some sort of corporate event.
The resort is also located close to the cruise port, meaning a lot of passengers may be breezing in and out before their ship embarks.
The resort includes 503 rooms and 22 suites, all decorated with touches like ergonomic chairs and comfortable mattresses. The premier rooms are the suites, like the Bay View Suites and the Hospitality Suites.
The grandest room is the Presidential Suite, which has a bedroom, one and a half bathrooms, and its own private fitness room. Tip: If you book an upgraded room or suite, you will gain access to the Sheraton Club, which serves continental breakfast and snacks.
The Sheraton is in a quiet section of San Juan, which means not much is going on outside of the resort. Fortunately, the Sheraton is jam-packed with amenities. The pool deck has an infinity pool, hot tub, and plunge pool. For adults, a Zen Spa has treatment rooms and a 24-hour fitness center.
7. DoubleTree by Hilton Hotel San Juan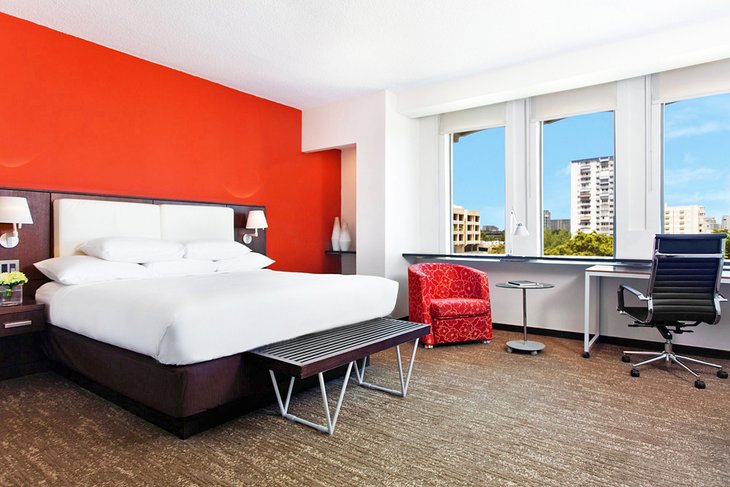 Accommodation: DoubleTree by Hilton Hotel San Juan
Also located in the buzzing Condado neighborhood, The Doubletree by Hilton Hotel San Juan is actually the brand's first Caribbean venture. Guests enter through a manicured entrance and arrive at the marble-clad lobby. Sunlight streams through the skylights, creating a bright, sun-drenched welcome space.
The 184 rooms come in a variety of categories. While the décor isn't exactly noteworthy, the rooms themselves are large and quiet. Rooms overlook either the garden or pool, while higher rooms have views of the city.
What sets this resort apart are its features, from the outdoor pool and whirlpool to a private beach club. That said, the resort itself is not on the beach, so guests will have to take the complimentary shuttle to the resort's section of beach.
On property, the Doubletree has a few restaurants to offer, from the signature Café Pierre serving international cuisine to Lily's Chocolatier, which sells luxury chocolates. For fine dining, restaurant Silk serves everything from sushi to Vietnamese. An on-location Starbucks is a crowd-pleaser, as well.
The resort has a YeloSpa and Salon, as well as a fitness center.
8. San Juan Marriott Resort & Stellaris Casino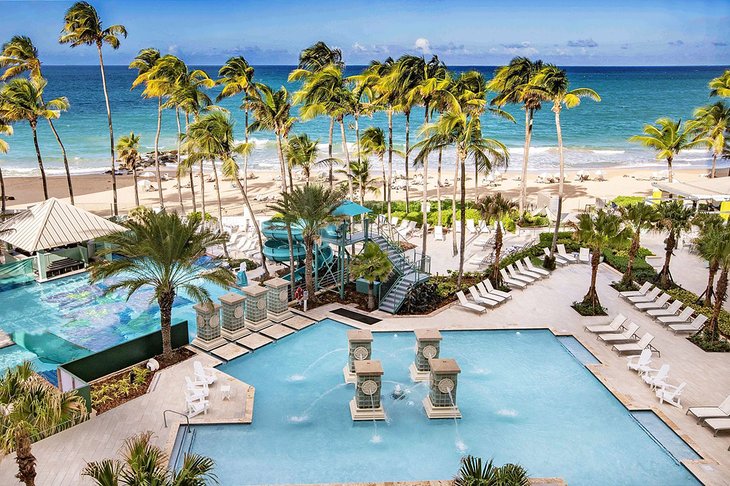 Accommodation: San Juan Marriott Resort & Stellaris Casino
The massive San Juan Marriott Resort is an institution in San Juan. The iconic, high-end hotel has 527 rooms, all with private balconies. Guests arrive at the bright, modern resort, located right on Ashford Avenue, which is the main artery of the Condado neighborhood.
The rooms are bright and sleek, with floor-to-ceiling sliding doors that look out over popping Caribbean waters. White linens are offset by colorful throw pillows and the occasional accent wall.
The main center of activity at the resort is the pool, which is often packed with fun-loving families making use of the waterslide. The pool spills out onto the beach, which is peppered with lounge chairs and beach umbrellas.
As for dining, the resort serves everything from international cuisine to Italian. Gingambo is the all-day dining venue, which has a la carte items and a buffet. You can also scoop up some ice cream at the Gelato & Co. shop.
For active travelers, the gym is open 24 hours a day. A Wellness Center has a menu of treatments, as well.
9. La Concha Renaissance San Juan Resort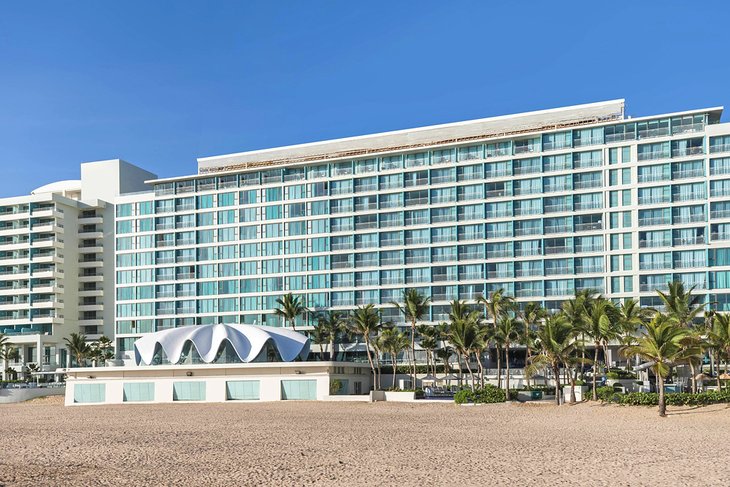 Accommodation: La Concha Renaissance San Juan Resort
Another Condado highlight, La Concha Renaissance San Juan Resort is a touch of Miami flair all the way down in San Juan. In fact, San Juan aficionados will often tell you this is one of the "it" resorts on the beach.
Guests walk into the airy lobby, which pulses with rhythmic music and the bubble of a babbling fountain out front. Inside the lights are dimly lit, immediately transitioning to a sultry vibe. You are in San Juan, after all.
Things brighten up in the rooms, however. The 232 rooms are spread across two towns: the Ocean Tower and the Suite Tower. Decor here is bright and sun-drenched. Most rooms in the Ocean Tower have either partial or full ocean views, as well as balconies.
Suite Towers are available for longer stays and are equipped with kitchenettes. For something a little more elevated (though, not literally), guests can book the Deluxe Pool Cabanas in a lower building that is next to the pool.
La Concha is renowned for its dining program, whether it's an elegant Italian meal at Voga or seafood at Perla. The resort also has a delightful breakfast, a sushi bar, and al fresco tapas.
While the resort is family-friendly, adults will love the adults-only infinity Suite Pool, which offers a lot of privacy and some quiet, as the other two pools tend to be a bit rowdier. Of course, the resort has a wide stretch of beachfront just out its doors, with plenty of beach chairs for lounging.
10. Royal Sonesta San Juan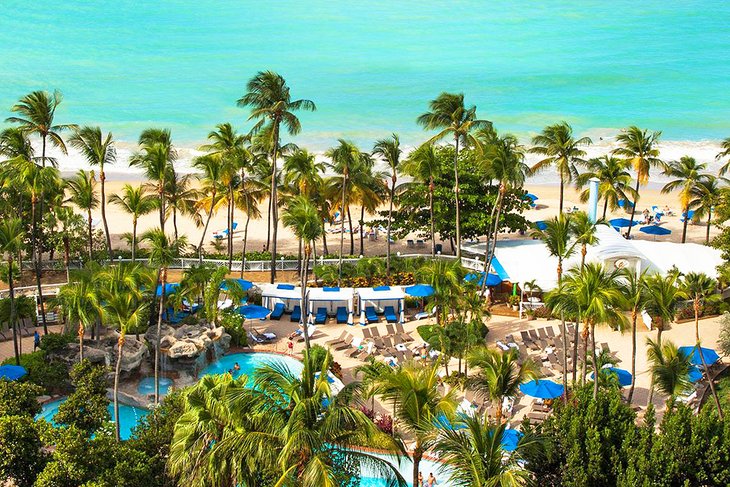 Accommodation: Royal Sonesta San Juan
Perched on San Juan's lovely Isla Verde, the Royal Sonesta San Juan is a fresh, bright Caribbean resort with one of the best locations in the city. The resort has views over the Atlantic Ocean and has a lovely stretch of sand on Verde Beach. It's pet-friendly, too, in case you want to bring your pup along with you.
The resort has 398 guest rooms and suites, all with French-style balconies that overlook the ocean, pool, or gardens. Suites are equipped with Jacuzzi tubs, as well as Smart TVs. The premiere category is the Garden, Pool, or Ocean View Executive Suites.
Royal Sonesta San Juan has several dining options, as well, from the Aleli Restaurant that serves casual breakfast to the world-famous Ruth's Chris Steak House. You can also feast on Asian cuisines at Sak-I, or dine on al fresco Mediterranean at Ocean Breeze.
One of the major features of the resort is its Olympic-sized swimming pool, which overlooks the beach. And speaking of the beach, the resort has direct access to the Atlantic. Other activities include daily yoga and a fitness center.
11. The St. Regis Bahia Beach Resort, Puerto Rico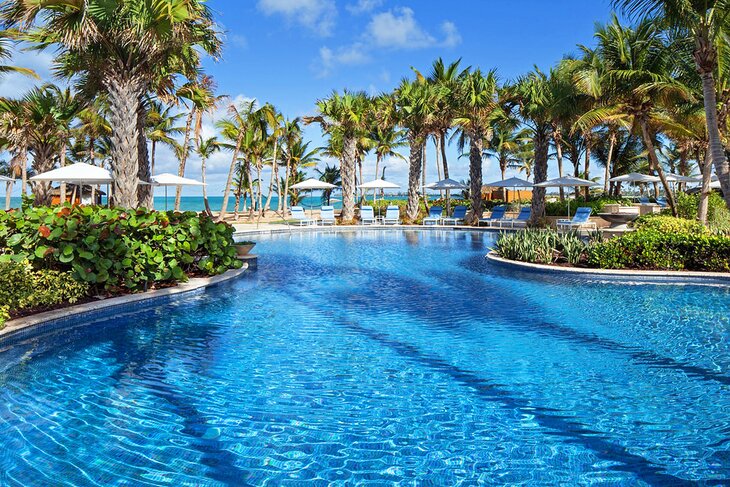 Accommodation: The St. Regis Bahia Beach Resort, Puerto Rico
Technically not in San Juan proper, the St. Regis Bahia Beach Resort certainly earns a mention on this list because it is a spectacular hotel. Only 45 minutes from downtown San Juan, this beach resort is five-star service, class, and style.
With fewer than 140 rooms, this intimate resort boasts a long list of amenities and a chic, elegant design. It sits cushioned between a beautiful beach and the thick, lush rainforest, offering a sense of seclusion that may be welcome after a few days in bustling San Juan.
Guests are welcomed in the Plantation House lobby, where stunning French doors swing open to reveal a spacious terrace and the Great Lawn. Down by the beach is the main pool, which is surrounded by lush gardens.
Rooms are simply stunning, with vaulted ceilings and exposed beams; soft, neutral tones; and giant glass doors that open up out to furnished terraces. Higher-category rooms have even more space, as well as separate living areas and larger terraces.
Amenities at the resort are also next-level, like Paros Restaurant, serving Mediterranean-style cuisine. The resort also offers a Robert Trent Jones Jr.-designed golf course and the luxurious Iridium Spa, and is in close proximity to the El Yunque National Forest.
Map of Resorts in San Juan, Puerto Rico
San Juan, PR - Climate Chart
Average minimum and maximum temperatures for San Juan, PR in °C
J
F
M
A
M
J
J
A
S
O
N
D

28

22

28

22

28

22

29

23

30

24

31

25

31

25

31

25

31

25

31

24

29

23

28

22

PlanetWare.com
Average monthly precipitation totals for San Juan, PR in mm.

77

58

54

94

134

89

106

133

142

129

157

116