Best Time to Visit Jamaica
The best time of year for your Jamaican holiday will ultimately depend on how much you want to spend and what you plan on doing while you're here. While Jamaica is easily a year-round destination for tourists, there are certain times of the year that make for a better vacation than others.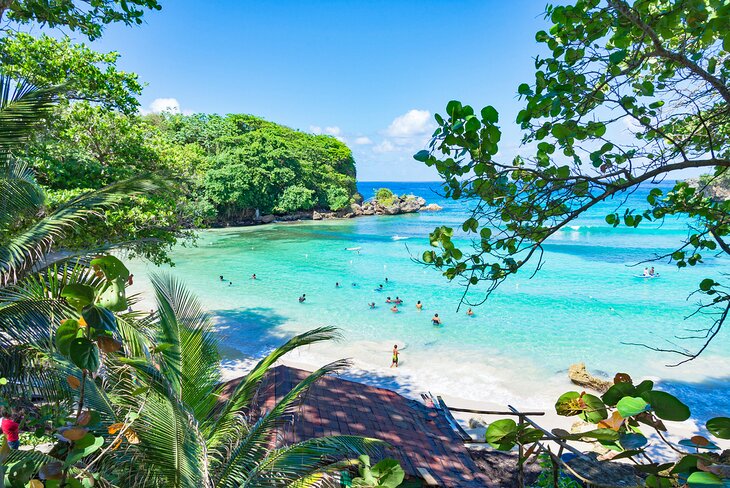 Most tourists visit the island to relax and play on its stunning beaches, while others come to photograph Jamaica's most beautiful spots like Frenchman's Cove or Blue Hole, home to some of the island's most beautiful waterfalls.
This tropical location resides within the Atlantic hurricane belt, so weather is also a big consideration for tourists planning a trip to Jamaica. Visitors who want to avoid crowded beaches and those hoping to find deals on the best family resorts will want to consider avoiding peak tourist season while keeping the risk of tropical storms in mind.
Visitors who don't want to worry at all about inclement weather will be faced with higher prices, but it's well worth it if you want a carefree Jamaican vacation.
Whether you are heading to the island to experience the beaches and attractions in Montego Bay, looking forward to exploring Negril, or planning on exploring the Blue Mountains in Ocho Rios, you can plan ahead easily when you know the best time to visit Jamaica.
Best Time of the Year to Visit Jamaica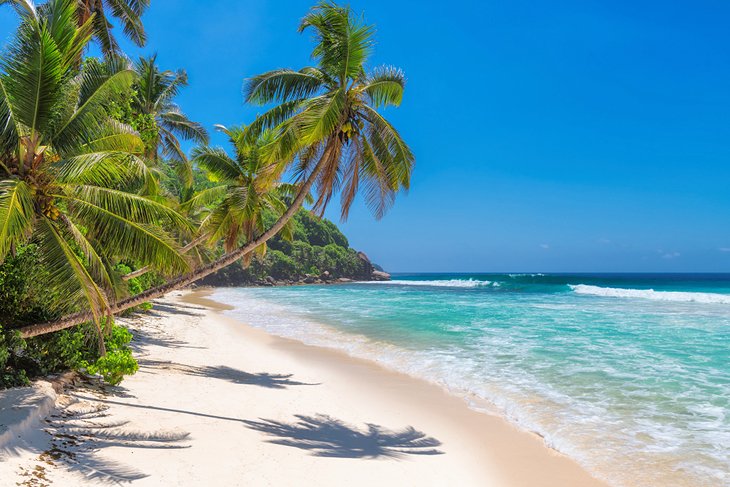 Without a doubt the best time to go to Jamaica is during the winter months. This is also the high tourist season, when the prices at hotels and resorts skyrocket. You will pay a premium for paradise. Jamaica is known for its many all-inclusive resorts, so you can compare prices and amenities throughout the island without worrying about additional, unexpected, costs. The weather is ideal in Jamaica from November through March, with little rainfall and picturesque days.
Average minimum and maximum temperatures for Kingston, Jamaica in °C
J
F
M
A
M
J
J
A
S
O
N
D

30

23

29

23

30

24

31

24

31

26

32

26

32

26

32

26

32

26

32

26

31

25

31

24

PlanetWare.com
Average monthly precipitation totals for Kingston, Jamaica in mm.

31

23

23

38

104

97

46

107

127

173

97

41
Average minimum and maximum temperatures for Kingston, Jamaica in °F
J
F
M
A
M
J
J
A
S
O
N
D

86

74

85

74

86

75

87

76

88

78

90

79

90

79

90

79

89

79

89

78

87

77

87

75

PlanetWare.com
Average monthly precipitation totals for Kingston, Jamaica in inches.

1.2

0.9

0.9

1.5

4.1

3.8

1.8

4.2

5.0

6.8

3.8

1.6
Since this is the best time to visit Jamaica, be prepared for large crowds of tourists at the beaches and restaurants, and limited availability at the resorts. If you travel during this time, you will want to book excursions in advance to make sure they are not full on the days that you prefer.
Best Month to Visit Jamaica for Value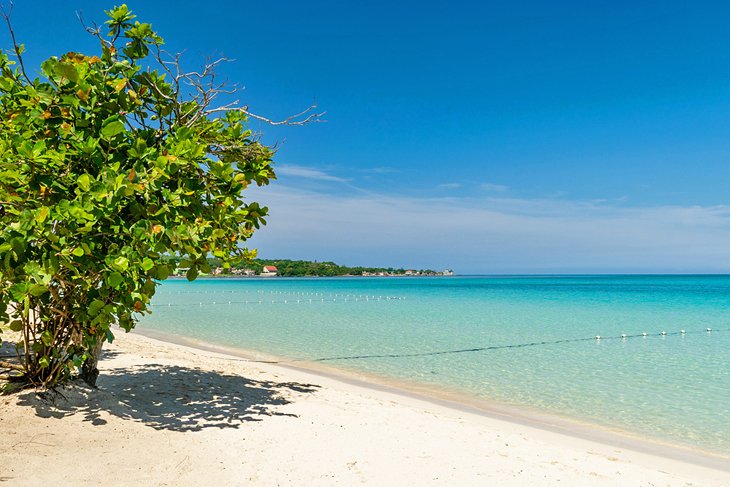 The island is beautiful any time of the year but the best month to visit Jamaica for value is November through mid-December. This small window after hurricane season but before the peak travel season, which starts in January, is the best time to visit for great weather and fewer crowds.
This is also a good time to find deals on flights and hotel rooms before the influx of tourists. While you can find more deeply discounted rates in the summer months, you have a greater risk of inclement weather because it is prime hurricane season during this time.
With fewer tourists and still excellent weather mid-November to mid-December, you can hop on some of the island's top tours, like an eco-tour or a sunset island cruise, without being locked out of availability during the high tourist season. Beaches will still have plenty of people but nowhere near the numbers that head here starting in January.
The top beaches in Jamaica, like Seven Mile Beach in Negril and Doctor's Cave Beach in Montego Bay, can get so overcrowded with tourists during the high season that it's uncomfortable. This month-long window of ideal timing closes just before the holidays in late December, when there is a rush of travelers coming to enjoy a tropical holiday season.
Best Season to Visit Jamaica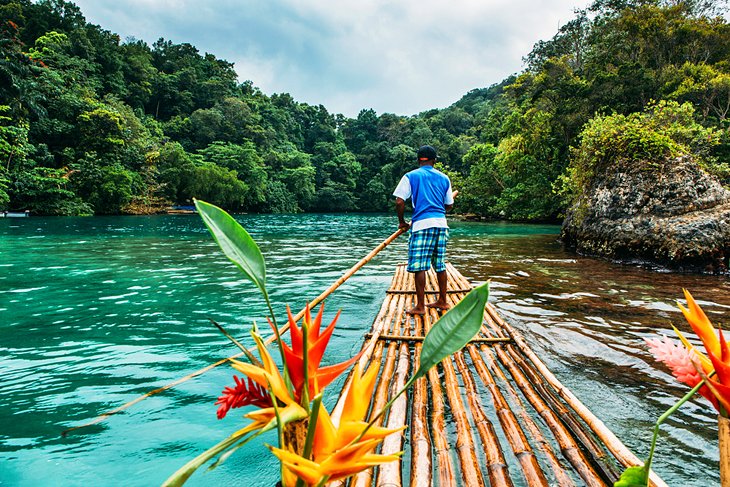 You will be hard-pressed to find a time of the year when Jamaica does not impress with its crystal-clear blue Caribbean waters, island breezes, and exotic vacation vibe. Each season brings a slightly different experience.
Spring: The early spring month of March is still packed with tourists and high hotel rates, but it has ideal weather. After March and into April and May, the crowds taper off a bit. Temperatures are comfortable for the beach, averaging in the 70s and 80s (Fahrenheit) but there is often a bit more rain. There are fewer people on the beaches, golf courses, and tours, so exploring the island is easier. You can find some late spring deals at hotels and resorts in Jamaica that will often offer incentives for spring travel.
Summer: The most important note about summer travel to Jamaica is that hurricane season starts on June 1, so the weather is unpredictable. For this reason, you can get hotel rooms and airfare for a steal, as this is the season with the lowest rates. In addition to fewer tourists, you will notice less staff at hotels and restaurants, as it is a slow season on the island overall. Due to the questionable weather patterns during the summer, you should buy travel insurance in case you have to cancel your trip.
Fall: The early part of fall is still within hurricane season, and it is also historically when Jamaica has seen its worst storms. August through October are the most likely months to see damaging tropical storms or hurricanes. Once November arrives, there is still storm potential, but things are typically more stable. You can still find cheap rates for hotels, resorts, and airfare during the fall months, but you take a risk with the weather.
Winter: The winter months are prime time in Jamaica. Once hurricane season ends, the tourist season begins. Skies start to clear in November and December, and temperatures hover around 80 degrees Fahrenheit with a perfect Caribbean breeze. Tourists hit the island to escape winter's chill elsewhere and relax on island time. January sees an influx of tourists and high costs at hotels.
Winter is a time for many festivals on the island, including a Bob Marley week in Kingston in February. If you visit during the high season, you will want to book hotel rooms several months in advance.
Low Season in Jamaica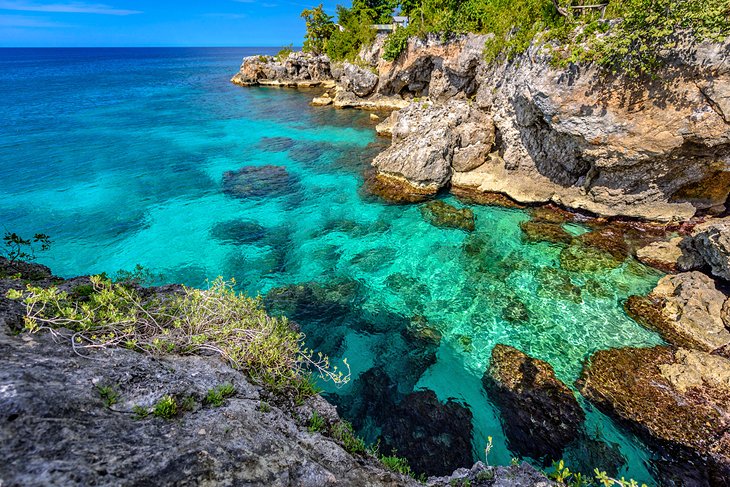 The low season in Jamaica runs from mid-April to early-December. These are also the cheapest months to go. During the low season, you will find irresistible bargains at hotels and all-inclusive resorts. You may also find discounts on tours, or they may be included in package deals for lodging, which can save you even more. You will find the fewest tourists during the low season months, which means that Jamaica's beaches will be less crowded.
Low season can also mean inclement weather, which is a serious consideration considering the long hurricane season. The high season months from early-December through mid-April are when vacationers are getting out of cold weather climates, and spring-breakers are hitting the beach. These will be the most expensive months, when resorts can command a premium for rooms.
Best Time to Book All-Inclusive Packages to Jamaica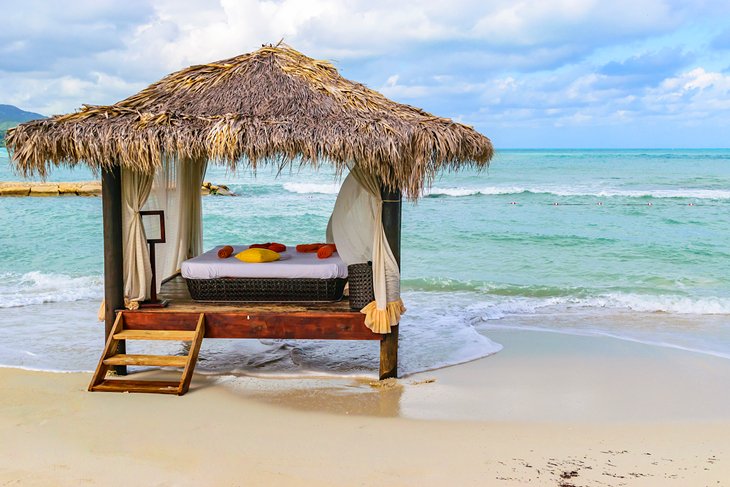 Jamaica is filled with all-inclusive resorts that cater to families, couples, and various budgets. The nice thing about all-inclusive resorts in Jamaica is that they take the guesswork out of budgeting. With lodging, meals, entertainment, beverages, taxes, and other items bundled into one price, tourists are much less likely to spend more money than expected—a benefit that makes it far easier to enjoy your actual vacation without worrying.
Many of the all-inclusive resorts on the island have private beaches on their properties, which is convenient and also provides a layer of safety for those who are unfamiliar with the island. Resorts can help book excursions and often have daily on-site activities, so you never have to leave the property if you do not want to.
So, when is the best time to book an all-inclusive resort? Once you determine the time of year you want to travel to Jamaica and where you want to stay, your next step will be to compare prices and amenities.
Be aware that some large all-inclusive resorts will close one or more of their restaurants in the low season due to low occupancy. Since there are many similar resorts on the island, they are competitive for your business, especially in the low season months when they need the business.
Book several months out from when you want to travel to get the best rates, availability, and negotiating power. Be sure to check out property reviews and buy travel insurance, especially if you are traveling during hurricane season.
Best Time to Visit Montego Bay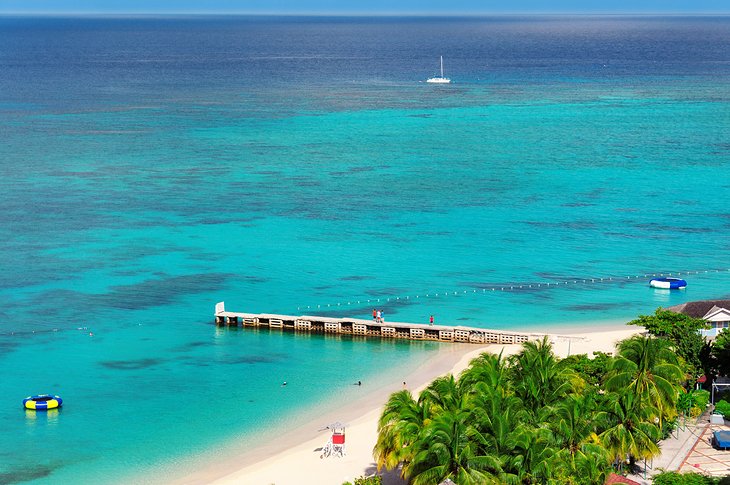 One of the most popular vacation spots in Jamaica is Montego Bay, where the temperatures are pretty consistent throughout the year. The best time to go to Montego Bay is during the high season from December to April, if you are willing to pay the high rates, or during October and November, when both costs and crowds are smaller.
Montego Bay has a variety of hotels to choose from that are convenient to golf courses, shopping, lots of restaurants serving Jamaican cuisine, and, of course, pristine public and private beaches.
Montego Bay has plenty of things to do besides beachcombing. If you want to see the attractions on the north side of the island, you can take a tour of the Rose Hall Great House, which is a Jamaican-style Georgian mansion with picturesque views. For an outdoor activity, you can take a day trip on a bamboo raft on the Martha Brae River with a local guide.
Best Time to Visit Negril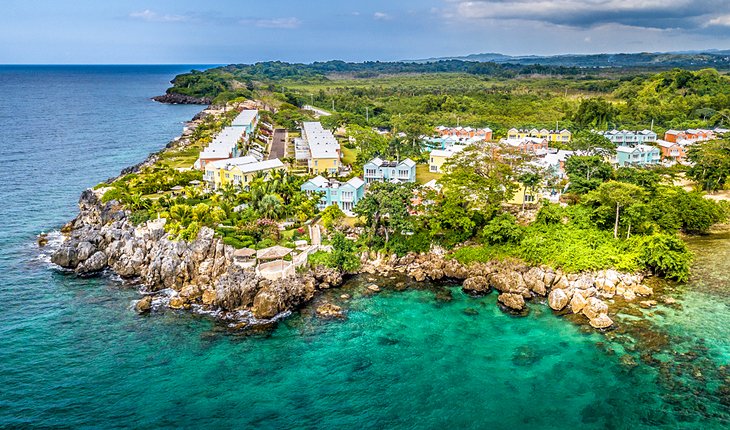 While most locations in Jamaica are recommended for visiting in the winter months, the best time to visit Negril is during the summer months through September. This is in hurricane season, but it is a preferred time for many tourists to visit Negril.
This island town is located on the western side of Jamaica, where the climate stays consistently hot with an island breeze. The winter months are cooler in Negril (relatively speaking), so it is a less popular destination during those months than towns like Kingston or Montego Bay.
While Negril can get quite humid, there is generally not much rainfall on this side of the island. There are many all-inclusive resorts in Negril, several with private beaches, where you can experience a stretch of the famous Seven Mile Beach more comfortably than the public access sections.
The beaches are the main draw in Negril, but the town is also famous for the cliffside experience and side show of cliff diving at Ricks Café. There are adventure activities like dune buggy treks and sightseeing opportunities, like the Negril Lighthouse.
Best Time to Visit Ocho Rios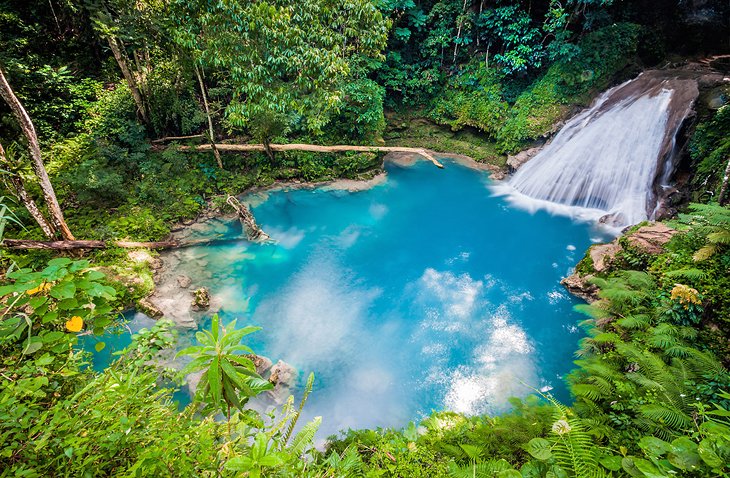 If you are planning a trip to Ocho Rios, the best time to go weather-wise is March, April, and July. Rain showers are possible any time, but they are generally brief afternoon downpours that dissipate quickly.
The months with the most rain are January, May, November, and December, so if you steer clear of these months, you have a better chance of staying mostly dry during your tropical vacation.
There are many all-inclusive beach resorts in Ocho Rios that get you right on some of the best sands, like James Bond Beach and Dunn's River Beach. The town is known for its natural beauty, from gardens to waterfalls. You can spend some time in the natural areas, like The Blue Hole; enjoy Ocho Rios tourist experiences like Dolphin Cove, where you can swim with the sea animals; or get the adrenaline pumping with a treetops zipline adventure.
Best Time to Visit Kingston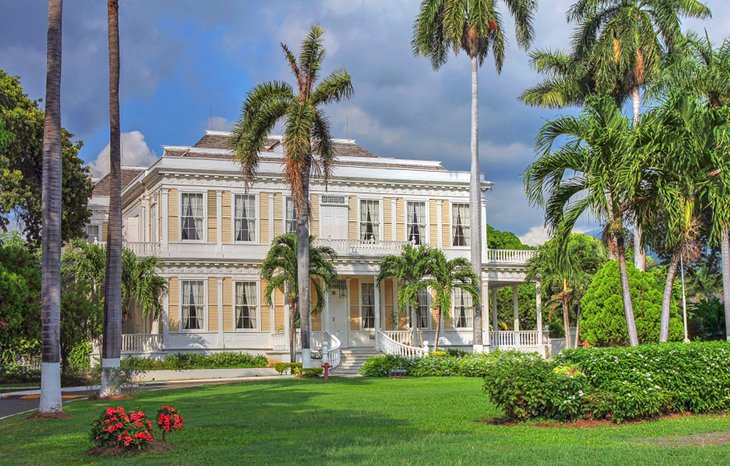 Kingston is the capital of Jamaica, so it is a popular place on the island. The best times to visit for the sand, sun, and activities is January through March and the month of December. The months of May through October are the rainiest months in Kingston and also the hottest months, with temperatures hovering in the 90s (Fahrenheit) and high humidity, so even by the ocean, conditions can be uncomfortable.
Kingston is an exciting city to visit, whether you decide to base here for your vacation or plan a day visit while staying someplace else. Some of the top experiences in Kingston, besides hitting the beaches, are a visit to the Bob Marley Museum, a trek to the famous Blue Mountains (or at least trying some Blue Mountain coffee), and sampling some Jamaican cuisine.
You can take a food tour in Kingston, but stopping on your own to try local jerk chicken from a roadside vendor can enhance the cultural experience.
Best Place to Go Off the Beaten Path in Jamaica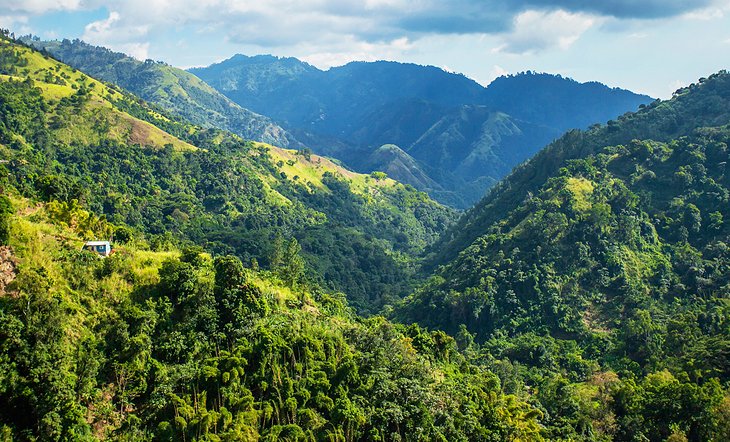 The popular towns in Jamaica can get quite crowded, especially during the high season, but the south part of the island is still a hidden getaway with a natural ambience that is not yet heavily impacted by tourists. If you are looking to go in the high season and want to stay away from the crowds, you will want to consider Jamaica's south-central parishes like St. Elizabeth, Clarendon, Christiana, Manchester, or Mandeville.
While the more secluded southern region offers fewer crowds and stunning features like waterfalls, mineral spas, and picturesque scenery, you will be a bit more limited when it comes to lodging, restaurants, and amenities. The trade-off is experiencing a side of Jamaica that most tourists do not ever get to see.
Die-hard 007 fans will find themselves on some of the less-traveled roads, too, when heading out to see the Kananga House from Live and Let Die and other must-see James Bond filming sites in Jamaica. Those who are interested in author Ian Fleming will also appreciate lesser-known locales like Port Maria, where the Flemings were married in 1952.
More Related Articles on PlanetWare.com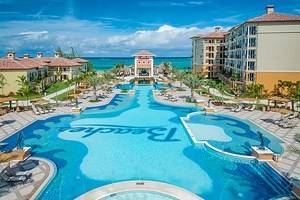 Caribbean Vacations: Are you looking for more Caribbean vacation ideas? There's no shortage of options to consider. If you are looking for the best Caribbean beaches or resorts there are some nice ones-even specialty family resorts and luxury all-inclusive resorts throughout the Caribbean islands that can tailor a vacation to your needs.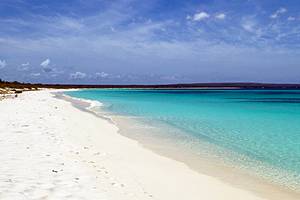 Dominican Republic: A popular Caribbean destination is the Dominican Republic because of its accessibility for many travelers; deals offered throughout the year; family resorts; and stunning beaches, like Bávaro Beach in Punta Cana. Another Dominican option is Puerto Plata, which also has stunning beaches and is known for its many all-inclusive resorts. If you want a little action in your vacation, head to Cabarete for some kiteboarding.