Where to Stay in Lyon: Best Areas & Hotels
We may earn a commission from affiliate links ()
Lyon's compact center is easy to navigate, with the Presqu'île quarter tidily enclosed between the converging Rhone and Saone rivers. At its center is the large Place Bellecour with the Tourist Information Office; the broad, traffic-free Ave Victor Hugo stretches from here to the Perrache train station. Across the Saone from Presqu'île, streets and stairways rise steeply to the hilltop Croix Rousse, the old silk-weavers' neighborhood. This atmospheric Vieux Lyon was named a UNESCO World Heritage Site for its narrow Renaissance passages called traboules.
One of the pleasures of visiting Lyon is that you can easily divide your time between seeing the best-known attractions, savoring its culinary heritage, and just relaxing and soaking up the atmosphere of its charming old-world streets. The best part is that you can easily choose places to stay that are convenient for all three. Getting around Lyon is quite easy, and a handy day pass for the metro and trams is inexpensive.
Although Lyon is divided, like Paris, into districts called Arrondissements (you can identify these by the last number of the postal code for any address or by the notation 1er, 2e, 3e, etc.), you will more likely hear places identified by neighborhood names: Presqu'île, Vieux Lyon, etc. The hotels below are handy to the main tourist attractions, and most are located in the First, Second, and Fifth Arrondissements or in the Third, around the Part Dieux train station.
Hotels near Part Dieux or the city's other station, Perrache, on Presqu'île, are especially convenient for those who plan to take day trips from Lyon to see the Roman sites in Vienne, or visit the walled medieval town of Pérouges, one of the "Plus Beaux Villages de France."
On This Page:
Where to Stay in Lyon for Sightseeing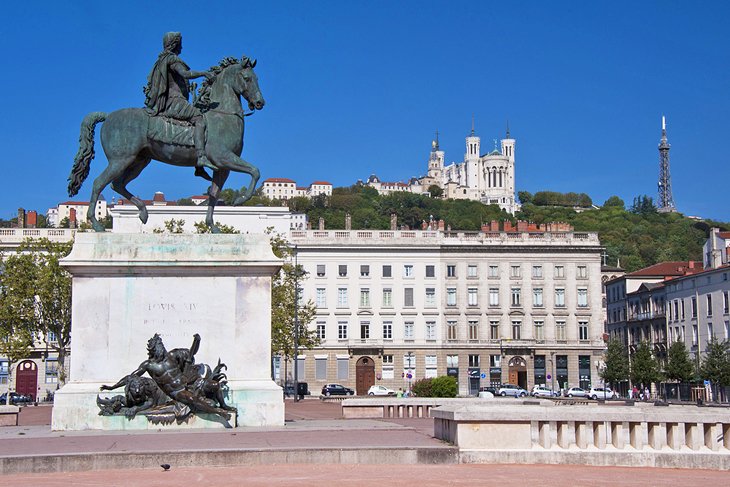 The most central neighborhood, within easy reach of major tourist attractions, traditional restaurants, and the charming streets of the old town, is Presqu'île, the long narrow point between the two rivers as they converge. This is the best part of the city to choose as a base for sightseeing.
Convenient to everything, Mercure Lyon Centre Beaux Arts is in the center of Presqu'île, with good-sized rooms overlooking Place des Jacobins, not far from Place Bellecour. Its moderate rates for a 4-star hotel will leave you money for souvenirs, as this is in the heart of the best shopping area and a block from the traffic-free rue Merciere, lined with restaurants. The hotel is also within easy walking distance of the Old Town, across the Saone; Les Halles, Lyon's famous food market, is a short walk across the Rhone. Luxury details in "privilege" category rooms include Nespresso coffee machines, safes, good reading lights, and make-up mirrors.
On a pedestrian-only street just off the large Place Bellecour, in the heart of Presqu'île and close to the Tourist Office, Hotel du Dauphin is surprisingly budget-friendly for such a prime sightseeing location, and has an English-speaking staff. Rooms vary in size, with some singles and others accommodating three guests, and all have thoughtful details like tea kettles and vanity kits. Be aware, though, that there is no air conditioning (although windows have fans) and some rooms require climbing stairs. The breakfast buffet is included, bathrooms are freshly updated, and the beds have good mattresses.
The location couldn't be better for those who consider shopping an important part of sightseeing, as Place Bellecour is at the center of some of the city's best. Rue Victor Hugo extends south from Place Bellecour with big-name clothing shops and boutiques interspersed with cafes and patisseries. This wide promenade continues north through Place Jacobins to Place des Terreaux. Antiques shops and galleries line the side streets, especially on the Rhone side.
Grand Hotel des Terreaux , a block from the Saone, near the Beaux-Arts museum, is an older hotel with charming quirks and a tiny elevator but a superb location, very accommodating staff and large, updated rooms. Those on the higher floors have beautiful city views from their balconies. Vieux Lyon is a five-minute walk across the river via Pont de la Feuillée. The hotel has a unique grotto-like pool.
If food is on your sightseeing agenda – and it should be, as it's what Lyon is most famous for – this hotel is for you. Several of the city's oldest and best bouchons, traditional Lyonnais bistros, are close; it's a block from Café des Fédérations, one of the oldest and most classic bouchons, and another classic, Chez Hugon, is only a little farther.
Where to Stay in Lyon for Luxury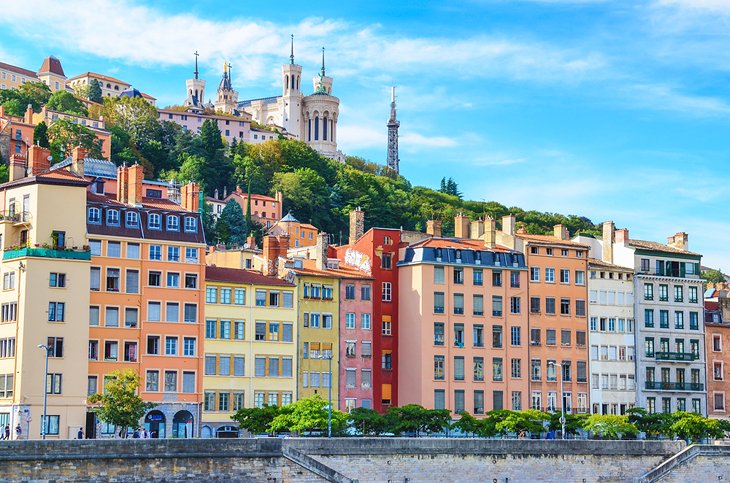 Several of Lyon's upper-end hotels are in commercial districts, not handy to the attractions, but these options are in the best neighborhoods for tourists. Rooms at Hotel Le Royal Lyon - MGallery Collection overlook a quiet courtyard or Place Bellecour, in the heart of Presqu'île, just across the bridge from Vieux Lyon. The building itself is impressive, a classic grand Beaux-Arts-style building with a rounded corner tower facing a large square, which magnifies its grandeur.
Tall windows give onto narrow balconies with iron railings on the Place Bellecour and Rue de la Charite sides. Corner rooms in the rounded tower are especially nice. Rooms are large, with high ceilings, and some are lavishly decorated in a grandiose style, with large-patterned wallpapers or drapes, others are decorated for a more restrained and tailored atmosphere. The hotel is partly staffed by trainees from the Bocuse Institute, which operates the hotel's restaurant.
On the bank of the Rhone between Place Bellecour and the Beaux-Arts museum, Hotel Carlton Lyon - MGallery Collection is within easy walking distance from Vieux Lyon and Les Halles. A Sofitel property, the smart modern hotel offers guests valet parking, as well as stylishly decorated and spacious rooms.
There are not very many places to stay in the old town, as its narrow streets, passageways, and historic buildings don't adapt well to modern hotels. But one 5-star property stands out in this atmospheric hillside neighborhood. The centuries-old building that houses Cour des Loges has been respectfully converted into a stunning boutique hotel and spa.
The décor blends historic elements (such as stonework and massive wooden beams) with modern style, and guests' comforts are foremost. Rooms vary in style, many with large bathtubs, seating areas, and interesting architectural or décor quirks. Each of the more than 50 high-ceilinged rooms is individually decorated, there's a cozy bistro downstairs, and you can trust the excellent concierge service to share secrets of the best places to eat in Lyon.
Where to Stay in Lyon for the Best Value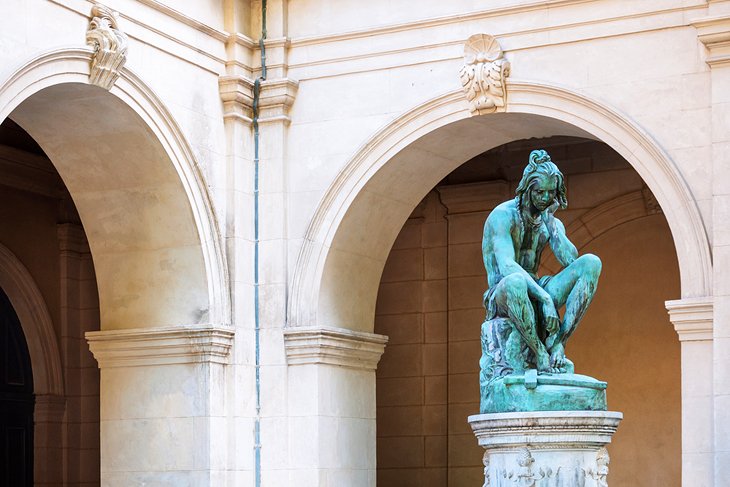 Whatever their price range, there are some hotels that just go the extra mile, pampering guests with unexpected luxuries and providing extras that tourists would expect in more expensive lodging. Here are our favorites for that added value: On the Rhone opposite Presqu'île, about halfway between the Musee de Beaux Arts and Les Halles, OKKO Hotels Lyon Pont Lafayette is well situated for sightseeing. This ultra-modern hotel has an all-inclusive ethic that welcomes guests to make themselves at home without adding to their room bill each time they order a soft drink.
Along with a complimentary continental breakfast, OKKO's welcoming "Le Club" concept also includes hot and cold drinks anytime, snacks and drinks in the evening, and free in-room movies, as well as Wi-fi. It's also a good choice for those who would like to meet other travelers in a relaxed "living room" atmosphere.
The economical Ibis Budget Lyon Centre - Gare Part-Dieu has small, spotless rooms that are simply furnished and comfortable, some with a third bunk at no extra cost, good for families. Double windows keep out street noise. The hotel couldn't be easier to find for arrivals from the airport or Part Dieu train station, right next door, and Metro, tram, and the Rhone Express airport trains are only a few steps from the door. But it is the extremely guest-friendly check-in and cancellation policies that set the hotel apart.
You can check in any time after noon, especially welcoming for those arriving from overseas on a morning flight, as they can go directly here from the Rhone Express airport train. Another advantage is that if plans change, you can cancel without penalty right up until 6pm of check-in day. Unlike some cities where only the lowest quality hotels surround the train stations, Lyon has several excellent and value-priced hotels within a five-minute walk of its two primary stations, and good metro connections from them to the prime tourist areas.
Definitely in the budget price range, but with an exceptionally loyal following, Hotel Vaubecour is also well-located for sightseeing. This second-floor hotel is a block from the Saone in Presqu'île, near the landing for a little ferry boat that will take you across the river to the old town.
The hotel retains an appealing old-world character, but has up-to-date rooms with modern furnishings and serves a good continental breakfast. Tall windows overlook wrought-iron balconies. Just around the corner is one of Lyon's best-loved bouchons, Café Abel, where you'll get copious servings of top-notch bouchon favorites.
Where to Stay in Lyon on a Budget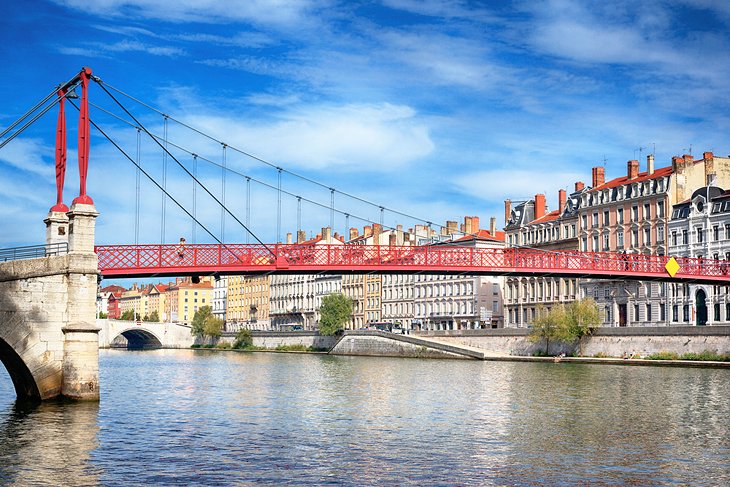 Lyon's other station, Perrache, on Presqu'île, also has a budget-friendly Ibis property, the Ibis Lyon Centre Perrache, with bright, compact rooms and a cheerful staff. If arriving from the airport, it's good to know that instead of going all the way to Part Dieu station on the Rhone Express, you can go just two stops (and save several euros), transferring to Metro line A, which goes straight to Perrache station.
Also near Perrache, the older Hotel des Savoies Lyon Perrache has simply furnished rooms (some in vivid colors) and secure parking, rare in the city, especially in this neighborhood. In the same neighborhood, closer to the Textiles and Decorative Arts Museum, the slightly more expensive Hotel du Simplon also has parking, in a locked garage.
Opposite the train station is Hotel de la Loire, with small, simply furnished (and sound-proofed) rooms; modern bathrooms; comfortable beds; and a 24-hour front desk with concierge service. The hotel is happy to store baggage for guests arriving early or doing some more sightseeing before taking a late train. For those arriving by car, there is nearby public parking.
The Perrache neighborhood is about 10 minutes' walk from Place Bellecour and only 20 minutes from the old town, but for food-lovers, its main attraction is Lyon's favorite brasserie – Brasserie Georges. These traditional eating places are quite different from the equally traditional bouchons. Originating as Alsatian restaurants, they are big noisy places serving choucroute, steaks, oysters, etc. in casual, Belle Époque surroundings, and waiters are in black with long white aprons. Definitely a Lyon experience for any foodie.
Where to Stay in Lyon for Couples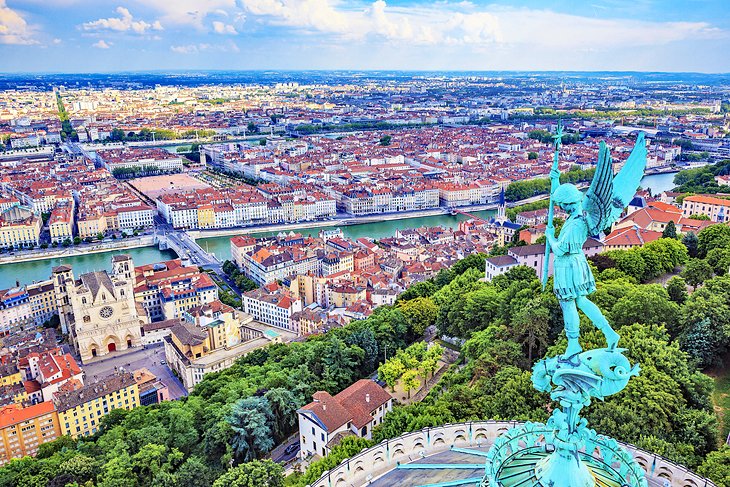 If you've chosen Lyon for a romantic getaway for two, you'll want to stay in its most romantic neighborhood, with authentic French charm. Luckily, you won't need to compromise on prime location, as some of the most luxurious romantic hotels and inns are at the upper edge of Vieux Lyon, where many of the best attractions are.
The rooftop pool and dining terrace at Villa Florentine command views across the city, and its chaises make a good spot to rest after a climb up the hill to this romantic aerie. Standard suites are large, with contemporary décor, espresso machines, soaking tubs, and seating areas. Breakfast is cooked to order and served until 11am, a nice plus on a relaxing vacation.
Le Jardin de Beauvoir is an art-filled bed-and-breakfast in a quiet neighborhood above the old town, not far from the Roman amphitheater museum and Basilica of Notre Dame de Fourviere. Its three guest rooms (two are suites) are furnished in contemporary style, and guests are invited to enjoy the private walled gardens and spectacular views of the city. In good weather, the full breakfast is served in the garden. Genial hosts are a goldmine of information on the best dining places.
The hop-on-hop-off Lyon tourist bus stop is five minutes away, and a three-minute funicular ride saves the steep climb to this and the nearby Fourviere Hotel, also near the basilica and amphitheater. It's in a former convent, although its 75 beautifully furnished rooms are done in modern décor. Art and architectural elements of the former convent have been well preserved in the public areas. There's a small spa and pool, and breakfasts are exceptional.
Where to Stay in Lyon for Families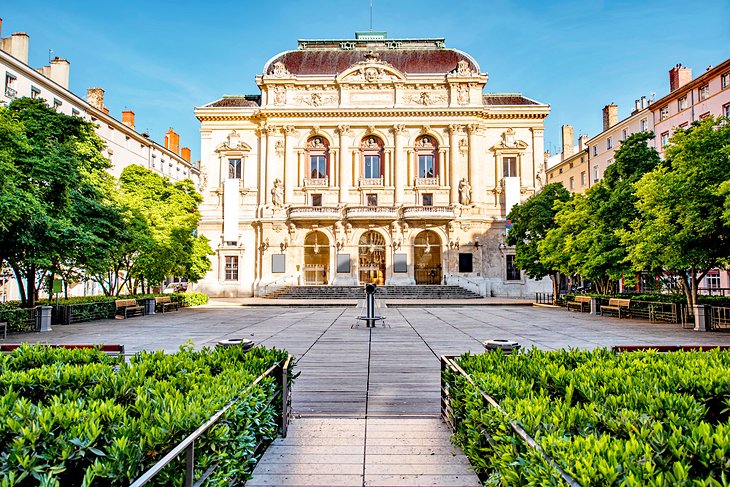 Except in newer and luxury properties, hotel rooms in France are often small, so finding one with extra beds or even room to add a rollaway bed may take some searching, especially in older and budget hotels. But it's not impossible, and it is also worth asking about connecting rooms as an alternative.
Sightseeing in a city is always a challenge for small children, so it's good to be close to parks, playgrounds, and spaces where they can play and run. One place that combines play space with a charming bit of Lyon local life is the small open plaza in front of the Célestins Theater, just off the Saone embankment not far from Place Bellecour. Local mothers and caregivers congregate in the shade on the steps of the theater while kids splash in the fountain pools and play soccer on the pavement.
Two small hotels are nearby, both with larger rooms for families: Hotel Des Artistes faces right onto the theater and square and has some rooms large enough for families. Hotel des Celestins on rue des Archers is a half-block away, a traditional hotel whose kid-friendly suites have pullout sofas and can sleep up to four. There's also an apartment with a kitchen. The neighborhood is filled with little cafes and restaurants; several line the buildings just behind the theater, overlooking the river. There's a footbridge here that crosses right into the heart of Vieux Lyon.
For modern rooms and more upscale surroundings, consider Hotel Crowne Plaza Lyon in the Cite Internationale, overlooking the Rhone in the 6th Arrondissement. The hotel sits between the river and the large Parc de la Tête d'Or, a vast green space that local families enjoy to its fullest, especially on weekends. It is filled with amusements for children, including playgrounds and occasional puppet shows. The hotel's complimentary breakfast and tea and coffee makers in the rooms are handy bonuses. There are a number of nearby dining options that are child-friendly.