From Paris to Nice: 3 Best Ways to Get There
The beautiful seaside city of Nice ranks among the top attractions of the French Riviera, one of the best places to visit in France. Because of its spectacular Mediterranean landscape and fascinating cultural sights, Nice appeals to travelers who are also visiting Paris on their France vacation itinerary.
Besides the long list of attractions in Nice, it has the added advantage of being easy to reach from Paris by public transportation. Many visitors choose to take the train because it's quite simple to take the route from the Gare de Lyon in Paris to the center of Nice. The train arrives at the "Nice-Ville" station near the Old Town, where many tourists find accommodation.
For those planning to visit other towns on the way to Nice, it's a good idea to rent a car in Paris and drive to Nice. For those who simply want to explore the area of the French Riviera around Nice, taking the train to Nice and then renting a car locally is the best plan.
Read our guide to learn about the best ways to get from Paris to Nice and choose the right form of transportation to suit your travel preferences.
1. From Paris to Nice by Train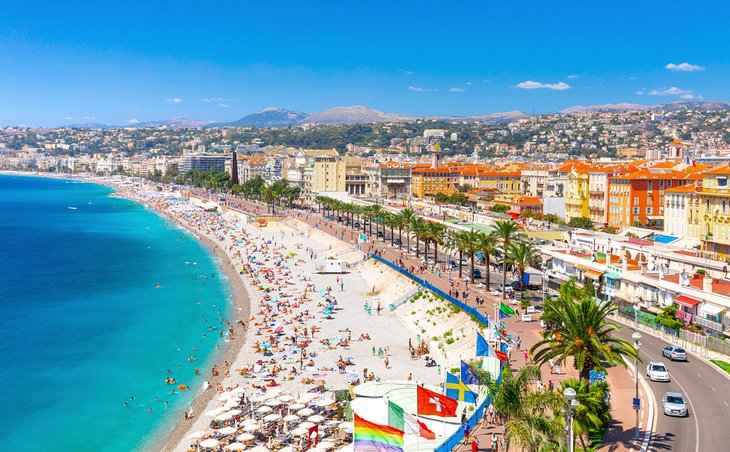 Many travelers choose to combine a Paris vacation itinerary with a visit to Nice, which is one of the French Riviera's most interesting cities. Nice is a must-see destination for art lovers, thanks to its fabulous museums. Summertime vacationers also flock here to take advantage of the sunshine and beach scene.
Another reason to add Nice to a France tour: It's easily accessible from Paris by train. Direct routes are available several times daily departing from the Gare de Lyon. Operated by SNCF, the nonstop train ride from the Gare de Lyon in Paris to Nice takes about six hours.
Other routes departing from Gare de Lyon connect (transfer) in Aix-en-Provence, which takes about seven hours to arrive in Nice. Another route with a transfer in Marseille takes approximately 6.5 hours.
For travelers who have more time and would like to check out one of France's most important cities, it's worth stopping over in Lyon for a day or two. Lyon boasts amazing cultural attractions, including its Musée des Beaux-Arts, historic quarters, and gourmet restaurants that serve authentic regional specialties.
If you have a late arrival in Nice, one solution is to spend the night at a hotel near the train station. The ibis Styles Nice Centre Gare provides affordable three-star accommodations just steps away from the "Nice-Ville" train station where the trains from Paris arrive. The Hôtel Ozz By HappyCulture also offers budget accommodation in the same area. For more luxurious accommodations, try the four-star Hôtel Nice Excelsior located a short walk from the "Nice-Ville" train station.
2. From Paris to Nice by Plane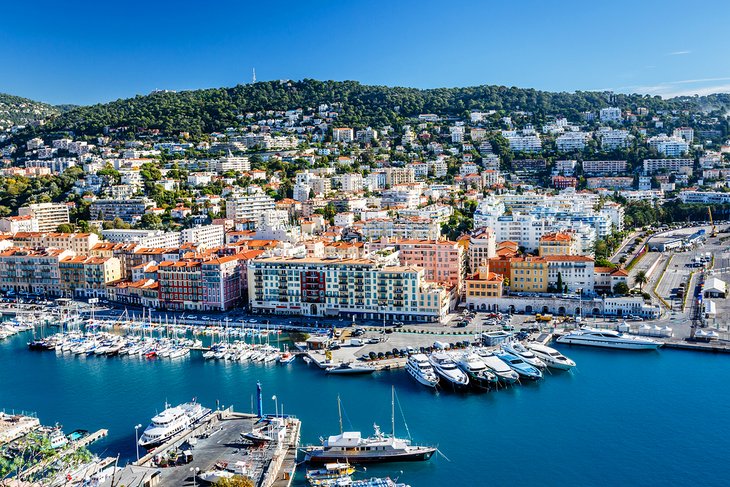 The quickest way to travel from Paris to Nice is by plane. Flights depart daily from Charles de Gaulle airport and from Orly airport. The trip takes only 90 minutes to arrive in Nice. One of the most enjoyable aspects of flying to Nice is the chance to admire incredible views during landing, as the plane makes its descent along the Mediterranean coastline, affording glimpses of the city's beaches and yacht marinas.
Air France operates flights from both airports and provides several direct flights daily from Charles de Gaulle airport, as well as over a dozen flights daily from Orly airport. With so many flights available every day from 6:30am until about 9pm, travelers have plenty of options.
Other airlines such as KLM Royal Dutch Airlines and easyJet operate several direct flights daily from Charles de Gaulle and Orly airports. Most of the KLM flights depart from Charles de Gaulle airport, whereas easyJet offers more flights departing from Orly airport.
When choosing a flight, travelers should consider the additional price and time required to travel to Charles de Gaulle or Orly airport. Charles de Gaulle airport is north of Paris; it takes about 30 minutes by taxi from the 18th arrondissement (Montmartre). However, from the 7th arrondissement (near the Eiffel Tower) or from the Montparnasse area, the taxi ride through the city of Paris to Charles de Gaulle will take at least 45 minutes. On the other hand, it would take about 45 minutes to Orly airport from the Montmartre neighborhood.
3. From Paris to Nice by Car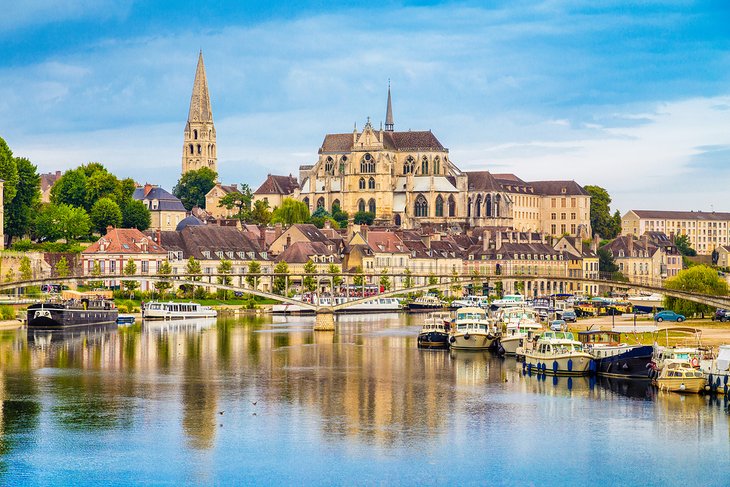 Driving offers the flexibility and freedom to explore France's countryside along the way, although the drive from Paris to Nice takes several hours longer than the train ride. Without any stops, the drive would take about nine to 10 hours. That's at least three hours longer than the shortest train ride. Travelers who have more vacation time benefit the most from driving.
Driving also makes sense for travelers who want to discover rural towns that are off-the-beaten track, such as the riverside community of Auxerre and the delightful medieval town of Noyers-sur-Serein in the Burgundy region. While visiting Burgundy, be sure to visit Vézelay, a hilltop village that is classified as one of the Plus Beaux Villages de France (Most Beautiful Villages of France) and has a UNESCO-listed Romanesque church, the Basilique Sainte-Marie-Madeleine.
Lyon, the gastronomic capital of France, is found directly on the route to Nice. This vibrant UNESCO-listed city ranks among the best cities in France and would make the ideal stopping point, almost halfway on the driving itinerary.
To soak up the old-world ambience of Lyon, spend the night at one of the city's elegant hotels that occupy historic landmarks such as the Art Deco Grand Hôtel des Terreaux, which dates to the Belle Epoque, or the Hôtel Bayard Bellecour in a 19th-century mansion on the Place Bellecour.
Another impressive historic monument converted into a hotel, the Fourvière Hôtel offers four-star accommodations within the former Convent of Visitation, built in 1854, with a reception hall in what was the convent's chapel and a "bistronomic" restaurant within the cloister.
If you are planning to drive to Nice, you can pick up a rental car at Charles de Gaulle airport. Or if you will first be spending a few nights in Paris, it would be more convenient to rent a car from one of the car rental agencies at the Gare Saint-Lazare or Gare Montparnasse in central Paris.