From Paris to Saint-Tropez: 4 Best Ways to Get There
Saint-Tropez provides travelers with a glimpse of two iconic French regions, as its location overlaps the glitzy Côte d'Azur and the sun-drenched countryside of Provence, where sunflower fields and olive groves flourish.
A trip to Saint-Tropez enhances any France travel itinerary and is a perfect complement to visiting Paris. Among its many tourist draws, Saint-Tropez features picturesque Mediterranean scenery and sandy beaches; this makes the southern French seaside town a perfect contrast to the bustling urban energy and cultural attractions of Paris.
It's a long journey from Paris to Saint-Tropez, which makes the logistics slightly cumbersome. The drive is quite long, so this option is best for those who plan to make stops along the way.
Since the train routes from Paris to Saint-Tropez are not direct, it may be more efficient to fly from Paris to Toulon and then take a taxi to Saint-Tropez.
1. From Paris to Saint-Tropez by Train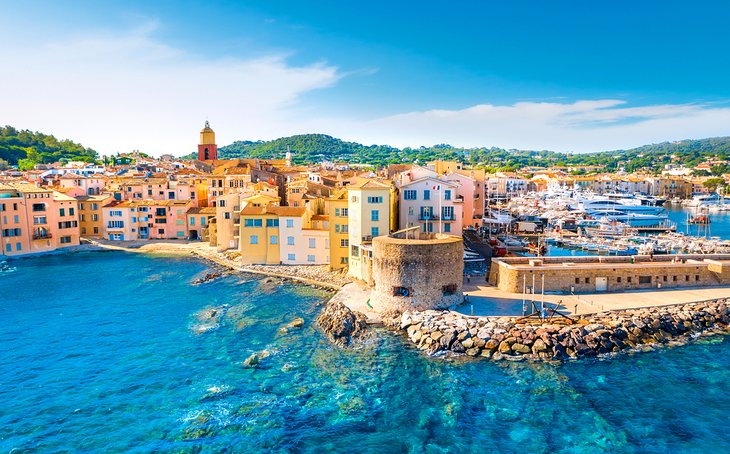 Most travelers choose to take the train to get from Paris to Saint-Tropez. The frequent scheduling of trains from Paris to the Saint-Tropez area (the closest station is Saint-Raphaël) makes this a convenient form of transportation. Trains depart from a station in central Paris, which means travelers can skip the inconvenient trip to the airport and the time spent going through airport security.
The SNCF operates train routes daily from the Gare de Lyon station in Paris to Saint-Raphaël Valescure station, which is 37 kilometers away from Saint-Tropez. The quickest train service provided by SNCF is the direct route on a high-speed train, TGV (Train de Grande Vitesse), that takes just under five hours. If there is a connection, the journey takes around six hours.
Train fares are similar for the regular SNCF train and the more rapid TGV train, so it makes sense to take the TGV train if possible. Prices vary depending on the day and time and availability.
Once travelers arrive at the Saint-Raphaël Valescure station in Saint-Raphaël, they can pick up their pre-arranged ride or hail a taxi (which are usually readily available at the station's taxi stand). The taxi ride from Saint-Raphaël Valescure station to Saint-Tropez takes about 50 minutes.
For those who prefer to rent a car and drive to Saint-Tropez, the Saint-Raphaël Valescure station has several rental car agencies, including Avis rental cars, Budget rental cars, Sixt rental cars, L'Agence ANA, and ADA rental cars.
2. From Paris to Saint-Tropez by Plane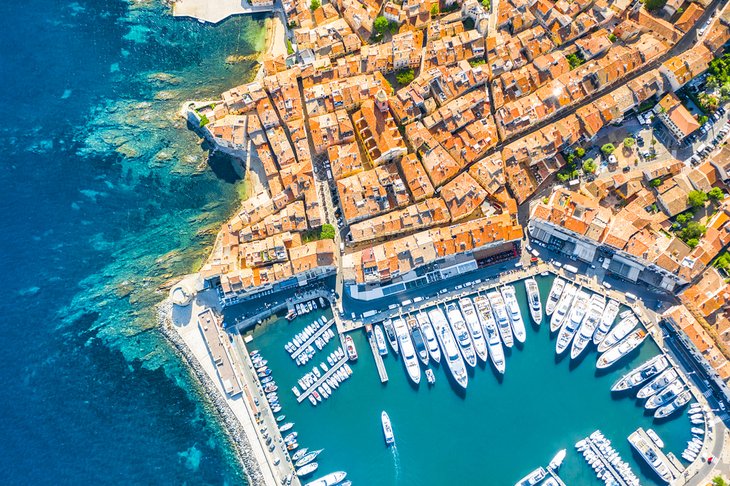 Some travelers prefer to fly from Paris to Saint-Tropez instead of taking the train, because the actual flight time is shorter than the train ride. However, the journey requires two or three different legs of travel (taxi to the airport in Paris; flight; and bus or taxi to Saint-Tropez) and overall takes about the same amount of time as getting there by train.
It's recommended to take one of these two options when flying from Paris to the Saint-Tropez area: Fly from Paris Orly airport (ORY) to the Toulon Hyères airport (TLN), or fly from Paris Charles de Gaulle airport (CDG) to the Nice airport (NCE).
The direct plane flight from Paris Orly airport to Toulon Hyères airport takes one hour and 35 minutes. Air France offers at least one and sometimes two or three ORY to TLN flights a day, with the earliest departure around 6am and the latest departure around 7:30pm. Morning flights are not available on Sundays.
From the Paris Charles de Gaulle airport to the Nice airport, the direct flight takes 90 minutes. This may be the more convenient option, since Air France runs CDG to NCE flights frequently from around 7am until about 9:30pm in high season (or until around 4pm off season). Flights are available almost hourly, with at least five flights a day and up to eight flights on certain days.
One disadvantage of flying from Charles de Gaulle airport is the higher cost, sometimes double the price compared to the flights from Orly airport.
One thing to keep in mind: From central Paris, the Charles de Gaulle airport is more easily accessible by public transportation than Orly airport. The RoissyBus shuttle picks up travelers at the Paris-Opéra bus stop in Paris (near the Palais Garnier opera house) and takes 60 minutes to reach the Charles de Gaulle airport. RoissyBus shuttle service is available every 15 minutes throughout the day and every 20 or 30 minutes at night.
It's a more complicated journey by public transportation to arrive at Orly airport. The Métro plus connecting RER train ride from central Paris to Orly airport takes over one hour; this journey requires changing stations.
It's hard to say which form of transportation (train versus plane) costs less, since train fares and flight prices vary depending on demand. In many cases, the overall cost of traveling by plane (including bus/taxi rides) is less expensive than the overall train + taxi travel costs.
Once travelers arrive in either Toulon-Hyères or Nice airport, it's easy to find a taxi at the airport. The Toulon-Hyères airport is actually in the town of Hyères, about 20 kilometers from Toulon. From Hyères, the taxi ride takes about 25 minutes. The taxi ride from Nice to Saint-Tropez is quite a bit longer (around 100 kilometers); the drive takes about one hour and 30 minutes without traffic. Expect a slower drive during high season.
Taxi service is available outside the terminal of Arrivals at both Toulon-Hyères and Nice airports. Travelers who like to plan ahead may pre-arrange a ride with a chauffeur service. The Nice airport offers a "Meet & Greet" private shuttle service; when travelers book this private transfer service, their shuttle driver will be waiting to greet them at Arrivals.
The Toulon-Hyères airport has public transportation options for getting to Saint-Tropez, but the bus travels extremely slowly (with many stops), and some routes require a transfer in Hyères. ZOU! operates direct bus routes from Toulon-Hyères airport to the center of Saint-Tropez. The bus journey takes two hours, so this option only makes sense for travelers on a very tight budget.
For those who prefer to drive, car rental agencies are available at both airports. Rental agencies that have offices at Toulon and Nice airports include Avis, Europcar, Enterprise Rent-A-Car, Hertz, and SIXT. Toulon airport also has Budget, Thrifty Car Rental, Virtuo, and ADA rental car agencies. Nice airport also has Advantage, Firefly, and Goldcar rental agencies.
3. From Paris to Saint-Tropez by Bus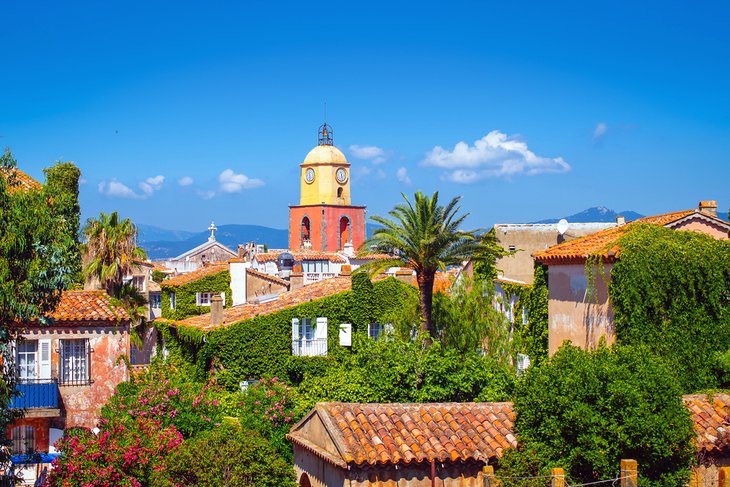 Only the most budget-conscious travelers opt for taking the bus from Paris to Saint-Tropez. Traveling by bus to Saint-Tropez is a long journey and requires a change of transportation in Toulon, but compensates for the excessive travel time and inconvenience with affordable fares. Bus fares are sometimes half the cost (or even less) compared to train fares.
FlixBus offers an overnight bus route from Paris to Toulon that takes 11 hours and 35 minutes. The bus departs from Bercy Seine station in Paris at 1:10am and arrives in Toulon the next day at 12:45pm. This FlixBus route is available on a daily basis. The bus arrives at the Boulevard de Tessé in Toulon.
The next leg of the journey requires finding another bus station in Toulon. Local bus company ZOU! operates bus routes from Toulon to Saint-Tropez. The ZOU! buses depart from Campus Porte d'Italie in Toulon (about a 20-minute walk from the FlixBus station on the Boulevard de Tessé). It takes just over two hours for the ZOU! bus to reach the Gare Routière in Saint-Tropez which is in the center of Saint-Tropez near the Vieux Port.
4. From Paris to Saint-Tropez by Car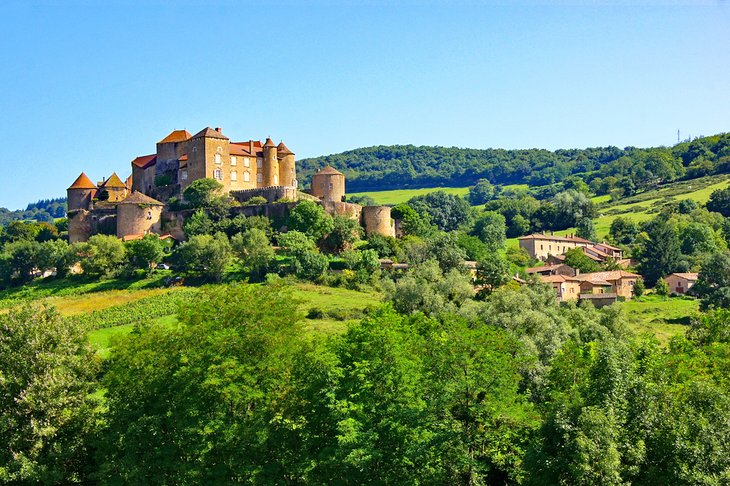 In terms of travel time, it takes longer to get from Paris to Saint-Tropez by car than by train or by plane. The drive (without stops) requires around 10 hours, about double the five-hour journey on a direct TGV train from Paris to Saint-Tropez.
The advantage of driving is the flexibility. Travelers can leave at anytime that suits them and stop at interesting places along the way. Driving from Paris to Saint-Tropez allows travelers to expand their vacation itinerary with sightseeing excursions in the French countryside or in cities along the route.
An excellent detour is the Burgundy region, a rural area dotted with ancient castles and quaint villages, almost halfway along the route from Paris to Saint-Tropez. Highlights of this region are Dijon, which has a UNESCO-listed city center; the charming historic town of Beaune; the lovely hilltop village of Vézelay; and the medieval Abbaye de Cluny, which was founded in the 10th century.
Just over halfway from Paris to Saint-Tropez is one of France's most important cities, Lyon, which brims with cultural attractions. Visitors enjoy visiting the museums, sampling the local cuisine at traditional bistros called bouchons, and wandering around the city's UNESCO-listed historic neighborhoods.
Tips for Travelers: Rental cars are readily available in central Paris at the main train stations (Gare Saint-Lazare and Gare Montparnasse), as well as at Charles de Gaulle Airport. To rent a car, travelers must have an international driver's license. It's also a good idea for visitors who rent a car in France to have some familiarity with French road signs and to feel confident driving in a foreign country.