From Paris to Giverny: 4 Best Ways to Get There
Monet's Garden in Giverny is one of the top attractions of Normandy, a picturesque region of woodlands, pastoral meadows, and verdant valleys. Just over a one-hour drive from Paris, Monet's Garden is an easy day trip.
There are several ways to reach Giverny from Paris. The various options include taking an organized group tour, a private guided excursion, bus tour, or public transportation.
When deciding on the best way to get there, tourists should consider their personal preferences. For instance, a knowledgable guide can enhance a visit, especially for travelers who are interested in learning about Monet's life and about the world of Impressionist art.
1. From Paris to Giverny on a Guided Tour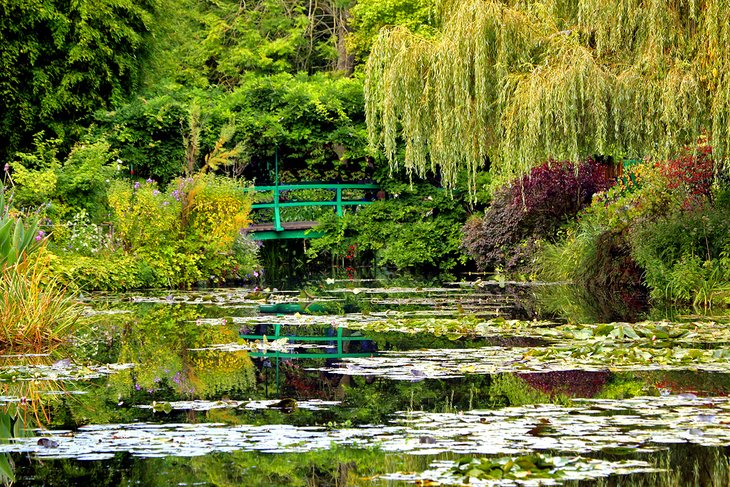 Many tourists find that taking a guided tour is the most enjoyable way to visit Giverny. This option gives travelers a chance to hear in-depth insights about Claude Monet and the famous Impressionist paintings that he created in his garden.
The Half-Day Trip to Giverny from Paris is an organized excursion led by a guide who is a licensed art historian. This private tour includes round-trip transportation from Paris to Giverny, as well as "skip-the-line" priority admission to Monet's Garden in Giverny.
Your guide will share his knowledge of art history during a tour of Monet's house and garden. You will have a chance to see the iconic Japanese bridge, water lilies, and weeping willows of Monet's garden, and your guide will discuss some of the lovely Impressionist works that Monet painted here.
To see the gardens at the peak of their beauty, visit during the springtime or summer. Daffodils and tulips bloom in April; wisteria, irises and geraniums blossom in May; and roses and poppies burst onto the scene in June. During summertime (beginning in July), the famous water lilies appear in the garden's pond, and it's easy to see the inspiration for Monet's paintings.
This recommended guided half-day trip departs in front of the Pullman Paris Eiffel Tower Hotel in the 15th arrondissement. You can choose a morning or afternoon departure time. Traveling by luxury coach, the ride from Paris to Giverny is about one hour and 30 minutes each way.
The half-day tour takes five hours in total. It's a great choice for travelers who do not want to spend an entire day visiting Giverny.
2. From Paris to Giverny by Small-Group Transfer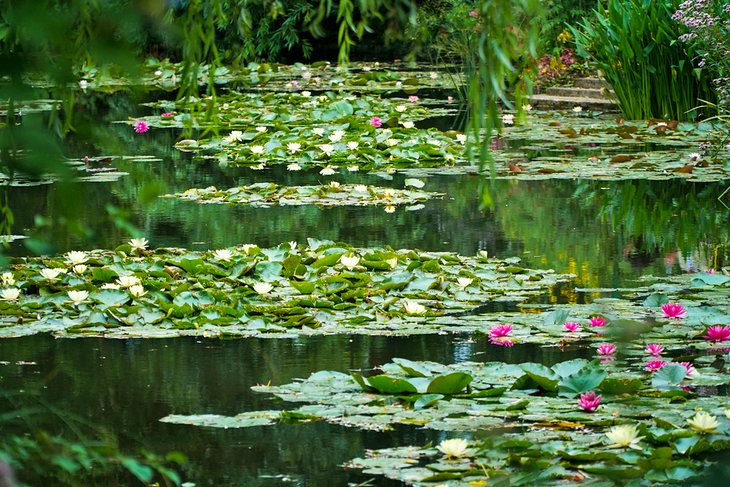 A convenient way to visit Giverny from Paris is by taking a small-group transfer. This takes the stress out of transportation (no need to figure out train and bus schedules). Plus, you can enjoy the company of other travelers as you journey to and from Giverny.
The Giverny Monet's House & Gardens Tour takes a small group of travelers (up to eight people) to Giverny and then back to Paris. This service includes a "skip-the-line" admission ticket to Monet's Garden, where you will spend a few hours exploring the gorgeous property (both Monet's house and garden) at your own pace.
This transfer service does not provide a guided tour. However, the service includes an additional stop at either the Museum of Impressionism in Giverny or in the charming village of Giverny, which is brimming with flower-bedecked houses, inviting boutiques, cafés, and art galleries.
To make it even easier, there is an option to be picked up and dropped off at your hotel in Paris. You can also choose a morning (8am) or afternoon (12pm) departure.
Transportation is by air-conditioned minivan with an English-speaking chauffeur. The drive takes about one hour and 30 minutes each way.
3. From Paris to Giverny by Train and Bus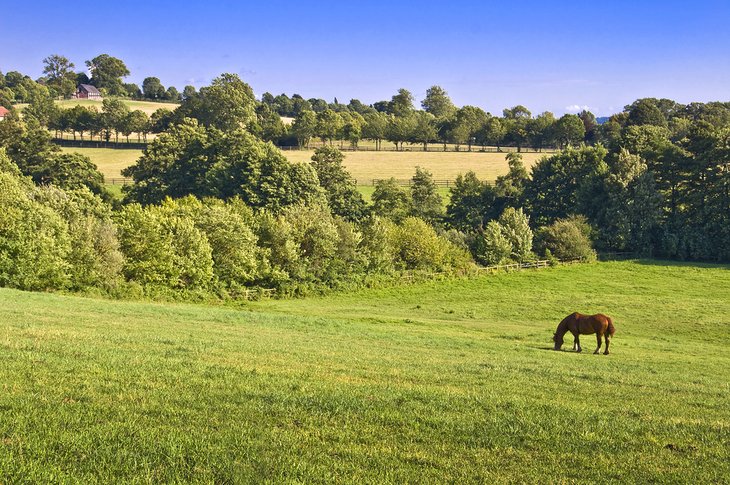 For travelers seeking an affordable way to visit Giverny from Paris, a train and bus trip is a great solution. This option allows travelers to relax while the train takes them from Paris to Giverny, through the lush countryside that leads to the Normandy region.
The journey begins in Paris at the Gare Saint-Lazare (train station), which gives travelers a chance to see the place that Monet depicted in his group of Gare Saint-Lazare paintings (created in 1877). Similar to the images in Monet's paintings, the Gare Saint-Lazare has a bustling feel, as it is one of the major terminus train stations in Paris.
Travelers take the SNCF train from Paris (Gare Saint-Lazare) to the Vernon-Giverny station (on the same train line that goes to Rouen). This direct train ride takes less than one hour. Upon reaching the Vernon-Giverny station, tourists can take a shuttle bus to Monet's Garden.
From spring through autumn, shuttle buses transfer visitors from the Vernon-Giverny station to Monet's Garden. (Shuttle buses are scheduled to pick up passengers around the time trains arrive from Paris.) Another option is taking a taxi from the train station to Monet's Garden. It's even possible to walk (five kilometers) from the Vernon-Giverny train station to Monet's Garden.
4. From Paris to Giverny by Car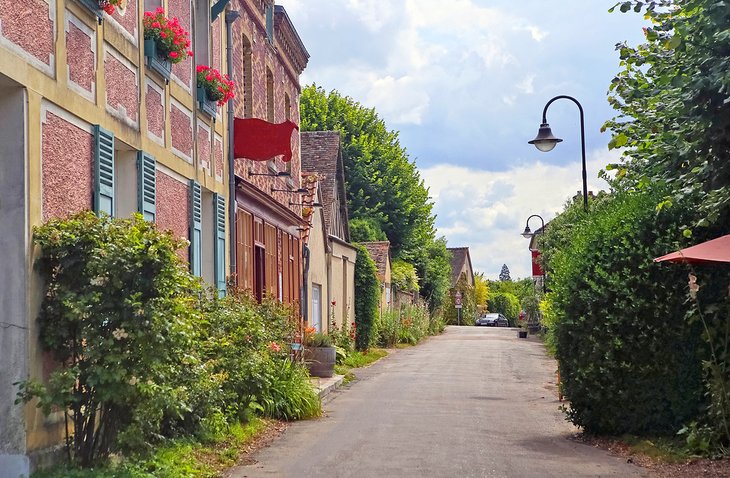 Giverny is 75 kilometers west of Paris, and the drive takes about one hour and 30 minutes. Much of the journey affords glimpses of beautiful rural landscapes. Travelers who enjoy scenic drives should consider a car rental as their mode of transportation.
Driving from Paris to Giverny is an ideal choice for travelers who would like to combine a visit to Giverny with a travel itinerary in the Normandy region.
Renting a car allows tourists to visit some of the country villages and nature sites of Normandy that can't be reached by public transportation. Also, Normandy's D-Day landing beaches and memorials are only accessible by car.
A driving itinerary in Normandy could include the quaint historic towns (not accessible by train) of Honfleur, Le Bec-Hellouin, and Jumièges, which are all within easy reach (about one hour and 30 minutes) by car from Giverny.
When visiting Giverny by car, travelers have the opportunity to see another of the region's top attractions. With its picture-perfect harbor, Honfleur is considered one the most charming towns in Europe. Impressionist painters appreciated Honfleur and the Normandy coastline for its captivating seaside beauty. Today, Honfleur is home to the Musée Eugène Boudin, which displays paintings by Boudin and other Impressionist artists.
Another excellent detour from Giverny, the village of Le Bec-Hellouin delights visitors with its old-world ambience. Half-timbered houses featuring flower-bedecked balconies cluster around the village church. The village is also renowned for its abbey founded in the 11th century (the buildings date to the 17th, 18th, and 19th centuries).
Listed as a Historical Monument, the Abbaye Notre-Dame du Bec-Hellouin today is a working Benedictine monastery. The abbey is open to the public for guided visits and retreats.
More Related Articles on PlanetWare.com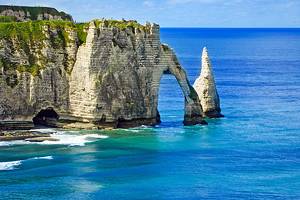 Other Tourist Attractions in Normandy: The Normandy region features a pastoral landscape of farmlands, orchards, meadows, and forests, dotted with historic towns. Some of the top places to visit are Mont Saint-Michel, a UNESCO-listed medieval abbey, and the enchanting medieval town of Rouen, with its winding cobblestone streets, well-preserved half-timbered houses, and magnificent Gothic cathedral.