From Paris to Mont Saint-Michel: 4 Best Ways to Get There
We may earn a commission from affiliate links ()
Mont Saint-Michel is a magical place. It's an island off the Normandy coast crowned with a majestic Gothic monastery. The Abbey of Mont Saint-Michel has been a sacred pilgrimage destination since the 10th century. Today, Mont Saint-Michel still draws visitors who arrive by foot at low tide just as pilgrims did during the medieval era.
The UNESCO-listed Mont Saint-Michel is one of France's top tourist attractions. This spectacular sight in the protected Bay of Mont Saint-Michel receives around 2.5 million visitors every year.
There are many options for getting to Mont Saint-Michel and touring the site. You can choose from an organized excursion as a day trip from Paris, you can drive there, or you can take public transportation on your own. Deciding on the best way to get to Mont Saint-Michel depends on your interests and how you prefer to travel.
Visitors arrive at the town of Beauvoir on the mainland (2.5 kilometers from Mont Saint-Michel) as the island of Mont Saint-Michel is not accessible to cars and other automobiles. Near the Visitor Information Center and parking lots in Beauvoir, there are pedestrian paths and a bridge that lead to Mont Saint-Michel.
Tourists can either take a shuttle bus or walk along one of the pedestrian paths, then cross the bridge (which takes about 45 minutes). Strolling across the bridge offers the chance to admire fabulous views of Mont Saint-Michel.
The Passeur (shuttle bus) picks up visitors at the Place des Navettes (near the Visitor Information Center) for a quick shuttle ride to Mont Saint-Michel. This free shuttle service runs frequently (between 7:30am and midnight) and takes less than 15 minutes to arrive at Mont Saint-Michel. The shuttle drop-off point is about 400 meters outside the ramparts that enclose the medieval city and abbey of Mont Saint-Michel.
Note: Some businesses may be temporarily closed due to recent global health and safety issues.
1. From Paris to Mont Saint-Michel by Guided Tour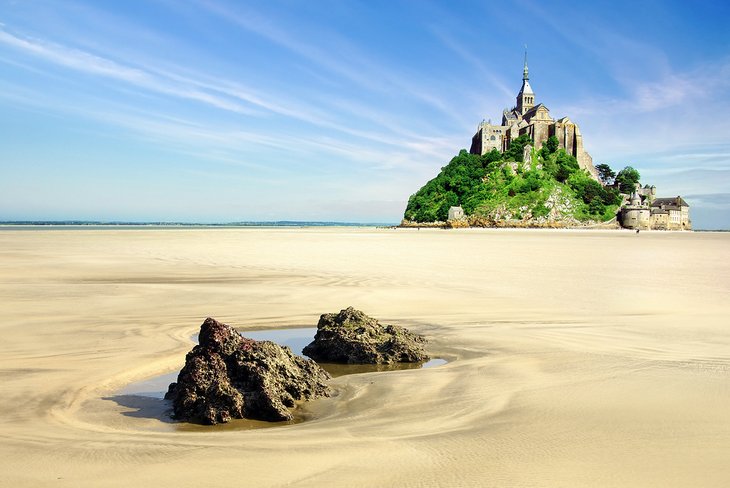 For most tourists, a guided tour is the best way to go when visiting Mont Saint-Michel as a day trip. An organized excursion provides round-trip transportation, which is much easier than driving yourself and quicker than taking the bus or train. Plus, participants appreciate learning from a knowledgable guide about the history of Mont Saint-Michel.
The Mont Saint-Michel Day Trip from Paris is ideal for those who want to maximize their time by taking advantage of an in-depth full-day trip. On this tour, you will embark on the journey from Paris to Mont Saint-Michel early in the morning. After spending plenty of time exploring Mont Saint-Michel, you'll return to Paris around 14 hours later.
Your guide will share interesting insights about the history of pilgrimages to Mont Saint-Michel, as well as explain the perils of arriving here by foot during the Middle Ages. You will visit the Abbey de Saint-Michel, where you can admire the marvelous Gothic architecture. The tour includes options for hotel pickup and a three-course lunch.
2. From Paris to Mont Saint-Michel by Car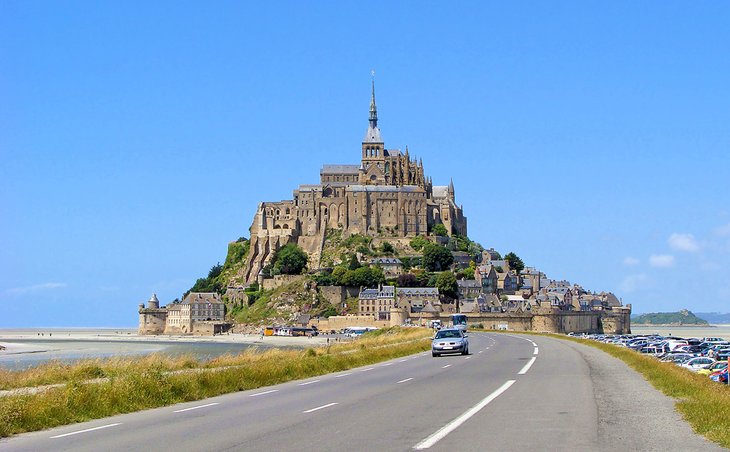 The drive from Paris to Mont Saint-Michel takes between 3.5 and 4 hours. One route is to take the A13 motorway in the direction of Caen, then merge onto the A84 motorway towards Avranches in the direction of Rennes. This is the most direct and quickest driving route from Paris to Mont Saint-Michel.
Another route is to take the A11 motorway to Le Mans, then connect to the A81 motorway towards Fougères. This way takes slightly longer, but would be a good route to choose if you want to make stops in Chartres (to see its UNESCO-listed cathedral) and/or Le Mans (to wander its captivating historic center) in the Loire Valley or in Fougères (to visit a fairy-tale castle) in the Brittany region.
The real advantage of having a car is that you can extend your vacation itinerary and visit tourist attractions near Mont Saint-Michel in the Brittany and Normandy regions. For instance, Saint-Malo, Dinan, and Fougères in Brittany are all within a one-hour drive from Mont Saint-Michel. Less than a two-hour drive, Caen in Normandy is a good starting point for tours of the D-Day Landing Beaches and Memorials.
It is also helpful to have a car if you want to spend the night in Mont Saint-Michel. This is the ideal way to experience Mont Saint-Michel without the mobs of visitors, so that you can appreciate the serene tranquility of the island in the morning before day-trippers arrive and in the evening after they leave.
There are only a handful hotels on Mont Saint-Michel (the most famous is the La Mère Poulard). Keep in mind that you need to carry your luggage up the hill when you arrive at Mont Saint-Michel. Other accommodations are available on the mainland; these hotels feature parking lots, which makes things much easier if you have a car.
Parking Information: There are several paid parking lots for visitors near Mont Saint-Michel on the mainland in Beauvoir. You have to park in a specific lot, depending if you are visiting for the day or staying overnight at a hotel. All the parking lots are near the pedestrian paths and bridge.
Crossing the Bay of Saint-Michel by Foot: If you wish to cross the Bay of Mont Saint-Michel by foot, you must take a guided walk led by an accredited guide. Taking an official guided walk ensures that you will cross the bay safely (when the tide is low enough). Tourists should know that it is dangerous to walk across the bay at certain times, because the mud flats can have quicksand, and tides can rise quickly.
3. From Paris to Mont Saint-Michel by Bus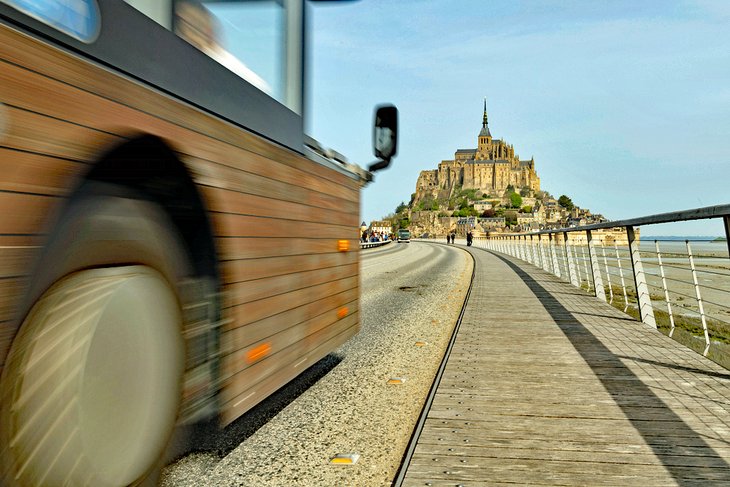 There are several companies that provide public transportation by bus to Mont Saint-Michel. This is often the most affordable way to go, although a bus ride takes longer than driving.
The FlixBus company offers a direct bus service from Paris (departing from Bercy Seine, La Défense, or Pont de Levallois) to Mont Saint-Michel. The trip takes between five and six hours. This bus route is available on Friday, Saturday, and Sunday with more frequent runs on Saturday. On some Thursdays, one bus run at 7am in the morning.
The bus drops you off in La Caserne near the pedestrian paths and bridge to Mont Saint-Michel. You can either walk or take the Passeur shuttle bus from there.
4. From Paris to Mont Saint-Michel by Train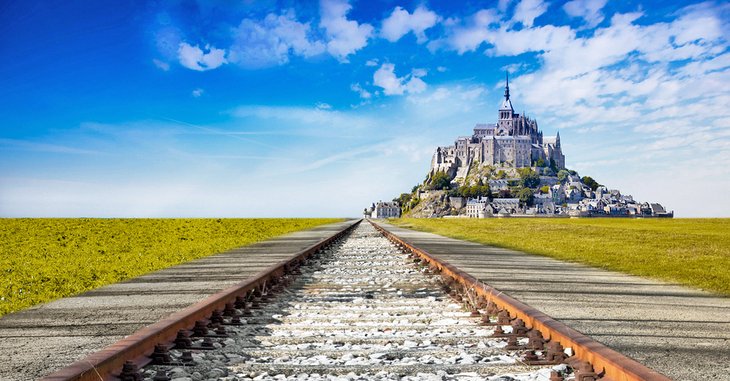 In terms of affordability and travel time, the train is a great choice of transportation from Paris to Mont Saint-Michel. The train ride is several hours quicker than the bus. However, the train is less convenient because you need to make multiple transfers. Travelers can check train schedules at the official SNCF site.
The most efficient route is the 2.5-hour TGV train (rapid-velocity train) from Paris Montparnasse station (in the direction of Saint-Malo) to the Dol-de-Bretagne station, which is 30 kilometers from Mont Saint-Michel. From Dol-de-Bretagne, you can take a (30- to 45-minute) taxi ride to Mont Saint-Michel.
It's also possible to take a 30-minute bus ride on the BreizhGo bus from Dol-de-Bretagne to the Gare Routière in Pontorson and then connect to La Navette shuttle bus that takes 20 minutes from Pontorson to Mont Saint-Michel. The only problem is that the BreizhGo bus departs infrequently from Dol-de-Bretagne (there are only two runs in the morning and two runs in the afternoon). Travelers can check the BreizhGo bus schedule.
Another TGV train route option is from Paris Montparnasse station to Rennes in Brittany, which only takes 1.5 hours. In Rennes, you then take the TER Train (in the direction of Saint-Malo) to Dol-de-Bretagne. Once in Dol-de-Bretagne, follow the above instructions to get to Mont Saint-Michel.
More Related Articles on PlanetWare.com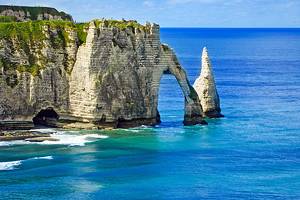 Other Places to Visit Nearby: There are so many amazing places to visit in Normandy and Brittany near Mont Saint-Michel. Within a one-hour drive are the D-Day landing beaches and wartime memorials of Normandy; the stylish seaside resort of Dinard; the characteristic Breton port town of Saint-Malo; a fairy-tale medieval castle in Fougères; and Rennes, the old capital of the Brittany region.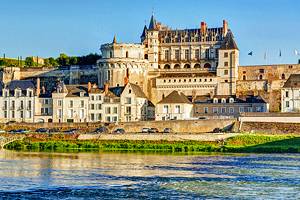 Places to Explore in the Loire Valley: For those who are traveling from Paris to Mont Saint-Michel by car, it makes sense to visit the Loire Valley on the way. The splendid UNESCO-listed Gothic cathedral of Chartres and the grandiose 440-room Château de Chambord are among the top attractions of the Loire Valley.