From Paris to Bruges: Best Ways to Get There
Bruges is an utterly charming town in the Flemish (Dutch-speaking) region of Belgium. The UNESCO-listed historic center of Bruges has retained the picturesque canals and ornate Gothic buildings of the Middle Ages. Wandering around the narrow cobblestone streets of Bruges feels like stepping into a fairy-tale medieval world.
Because of its enchanting ambience and countless cultural attractions, Bruges is among the most popular day trips from Paris. It is relatively easy to travel from Paris to Bruges by car, bus, or train. Another great way to visit Bruges is by going on an organized tour.
Deciding how to get from Paris to Bruges depends on your personal preferences and overall vacation itinerary. Read about the different ways to get there, and select the option that suits you best.
Choosing the best way to get from Paris to Bruges allows you to spend more time enjoying your visit. Whether you go on a guided tour or travel there on your own, you'll have a chance to cruise around the scenic canals, discover beautiful old churches, and sample delicious Belgian chocolates from local artisan boutiques.
1. From Paris to Bruges by Guided Tour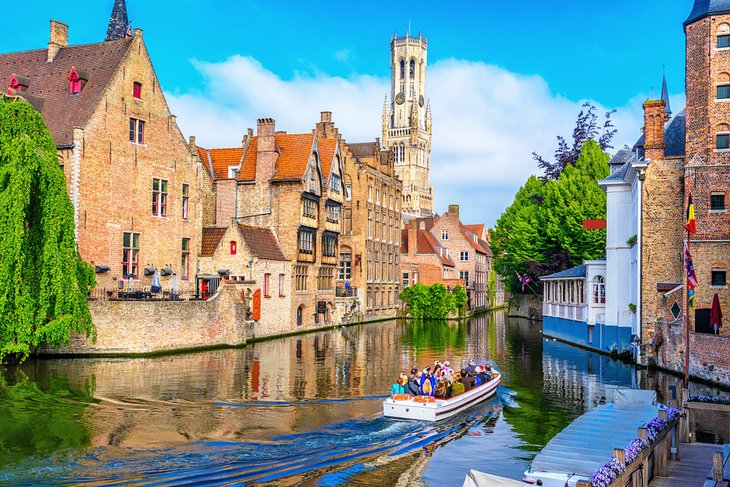 For travelers who are visiting Bruges from Paris and only have one day, the best option is taking an organized tour. The Bruges Day Trip from Paris maximizes sightseeing time with transfers by luxury coach and a walking tour through the UNESCO-listed center of Bruges.
A knowledgable guide leads participants through the lovely pedestrian streets of Bruges, stopping at historic landmarks such as the Town Hall, the Basilica of the Holy Blood, the Béguinage convent, and the Markt Square. The tour also includes free time for lunch and shopping at the local boutiques or visiting the Groeninge Museum to admire masterpieces of Flemish painting.
From April through October, the Bruges Day Trip from Paris experience includes a canal cruise through the city's romantic medieval waterways. This relaxing cruise allows tourists to see the city from a different perspective.
2. From Paris to Bruges by Train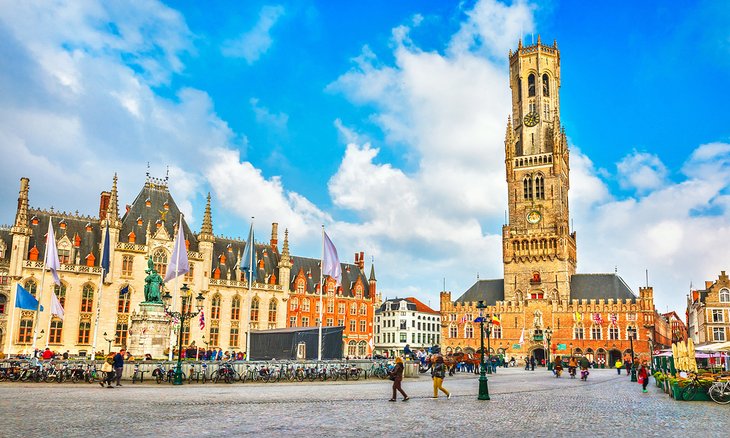 The train ride from Paris to Bruges is about three hours, including a connection in Brussels. Take the Thalys train from the Paris Nord station and transfer in Brussels.
Tourists can check schedules and purchase train tickets on the Rail Europe website. It is also possible to purchase a train ticket at the Paris Nord station ticket office.
3. From Paris to Bruges by Bus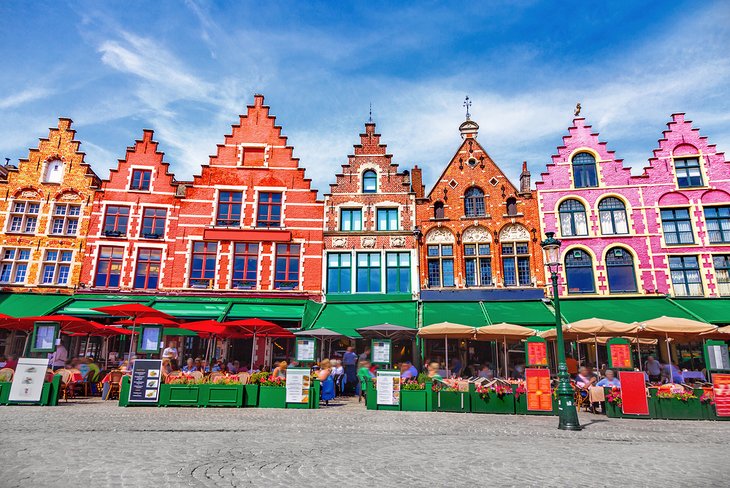 A bus ride from Paris to Bruges is much slower than the train. However, the advantage for budget-conscious travelers is that the bus fare is considerably less expensive.
The FlixBus company offers a direct route from Paris Bercy Seine station to Bruges that takes about 4.5 hours. The price of the bus ticket varies depending on demand, but is generally around $20 to $30 each way, which is much cheaper than a train ticket from Paris to Bruges.
Taking the bus from Paris to Bruges is only a feasible option for travelers who are planning to spend a few nights there. Saving on travel costs is the main advantage of taking the bus.
Several two-star and three-star hotels in Brussels allow travelers to stick to a tight budget, including the trendy Hôtel A La Grande Cloche, which is easy to access by bus or metro from the city center; the easyHotel Brussels City Centre, a 10-minute walk away from many top tourist attractions and very affordable considering the location; and the MEININGER Hotel Bruxelles City Center, a 20-minute walk to the historic center of Bruges.
4. From Paris to Bruges by Car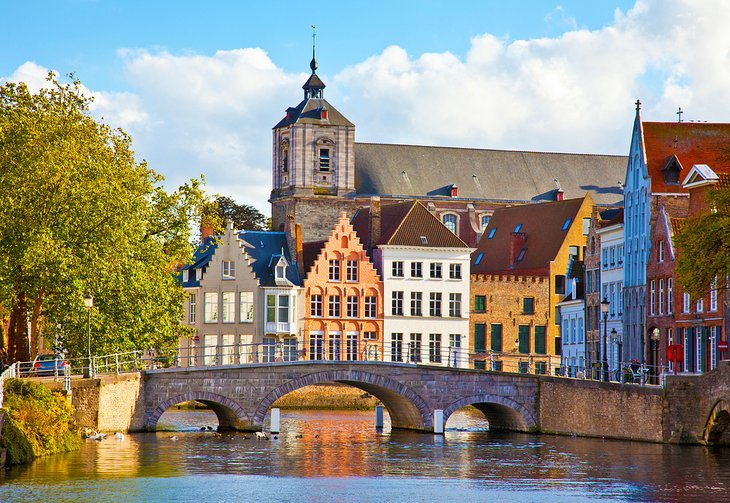 Going from Paris to Bruges by car makes sense for travelers who are including the visit on a driving tour through northern France and Belgium. The drive from Paris to Bruges takes around three to four hours.
Rental cars are available at Charles de Gaulle Airport, as well as at several agencies in Paris. The Gare Saint-Lazare and the Gare Montparnasse are good places to pick up a car rental.
Driving allows you to stop at tourist attractions on the way from Paris to Bruges. Directly on the route is the historic town of Compiègne, renowned for its royal château that was a summer palace for Louis XV and Louis XVI.
A slight detour (on the route from Paris to Bruges) just outside of Paris is the Château de Chantilly, a marvelous Renaissance castle featuring sumptuous Rococo decor and an outstanding collection of paintings. The Château de Chantilly is one of the top day-trip destinations from Paris.
Another interesting place to visit on the journey from Paris to Bruges is Amiens, which boasts a splendid Gothic cathedral and a fine arts museum modeled after the Louvre. Other top attractions of Amiens include the quaint medieval quarter with its cobblestone streets, tree-lined canal-side paths, and trendy boutiques. Amiens is also famous for the Marché sur l'Eau, the town's unique marshland market.
By driving from Paris to Bruges, you also have the option to visit other noteworthy towns in Belgium, such as Ghent and Ypres, which are both less than a one-hour drive from Bruges. Brussels, the capital of Belgium, is about a 1.5-hour drive from Bruges.
The town of Ghent or the capital city of Brussels would make a good base for travelers who are extending their vacation with a sightseeing itinerary in Belgium. Both Ghent and Brussels offer plenty of centrally located hotels, for a convenient overnight stay.
More Related Articles on PlanetWare.com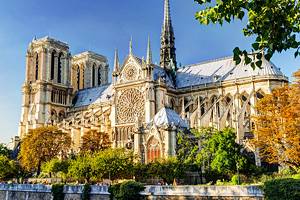 Planning a Visit to Paris: To make sure your Paris vacation is fabulous, plan ahead by reading about the city's top tourist attractions. World-class museums, legendary cafés, and historic churches await your discovery.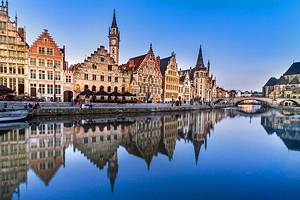 Other Places to Visit in Belgium: The small country of Belgium has an abundance of culture-rich cities. Awe-inspiring Gothic landmarks abound in Brussels, the capital city and one of the best places to visit in Belgium for café culture. Ghent features a majestic cathedral and other architectural treasures. The medieval landmarks in Ypres and the nearby World War One battlefields fascinate history buffs.