From Paris to Marseille: 3 Best Ways to Get There
After visiting Paris, taking a trip to the sun-drenched city of Marseille provides a perfect contrast. A lively waterfront, colorful neighborhoods, and vibrant Mediterranean ambience distinguish this bustling seaport in Southern France. Packed with tourist attractions such as its hilltop basilica and historic harbor, Marseille is considered one of the best places to visit in the South of France.
Marseille is about as far away as you can get in France from Paris, both in terms of distance and culture. The city's authentic Arab souks and Algerian restaurants reveal the influence of immigrants from North Africa, which is just a ferry ride (albeit a 22-hour trip) away.
Because Marseille is so far from Paris (about 800 kilometers), the train is usually travelers' top mode of transportation and it's the quickest. Driving from Paris to Marseille takes a few hours longer than taking the train but allows travelers to make sightseeing stops and/or overnight excursions en route.
When deciding which type of transportation to use, keep in mind your travel preferences and vacation itinerary. Read our guide to learn about the best ways to get from Paris to Marseille and choose the right form of transportation for your trip.
1. From Paris to Marseille by Train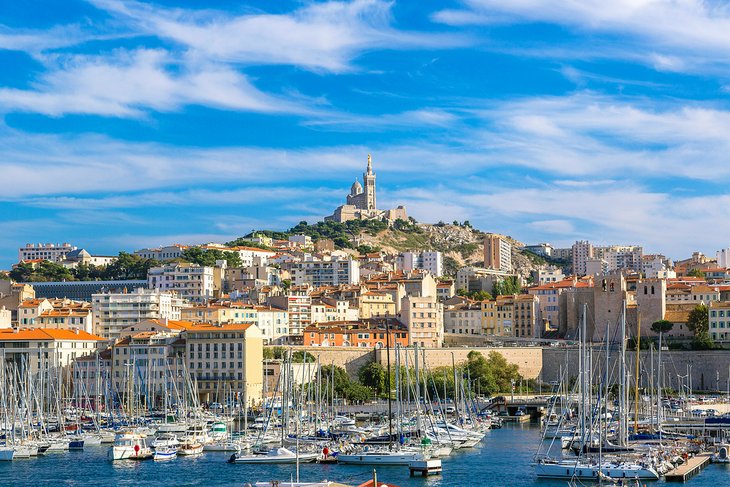 For most travelers, taking the train is the best way to get from Paris to Marseille. The train offers the shortest overall travel time compared to driving and taking the bus.
The fastest way to travel from Paris to Marseille is by high-speed TGV, which stands for "Train à grande vitesse" ("High-speed train"). TGV trains travel at 270 kilometers per hour, reducing the time the train ride takes by more than half.
SNCF (Société Nationale des Chemins de Fer Français) operates direct TGV trains from the Gare de Lyon (station) in Paris to the Gare de Marseille Saint-Charles (train station) in Marseille. This direct TGV route takes only about three hours and is available frequently on a daily basis. In fact, travelers can choose from direct TGV trains departing approximately every half hour (with a few breaks in the schedule) starting around 6am until about 8pm every day.
The TGV train from Paris to Marseille arrives at the centrally located Saint-Charles train station, which is just a 20-minute walk from the Vieux Port and the charming Le Panier quarter.
Tourists enjoy exploring the Vieux Port and Le Panier by foot, and these walkable neighborhoods are desirable places to stay when visiting Marseille. For luxury accommodations, try the four-star Hôtel La Residence du Vieux Port with harbor views or the five-star InterContinental Marseille - Hôtel Dieu, which presides over a hilltop in Le Panier, with vistas of the Old Port and the Basilique Notre-Dame de la Garde in the distance. The Hôtel Hermès Vieux Port caters to budget-conscious travelers; the views, overlooking the Old Port, are astounding for the price.
2. From Paris to Marseille by Car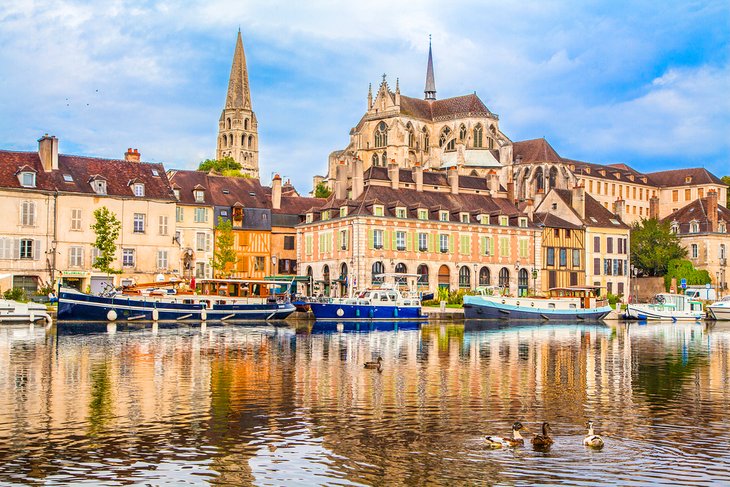 Driving from Paris to Marseille takes over twice as long. The drive takes around eight hours compared with the three-hour TGV train ride. However, this choice makes sense for travelers who plan to extend their vacation itinerary with stops along the way.
Great places to visit along the A6 highway route from Paris to Marseille include the picturesque riverside community of Auxerre and the charming historic town of Beaune in the Burgundy region, which is located nearly halfway between Paris and Marseille. The most important Burgundy town, Dijon is just a slight detour (45 kilometers) from the A6 highway route.
It's worth taking the 40-minute drive out of the way to see the 17th-century aristocratic mansions, an exceptional Musée des Beaux-Arts (fine arts museum), the old-fashioned mustard boutiques, and other attractions in the historic center of Dijon, which is designated as a UNESCO World Heritage Site.
Brimming with historic monuments, quaint little bistros, and museums, Lyon invites exploration. This fascinating urban metropolis is located about two-thirds of the way between Paris and Marseille, at the junction where travelers change from the A6 highway to the A7 highway.
The area around Lyon is also full of wonderful places to visit such as Vienne, renowned for its well-preserved Roman-era monuments and 12th-century Romanesque churches; medieval Pérouges, one of the "Plus Beaux Villages de France" ("Most Beautiful Villages of France"); and the Couvent de la Tourette designed by Le Corbusier.
After driving through Lyon, travelers make their way along the A7 highway past Avignon, home to one of the top attractions of Provence, the UNESCO-listed Palais des Papes. Avignon is located off the D225, just a 12-kilometer detour from the A7 highway. It's well worth stopping in Avignon at least for a few hours to visit the Palais des Papes and the Musée du Petit Palais.
Going from north to south, the route traverses the Haut-Vaucluse and Luberon regions of Provence. These two areas include some highlights of Provence: Orange (right off the A7 highway, 30 kilometers north of Avignon), a sultry town with impressive ancient Roman monuments including a UNESCO-listed first-century theater; Châteauneuf-du-Pape (seven kilometers from the A7 highway), a medieval village nestled in the rolling hills outside of Avignon; and Cavaillon (just three kilometers off the A7 highway), a provincial town that has a melon festival in July and a Jewish heritage going back to the 13th century.
Other detours on the A7 route through Provence worth the extra journey, include Saint-Rémy-de-Provence (about a 20-kilometer detour), the town that provided Vincent van Gogh with artistic inspiration; Fontaine-de-Vaucluse (22 kilometers off the A7 route), where the Musée-Bibliothèque François Pétrarque educates visitors about the "Prince of Poets" and his works; and L'Isle-sur-la-Sorgue (about 14 kilometers from the A7 route), known as the "Venice of Provence" because of its picturesque canals.
Getting there is half the fun, with one or two interesting detours. There are so many places to visit along the way to Marseille, the possibilities for expanding your vacation itinerary are endless.
3. From Paris to Marseille by Bus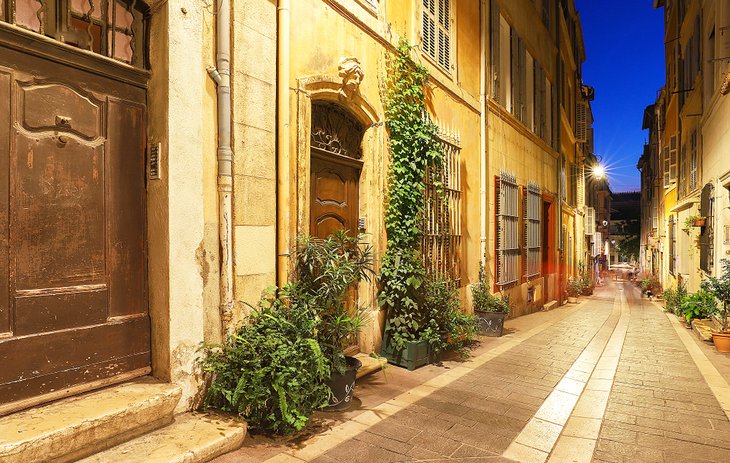 Getting from Paris to Marseille by bus is much slower than taking the train or driving. The advantage is the cost savings. So this option appeals to budget-conscious travelers. Bus fares vary depending on the date and time of day, but usually the price is about half the cost (and sometimes even less than half) of the TGV train fare.
FlixBus offers an overnight bus route that travels directly from Paris to Marseille on a daily basis. The bus departs from Paris Bercy Seine station at 1:10am and takes 10 hours and 20 minutes to arrive at the Gare Routière Saint-Charles (bus station) in Marseille at 11:30am.
Thursday through Sunday, FlixBus offers two other direct bus routes from Paris Bercy Seine to the Saint-Charles bus station in Marseille that take the same amount of time: one departing at 8pm that arrives at 6am the following day, and another that departs at 9:30pm and arrives at 7:40am the next day.
The BlaBlaCar company also provides a direct bus service from Paris Bercy Seine station to the Gare Routière Saint-Charles (bus station) in Marseille. BlaBlaCar has two direct routes on weekends and daily during the high season: one that departs from Paris Bercy Seine station at 8:15am and arrives at Saint-Charles station in Marseille at 7:55pm and another (overnight bus) that departs from Paris Bercy Seine station at 11:45pm and arrives at 9:20am at Saint-Charles station in Marseille.
Trip-Planning Tip: It's a good idea to compare bus fare and TGV train prices for the date(s) you plan to travel, because both bus and train fares fluctuate widely depending on the time and date. While the bus is generally much less expensive, it is possible to find a very affordable TGV train fare at certain times that is the same price or less than the bus fare.