Best Time to Visit Bermuda
Blessed with a subtropical climate and an enviable location in the middle of the North Atlantic, Bermuda is a quintessential beach getaway. Known for its pink-sand beaches, pastel houses, and laid-back vibe, this British overseas territory is just a two-hour flight from most Eastern U.S. cities.

Though most people put Bermuda in the Caribbean, the island is actually situated about 650 miles east of North Carolina. As a result, it enjoys somewhat milder summers and cooler winters, and temperatures ranging from about 60 to 85 degrees Fahrenheit (15 to 29 degrees Celsius).
There's never really a bad time to visit Bermuda and enjoy the UNESCO World Heritage site of St. George and capital city of Hamilton.
The best time to visit may depend on what you love doing and how much you are willing to pay. If your ideal vacation is hanging out at one of Bermuda's beautiful resorts, bumming around on the beach and snorkeling, visit the island during the peak season in the summer months, between July and September, which coincides with the summer holiday season.
The shoulder seasons, during April and May and October and November, are a good way to enjoy the beaches without the crowds, and explore the island's quaint towns, historical museums, caves, and culture. The low season, beginning in October, means cheaper hotel rooms, but you can still enjoy lovely Bermuda weather in the 70s Fahrenheit (20s Celsius) during the day.
The island doesn't have a real winter, rainy, or hurricane season, so no matter when you go, you are bound to enjoy lovely weather and a welcoming atmosphere. So, go ahead and book that ticket and be sure to pack those Bermuda shorts once you've decided on the best time to visit Bermuda.
Best Time of Year to Go to Bermuda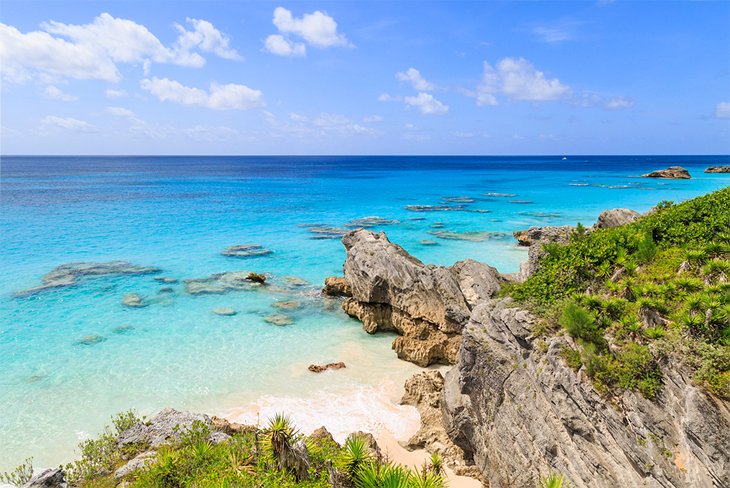 Anytime between May and September is the best time to visit Bermuda, where you will be greeted with temperatures in the 70s and 80s Fahrenheit (20s Celsius) and warm waters perfect for swimming and snorkeling. Most of the tour operators start offering more boat tours and snorkeling and diving expeditions.
Average minimum and maximum temperatures for Hamilton, Bermuda in °C
J
F
M
A
M
J
J
A
S
O
N
D

21

16

20

16

21

16

22

17

24

20

27

23

29

25

30

26

29

24

27

22

24

19

21

17

PlanetWare.com
Average monthly precipitation totals for Hamilton, Bermuda in mm.

125

112

109

89

79

130

117

130

127

168

104

114
Average minimum and maximum temperatures for Hamilton, Bermuda in °F
J
F
M
A
M
J
J
A
S
O
N
D

69

61

68

60

69

60

71

63

75

68

81

73

85

77

86

78

84

76

80

72

75

67

70

63

PlanetWare.com
Average monthly precipitation totals for Hamilton, Bermuda in inches.

4.9

4.4

4.3

3.5

3.1

5.1

4.6

5.1

5.0

6.6

4.1

4.5
During the peak season, the prices for hotels and tours are high and beaches are crowded, so book early and hit the beaches early to avoid crowds. Luckily, there are quite a number of beaches to choose from, on the South Shore, St. George's Parish, and Somerset Village. Visitors can also go diving to explore sunken shipwrecks and learn about the island's seafaring history at historical museums.
Cricket lovers can catch the Bermuda Cup Match, a two-day summer event happening at the end of July (Thursday and Friday before the first Monday in August). As one of the biggest events on the island, it attracts scores of residents and tourists to the heated match between two arch-rivals, St. George's and Somerset. This annual event coincides with Emancipation Day (August 1st), the day in 1843 when slavery finally became abolished in the British Empire. Enjoy concerts, beach parties, and delicious local food.
You can also head to Raft Up in Mangrove Bay during the summer months to watch or join hundreds of vessels joined together and competing to stay afloat for the biggest party on the water.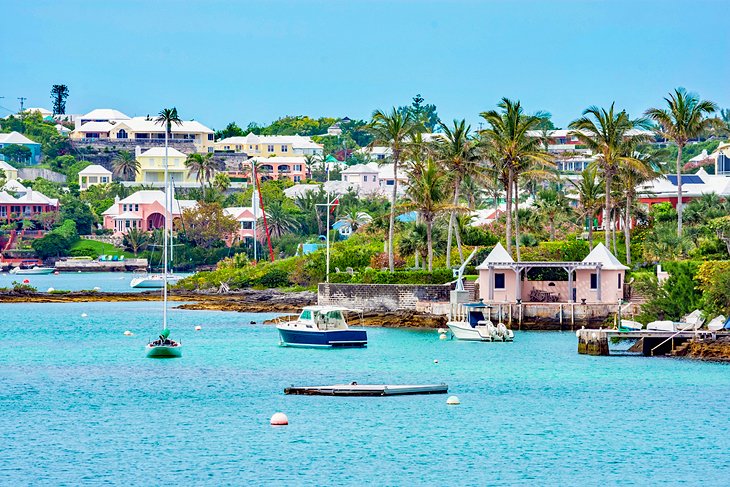 If you want to experience relatively crowd-free streets and beaches, visit Bermuda in the spring. From March through May, the weather is mild, around the 60s and 70s Fahrenheit (15 to 20 degrees Celsius), and you can still walk the beaches without a jacket.
Though the water may be a little chilly for most swimmers, you will find plenty of things to do, from guided cave walks and hiking to golfing and museum hopping. Take an afternoon to hike or bike the Railway Trail, an 18-mile-long (29-kilometer) scenic path built on former train tracks.
The annual Bermuda International Film Festival is the highlight in March, featuring films and new talent from around the world. On Good Friday, don't miss the spectacle of colorful locally made kites that are flying over Horseshoe Bay Beach, making one of Bermuda's most beautiful places to photograph even prettier.
Sailing aficionados should head to Bermuda at the end of April to witness sailors from around the world competing in the Bermuda International Invitational Race Week.
Best Month to Visit Bermuda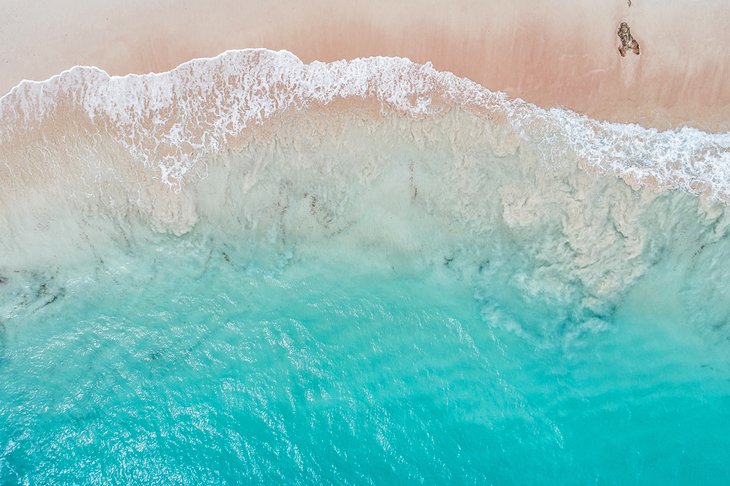 May: The best month to visit Bermuda is May, when the weather is ideal. It's not yet too hot and humid, and the beaches are less populated. Cruise ships are still not as plentiful, and the streets, buses, restaurants, and museums are relatively crowd-free.
This is a great time of year to avoid the worst of the crowds at Horseshoe Bay Beach, famous for being one of the best pink sand beaches in the world.
May is also when Bermudians celebrate Bermuda Day, formerly known as Victoria Day in honor of Queen Victoria's birthday. Happening at the end of May, this special day is marked by a parade of floats, dancing, and other lively entertainment. The long weekend of Bermuda Day is the official beginning of the summer and the busiest season on the island.
Worst Time to Travel to Bermuda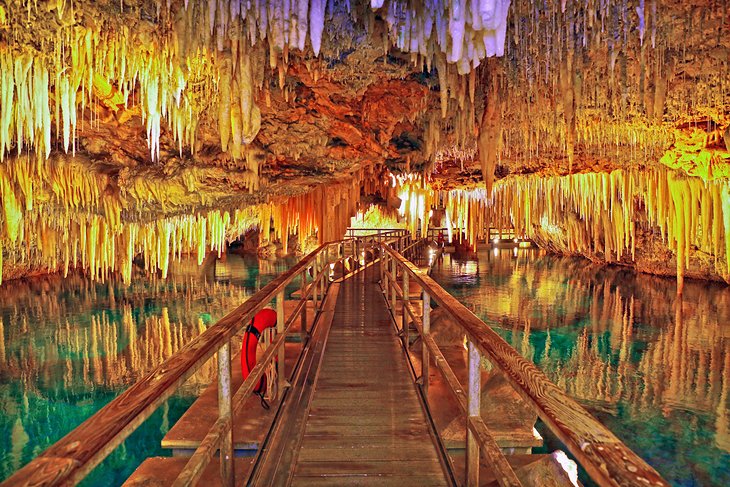 October: Unlike the Caribbean, which experiences a rainy season, Bermuda doesn't have one. When it does rain, it's likely not going to last too long. October is when the island sees the most amount of rainfall, about six inches average, and the month may well be considered the worst time to travel to Bermuda. Another bad time to travel to Bermuda is in February, when it's the coldest, with temperatures in the low 60s Fahrenheit (15 Celsius).
Although Bermuda is at minimal risk of getting hit by a hurricane compared to its cousins in the Caribbean, the official hurricane season begins in June and lasts through the end of November. Due to the reefs protecting the island, and the location in the North Mid-Atlantic, Bermuda avoids most hurricanes and tropical storms and only experiences them once every six or seven years. In general, September and October pose a higher likelihood than other times of the year.
June: Though the summer is a good time to visit to enjoy warm waters, the crowded beaches and high humidity could be a deterrent for some tourists. Fortunately, vacationers who want plenty of space while they enjoy the sun and sand can find excellent Bermuda resorts that offer private guest-only beaches and air-conditioned indoor recreation for the extra hot days.
Cheapest Time to Visit Bermuda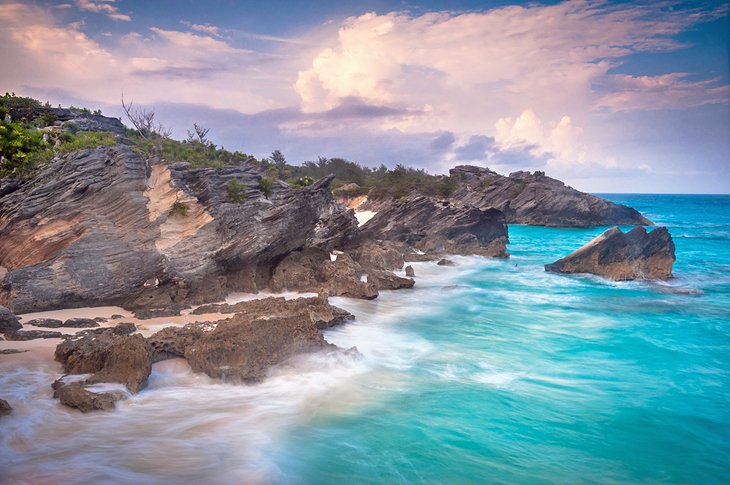 Bermuda's accommodations aren't cheap, so if you are looking to visit this underrated gem, the best time to go is in the low season. From November to March, you will see a drop in hotel prices, with many offering discounted rates to encourage visitors. For as low as 200 USD per night (and some even lower depending on accommodation type) at even the fanciest resorts, and cheaper airfares, you can still get your island vacation.
Despite the fact that you might want to avoid the water without a wetsuit, there are still many exciting things to do in Bermuda while taking advantage of pleasant temperatures between the high 60s to low 60s Fahrenheit (15-20s Celsius) and fewer tourists.
Most of the hotels feature expansive golf courses and tennis courts, and this is a great time to get deals on sightseeing cruises and catamaran excursions. Attractions like the National Museum at Royal Naval Dockyard, Bermuda Aquarium Museum & Zoo, Crystal & Fantasy caves, and Botanical Gardens remain open in the off-season, albeit with reduced hours.
For those seeking adventure, winter is also a good time to explore the trails on either side of the island on bike and foot. The Fat Tire Massive Flying Colours Mountain Bike Race Series begins in November and runs through March at various locations.
Best Time to Cruise to Bermuda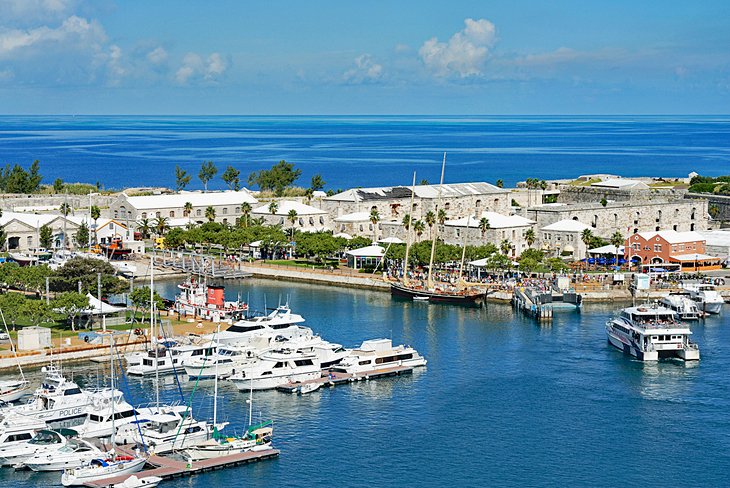 Although cruise lines tend to offer trips to Bermuda all year-round, a majority of them travel at the height of summer between June and August. You can expect smooth sailing around this time, with balmy weather and warm waters.
Cruises in the shoulder seasons, from April to June and October to November, cost less, and the weather is still pleasant enough to experience island life. Though Bermuda rarely sees hurricanes during storm season, keep it in mind when booking your cruise and be sure to get travel insurance.
Best Time to Visit St. George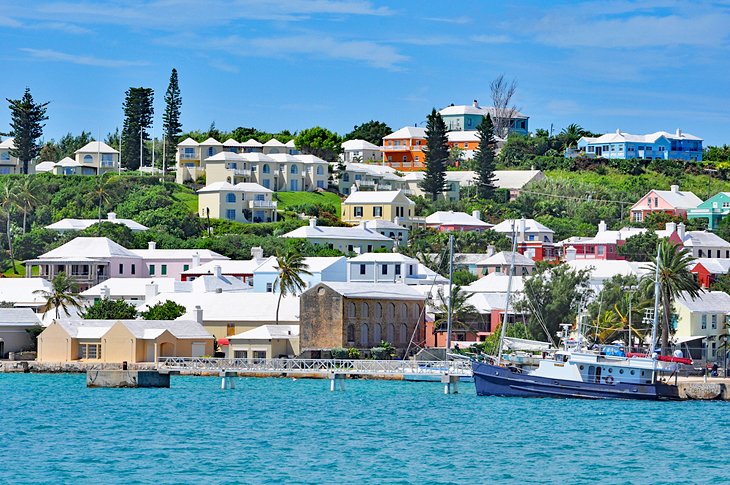 St. George, declared a UNESCO World Heritage Site, represents the location upon which the first settlers arrived on the island beginning in 1612. As such, there are centuries-old buildings still standing amid the taffy-colored stone buildings that line the cobblestone streets. Just like the rest of the island, there is no bad time to visit St. George, and even if you visit during the low season, there will be plenty of attractions you can experience.
As the oldest English settlement of the New World, St. George is a must-see for its historical museums, like the Bermuda National Museum Trust, Bermudian Heritage Museum, Tucker House Museum, and St. George Historical Society Museum. You can also visit sites like the St. Peter's Church, the oldest Anglican church in the Western Hemisphere.
Another interesting thing to do is tour the African Diaspora Heritage Trail, a UNESCO Slave Route Project, to learn about the island's role in the slave trade. Various monuments and museums on the trail include the Lost at Sea Memorial dedicated to the slaves who lived and worked as whalers and fishermen. A must-see is Pilot Darrell's Square, the home of James Darrel, the first documented freed slave and a ship pilot.
Stop by the perfumery of Lili Bermuda for fragrances derived from local flowers, and join a workshop to create your scent. Bring home a souvenir that will remind you of your lovely time on the island every time you wear your desired scent.
If you are coming in the holiday season, you can participate in the free Bermuda National Trust Christmas Walkabout, where homes in St. George's open their doors to the public, and candlelit streets decorated with seasonal décor set the stage for live enactments, caroling, and performances.
Best Time to Visit Hamilton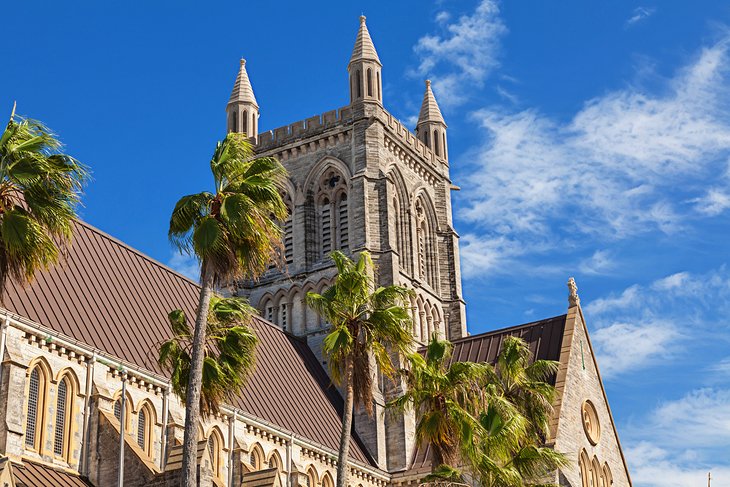 As the island capital, Hamilton is cosmopolitan, with a number of things going for it, from the iconic Bermudan houses with white roofs to historical buildings overlooking the sparkling harbor. With bustling streets lined with banks, offices, shops, galleries, and restaurants, this commercial hot spot is worth exploring anytime of the year. Front Street, where some of the smaller cruise ships and ferries dock, is the busiest area.
When you visit during the summer months, you will be here for the lively Harbor Nights Festival, happening on Wednesday evenings from April to September. Featuring Gombey dancers, local artwork, and delicious street food, there's plenty of fun for the whole family.
Best Time to Visit Bermuda for Whale Watching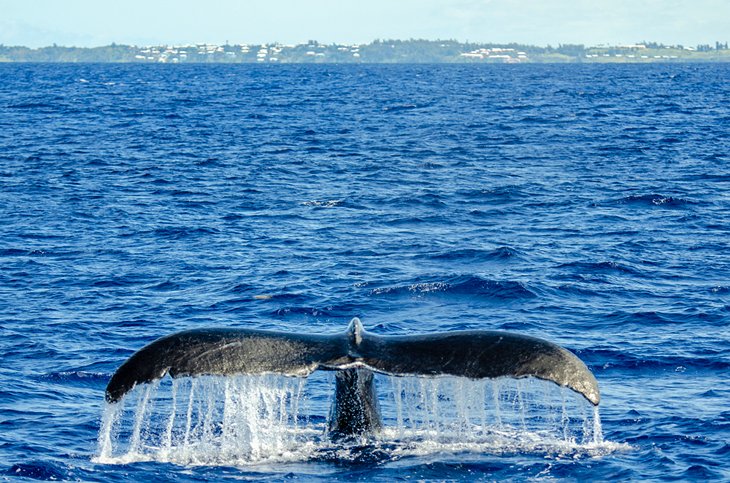 Spring: Humpback whales, making their voyage from their Caribbean breeding grounds to their nutrient-rich Arctic feeding areas, pass by Bermuda via the Gulf Stream in the spring, putting on a spectacular show along the way. On a clear day, from the South Shore hotels, you can see these behemoths breaching in the waters.
Another popular spot to watch migrating whales is from West Whale Beach in Southampton Parish, which was originally the grounds for whaling, but now attracts marine animal lovers to its pristine beach for whale watching. Bermuda Aquarium runs whale watching tours (Monday, Thursday, Saturday, and Sunday, 11th March to 30th April), and you can expect to find a parade of up to 20 whales and their acrobatic displays on a given day.
Best Time to Visit Bermuda for Wreck Diving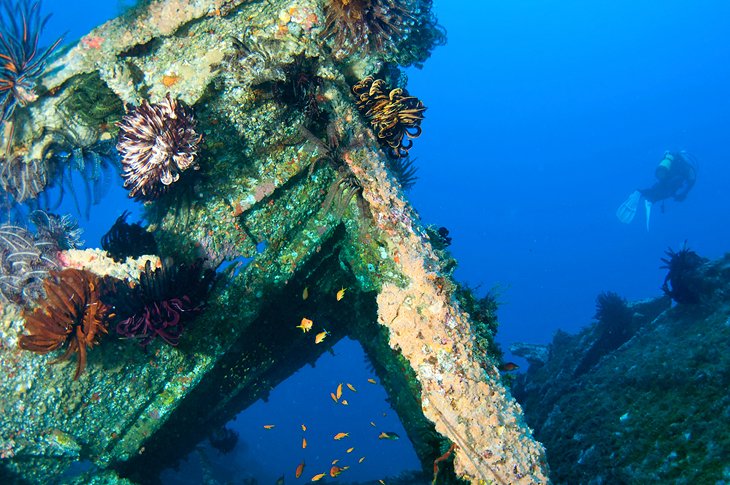 Bermuda earned its nickname of "Isle of Devils" for good reason. Many unprepared ships wrecked off the shores of the island on the fringing coral reefs, giving the island a reputation as the shipwreck capital of the world. There are an estimated 300 wrecks surrounding the island, and some popular wrecks include the Mary Celestia, a Confederate ship sunk during the Civil War; the 250-foot-long Norwegian freighter Iristo, sunk in 1937 and the Spanish luxury liner Cristóbal Colón, which wrecked in 1936.
The sea water remains temperate throughout the year, with temperatures averaging 68 degrees Fahrenheit (20 degrees Celsius) in January to 82 degrees Fahrenheit (28 degrees Celsius) in August, so you can enjoy diving anytime of the year. You will not only see the remains of these wrecks, but the colorful array of marine life, from angelfish and parrot fish to turtles and eagle rays, that call these ruins home.
Local outfitter Blue Water Divers & Watersports provides access to some of the best of Bermuda's diving, with tours taking you to explore more than 22 wreck sites and 25 pristine reefs. Located in luxury hotels, Dive Bermuda (Grotto Bay Beach Resort & Spa) and Dive Bermuda Ltd. (Fairmont Southampton) both offer PADI training and memorable excursions on their dive boats.