Bermuda in Pictures: 15 Beautiful Places to Photograph
Soft sandy beaches the color of salmon, houses painted in pastels, brilliant blue waters, and clear skies make Bermuda an Instagram-worthy island to experience. This British island territory sits in the middle of the North Atlantic and enjoys a temperate climate all year-round. Only a quick flight from Eastern U.S. cities, this paradise is abundant with world-famous beaches, scintillating caves, historical museums, and one amazing UNESCO World Heritage town.
And if photographing the underwater wonders is on your wishlist, Bermuda is the place to go. The waters surrounding the island are teeming with marine life living among the shipwrecks and coral reefs.
Here are some Bermuda highlights to photograph on your next holiday.
1. Horseshoe Bay Beach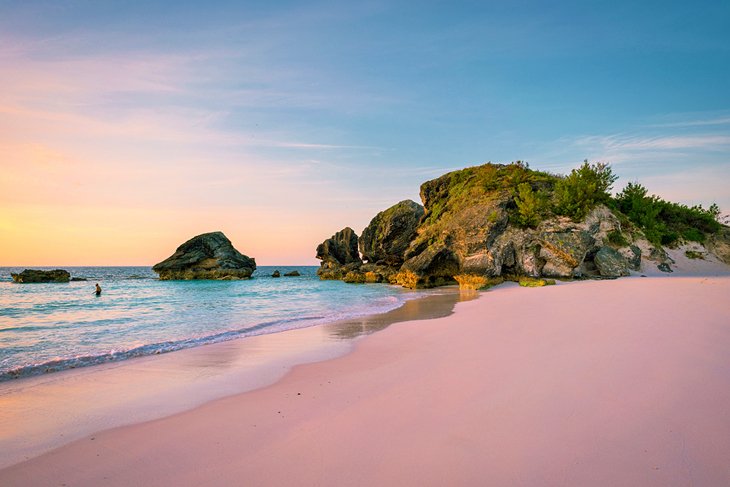 The bright-pink-sand Horseshoe Bay Beach is one of Bermuda's main attractions, drawing scores of tourists during the peak summer season. The best time to enjoy this stretch of beauty on the south shore is at sunrise, when you are likely to be among few beachgoers.
2. Crystal Caves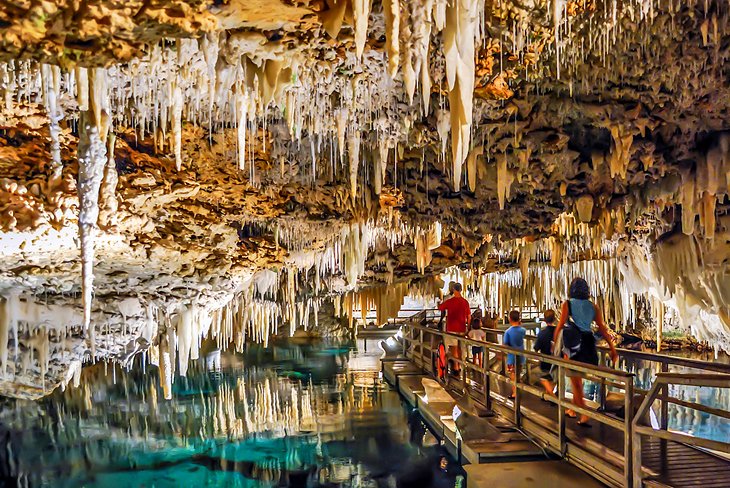 Stepping into the cave system in Bermuda is a magical experience, where breathtaking, illuminated limestone stalactites and stalagmites provide perfect frames for your photographs. Pontoon pathways lead you over an aqua-green, ocean-fed lake as you discover underground wonders.
3. St. George's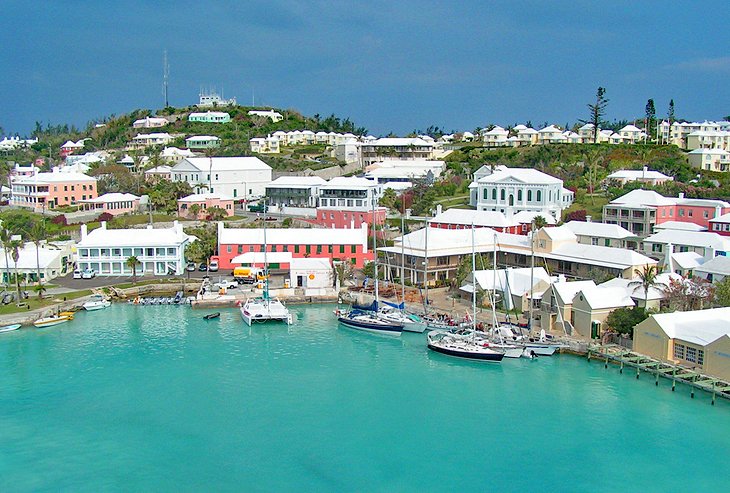 Take an afternoon to stroll the cobblestone streets of Bermuda's former capital, St. George's. Declared a UNESCO World Heritage site, St. George's is known for its British colonial architecture, historical museums, and natural wonders at Crystal Caves and Tobacco Bay Beach.
4. St. Peter's Church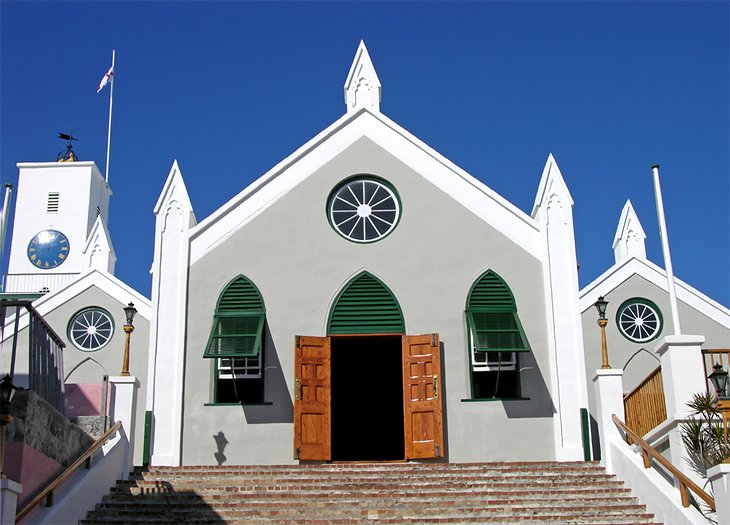 Located in St. George's, St. Peter's Church is the oldest Anglican Church that's been in continuous use. Built in 1612, it has been carefully restored and improved over the years and is open to the public for a small donation.
5. Unfinished Church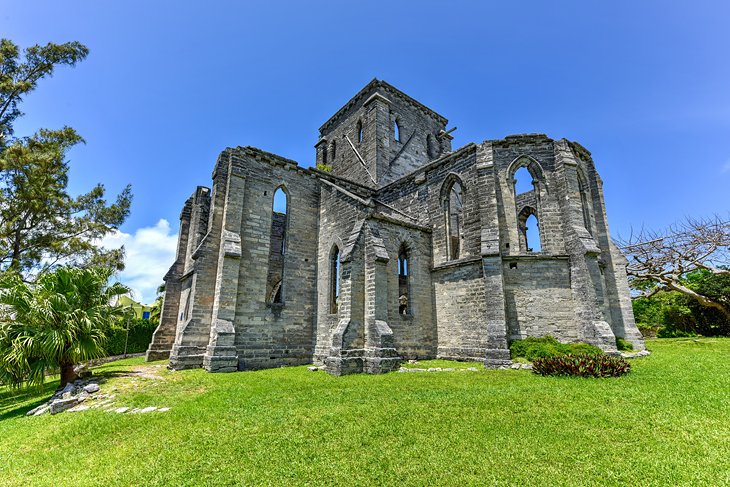 Also located in historic St. George's is the Unfinished Church, a Gothic structure with gray stone walls and giant archways that was meant to replace St. Peter's Church following a hurricane. It was never completed due to lack of funding and damage from another storm. You can visit the ruins for free.
6. Tobacco Bay Beach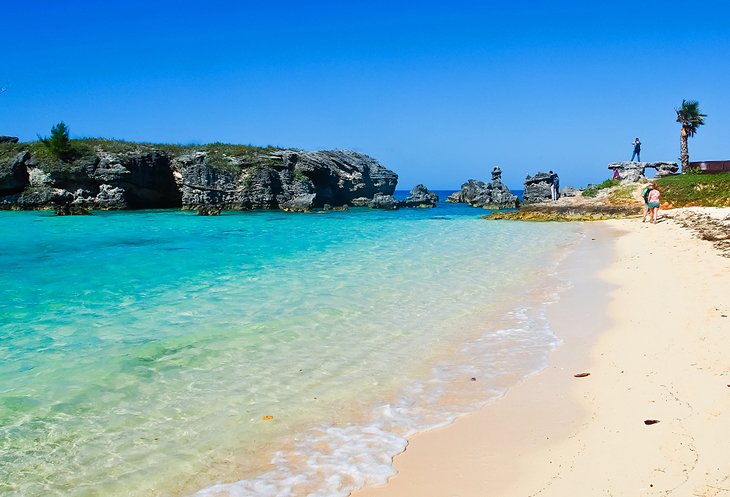 Located on the island's East End in St. George's Parish, Tobacco Bay Beach is known for more than just its sheer beauty. This stretch of beach was discovered by the castaways from the Sea Venture shipwreck in 1609 (the island's first settlers) and gets its name from the wild tobacco they found growing in the area. It's now a Bermuda National Park. Today, you won't find any tobacco here, but you can certainly enjoy enticing shallow waters and views of limestone rock formations.
7. Hamilton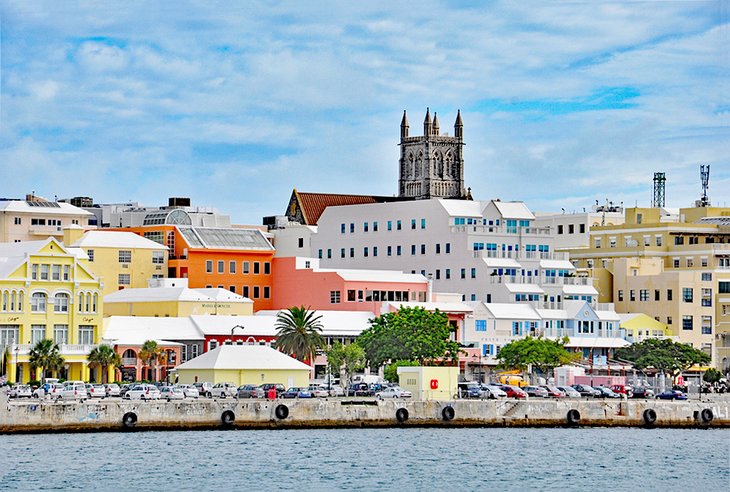 The island's commercial hub and capital city of Hamilton overlooks the Hamilton harbor. The bustling Front Street, lined with candy-colored structures housing restaurants, museums, businesses, and stores, is where all the action happens. Hamilton is home to Bermuda National Gallery, City Hall Theatre, Bermuda Underwater Exploration Institute, and the Bermuda Botanical Gardens.
8. The Cathedral of the Most Holy Trinity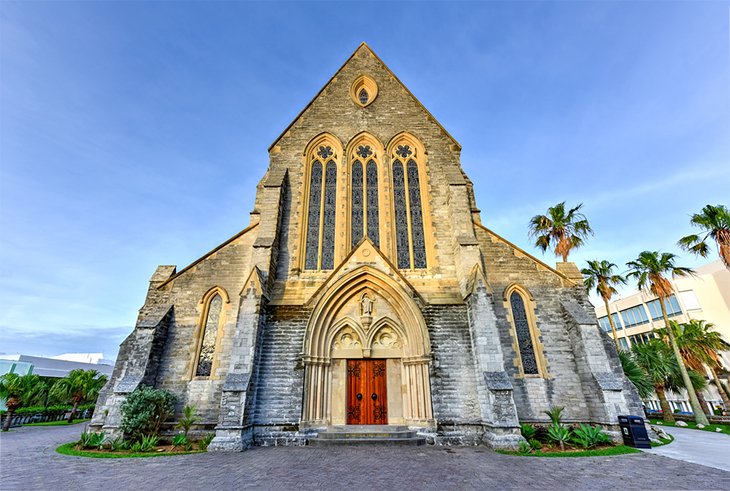 Often referred to as the Bermuda Cathedral, the dramatic Cathedral of the Most Holy Trinity, is a Gothic-style Anglican church located on Church Street in Hamilton. Built from Bermuda limestone and Caen stone imported from France, with arches and stained-glass windows, it's one of the most beautiful churches on the island. Inside, take the 155 stairs up to the tower for views all the way to the Royal Naval Dockyard.
9. Royal Naval Dockyard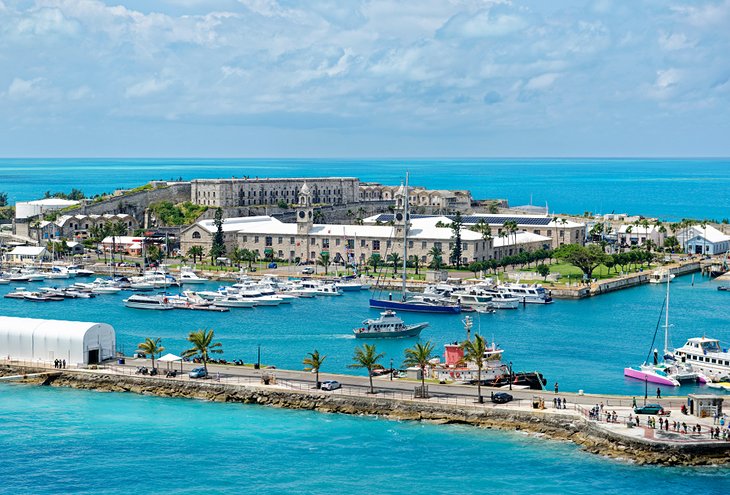 If you are cruising to Bermuda, your ship will most likely dock at the Royal Naval Dockyard. Situated on Bermuda's West End, the dockyard is where you'll find art galleries, shops, museums, and restaurants. Nearby attractions include the Gibbs Hill Lighthouse, Somerset Village, and South Shore beaches such as Horseshoe Bay Beach and Warwick Long Bay Beach.
10. Fort St. Catherine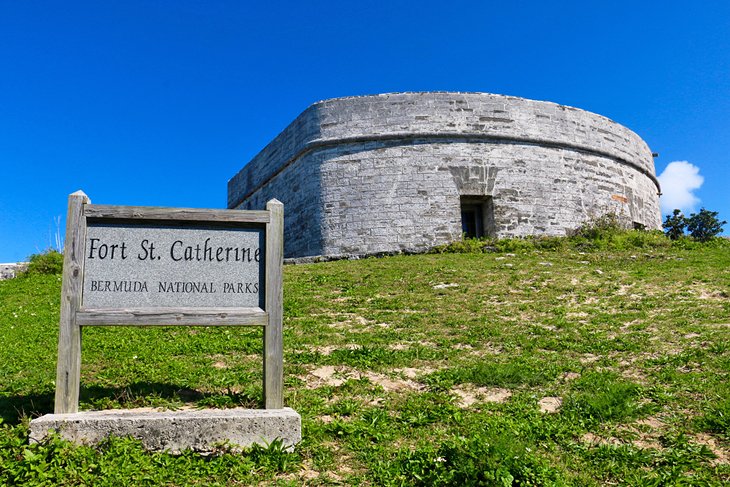 Mighty Fort St. Catherine graces the Northeastern tip of St. George's. Built in 1614 and redeveloped in the 19th century, the fort is the largest of its kind on the island and houses exhibits and artifacts of island life from the 17th century. It also offers panoramic ocean views, and its many tunnels, ramparts, and towers can be explored on foot.
Nearby, St. Catherine's Beach and Achille's bay beach are welcoming spots with calm waters good for swimming.
11. Shipwrecks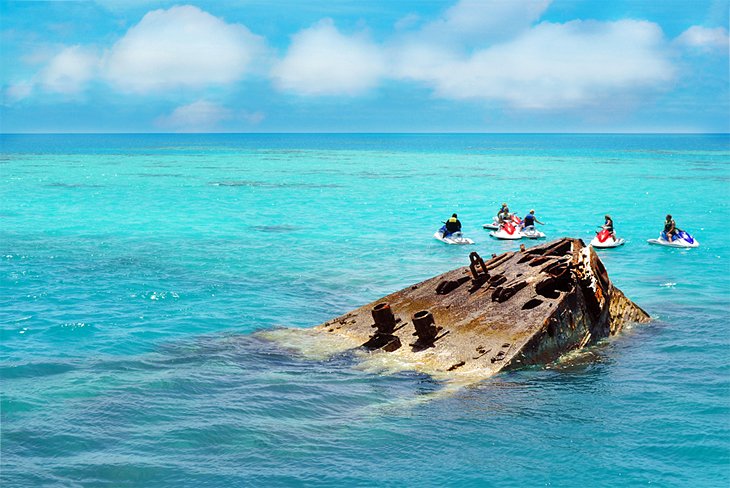 An estimated 300 ships have wrecked near Bermuda, with a few lying so close to the shoreline that you can swim up to them from the beach. These wrecks, caused by coral reefs spanning across 200 square miles off the coast, have caused the island to be nicknamed "Isle of Devils." Get your gear and hop on a dive boat to reach wrecks farther out and admire the sunken treasures and colorful marine life calling these waters home.
12. Jobson Cove Beach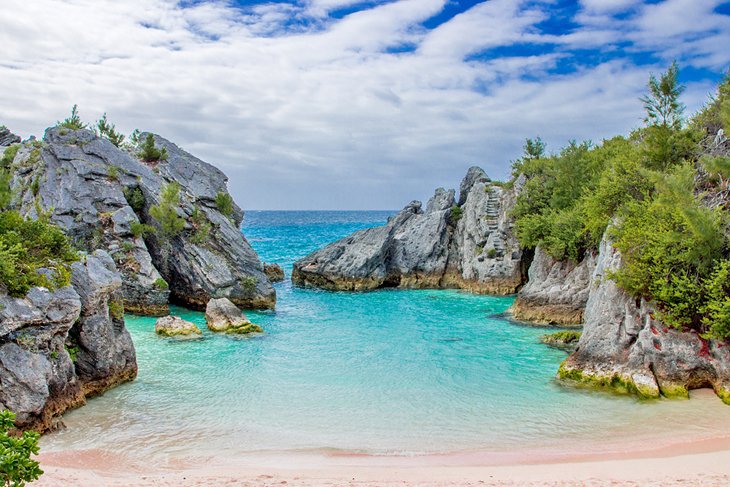 Encircling limestone cliffs create a secluded cove at Jobson Cove on the south shore in Warwick Parish. This turquoise-colored lagoon is ideal for swimming and snorkeling, and kids will especially enjoy the ease with which they can spot tropical fish.
13. Migrating Whales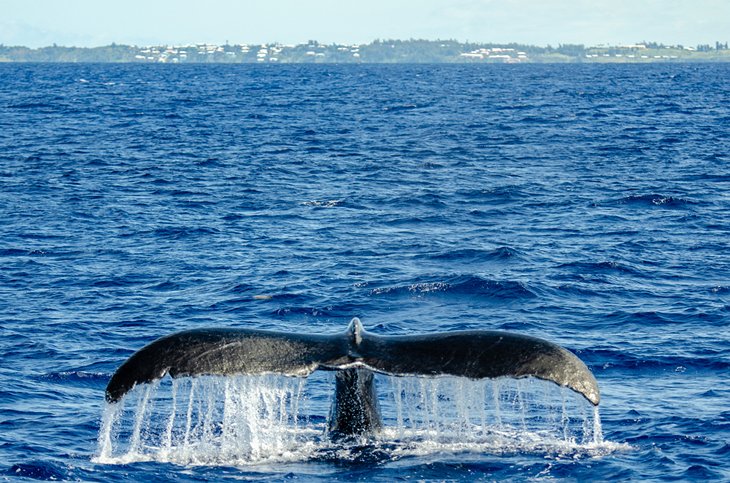 Each year, humpback whales swim past Bermuda on their annual migration, all the while putting on an acrobatic show. When you visit in the spring, you can catch sight of these magnificent mammals from the south shore beaches and hotels along the shore, and on boat trips organized by the Bermuda Aquarium.
14. Gibbs Hill Lighthouse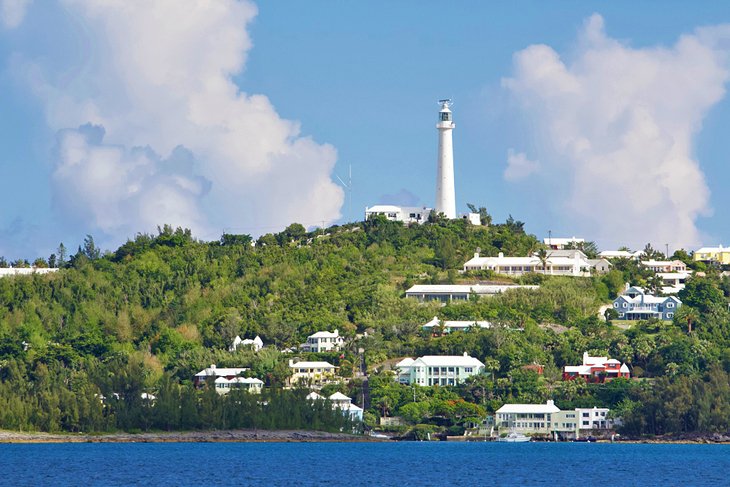 The 35-meter Gibbs Hill Lighthouse, overlooking Little Sound, offers sweeping views of the Royal Naval Dockyard and the City of Hamilton. The cast iron structure is one of the oldest of its kind on Earth.
15. Bermuda Railway Trail National Park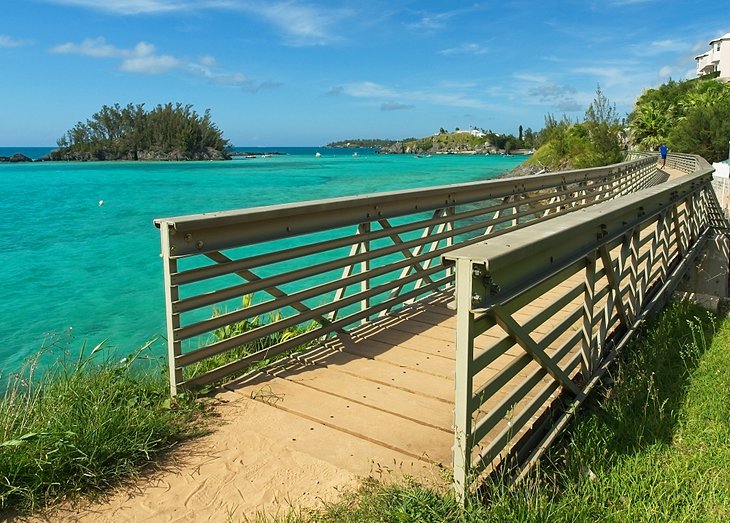 A 29-kilometer scenic path built on the rail bed that was in use in the 30s and 40s now runs from end to end of the island, winding past the picturesque coastline. You can cover more distance by bike and take breaks on beaches along the way.