Where to Stay near Yellowstone NP: Best Areas & Hotels
We may earn a commission from affiliate links ()
Yellowstone National Park encompasses over 3,000 square miles and requires many nights to explore. In addition to the campgrounds in Yellowstone National Park, many hotels, lodges, and resorts offer overnight refuge.
Visitors can find hotel and resort options within Yellowstone, located near the resource-heavy villages of the park and operated by a park concessionaire. Rates of hotels within the park reflect their easy access to the main attractions, leaving other options just outside the park boundaries a typically more economical option.
The two most developed towns near the gates of Yellowstone are Gardiner, at the North Entrance, and West Yellowstone, at the West Entrance. Both towns provide a wide range of hotels and accommodations. Hotels in either town include family-friendly suites and mid-range hotels, and each are within minutes from the national park.
To effectively explore all the top attractions of Yellowstone National Park, it's a good idea to move around between the different hotels and lodges of the area. The time of year and availability may also determine where you end up staying and how much moving around you do.
To find the best places to rest between adventures, check out Yellowstone's best areas and hotels.
Note: Some businesses may be temporarily closed due to recent global health and safety issues.
Where to Stay for Luxury near Yellowstone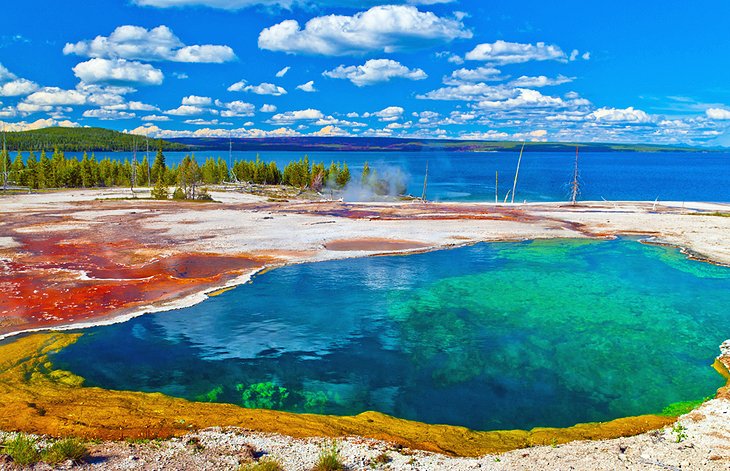 To relax in the lap of luxury within park boundaries, Lake Yellowstone Hotel and Cabins provides pampering rooms, a string quartet for a soundtrack, and a dining room with a view. The hotel is in the southern region of Yellowstone National Park, along the shores of Lake Yellowstone, near the West Thumb Geyser Basin. The upscale accommodations and central location keep this hotel booked for months in advance.
The Old Faithful Inn is one of the most requested properties within the park. This national historical landmark offers modern furnishings with a rustic touch. Guests stay in log-lined rooms and suites, centered around a towering lobby complete with a massive fireplace and handmade copper clock. Guests to this classic park lodge also enjoy backdoor access to Yellowstone's most popular geyser.
Another popular spot within the park is Mammoth Hot Springs Hotel. This historic property received major renovations in the past few years but retains its rustic appeal and "Parkitecture" design. This luxurious hotel puts visitors right at the heart of a hot spot near the northern park boundary. Visitors will want to allow some time to enjoy the signature Map Room, especially in the evenings, when a live pianist adds a soundtrack to the classy surroundings.
Outside of the park, in West Yellowstone, the Explorer Cabins at Yellowstone provide a deluxe and rustic retreat with their 50-cabin facility. Each cabin comes with modern luxuries and stylish decor, allowing for maximum comfort while keeping the spirited nature of the rugged Yellowstone environment in view.
Best Mid-Range Accommodation near Yellowstone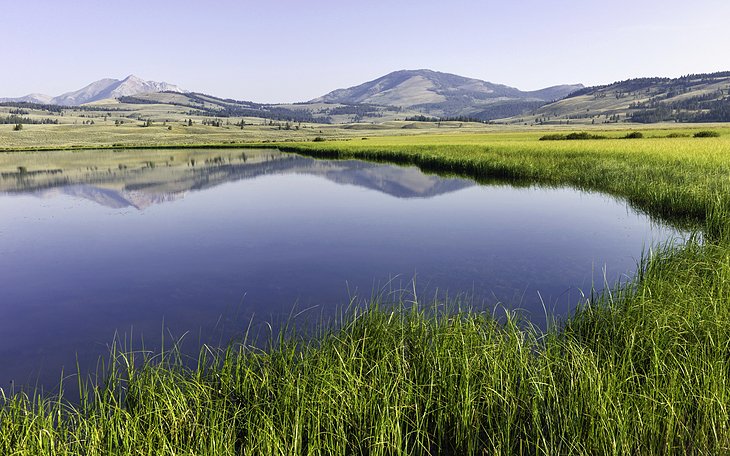 There are great mid-range hotel options in both Gardiner and West Yellowstone. And one of the best is the Kelly Inn West Yellowstone. Within walking distance of the West Yellowstone Visitor Information Center, and the Grizzly and Wolf Discovery Center, Kelly Inn also features spacious rooms, an indoor pool, and a continental breakfast to start your day.
A few blocks south of the Kelly Inn West Yellowstone, and also near the Grizzly and Wolf Discovery Center, the Gray Wolf Inn and Suites provides great hotel accommodations at an affordable rate. Featuring attentive staff, well-maintained rooms and suites, and the ability to hear wolves howling at night, for those interested in exploring the wildlife of Yellowstone in comfort, the Gray Wolf Inn and Suites is worth more than a night or two.
Near the northern entrance in Gardiner, Yellowstone Riverside Cottages provides a memorable place to stay. With studios, suites, and cottages available, this charming establishment also has a lovely outdoor deck overlooking the Yellowstone River. When it comes time to explore the park, the Roosevelt Arch and northern entrance is less than two minutes away. Mammoth Hot Springs is a 15-minute drive away.
Found close to the historic Roosevelt Arch and North Entrance of Yellowstone National Park, the Super 8 Gardiner/Yellowstone Park Area provides a plethora of services for a good price. The hotel features a beautiful indoor pool, continental breakfast, and a great location close to grocery stores and restaurants in the town of Gardiner, but book well in advance because the Super 8 Gardiner tends to fill up quickly.
Where to Stay on a Budget near Yellowstone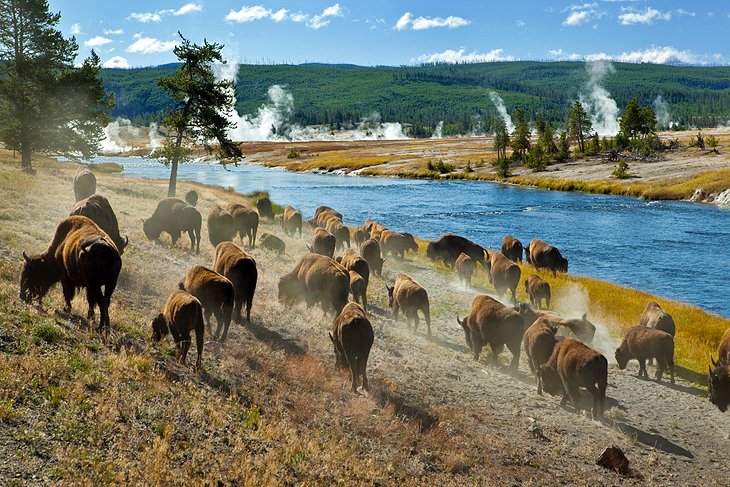 To maximize your vacation dollars, your best bet for a budget hotel is found outside the park boundaries. Most budget hotels are in West Yellowstone, including the One Horse Motel, which features clean and refurbished rooms, quiet surroundings, and easy access to the West Entrance.
Just a few blocks west of the One Horse Motel, the Days Inn West Yellowstone also provides proximity to the gates of Yellowstone, as well as spacious rooms and suites. In addition to the affordable rates, the Days Inn West Yellowstone also features the attached Trapper's Restaurant and a heated indoor pool and waterslide.
Within the same three-block radius of the One Horse Motel and Days Inn West Yellowstone, Stage Coach Inn is another affordable hotel that provides a western-themed decor. Featuring a grand staircase, spacious rooms, and a rustic appeal, Stage Coach Inn is perfect for those looking for something unique.
Best Family Accommodation Near Yellowstone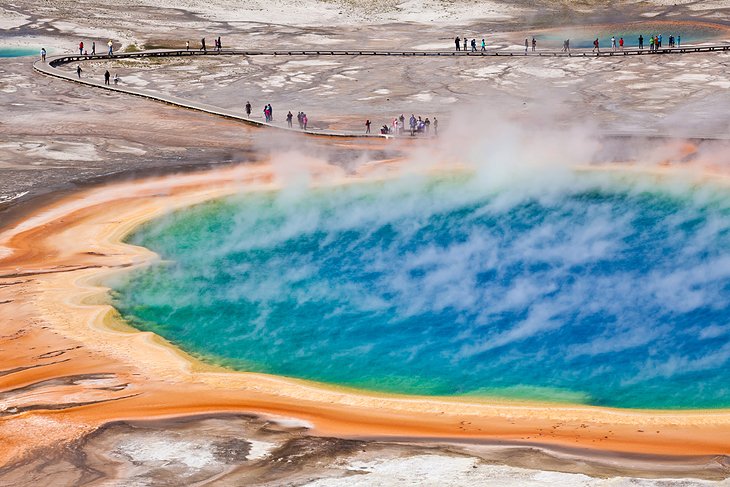 If you are traveling with the whole crew to Yellowstone, somewhere like the Yellowstone Village Inn in Gardiner can make the whole family happy. Featuring spacious rooms and two-bedroom suites, Yellowstone Village Inn is a family-owned operation that can help alleviate some of the stress from a family vacation. The enormous front yard of Yellowstone Village Inn is perfect for burning off some energy, and the proximity to the Northern Entrance of the park makes it easy to pack up and go.
Over in the town of West Yellowstone, the Holiday Inn West Yellowstone is another great place for families to stay. With large rooms and double sinks available, there's plenty of place to spread out your things. When it comes to dinner, kids receive a free meal at the attached restaurant. Add in laundry services, an indoor pool, and a convenient location close to park gates, and the Holiday Inn West Yellowstone is a great bet for families of all sizes.
West Yellowstone has several other family-friendly accommodations. Another great example is Three Bear Lodge. Less than a mile from the Western Entrance of the park, Three Bear Lodge provides a western-themed hotel and spacious suites that comfortably fit the whole family. All ages find something on the menu to enjoy at the connected Three Bear Restaurant, and family memories are made with the seasonal stagecoach rides offered by the lodge.
Where to Stay near Yellowstone for Romance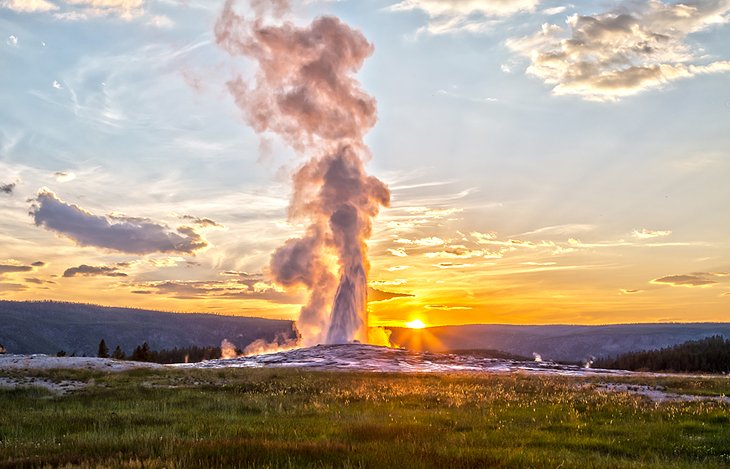 Few things are more romantic than a rustic retreat in Yellowstone National Park, and thanks to the Old Faithful Snow Lodge and Cabins, a picturesque setting can be a part of your next romantic rendezvous. The lodge accommodations are clean and tidy, but the real romantic setting comes from reserving one of the Western Cabins.
Featuring modern comforts and a rustic theme, Old Faithful Snow Lodge and Cabins is set against a unique winter wonderland filled with geysers and fumaroles, making for a memorable, romantic retreat.
Featuring spacious accommodations and quick access to the wildlife-dense Hayden Valley region of Yellowstone National Park, the Lake Lodge Cabins provide a rustic retreat that can really set the mood for a romantic outing.
Imagine yourself and a special someone staying warm in a recently remodeled cabin, or returning to your rustic cottage after a full day of exploring. For the comfort of space and solitude within Yellowstone, Lake Lodge Cabins can have you feeling as though you have the entire place to yourselves.