15 Best Beaches in South America
South America's best beaches have it all – from secret sandy coves to busy city shorelines to unique beaches with free-roaming iguanas. Dramatic backgrounds of mountains, jungle, and cliffs offer almost every type of experience you can imagine, some full of vibrant adventures and some a quiet escape in your own private corner.
South America might just be the best-kept secret for sun lovers: it's cheaper than other tropical destinations; it offers plenty of things to see and do; and the beaches here are not only a great place to see dolphins and whales, but also iguanas and penguins.
Discover the top places to visit along the coast with our list of the best beaches in South America.
1. Taipus de Fora, Maraú Peninsula, Brazil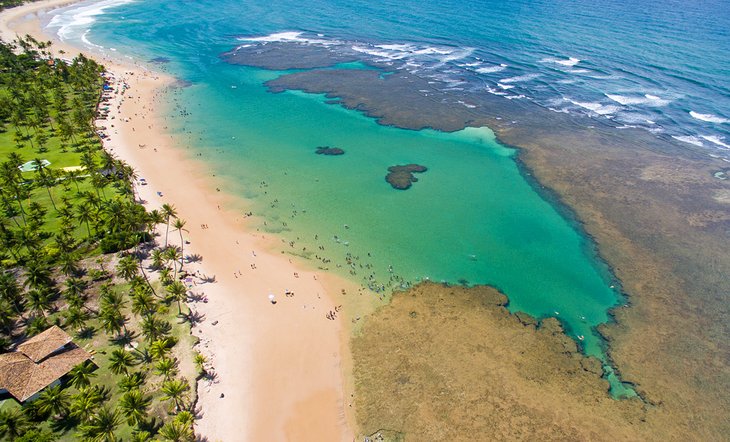 Taipus de Fora is not much of a secret anymore, as the influx of tourists has led to major development of the area. Today, visitors will find hotels, shops, and restaurants all around, though the major attraction continues to be the natural beauty of the coastline.
Taipus de Fora stretches for over seven kilometers, where soft, white sands are sandwiched between rows of towering coconut trees and blue waters that seem to go on forever. During low tide, the shoreline reveals a number of natural pools intercrossing with the coral reefs; during high tide, the area offers plenty of marine wildlife for divers and snorkelers.
2. Tayrona National Park, Colombia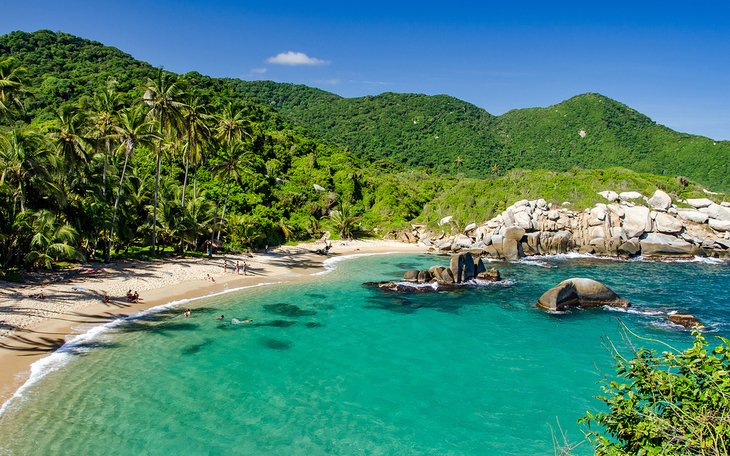 Unspoiled, rustic, and unbelievably beautiful, the beaches of Colombia's Tayrona National Park (and the surrounding beaches) have considerable bragging rights. Located along the Caribbean coast of Colombia, not far from the town of Santa Marta, Tayrona National Park is one of the most diverse and stunning spots in the entire country.
Tayrona is the second most-visited park in Colombia and was declared a protected area in the 1960s. The entire coastline of the park is breathtaking. Backed with wild jungle and swaying palm trees, Tayrona's beaches feel like a step back in time. Cabo San Juan is one of the most popular beaches in the park, known for its dual beaches that look like mirror images of one another.
The park is packed with beautiful hikes that often go from beach to beach. One of the best is the 8.1-mile out-and-back trail near Santa Marta. The hike takes roughly three hours to finish and is great for discovering the beaches, like Cabo San Juan and Arrecifes.
Find the best beach hotels and restaurants along Costeño Beach. These rustic, budget-friendly accommodations are perfect for a night under the stars, with the sound of crashing waves lulling you to sleep.
Read More: Top-Rated Beaches in Colombia
3. Praia do Sancho, Fernando de Noronha Island, Brazil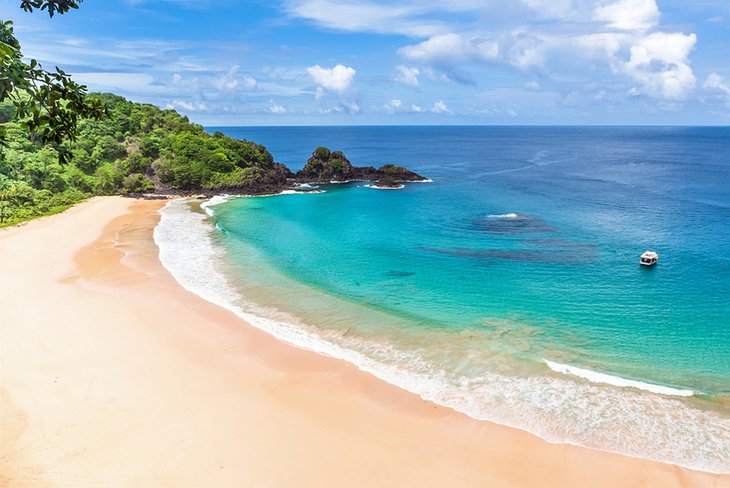 About an hour off the coast of Brazil, the Fernando de Noronha island offers a beach experience like no other in Brazil. Fernando de Noronha is made up of volcanic submerged mountains, with peaks that pop out of the water to form 21 islands and islets.
This is a tropical area home to a rich marine life – including sea turtles, humpback whales, spotted dolphins, and albatrosses – and a great destination for those who prefer their beaches extra private. Of the many beaches on the islands, the protected cove of Praia do Sancho is one of the most beautiful.
Getting here requires a walk on a wooden boardwalk, followed by a steep cliffside descent down some shaky ladders and through some narrow rock tunnels.
The work is worth it – at the bottom, you'll find a palm-fringed beach with golden sands and the deepest blue waters.
4. Tortuga Bay, Galapagos Islands, Ecuador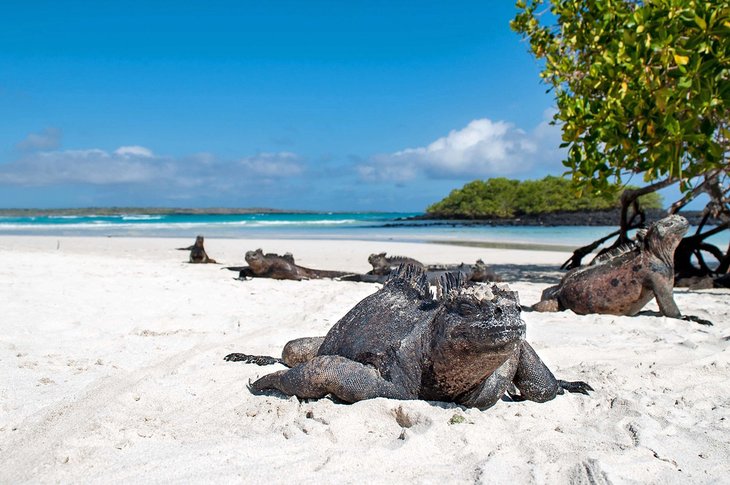 Cotton-white sands, deep blue waters, and pristine shorelines make this a dreamy destination for true nature lovers. Tortuga Bay is a protected area, which means the turtles, iguanas, and birds own the beach, and you are just a guest – walking the pristine sands is allowed, but no swimming or water sports are permitted to make sure the animals aren't disturbed.
For those who want to dip their toes in the water, try surfing or use a kayak, there's a separate cove where water use is allowed – though you'll be sharing the waters with white-tip reef sharks.
The bay is only accessible via a 20-minute water-taxi ride or a 2.5-kilometer walk from nearby Puerto Ayora town – more than worth it for the sweeping wild beauty you'll find when you get here.
5. Playa Almejal, Colombia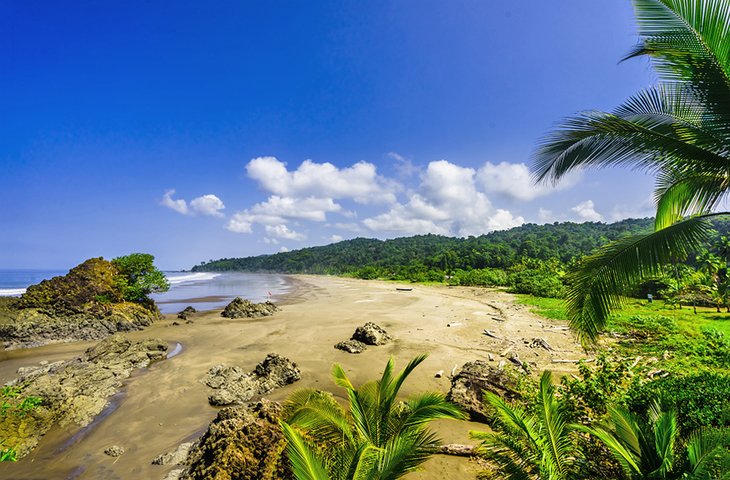 A stunning two-kilometer-long beach in an almost forgotten corner of Colombia, the black sands of Playa Almejal are flanked by thick rainforest. The beach is a 20-minute walk from the Afro-Colombian village of El Valle, where eco-lodges, hotels, and great restaurants await on the way back.
Playa Almejal is home to a turtle conservation program – a quiet corner where visitors can jump into the warm waters for a swim or give surfing a try. The dark, coarse sands aren't great for sunbathing but they're perfect for a relaxing walk among driftwood and the lull of the waves against your feet.
6. Punta del Este, Uruguay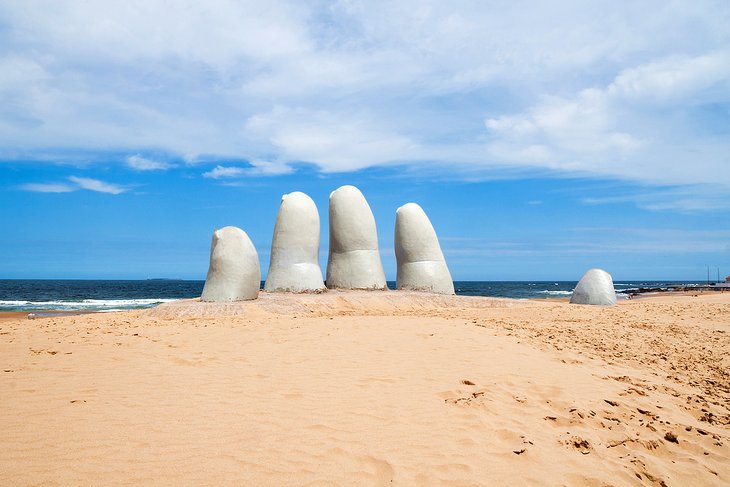 One of Uruguay's most popular beach destinations becomes the playground of celebrities once summer rolls around. This cosmopolitan city has two main beaches: Playa Mansa (Tame Beach) and Playa Brava (Fierce Beach), which offer waters that match their names well. Even the sand differs from one beach to the next, with Playa Brava offering more rougher golden sands and Playa Mansa softer whiter sand. The two beaches are divided by a giant sculpture of a half-buried hand, fingers peeking out of the sand.
A popular destination for water sports and sunbathing, Punta del Este also offers plenty of activities off the sand – including a long avenue filled with chic boutiques; lots of cafés and bakeries; and plenty of museums, art galleries, and fun restaurants.
7. Puerto Madryn, Argentina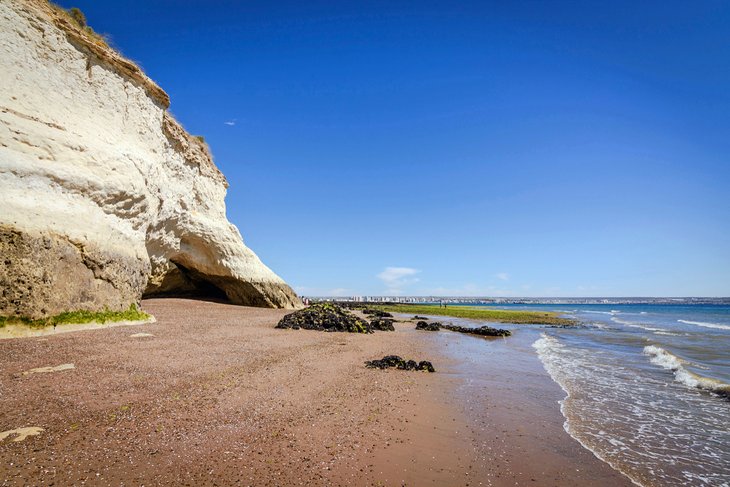 Located in northern Patagonia, Puerto Madryn is not your typical tropical beach destination – and that's perhaps the main reason to visit. Arrive between June and December, and you'll see plenty of southern right whales and their calves playing near the pebble beach and cliffy shoreline.
Since summertime runs from December to February in the Southern Hemisphere, the best time to visit might be late November and December to get both beach weather and a chance to see whales up close. This is also a good time to snorkel or scuba dive with the seals, take a kitesurfing or windsurfing lesson, or head to UNESCO World Heritage Site Peninsula Valdés to see elephant seals or climb the historical lighthouse.
Puerto Madryn is also one of the few places to visit in the world where you can see penguins walking on the beach. Between September and April, Magellanic penguins make their way to the shores here to give birth.
8. Cabo Polonio, Uruguay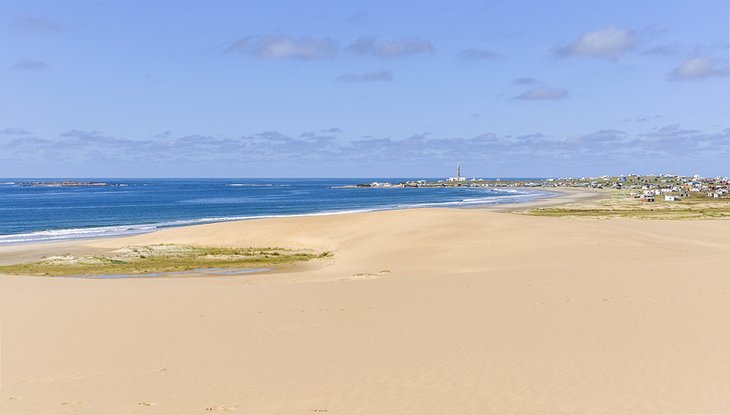 For an authentic off-the-grid beach experience, nothing beats Cabo Polonio. Hard to access (you'll need a 4WD vehicle or can choose to take a seven-kilometer walk through the sand dunes), in an area with no electricity and just little shacks dotting the sand dunes, Cabo Polonio is the ultimate Uruguayan beach destination.
A few posadas (inns) and simple shack restaurants will provide cozy basics, where you can dine by candlelight and fall asleep with the sound of the waves as the background.
For entertainment, you can jump into the water for a swim or visit the nearby colony of sea lions. Or just lie down under the sun for blissful peace. The best attraction here, however, might be the mobile sand dunes – blown away by the strong coastal winds, the dunes are always changing.
9. Playa Roja, Peru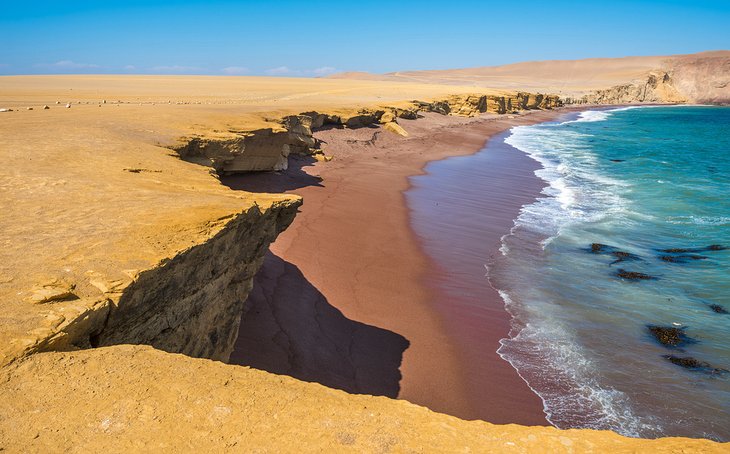 Aptly named because of its rust-colored sands, Playa Roja (Red Beach) sits at the heart of the Paracas National Reserve. The red sands are particularly stunning as they sit between the ocean and the yellow cliffs. Most of the reserve consists of tropical desert with intense winds, making for dramatic, contrasting views against the foamy blue waters.
Playa Roja is remote and, in an effort to protect the ecosystem, completely undeveloped. There are no food stands, no facilities, and no road traffic here. You can hike to the beach (and likely find there are no other people here, especially in the morning) but be ready to share it – pelicans, the South American fur seal, and marine otters all call the red sands home.
Read More: Top-Rated Tourist Attractions in Peru
10. Ovahe Beach, Easter Island, Chile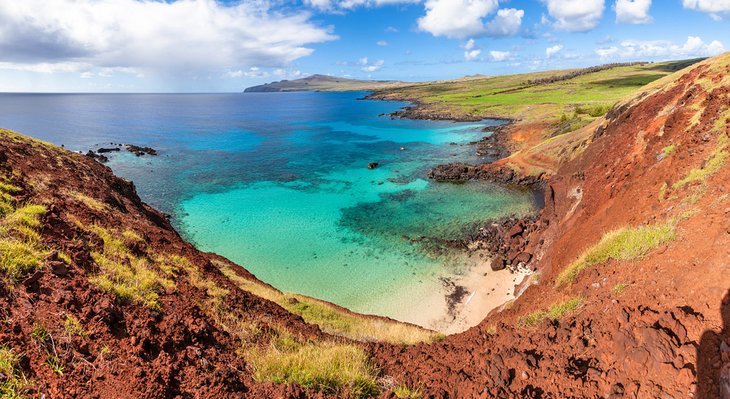 Reddish cliffs, turquoise waters, and an almost pink beach make this area look almost alien. The result of eroded coral and volcanic rocks mixing together, Ovehe Beach is tucked away in a small cove, remote enough to be missed by most people. As a result, the beach remains mostly untouched and undeveloped.
A background of palm trees provides some green to the area, but the rocky beauty of the area speaks for itself here.
Less than a mile away from Ovahe is Anakena beach, Easter Island's most famous beach, considered the cradle of the history of the island. Although it sees more visitors, it remains largely unspoiled and deserves a visit as well.
Read More: Top-Rated Tourist Attractions in Chile
11. Nuqui, Colombia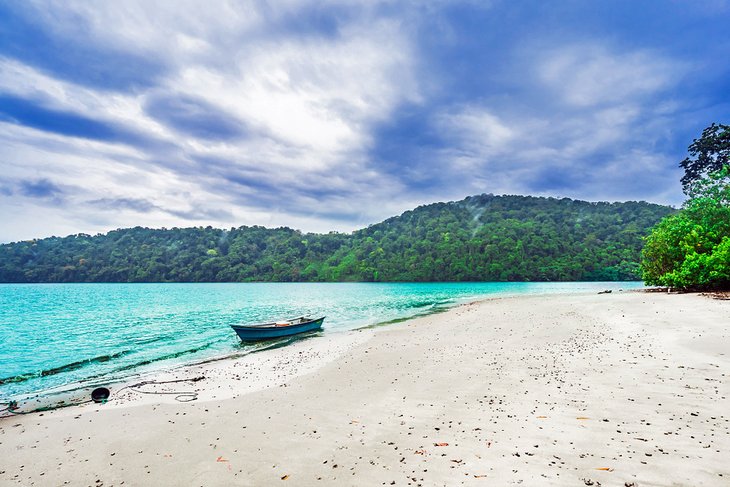 The Nuqui area attracts lots of ecotourists, visitors who come here to take canoe tours of the mangroves, try the hot springs, and, most of all, sunbathe and surf in the several beaches around. But the best reason to visit the unspoiled, nearly deserted beaches here is the whales. Every year between June and October, humpback whales make their way to the area to breed and give birth.
Beaches in Nuqui tend to be on the small side, separated from each other by mangrove forests. This makes each small beach feel very private – arrive in the morning, and chances are you'll have the entire place to yourself, except for pelicans stopping by after a snack.
A 30-minute boat ride away from Nuqui is Guachalito Beach, a long stretch of sandy coastline against a background of coconut palms and thick green jungle. Hard to reach and one of the cleanest beaches in the area, this is a great destination if you want a larger beach while still keeping the crowds small.
12. Zapallar, Chile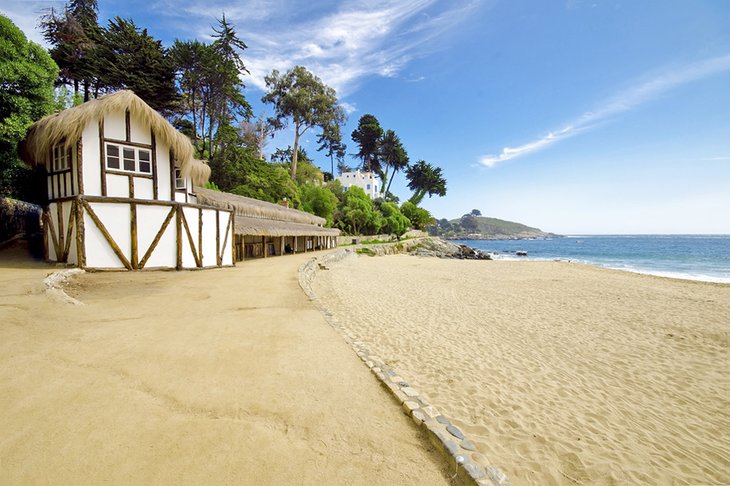 A seaside resort town located two hours north of the capital city of Santiago, Zapallar has long been known as the beach playground for Chile's elite. Luckily for visitors, the beaches here are public – and while you cannot picnic, pitch a tent, or have a bonfire on the sand, you can sunbathe to your heart's content on the soft golden sands.
The beaches in Zapallar run along steep hills covered in trees. The enclosed horseshoe bay creates a quiet location to just sit back and enjoy the lull of the waves against the shoreline. There are no high rises here, no noisy cafés or restaurants, and only a couple of low-key bed and breakfasts where you can spend the night. A walk on the town's rambla (stone walkway) will give you an open view over the mansions sitting high up on the hills.
13. Mar del Plata, Argentina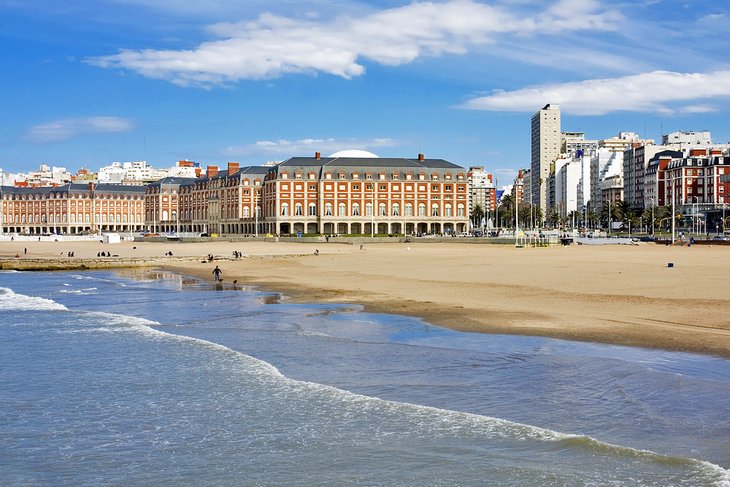 Sitting right on the coast of the Atlantic Ocean, the busy city of Mar del Plata is home to Argentina's most popular beaches. From Playa Popular and its packed boardwalk to Playa Waikiki and its great surfing, Mar del Plata has something for everybody.
Though the water here is often cold and not always sparkly clean due to the proximity to a commercial port, the wide sandy beaches more than make up for it. Playa La Perla and Playa Grande are both filled with balnearios, large open areas with sun loungers and beach umbrellas – sun-lovers head here mostly to work on their tan.
Farther away from the center, past the city lighthouse, there are a number of smaller beaches – though still very popular in summer, they are also quieter and a good place to escape to if noisy crowds aren't your thing.
14. Salvation Islands, French Guiana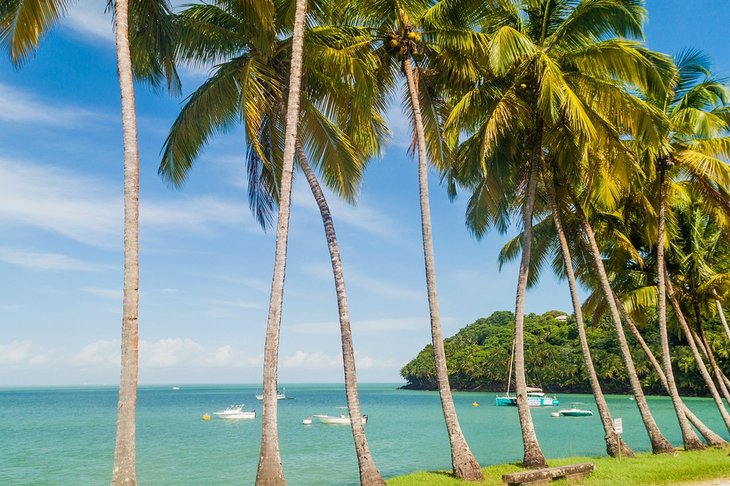 The three islands that make up the Salvation Islands group have a dark history. Devil's Island, the second largest in the group, was once a notorious penal colony that housed some of France's worst criminals. Today, the island is off-limits to visitors, but neighboring Royale Island makes up for it with beautiful golden beaches.
The beaches of Royale Island are covered in patches of thick palm trees and tidal pools – great for swimming as long as you keep near the coast and away from the sharks that call the ocean home. Mischievous monkeys and colorful tropical birds can be found around the beach area and all over the prison ruins.
15. Punta Sal, Peru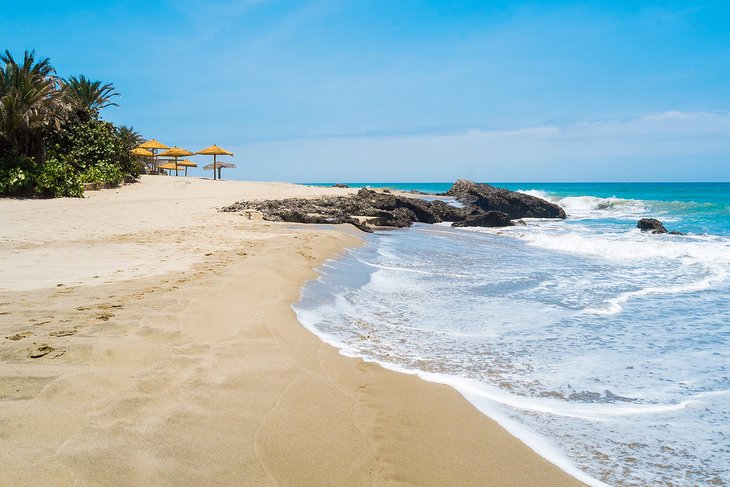 Punta Sal in northern Peru is somewhat still a secret for international visitors, though locals love this coastal village all-year long. El Niño winds keep the water and the air at a constant temperature most of the year –making it an ideal destination for those searching for sun and a splash in the Pacific Ocean.
Punta Sal has seen a lot of development over the past few years, and the golden sands are now flanked by resorts and restaurants, as well as stalls where you can rent paddleboats or arrange a horse ride. If lying back and enjoying the weather is more your thing, there are plenty of straw umbrellas and sun loungers on the beach, so you can dig your toes in the sand for as long as you want.
More Related Articles on PlanetWare.com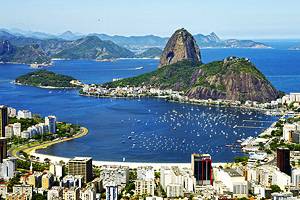 Exploring South America: Beach, sand, and sun might be some of the most popular attractions in South America, but the continent has a lot more things to see and do, even after summer bids goodbye. No matter when you're arriving, South America's largest country has much to offer, as you can see in our article on the top-rated tourist attractions in Brazil.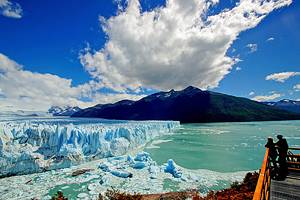 Places to Visit in Argentina: Neighbor Argentina also has plenty of things to offer, including glaciers, jungle, beautiful shorelines, and dramatic landscapes. Take a look at what to see and do here in our article on the top-rated tourist attractions in Argentina and the top attractions and places to visit in Buenos Aires.