15 Top Tourist Attractions & Things to Do in Uruguay
A small country with borders against Argentina and Brazil, Uruguay was colonized by the Spanish and Portuguese in the late 17th century–a lot later than neighboring countries. Although the country was originally inhabited by the Charrua people, little of the native indigenous culture survives today.
The country did adopt a number of traditions and celebrations connected to African heritage–a result of the presence of African slaves in the country in the 19th century–especially evident during the celebration of the Carnival at the beginning of the year.
For those visiting, Uruguay has much to offer in the form of great cuisine, unexpected traditions, and plenty of natural attractions to explore and discover. For details on the best places to visit, take a look at our list of things to do in Uruguay.
1. Explore Montevideo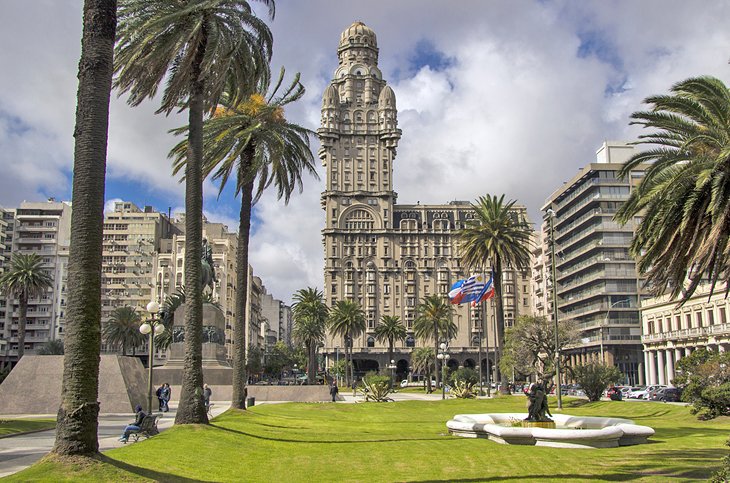 Uruguay's capital city is an eclectic mix of Neoclassical and colonial architecture, African influences, and modern European flair. Government buildings, including Palacio Salvo (home to the Tango Museum of Montevideo) and the Legislative Palace (made up of almost 30 different types and colors of marble) are a good representation of the look and feel you'll experience when walking the streets of Montevideo.
Ciudad Vieja, the oldest part of the city and now a beautiful neighborhood, holds several landmarks, including the Citadel Gate (the only remaining part of the walls that once surrounded the city) and the green square Plaza Independencia.
Montevideo is a happening city with world-class cuisine you can experience at its best in the Mercado del Puerto ("Port Market").
Montevideo's cultural heritage is well represented in the city's many history and art museums, including the large National Museum of Visual Arts and the Museo Torres García, dedicated to the renowned Uruguayan avant-garde sculptor, painter, and writer.
Montevideo's beaches and Rambla (a coastline sidewalk) attract tourists from many neighboring countries.
Read More: Top-Attractions & Things to Do in Montevideo
2. Mix with the Jet Set in Punta del Este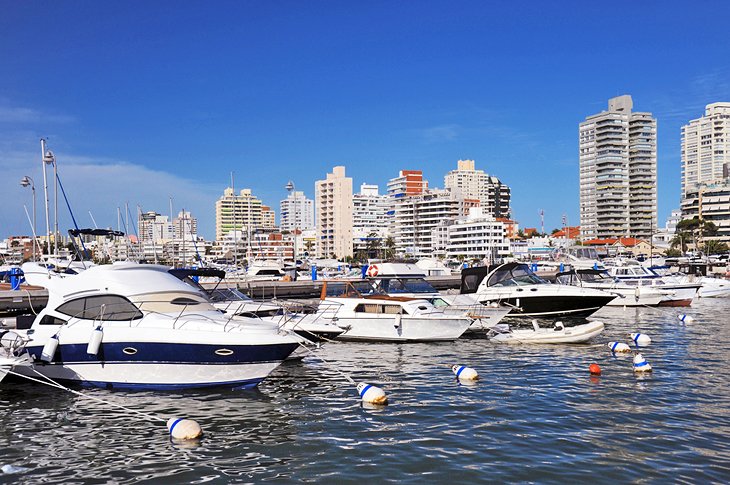 Punta del Este is Uruguay's most famous beach, and it deserves a mention because it has often been called "the Monaco of the South"–a resort area where models, actors, and the rich come to relax, play, and enjoy haute cuisine.
Punta's main tourist attraction is, without a doubt, its coastline of fine golden sand and water sports, but the area is also home to a significant population of southern right whales; an imposing hotel complex; and the Museum of the Sea, which showcases everything from whale skeletons to a collection of early 20th-century bathing suits.
Isla de Lobos and Isla Gorriti are two small islands off the coast of Punta del Este. They are home to a lighthouse, ruins of Portuguese forts, and large colonies of southern elephant seals and orcas. Isla de Lobos is a nature reserve and a wintering area for whales.
3. Sunbathe and Swim at the Many Beaches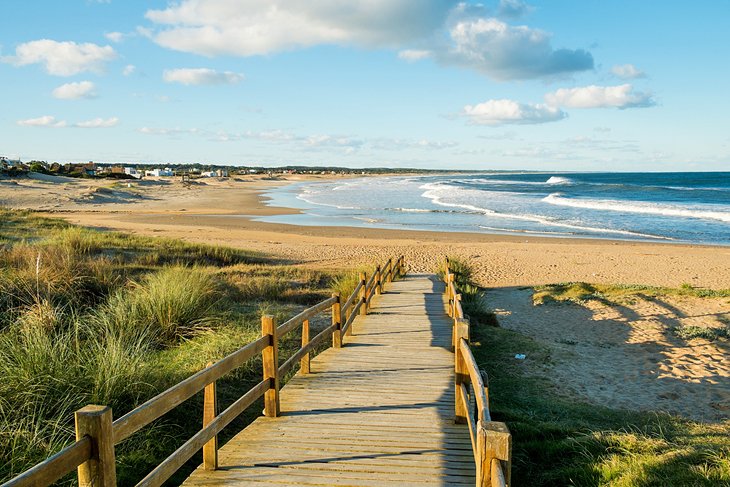 Uruguay's coastline doesn't come with palm-fringed, golden sands or turquoise waters, but this small South American country still has lots of beautiful, pristine coastal destinations for sun lovers, with plenty of waterfront promenades, resorts, and boating areas.
While Punta del Este beach attracts the rich and famous, it also comes with higher prices, larger crowds, and a lively atmosphere that makes it hard to enjoy a quiet moment in the sun during high season. If you're looking for a little more peace, there are many other beach destinations in Uruguay that are a better option. The country's capital, Montevideo, has a number of beaches, including the upscale Playa de los Pocitos, which offers plenty of water sports, and the beaches alongside the 22-kilometer-long Rambla.
Piriápolis, one of the oldest beach resort areas in Uruguay, attracts mostly surfers and history lovers with its strong waves and its Belle Epoque-style buildings.
Costa de Oro (Golden Coast) is the longest stretch of beach in the country, covering over 45 kilometers of wide sandbanks that are underdeveloped and ideal for a quiet escape.
Read More: Best Beaches in Uruguay
4. Discover the Past in Colonia del Sacramento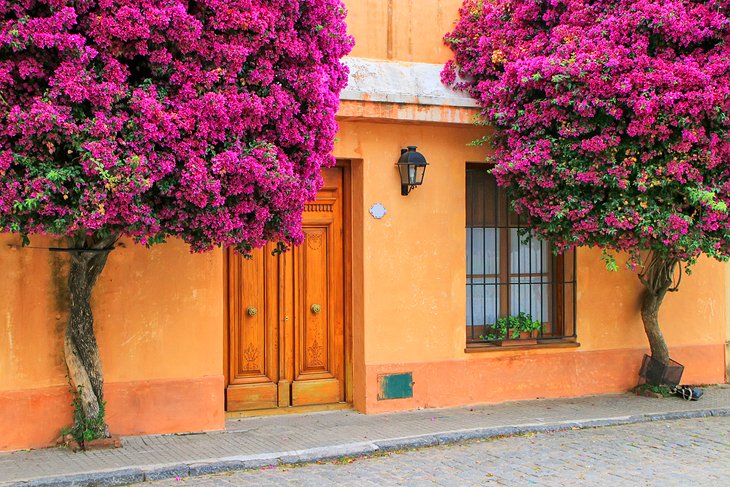 Best known as just Colonia, this small city is also one of the oldest in Uruguay. Colonia's Barrio Historico or old town center is a UNESCO World Heritage site and the town's main attraction.
Set around a tree-lined square and surrounded by cobblestone streets, the barrio is home to a number of historical buildings and ruins, including a 17th-century convent; a municipal museum showcasing artifacts about the history of Colonia; a wooden drawbridge; and the Basilica of the Holy Sacrament, which was built by Portuguese settlers in the early 19th century.
The ruins of the bullring Real de San Carlos (abandoned since bullfighting was banned in Uruguay in 1912) and the lighthouse against the river are also famous landmarks.
Colonia is also a great place to catch the ferry to Buenos Aires. The ferry departs from Colonia over 40 times per week, and the trip takes just one hour and 15 minutes, making for a perfect sightseeing day trip to the Argentinian capital.
5. Try a South American BBQ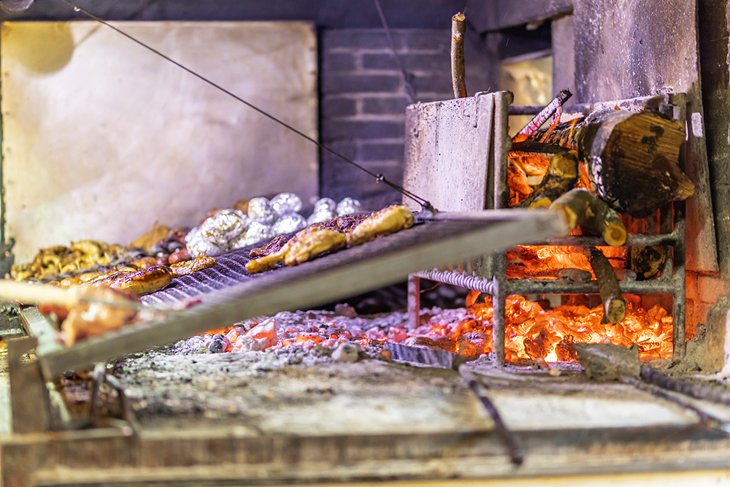 Uruguay's parrillas (steakhouses) are a meat lover's dream. The quintessential Uruguayan dish is the "asado," a sort of open-fire barbecue that is more a social event than just a meal. An asado can consist of any non-marinated meat (though beef and chicken are the main choices).
Asados often consist of several cuts of meats that cook at different times, so they can be served one after the other. Asados are usually served with baguette bread grilled next to the meat, as well as grilled vegetables, and salads.
Unless you're a vegetarian, sitting down to try an authentic asado is a must when visiting Uruguay. There are plenty of parrillas around the country, with places like La Pulperia (in Montevideo) and Punta Salina (in Punta del Este) often making the top 10 lists of restaurants in the country.
6. Hike in Punta del Diablo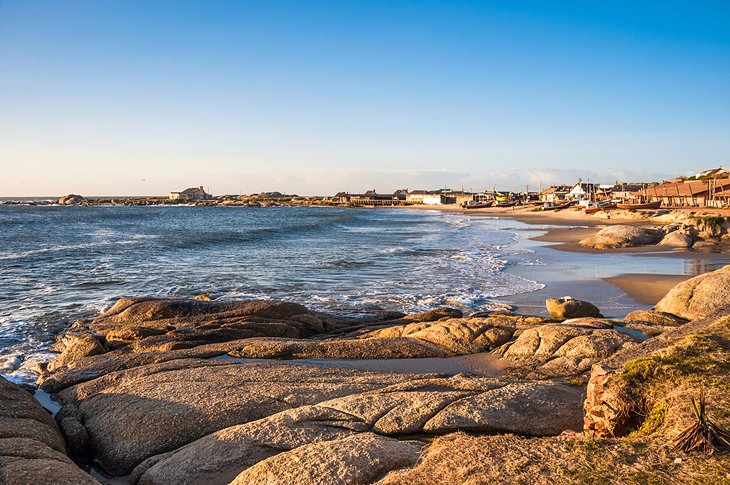 A sleepy village of about 1,000 residents, Punta del Diablo swells up to an impressive 25,000 residents during the high season (December to February), when visitors come here to enjoy a quiet escape in a fabulously untouched area of soft sands in the Atlantic coast.
Punta del Diablo (Devil's Point) is an hour and a world away from Punta del Este–but it still offers plenty of high-end cuisine, shops, and accommodations overlooking the rocky waters.
Strict building codes mean no large building projects or major developments are allowed here, so all you see as you walk through the town's wide-open streets are brightly colored cabañas (cabins) and small shops selling local crafts and souvenirs.
Early morning treks on the sand dunes are a favorite activity here, but more adventurous explorers can leave the village and venture all the way to Santa Teresa National Park, a forested seaside reserve, home to an 18th-century granite masonry fortress; a large campground; a number of protected species; and several beaches, such as Playa del Barco and Playa Achiras, where chances for surfing and windsurfing attract many visitors.
7. Spot Sea Lions in Cabo Polonio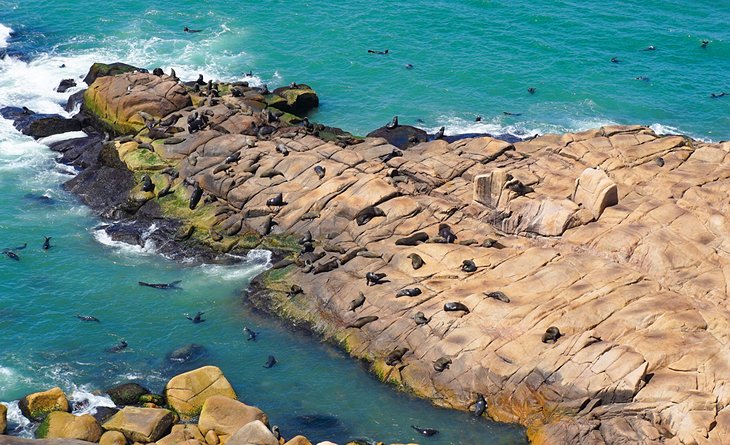 When it comes to off-the-beaten-track destinations, it doesn't get any more off the track than this tiny hamlet, where there's no electricity, no running water, and no Wi-Fi–and that's exactly how the local residents want it.
Cabo Polonio has a population of under 100, people who live in rustic but pretty small cabins and houses. There's one store in town, a few posadas (rustic inns that accommodate summer visitors and offer meals by candlelight or oil lamps), some shacks selling surprisingly great food, and a lighthouse that is the only building connected to the power grid. And all this in a beautiful, rugged area, where grassy sand dunes and giant boulders wash into the cold sea.
Getting to Cabo Polonio is part of the adventure, as there are no roads into town. The only way to access the village is either in a 4WD vehicle or by hiking seven kilometers from the highway over slippery and ever-changing sand dunes.
The deserted beaches around the village are home to one of the largest colonies of sea lions in South America.
8. Relax in Hot Springs
Termas (hot springs) are fairly popular in Uruguay, with Termas del Arapey and Termas del Dayman. Arapey is the oldest thermal resort in the country, with natural spring waters that reach 39 degrees Celsius and are supposed to have therapeutic properties. The area is popular with tourists and offers plenty of green spaces; holiday cottages; and chances to swim in cooler, more comfortable waters any time you want.
The Dayman hot springs are located next to the river Daymán and have a maximum temperature of 46 degrees Celsius. Daymán is better developed, with seven pools for adults and three for children at varying temperatures, as well as food areas, tennis courts, and mini golf.
Uruguay's first water park, Acuamania, is located just minutes away from Dayman hot springs and offers a 300-meter-long lazy river, different slides, cold geysers, thrill rides, and interactive water games.
9. See Candombe During Carnival Season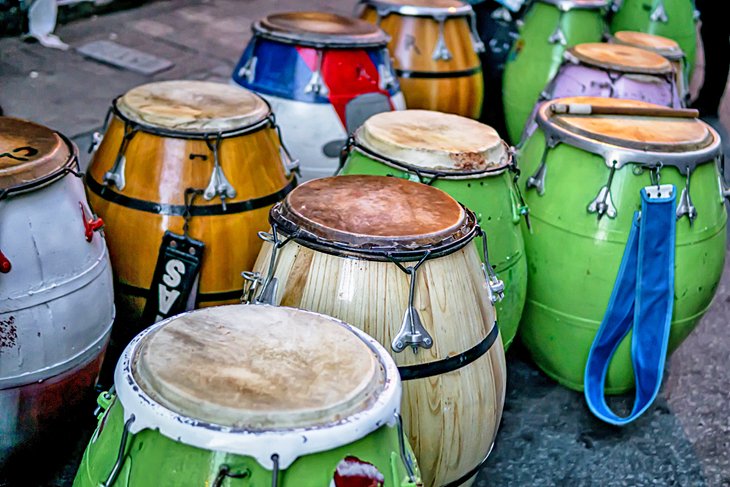 The carnival season is a major celebration that takes place in several South American countries, although how the festival is celebrated varies significantly from country to country.
In Uruguay, the carnival is a time for dance parades, where comparsas (groups of dancers and drummers) take to the streets to play candombe, a traditional form of musical experience closely related to the music and dance styles brought over by African slaves.
Montevideo has the biggest carnival celebrations, with parades and cultural events lasting 40 days between January and February, making it the longest carnival celebration in the world. During this time, dancers take to the street in colorful, over-the-top dresses to celebrate well into the early morning.
Murgas, a type of drumming musical theater, are also a major part of Uruguayan carnivals. They usually perform parodies based on current events as they move along through the city streets.
If you're going to be in Uruguay during carnival season, make some time to visit the Carnival Museum in Montevideo, where you can learn about the history of the carnival, its origins, and how costumes and celebrations have evolved through the years.
10. Discover Gaucho Culture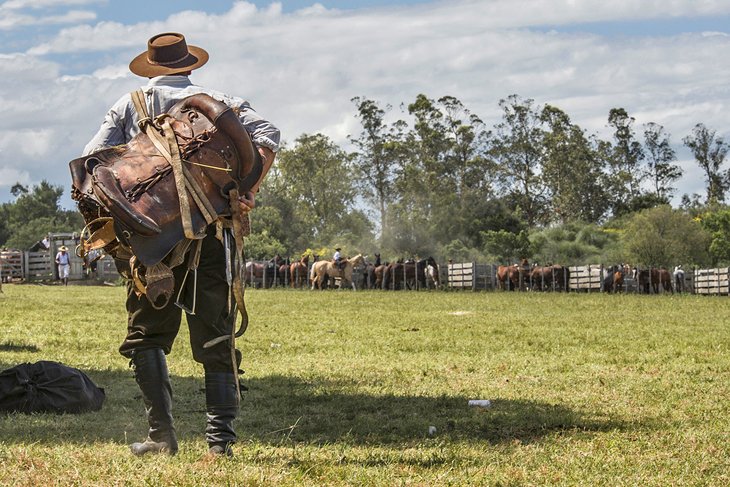 The gaucho (a sort of South American cowboy) is a national symbol in Uruguay and Argentina. Historically, gauchos were brave explorers who took over livestock farming in remote regions and became master horse riders.
While the traditional gaucho is technically extinct, the traditions associated with these brave country men live on and are an integral part of the culture of Uruguay. An example of this is the popular mate, a traditional drink served in a hollow gourd, that you should definitely try when visiting Uruguay.
For visitors wanting a glimpse into gaucho culture, visiting a hacienda is a good start. These large landed estates offer accommodations, traditional local food, and a chance to either watch or participate in traditional gaucho activities such as driving cattle, herding sheep, and horse riding.
11. Discover the "Other" Home of Tango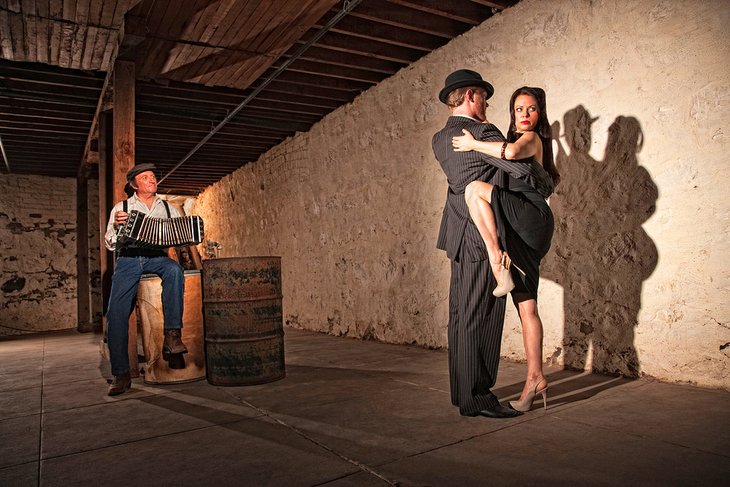 Tango is just as Uruguayan as it is Argentinian (the country that is most commonly associated with it), but its origins are different. In Uruguay, tango was born in the 1880s in Montevideo and it was, for a long time, an underground dance favored among the poor and working class. Today, Uruguayan tango is best known for giving the world the 1916's tango "La Cumparsita," popularly referred to as Uruguay's national anthem.
You can often spot tango dancers on the streets of Montevideo, and the Viva el Tango festival takes over the country every October. But you can also search for milongas (tango salons) if you're up for doing more than just watching. Most of these places offer tango classes plus a space to just come and dance if you already know what you're doing.
During the summer, you can join milonga callejera (basically, street tango dancing) at places like Plaza Liber Seregni in Montevideo.
12. Explore Historical Sights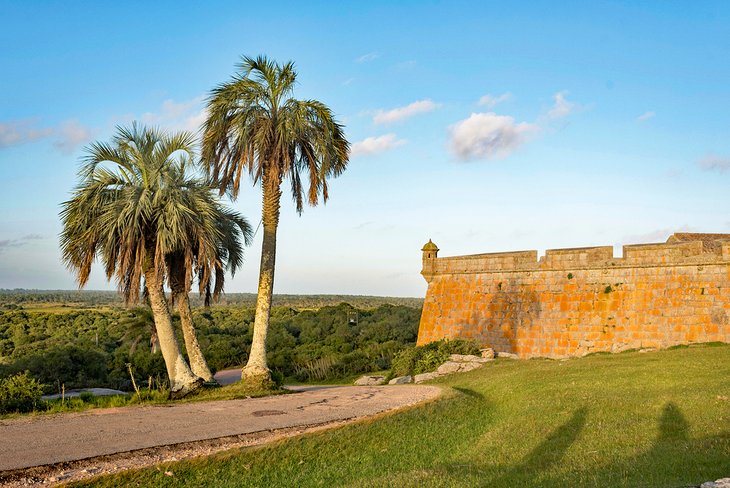 Uruguay is a relatively new country. It wasn't discovered by Europeans until 1516, and Montevideo wasn't even founded until 1726. As a result, the extent of its historical places is mostly limited to fortresses and towers – but Uruguay has some impressive ones to showcase.
Fortress General Artigas, also known as Fortaleza del Cerro, sits 134 meters above sea level overlooking the Bay of Montevideo. It was built in the 1800s by a Spanish governor, and today it's a popular lookout point. It also houses the Military Museum.
The extensive Fortress de Santa Teresa was originally built by the Portuguese (looking to defend themselves against a potential Spanish attack) in the 1760s but fell into ruins over the decades. Fuerte San Miguel – located within the San Miguel National Park – is in much better condition, and it now houses a collection of military uniforms, weapons, and everyday objects from colonial times.
13. Spot Whales from the Beach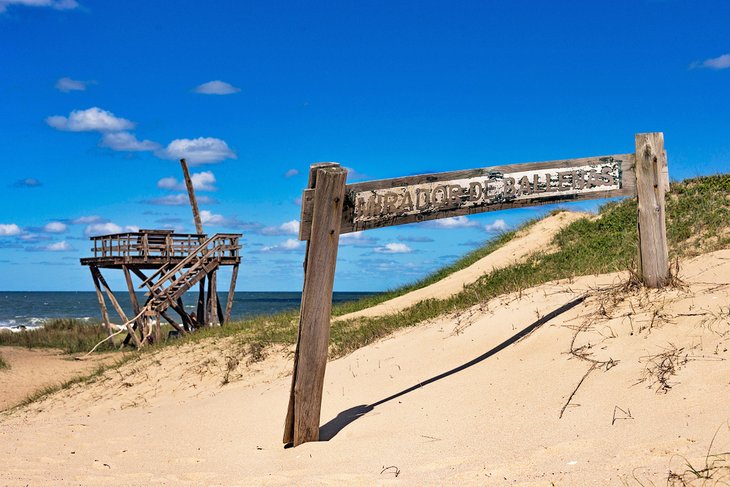 Southern right whales make their way to South America to breed between July and November. While you can certainly catch a boat if you want to get closer to them, you'll get plenty of sightings right from the beach in areas where the water is very deep.
Uruguay's Atlantic Coast has plenty of strategic viewing points at Punta Colorada and Punta Negra beaches, the Punta del Este area, and the bay at La Paloma. There are also several observation towers dotted along the coast, including one in the city of Punta del Este and one in the seaside forested area of Parque Santa Teresa.
14. Explore the Dunes of José Ignacio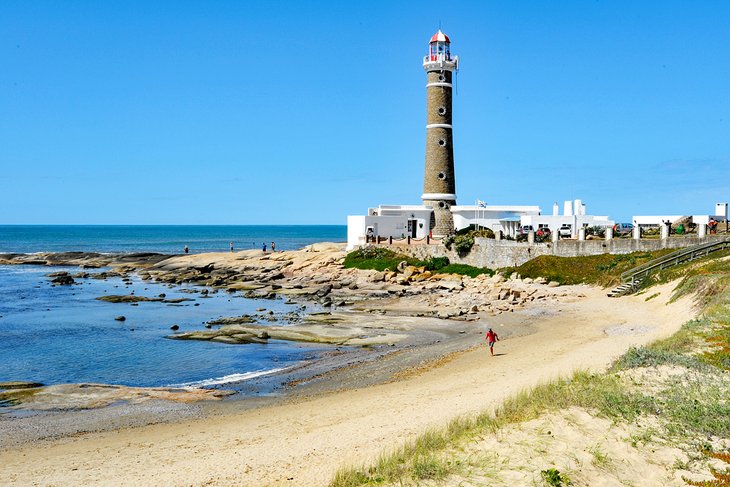 About 40 kilometers east of flashy, loud Punta del Este, the tiny town of José Ignacio (only 200 people live here year-round) has become the must-visit place for luxury-meets-relaxation. Just a few decades ago, José Ignacio was a fishing village not many had heard about. Today, it's a sought-after spot for everything from high-end beachfront restaurants to yoga studios and stunning boutique hotels mostly run by Europeans.
During the summer, José Ignacio welcomes beach lovers, surfers, and whale watchers, and the town is alive with the sounds of Carnival and late-night restaurants by the shore. Horse-riding on the beach, strolling down the dunes, and windsurfing are equally amazing things to do no matter when you arrive.
15. Explore Wetlands and Secret Lagoons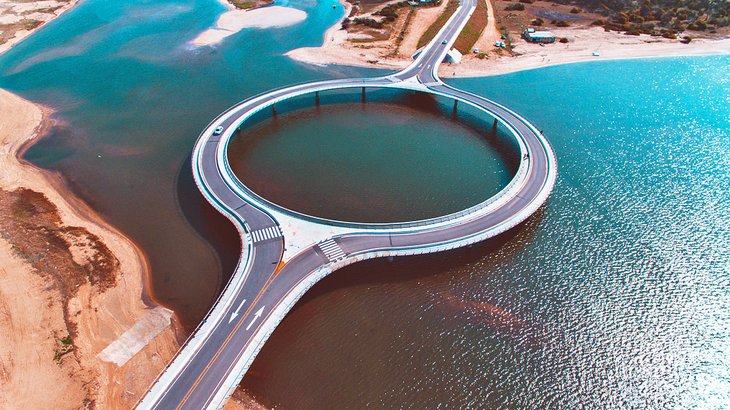 Uruguay might be South America's second-smallest country (just barely bigger than Suriname), but that doesn't mean it's lacking when it comes to natural spaces. And while there are also plenty of areas covered in forests, canyons, and subtropical forests, the country is best known for its lagoons and wetlands.
Perhaps the best-known is Laguna Garzón, set on the side of the famous circular bridge of the same name. The protected area is home to migrating birds and is a great whale-spotting destination just one hour away from Punta del Este. Laguna Merín near the border with Brazil is surrounded by wetlands and rolling sands, while Laguna de Rocha is a bird lover's paradise and home to many unique animals such as capybara.